How Social Hackers Academy Helps Minorities In Athens
Social Hackers Academy is the proof that the migrants situation in Athens is not only a bad thing. It can connect people and create strong bond between different cultures, and all this passes through education. Yes, because education is important even more when you're from a country that didn't permit you to study and discover your true passion. The founder of Social Hackers Academy, Damianos, an easy-going and beautiful human being, explains in this interview how SHA born, how he sees its future and the future of Athens.
If you want to have a clearer idea of what happened in Athens in the last years, this book is definitely the best. It really changed the way we were seeing the city!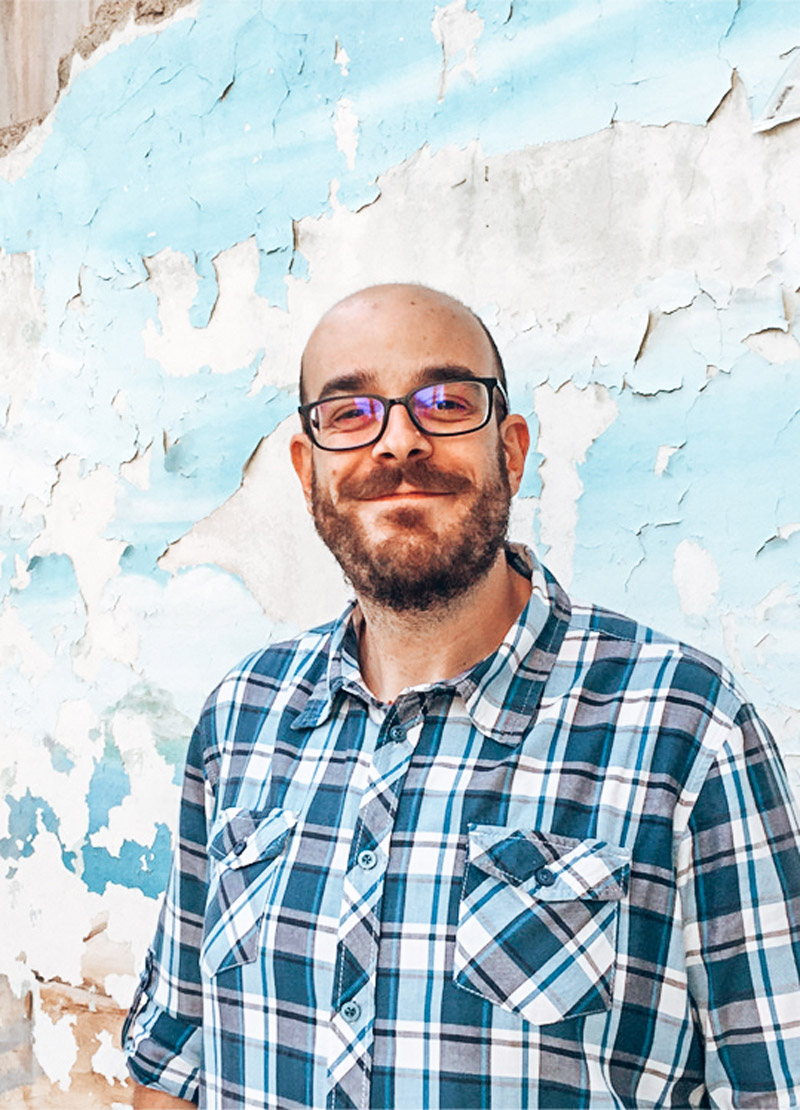 "Damianos, The Founder Of Social Hackers Academy"
What is your name? What's your age?
I'm Damianos Vavanos and I'm 35 years old.
I was born in the "village" called Greece, or if you prefer, in the geographical location that today is called Greece.
Where did you live in your life?
I lived in more than 30 countries, but especially in Greece, England and Spain.
Definitely being around good people and inspire them. Yes, I love to inspire others to be the best version of themselves.
Which is the choice that changed the most your life?
All my life, even before the internet existed, I wanted to be a digital nomad. So in 2003 I thought that studying political science would have been the best way to be digital nomad, but it wasn't. In any case, I got my diploma and I managed to travel full time and work at the same time. But the thing that changed the most my life was definitely leaving the dream of being a digital nomad and become an NGO founder. That literally changed my life.
I don't have a job title, let's say that I'm doing a lot of things at the same time: I can even clean the toilet if I have to. "Everybody calls this being CEO" laughs Eddy. "Well, I prefer calling myself the managing director."
What pushed you to leave your country? What did you do abroad?
I left my country because I like to explore new stuff, meet new people, do crazy things, travel the world with my motorcycle. I always choose long-term travel to fully discover the culture of the countries I visit, and when I find a country I like, I stay there longer. I love this freedom. And I see that more time passes, my body is getting older and my brain is going younger. Abroad, I've worked, I've done many jobs, studied, fell in love and met amazing people. I didn't just travel, I lived abroad.
How the idea of Social Hackers Academy born?
I didn't have the idea. At that time I was a marketing consultant for a NGO. One day, I was in a bus in Bangkok and a friend called me talking to me about this idea, this concept. After few months I arrived in Athens (interrupting all my travels) where I found the two collaborators, one American and one British, with whom I then founded Social Hackers Academy. I always wanted to do something regarding education and before doing it I had to understand how different types of education work. That's why Social Hackers Academy is a project on which I completely invested myself.
What pushed you to come back in Athens and why you create Social Hackers Academy here?
I came back exclusively for this project. I wasn't planning at all to come back in Athens. I had to continue traveling to New Zealand and South America. Social Hackers Academy was definitely a game changer. I didn't really choose to open it in Athens, I let it happen. I love letting things happen, I deeply believe in serendipity. After all, Athens is a hub and it's the only place in Greece with this number of teachers.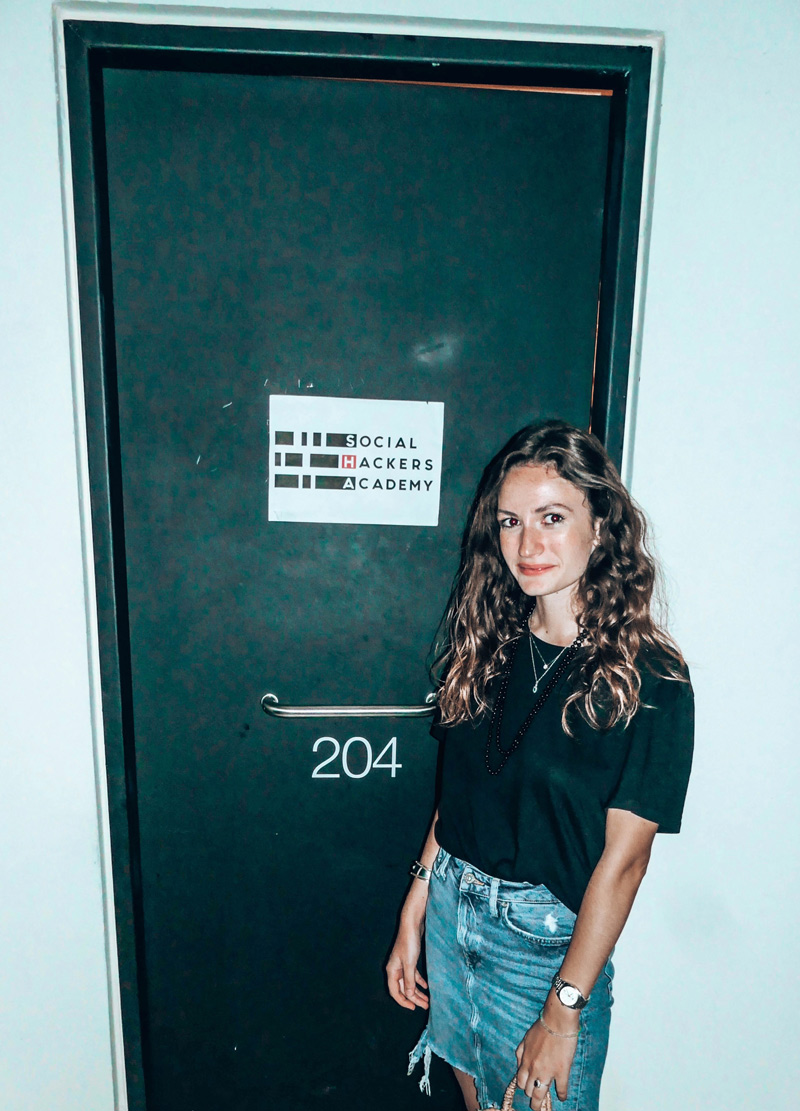 "Alessia in front of Social Hackers Academy's Class"
What motivates you to create something so big and impacting?
I always ask myself, "Why not?" I don't really know why. I always push myself on the next level. We live in a world where there is abundance, so why not use it? When I will die, I don't want to be another person who claims to be vulnerable. I want to grow and make people grow through social impact and change. Since we had very good education, we are healthy and smart, we need to do something to improve the lives of people who don't have the same chance as us. That's what really motivates me.
On what do you base your pedagogical formation?
I want to change how education works. I don't want people to waste the most creative years of their life behind a school desk. Today in schools we learn formal education. Teachers speak, students listen: there's no exchange. We want to do a "informal education". At Social Hackers Academy we teach people to solve problems, to think. I deeply believe in self-learning. Education should be based on problems you care about not subjects teachers care about.
Did you do some fundraising or crowdfunding?
That's the only thing I do. The point is that what we're selling is a concept. In Holland or in other European countries it's so easy to gain money through fundraising. In Greece is much more difficult. If I make sales, I can't project, so I don't give any social value. I did two crowdfunding before and they went well for Greek standards, but it was bloody hard. If we didn't get money from the crowdfunding, we would have been closed from a long time. Another chance we have is that all the people of the team are volunteers. I'm so grateful for all the people keeping Social Hackers Academy alive.
Do you find any clients or employer for your students?
We collaborate with more than 30 companies. When our students get their diploma, we give them our partners contacts and they send them their CV. After that, everything is in the hand and in the chance of our students. Of course, we always try to help them find a job after the classes, but sometimes the biggest problem is the mindset or the culture of some students, not their skills. At Social Hackers Academy we also teach them how to behave in a workplace and how to act with their future employer. Unfortunately, we can't follow the needs of all the students, but we are doing our best day after day.
How do you see Social Hackers Academy and Athens in 3-5 years?
For Athens, I wish for people to be less racist. Rather we want it or not, immigrants will stay here so at least let's try to do something good and help them. Greek people will have to accept how the city changed and give their best for its future. Social Hackers Academy is a nice example of how Greek society should be: I love the melting pot and the acceptance there is between our students. Regarding Social Hackers Academy's future, I hope we'll have 100 schools in the world. That would be really nice.
Great, let's feature the "MYSTICAL SUNSET /OLIVER HUNTEMANN" event at Mia Restaurant & Beach Club in Tulum on Wednesday, 29 November 2023. Here's the HTML snippet for your event: ```html
👉 WEDNESDAY, Nov 29
MYSTICAL SUNSET /OLIVER HUNTEMANN 🌅
📍
Mia Restaurant & Beach Club, Tulum
💵
Tier 1 Tickets: Mex$ 660 (incl. fees), Final Tier: Mex$ 880 (incl. fees)
📩
Contact Virginia
here
to book a table
Join us for an unforgettable evening at Mystical Sunset with Oliver Huntemann. Contact Virginia here to book your table and be part of this magical night on the beach! 🎶🔥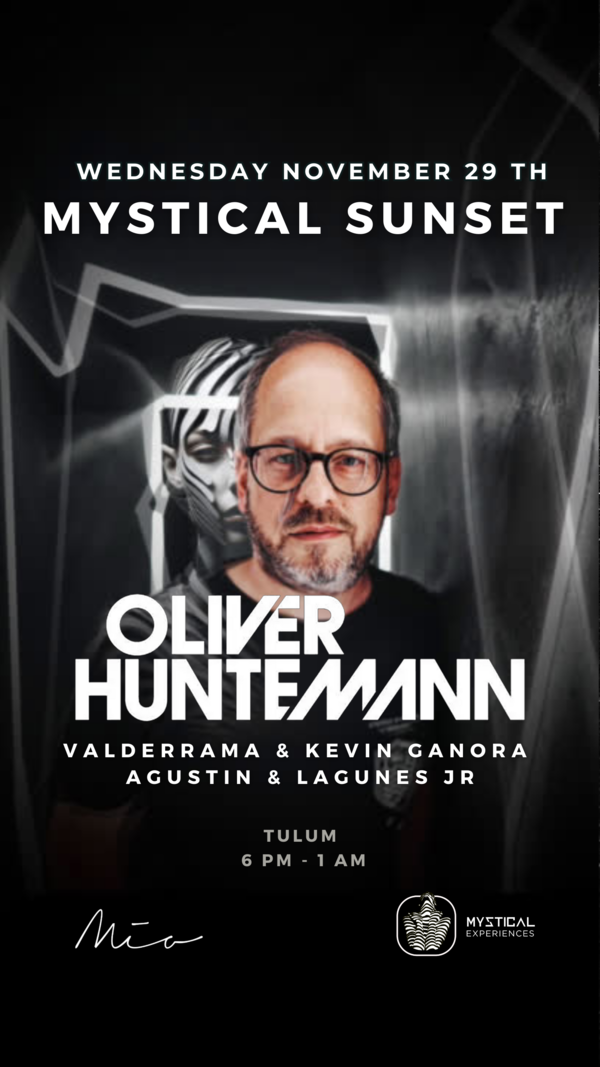 Top Parties and Club Events
23rd November - VAGALUME SESSIONS KEENE @VAGALUME
26th November - VAGALUME SUNDAZE MITA GAMI @VAGALUME
30th November - VAGALUME SESSIONS VALDOVINOS @VAGALUME
3rd December - VAGALUME SUNDAZE VALENTIN HUEDO @VAGALUME
7th December - VAGALUME SESSIONS MUSTAFA ISMAEEL @VAGALUME
30th December - PIKNIK POLO CORP & LEO LEONSKI @VAGALUME
31st December - NEW YEAR´S EVE @BAGATELLE TULUM
31st December - NYE PARTY 2024 @VAGALUME
13th March - LOCUS Tulum 2024