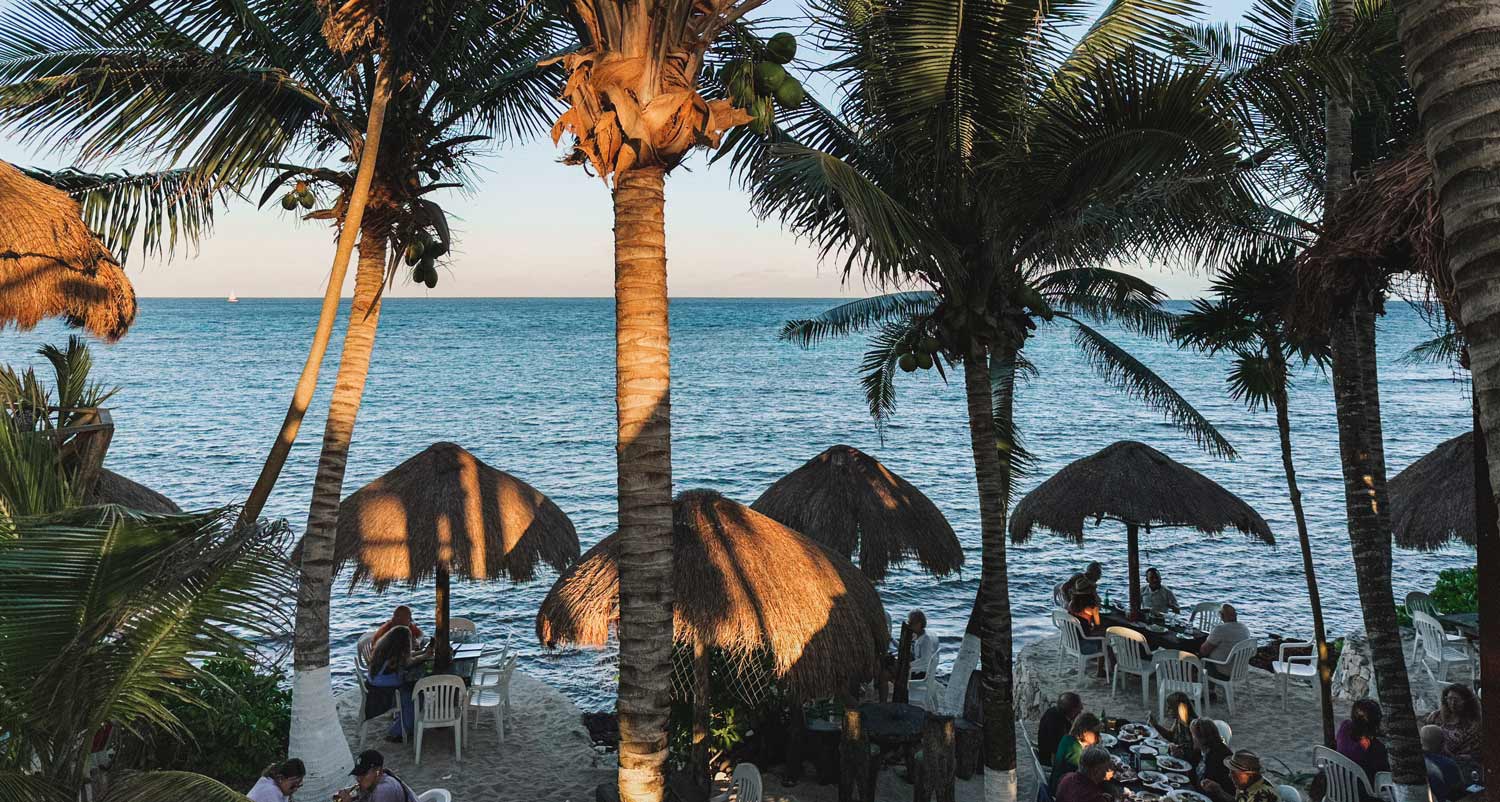 8 Unforgettable Tulum Beach Club Day Pass You Simply Can't Ignore!
Looking to spend a great day at the most beautiful beaches in Tulum, Mexico? Then, you should visit authentic beach clubs across the Hotel zone and enjoy all the luxury the place has to offer with just a single day pass! It's a perfect plan to stay on the beach for the whole sunny day and experience gastronomical food and drinks, the panoramic ocean view, various live performances, friendly staff, and much more!
Throughout the coast of Riviera Maya that meets the Caribbean sea, Tulum is a perfect paradisiacal getaway to spend and live the bohemian lifestyle at the best beachfront hotels, beach clubs, and magical nightlife. The experience is unlike in Cancun and Playa del Carmen, where Tulum is a popular place for its uniquely themed beach clubs known for world-renowned beach parties everyone can experience. But if you simply want to have a good day at the beach, getting a day pass at any beach club is a great way to spend your time in Tulum!
So what does a beach club day pass look like in Tulum? A day pass will grant you access to all beach club facilities, such as the restaurant, bar, beach beds, swimming pool, and more. It takes a form of "minimum consumption" where guests need to make a reservation to book a spot in the beach club and have about 50% from the amount that can be used as credit to order food and drinks at the restaurant or bar, and grant access to all other beachfront facilities.
On the other hand, on a few beach clubs, minimum spending can also mean that visitors are required to exceed a certain amount of spending per person as they stay in the venue's area. The average price for the minimum spend in Tulum is around 100 USD // 2000 pesos per person, and it changes depending on the season and week dates.
Without further ado, check out the best beach clubs that offer day passes in Tulum below!
Tips: If you want to book a day pass on the best beach clubs earlier and get news of upcoming special events, take advantage of Kelly and Virginia's FREE concierge service. They helped us organize the day pass and got us to experience the best of the venue for an unforgettable beach day. And they know everybody in Tulum! They are always available at any time, and that's why we couldn't recommend them more – contact them today!
ROSA NEGRA BEACH DAY CLUB
Price: 100 – 350 USD // 2000 – 6700 pesos per person
Area: Hotel Zone
Best for: Hip beach vibe, high-end service, and host private celebration events.
Nestled in one of the best beaches, Rosa Negra Beach Club never fails to provide high-quality Latin American and Mexican cuisine in Tulum, Mexico. Dining here is a journey of sensations, where you can enjoy a fascinating Latin experience in an eco-chic ambiance, live music enhancing the vibes, and the cozy lounge areas for maximum comfort.
Here you can select six various lounge locations from single beach beds to private beach sofas under the palapa shade for groups of 16 people. After making a reservation, 50% of total payment will be credited for the food and drink. Plus, the prices are cheaper throughout the weekdays from Monday to Thursdays!
One of the highlights of the venue is when celebrating a special occasion there will be sparkles and surprise dessert for the guests! It will be a grand party just for you and your friends. So what are you waiting for? Get the table of your choice and the perfect time of day for hip live music by asking and booking with Virginia today! 
Our expert tips: Try their signature sushi dish paired with cocktails inspired by Latin American alchemy. 
Secure your spot at Rosa Negra now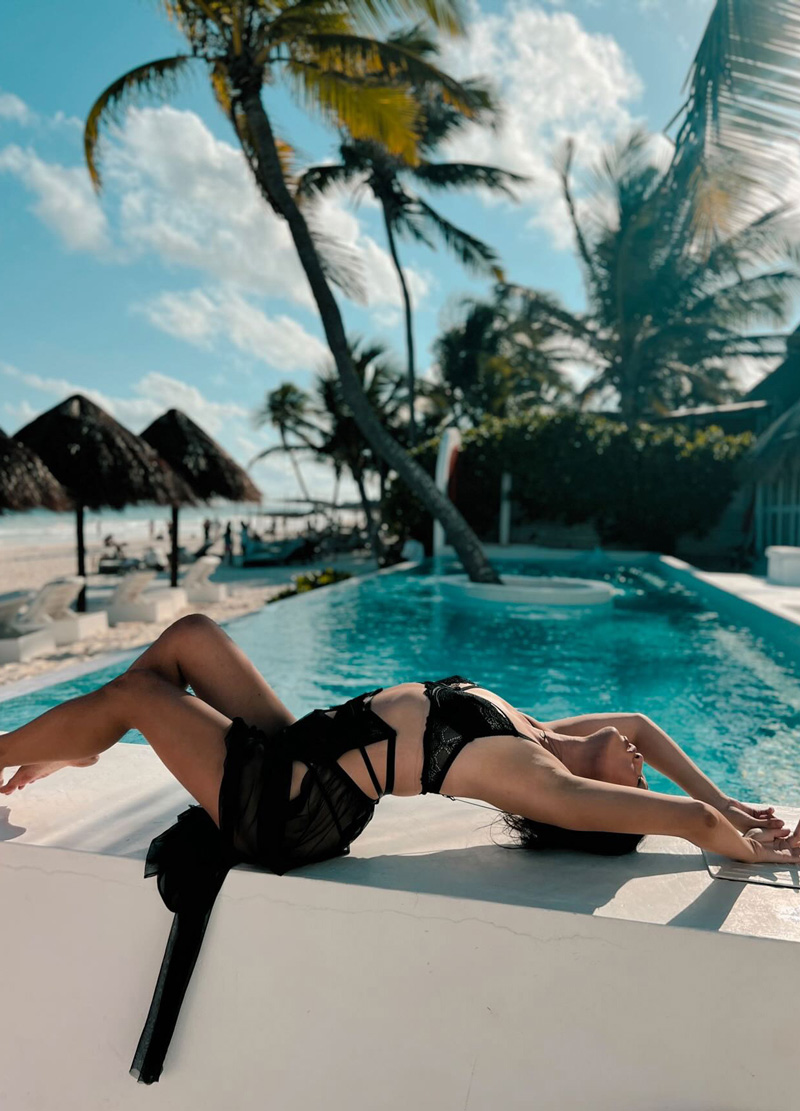 Price: 25 – 50 USD // 500 – 1,000 pesos
Area: Hotel Zone
Best for: Beach parties, delicious food and drinks, and friendly hostess
Adopting a new design as a homage to nature and the sea, Papaya Playa Project brings you curated music by various DJs, the restaurant with a fresh gastronomical menu, and flavorful Mexican seafood cuisine in harmony with their mixology. All can only be enjoyed at their Beach Club: The Dawn of a New Era.
Kick off the day with organic eggs, fruits, veggies, homemade bread, and pastries. Entering lunchtime, favor a savory bao burger, Yucatecan Chichara, and fresh mussels. While for dinner, choose from Atlantic BlueFin Tuna, wagyu sirloin, and squash salad. With so many options, don't forget to leave some space for sweets!
Especially on Saturdays, visit Papaya Playa Project, as they are notorious for hosting killer beach events. Especially during the events such as the Full Moon, Woomoon, storytellers, and NYE events, this beach club is a gathering place for world-renowned artists and chefs to present their talents in music and gastronomy.
Our expert tips: Check our PPP article for more details about events, prices, and books today!
Secure your spot at PPP now
Price: 100 – 350 USD // 2000 – 6700 pesos per person
Area: Hotel Zone
Best for: Mediterranean cuisine, live music, and special night events
Embracing the core of Mediterranean cuisine and lifestyle, Taboo Tulum enchants guests with its artisan culinary experience and beach parties in sophistication. Its authentic concept is loved by many, featuring also a boho-chic atmosphere and after-dinner spectacular shows. Overall it's an extravagant location to spend your beach day until midnight!
The club has up to 11 lounge areas from single beach beds to the luxurious "Pool Island" deck with beds and private access to the pool! It also takes 50% credit for food and drinks at any of the lounge areas you desire.
Our expert tips: At night new parties every night, stay after 10pm to see the live shows. If you want to know what shows are up for the night, you can contact and book your table with Virginia. She is an expert in Tulum nightlife.
Secure your spot at Gitano now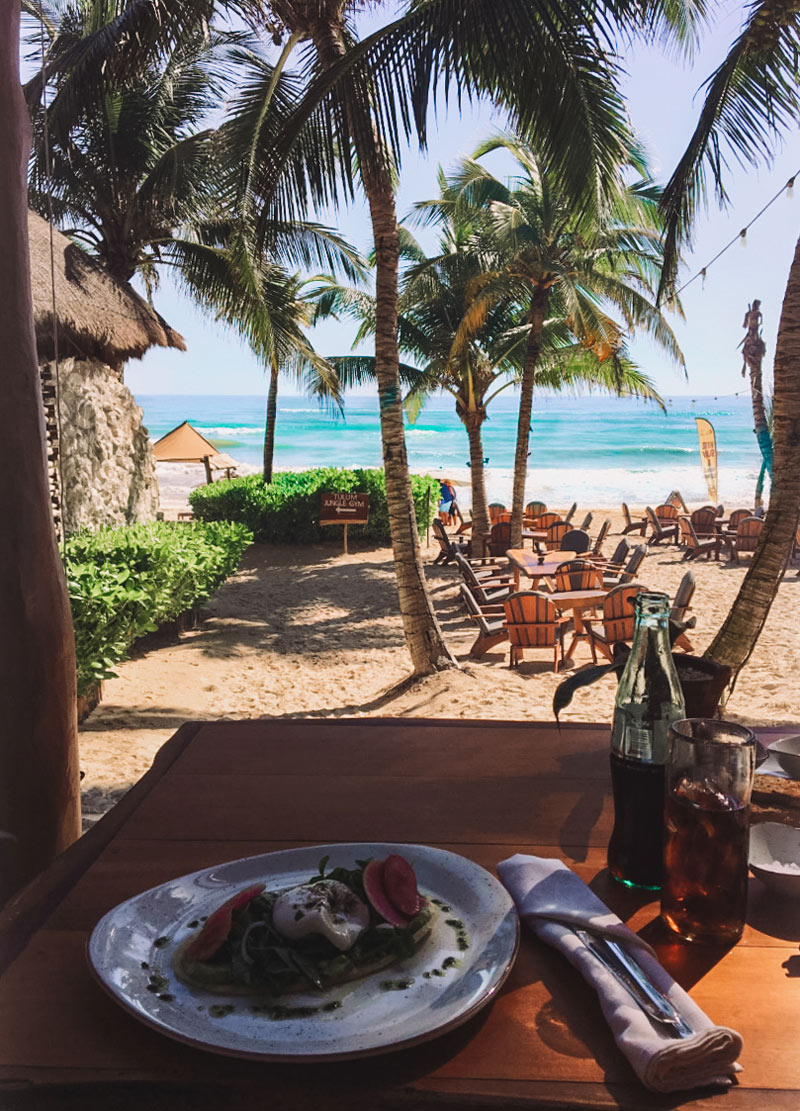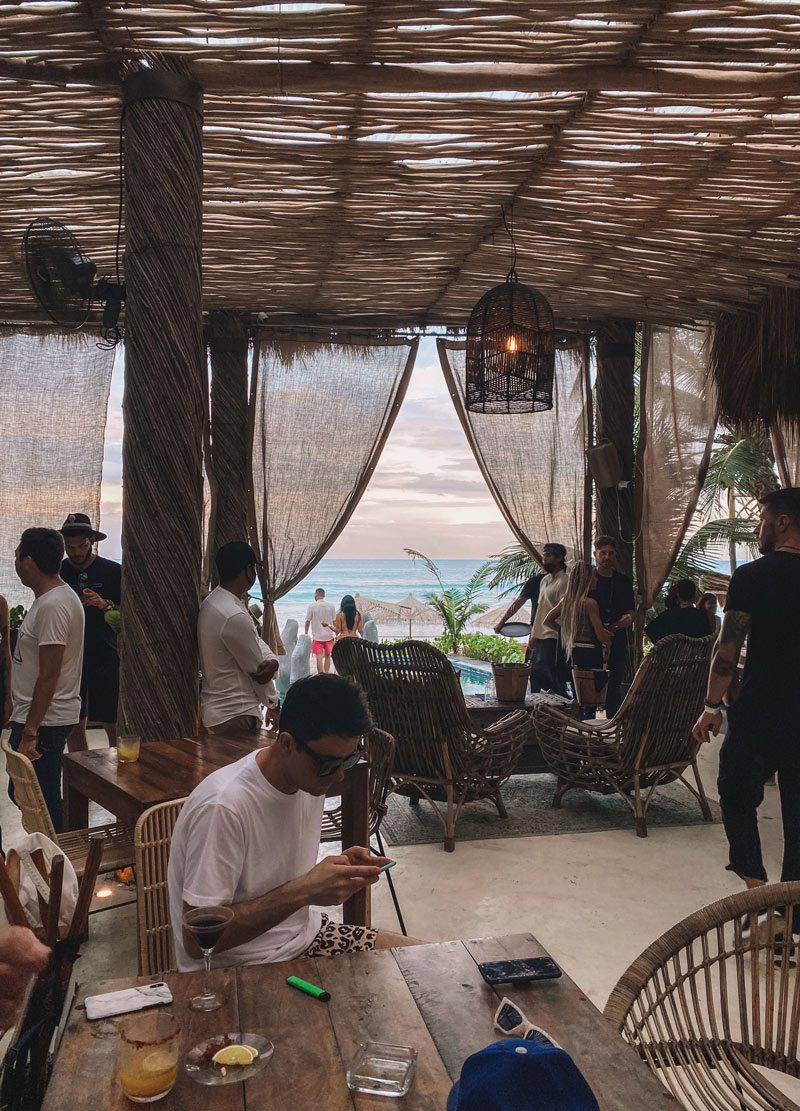 Price: 100 USD // 2000 pesos
Area: Hotel Zone
Best for: Beach Club parties with Djs and a bohemian ambiance
A tropical bohemian experience designed to pleasure all your senses with another authentic Mediterranean cuisine, artisan interior design, and chill house music to unwind by the Caribbean ocean. The food and drink menu are the best here, we recommend getting the homemade hamburger or the Ceviche of the house, paired with signature mixologies!
This adults only venue is the perfect location to spend the whole sunny day at the beach and experience otherworldly parties hosted by international electronic-EDM DJs and professional acrobats elevating the atmosphere.
Our expert tips: No parking provided, so guests need to look for nearby spaces to park.
Secure your spot at Vagalume now
TANTRA BOHEMIAN LUXURIOUS BEACH CLUB
Price: 100 – 435 USD // 2000 – 8000 pesos
Area: Hotel Zone
Between nature and sophistication, the balinese architecture and designs inspired Tantra Tulum to feature organic elements such as bamboo, rope, and rustic finishes with stone and wood to empathize relaxation and a paradisiacal atmosphere. Delight in their Indonesian cultural cuisine with traditional recipes combined with  top-quality ingredients and unique cooking techniques.
At Tantra, you have a variety of lounges to select! Whether you want to relax by the beach beds or have your own private pool, this place always pleases you with their unforgettable gastronomic experience and fascinating festivities.
Our expert tips: The private pools have beds and provide bottle service where prices can be 2,000 USD +.
Secure your spot at Tantra now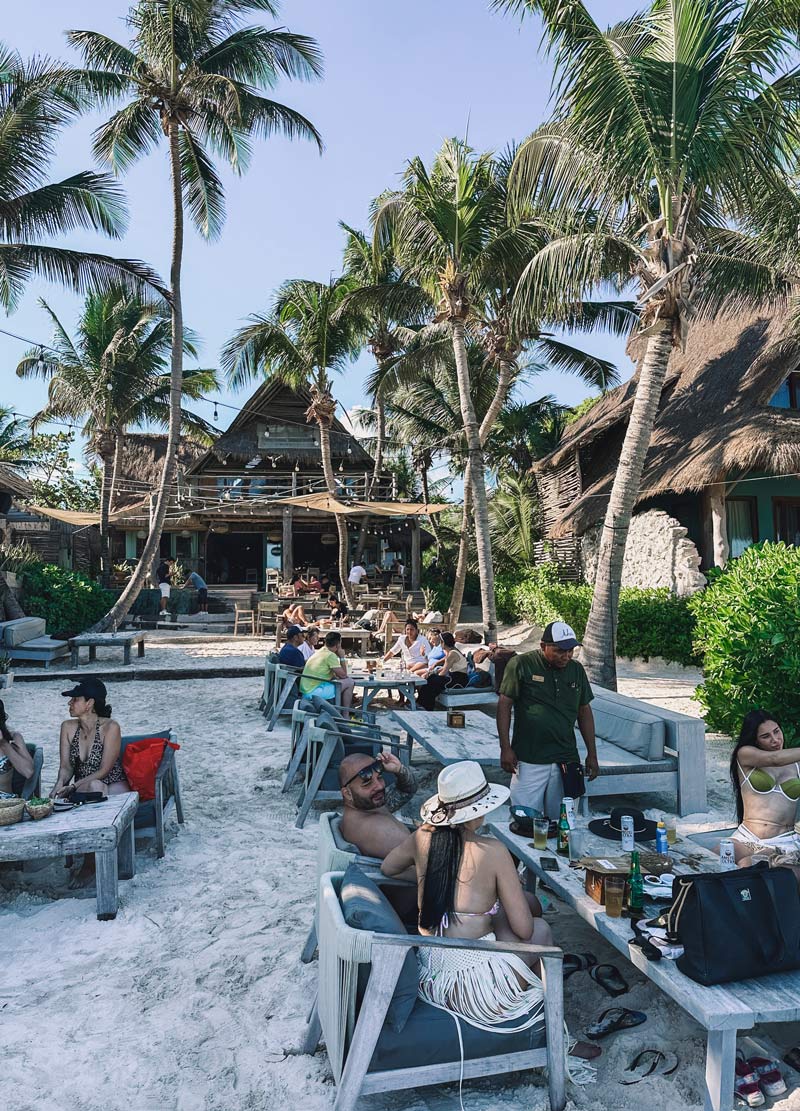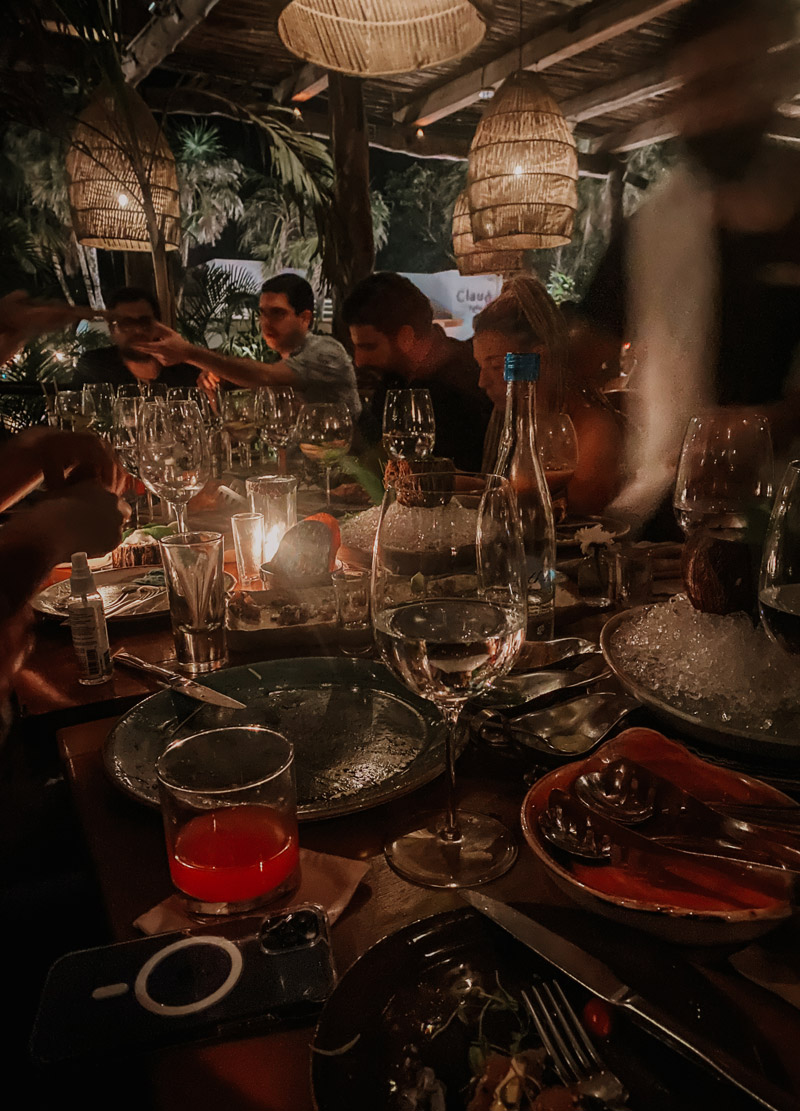 Price: 160 USD // 3000 pesos per person
Area: Hotel zone
Best for: Great to take photos, private beach club access, and live events.
Located far south of the Tulum Hotel Zone, Casa Malca was once home to the notorious Pablo Escobar, and now it is where tourists can appreciate a relaxing day by the beach. It is like an art museum with boutique architecture and a private beach club for a peaceful getaway. 
The day pass in Casa Malca can be exchanged for food and drinks. It also allows guests to enjoy the beach club, swim in the pool and underground pool, and take beautiful photos with the stunning architectural design.
Sometimes Casa Malca hosts stunning beach parties with world-renowned Djs and serves delicious food and cocktail drinks. Check out their events and contact Virginia today to get the day pass beforehand! 
Our expert tips: Their pizzas, tacos, and fruity drinks are the most delicious on the beach club menu.
Secure your spot at Casa Malca now
COCO TULUM BEACH CLUB & BAR
Price: 25 – 50 USD // 500 – 1000 pesos per person
Area: Hotel Zone
Best for: Grill Mexican seafood menu and live music to chill out.
Coco Tulum beach club and bar is a black-and-white boutique venue that blends flawlessly with the clear-white Riviera Maya beach and turquoise Caribbean ocean. To start, the club has various lounges to enjoy the sun. Guests can enjoy the swing, the beach beds, or the bean bags. So grab a towel and relax with a cool drink or one of their specialty cocktails on the bar!
With attentive and friendly staff to pamper you during your stay, don't forget to delight in their delicious Mexican seafood menu that accentuates the taste of Mexico! You should try their ceviche and fish/shrimp tacos at Coco Tulum.
Our expert tips: Coco Tulum offers a free parking area that you will find across the venue, which you can use for the whole day!
Secure your spot at Coco now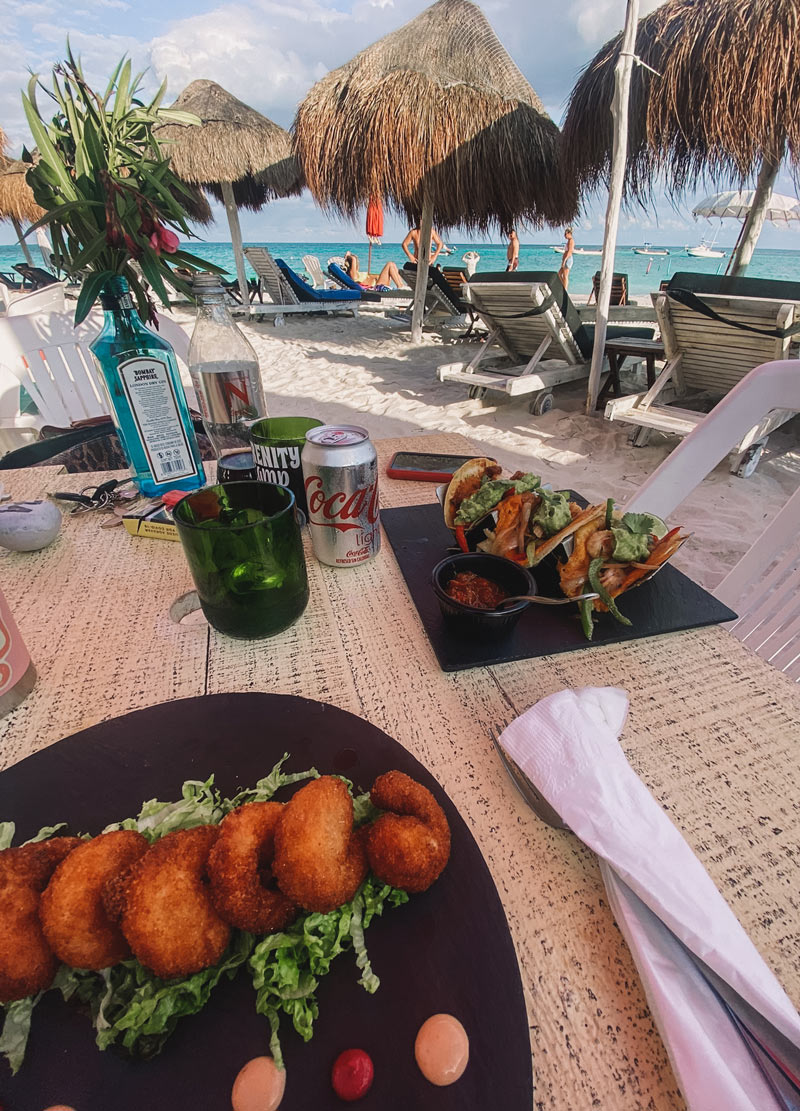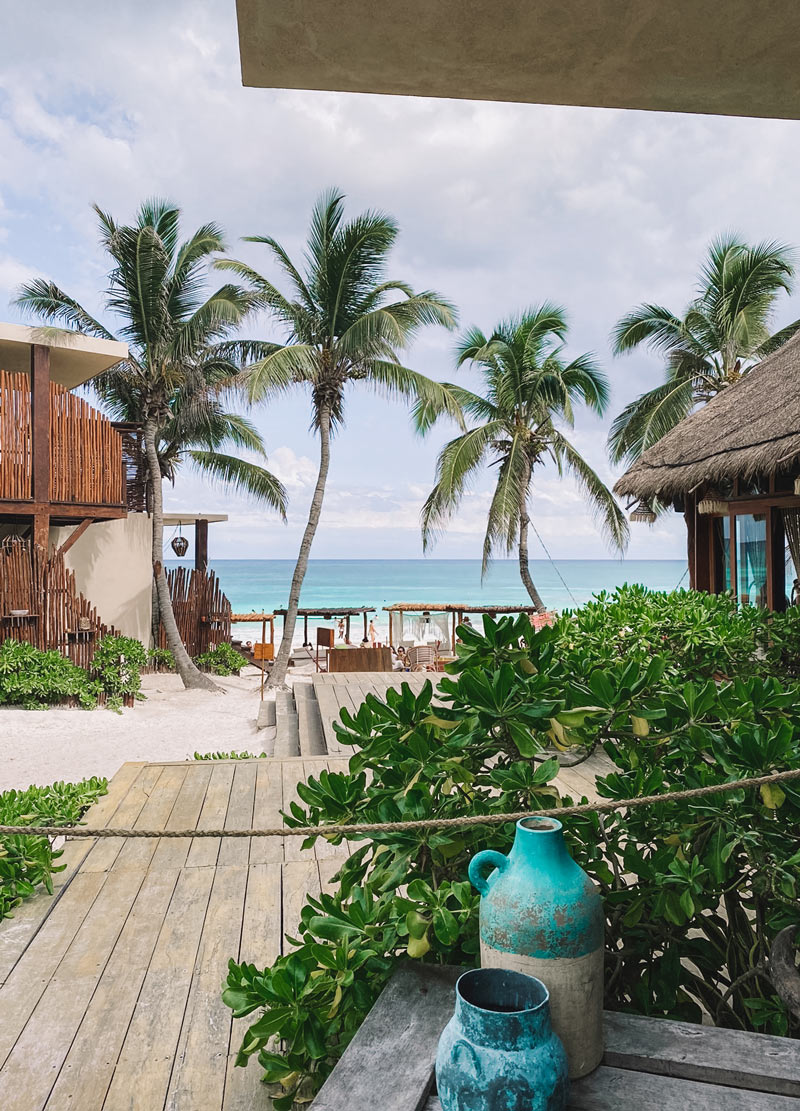 Price: 45 USD // 1000 pesos per person
Area: Hotel Zone
Best for: Delicious food, wellness activities, and pet-friendly 
Amansala is Sanskrit for the peaceful crystal clear waters of Tulum. It is a full-service resort emphasizing indulgence in restoring the mind, body, and spirit. To experience this magic, visit their beach club that offers authentic Tulum vibes where you can eat, drink, work, and play!
Our personal highlights of the Amansala Resort beach club pass is that it grants private beach access to swim in the turquoise waters, cool off in their lap pool or relax in the jacuzzi, and kick back at the variety of lounge areas (beanbags, tables, private booths, and shade huts). And grab some of their delicious Mexican seafood and vegetarian menu whenever you're hungry!
Our expert tips: If you want a profound wellness journey, check out their Bikini Bootcamp, Restore & Renew, or spa retreats. 
Secure your spot at Amansala now
THE TOP 5 BEACH CLUB DAY PASSES IN TULUM
All the minimum prices or beach day passes can be exchanged in credit for food and drinks at the beach club. However, you must know that one person will spend at least 40 USD// 800 pesos for a full meal and a choice of beverage. So, here are our top picks of the best beach club day passes in Tulum that we love!
Taboo Tulum

–

$$$$

 – Hotel Zone

Papaya Playa Project

–

$$$$

 – Hotel Zone

Vagalume Tulum

–

$$$$

 – Hotel Zone

Rosa Negra Beach Club

–

$$$$

 – Hotel Zone

Casa Malca

–

$$$$$

– Hotel Zone
Don't miss the chance to elevate your Tulum beach club adventures! Reach out to our amazing friend Virginia and she'll hook you up with unmatched perks that come with the ultimate day pass!
THE BEST TULUM BEACH DAY PASS ON A MAP
Here is a map to guide and help you navigate our top picks of venues across the Hotel zone and tranquil beaches of Tulum. Plan your trip daycation today!
THINGS YOU NEED TO KNOW ABOUT TULUM BEACH DAY CLUB
Now you know the best venues to visit for your tropical getaway in Mexico, there are a few things you should be aware of before going to the beach clubs.
PRACTICAL TIPS AND ADVICE
Here are the important tips you will want to know before going to the beach clubs in Tulum. Learning this will help you to avoid hiccups and get the most out of your fun beach day!
Check what you get for the day pass –

Be sure to ask the concierge service or staff what you will have access to once you have a day pass. While also asking about the minimum spending to be at the beach club.

Bring pesos and cash –

some clubs may have issues paying with a card (plus, the tips are much more if you use a card). So preparing cash, "efectivo," in pesos as your primary payment option is best.

Best time to go –

The earlier, the better. We recommend going in the morning at 8 or 9 am for a peaceful vibe and a beautiful ocean view.

Tips will be included in the bill

– be sure to check your bill before paying, as some staff will automatically add a percentage for tips without you knowing.

Ask for Parking

– Getting a parking spot by the hotel zone is challenging. So ask if the beach club provides free parking, which makes it easier for you.
THE BEST TIME TO SPEND A DAY AT BEACH CLUBS
The best time to spend an entire day at the beach clubs is around November to March, when the Riviera Maya beaches are mostly seaweed free! This is good news because the seaweed can smell foul, ruin the beautiful view of the beach and Caribbean sea, and ruin your day. Also, that time is the high season when you will find many visitors at the beach clubs hanging out too.
HOW TO GET THE MOST OF YOUR DAY PASS
To get the most out of your day pass, you should go earlier in the morning and spend the remaining day at the beach club. Especially if you haven't reserved a spot, there are more available lounge areas to choose, whether a beach bed, swings, tables, or bean bag. 
You also don't have to worry. You have access to the venue's delicious food and drinks to satiate yourself for the whole day, and attentive services to accommodate you at all times. Lastly, some beach clubs host parties and activities you can join, so you will never get bored!
WHAT HAPPENS IF YOU GO BEYOND MINIMUM CONSUMPTION?
To have the tables/lounge you desired, you first need to make a reservation and prepay the amount. As you dine there, you can ask the waiters how your credit is going or simply use a calculator to track your spending in the beach club. If you happen to go over the credit amount, you will later pay the difference when you receive the bill.
FAQ about Tulum Beach Club Day Pass
Are Tulum beach clubs safe?
Tulum beach clubs are safe because security is on the premises, and people generally are friendly and love socializing. However, when it gets crowded, we recommend keeping your belongings close to you.
What are the standard amenities provided for a day pass in Tulum?
The standard amenities provided for a day pass in Tulum are usually access to beach towels, lounge areas, a swimming pool, free wifi, and a private beach property. However, the amenities and facilities provided depend on the venue itself.
Can I bring my own food and drink to the beach club?
They don't usually allow visitors to bring meals and jugs of drinks to the beach club. However, if you bring a personal bottle of water to the venue, it is generally acceptable.
I bought a day pass already. What should I do next?
Next, you want to show the confirmation email (generally) to the receptionist when you enter the beach club. If you are in a group of 10, Virginia can even go physically to the beach club to make sure you get the best table and make everything smooth, just like how she spoiled us and our friends so much! Contact her today.
Is it safe to go alone to Tulum beach clubs?
It is generally safe to spend time alone at beach clubs on the beach or in the town. But you should never let your guard down and be careful with your belongings.
What is the minimum age to get into beach clubs in Tulum?
The minimum age to get into beach clubs in Tulum is generally 18 years old. However, some clubs will specify if they allow children, pets, or only adults above 21 years old to enter. 
Does Tulum have nightlife?
Tulum does have an exciting and magical nightlife filled with plenty of experiences to explore. Learn more about the best to-do list in nightlife and if nightlife in Tulum is expensive.
What time do beach clubs close in Tulum?
Most beach clubs generally close until 7 – 9pm, and some close until late to 12 am.
What time do people go to beach clubs in Tulum?
People often go to beach clubs at noon or afternoon when the sun is shining bright and the water feels lukewarm.
What is the minimum spending in Tulum beach clubs?
The minimum spending at Tulum beach clubs is around 2,000 pesos or 100 USD, depending on the season. 
What kind of music is played at Tulum beach clubs?
The music at Tulum clubs is commonly electronic, deep house, and tribal melodies. These venues will feature residents or guest Djs to perform live for the audience.
How can I pay at Tulum Beach Club?
You can pay with cash in pesos, USD, or a card at some places. But as a rule of thumb, cash is king and the safest option to pay for your orders.
When do Tulum beach clubs have the most visitors?
From around November to March, Tulum beach clubs will have the most visitors on weekends, especially during the high season.
When do Tulum beach clubs have the least visitors?
Tulum beach clubs have the least visitors from April to August. This is because it is the low season, and the seaweed can be spotted throughout the beaches across Riviera Maya.
Do Tulum clubs accept USD?
Most Tulum beach clubs accept USD, but they have their own currency exchange rates in their favor. So, it is best to bring pesos in cash instead.
Top Events to Make Your Trip Unforgettable
DOMINIK TULUM @MIA TULUM
When: September 9, 2023 7:00 PM
Where: Mia Restaurant & Beach Club, Tulum
🌴 Join Us for An Unforgettable Night at DOMINIK - TULUM at Mia Tulum! 🌴
Friends, clear your schedules and get ready for a magical experience at Mia Tulum! This stunning location will host DOMINIK - TULUM on Saturday, September 9th, from 7 pm to 1 am. This isn't just another event; it's a fusion of nature, culture, and sound featuring an incredible line-up with GIORGIO STEFANO, AUDICTIVE, and MAURO TORRETA. At DOMINIK, you'll find the perfect blend of Tulum's lush jungles and pulsating underground beats, creating an environment where genuine connections blossom.
🎟️ Secure your tickets now:
Early Bird: $575 MXN ($38 USD), includes a welcome drink 🍹 (Limited Availability)
Tier 1: $805 MXN ($52 USD), includes a welcome drink 🍹 (Limited Availability)
Final Tier: $1150 MXN ($75 USD), includes a welcome drink 🍹 (Limited Availability)
Dinner + Party: $1380 MXN ($90 USD) 🍽️🎉 (Limited Availability)
See you there for a night you won't forget! 🎶✨
Ready to join us? Get your ticket now! Early bird tickets are already selling out, secure them at 632 pesos (only 15 tickets available).
Hurry – spots are filling up fast! 🙀 We can't wait to see you there!
Top Parties and Club Events
17th September - ANCESTRAL SOUL @BONBONNIERE TULUM
22nd September - TONY ROMERA @BONBONNIERE TULUM
29nd September - TIM BARESKO @BONBONNIERE TULUM
4th November - HOT SINCE 82 @BONBONNIERE TULUM
13th March - LOCUS Tulum 2024