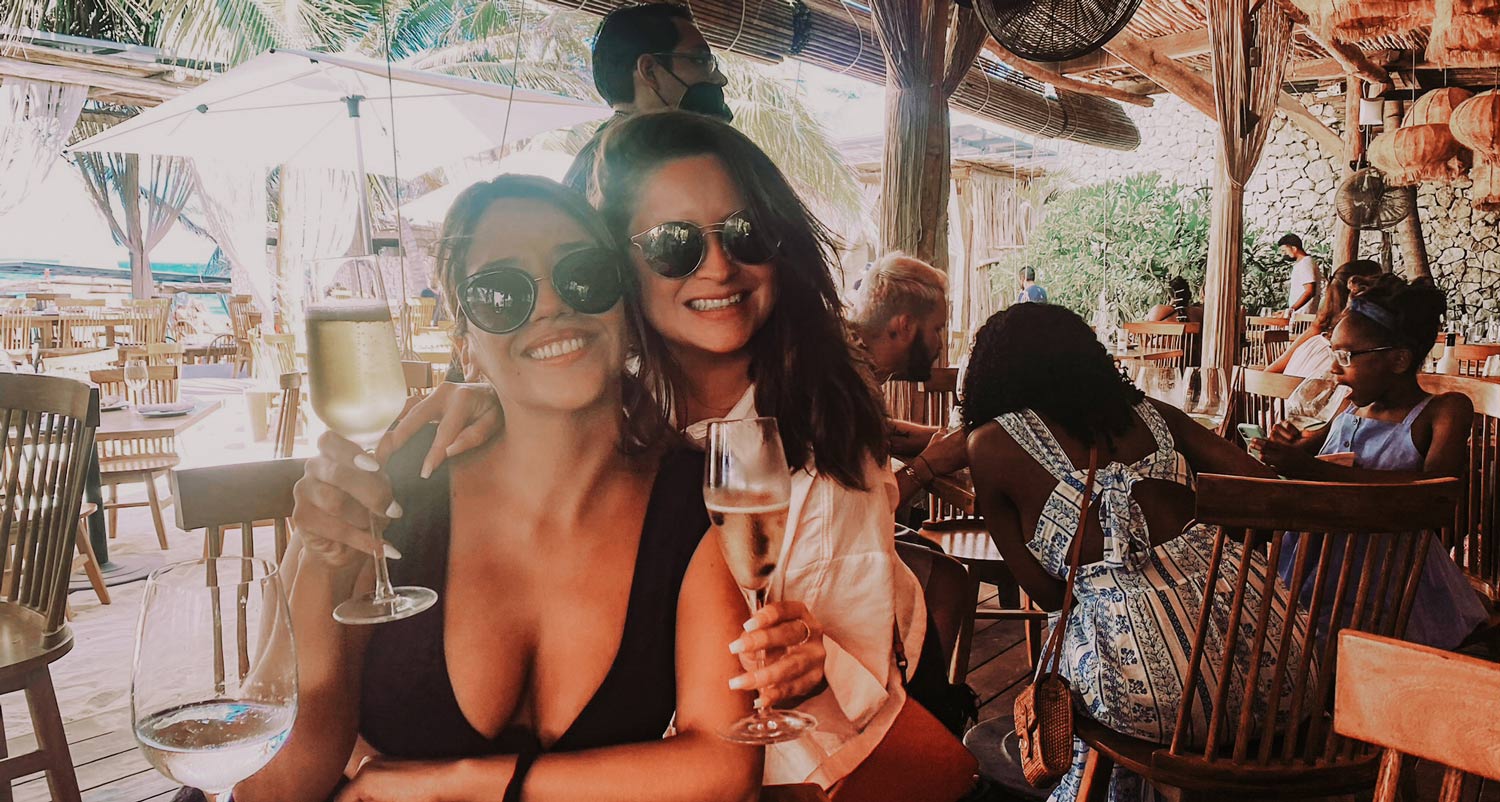 Taboo Beach Club Tulum Ultimate Guide: What You Should Know
Live the Taboo experience on the tranquil beach of Tulum, Mexico. Home to one of the best beach restaurants designed to please your senses through its bohemian atmosphere, curated Mediterranean cuisine and day-to-day party events!
Prepare to be immersed in the artisan concept, party, and dinner of Taboo Tulum beach club & restaurant. Learn more about their club, restaurant, and events below!
Get ready to have fun in luxury.
What is Taboo Beach Club and what can you expect?
It is a famous bohemian beach club and restaurant in Mexico: Cancun, Tulum, Mexico City, and Cabo. It rose to popularity because it invited guests through a culinary journey of delicious food and drinks, a boho-chic atmosphere, and after-dinner parties.
Especially in Tulum, you will always have a memorable dining and celebration experience with Taboo's top-quality food and service! Let us convince you why.
They treat authentic Mediterranean cuisine at its core as a lifestyle where simplicity meets sophistication. Their stunning dishes are served with international twists made of imported top-quality ingredients and designed by great chefs. But besides the dishes, their charming architecture will transcend your dining experience like nothing before! Just take the view of the lit-up palm trees by the sandy path as you walk to the restaurant, and enjoy the ocean breeze as you dine.
At last, as you enjoy the signature food and the bohemian decor, stay past 10 pm to catch the thrilling view and on-the-spot performances in the venue! It happens only at night but every day of the week. Throughout the evening, there will be live music, crazy violin, salsa dancing <*not really>, and more!
It is ideal for celebrations, parties, and sharing the best moments with loved ones. Hurry and enjoy the spectacular experience today! Book your tables today because the space is limited!
SURPRISE PARTIES AND EVENTS IN TABOO TULUM
Date/Time: every night starting at 10pm
Discover various parties, as every night is full of surprises! That's right, they present a variety of live performances starting at 10pm. Occasionally, the DJs slowly play their musical entrance as we eat, or you will notice the sound of eloquent violin filling the air. We love their surprises, it makes nightlife more thrilling!
But if you want to go to a specific party at night, you can contact our dear friend who works closely with the venue and can tell you more about it. She's amicable and helpful, so feel free to contact her anytime!
Book Your Ticket + Table Here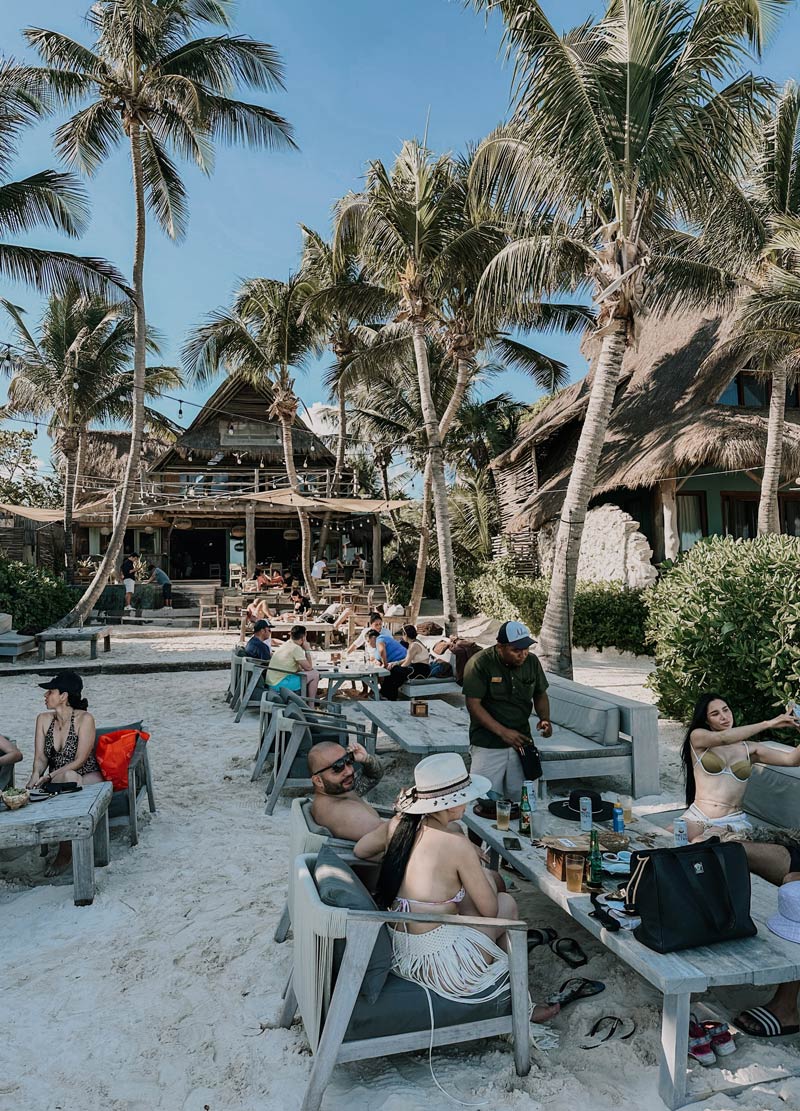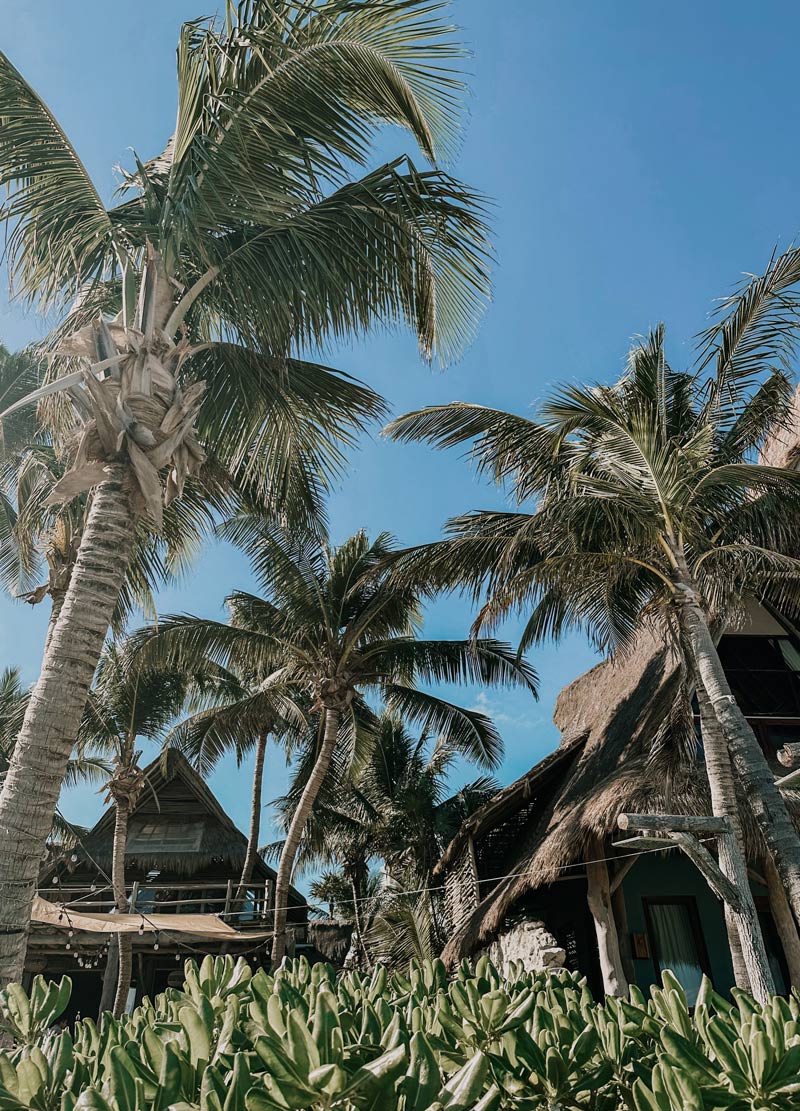 TABOO BEACH CLUB AND RESTAURANT AMENITIES & SERVICES
The venue offers various amenities and services to ensure your utmost convenience! Primarily, their services make customers love the venue more, besides the live music, different party concepts, and others!
List of amenities:
Swimming pool
Beach beds
Beach dining area
Beach bar
Beachfront restaurant area
Free Wi-Fi
List of services:
Attentive and great staff service
Various surprise party
Safety & Security
Valet parking service
Bottle service
Live music
Is Taboo Tulum Expensive?
The food, drinks, and cocktails are an object of art that they take pride in. With their top-quality food and service, the prices are about average across other clubs at the Hotel Zone Tulum.
Here is the list of costs you will find there.
Booking tips & Best deals
*If you are craving some surprise parties* here are some tips!
You must make a reservation to get a guaranteed spot on the table at the restaurant. You can always call up our friend who partners with the venue. With her help, she knows the best tables and can guarantee that spot for you! Plus, her services are free of charge!
Here are some of the advantages of having a table at a party:
Applies the same
All what you pay it's on consumption
Even if you are just a couple or a small group, Virginia can help you to get a table with other groups
VIP experience
Better area
Moreover, many times booking platforms just don't work so well – so it's always better to pass through the help of a real person in Tulum who knows the places and can help you live the best nightlife during your stay!
Contact her on WhatsApp and take advantage of her FREE services today.
Book Your Ticket + Table Here
Sample of prices at Taboo Tulum:
If you are wondering how much you will spend other than food and drinks, here is the list:
Beach club entrance fee: Upto 100 USD (depending on the season) minimum consumption that can be used for drinks and food
Night party entrance fee: it is free as long as you are dining
Sunbed rental: Requires reservation and 100 USD + minimum consumption
At the bar, you can get bottled service and per-cup drinks (60ml). Here is the list:
The average price for cup drinks: 20 USD +
The average price for bottled drinks: 375 USD +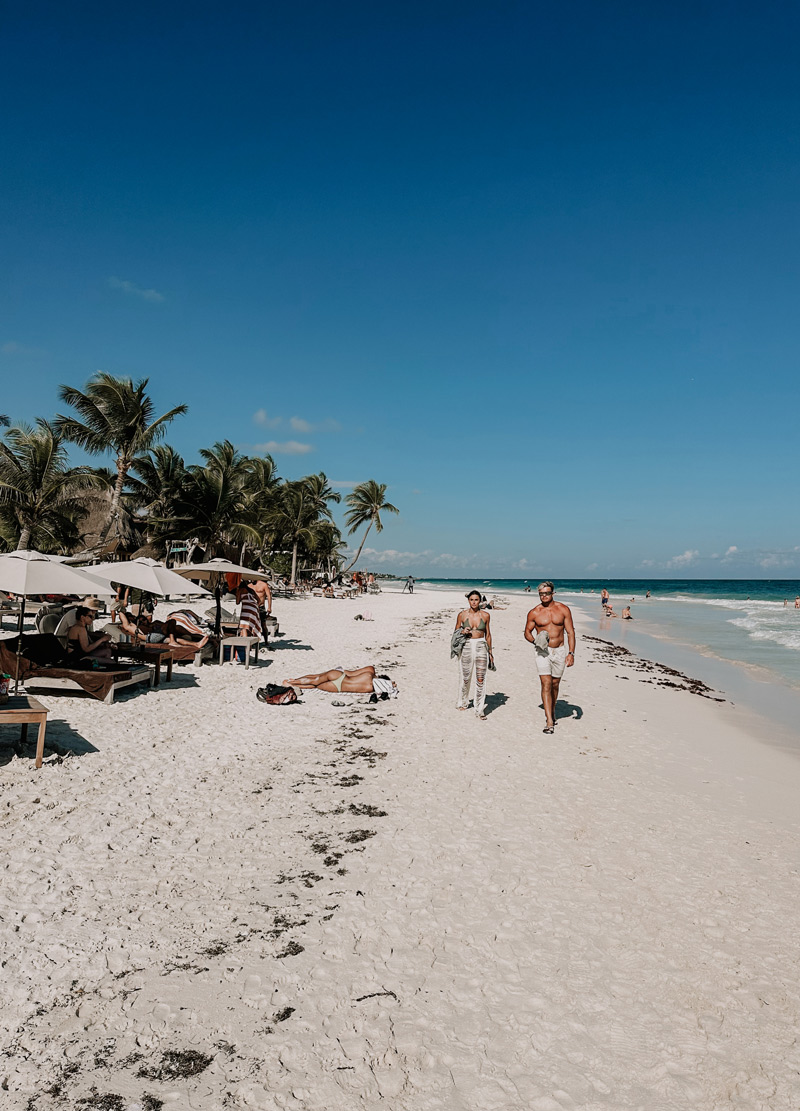 Prices of Taboo's restaurant:
Here is the best part. Start your dinner with their specialized fresh fish and seafood, authentic handmade Italian pasta, and selections of meats of exclusive steaks of the best quality grilled over a wood fire to enhance. Finish off with a sweet ending dessert with the flavor of Mediterranean cuisine paired with some of the best Italian coffee or a Carajillo.
Popular Salmon Two Ways: 25 USD
Vegan Burger: 20 USD
Linguini with Mediterranean Lobster 800g: 105 USD
Carrot Cake with Greek Yogurt: 20 USD
Tips: The restaurant gets busy often, especially during high seasons from Dec. We recommend reaching out to our friend who offers free concierge service to get the best seats and knows the venue like the back of her hand!
Book Your Table Here
Reviews about Taboo Tulum Beach Club
Overall, this venue is a great place to have a night out with family and friends to celebrate and have fun while dining. Compared to other clubs and restaurants, this venue is perfect for any celebration, such as a bachelorette party, birthdays, and wedding celebrations. What makes the celebration different is they will prepare a special service to light up the vibe of your party with sparkles, music, and dance! Highly recommend it!
What people say about Taboo Beach Club in Tulum
Many reviews talk about how they love the food, the staff service, and how amazing the parties get every night!
• Rating on Opentable: ⭐⭐⭐⭐ 4.5 average on 1.4k review at Feb 2023
• Rating on Tripadvisor: ⭐⭐⭐⭐ 4.5 average on 2.2k review at Feb 2023
• Rating on Google Maps: ⭐⭐⭐⭐ 4.5 average on 2.4k review at Feb 2023
Book Your Table Here
Where is Taboo Beach Club located in Tulum?
The venue is located across the Hotel Zone and a few minutes down Avenue Kukulkan, one of the main roads that take you from the town to the hotel zone. Find out the complete address and the best transportation option to visit below!
Taboo is located in the Tulum beach neighborhood
Carretera Tulum-Boca Paila Zona Hotelera Km 7, 77780 Tulum, Q.R., Mexico
How to go to Taboo Beach Club in Tulum?
Possible transportation: Car, motorcycle, ATV, bicycle, and taxi
If you are in Tulum, one of the best ways is to go with your private vehicle and look for parking around the area. The price of parking varies depending on your vehicle, which can cost from 200 to 400 MXN. Another more expensive method is taking a taxi. But it is best to go with a group of people to share the cost between passengers.
On the other hand, if you just arrive from Cancun Airport, you can take the shuttle/ADO bus from the airport to your hotel in Tulum. Here are some hotels that are close to the venue.
Which Hotels are close to Taboo Tulum?
These hotels are located near Taboo and by the Hotel Zone, where some offer a great shuttle service to pick you up from Cancun Airport to the hotel. Here is the list:
FAQ about Taboo Tulum
What is the minimum age to get in at Taboo Tulum?
The minimum age to enter the venue is 18 years old. It is because Taboo is for adults only, and children are not allowed.
Are large groups accepted at Taboo Tulum?
A large group of people is accepted and accommodated, especially if you book a table. Many tables can seat up to 10 people and more.
Are kids allowed in Taboo Tulum?
Kids are not allowed anywhere in the venue because of age restrictions. Taboo is an adults-only restaurant and club.
At what time Taboo Tulum opens?
Taboo will open every day at 11:00 AM. You can also access the restaurant and beach club at this time.
At what time does Taboo Tulum close?
Taboo will close every day at 12:00 AM. However, their day beach club closes at 6:30pm daily.
Is it possible to make a reservation at Taboo?
It is possible to make a table reservation at the venue to get the best spot. Still, it's better if you contact a concierge service. Luckily, we know a sweet friend who has offered free concierge service in Tulum for the longest time!
How to make a reservation at Taboo Tulum?
To make a reservation at Taboo, you can contact them via their phone number or email. However, it is best to get a concierge service as they can give you the best tables and spots at the venue – contact our friend here.
What kind of music is being played at Taboo Tulum?
The kinds of music played at Taboo vary. From electronic house music, live music by resident DJs, or live violin performance that is loved by all!
Does Taboo Tulum have a pool?
Taboo has a private pool by the beach, and it is accessible if you reserve the beds with a pool called the Pool Island. It cost 583 USD (11,000 MXN), but you get half back to spend on food and drinks. The pool island can fit a group of 4 people for the whole day.
Does Taboo Tulum accept credit cars?
Taboo accepts credit cards such as AMEX, MasterCard, and Visa cards.
Does Taboo Tulum accept cash?
Taboo always accepts cash and it is best to pay with MXN if you have it.
Are tips included in the service price at Taboo Tulum?
The tips will be automatically included in your bill. The percentage of the tip starts from 15% to 20%.
Is there a minimum spend at Taboo Tulum?
There is a minimum spend at Taboo, but it varies depending on the season. The price for minimum spend is around 100 USD.
Is it possible to organize a wedding at Taboo Tulum?
It is not likely to organize a wedding ceremony. Still, it is possible to arrange a celebration for your wedding. You can contact a concierge service for more details.
What is the dress code at Taboo Tulum?
The dress code is smart casual. We recommend wearing something comfortable and flexible so you can dance easily!
When is the best time to go to Taboo?
The best time to go to Taboo is on any day and time! Whether it is during the day or night, you will have a splendid experience. But it will get crowded around Dec and onwards due to the high season.
Who owns Taboo?
Taboo is owned by Grupo Rosanegra, who also owns other restaurants across the hotel zone, such as Funky Geisha, Mamazzita, and Tantra.
Top Events to Make Your Trip Unforgettable
DOMINIK TULUM @MIA TULUM
When: September 9, 2023 7:00 PM
Where: Mia Restaurant & Beach Club, Tulum
🌴 Join Us for An Unforgettable Night at DOMINIK - TULUM at Mia Tulum! 🌴
Friends, clear your schedules and get ready for a magical experience at Mia Tulum! This stunning location will host DOMINIK - TULUM on Saturday, September 9th, from 7 pm to 1 am. This isn't just another event; it's a fusion of nature, culture, and sound featuring an incredible line-up with GIORGIO STEFANO, AUDICTIVE, and MAURO TORRETA. At DOMINIK, you'll find the perfect blend of Tulum's lush jungles and pulsating underground beats, creating an environment where genuine connections blossom.
🎟️ Secure your tickets now:
Early Bird: $575 MXN ($38 USD), includes a welcome drink 🍹 (Limited Availability)
Tier 1: $805 MXN ($52 USD), includes a welcome drink 🍹 (Limited Availability)
Final Tier: $1150 MXN ($75 USD), includes a welcome drink 🍹 (Limited Availability)
Dinner + Party: $1380 MXN ($90 USD) 🍽️🎉 (Limited Availability)
See you there for a night you won't forget! 🎶✨
Ready to join us? Get your ticket now! Early bird tickets are already selling out, secure them at 632 pesos (only 15 tickets available).
Hurry – spots are filling up fast! 🙀 We can't wait to see you there!
Top Parties and Club Events
17th September - ANCESTRAL SOUL @BONBONNIERE TULUM
22nd September - TONY ROMERA @BONBONNIERE TULUM
29nd September - TIM BARESKO @BONBONNIERE TULUM
4th November - HOT SINCE 82 @BONBONNIERE TULUM
13th March - LOCUS Tulum 2024