Bagatelle Tulum Upcoming Parties And Venue Info
You are in Tulum and you want to try a different beach club. You're on the right page – our ultimate guide about Bagatelle will reveal you all you need to know about this venue, from the prices to the upcoming events, the amenities and services, the location and the closest hotels. 
We promise you that after this guide you'll almost be like a local – we live here since 2 years so we know pretty much everything! 
Time has passed and Tulum became our home – we got to know so many things about this amazing city and we can't wait to share every one of them with you. Tulum is in constant progress, so make sure to follow our blog and articles to be always updated on the best things to do in Tulum! 
But let's talk about Bagatelle – this venue will make you breathe the same vibe of South of France, where you'll want to have long relaxed meals with your special people. Here the rush of Tulum Centro just fade away. Feel at home thanks to the unique vibe and the delicious dishes of the Executive Chef Rocco Seminara.
Let's skip to the good part and foretaste your experience there!
What is Bagatelle Beach Club and what can you expect?
Bagatelle is the typical club you attend when you want to treat yourself. With its luxury Mediterranean vibe in the heart of Riviera Maya in Tulum is one of the best beach venues if you are searching for some chic and elegant place. With an incredible French Mediterranean cuisine – the best of the entire area – a great beverage service at the restaurant and bar, fresh and innovative cocktails, helpful staff and an amazing property, it will easily become one of your favorite places to party in Tulum. 
Open from late morning offering delicious brunch to enjoy with your partner or friends, you'll be able to spend the whole day here at the beach in front of the infinite pool overlooking the Caribbean Ocean between the palm trees.
Let's discover together their signature events and the upcoming parties!
Parties and Events in Bagatelle Tulum
For the moment, the upcoming events at Bagatelle are not revealed yet. We'll update the list of the next events as soon as we know something!
Anyway – make sure not to miss the upcoming parties, which usually are concentrated from November/December to June/July. You can book your ticket by simply clicking on the name of the event below! You'll find all the details of the event, the prices and the line up.
If you want to reserve a special table for one of these parties, don't hesitate in contacting our friend Virginia – The person to know when it comes to nightlife in Tulum. Write to her on Whatsapp and get the most out of your Tuluminati night!
Most famous parties hosted by Bagatelle Tulum
Check out the most famous parties to attend in this amazing beach venue – be part of all the recurrent events which became a MUST!
Last season Bagatelle organized Tulum best dinner nights. Featuring incredible DJs and their signature French Mediterranean cuisine, they created this incredible concept where fine food and music create magic. 
The table service + entrance fee for this event starts from 25000 MXN / $1330 USD.
Without a doubt, the best way to spend a night dining and dancing to great music. With incredible line ups, one of the greatest locations of Tulum beach, be ready to dance under the disco ball. Book your ticket now!
Book Your Ticket + Table Here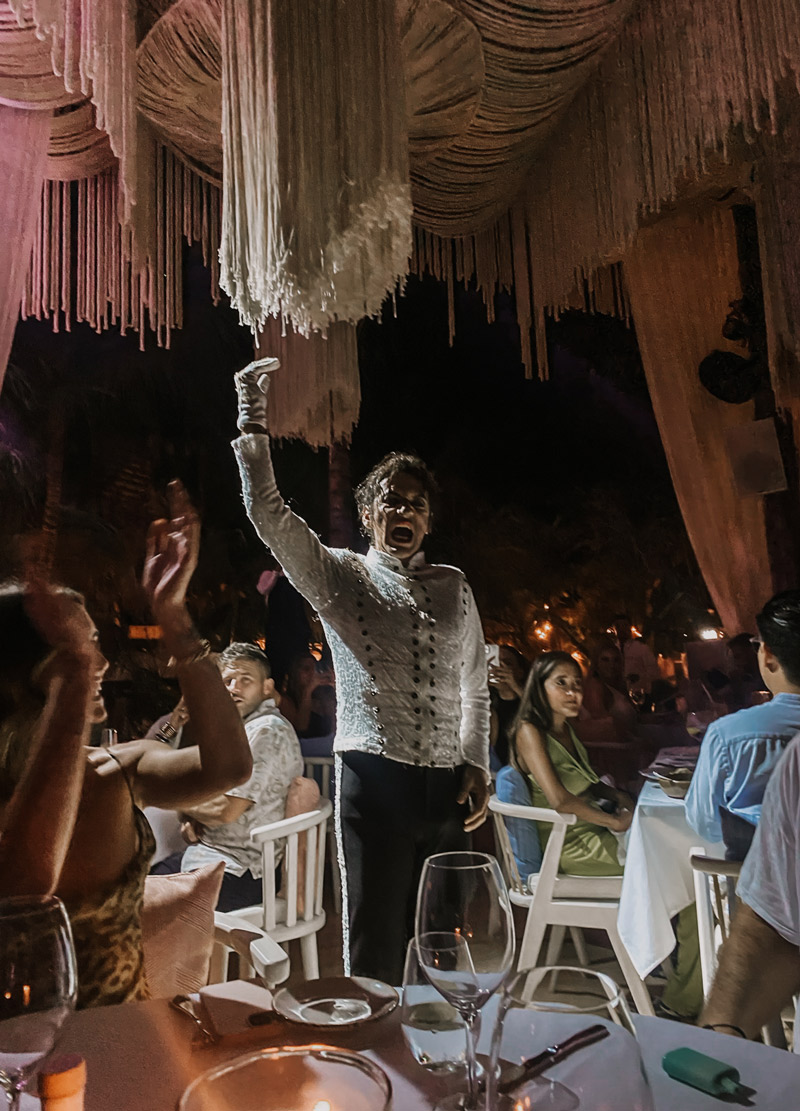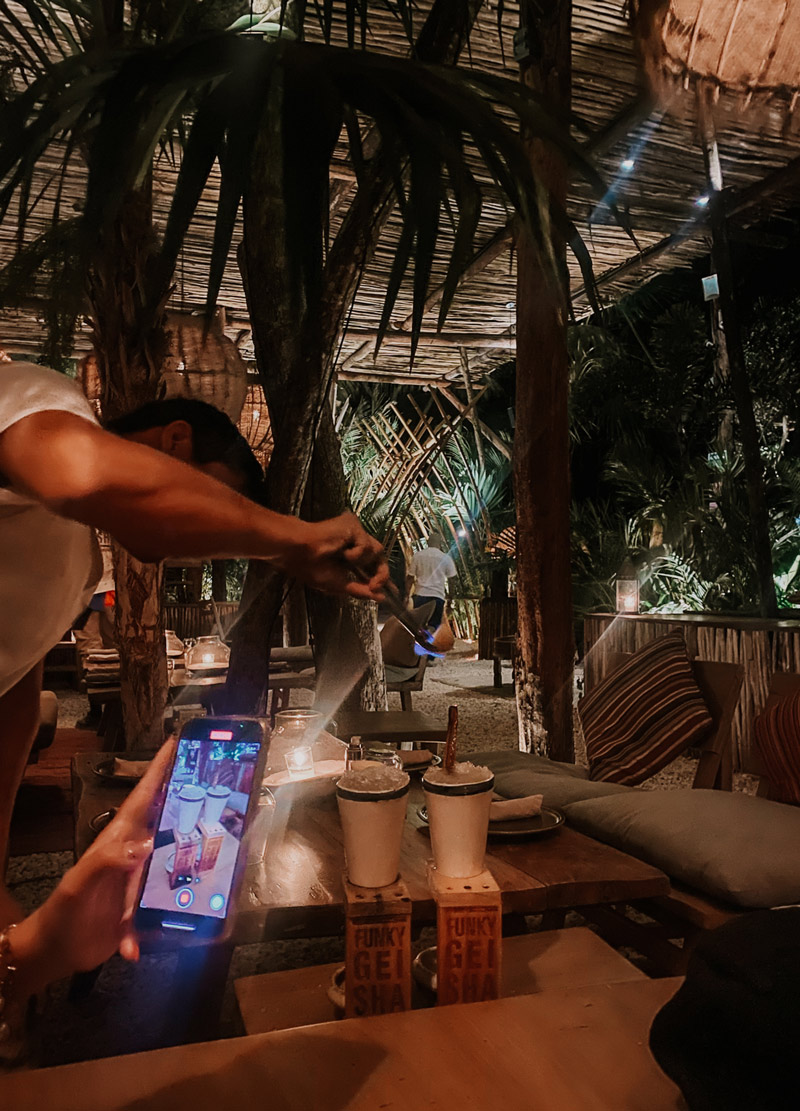 Bagatelle Red District Night
This indoor event features incredible line ups that will make you dance the night away in this unique location in Tulum beach. The table service and the ticket fee are of 69000 MXN / $3670 USD, you'll be able to share this cost with your group of friends and believe us – you'll not regret it.
The last lines ups that were featured during this event were: Behrouz, Kemikal Ali and Audio Fly.
Be part of this charming journey of free expression and high-flying sounds!
Book Your Ticket + Table Here
Bagatelle features some of the coolest DJs in its parties and events. They constantly change, and this is one of the reason the place is so unique.
Here below are the name of the last DJs that rock the parties at Bagatelle:
Black Coffee
Who Made Who
Guy Gerber
Todd
Hector
La Lune ft Shiba San
Riva Star
Tchami
Sharam
AudioFly
Badmoiselle & Vongold
and many more!
Enjoy the amazing location, the delicious cocktails and have fun during this party and be one with its magical atmosphere.
Book Your Ticket + Table Here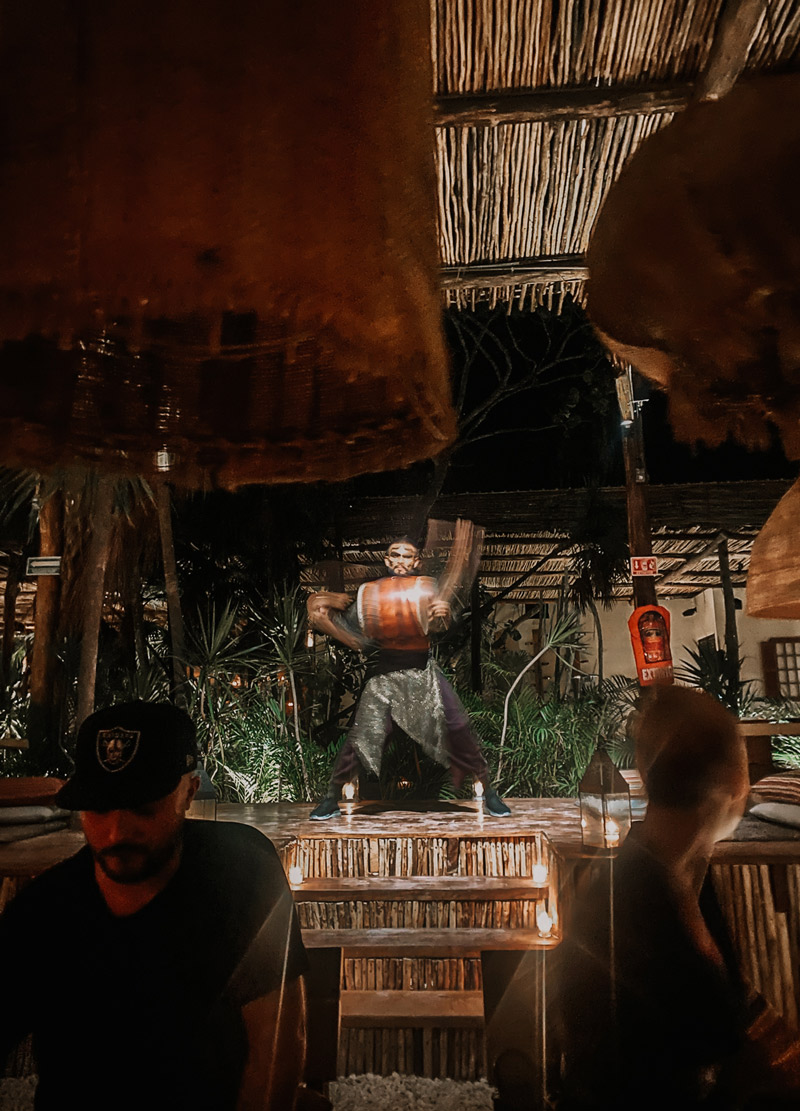 NYE Special Party: New Years Eve Parties here are legendary and they go sold out very quickly. The last one had Studio 54 as the main theme and wow – it was such a vibe! With the incredible location and the magic DJs manage to create here, you'll be part of one of the most incredible NYE parties of your life. If you are searching for the perfect mix between great live show, DJs, French Mediterranean atmosphere and delicious dinner, don't hesitate booking the ticket in advance and start the new year with the right energy!
Bagatelle Amenities & services
This place has many amenities and facilities which can be really a plus during your day or night. Let's discover them together!
List of amenities :
Organization of private weddings and celebration
Birthdays, bachelorette parties, rehearsal dinners and incentive groups perfect location
Beds and beach umbrellas beach service
Table service during parties and events
Vegan and vegetarians friendly
List of facilities :
Oceanfront pool
Mediterranean French cuisine restaurant
Private lounge
Pizza Restaurant
Parties and events with table service
Parking available
Free WiFi
Is Bagatelle Tulum Expensive?
Bagatelle can be more expensive than the other places in Tulum – but hey, life is one and you're in Tulum to live it! Their prices are totally worth the shows and parties Bagatelle is proposing.
The food, wine and beer selection, cocktails are unique in the Tulum scene and if you want to treat yourself with a special night – this is really the place to be! If you are traveling to Mexico on a budget, maybe you should leave this place to celebrate your first or your last night to rock your vacation!
To help you have a better idea, down below you'll find all the prices – from breakfast to dinner, from table service to the event entrance fee.
Booking tips & Best deals
*Know about Bagatelle parties before everybody else* – here are our tips after living in Tulum for 2 years!
Parties at Bagatelle are such a vibe. If you've already been in other venues around the world, you already know that Bagatelle is among the coolest places to party. The location is beautiful with the white decorations making you feel its elegant and chic vibe, the music is a unique mix and the DJs will make you have fun as you never did. Not to talk about the live shows – we bet you'll be amazed!
But if you want your experience to be extra, you should really consider booking a table during the events and parties at Bagatelle Tulum. No matter if you're a small or a big group, our friend Virginia – a Tulum adopted girl living here for more than 15 years – will set up everything for you. She personally knows the staff and will organize the perfect night – for FREE! 
Here are some of the advantages of having a table at a party:
Applies the same
All what you pay it's on consumption
Even if you are just a couple or a small group, Virginia can help you to get a table with other groups
VIP experience
Better area
Moreover, many times booking platforms just don't work so well – so it's always better to pass through the help of a real person in Tulum who knows the places and can help you live the best nightlife during your stay!
Contact her on WhatsApp and take advantage of her FREE services today.
Book Your Ticket + Table Here
Sample of prices at Bagatelle Tulum:
Here are some prices of the main services – check them out before going to get a clearer idea. 
Parties Entrance fee: $150 – $250 USD // 3000 – 5000 MXN
Parties Entrance + Table Service: $3695 – $6125 USD // 69000 – 115000 MXN
Prices at Bagatelle's bar:
In this venue you'll find a nice selection of beers, cocktails and spirits inspired by the herbs and infusions of the French Riviera. Here are some prices from their menu.
Beer: $5 – $8 USD // 95 – 165 MXN
Red wine: $14 – $33 USD // 280 -620 MXN
White wine: $19 – $26 USD // 360 – 490 MXN
Cocktail: $18 USD // 350 MXN
Spirit glass (Gin, Tequila, Vodka, etc):$17 – $772 USD // 325 – 14500 MXN
TIPS: Make sure to ask the bartender for advice or seasonal cocktails – you could get some nice surprises!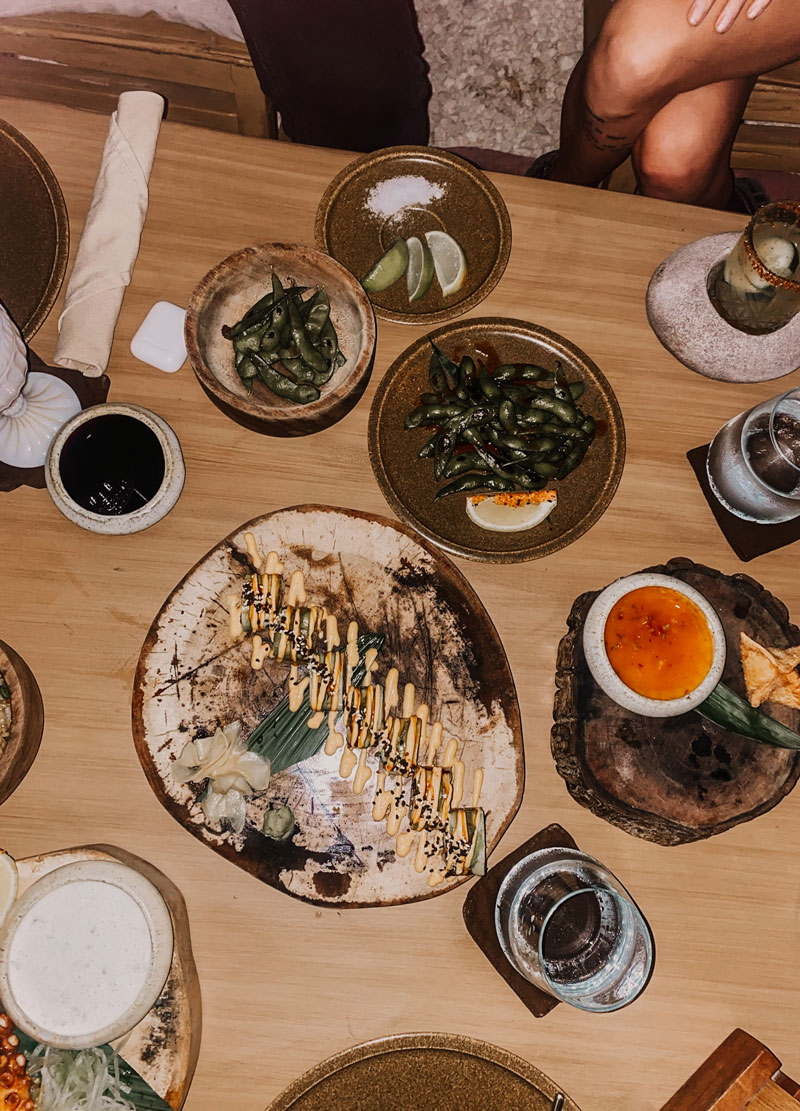 Prices of Bagatelle's restaurant:
This French fusion restaurant will be happy to have you as a guest and delish your palate with incredible dishes by their signature chef. Here are some prices for breakfast, lunch, dinner and desserts at Bagatelle. On y va!
Brunch price: $100 USD // 2000 MXN
Lunch/Dinner price: $12 – $190 USD // 250 – 3600 MXN
TIPS: Booking a table through a concierge service will grant you best table placement.
Book Your Table Here
Reviews about Bagatelle Tulum Beach Club
Since Eddy is French, we love to come back here! If you're an expat and missing Europe, you should really give it a try. If you are here for vacation, you should try it to change from the more mainstream Tulum parties and events. We bet you'll fall in love with its live shows and its vibe!
What people say about Bagatelle Beach Club in Tulum
Reviews about this venue are enthusiastic – it is the only beach club with this retro Mediterranean vibe and this makes it unique in the Tulum scene. People loved the cuisine inspired both by Mediterranean and Mexican tastes, the beautiful beach club with the pool overlooking the Ocean and the party vibes. Definitely something you need to try if you're tired of Tulum clubs.
We checked online reviews for you – they include: staff, pool, bar & restaurant and many other services – so check them out below! 
Rating on Tripadvisor: ⭐⭐⭐⭐ 4.5 average on 439 reviews at Jan 2023
Rating on Opentable: ⭐⭐⭐⭐ 4.4 average on 75 reviews at Jan 2023
Rating on Google Maps: ⭐⭐⭐⭐ 3.8 average on 574 reviews at Jan 2023
Rating on Facebook: ⭐⭐⭐⭐ 3.5 average on 15 reviews at Jan 2023
Book Your Table Here
Where is Bagatelle Beach Club located in Tulum?
It's located in a really popular area of Tulum. Halfway from the South of Tulum Beach and downtown Tulum, pretty easy to reach, you'll be in a paradise surrounded by clear water and palm trees. There are also many other cool clubs around, so you'll not get bored here! Still – if you want to spend the whole day at Bagatelle beach club, enjoy a fancy French Mediterranean dinner there and dance till dawn, we are sure you'll have an amazing time.
Let's check out the map below to have a clearer idea of where it is!
Bagatelle is located in the Tulum beach neighborhood
Carr. Tulum-Boca Paila 8, Tulum Beach, 77760 Q.R., Mexico
How to go to Bagatelle Beach Club in Tulum?
You have multiple ways to reach it:

From Tulum Centro: you can reach it from downtown Tulum in different ways. Since it's very close to other famous clus, the road to reach it can be pretty crowded before parties. That's why we think that reaching it by scooter is the best option: you'll not struggle for parking and it will not be as expensive as grabbing a cab. If you don't have a scooter, we recommend you to arrive early in the afternoon, park the car nearby and enjoy the surroundings without going crazy in the traffic! Last but not least – you can even walk to the property if you want to join it from the beach.
From Cancun airport: the cheapest options to reach it are definitely taking a bus or a colectivo (Mexican minivan). They are safe and pretty quick. If your budget is higher, we recommend you to either

rent a car

or book a shuttle. You'll struggle less and you'll be able to keep the car for the rest of your vacation. Once you'll arrive in Tulum Centro, you'll then have to head to Tulum beach and there you go! If you don't have a car, you can rent a bike, a scooter or take a cab to reach the venue.
Don't miss our Tulum transport guide to become a pro and choose the best way of transportation!
Which Hotels are close to Bagatelle Tulum?
Bagatelle is located in the most beautiful area in Tulum beach – so how to blame you if you want to be close to this property! In this way you'll not spend too much on transport and you'll be able to enjoy parties at their fullest.
Here are some of our favorite hotels close by – trust us, you can't go wrong with booking one of these for your stay in Tulum!
Delek

–

10 yards from the venue/1 min walking – Small cabanas will welcome you and make you feel on seventh heaven instantly! If you're searching for a tropical paradise – here you go!

Villa Las Estrellas –

130 yards from the venue/2 min walking – If you are on a budget during your trip to Tulum, this is a great choice if you want to stay at the beach. Definitely one of the best deals in the area!

Ahau Tulum –

230 yards from the venue/3 min walking – Location of the famous

sculpture

"Ven A La

Luz", if you decide to stay

here you can't go wrong! 

Casa Teka

– 306

yards from the venue/3 min walking – Enjoy the privacy of Casa Teka, hidden in Tulum jungle, but still offering you an incredible surrounding with access to the beach and a private cenote.

Kanan Tulum – 380 yards from the venue/4 min walking

– Get lost in its incredible architecture and chill admiring the Ocean in this beautiful hotel on the beach. Also great for digital nomads!
FAQ Bagatelle Tulum
What is the minimum age to get in at Bagatelle Tulum?
The minimum age to get in at Bagatelle Tulum parties is 18 years old.
Are kids allowed in Bagatelle Tulum?
No, kids aren't allowed in Bagatelle Tulum.
At what time Bagatelle Tulum opens?
Bagatelle Tulum opens from 11:00 AM in the morning.
At what time open Bagatelle Tulum restaurant?
Bagatelle Tulum Restaurant opens from 11:00 AM to 12:00 AM every day.
At what time does Bagatelle Tulum close?
Bagatelle Tulum Beach Club closes around 12:00AM or at the end of the party.
How to make a reservation at Bagatelle Tulum?
You can make a reservation at Bagatelle Tulum through our friend Virginia to get the best table and service. She personally knows the staff and will be happy to set everything for you! Contact her on Whatsapp.
What kind of music is being played at Bagatelle Tulum?
The music played at Bagatelle Tulum includes genres like house, edm, electro house, disco house, tropical house, pop dance, alternative dance.
Does Bagatelle Tulum have a pool?
Yes! Bagatelle Tulum has a pool directly on the private beach between palmtrees facing the Caribbean Ocean.
Does Bagatelle Tulum accept credit cars?
Yes, credit cards are accepted in Bagatelle Tulum.
Does Bagatelle Tulum accept cash?
Yes, Bagatelle Tulum accepts cash. It's always good to carry some Mexican Pesos with you during your stay.
Are tips included in the service price at Bagatelle Tulum?
Depending on the event or if you're at the beach club or restaurant, you'll have to check your bill to know if the tips are included at Bagatelle Tulum.
Is there a minimum spend at Bagatelle Tulum?
Yes, there is a minimum spend at Bagatelle Tulum when you get a table. In that case you'll be proposed with a full-course, prix fixe menu selection.
Is it possible to organize a wedding at Bagatelle Tulum?
Yes, it is possible to organize a wedding at Bagatelle Tulum – you can contact the staff on the website and start organizing the perfect tropical wedding!
What is the dress code at Bagatelle Tulum?
There is not really a dress code for Bagatelle. It usually vaires based on the events, but a general casual chic will perfectly work. For gentlemen remember: no sport clothing, no swimming suits or sandals.
Top Events to Make Your Trip Unforgettable
DOMINIK TULUM @MIA TULUM
When: September 9, 2023 7:00 PM
Where: Mia Restaurant & Beach Club, Tulum
🌴 Join Us for An Unforgettable Night at DOMINIK - TULUM at Mia Tulum! 🌴
Friends, clear your schedules and get ready for a magical experience at Mia Tulum! This stunning location will host DOMINIK - TULUM on Saturday, September 9th, from 7 pm to 1 am. This isn't just another event; it's a fusion of nature, culture, and sound featuring an incredible line-up with GIORGIO STEFANO, AUDICTIVE, and MAURO TORRETA. At DOMINIK, you'll find the perfect blend of Tulum's lush jungles and pulsating underground beats, creating an environment where genuine connections blossom.
🎟️ Secure your tickets now:
Early Bird: $575 MXN ($38 USD), includes a welcome drink 🍹 (Limited Availability)
Tier 1: $805 MXN ($52 USD), includes a welcome drink 🍹 (Limited Availability)
Final Tier: $1150 MXN ($75 USD), includes a welcome drink 🍹 (Limited Availability)
Dinner + Party: $1380 MXN ($90 USD) 🍽️🎉 (Limited Availability)
See you there for a night you won't forget! 🎶✨
Ready to join us? Get your ticket now! Early bird tickets are already selling out, secure them at 632 pesos (only 15 tickets available).
Hurry – spots are filling up fast! 🙀 We can't wait to see you there!
Top Parties and Club Events
17th September - ANCESTRAL SOUL @BONBONNIERE TULUM
22nd September - TONY ROMERA @BONBONNIERE TULUM
29nd September - TIM BARESKO @BONBONNIERE TULUM
4th November - HOT SINCE 82 @BONBONNIERE TULUM
13th March - LOCUS Tulum 2024