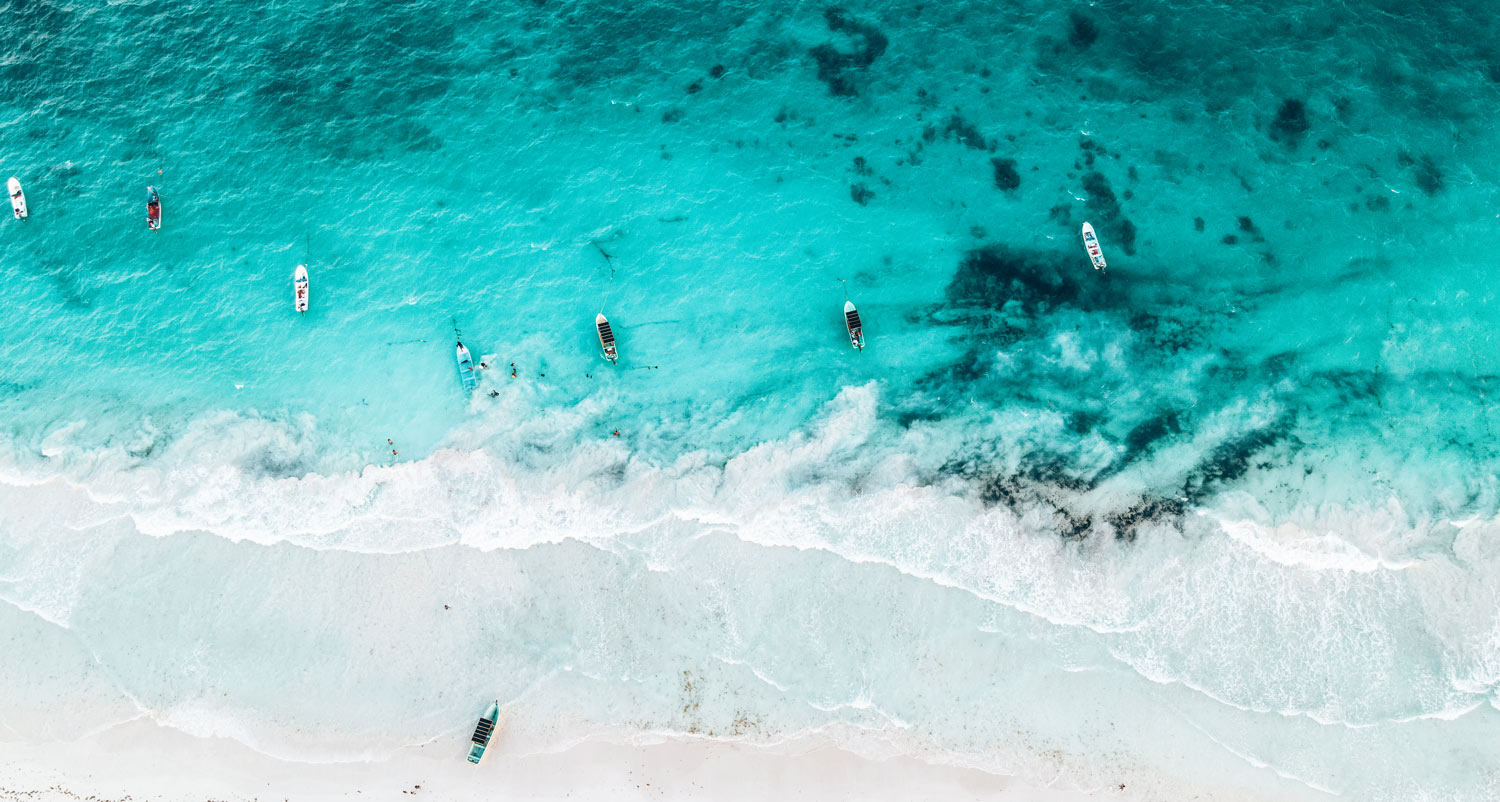 The Best Snorkeling Spots In Tulum You Need To Know About
You know the feeling of being one with the Earth, of fusioning with the environment around you? Well, we have this sensation every time we put our nose under the water! And Tulum, located in Riviera Maya, is one of the perfect places to discover this under water world. 
Tulum has amazing beaches with turquoise sea and an amazing coral reef – except for the seaweed season, which is generally between May and October – but to see incredible under water scenarios, having a tour with a boat is definitely life changing. Not only for the snorkeling part, but also because you will be able to see the Mayan ruins from a completely different angle. 
That's why we put this experience on our wish list at the beginning of our trip in Mexico! Later on, we had the chance to meet a guy at a party when we first arrived in Tulum. He was in Riviera Maya as a nature conservation ranger and of course benefited from advantageous rates to access all of the Natural Park, cenotes and sea boat trips. After a few shots of Mezcal, he was kind enough to give us a friends and family code offering a discount from 40 USD to 30 USD per person for snorkeling boat trip; here below, you can still benefit from this discount.
In this guide, you will not only find the adventure we had on that boat trip, but also a few tips to make your life easier if you are a beginner in the snorkeling field, and – last but not least – our favorite places to snorkel and dive between Tulum and Cancun to enjoy at its full the beauties of Riviera Maya. Let the adventure begin! 
3 tips to make your snorkel experience great
Take deep focused breaths to help yourself relax before snorkeling or diving
Diving or snorkeling is like under water meditation. Muffled sounds around you, the sunlight on the seabed, the amazing coral reef under your eyes with thousands of fishes swimming around, will make you forget about stress and bad thoughts. This inner peace you will discover is created by the focus you will put on your breath. In fact – taking deep focused breaths before snorkeling or diving will definitely make your adventure flawless and will make you relax and appreciate the day even more.  
Find the perfect fit for your mask to clearly see under water
There are many masks on the market, but what we recommend is to go to a specialized shop. Don't be afraid to ask for professional advice and once you will find the perfect mask for you, your snorkeling experience will completely change. Still having problems with fog? Try to defog your mask with baby shampoo or dish soap, or if it's real glass, burn the inside with a lighter and clean it afterwards. Now you're officially ready to go! 
Do not touch corals, fish or turtles while you swim in the sea
Being able to see under the sea with a good mask and being calm and relaxed to control your movements are two unmissable things to respect the marine life and environment. In fact, while you swim in the sea you shouldn't touch corals, fish or turtles in order not to disturb them and damage the reef of the area. 
We could literally spend hours talking about snorkeling, but let's go on and arrive at the point: here below you will find our experience and the friends and family code you can use to book your snorkeling boat trip in Tulum, Riviera Maya!
How to book your snorkeling tour in Tulum
You can book your boat trip and snorkeling session directly at Tulum beach and the cover will be 40 USD. In our adventure we had the chance to get a friends and family discount code and get our ticket at 30 USD instead of 40 USD! We don't know till when this code will work, but if you wanna try it out you can go on this page and try to use it: XF78PQS.
With this code we saved 20 USD per 2 adults on the complete snorkeling tour in front of Tulum beach: we lived an amazing adventure and it was definitely a great value for money – moreover, after the tour, you are free to stay as long as you want at the beach or reach the close by Mayan ruins.
You can thank us later 😉 If the code is still functioning, we would really appreciate it if you guys could leave a comment here below!
Snorkeling Guide: our favorite places to snorkel in Tulum and Riviera Maya
After months and months snorkeling in Tulum and Riviera Maya, we decided to make a list of the places that stole our heart – either for their agua clara or the incredible marine life – that you can't miss during your trip to Mexico. Ready to check them out? Vamos! 
Swimming at the beach in front of the Mayan ruins is one of our favorite activity. You are close to Tulum downtown and you can in no time have nice bars on the beach with a local vibe to chill out sipping a fresh cerveza. But – yeah, there's a but – to see the ruins and enjoy at the best what this beach has to offer, taking a boat tour will make your day. After many reviews from friends and people in Tulum, we decided to use the friends and family discount code to try it out ourselves! 
Honestly, even if it was only for the boat trip it would be worth it! Eddy and I had so much fun on the boat and the guide was really kind as well. We usually only carry our masks, but they give you fins and life vests if needed. Most importantly, they have such knowledge about the reef and the sea that will really enrich you. They will stop in some precises and secret places in the sea where, as soon as you jump down from the boat, you will be surrounded by fishes and be able to admire the amazing coral reef. And if you lift your head, you will have in front of your eyes Mayan ruins – such a dreamy experience to live during your trip to Mexico!
Akumal: swim with turtles
Akumal is among the most beautiful places in Riviera Maya to spend your day or just a few hours. You can reach it both from Tulum and Cancun, have a nice lunch in one of the restaurants on the beach, and then jump into the sea and discover a fairy world full of corals. To swim in the protected area you will have to take one of the tours on the shore, and only then you will be able to swim with turtles and mantas! Definitely worth it. If you are not up to it, or at the end of the turtles tour, you can swim around and a few meters from the beach you will already see incredible corals and funny blue and yellow fishes! Definitely the perfect spot for beginners.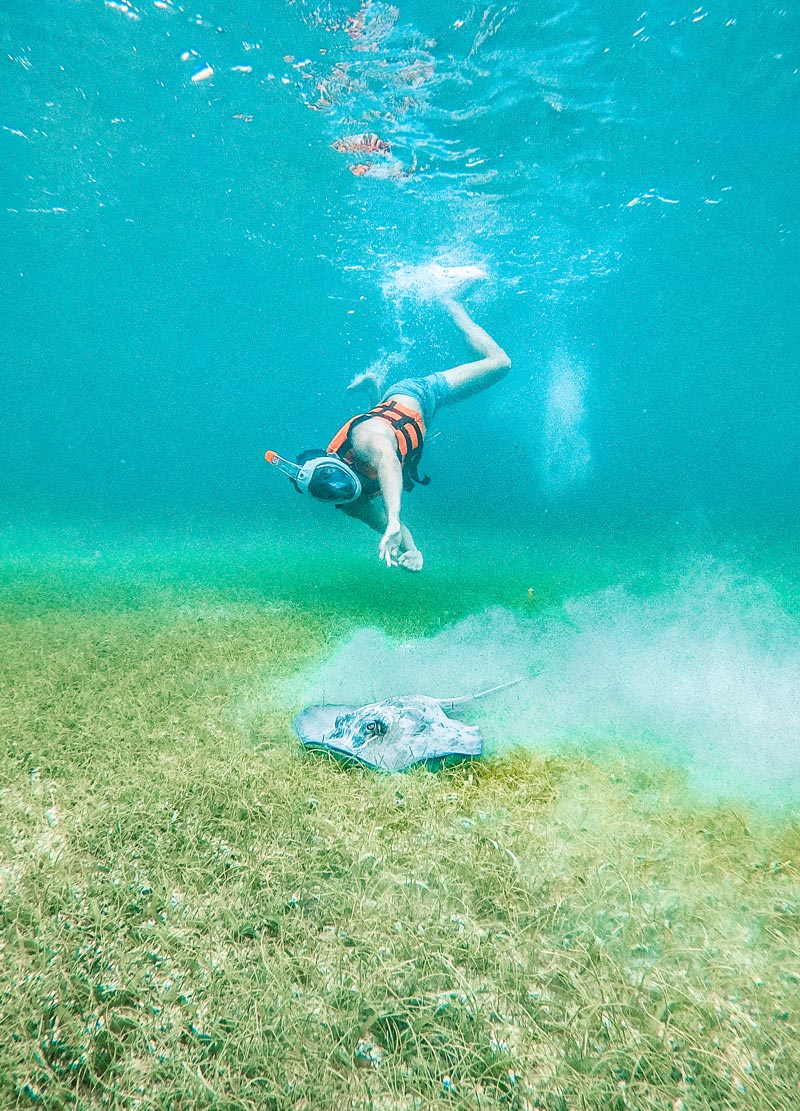 "Eddy Swimming With Mantas!"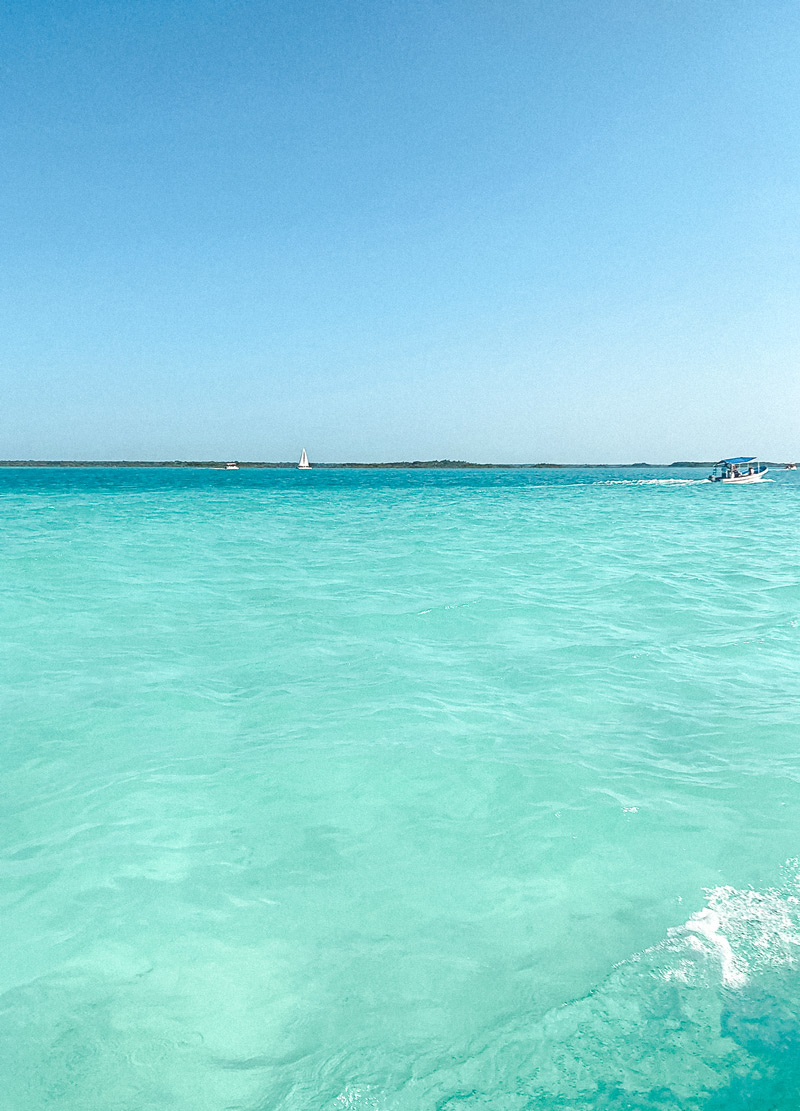 "A Boat Trip Will Make Magical Your Trip To Tulum"
If you already had your snorkel session in the beaches of Tulum, consider cenotes! One of our favorite and close to Tulum is Cenote Casa Tortuga, a beautiful group of four cenotes with plenty of small cute turtles swimming around and a nice jungle surrounding these natural lakes. Moreover, 3 of them are half close with access to caves, while one is completely open remembering the shape of a river. Check out our adventure at Cenote Casa Tortuga right here!  
Scuba diving in the great sea in Cozumel
Cozumel, as for Isla Mujeres and Holbox – the 3 most famous islands in Riviera Maya – is literally the place to upgrade your snorkeling experience! Right in front of Playa del Carmen, you will be able to reach it in a few hours from Tulum or Cancun. Here the best spots to snorkel are located in the west and south-west part of the island, where the wind is more shallow. This makes it perfect for beginners and kids who want to see incredible sea life! 
Another cenote we love is Cenote Aktun Chen. Located close to Casa Tortuga, you will be able to explore one cenote, a cave and a 10 zip lines park. If you are searching for the best way to spend your free time in Riviera Maya, this is one of the best options!
The caves and the cenotes are the perfect spots to experience scuba diving discovering a completely different environment. The park is also a great place to free your mind and just lay down and read a book in a jungle like flora. Definitely the best if you are searching for the right mix of adventure and relaxation! 
Punta Allen: tour Sian Ka'an Reserve
Punta Allen and Sian Ka'an Reserve are also a must during your trip to Tulum! This amazing reserve is perfect both for excursions between the jungle to admire the wildlife in their natural habitat, as for snorkeling tours, especially in Punta Allen. Check out our complete guide on Sian Ka'an Reserve to know how to reach it and what to do to enjoy your days there at best! 
Take Advantage Of Free Concierge Service
As excellent to explore Tulum and its surroundings alone, you may need help figuring out where to start. To make the most of your money and time, contact Virginia and Kelly - two incredible Mexican girls living in Tulum for more than 15 years. They're familiar with the ins & outs of the Tulum town and hotel zone like the back of their hand! 
Since we arrived in Tulum 2 years ago, many adventures wouldn't have been possible without their help - they know literally everybody in Tulum and can perfectly organize every moment of your stay. Get the best tables, skip queues and get on the guest list of the coolest places in Tulum - this's only the beginning! 
They are ready to offer you guys FREE concierge service in Tulum for the time of your stay: take advantage of it, contact them on Whatsapp and live the best experience!
Get FREE Concierge Service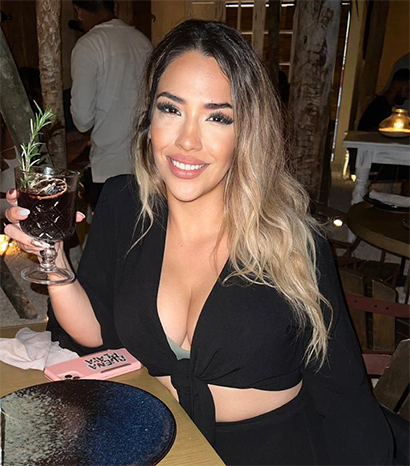 "Virginia Will Transform You In A Tulum Insider"
Snorkelers and divers out there, we are happy you arrived at this point of the article and we hope to have inspired you for new exciting under water adventures.
And you? Which is your favorite snorkeling spot in Riviera Maya? Write your answer here below to inspire other travelers! 
Top Events to Make Your Trip Unforgettable
DOMINIK TULUM @MIA TULUM
When: September 9, 2023 7:00 PM
Where: Mia Restaurant & Beach Club, Tulum
🌴 Join Us for An Unforgettable Night at DOMINIK - TULUM at Mia Tulum! 🌴
Friends, clear your schedules and get ready for a magical experience at Mia Tulum! This stunning location will host DOMINIK - TULUM on Saturday, September 9th, from 7 pm to 1 am. This isn't just another event; it's a fusion of nature, culture, and sound featuring an incredible line-up with GIORGIO STEFANO, AUDICTIVE, and MAURO TORRETA. At DOMINIK, you'll find the perfect blend of Tulum's lush jungles and pulsating underground beats, creating an environment where genuine connections blossom.
🎟️ Secure your tickets now:
Early Bird: $575 MXN ($38 USD), includes a welcome drink 🍹 (Limited Availability)
Tier 1: $805 MXN ($52 USD), includes a welcome drink 🍹 (Limited Availability)
Final Tier: $1150 MXN ($75 USD), includes a welcome drink 🍹 (Limited Availability)
Dinner + Party: $1380 MXN ($90 USD) 🍽️🎉 (Limited Availability)
See you there for a night you won't forget! 🎶✨
Ready to join us? Get your ticket now! Early bird tickets are already selling out, secure them at 632 pesos (only 15 tickets available).
Hurry – spots are filling up fast! 🙀 We can't wait to see you there!
Top Parties and Club Events
17th September - ANCESTRAL SOUL @BONBONNIERE TULUM
22nd September - TONY ROMERA @BONBONNIERE TULUM
29nd September - TIM BARESKO @BONBONNIERE TULUM
4th November - HOT SINCE 82 @BONBONNIERE TULUM
13th March - LOCUS Tulum 2024