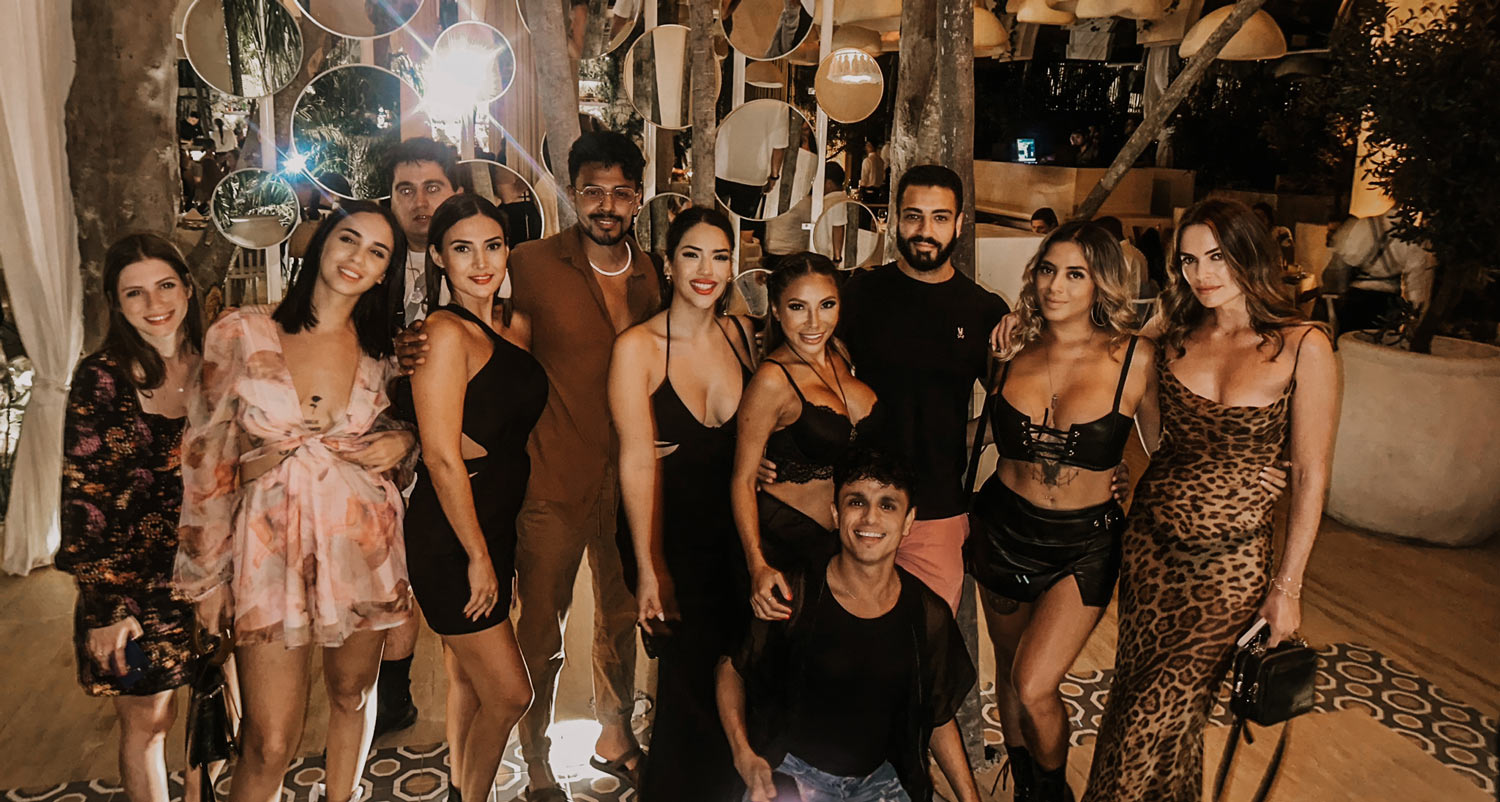 Vagalume Tulum Beach Club Complete Guide: Insider Events Info
Welcome to Vagalume Tulum, a bohemian beach club with a magical experience designed to please all your senses through various musical festivals, a beautiful ambience, and delicious cuisine. Where your next greatest adventure awaits!
This article will give you a better understanding of the venue, and you will learn all there is to know. So, stick around and find out what makes this place unique and popular among other locations.
What is Vagalume Tulum and what can you expect?
On the surface, it is a beach club equipped with a restaurant and bar. It features a tropical vibe to dine on, flavorful Mediterranean cuisine, and various events every week. But unlike many other beach clubs, Vagalume has its own unique perks.
One of the best things that make this place stand out is its elegant bohemian ambience, from the beach club's artisan interiors to the various live DJs on their weekly events. This became the main reason people travel to the hotel zone to chill and party at Vagalume, especially the conscious communities in Tulum. Moreover, people love to stay the whole day because of the ambience and their Mediterranean menu, offering delicious food and refreshing drinks.
While at night, watch as the scenery shifts to a miraculous stage, inviting you to a lifetime of partying and dancing until sunrise! Come and visit anytime to be immersed in the magic of Vagalume Tulum.
Parties and Events in Vagalume
Experience otherworldly performances and parties hosted by various international DJs, professional acrobats, and creative artists only at Vagalume Tulum! It's crazy to think that this beach club hosts the best parties every day. Moreover, their parties become more frequent, starting in September or October, because of the beginning of the high seasons. 
So, come and enjoy the festivity here if you are around Tulum from October to May! Plus, check out our top picks for their best beach parties hosted in Vagalume.
2nd November - VAGALUME WKND PASS @VAGALUME
2nd November - JUEVES 2 VAGALUME WKND @VAGALUME
3rd November - VIERNES 3 VAGALUME WKND @VAGALUME
4th November - SABADO 4 VAGALUME WKND @VAGALUME
5th November - VAGALUME WKND - HERNAN CATTANEO X BNP @VAGALUME
9th November - VAGALUME SESSIONS HENRY SAIZ @VAGALUME
10th November - FELIPE ALAMAIS @VAGALUME
12th November - VAGALUME SUNDAZE POLE POSITION @VAGALUME
16th November - VAGALUME SESSIONS GALLUXY @VAGALUME
23rd November - VAGALUME SESSIONS KEENE @VAGALUME
26th November - VAGALUME SUNDAZE MITA GAMI @VAGALUME
30th November - VAGALUME SESSIONS VALDOVINOS @VAGALUME
3rd December - VAGALUME SUNDAZE VALENTIN HUEDO @VAGALUME
7th December - VAGALUME SESSIONS MUSTAFA ISMAEEL @VAGALUME
30th December - PIKNIK POLO CORP & LEO LEONSKI @VAGALUME
31st December - NYE PARTY 2024 @VAGALUME
Most famous parties in Vagalume
DJ Kintar welcomes the Summerians back to Tulum for its second season after success in Bali, Sardinia, and Ibiza in 2022. The Summerians is a musical and immersive journey of multisensory that takes you on a magical trip, bridging a connection that transcends the boundaries of perception. This is an 8-weekly event inviting the audience to an ongoing tale that lasts through summer! Don't miss out on the story; save your table slots today!
Book Your Ticket Here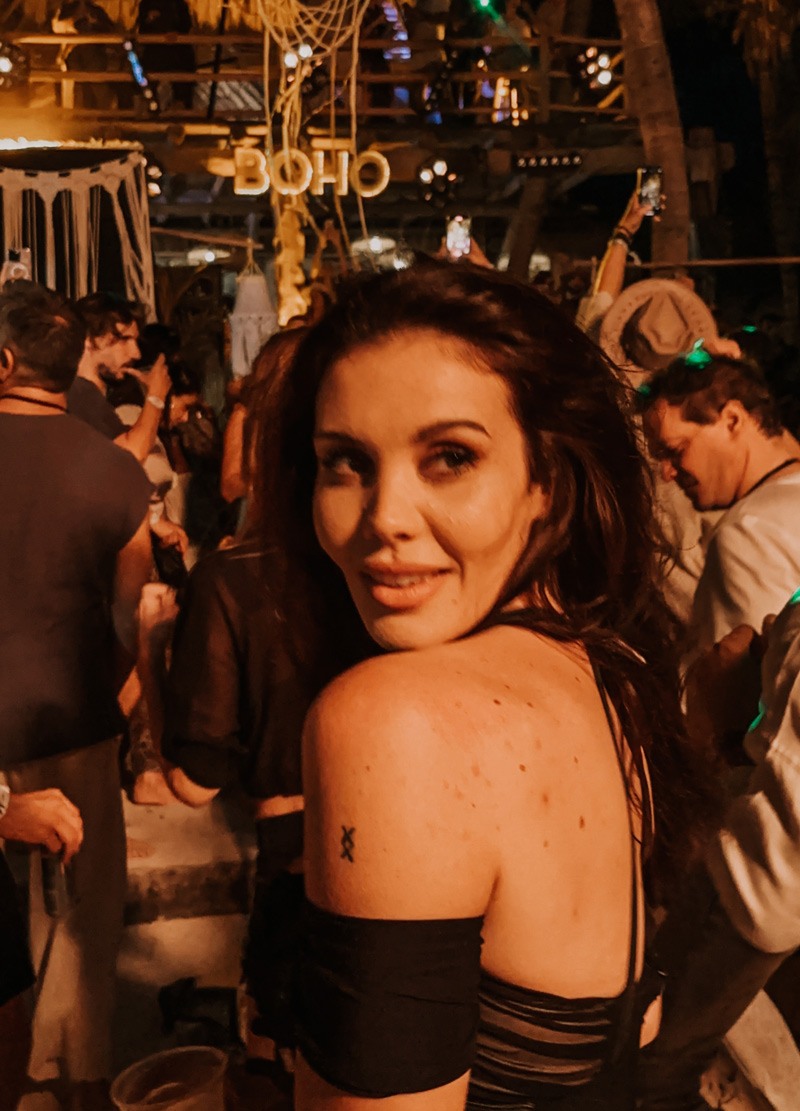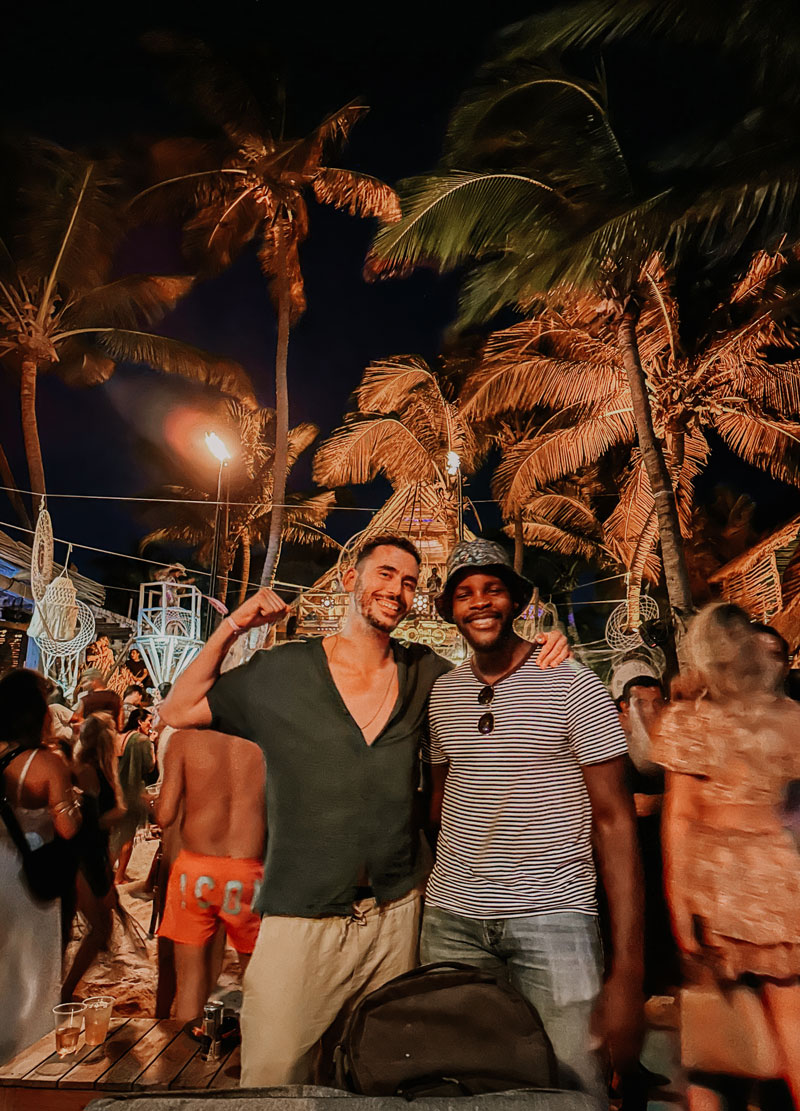 Curated by Nicolas Sasson and supported by international artists, Bâzâr is a pretty cool party concept that offers a new way to get together, celebrate, and share memories while listening to great beats in the greatest spots on the beach. After a busy summer tour in Ibiza, Saint-Tropez, and Mykonos, they travel to Tulum to bring you two unique performances. Check out the last remaining tickets here!
Book Your Ticket Here
HANGAR ELECTRONIC EXPERIENCE
An electronic musical performance that combines renowned artists with comfort and cuisine in an urban environment. In the past, Hangar started as a warehouse rave in Brussels, and now expands internationally and makes its premiere in Tulum! Featuring its signature Hangar Soundsystem with a great lineup of DJs such as Mooglie, Speaking Minds, Way of Thinking, and Secret Guest. Hurry up and get your tickets; the first release is already sold!
Book Your Ticket Here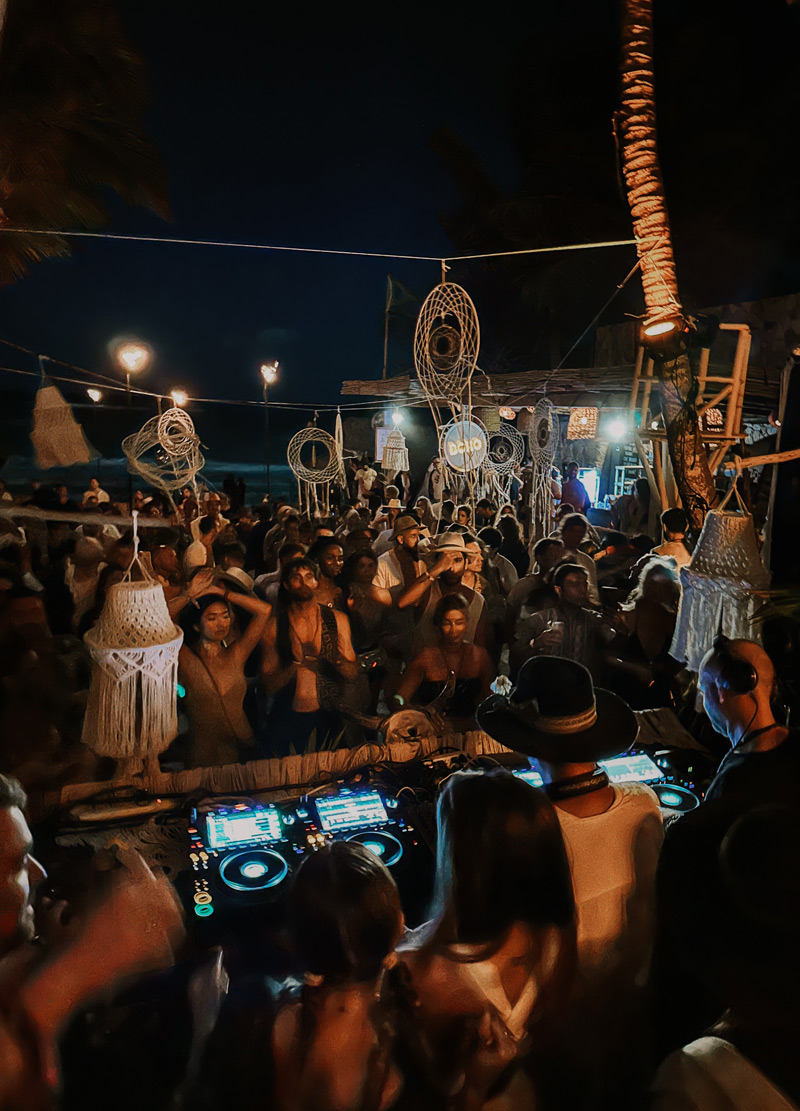 The only place you want to be every Saturday during the day to let the curated melodies, gastronomic culture, and cocktail drinks is at Vagalume Tulum runs through your veins! It is where people gather on the dance floor and share the same taste, while also hosting local designers' markets on the beach. If you want an authentic festive journey, this is the place to enjoy the delicious day vibes turned into night.
Throughout January, four PIKNIK events will feature its unique concept from various international artists. Save your table for the dates!
Book Your Ticket Here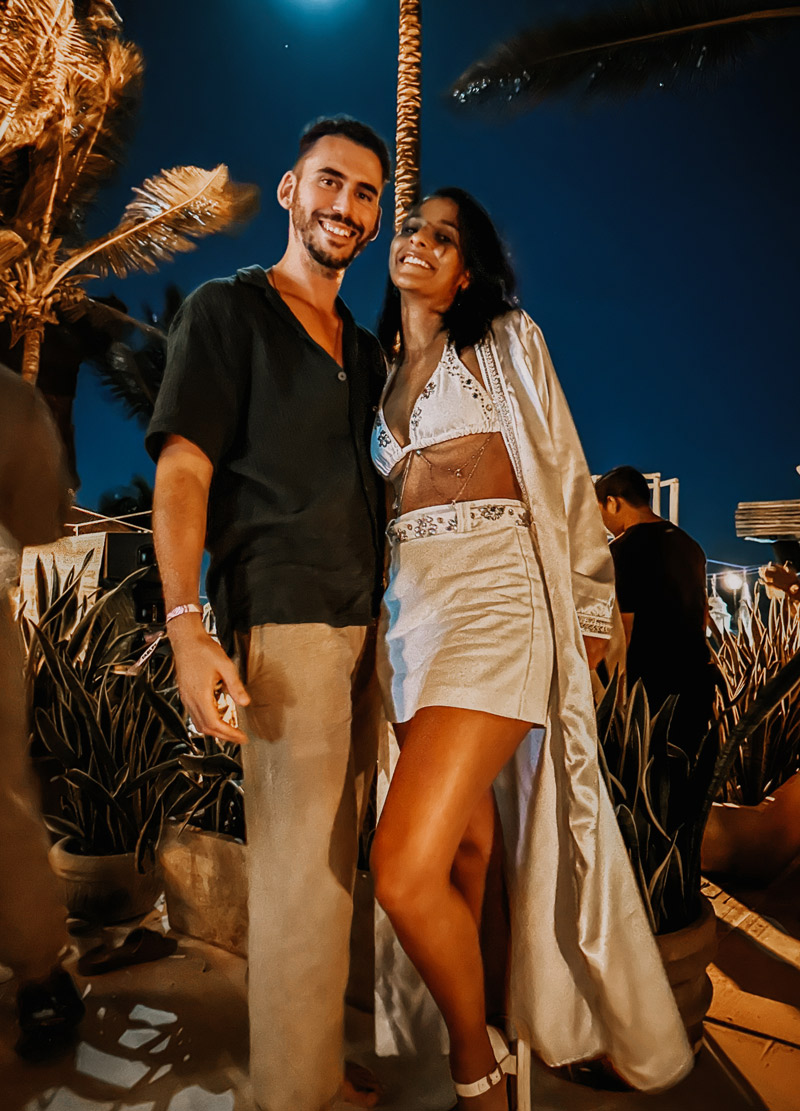 Featuring two world-renowned artists, Echnomist and Lee Jo Life (Loic), presenting their top labels' musical performances in Tulum. On the 8th of January, the Greek maestro Echonomist represents the epitome of an artist that has enthralled dance floors worldwide and is famous for producing a powerhouse! While on the 15th of January, Lee Jo life presents various musical styles of electronic genres with a great lineup of DJs from Adassiya and Negrinm.
Book Your Ticket Here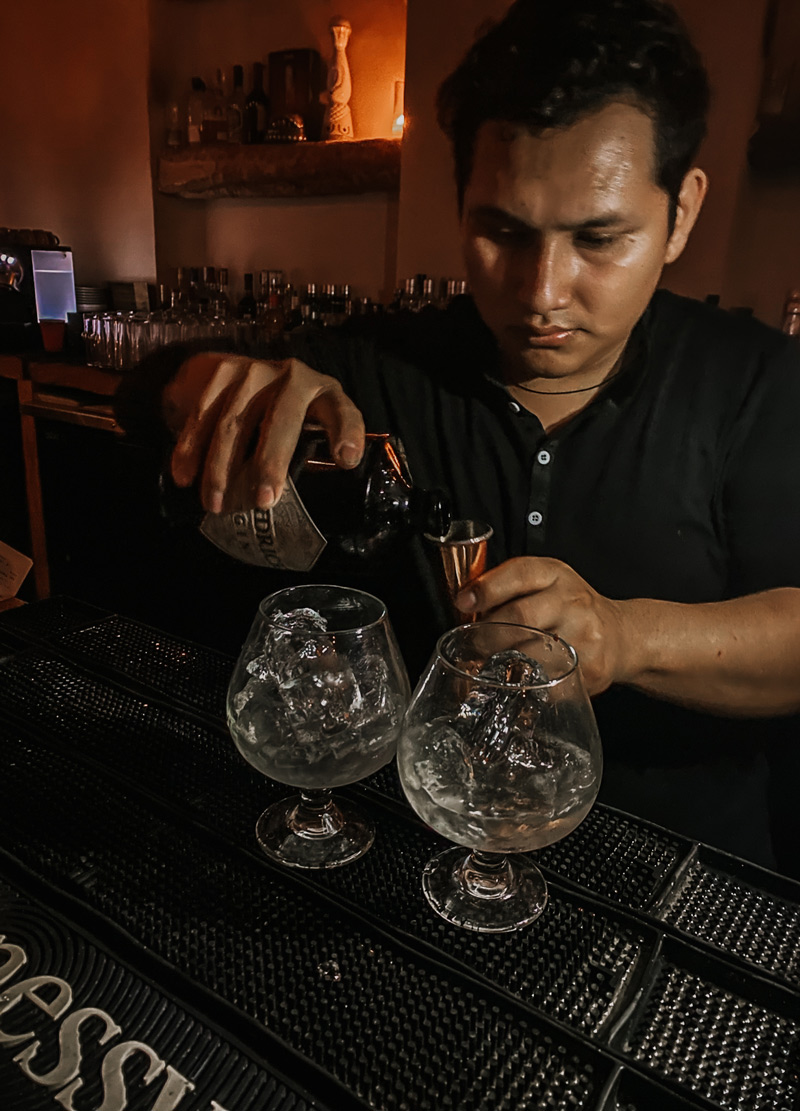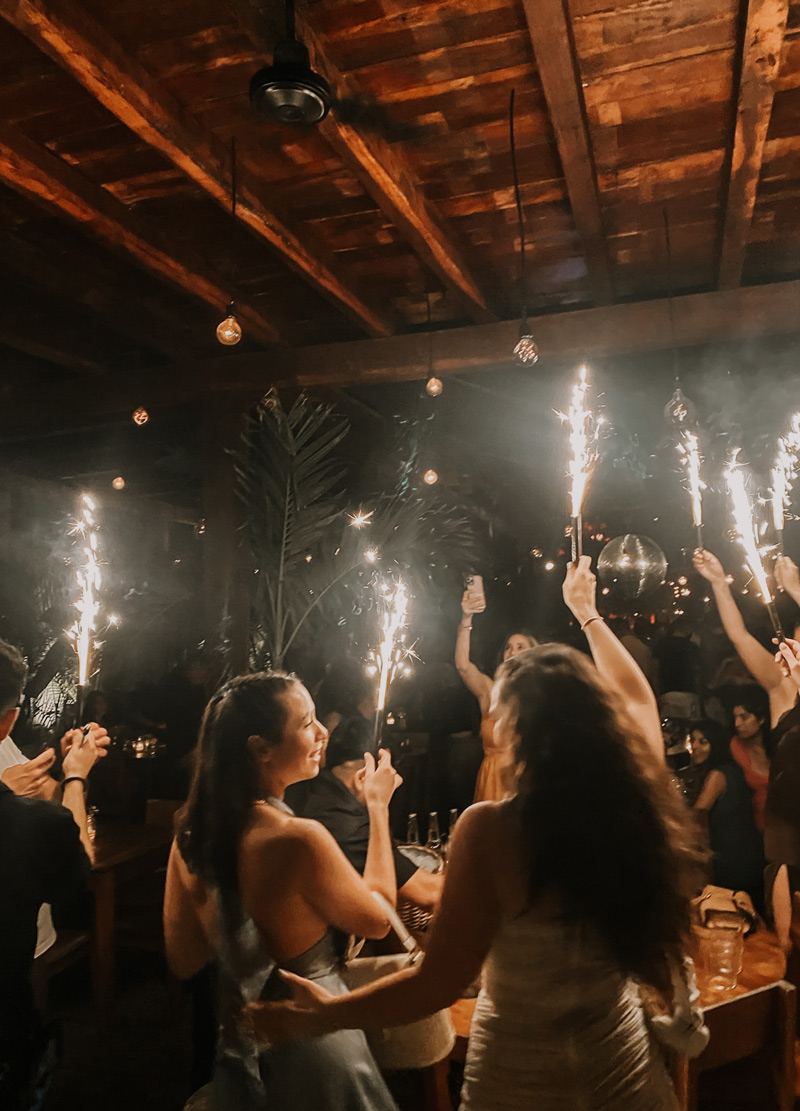 Every Tuesday in January features Sinner, presented by Vite & Miganova, a talented Italian producer of a diverse genre blending Melodic House, Progressive, and Indie Dance. His concept is a 20-hr dinner experience and a boutique party that brings people together via the power of music, with the collaboration of EPHIMERA and EUPHORIA.
Don't miss out on the Sinner Opening event on the 10th of Jan, featuring Vite & Miganova, Human Rias, and Adi Dassler. Time to show up in all black and book a reservation on the best tables for free!
Book Your Ticket Here
NYE & Anniversary Event: A rustic and bohemian event featuring Vagalume Tulum's Mediterranean gastronomic experience and world-renowned artists such as Gheist, HUman Arias, and Negrinm.
Vagalume Amenities & services
Besides the events, here is a selection of Amenities, facilities, and services that all guests of Vagalume can enjoy.
List of Amenities
Beach beds

Free wifi

Comfortable chairs and tables

Live Dj on some days

Air cons/fans on some spots

Hookahs
List of Facilities
Restaurant

Bar

Beach bar

Covered indoor and outdoor tables for dining

Covered outdoor dance area

Amazing statue and pool that's good for photos

Parking close by
List of Services
Safety and Security

World-class staff service

Great electronic beats during beach parties and events
The prices are fair compared to the average prices at other beach clubs and restaurants across Tulum, Mexico. Furthermore, the most relaxing thing to do here is to spend the whole day on the beach beds while enjoying the delicious food and drinks. Furthermore, Vagalume is a great beach restaurant and club to hang out with groups of people for the day and party at night. To give you a better look, here are some of the prices offered to their patrons.
Booking tips & Best deals
During regular days, you don't necessarily need to make a reservation. However, you should save a table for parties because many people loved their events. Although there aren't other ways to get cheaper party tickets, you can always reserve for FREE the best tables for the event here!
Book Your Ticket + Table Here
Sample of prices at Vagalume events:
If you are wondering how much you will spend here, these are a few of the sample prices. Moreover, what makes it more worth it is the amazing staff service by Camilo and Eddie who are attentive, friendly, and polite with all the guests, check out the review later below! Back to the prices:
Minimum consumption fee: up to $50 USD / person
Day beach party entrance fee: up to $29 USD / person
VIP Day beach table reservation fee: up to $240 USD / person
Night beach party entrance fee: up to $29 USD / person
They serve a variety of cold drinks; wine, champagne, bottles, mixology, and beverages.
Bottled drinks: $415 USD
Beers: $8 USD
Beverages: $7 USD
Wines: $100 USD a bottle
Champagne bottles mostly above: $500 USD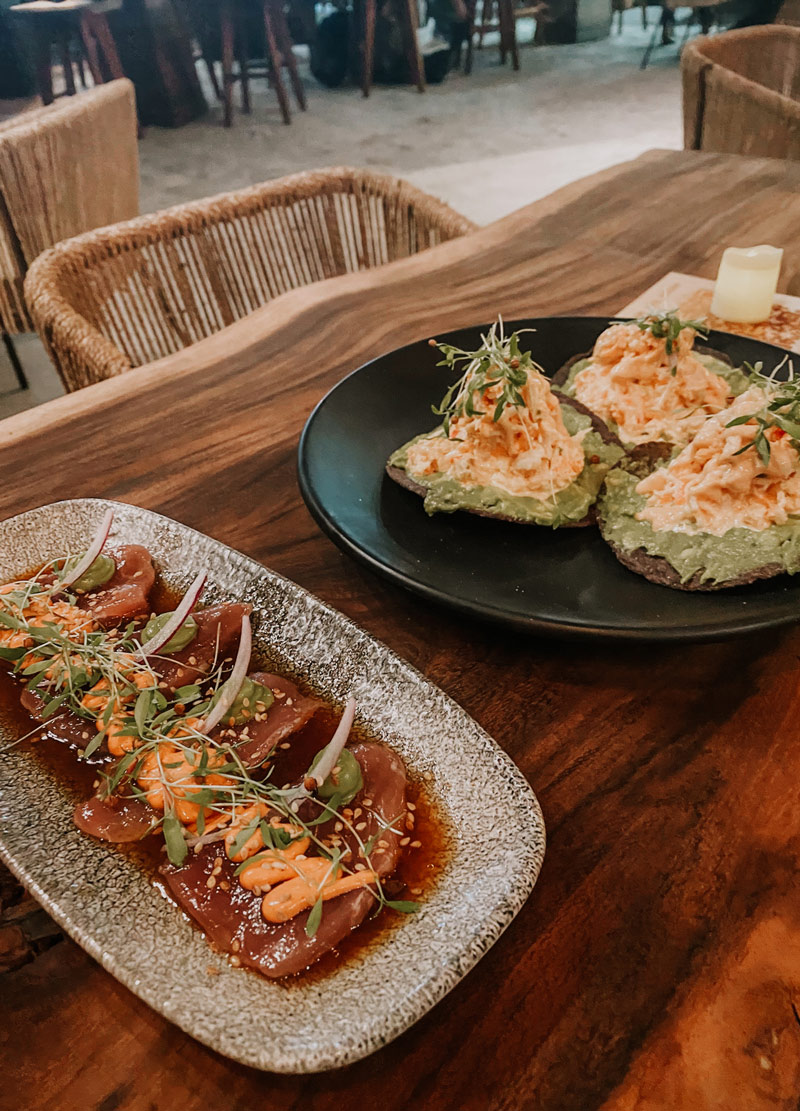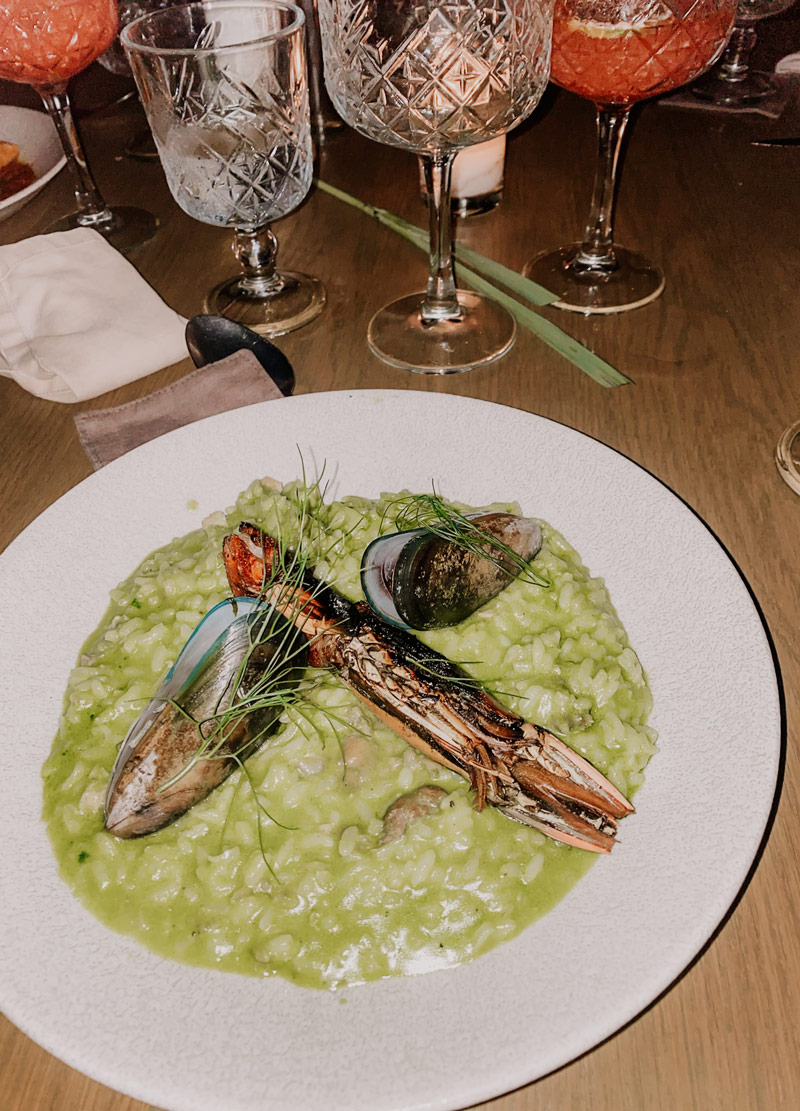 Prices at Vagalume restaurant: food and drinks menu
The restaurant offers a signature Mediterranean food menu where seafood is their specialty. Moreover, the taste is delicious and unique compared to other restaurants. Average meal with a drink around 800 pesos
Dinner tickets for most events/parties fee: Up to 130 USD
Ceviche of the house: $23 USD
Grilled adobo octopus: $33 USD
Homemade hamburger: $25 USD
Tips: Book a table through our friend Virginia, our internal contact, to get the best table spots with a beautiful view and scenery for free!
Book Your Ticket + Table Here
REVIEWS OF VAGALUME BEACH CLUB, RESTAURANT, & BAR
Lastly, check out our reviews and what people say about the overall venue and experiences below:
This venue is unique, and we believe it isn't for everyone. Mainly because the price may discourage some people from spending the day dining at the restaurant. Nevertheless, many people can afford the parties and events at Vagalume, which are worth experiencing. Plus, we recommend getting the VIP tables as it is the most amazing location to be during their event; Close to the music, get all the drinks you want, and they have a high VIP standard. Overall, we review this place as a must-visit at least once to join their events for most travelers.
What people say about Vagalume Tulum
Most of them review the staff service as "great," "attentive," and "friendly." Especially, people are cheering for Camilo and Eddy for their service, so when you meet them tell them how much people loved them and post good reviews about them!
Moreover, most of the comments found the food to be delicious and the drinks to be flavorful. Besides the overall rating of people's reviews, we recommend reading the comments to understand what Vagalume is good at. 
Ratings on Google:

⭐

⭐

⭐

3.6 at 251 reviews as of Jan 2023
Ratings on Tripadvisor:

⭐

⭐

⭐

⭐

4.5 at 91 reviews as of Jan 2023
Ratings on Opentable:

⭐

⭐

⭐

⭐

4.4 at 46 reviews as of Jan 2023
Book Your Ticket + Table Here
Where is Vagalume located in Tulum?
Vagalume is located across the infamous Hotel Zone of Tulum. It is a long strip road between the beach and jungle, home to luxurious hotels, restaurants, and bars. We recommend you travel to the neighborhood and explore the beach area to experience nightlife at its best! But don't forget to stop by Vagalume!
Taboo is located in the Beach Zone neighborhood
Tulum's Beach area at km 7.5, 77776, Quintana Roo, Mexico.
How to go to Vagalume Tulum?
It is accessible to cars, taxis, ATVs, bicycles, walking, and motorcycles from anywhere in Tulum. However, we recommend a traveler avoid the taxis in that area because they will overprice you for your trip, so it's best to use your own transport, find a parking spot, and walk to the restaurant. 
Which Hotels are close to Vagalume?
Here are some of the hotels or resorts that are located close to Vagalume:
FAQ about Vagalume Tulum
Is Vagalume pet friendly?
Vagalume is pet friendly! So, tag along your furry friends to the beach and spend a good daytime under the sun.
Are tips included in your bill at Vagalume?
Yes, tips are included in your bill at Vagalume. We always encourage double checking the bill before paying. It is because sometimes the tip is set to 15% or 20% without your consent!
Is there a pool in Vagalume?
There is a pool on the sandy beach part of Vagalume. However, you are not allowed to swim, but only take instagrammable photos!
Do Vagalume accept credit cars?
Yes Vagalume accept cards. However, it is important to bring cash as backup.
Do Vagalume accept cash?
Vagalume do accept cash for all your purchases. But, remember to count the amount of change you received.
Is it possbile to pau in USD at Vagalume?
Vagalume do accept USD for all your purchases. But the prices you pay should be equivalent to the amount of pesos of your bill. Also, the exchange rates at these places are never the best. So, carrying pesos instead is best!
Is Vagalume safe for a solo traveler?
If you are partying solo, there are security guards in Vagalume at all times spread across the property. But of course, keep your personal belongings close!
Is there parking nearby Vagalume?
There is a legitimate parking space by the side of the main road of Vagalume, owned by some locals. We parked there once, and there were other vehicle owners parking as well. It was safe and secure, and we think it was around 200 pesos for 4 hours.
Is there a minimum spend in Vagalume?
In Vagalume beach club you'll need to spend up to 1000 pesos, depending on the season. But, there are a few times they let you get away with less than minimum spend.
Are large groups accepted in Vagalume?
Definitely! The parties there are all about the hype and the audience. So, yes large groups are very welcome in Vagalume.
Are kids allowed in Vagalume?
The venue and its events are specially curated for adults. No children under the age of 18 are allowed to enter in Vagalume.
Are other visitors friendly at Vagalume?
Other guests were some of the most like-minded people we met in Tulum. They are fun to talk to and hang around with. You can make friends in Vagalume!
Can I go at Vagalume for bottle service?
Yes, accept only reservations at the club part of Vagalume, and you don't have to get dinner there. You can book here though our friend's concierge service.
If there is an event taking place in Vagalume, can I eat dinner there without paying the entrance ticket?
All guests entering Vagalume will be asked to pay for entry, especially if there is an event. However, if you make a reservation for a seat / dinner tickets, then you don't need to pay the entrance fees.
At what time Vagalume opens?
Vagalume starts to open around 11am to enjoy good music and chill under the sun. But at 10pm it will turn into a nightclub!
At what time does Vagalume close?
Depends on the events that are occurring on that date. Mostly Vagalume events will last until the morning.
What is the minimum age to get in at Vagalume?
There are no specified rules to the age restrictions. But it is clear that no kids are allowed; you should be above 18 or 21 to enter Vagalume.
When is the best time to go to Vagalume?
You can visit Vagalume anytime during the day or night, low season or high works! But if you want to tango with a crowd, it's best to go during the high season from September to May.
What is the dress code at Vagalume?
You can wear what you want during regular visits. But during special events in Vagalume, they always have a dress code of avant-garde or elegant fashion.
How to make a reservation at Vagaume?
Book a concierge service that knows staff well, and can give you an amazing spot. Just like our friend Virginia that will do it for free! Contact her here.
What kind of music is being played at Vagalume?
In Vagalume you'll primarily have electronic house genre, but it varies depending on the day and event.
How crowded are beach parties at Vagalume?
Beach parties in Vagalume are crowded during high seasons (September – May), but breathable even during high seasons
Is it possible to organize a wedding at Vagalume?
You can contact Vagalume staff via WhatsApp on their website to confirm the date and time of your planned wedding event.
Great, let's feature the "MYSTICAL SUNSET /OLIVER HUNTEMANN" event at Mia Restaurant & Beach Club in Tulum on Wednesday, 29 November 2023. Here's the HTML snippet for your event: ```html
👉 WEDNESDAY, Nov 29
MYSTICAL SUNSET /OLIVER HUNTEMANN 🌅
📍
Mia Restaurant & Beach Club, Tulum
💵
Tier 1 Tickets: Mex$ 660 (incl. fees), Final Tier: Mex$ 880 (incl. fees)
📩
Contact Virginia
here
to book a table
Join us for an unforgettable evening at Mystical Sunset with Oliver Huntemann. Contact Virginia here to book your table and be part of this magical night on the beach! 🎶🔥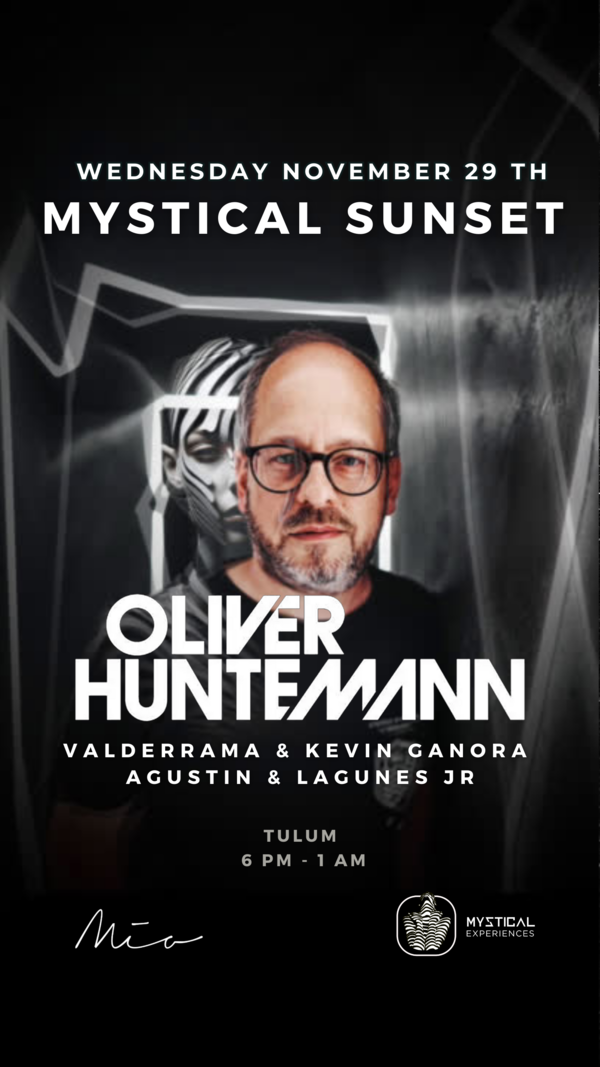 Top Parties and Club Events
23rd November - VAGALUME SESSIONS KEENE @VAGALUME
26th November - VAGALUME SUNDAZE MITA GAMI @VAGALUME
30th November - VAGALUME SESSIONS VALDOVINOS @VAGALUME
3rd December - VAGALUME SUNDAZE VALENTIN HUEDO @VAGALUME
7th December - VAGALUME SESSIONS MUSTAFA ISMAEEL @VAGALUME
30th December - PIKNIK POLO CORP & LEO LEONSKI @VAGALUME
31st December - NEW YEAR´S EVE @BAGATELLE TULUM
31st December - NYE PARTY 2024 @VAGALUME
13th March - LOCUS Tulum 2024