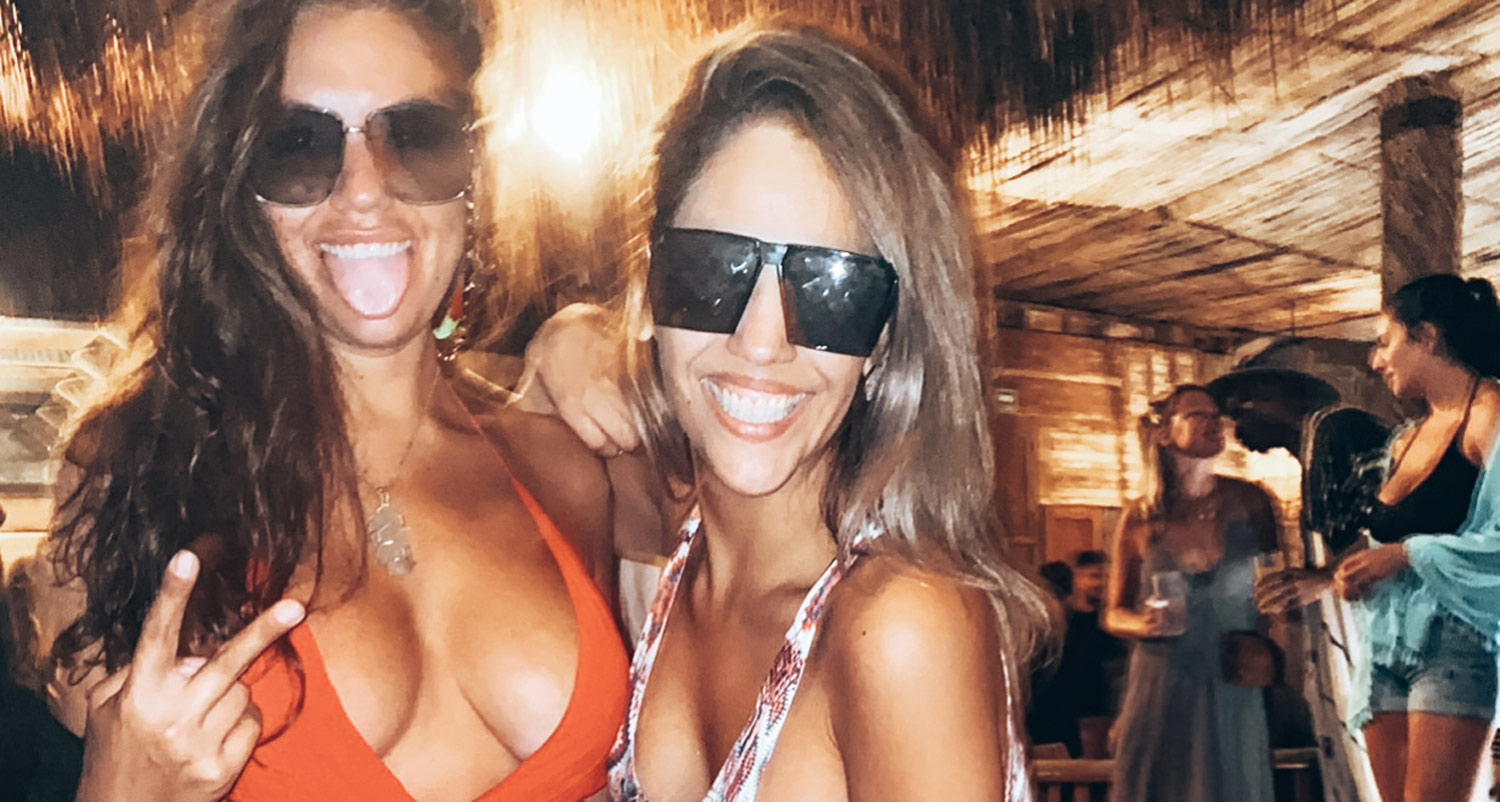 Mia Beach Club Tulum Essential Guide: All You Need To Know
You just arrived in Tulum and you can't wait to discover downtown, the famous beach strip, and the best parties around. It's totally understandable. We were like you exactly 2 years ago when we first put our feet on Tulum ground! 
Time has passed and Tulum became our home – we got to know so many things about this amazing city and we can't wait to share every one of them with you. Tulum is in constant progress, so make sure to follow our blog and articles to be always updated on the best things to do in Tulum! 
But let's talk about MIA – we are huge fans of beach venues, and we discovered almost immediately this great property in which we felt like at home from the beginning. In this ultimate guide we'll talk about every info and details you should know about this incredible place, so let's skip to the good part and foretaste your experience there!
What is Mia Beach Club and what can you expect?
Mia Tulum is one of the best beach venues of the whole Riviera Maya. With an incredible selection of wine – the best of the entire area – a great food service at the restaurant, fresh and innovative cocktails, helpful staff and an amazing property, it will easily become one of your favorite places to party in Tulum. 
We love the ambience here and since we're digital nomads it's really perfect: you can work in the morning at the nearby Selina coworking and party during the afternoon until sunset comes with the best DJs from all over the world. 
Open from early morning offering delicious breakfasts, you'll be able to spend the whole day here at the beach with a minimum consumption of only 20 USD! If you are a family, this is also a great option since the place is kid friendly. 
Last but not least – if you are on a budget, think about it as one of the best places to go. The value for money here is really great and you'll not be disappointed.
Let's discover together their signature events and the upcoming parties!
Parties and Events in Mia Tulum
Make sure not to miss the upcoming parties – you can book your ticket by simply clicking on the name of the event below! There you'll find all the details of the event, the prices and the line up.
If you want to reserve a special table for one of these parties, don't hesitate in contacting our friend Virginia – The person to know when it comes to nightlife in Tulum. Write to her on Whatsapp and get the most out of your Tuluminati night!
2nd November - XIBALBA - Dia de Muertos @MIA TULUM
4th November - DAMIAN LAZARUS @MIA TULUM
17th November - SOS 5th anniversary with Bill Patrick @MIA TULUM
Most famous parties hosted by Mia Tulum
Check out the most famous parties to attend in this amazing beach venue – be part of all the recurrent events which became a MUST!
Almost every Wednesday from early afternoon on
One of the most iconic events is definitely their Mystical Sunset which goes on every Wednesday from the early afternoon around 12:00 – 2:00 PM to sunset and more. All the tickets, which start from $25 USD with the early bird rate, include a welcoming drink. 
Without a doubt, the best way to spend a Wednesday afternoon during your stay! With incredible line ups, one of the greatest locations of Tulum beach, be ready to dance with your feet on the sand until the sunset caresses your face. Book your ticket now!
If you are a group, consider also upgrading your experience by booking a table.
Book Your Ticket + Table Here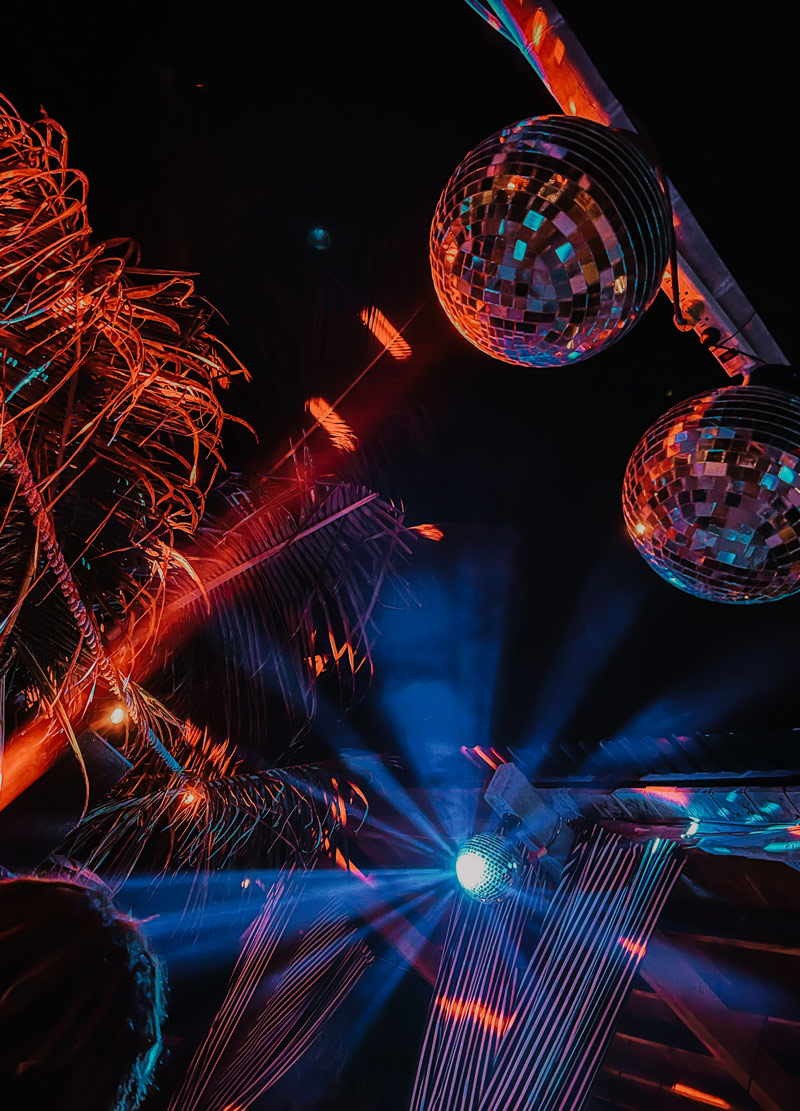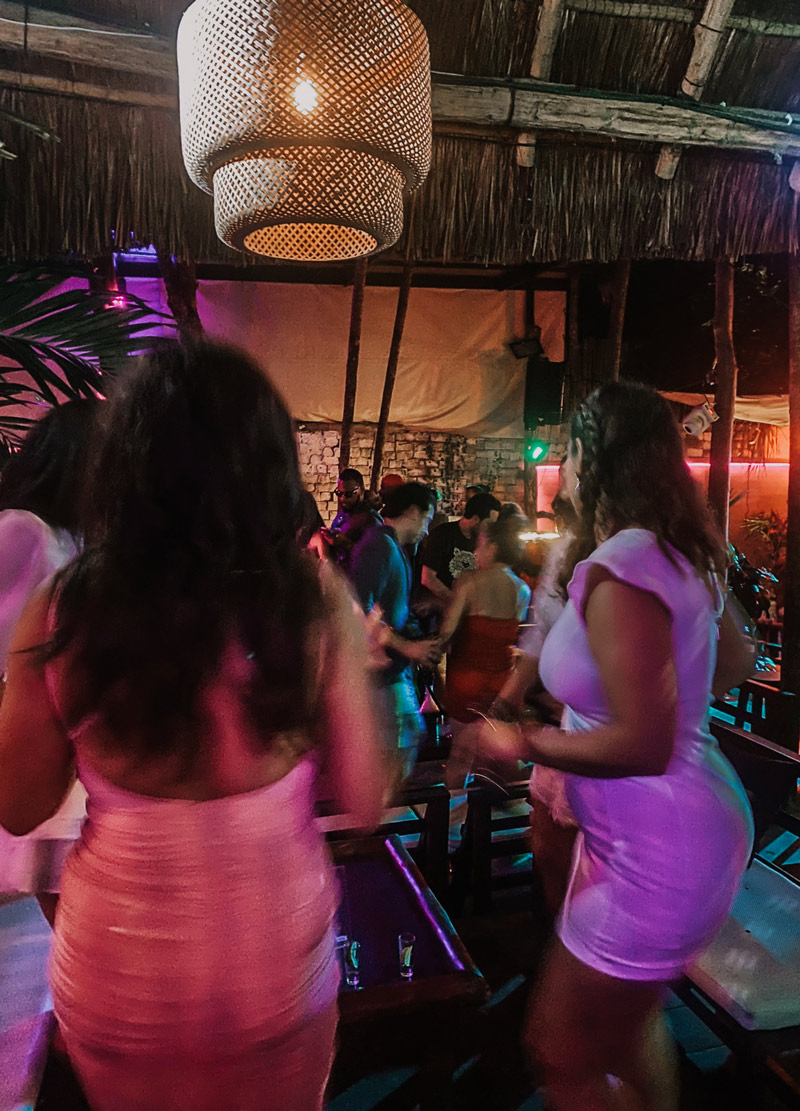 Almost every mid-month from early afternoon on
Be welcome in this party where you'll merge into a non-judgemental space to have fun and enjoy alongside friends! Celebrate every mid-month art, music and dance at their finest form.
With great line ups from Buenos Aires, Barcelona and all over the world, get your early bird ticket from $30 USD where a welcoming drink is also included.
Be part of this colorful cultural journey of free expression and high-flying sounds!
Book Your Ticket + Table Here
Various dates from early afternoon on
This project – EPIPHANY – has started in the deep heart of Mexico by different people with one aim: achieving a state of epiphany within every experience thanks to light & sound curation.
Art and music have never been so close, permitting us to live an epiphany through the perfect present moments during the event.
Regenerate your creative side during this party and be one with its magical atmosphere.
Book Your Ticket + Table Here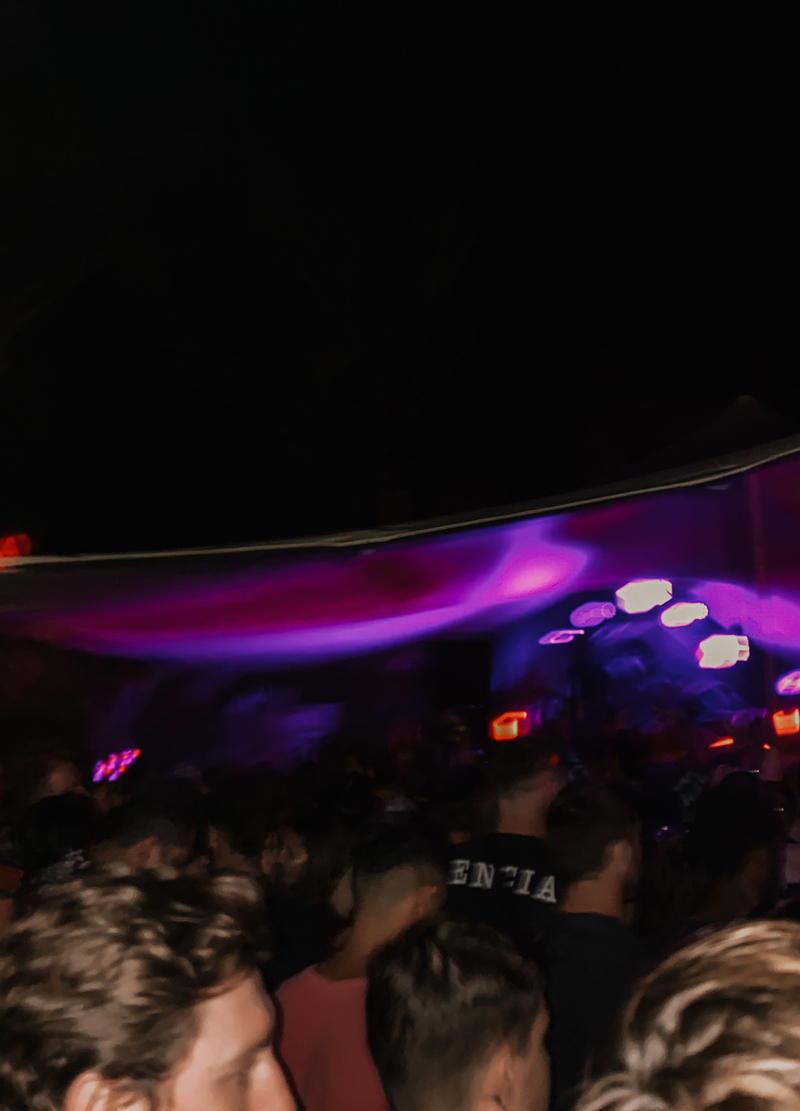 NYE Special Party: New Years Eve Parties here are legendary and they go sold out very quickly. If you are searching for the perfect mix between a great show, talented DJs, good vibe atmosphere and delicious dinner from their signature restaurant, don't hesitate booking the ticket and start the new year with the right energy!
Mexican Wine Festival: This place is the wine expert in Tulum beach and the whole Riviera Maya region, so be ready to taste the best wines from Mexico during this festival in November/December. If you are a passionate about the subject, it's really an activity you can't miss. But don't underestimate it even if you are not a wine expert – it'll be the perfect occasion to try something new in the best place in Tulum beach. It's also a great idea to surprise your partner!
Being part of the same structure as Selina Hostel and Coworking, this place has many amenities and facilities which can be really a plus during your day or night. Let's discover them together!
List of amenities :
Organization of private weddings and celebration
Birthdays, bachelorette parties, rehearsal dinners and incentive groups perfect location
Beds and beach umbrellas beach service
Table service during parties and events
Kid friendly
Perfect for vegan and vegetarians
List of facilities :
Oceanfront
Signature international cuisine restaurant
Private lounge
Pizza Restaurant
Parties and events
Most complete wine cellar in the region
Place for weddings and celebrations
This place is really not among the most expensive beach venues in Tulum. If you are traveling to Mexico on a budget, it should be on the top of the list of places to visit. Down below you'll find all the prices – from breakfast to dinner, from a room at Selina to the beach club and event entrance fee.
So – if you are searching for a beach club in the most popular area of Tulum on a budget, here you go!
Booking tips & Best deals
*If you are craving some parties* here are some tips!
Parties at this venue are among the coolest you can attend. The location is beautiful, the music is unique and the DJs are really talented. All the ingredients for a perfect night are here!
But if you want your experience to be amazing, you should really consider booking a table during the events and parties at Mia Tulum. No matter if you're a small or a big group, our friend Virginia – a Tulum adopted girl living here for more than 15 years – will set up everything for you. She personally knows the staff and will organize the perfect night – for FREE!
Here are some of the advantages of having a table at a party:
Applies the same
All what you pay it's on consumption
Even if you are just a couple or a small group, Virginia can help you to get a table with other groups
VIP experience
Better area
Moreover, many times booking platforms just don't work so well – so it's always better to pass through the help of a real person in Tulum who knows the places and can help you live the best nightlife during your stay!
Contact her on WhatsApp and take advantage of her FREE services today.
Book Your Ticket + Table Here
Sample of prices at Mia Tulum:
Here are some prices of the main services – check them out before going to get a clearer idea. 
Beach Club Entrance fee: Free, but you'll have to rent beds and beach umbrellas from 100 to 500 MXN 
Parties Entrance fee: $37 – $86 USD // 690 – 1610 MXN
Minimum consumption: $20 USD // 370 MXN
Room in Selina: $22 – $517 USD // 409 – 9617 MXN
Wedding: $24k – $43k USD for 100 guests
In this venue you'll find a nice selection of beers, cocktails and spirits. Here are some prices from their menu.
Beer: $8 – $13 USD // 160 – 260 MXN
Cocktail: $17 USD // 320 MXN
Spirit glass (Gin, Tequila, Vodka, etc):$11 – $240 USD // 220 – 4500 MXN
Spirit bottle (Gin, Tequila, Vodka, etc): $160 – $4250 USD // 3000 – 79000 MXN
TIPS: Make sure to ask the bartender for advice or seasonal cocktails – you could get some nice surprises!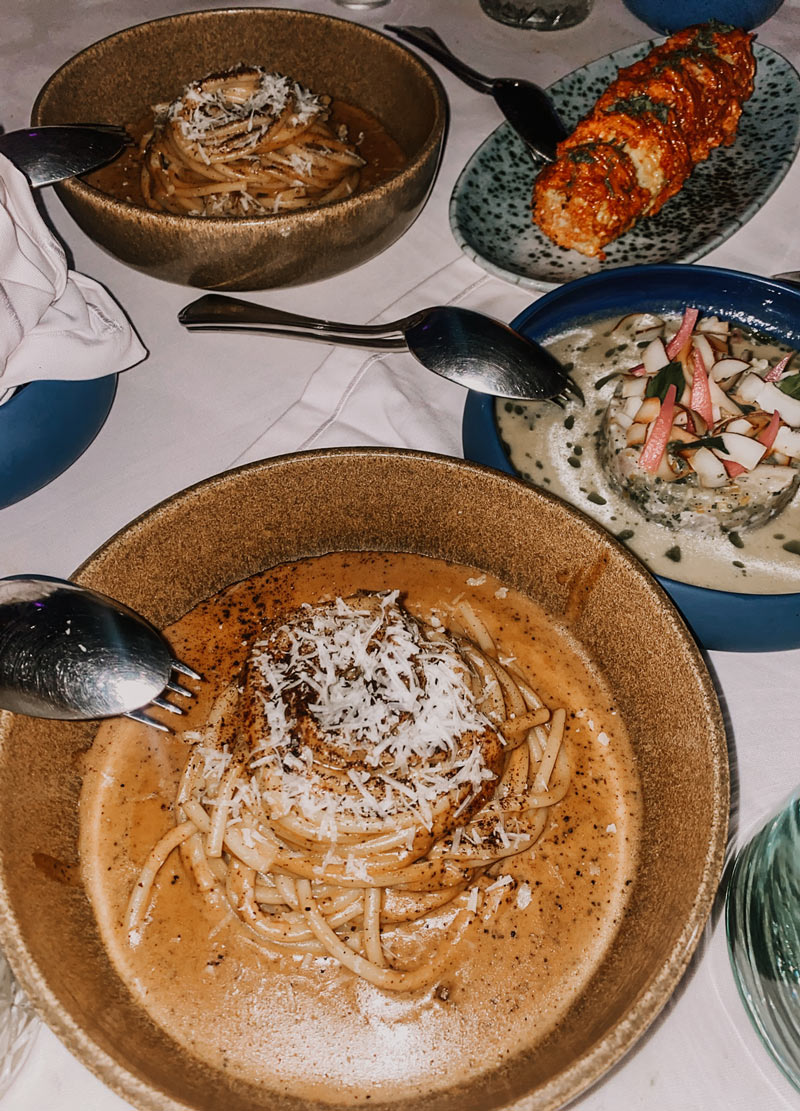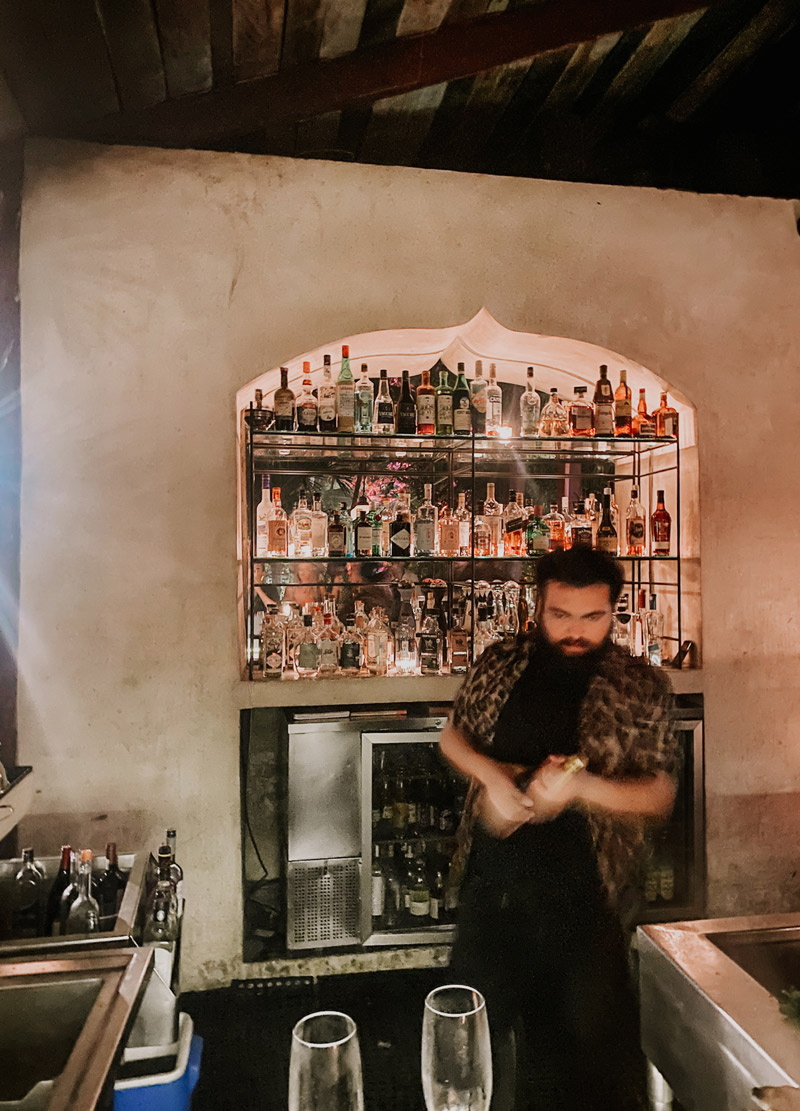 Prices of Mia's restaurant:
From 8:00 AM to 11:30 PM the restaurant will be happy to have you as a guest and delish your palate with incredible dishes from Mexican and International cuisine. Here are some prices for breakfast, lunch, dinner and desserts at Mia.
Breakfast price: $8 – $11 USD // 150 – 220 MXN
Lunch price: $12 – $139 USD // 240 – 2600 MXN
Dinner price: $13 – $139 USD // 260 – 2600 MXN
Dessert price: $12 – $15 USD // 240 – 290 MXN
TIPS: Booking a table through a concierge service will grant you best table placement.
Book Your Table Here
Reviews about Mia Tulum Beach Club
This is one of our favorite places in Tulum. Offering a wide range of options for any taste, you'll find your happiness here! Moreover, it has a really cool position so why not start your day here and keep on exploring the surroundings? We bet you'll fall in love.
What people say about Mia Beach Club in Tulum
Reviews about this venue are enthusiastic – a great beach property where you'll be able to chill in one of the most beautiful beaches of Riviera Maya if you are a family, a group of friends or a couple. It's also great if you are traveling on a budget, but you still want to take advantage of Tulum beach.
We checked online reviews for you – they include: staff, pool, bar & restaurant and many other services – so check them out below! 
Rating on Opentable: ⭐⭐⭐⭐ 4.5 average on 65 reviews at Jan 2023
Rating on Tripadvisor: ⭐⭐⭐⭐ 4.5 average on 847 reviews at Jan 2023
Rating on Facebook: ⭐⭐⭐⭐ 4.6 average on 150 reviews at Jan 2023
Rating on Google Maps: ⭐⭐⭐⭐ 4.9 average on 10 reviews at Jan 2023
Book Your Table Here
Where is Mia Beach Club located in Tulum?
It's located in a really popular area of Tulum. Halfway from the South of Tulum Beach and downtown Tulum, pretty easy to reach, you'll be in a paradise surrounded by clear water and palm trees. With Selina coworking just aside, and many other places to party around – this venue is really one of the best to party in Tulum.
Let's check out the map below to have a clearer idea of where it is. 
Mia is located in the Tulum beach neighborhood
Carr. Tulum-Boca Paila Km. 7.5, Tulum Beach, Zona Hotelera, 77780 Tulum, Q.R., Mexico
How to go to Mia Beach Club in Tulum?
You have multiple ways to reach it:

From Tulum Centro: you can reach it from downtown Tulum in different ways. By scooter is the best in our opinion: you'll not struggle for parking as you would have done by car, and it will not be as expensive as grabbing a cab. If you don't have a scooter, you can still do one of the other two options. Especially if you are in a group you'll be able to share the price. You can even walk to the property if you want to join it from the beach.
From Cancun airport: you will be able to either rent a car, book a shuttle or a bus or take a colectivo (Mexican minivan). The most convenient way is grabbing a bus or a colectivo: cheap, safe and pretty quick. With this option you'll arrive in Tulum Centro and then you'll have to take a cab to reach the venue. If you rented a car then no problems – go straight to South and you'll arrive at Tulum beach. Don't think about taking a cab: it will be really expensive even if you share the cost of it.
Don't miss our Tulum transport guide to become a pro and choose the best way of transportation!
Which Hotels are close to Mia Tulum?
If you want to be close to this property in Tulum without spending too much on transport, here are some of our favorite hotels close by – trust us, you can't go wrong with booking one of these for your stay in Tulum!
FAQ about Mia Tulum
What is the minimum age to get in at Mia Tulum?
The minimum age to get in at Mia Tulum parties is 18 years old.
Are kids allowed in Mia Tulum?
Yes, kids are allowed in Mia Tulum.
At what time Mia Tulum opens?
Mia Tulum opens from 9:00 AM in the morning until late at night if there are any events. Kitchen for dinner closes at 11:00 PM.
At what time open Mia Tulum restaurant?
Mia Tulum Restaurant opens from 9:00 AM to 11:00 PM every day.
At what time does Mia Tulum close?
Mia Tulum Beach Club closes late at night at the end of the party, or if there is no party after 11:00 PM when the kitchen closes.
How to make a reservation at Mia Tulum?
You can make a reservation at Mia Tulum through our friend Virginia to get the best table and service. She personally knows the staff and will be happy to set everything for you. Contact her on WhatsApp.
What kind of music is being played at Mia Tulum?
The music played at Mia Tulum can vary from electronic, techno, house and underground dance.
Does Mia Tulum have a pool?
Definitely! Mia Tulum has a pool directly on the private beach between palmtrees.
Does Mia Tulum accept credit cars?
Yes, credit cards are accepted in Mia Tulum.
Does Mia Tulum accept cash?
Yes, Mia Tulum accepts cash. It's always good to carry some Mexican Pesos with you during your stay.
Are tips included in the service price at Mia Tulum?
Depending on the event or if you're at the beach club or restaurant, you'll have to check your bill to know if the tips are included at Mia Tulum.
Is there a minimum spend at Mia Tulum?
Yes, there is a minimum spend at Mia Tulum beach club and it is of 20 USD. It changes during events and if you book a table.
Is it possible to organize a wedding at Mia Tulum?
Yes, it is possible to organize a wedding at Mia Tulum – you can contact the staff on the website and start organizing the perfect tropical wedding!
What is the dress code at Mia Tulum?
The dress code at Mia Tulum is semi-formal for dinners. There is no dress code during the day!
Great, let's feature the "MYSTICAL SUNSET /OLIVER HUNTEMANN" event at Mia Restaurant & Beach Club in Tulum on Wednesday, 29 November 2023. Here's the HTML snippet for your event: ```html
👉 WEDNESDAY, Nov 29
MYSTICAL SUNSET /OLIVER HUNTEMANN 🌅
📍
Mia Restaurant & Beach Club, Tulum
💵
Tier 1 Tickets: Mex$ 660 (incl. fees), Final Tier: Mex$ 880 (incl. fees)
📩
Contact Virginia
here
to book a table
Join us for an unforgettable evening at Mystical Sunset with Oliver Huntemann. Contact Virginia here to book your table and be part of this magical night on the beach! 🎶🔥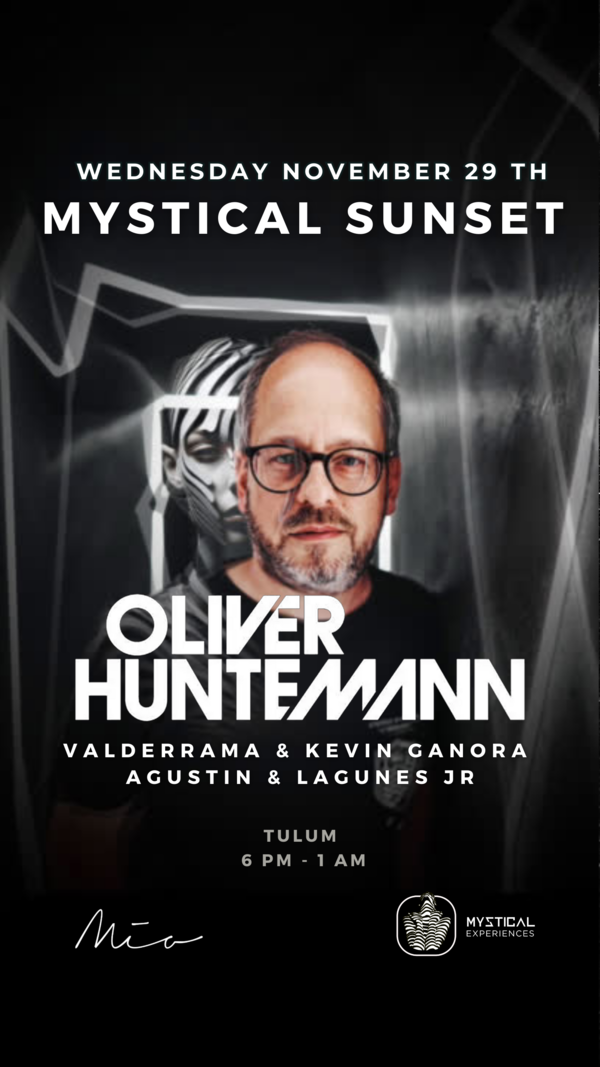 Top Parties and Club Events
23rd November - VAGALUME SESSIONS KEENE @VAGALUME
26th November - VAGALUME SUNDAZE MITA GAMI @VAGALUME
30th November - VAGALUME SESSIONS VALDOVINOS @VAGALUME
3rd December - VAGALUME SUNDAZE VALENTIN HUEDO @VAGALUME
7th December - VAGALUME SESSIONS MUSTAFA ISMAEEL @VAGALUME
30th December - PIKNIK POLO CORP & LEO LEONSKI @VAGALUME
31st December - NEW YEAR´S EVE @BAGATELLE TULUM
31st December - NYE PARTY 2024 @VAGALUME
13th March - LOCUS Tulum 2024