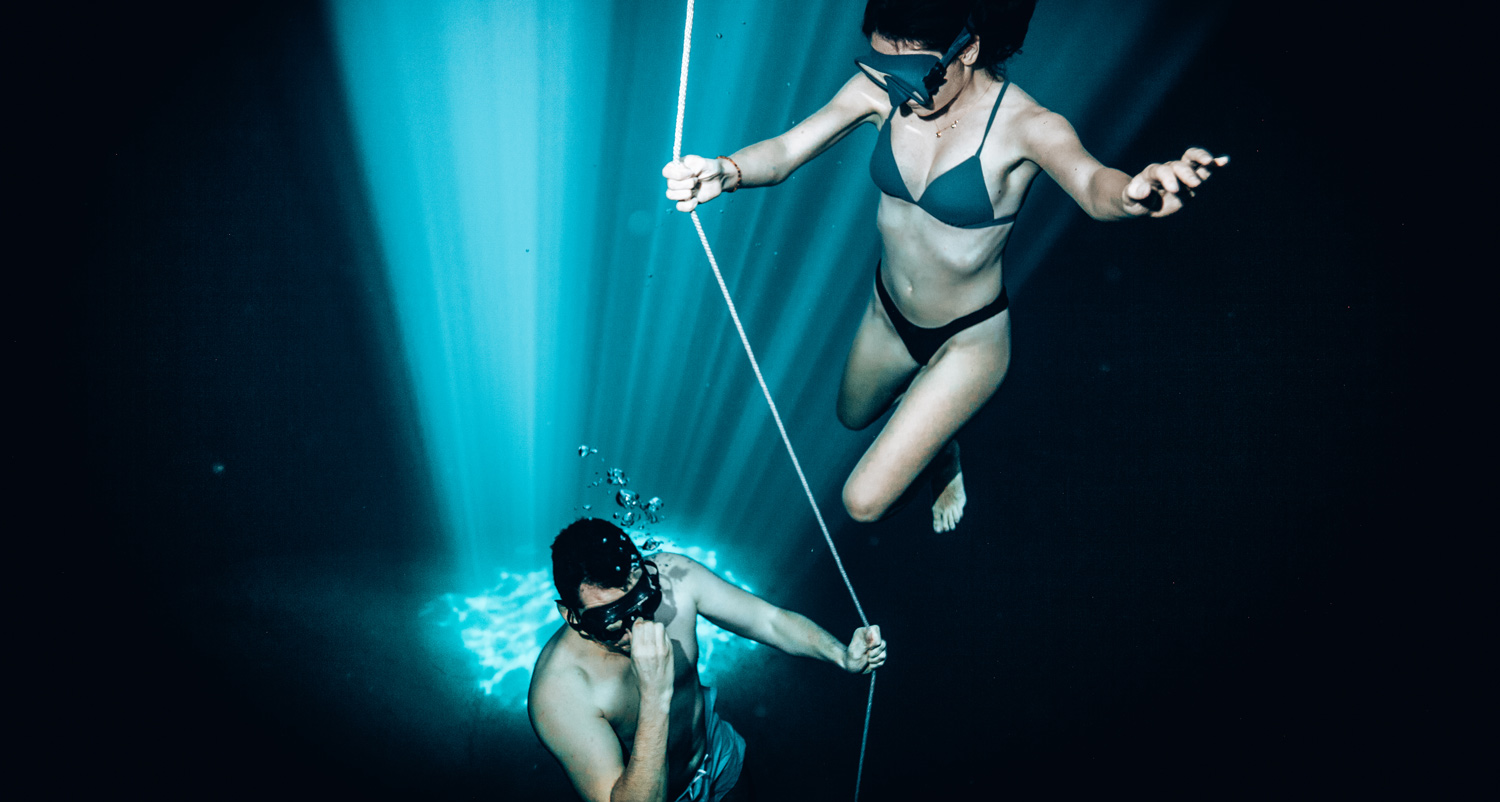 20 Cenotes In Mexico You Should Visit: Yucatan And Tulum Best Cenotes
You are heading to Mexico and everybody is talking to you about cenotes. But what is a cenote and – especially – where are they? In a nutshell – a cenote is an underground open cave filled with freshwater. The water in the cenotes is incredibly clear, depending on how open the cenote is and in which time of the day you visit it. These incredible natural lakes are the perfect spot for diving and snorkeling, so if you are wondering if they are worth it – yes they are definitely worth the visit!
When we first discovered cenotes, we fell in love with these beautiful underground lakes and we started making a list of the best cenotes in Yucatan Peninsula and Tulum area. Below, you find the best 20 cenotes we visited and we want to visit in the future. In the list there are also two special cenotes a guy at a party that recommended us to visit – Cenotes Aktun Chen and Cenotes Casa Tortuga. He was in Tulum as nature conservation ranger and of course benefited from advantageous rates to access all of the Natural Park and Cenotes. After a few shots of Mezcal, he was kind enough to give us a friends and family code offering a discount from 80 USD to 65 USD per person; here below, you can still benefit from this discount.
But where are the best cenotes of Mexico located? Cenotes are mainly located in the area of Tulum, Playa del Carmen and Cancun. These are one of the most popular tourist areas, but if you head to the Yucatan Peninsula and Valladolid area, you will not be disappointed either. This part of Mexico, in addition to being homeland to Maya's culture and ruins, is the perfect destination if you want to swim in Caribbean's clear water as in fresh cenotes water.
Ready to discover them? First let's take a look at what a cenote is and why you should visit one during your trip to Mexico!
*Attend the best secret parties in Tulum here without being on the list*
A cenote is one of the best places you can visit during your trip to Mexico if you are craving for a nice swim! You can stay in a cenote a few hours or the full day – in fact it is one of the best places to chill too. There are also a few cenotes in Yucatan Peninsula where you can camp for the night, just paying the entrance fee which is usually not higher than a few pesos. In Tulum, Playa del Carmen and Cancun entrance to cenotes are a bit higher, but they are definitely worth it.
But what is a cenote? As we said before, a cenote is an underground cave open from above and filled with water. Cenote's water is really clear and this depends a lot, more than how open and the time of the day, on how deep the cenote is. Cenotes are home to many fishes and marine life, usually located in the jungle, they are the perfect getaway to be one with Pachamama.
We could literally spend hours telling you how great cenotes are, but let's go on and arrive at the point: check out our 3 reasons to visit a cenote below and give a look at our experience with the friends and family code you can use to book your guided tour in Aktun Chen and Casa Tortuga cenotes, Riviera Maya!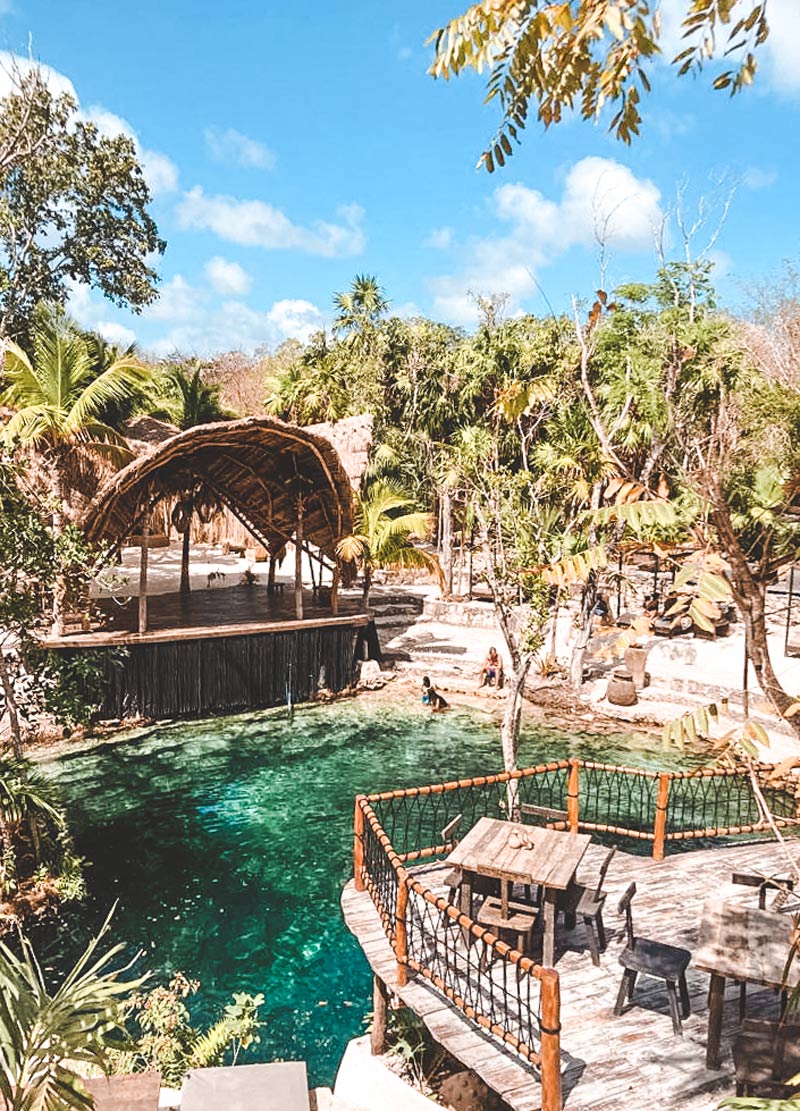 "We Love This Cenote"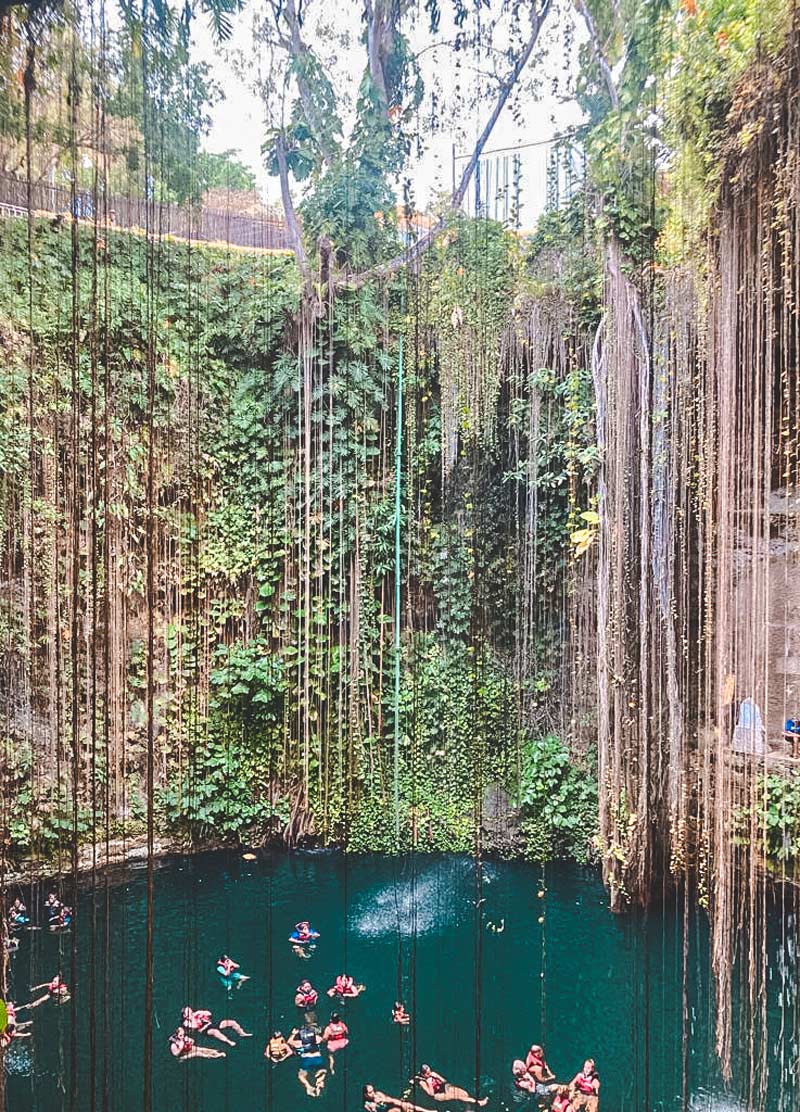 "Yucatan Is Cenotes Paradise"
Why should you visit a cenote during your trip to Mexico?
You can visit a cenote only in Mexico -
Yeah - that's a fact! If you are searching for authentic things to do during your trip to Mexico, this is one of them. Whether you only want swimming or chilling under some trees in the jungle, cenotes are magical places where you will feel connected with nature and you will just forget any kind of stress. For a few mxn pesos, we really think it's worth it. Moreover, if you haven't rented a car yet, you can even reach cenotes like Calavera by bike from the city center of Tulum. Easy, right?
See marine life and fishes you've never seen before -
Can you imagine there are cenotes between Tulum and Playa del Carmen where you can find yourself swimming with crocodiles? Yeah, that's pretty incredible. But even more than that, you can have the chance to swim with big fishes, between tree roots, huge stones, and incredible flora - you will feel like you're in another world. So if you are passionate about snorkeling and marine wildlife, you shouldn't miss a visit to a cenote!
More than swimming, ever considered diving? -
When we first visited a cenote, we found out about a community free diving in cenotes. If you have never heard of this, you can connect with local communities in the Yucatan peninsula or in Tulum to discover this incredible world. To us, it's a way of meditation, where you completely become part of the cenote. Mayans also gave cenotes a magical connotation, and we really feel incredible energy when we are swimming or diving in them. Try to connect with the cenote and the nature around!
Take Advantage Of Free Concierge Service
As excellent to explore Tulum and its surroundings alone, you may need help figuring out where to start. To make the most of your money and time, contact Virginia and Kelly - two incredible Mexican girls living in Tulum for more than 15 years. They're familiar with the ins & outs of the Tulum town and hotel zone like the back of their hand! 
Since we arrived in Tulum 2 years ago, many adventures wouldn't have been possible without their help - they know literally everybody in Tulum and can perfectly organize every moment of your stay. Get the best tables, skip queues and get on the guest list of the coolest places in Tulum - this's only the beginning! 
They are ready to offer you guys FREE concierge service in Tulum for the time of your stay: take advantage of it, contact them on Whatsapp and live the best experience!
Get FREE Concierge Service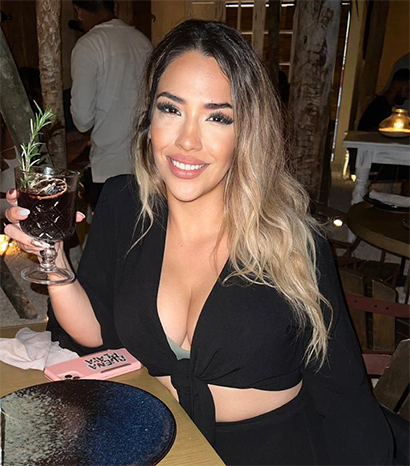 "Virginia Will Transform You In A Tulum Insider"
Best 10 cenotes to visit in Tulum, Mexico
Cenotes in Riviera Maya and especially in Tulum, are much different from the ones in Yucatan. More expensive, but also more organized, you will be able to see another side of tourism in Mexico. Here below we list the cenotes we enjoyed the most since we are living in Tulum. Certain cenotes are reachable even by bike from downtown Tulum, but for others it's maybe better to rent a car or grab a colectivo. Check out our Tulum transport guide right here – it will be helpful and it will make you save some time! 
At the end of our list, we left the two most beautiful cenotes in the Tulum area you can visit with the guided tour you can book with the friends and family code. Are you curious yet? Let's get started!
Cenote Car wash – despite the name – was one of the first cenotes we visited in Tulum. What to say? It was mind blowing! It's really close to Tulum center and it will not take you more than 10 minutes to reach it. The thing that makes this cenote special are the beautiful underwater flowers growing in it. Snorkeling here is very pleasing, since its underground habitat is like a submerged forest with tree roots and plants everywhere. Water is also very clear and some people say there is also a crocodile swimming around the cenote even if we couldn't spot it! Definitely worth the visit during your trip to Tulum – at least to try to spot the crocodile!
This cenote is almost completely underground and that's what makes it so special! Here you will be able to jump from rocks of the cave, swimming and snorkeling thanks to the lights placed at the intern of the cenote.
This cenote, with the other two just close by, is the perfect getaway to upgrade your day trip to Coba Mayan ruins from Tulum. What we suggest is to first visit the ruins early in the morning and then go straight to the cenotes to swim and refresh yourself. After that, a Mayan lunch is more than deserved – Buen provecho!  
If you really want to discover how nature can be crazy – Cenote Angelita should be on your list of things to visit during your stay in Mexico.
On the road heading from Tulum to Muyil Mayan ruins and close by lagoons, this cenote is unique for its conformation. In fact, its attraction is due to a cloud of hydrogen sulfate that is 27 meters deep. When mixed with salt water, this substance turns out to be heavier, so it seems to form a different stream of water. The resulting landscape is spectacular: it looks like another river running underwater. To complete the effect, there are logs and remnants of vegetation that fall into the cenote, creating an "underwater forest".
You should definitely book a tour and think about diving in this crazy cenote, also featured in this beautiful video of the diver Guillaume Néry – give it a look if you want to be amazed!
Cenote Escondido is also very close to Tulum. The entrance includes two cenotes, one in front of each other. They are pretty big and definitely cool if you want to chill out, have a picnic, walk around on the path surrounding the cenotes. They also have perfect trampolines to jump in the clear and fresh water!
They are perfect for snorkeling, especially for beginners – you will love the small turtles swimming around and the vegetation all over, not talking about the marine life. The second cenote is developed in length and it has very cool rocks and tree branches around to make your snorkeling session even more interesting! 
Big cenote or Gran cenote in Spanish, is one of the most famous cenotes in Riviera Maya with Cenote Dos Ojos. Here the entrance ticket will be more expensive than the other cenotes because the place is much more touristy, but we have to say it's worth it!
Very close to Tulum too, you will be able to swim in underground and not cenotes, chill on the green grass where you will be able to sunbathe if you want to take a break from the beach, and admire the iguanas wandering around. Very cute aspect: the small turtles floating on the lotus flowers on the cenote's water! So yeah, you should really consider visiting this cenote even if you prefer the adventure! 
Cenote Caracol is definitely the best place if you are into diving and especially diving in a cave! This cenote is definitely not an average one – in fact here you will find underground caves with stalagmites and stalactites where you will be able to swim around. There are also a few monkeys on the trees around the cenote and you will also be able to visit an outdoor cave, without water. Entrance is 300 mxn pesos for adults and 250 mxn pesos for kids: definitely worth it if you are "fed up" with standard cenotes!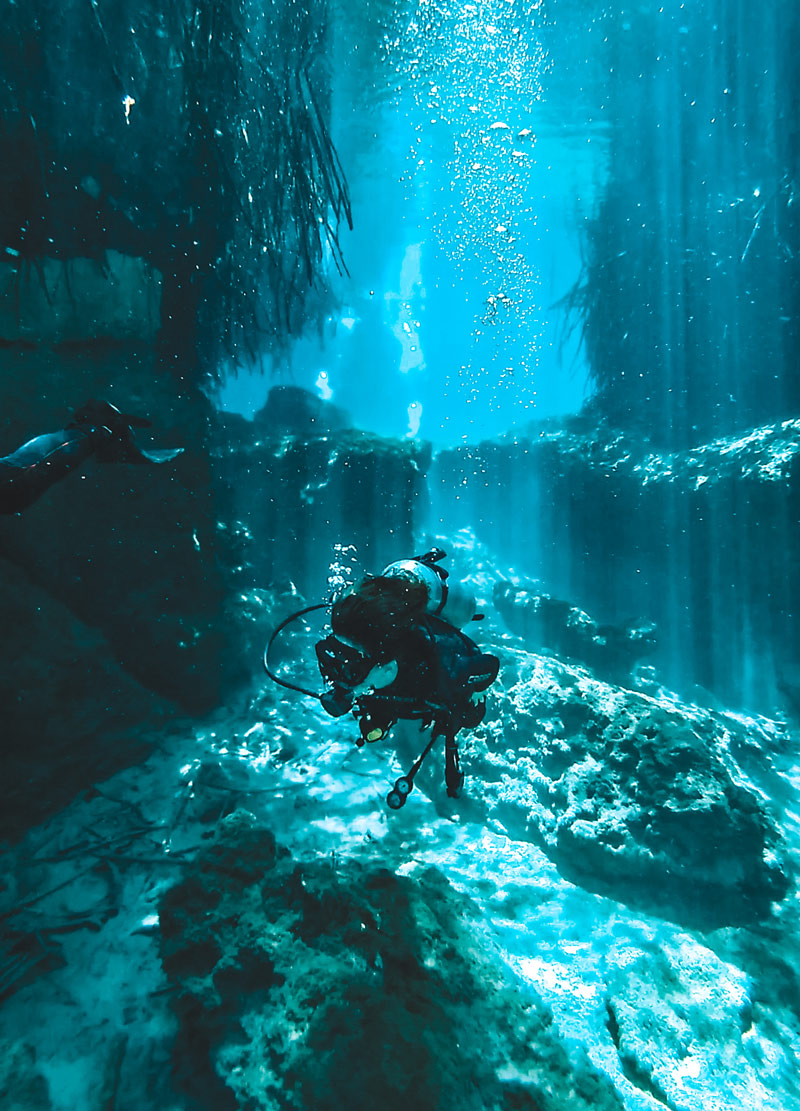 "Alessia Diving In A Cenote In Quintana Roo"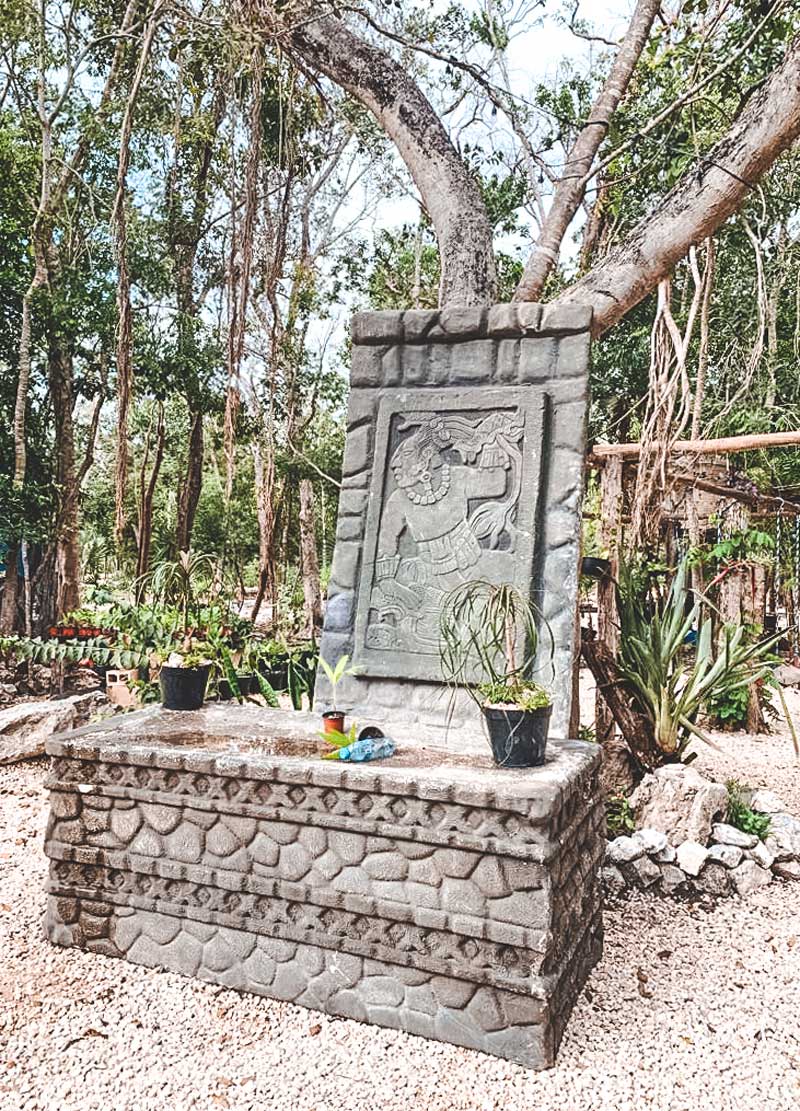 "Mayan Atmosphere In A Cenote"
This cenote is the one where we did our first diving with tanks in Mexico! A paradise for beginners, here you will dive 10 meters deep, following a beautiful path surrounded by rocks, big fishes and even a crocodile where the mangroves start! Its water is mixed with sea water and definitely clear, due to its proximity to the sea. You will be able to reach it by car from the center in around 15 to 20 minutes! Check it out if you don't want anything too hard for your first diving or snorkeling experience and let us know below in the comments if you liked it as much as we did! 
In the same area as Cenote Caracol, you will be able to visit this incredible park with multiple cenotes both underwater and not. Our friend visited it and he loved the zip lines around and the vibe of the whole park. To reach it you will need a car, but you can even ask a taxi or grab a colectivo, you will just have to organize yourself a bit better! If you want to know more about it, check out our zipline article here. 
How to book your guided tour at Aktun Chen or Casa Tortuga
You can book your entrance ticket directly at the reception of both cenotes and the cover will be 80 USD. In our adventure we had the chance to get a friends and family discount code and get our ticket at 65 USD instead of 80 USD! We don't know till when this code will work, but if you wanna try it out you can go on this page for Cenote Aktun Chen and on this page for Casa Tortuga and try to use it: XF78PQS.
With this code we saved 30 USD per 2 adults on the complete tour of cenote, underground cave and zipline: it was really a great value for money and moreover, after the tour, you are free to stay as long as you want in the park.
You can thank us later 😉 If the code is still functioning, we would really appreciate it if you guys could leave a comment here below.
But now, let's find out more about these two cenotes!
Cenote Casa Tortuga Tulum
This incredible park includes up to 4 cenotes and it's perfect for your first time visiting a cenote! Also, if you are not staying a lot of time in Tulum and you want to visit more than one cenote in one day, this is definitely what we would go for! Home to many cute and small turtles, this cenotes park has everything you need to spend an incredible day with friends or family! From the restaurant with the typical dishes of Riviera Maya to the beautiful areas to relax, it's really an experience you can't miss.
In Cenote Aktun Chen Ha you will be able to make really incredible memories out of your vacation in Tulum! With cenotes, caves and 10 zip lines, you can spend a full day in the name of fun! You will really have a blast with your friends between a zip line and the other. As for Casa Tortuga, you'll not have to worry about a thing: in fact, you will find everything you need sur place. Check some photos of this incredible park and we bet you'll immediately want to jump in its deep blue water! 
Best 10 cenotes to visit in Yucatan, Mexico
We listed here the best cenotes in the Yucatan peninsula to make you discover some authentic places of this incredible area of Mexico. Ready to swim like a fish in the clear water of a cenote in the middle of the Yucatan jungle? Let's go!
This cenote is for sure one of those popular among Yucatan's divers, but not so much among tourists. There are no tours arriving here and you will for sure need a car – here's how we avoided scams while renting a car in Tulum – because the road to reach it is really in the deep jungle of Mexico. Nothing you can not do, but it will take 30 minutes to reach the cenote. You will have to pay an entrance fee in mxn pesos, nothing higher than 1/2 USD. But yeah, if you are wondering, this cenote is completely worth the small road to reach it! 
Cenote Noh-Mozon is an incredible place where you can enjoy a deep dive in clear water, an incredible cenote where you can just jump in and swim in peace. Its open part is a perfect circle from which you will be able to see the jungle trees above – you will feel reborn after a swim here. Moreover, there is also a part dedicated to cooking or eating something if you are planning a daily visit here!
Cenote Kankirixche is a perfect cenote for beginners! If you are not so confident with water, snorkeling or swimming here will be really easy. There are even a few tours arriving here and the place is really nice and well served. You can even come here with kids, so it's totally family friendly. It's not very deep, especially in the open part where you enter. The cenote is pretty small, but this makes it even more cozy if you have never gone to any other cenote before.
Should definitely put it on your list of cenotes to visit in Mexico!
This cenote is perfect for diver beginners – more than being close to the other two cenotes we listed above, so you could even think of organizing a daily trip to visit them all! To do that you will need a car, we really can't blame our experience with BGH Car Rental – so if in doubt contact Virginia at +529842558049 to check their car availability.
Coming back to Nah Yah cenote – it has an incredible underground cave where you will be able to swim and dive with a proper guide if you book a tour. Here you will be able to spend hours chilling in the beautiful jungle and area around the cenote, which is halfway between Valladolid and Merida. 
Cenotes de Cuzamá is close to the other cenotes and always in the Mayan area of the Yucatan peninsula. If you are in Tulum, it will take you a few hours to get here, while if you are in Valladolid or Merida it will take approximately 30 minutes to an hour to reach this incredible cenote merged in the jungle. As for the other cenotes in the area, you will be able to enter with a few pesos and even if it's not the most popular cenote between tourists, you can be sure it will not leave you disappointed.
If you are planning to visit it, you should already have changed some of your usd or euros with the local mxn pesos in order to pay the entrance or the rent of the life vest. As soon as you enter the underground cave where the cenote is located, you will be amazed by the beautiful environment. This cenote was definitely one of our favorite places in Yucatan for snorkeling and diving. You will love its azul water!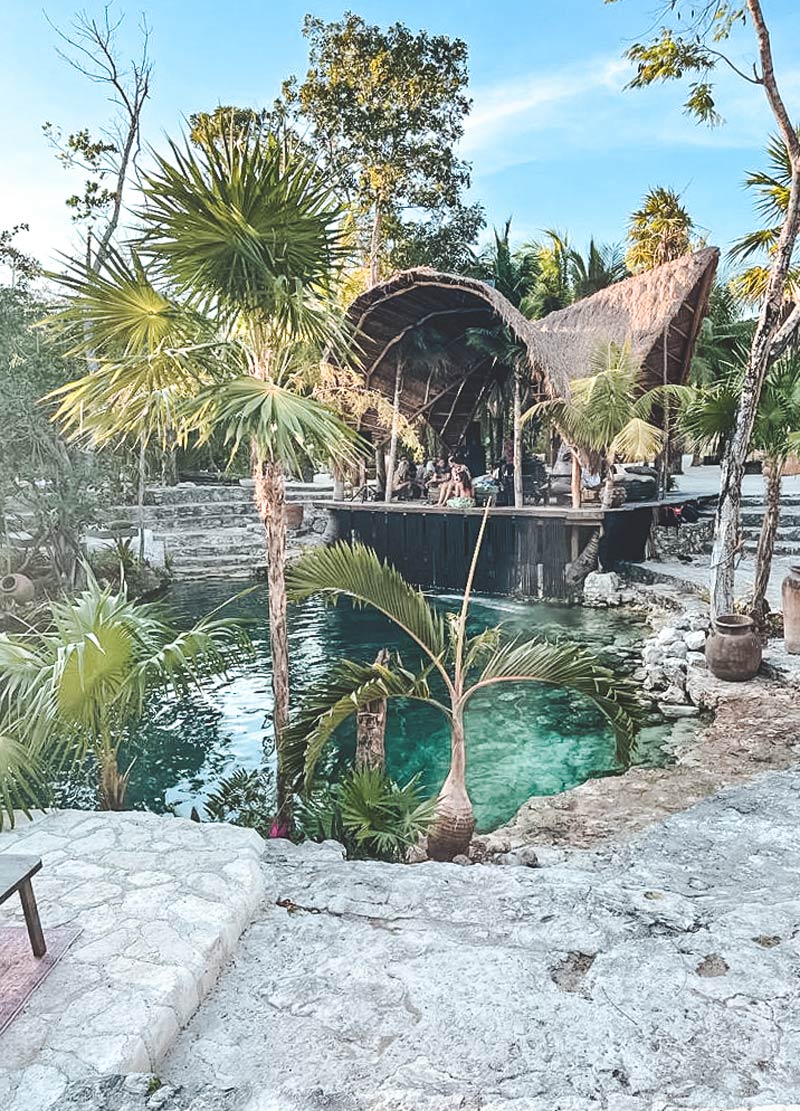 "So Cool To Unwind Here"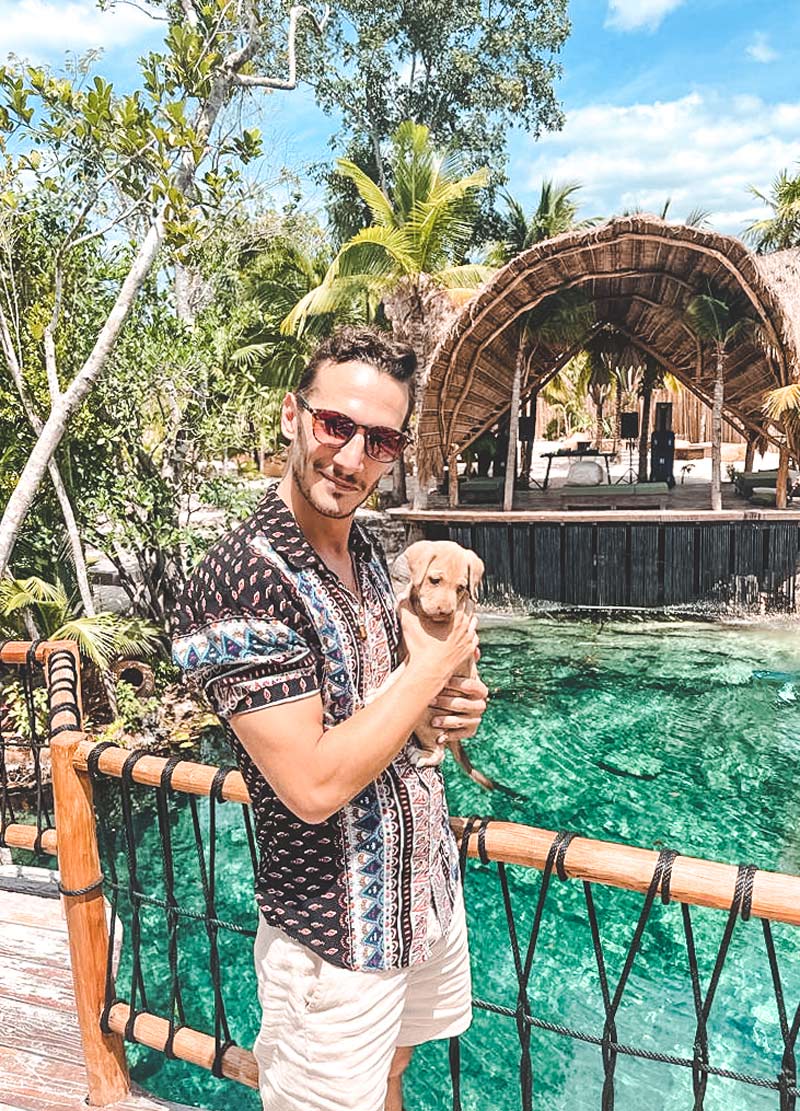 "Robin With A Puppy"
In Cenote X'batun you'll be able to find a pair of beautiful cenotes, or underwater caves, set in the jungle with not so deep pools popular for swimming & diving. This cenote is also perfect for families with kids: they will for sure enjoy swimming between a fish and a lotus flower. Not so close to Riviera Maya, Cancun or Valladolid, these cenotes are located more close to Merida, in the western part of Yucatan Peninsula. 
What do we like about them? The fact they are completely merged in the jungle and you will be able to chill in this beautiful natural park away from the crowd. Moreover, the shades of azul the water takes at a certain time of the day when the light hits the cenote will definitely make you want to spend hours and hours contemplating this incredible natural monument!
Looking at the beginning like a big circular swimming pool, you will soon understand this cenote is much better. Why? Because of the incredible marine life living in and around it. The cenote is pretty deep and you can reach it by walking down a wood stair connecting you to the beautiful clear blue water. The cenote is open, and its underground part will reveal you incredible caves in which you will be able to dive and swim around. Of course, we don't recommend you to do this alone, but better diving with an expert tour diving guide, especially if you want to explore underground caves. Entrance is only 2 usd or 50 mxn pesos that you should pay before entering the cenote. You can also camp in the equipped part where you have bathrooms and an open kitchen area too! 
Cenote LOL-HA is halfway between Merida and Valladolid. The perfect getaway if you are visiting Mayan ruins close by, like Chichen Itza and Coba, you will find yourself in the magical nature in the eastern part of Yucatan peninsula. This cenote is in a Mayan village where you will also be able to try delicious Mexican and Mayan food after a full day swimming in this beautiful cenote!
The clear water, the silent jungle around and the whole environment are the perfect place to chill during your vacation in Mexico before coming back home!
Cenote y Restaurante Tsukán Santuario de Vida
Cenote Tsukán Santuario de Vida is definitely one of the most beautiful cenote in Yucatan. If you are not a big fan of adventures, this place is incredible and will leave you speechless. Every detail is perfectly cared for, the staff is nice and you will be able to visit more than one cenote in an only park. With a typical Mayan restaurant in it, you will be able to spend the full day at the park without caring about anything. Take a look at their photos and understand why we love this cenote so much!
Moreover – look at those impressive rocks above the cenote cave!
Be ready for a completely new experience! If you want to go deeper into the underground cenotes world, this cenote is the perfect starter. In fact, you will be able to explore the underground cave filled with green blue water with only a hole on top illuminating the whole cave from the outside. If you don't feel ready for that, in the same park there are many more cenotes (deep and not) where you will be able to swim and snorkel around escaping from Mexico's heat! 
Cool news – if you are in Valladolid, don't hesitate visiting it since it's less than 15 minutes driving from the city center!
One of the most famous cenotes in Yucatan, competing with Gran Cenote or Cenote Dos Ojos in Riviera Maya, this cenote is one of the most visited for the beautiful light entering in the cave from the outside. If you see one of the photos taken here you will want to take the same in the beautiful platform right in the middle of the cenote. The way to enter it is particular in its own way because you will not have stairs as in the other cenotes, but you will access from a suggestive tunnel with stalactites & stalagmites. 
You can reach it by car from Tulum in around 1 hour! If you want to check out the cheapest – but safe – car rentals in Tulum, check out the guide we wrote!
We hope our list of the best 20 cenotes – and especially our discounts to our two favorite cenotes – helped you choose the best cenotes to explore in Yucatan and Riviera Maya. Let us know below in the comment your favorites cenotes in this incredible area of Mexico – we can't wait to be inspired by you! 
Top Events to Make Your Trip Unforgettable
DOMINIK TULUM @MIA TULUM
When: September 9, 2023 7:00 PM
Where: Mia Restaurant & Beach Club, Tulum
🌴 Join Us for An Unforgettable Night at DOMINIK - TULUM at Mia Tulum! 🌴
Friends, clear your schedules and get ready for a magical experience at Mia Tulum! This stunning location will host DOMINIK - TULUM on Saturday, September 9th, from 7 pm to 1 am. This isn't just another event; it's a fusion of nature, culture, and sound featuring an incredible line-up with GIORGIO STEFANO, AUDICTIVE, and MAURO TORRETA. At DOMINIK, you'll find the perfect blend of Tulum's lush jungles and pulsating underground beats, creating an environment where genuine connections blossom.
🎟️ Secure your tickets now:
Early Bird: $575 MXN ($38 USD), includes a welcome drink 🍹 (Limited Availability)
Tier 1: $805 MXN ($52 USD), includes a welcome drink 🍹 (Limited Availability)
Final Tier: $1150 MXN ($75 USD), includes a welcome drink 🍹 (Limited Availability)
Dinner + Party: $1380 MXN ($90 USD) 🍽️🎉 (Limited Availability)
See you there for a night you won't forget! 🎶✨
Ready to join us? Get your ticket now! Early bird tickets are already selling out, secure them at 632 pesos (only 15 tickets available).
Hurry – spots are filling up fast! 🙀 We can't wait to see you there!
Top Parties and Club Events
17th September - ANCESTRAL SOUL @BONBONNIERE TULUM
22nd September - TONY ROMERA @BONBONNIERE TULUM
29nd September - TIM BARESKO @BONBONNIERE TULUM
4th November - HOT SINCE 82 @BONBONNIERE TULUM
13th March - LOCUS Tulum 2024