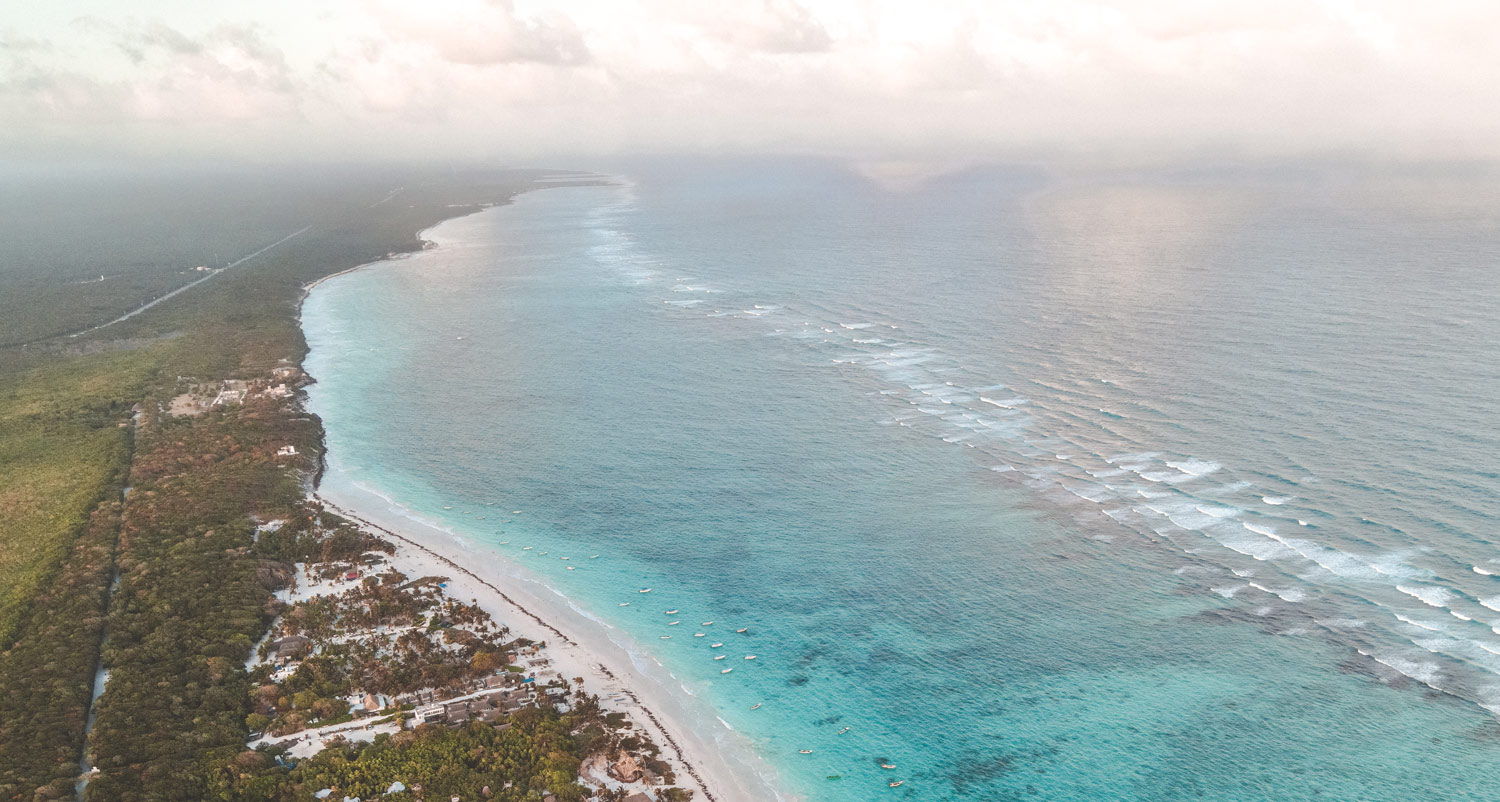 Tulum Archaeological Site: Discover Tulum Mayan Ruins
Have you gotten the most out of Tulum already? Well, I bet you are missing out on this one. Visit the secrets of Tulum archeological site, and we will guide you through the Mayan ruins so you can live to tell the tale.
Would you like to travel back in time and visit Mayan history with your own eyes? If there is anything that is stopping you, this guide will help to embrace your inner traveler's spirit to explore the Mayan Ruins. Tulum Archaeological Site is one of the top tourist destinations that many people love to visit in Mexico, as the most famous Chichen Itza in Yucatan. It is so popular that a thousand people per day are visiting the site. You might have heard talking about it, but it is so much better to see it in person and it is nothing like what we learn in history class! If you have free time to spend the day, why not visit the site with one of the many tours and dive into the history of how Tulum came to be.
Explore the secrets, the magic and the story behind these Mayan Ruins on the Caribbean Sea. Do not worry, we are here to help and make you better prepare for your journey!
*already book an hotel?* – if you are searching for the best accommodations in Tulum our friend Virginia can help you finding the best ones out there, for free. Take advantage of her help below!
Tulum Mayan ruins: the history of this archaeological site
In the 16th century, Tulum was known as "Zama" in the Mayan language, which means "dawn". It symbolizes the sunrise that appears over the horizon of the Caribbean Sea. Like Chichen Itza, Tulum was a place for commerce. Specifically, this Mayan City was a port where Maya people traded goods with neighboring lands throughout land and sea.
They also construct temples and a "castillo" on the edge of the cliff facing the Caribbean Sea. We now call it the Maya ruins of the Tulum archaeological site, and they are standing strong to this day after all those years. It rests on the eastern coastline of the Yucatan Peninsula, Riviera Maya, Mexico. Gated by stone walls, this small town was populated only by higher-status citizens. The Maya people also used it as a ceremonial center to provide offerings to their god. For example, you can see many stone depictions of The Descending god carved in The Temple of Frescoes.
Furthermore, you will later see the largest temple ruin on site, and that is "El Castillo". Unlike in Chichen Itza, this temple in Tulum is used as a lighthouse to guide ships to arrive safely at the beach.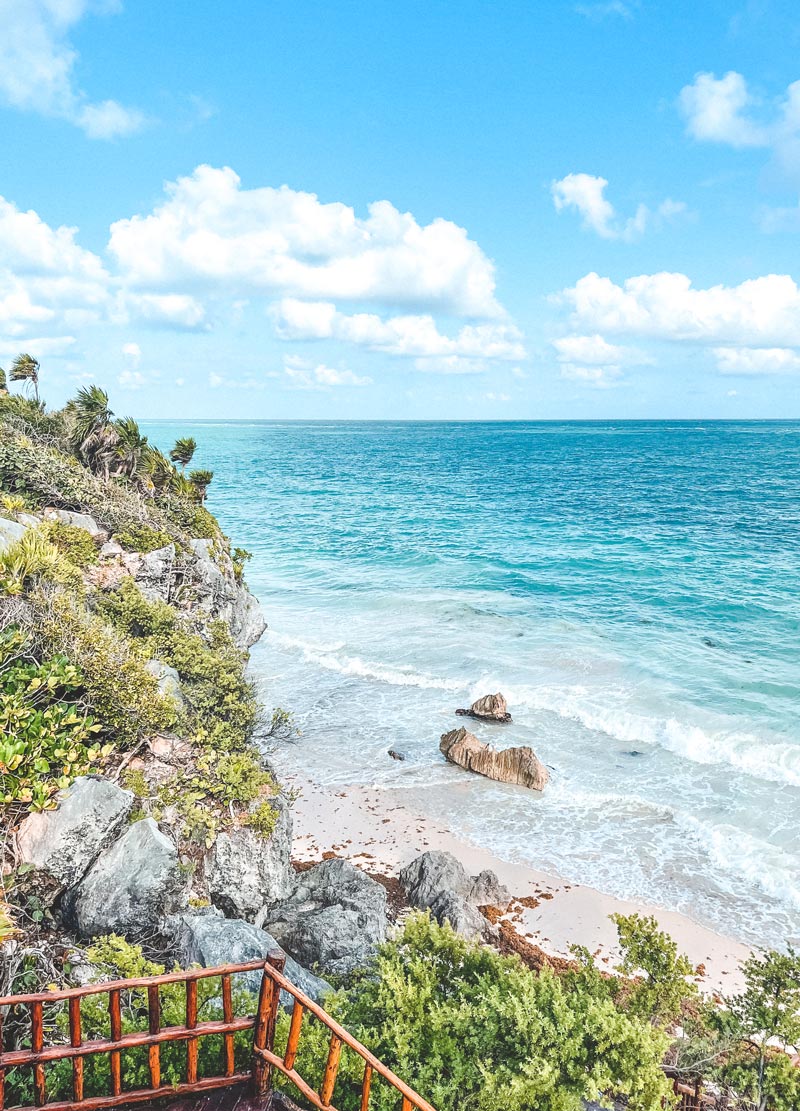 "The Amazing View From The Ruins"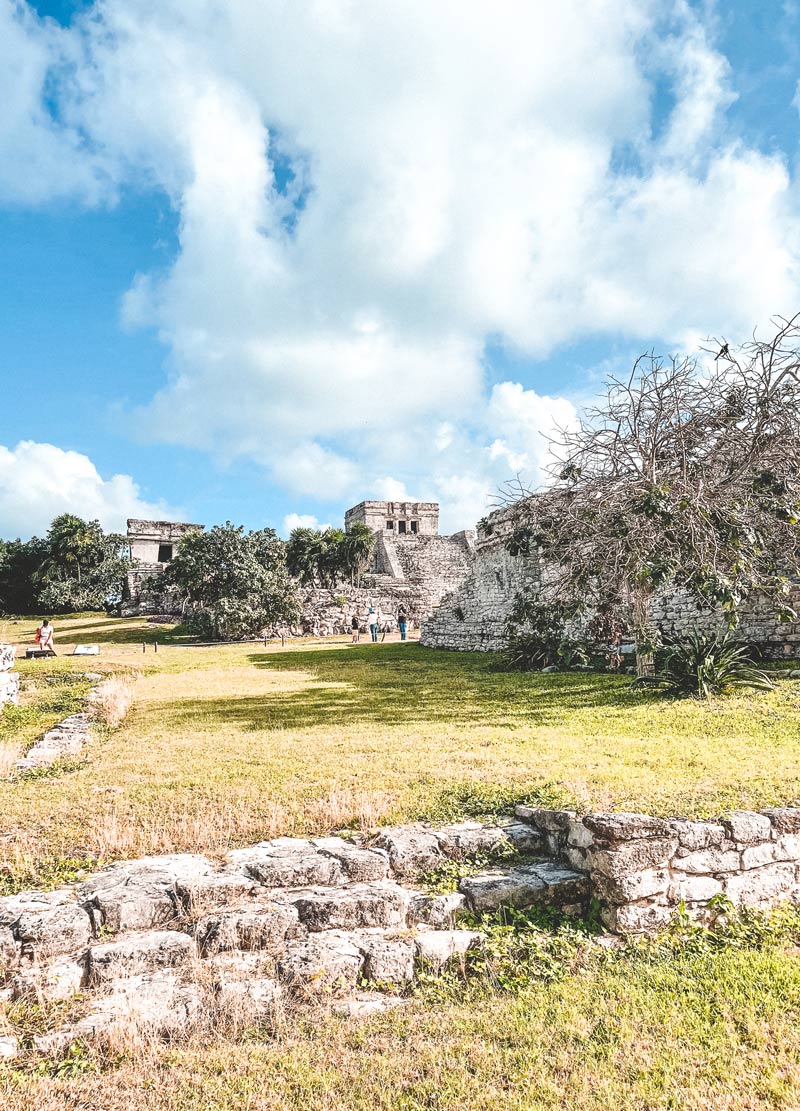 "Tulum Archeological Site"
Some important rules of the archeological site
The rules are translated from Spanish and you will find them on the big board by the entrance. The Mexican Cultural Heritage Conservation Council must put some rules in every ruin sites in order to preserve the immense heritage, so try to understand them and enjoy the site.
It cost 85 pesos to enter and 50 pesos to capture the scenery. The second fee may be a bummer for you. But the rule states "The use of electronic devices for the production of non-professional videos (video cameras, go pro, cell phones and/or tablets) has a cost of $50".
No drones or any professional photography equipment allowed – "The entry of professional photography and video equipment, tripods, and special equipment is only allowed with prior authorization from INAH"
Not allowed to bring large packaged foods and duffle bags – Small backpacks or handbags only
Wear a mask at all times – But also, there is no one policing this rule once you are inside.
Our Best Travel Tips to visit Tulum Ruins
Go in the morning! – The opening hours are 8am – 5pm. We can't stress this enough, and come early to avoid the long queue!
No shade to avoid the heat – We recommend bringing an umbrella, a hat, sunscreen, and plenty of water!
Pay with pocket change in pesos – Prepare the right amount of money in pesos to save time.
Only buy tickets from the official booth – It is only located at the end of the long road (right before the entry of the site).
Avoid Sundays! – It is always crowded on that day because the locals can go there for free.
Parking – There are plenty of parking spaces in the morning, but fewer in the afternoons. It cost 120 pesos to park for an unlimited time.
Bug sprays – Because we are surrounded by nature, you want to avoid bug bites.
Wear a comfortable outfit – You will be under the sun all of the time and walking a thousand steps. So wear sports attire and running shoes.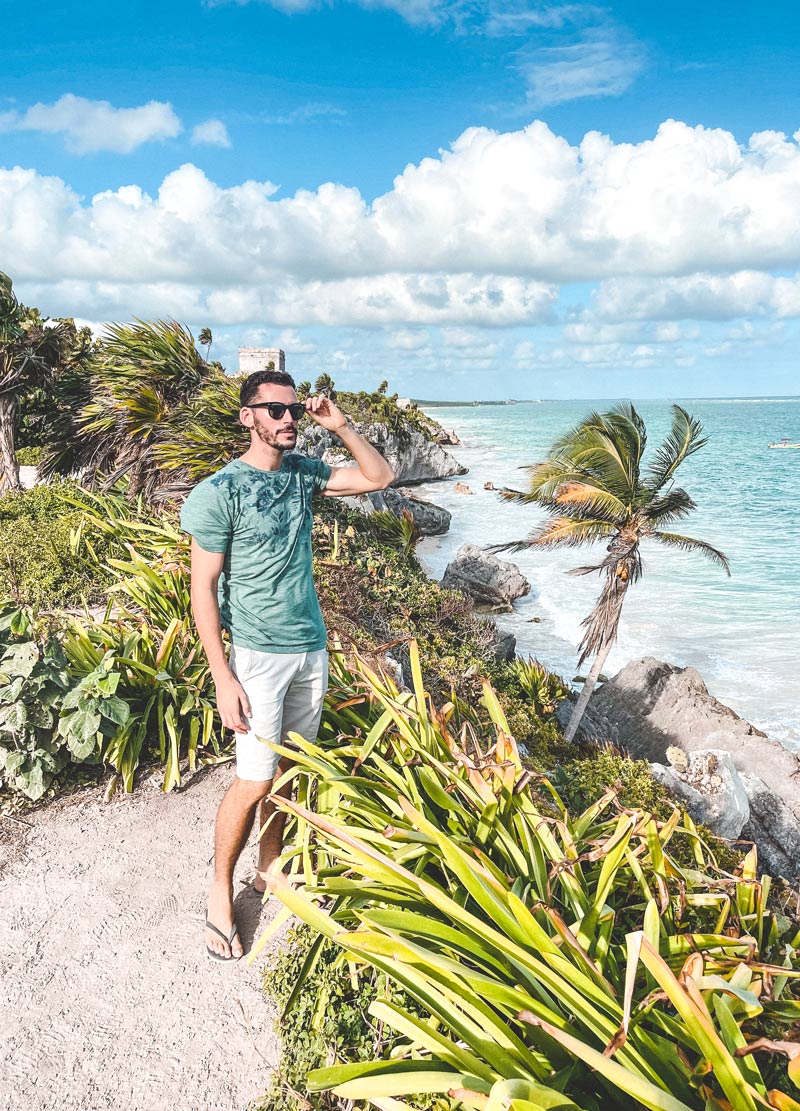 "Eddy Enjoying The Ruins"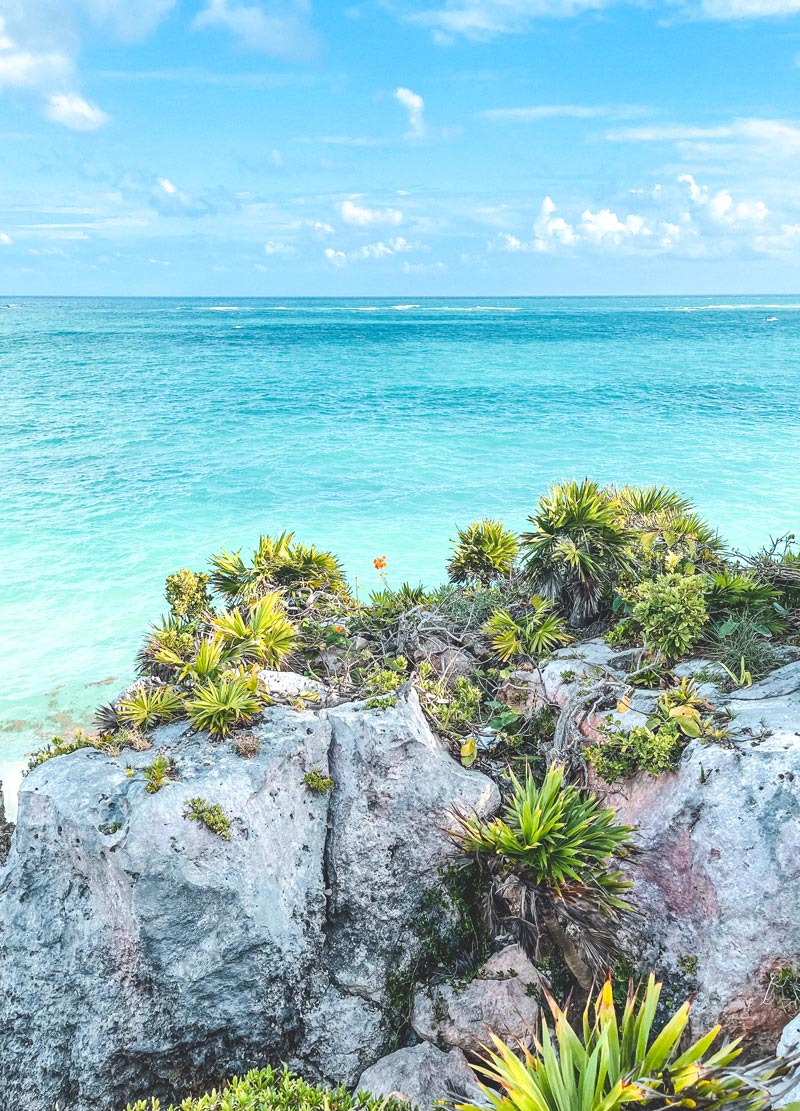 "Under The Ruins There's A Wonderful Beach"
Travel Options: How to get to Tulum ruins
The opening time of the ruins is 8am – 5pm. It is best to go there at least 30 minutes earlier before it opens to avoid the long queue.
Reaching the ruins From Tulum City
That is great if you are currently staying in this city. That means you have plenty of options to visit the ruins. If you plan to use public transportation, you can use the Colectivo (which costs around 30 pesos per person), or the taxi (which costs about 200 – 700 pesos depending on where you live). You can also go there on foot, bicycle or car pretty easily.
How to get to the archeological zone From Playa del Carmen or Cancun
Use Colectivo as the cheapest way to travel. From Playa del Carmen, the Colectivo station is located near Chedraui in the south of Playa del Carmen. It takes about an hour to get to Tulum, including waiting for other passengers. From Cancun, it is more comfortable to use the Ado Bus (it takes about two hours to get to Tulum). However, transportation hassles can be avoided if the hotel that you are staying at offers a tour guide service to the ruins. If not, you can always find many tours throughout Riviera Maya.
Going alone vs going with a tour guide: our opinion
Go Alone: For an Unlimited tour time
Pros: You are free to visit the temple and the Castillo at any time. Explore the ruins and the beach "playa ruinas" for an unlimited time.
Cons: You know less about the ruins, which takes away some of the immersion.
Go with a tour guide: To Be Knowledgeable about the ruins (Recommended)
Pros: Offers convenience, as it covers transportation and an experienced tour guide. Their package usually offers 2 to 3 hours, half of the time spent by the guide explaining the ruins and the temple. The remainder of the time is for you to freely explore. You can also find some tours offering a combo of the main activities to do in Tulum if you don't have a lot of time.
Cons: More expensive, limited visit time and you must follow their schedule.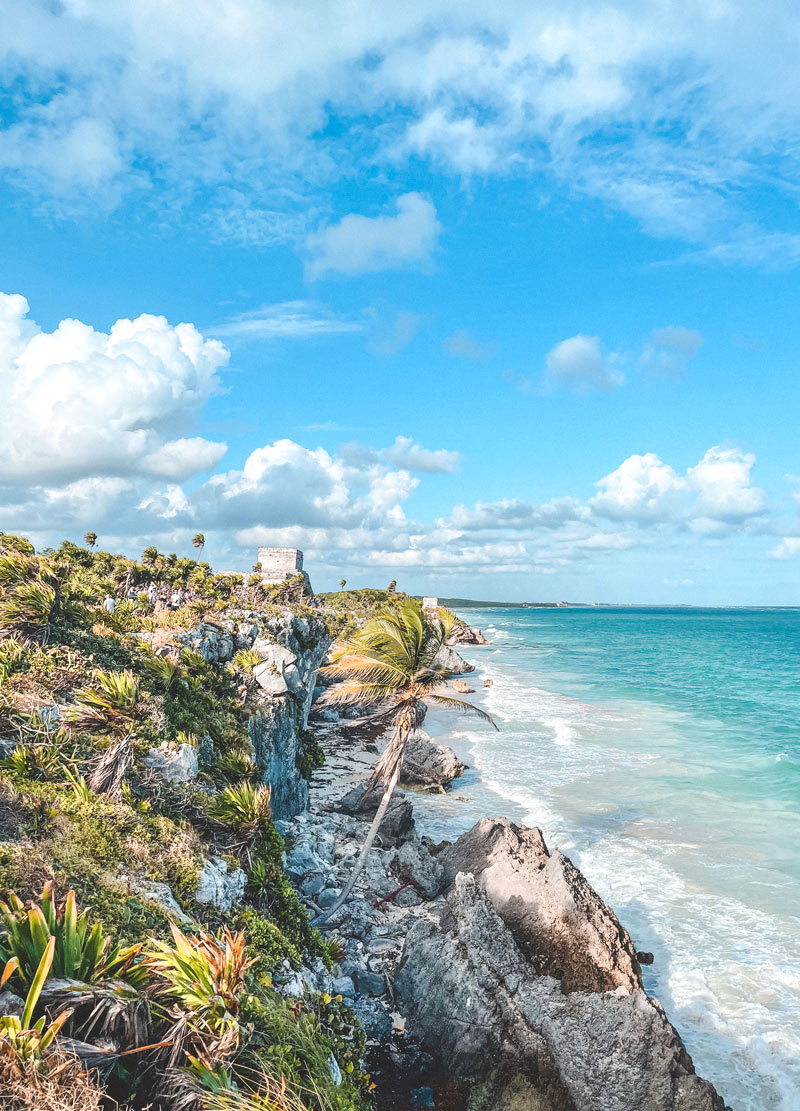 "Tulum's Ruins Landscape"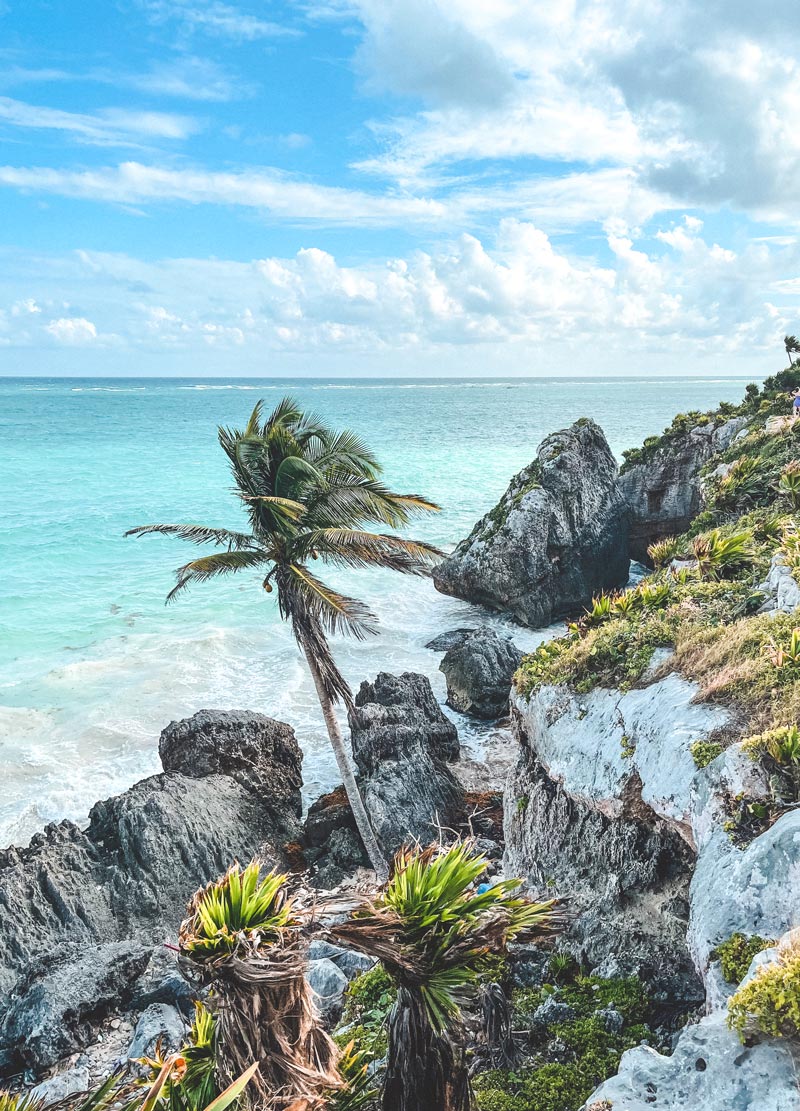 "Why Not Swimming After Visiting The Ruins?"
Take Advantage Of Free Concierge Service
As excellent to explore Tulum and its surroundings alone, you may need help figuring out where to start. To make the most of your money and time, contact Virginia and Kelly - two incredible Mexican girls living in Tulum for more than 15 years. They're familiar with the ins & outs of the Tulum town and hotel zone like the back of their hand! 
Since we arrived in Tulum 2 years ago, many adventures wouldn't have been possible without their help - they know literally everybody in Tulum and can perfectly organize every moment of your stay. Get the best tables, skip queues and get on the guest list of the coolest places in Tulum - this's only the beginning! 
They are ready to offer you guys FREE concierge service in Tulum for the time of your stay: take advantage of it, contact them on Whatsapp and live the best experience!
Get FREE Concierge Service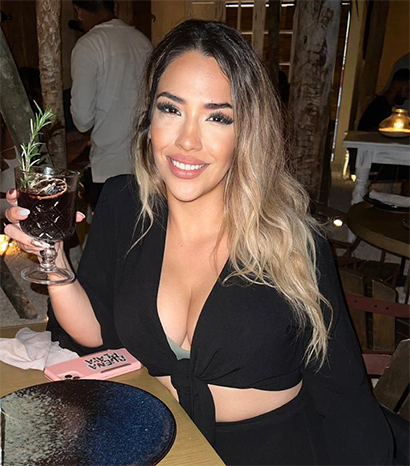 "Virginia Will Transform You In A Tulum Insider"
Our Day at the Site: what we experienced
This section will cover our personal journey to the Tulum Archaeological Site without giving out spoilers. Note: This is what people that go with tour guides usually experience.
We joined a group tour in Tulum and we all met at the empty parking lot at 7:30am. Once everyone was there, we took a ten minute walk to the official ticket booth, and we were greeted by a short queue! Afterward, we were given our tickets and went through the small hole entrance of the stone wall. Once we arrived on the other side, the sun flashed through our eyes for a short moment, and we were surprised by the magnificent scenery. We saw a vast green land where the old stone ruins rested in peace. Our informative tour guide begins to entertain us with the history of every temple. After an hour of learning, we are free to explore the site. We were dying to dip our toes in the sea to wash the heat away, but unfortunately, the beach was closed that day because of maintenance.
We didn't stay a long time due to the heat. After we left, we went to Starbucks near the parking lot and grabbed some brunch. All in all, that's a must during your vacation in Tulum!
FAQ about Tulum Archaeological Site
What is the main archaeological site in Tulum?
The main archeological site in Tulum are the Tulum Ruins, a well-preserved Mayan site perched on the cliffs overlooking the beautiful Caribbean Sea. It's a must-visit!
How far are Tulum Mayan Ruins from Tulum Centro?
Tulum Mayan Ruins are located about 3,5 km from Tulum Centro, so it's just about 10 minutes driving.
How much do Tulum Ruins cost?
It cost 85 MXN pesos to enter Tulum Ruins. However, if you want to park or take pictures, you'll have to pay an extra fee.
Are Tulum Ruins worth visiting?
Yes, Tulum Ruins are definitely worth visiting! With incredibles views, a rich history, and plenty of activities to do nearby, Tulum Ruins are definitely worth your time. Plus, they're located close to the Caribbean Sea, making it one of the most beautiful archaeological sites in Mexico.
When is the best time to visit the Tulum Ruins?
The site opens at 8 AM. We recommend you to go early in the morning to avoid crowds and the midday sun, for a hassle-free experience! 
What's the best way to get to Tulum Ruins?
You can get to Tulum Ruins by car, colectivo, or taxi. However, if you are closer, you can opt for a walk or a bike! 
Can I take pictures at the archaeological sites in Tulum?
Yes, you can take non-professional pictures in archeological sites in Tulum, for an average fee of 50 MXN pesos. However, professional pictures are not allowed.
Do you need a tour to see the Tulum Ruins?
While it may be possible to go on your own to spend your time visiting the ruins, booking a tour may help you explore and understand the place, and it will help you with the transportation, so you don't need to worry about how to reach the ruins!  
Great, let's feature the "MYSTICAL SUNSET /OLIVER HUNTEMANN" event at Mia Restaurant & Beach Club in Tulum on Wednesday, 29 November 2023. Here's the HTML snippet for your event: ```html
👉 WEDNESDAY, Nov 29
MYSTICAL SUNSET /OLIVER HUNTEMANN 🌅
📍
Mia Restaurant & Beach Club, Tulum
💵
Tier 1 Tickets: Mex$ 660 (incl. fees), Final Tier: Mex$ 880 (incl. fees)
📩
Contact Virginia
here
to book a table
Join us for an unforgettable evening at Mystical Sunset with Oliver Huntemann. Contact Virginia here to book your table and be part of this magical night on the beach! 🎶🔥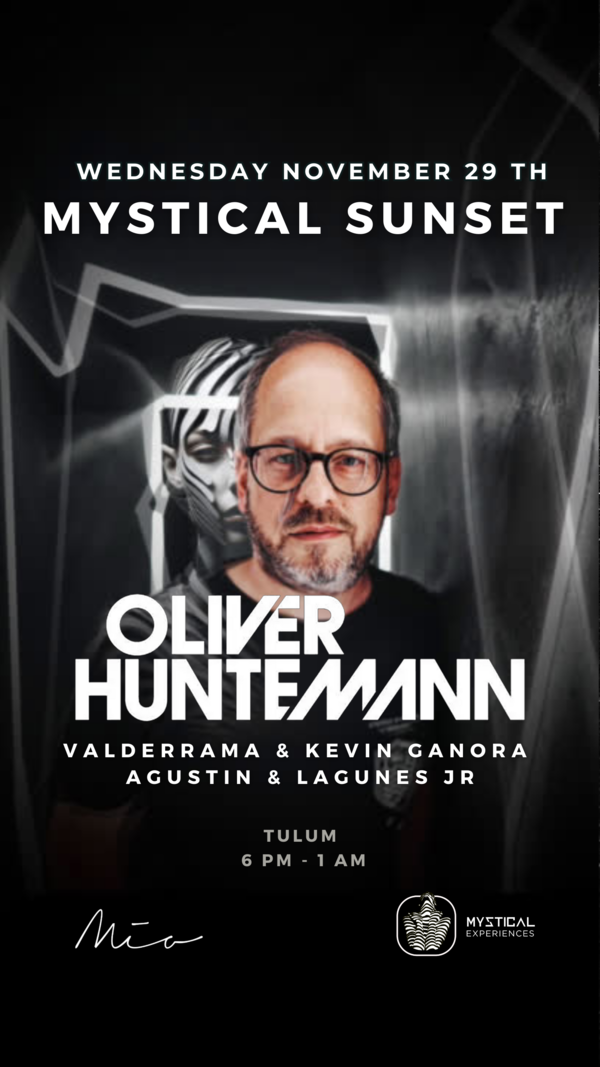 Top Parties and Club Events
23rd November - VAGALUME SESSIONS KEENE @VAGALUME
26th November - VAGALUME SUNDAZE MITA GAMI @VAGALUME
30th November - VAGALUME SESSIONS VALDOVINOS @VAGALUME
3rd December - VAGALUME SUNDAZE VALENTIN HUEDO @VAGALUME
7th December - VAGALUME SESSIONS MUSTAFA ISMAEEL @VAGALUME
30th December - PIKNIK POLO CORP & LEO LEONSKI @VAGALUME
31st December - NEW YEAR´S EVE @BAGATELLE TULUM
31st December - NYE PARTY 2024 @VAGALUME
13th March - LOCUS Tulum 2024