TULUM BACHELOR PARTY & GUYS TRIP COMPLETE GUIDE
Are you planning a Tulum bachelor party or guys trip with your friends? Look no further!
With this ultimate Tulum Bachelor Party & Guys Trip Guide, you'll be sure to have an unforgettable experience. This guide contains all the best recommendations and tips for making the most of your Tulum adventure. We enlisted our friends Virginia and Kelly – who are Tulum experts running a successful concierge service – to help us write this guide specifically for bachelors and groups of guys looking to have the time of their lives in Tulum.
So get ready for some fun in the sun as we explore all that Tulum has to offer!
Our personal experience: Eddy's cousin bachelor party in Tulum
Eddy was over the moon when his cousin called him to tell him he had just gotten engaged! To celebrate this special occasion, Eddy decided to organize a bachelor party in Tulum, but since planning wasn't exactly his strong suit, he reached out to Virginia and Kelly, the best concierge service in town.
They thoughtfully planned the perfect itinerary full of surprises and activities tailored specifically for the group: they booked them into a luxurious beachfront villa with breathtaking views; they organized an ATV tour so everyone could explore all the hidden gems along Mexico's Caribbean coast; they even arranged a private chef who prepared delicious meals filled with local flavors each day.
By the end of their stay in Tulum, there was no doubt that Eddy's plan had been successful – not only did his cousin have an amazing time celebrating his upcoming nuptials surrounded by friends and good vibes – but also everyone else couldn't speak highly enough about Virginia & Kelly services!
Get free help with the organization of your Bachelor party
It looks like Virginia and Kelly have it all figured out for the best bachelor party in Tulum. Between the relaxation of the beach, wild rainy nights, and all kinds of local adventures, there's no better place to prepare for a lifetime commitment. With this team you are guaranteed an absolutely unforgettable experience that will add a special touch to your bachelorhood! Let's do this! 
Therefore, ask yourselves: which beach adventure should we try? What spa treatments will make us forget about everyday worries? Which restaurants have amazing Mexican cuisine? And most importantly- which activities could boost your bachelor party in Tulum? Get in touch with Virginia and Kelly and they'll take care of everything!
Create the perfect bachelor party now
Tulum map: get to know the beach and Tulum town
Tulum is a unique destination with both a beach and a lively downtown, each offering its own distinct atmosphere. Tulum Beach is known for its pristine white sand beaches, crystal clear waters, and vibrant nightlife. Meanwhile Tulum Town offers a more relaxed vibe with plenty of shopping options, restaurants to explore, and cultural sites to visit. To make the most of your Tulum experience it's important to know how these two areas are laid out so you can plan your trip accordingly. Our Tulum map will help you get acquainted with the area so you can easily navigate between the beach and Tulum town during your stay.
Advantages of staying at Tulum beach:
White sand beaches and crystal clear waters, perfect for relaxing in the sun or taking a dip
Easy public beach access making it ideal for swimming, snorkeling, kitesurfing and boat rides
Lots of great beach clubs on offer around Tulum that provide live music entertainment throughout the day
Plenty of bars and restaurants to choose from
Opportunity to explore nearby Mayan ruins
Advantages of staying at Tulum town:
Affordable prices compared to Tulum beach
A selection of cultural sites and attractions
Lively atmosphere with a small town feel
Plenty of Shopping
Variety of restaurants
Best location to stay in Tulum for a Bachelor party
Deciding where to stay in Tulum can be tricky – whether you're looking for a hotel or villa on Tulum Beach or a cheaper apartment or casa in Tulum Town. Our friends Virginia and Kelly have put together this list of the best accommodations in Tulum for your bachelor party or guys trip to help you find what suits your needs.
You can contact them here to get the best accommodation following your needs. 
Perfect restaurants to eat in Tulum with a group
Planning a Tulum bachelor party or guys trip can be overwhelming with all the options available and we know how hard it can be to know which restaurants are best for groups, and what kind of atmosphere they offer. Look no further! Virginia and Kelly will help you find the best restaurants for your group to enjoy the best bachelor. They found the best  restaurants and supper-clubs when Eddy organized his cousin's bachelor party! Moreover – we didn't have to deal with anything then enjoying, because they took care of every reservation. What's better than this?
Here below you find our favorite restaurants to eat in Tulum with a group and to live an unforgettable dining experience.
ILLIOS is a must-stop spot for seafood lovers. Their menu highlights traditional dishes made with only fresh ingredients and flavor combinations based on Greek and Mediterranean traditions. The restaurant also offers a stunning location close to Tulum main party strip.
ROSA NEGRA offers Mexican and Latin American cuisine with a contemporary twist. They serve perfectly crafted tacos and other delicious dishes prepared with locally sourced ingredients. The restaurant has an outdoor terrace as well as an indoor garden area that's perfect for relaxing after dinner. Don't forget to try their Kobe meat!
BAK TULUM is an upscale steakhouse located on Tulum Beach in Tulum, Mexico. With its elegant atmosphere, BAK Tulum has quickly become a favorite among locals and visitors alike. The restaurant serves high-quality steaks that are perfectly prepared to meet each customer's satisfaction.
BAGATELLE provides guests with a French Mediterranean take on traditional Latin American fare. It has a modern yet cozy atmosphere where you can share with your group of friends unique dishes like avocado pizza with fresh cheese or Angus beef sirloin with caramelized shallots.
PORFIRIOS is another great Tulum dining option serving delectable Mexican-style dishes like fish ceviche or Cochinita Pibil casserole in a luxurious and elegant location. Viva Mexico!
TABOO is one of Tulum's most popular restaurants known for its two-story terrace overlooking the Caribbean sea where guests can enjoy classic Mexican seafood dishes. Their menu also features sushi and meat, offering you a complete experience for every one of your group.
PAPAYA PLAYA PROJECT is an experience-based Tulum resort that provides its guests with a unique combination of luxury and nature. Come here to have a fine dining experience and don't forget to enjoy one of its unforgettable parties.
VAGALUME is a Tulum beach club known for its vibrant nightlife. Their parties are well-known for their eclectic mix of music, live DJs, and stunning visuals. They feature the best in Tulum's beach vibes, providing guests with a unique and unforgettable experience – where dining is included.
GITANOS is Tulum's newest beachfront restaurant, offering a unique dining experience in an exquisite setting. With its outdoor terrace and chic interiors, GITANOS has quickly become a favorite among locals and visitors alike. The menu features classic Mexican dishes such as tacos, fish ceviche and chilaquiles, all prepared with fresh ingredients. Guests can also enjoy GITANOS' signature cocktails while they take in panoramic views of Tulum beach.
IT is Tulum's premier entertainment venue located on Tulum Beach. This vibrant nightlife supper club offers an eclectic mix of music, lavish decoration, delicious food, and art installations to provide guests with a truly unforgettable experience. The venue also boasts a bar serving up craft cocktails, along with a restaurant area that serves exquisite Italian dishes.
Best day parties for a Bachelor in Tulum
Tulum offers some of the best day party experiences around! Whether you're looking to relax on the beach or have an all-day adventure, Tulum has something for everyone. From ATV tours to exclusive beach clubs and pool parties, Tulum offers plenty of options for a memorable bachelor's trip. So grab your friends and get ready for an unforgettable experience in Tulum!
TABOO – You can quickly get to TABOO and enjoy an unforgettable experience surrounded by stunning views of Tulum Beach Zone. TABOO beach club has everything needed to make your vacation in Tulum one that will never be forgotten – especially with its day parties!
Bagatelle – This restaurant and beach club features incredible day parties with a French Mediterranean vibe where you'll be able to chill at the beach club and meet cool people.
Vagalume – Start your day by lounging around the pool, taking pictures at their photo spots with stunning views of Tulum Beach, and relishing in the ocean breeze. Satisfy your hunger with mouthwatering dishes!
Mia – Mia Tulum Beach Club is Tulum's ultimate day party spot, offering guests a unique combination of luxury, entertainment and relaxation. With amazing views of Tulum Beach, Mia Tulum provides guests with an unforgettable experience complete with DJ music, body painting, hookahs and more!
Book a day party in one of these locations
Best night parties for a Bachelor in Tulum
When it comes to an unforgettable night out on the town, Tulum offers some of the best experiences around. Whether you're looking for a wild night in one of Tulum's exclusive clubs or just want to relax with friends over drinks at a beachfront bar – Tulum has plenty of options to make your bachelor's weekend special. So grab your crew and get ready for an amazing time in Tulum!
Bonbonniere Tulum – The perfect destination for your Tulum bachelor party, guys trip, or just a weekend getaway. Located in Tulum's paradise coast, Bonbonniere offers an unforgettable nightlife experience with bottle service, DJs and luxurious shows. The venue is best known for its red lights and VIP experiences.
Zamanik – Zamanik Tulum is Tulum's premier speakeasy and music club, located in the upscale Aldea Zama neighborhood. This hidden gem has been around since 1999, providing Tulum with a unique nightlife experience.
Book a night party in one of these locations
Enjoy Tulum activities with your group of friends: our essentials
As you could have guessed, Tulum is really the perfect destination for a Tulum bachelor party or guys trip. Here below are the best Tulum activities you can do with your group to celebrate the last single days of your friend!
Join dinner parties around town
The Tulum nightlife scene offers many fun and exciting dinner parties for any Tulum bachelor party or guys trip. There are a variety of venues that offer unique settings, ranging from beachfront restaurants to rooftop bars with amazing views of Tulum's stunning beaches. Whether you are looking for a casual dinner with friends or an elegant evening, Virginia and Kelly will help you find the best dinner parties in town! Contact them here.
Go kitesurfing on Tulum's stunning beaches
Kitesurfing is the perfect activity for Tulum's stunning beaches. The combination of strong trade winds, shallow turquoise waters and white sand beaches make Tulum one of the best places in Mexico to enjoy this thrilling sport. Kitesurfers from all over the world come to Tulum to take advantage of its ideal conditions.
Explore the Sian Ka'an biosphere
The Sian Ka'an biosphere is a stunning tropical paradise in Tulum. It's home to an incredible array of wildlife, including jaguars, spider monkeys, toucans and hundreds of other species. The biosphere also features mangrove forests, cenotes, beaches and lagoons that offer a unique opportunity to explore Tulum's abundant natural beauty. From snorkeling in its crystal clear waters to hiking through the lush jungles and admiring the diverse local flora and fauna, Tulum's Sian Ka'an Biosphere offers the perfect setting for a Tulum bachelor party or guys trip. And if you're looking for more adventure, you can join guided tours that will take you into the depths of the rainforest to witness ancient Mayan ruins or climb pyramids at Coba. No matter what you're looking for on your Tulum bachelor party or guys trip, Sian Ka'an is sure to provide an unforgettable experience!
Take a dip in one of Tulum's many cenotes
Cenotes are one of Tulum's most incredible secrets. These ancient underground sinkholes were formed by the collapse of limestone bedrock, creating an amazing network of natural swimming pools filled with crystal clear, mineral-rich waters. They are considered sacred by the Maya and have been used for religious ceremonies and rituals since pre-Columbian times. Tulum is home to some of the best cenotes in Mexico, providing a unique opportunity to explore a fascinating part of Tulum's rich culture and history. Whether you're looking for a relaxing dip or an adrenaline-filled experience, Tulum's cenotes provide the perfect setting to make memories that will last forever. From snorkeling in Dos Ojos Cenote to cliff jumping at Cenote Carwash, Tulum offers an array of activities that will make any Tulum bachelor party unforgettable!
Hang out in Playa Paraiso and marvel at the ruins
Playa Paraiso is one of Tulum's most beautiful beaches, offering a mix of powdery white sand and azure blue waters. Here you can take a dip in the crystal clear waters or bask in the sun on the picturesque beachfront. With its stunning backdrop of ancient Mayan ruins, you'll be able to get an up-close look at Tulum's cultural heritage and take some amazing photos. Whether you choose to explore the ruins or just relax on the shoreline, Playa Paraiso provides an unforgettable Tulum bachelor party experience.
Take a mud bath in one of Tulum's lagoons
Tulum's lagoons are some of the best places in Mexico to take a mud bath. These mineral-rich lagoons provide an incredible opportunity for Tulum bachelor parties and guys' trips to experience a unique and refreshing experience. The lagoons are filled with therapeutic mud that is said to have detoxifying and healing properties, making you feel regenerated after a crazy night.
Why should you choose Tulum for a bachelor party?
Wow! We believe Tulum is the perfect destination for a bachelor party or guys trip, and we can say that from our personal experience. With Virginia and Kelly's help, your bachelor party in Tulum could be epic! Your boys could go for traditional Mexican activities, like a small fishing tour or a visit to Xel Ha's natural pools. They could continue the night with tequila tasting, not to mention that they can get their very own adventures with a dive tour. Let Virginia make it happen with one round of beers and chips included! 
It's time… Who wants to plan the best night of your life? Contact Virginia now and make the most out of your bachelor party in Tulum! Remember: there only is one last chance at single bliss in this world!
Tulum Bachelor Party FAQ
How long should the bachelor party be?
The length of your Tulum bachelor party really depends on factors like budget, availability and the size of your group. Generally speaking, Tulum bachelor parties range from a few days to a week or even longer. We recommend planning for at least three nights so you can enjoy all that Tulum has to offer and make the most out of your experience! Of course, depending on your preferences and budget, you may choose to extend the length of your Tulum bachelor party if desired.
How many people should be invited?
The number of people to invite for your Tulum bachelor party will depend on the type of celebration you want to have and how many people are able to join. Generally speaking, Tulum bachelor parties range from 8-15 guests. If you are looking for a more intimate experience, consider inviting fewer people. On the other hand, if you want a larger Tulum bachelor party with more guests, make sure that your accommodations can accommodate all of them comfortably.
Who should pay for the bachelor party?
Traditionally, the best man organizes and pays for the Tulum bachelor party. However, it's increasingly common for the group to split up costs, which can prevent any one person from footing a large bill. Consider setting a budget before planning and dividing it evenly among those invited so everyone can contribute what they are comfortable with. This is also an excellent opportunity to discuss arrangements beforehand and make sure that everyone attending is satisfied with the Tulum bachelor party plan.
What are some fun activities to do in Tulum?
For those looking for fun and adventure, Tulum offers amazing kitesurfing, SUP tours on Tulum's beaches, and exploring the Sian Ka'an Biosphere.
Should I plan any surprises for the bachelor?
Yes, planning surprises for the Tulum bachelor party can be a great way to personalize the celebrations and make it even more special! Examples could include organizing a scavenger hunt around Tulum's stunning beaches or giving him a special massage after a long day of activities.
What are some bachelor party ideas?
Tulum bachelor parties can offer plenty of fun activities, including kitesurfing, SUP tours, snorkeling, dinners, parties and much more.
How do I make sure the bachelor party is memorable?
The best way to make sure your Tulum bachelor party is memorable is to plan activities that you and your friends will enjoy and that will create long-lasting memories.
What are some bachelor party games?
Games like Truth or Dare, Flip Cup, Beer Pong, and Kings Cup are popular choices. Other ideas include scavenger hunts around Tulum's beaches or a friendly game of beach volleyball. All of these activities will make your Tulum bachelor party even more memorable!
What should I wear to a bachelor party?
At a Tulum bachelor party, you should opt for comfortable yet stylish clothing. Lightweight fabrics like linen and cotton will keep you cool while looking fashionable. For evening events, consider semi-formal attire such as trousers with a shirt or polo. If the Tulum bachelor party is taking place in an upscale venue, dress accordingly in something a bit more formal such as a button-down shirt and trousers!
What are some things to avoid during a bachelor party?
Avoid activities that can lead to fights or other dangerous situations, such as excessive drinking or drug use. Additionally, avoid bringing up sensitive subjects or topics that may lead to uncomfortable conversations or arguments. Lastly, remember to be respectful at all times and follow the local laws and regulations during your Tulum bachelor party!
Tulum's Hottest Event - Crypto Fest 2023
Spice up your vacation with a seductive blend of crypto expertise and Tulum's tropical beauty?
Tulum Crypto Fest 2023 is the perfect opportunity for you to immerse yourself in 4 days of active learning, socializing, and networking, all in the breathtaking backdrop of Tulum. Join other like-minded individuals and gain insights from over 30 renowned speakers on the latest blockchain technologies, AI, tokenized real estate, and more. Participate in engaging workshops and a thrilling hackathon, pushing the boundaries of what's possible in today's technological landscape.
Experience the perfect blend of cutting-edge innovation and Tulum's vibrant expat community. Be inspired by witnessing groundbreaking projects at the captivating Whale Tank pitching session and forge invaluable connections with thought leaders from around the world, all while enjoying the unique charm of Tulum.
Register now to secure your spot and access exclusive discounts before they're gone!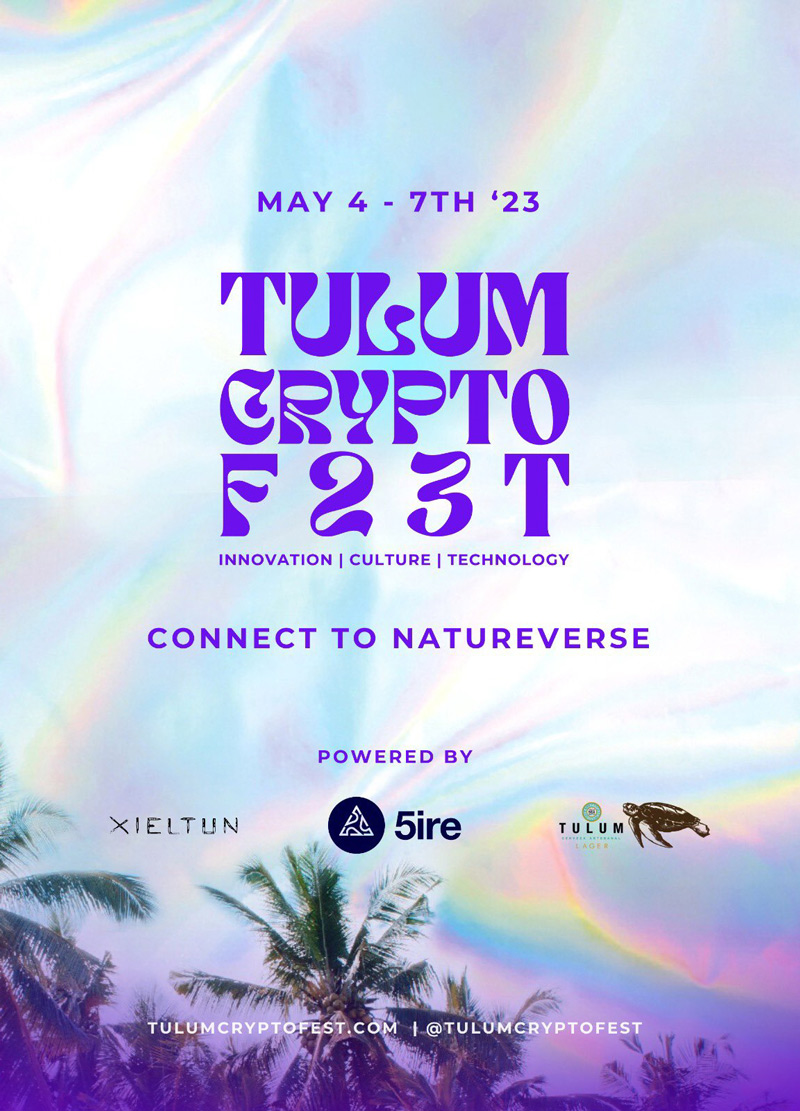 Secure Your Spot HERE
Use the promo code WELCOMETCF to receive a 20% discount on your ticket purchase.
Hurry – spots are filling up fast! 🙀 We can't wait to see you there!
Best upcoming parties in Tulum
❤️❤️❤️27th/30th April - PHILIA ART AND MUSIC WEEKEND @Papaya Playa Project❤️❤️❤️
28th March - S I N N E R Present: CRISTOPH @Vagalume
30th March - ELECTRONIC ELEMENTS @MIA TULUM
30th March - VAGALUME SESSIONS SOUND OF RITUALS @VAGALUME
30th March - POPOF @BONBONNIERE TULUM
31st March - TEN IBIZA @VAGALUME
1st April - BONOBO @Papaya Playa Project
1st April - HANNAH WANTS @BONBONNIERE TULUM
2nd April - VAGALUME SUNDAZE ROY ROSENFELD @VAGALUME
6th April - TOM & COLLINS @BONBONNIERE TULUM
8th April - PIKNIK @VAGALUME
8th April - THE FULL MOON @Papaya Playa Project
15th April - SIGNATURE @Papaya Playa Project
15th April - NIC FANCIULLI @BONBONNIERE TULUM
16th April - ANCESTRAL SOUL @BONBONNIERE TULUM
21st April - NICO DE ANDREA @BONBONNIERE TULUM
22nd April - STARVAULT @Papaya Playa Project
27th - 30th April - PHILIA ART AND MUSIC WEEKEND @Papaya Playa Project
4th May - Tulum Crypto Fest 2023 @Papaya Playa Project
6th May - THE FULL MOON @Papaya Playa Project
13th May - STARVAULT @Papaya Playa Project
20th May - ASTROBEAT @Papaya Playa Project