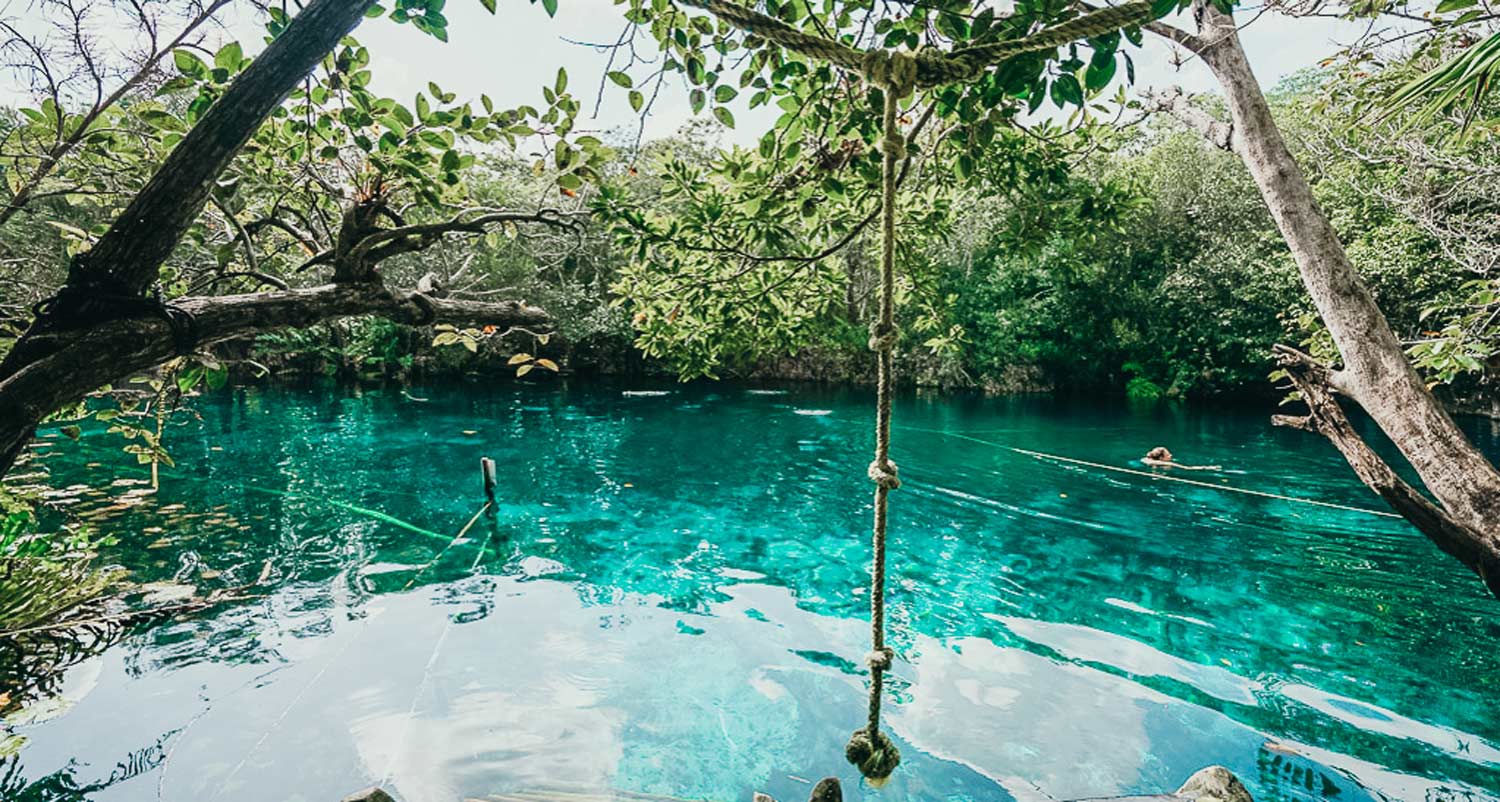 Cenote Carwash: Your Perfect Spot for an Unforgettable Swim in Tulum
Since our first visit to Tulum, we were absolutely in love with the city's bohemian atmosphere and rich natural beauty. However, it wasn't until we discovered the wonder of cenotes, a natural phenomenon well-known among locals, that our experience of Tulum's paradise truly became complete.
But what exactly is a cenote? In technical terms, it's a sinkhole formed by the collapse of limestone bedrock that exposes groundwater. In simpler terms, it's like a natural pool where one can swim  in an underground landscape that feels like something out of a fairytale.
Our visit to a cenote was nothing short of amazing and we highly recommend that anyone visiting Tulum should include visiting a cenote in their itinerary, to explore these natural wonders for themselves. With that in mind, we'd like to share our guide to discovering the magic of Tulum's cenotes with all of you! In this article, we're going through a really special cenote, Cenote Carwash! 
TRAVEL TIP: After enjoying a swim in stunning cenotes, why not try some delicious food at one of the Tumum's top restaurants? Connect with our friend Virginia on WhatsApp to discover the best dining spots in town that cater to your culinary tastes. With her guidance, you can savor the best of Tulum's cuisine scene, without having to worry about anything. Best of all, Virginia's services are FREE! So, don't hesitate – get in touch with her today and treat yourself to a memorable dining experience in Tulum.
WHEN And where TO VISIT CENOTE CARWASH
Location: Calle Carretera Federal 109, Tulum 77710 Mexico
Closest cities (approximate driving time):
Tulum: 15 minutes
Playa del Carmen: 1 hour and 15 minutes
Cancun: 2 hours
Entrance Fee: 200 MXN pesos per person  
Opening hours: 8am to 6pm 
Cenote Carwash is a sinkhole underground, a natural pool all made for Mexico's mother's earth! This place is massive and has an awesome underwater world full of rocks, critters, and plants. Fun fact – there's even a crocodile living there! The water is so clear that it's perfect for swimming and snorkeling. Plus, if you're into diving, the deep cave in the cenote is a must-see.
Picture a place where crystal clear turquoise water meets with the green lush of tropical plants, and the sun is shining so bright that it illuminates the whole cave with an ethereal glow.  Interesting fact: There is a baby crocodile swimming in its waters, so if you are lucky to see it, please tread carefully! And don't worry, the crocodile is small and inoffensive.
But it's not just about the visual appeal, the experience of swimming in the cenote is truly something out of a fairytale. Some people are saying that real mermaids have been seen swimming in cenote's waters! In fact, the water is so pure that sometimes it's forbidden to use artificial sunscreen on them. The peaceful ambiance of the place will make you feel like you're in your own private sanctuary, away from the hustle and bustle of the outside world.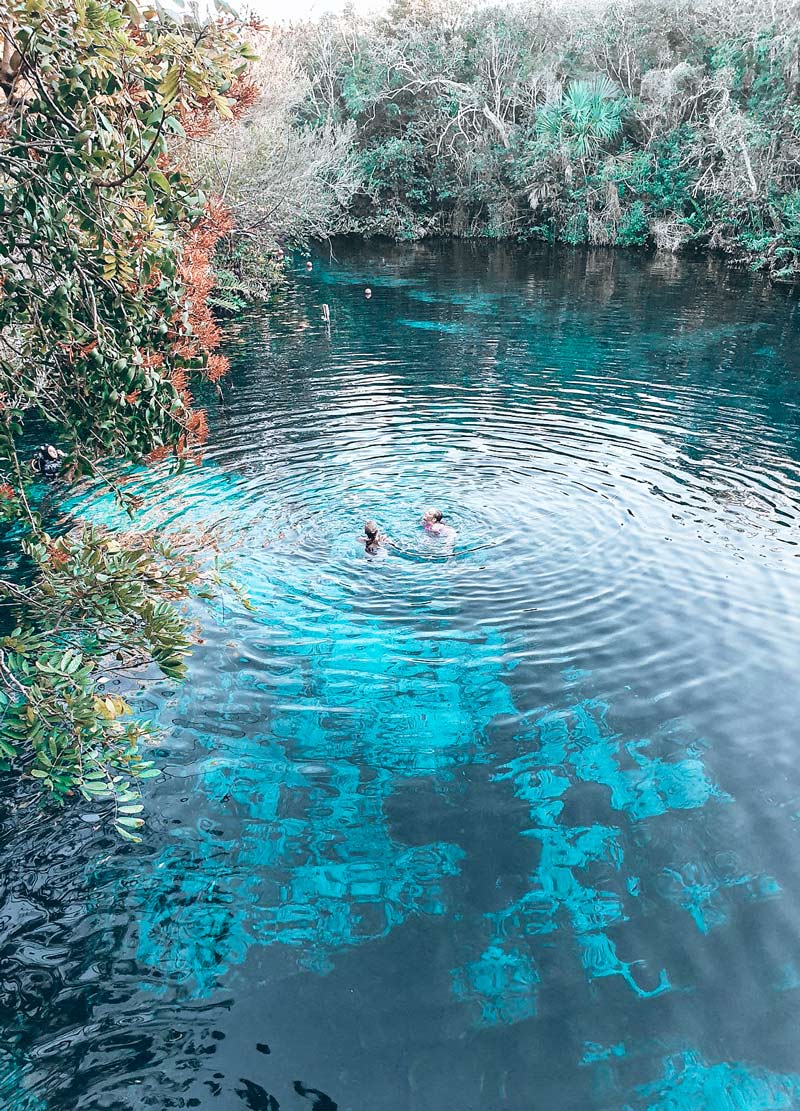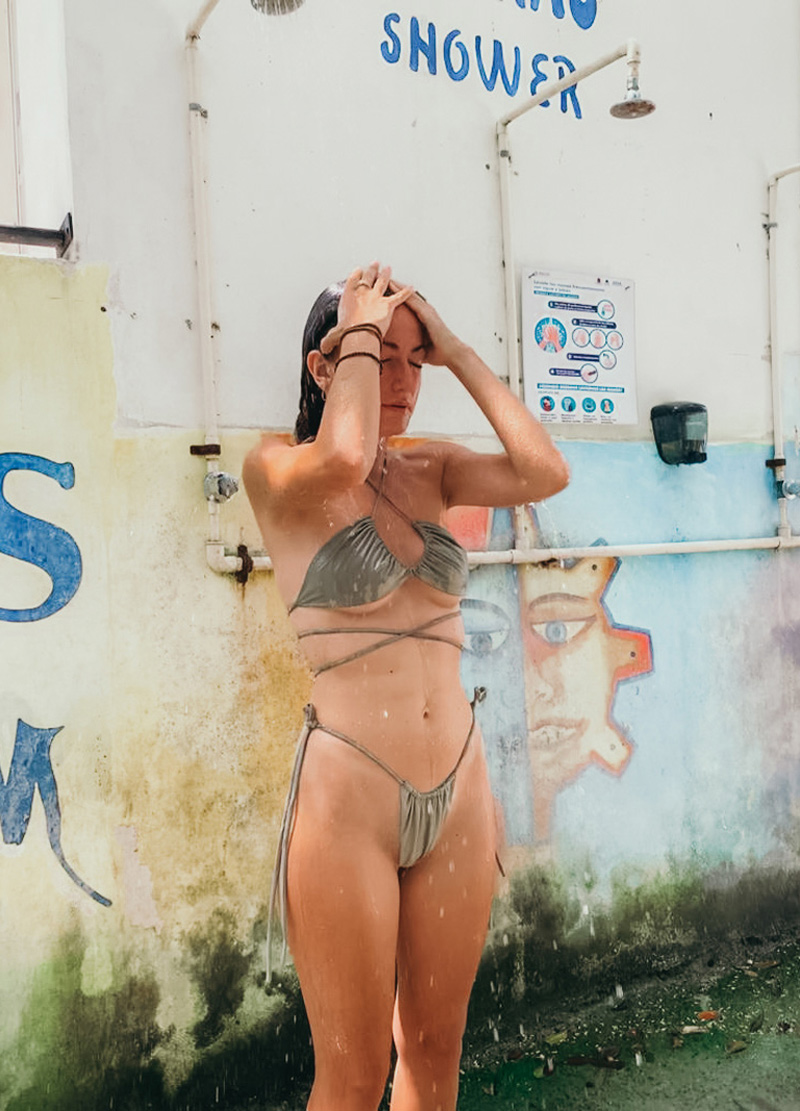 Like we said, Carwash is not really a fully equipped cenote, so you won't find the kind of amenities you would find in a touristic place, it has more of a natural atmosphere and rustical vibes. 
However, the cenote has bathrooms and changing areas, lockers to leave your stuff, and a parking lot available for visitors.
ACTIVITIES TO ENJOY IN CENOTE CARWASH - GRAB YOUR SWIMSUIT!
But why visit Cenote Carwash you may ask? Well, it's an experience like no other. You get to connect with nature in its purest form and witness the beauty of Mother Earth firsthand. It's a chance to escape the routine of everyday life and immerse yourself in something magical. And you can also capture the moment by taking amazing pictures! 
Moreover, you have a lot of activities to do when visiting the cenote! You can swim, dive and snorkel into its crystal-clear waters! And pssst…! We highly recommend you to try snorkeling, because you are likely to see some fishes and turtles swimming next to you! 
So guys, don't miss out on the opportunity to visit Cenote Carwash. Trust us, it will be an experience you'll cherish for a lifetime.
Take Advantage Of Free Concierge Service
As excellent to explore Tulum and its surroundings alone, you may need help figuring out where to start. To make the most of your money and time, contact Virginia and Kelly - two incredible Mexican girls living in Tulum for more than 15 years. They're familiar with the ins & outs of the Tulum town and hotel zone like the back of their hand! 
Since we arrived in Tulum 2 years ago, many adventures wouldn't have been possible without their help - they know literally everybody in Tulum and can perfectly organize every moment of your stay. Get the best tables, skip queues and get on the guest list of the coolest places in Tulum - this's only the beginning! 
They are ready to offer you guys FREE concierge service in Tulum for the time of your stay: take advantage of it, contact them on Whatsapp and live the best experience!
Get FREE Concierge Service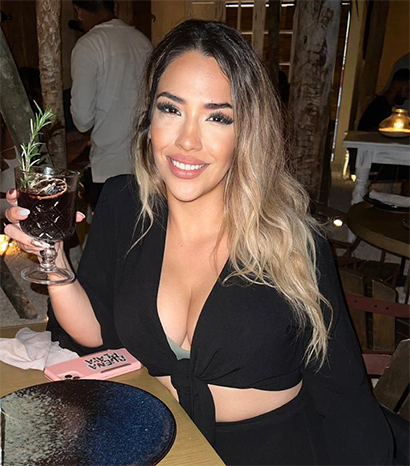 "Virginia Will Transform You In A Tulum Insider"
HOW TO GET TO CENOTE CARWASH
Whenever we move from one place to another place in Tulum, we love renting a car. This gives us not just privacy, but also the  freedom of choosing when to go or when to leave a site. To reach Cenote Carwash from Tulum, you only have to drive about 15 minutes and you're there! 
Renting a car is specially recommended if you are thinking of taking some day trips from Tulum to different destinations, and it will allow you to save both: money and time. 
However, you can also take a taxi from Tulum's center, and you should get into the cenote within 10 or 20 minutes. but if you plan to visit other nearby cenotes, and be more flexible, renting a car would be the best option.
For a budget friendly trip, you can also take a colectivo (shared van) that will leave you in Cenote Carwash. You should take the colectivo from Tulum towards Coba, and ask the driver to drop you off at Cenote Carwash.
TRAVEL TIP: Rev up your adventure in Tulum with BGH Car Rental! They're the coolest, most affordable car rental company in town. Contact Virginia on WhatsApp to check their availability – get ready for an epic ride!
VISIT the SURROUNDINGs OF CENOTE CARWASH : THE MAGIC CONTINUES
There are several beautiful cenotes located near Cenote Carwash that are definitely worth a visit during your trip to Tulum. 
In addition to the cenote, there are plenty of other things to do in Tulum, from exploring ancient Mayan ruins to enjoying delicious local cuisine. Spend your days lounging on the beach or taking part in water sports like snorkeling or scuba diving. Tulum is the perfect place to unwind and connect with nature, while still enjoying all the modern amenities and conveniences you need.
And let us emphasize Tulum's beach! It's literally nice and lovely! Its nightlife is vibrant and you will definitely enjoy taking a dip into its turquoise waters. Literally a must- visit destination in Tulum.
VISITING CENOTE CARWASH: WHAT TO BRING
If you're planning a trip to Cenote Carwash, you'll definitely want to make sure you're packing some essentials to make the most of your day out. Here's a quick rundown of what you should bring:
First things first, make sure to bring a bottle of water to stay hydrated under the sun. You don't want to get dehydrated and miss out on all the fun!
Next up, bring a picnic blanket so you can relax and enjoy the beautiful scenery. It's the perfect spot for a picnic with friends or family.
If you're planning on snorkeling, don't worry if you don't have your own gear. You can easily rent snorkel gear on-site if you want. Same goes for reef shoes or flippers, which are recommended to fully enjoy the underwater world.
Don't forget to bring a towel to dry off after a refreshing swim, and a camera to capture all the memories. Wear a swimsuit and bring a change of clothes so you can switch into something dry after your swim.
IMPORTANT: To pay the entrance fee, you will need MXN pesos. Usually the small cenotes don't accept cards. Cash is king! 
Essentials to pack for your trip to Cenote Carwash:
Bottle of water to stay hydrated
Picnic blanket for relaxation and enjoying the scenery
Snorkel gear (or rent on-site) for underwater exploration
Reef shoes or flippers for a better underwater experience
Towel for drying off after swimming
Camera to capture memories
Swimsuit and change of clothes
MXN pesos for entrance fee payment (cash is recommended)
FAQ about Cenote Carwash
Is there parking available at Cenote Carwash?
Yes, there is free parking available at Cenote Carwash if you are driving your own car.
Are there restrooms and showers available at Cenote Carwash?
Yes, there are restrooms and showers available at Cenote Carwash for visitors to use.
Can I bring food and drinks to Cenote Carwash?
Yes, you are allowed to bring food and drinks to Cenote Carwash. There is also a small restaurant on site if you prefer to purchase food and drinks there.
What activities can I do at Cenote Carwash?
When visiting Cenote Carwash, you can enjoy swimming, snorkeling, and diving in the crystal-clear waters of the cenote. 
How deep is Cenote Car Wash?
Although the average depth of Cenote Carwash is 3 meters, it can reach up to 15 meters in some zones!
Why is it called Cenote Carwash?
Some taxi drivers used to wash their cars in this cenote, that's where the name comes from! However, the Cenote Carwash is also known as Cenote Aktun- Ha.
Great, let's feature the "MYSTICAL SUNSET /OLIVER HUNTEMANN" event at Mia Restaurant & Beach Club in Tulum on Wednesday, 29 November 2023. Here's the HTML snippet for your event: ```html
👉 WEDNESDAY, Nov 29
MYSTICAL SUNSET /OLIVER HUNTEMANN 🌅
📍
Mia Restaurant & Beach Club, Tulum
💵
Tier 1 Tickets: Mex$ 660 (incl. fees), Final Tier: Mex$ 880 (incl. fees)
📩
Contact Virginia
here
to book a table
Join us for an unforgettable evening at Mystical Sunset with Oliver Huntemann. Contact Virginia here to book your table and be part of this magical night on the beach! 🎶🔥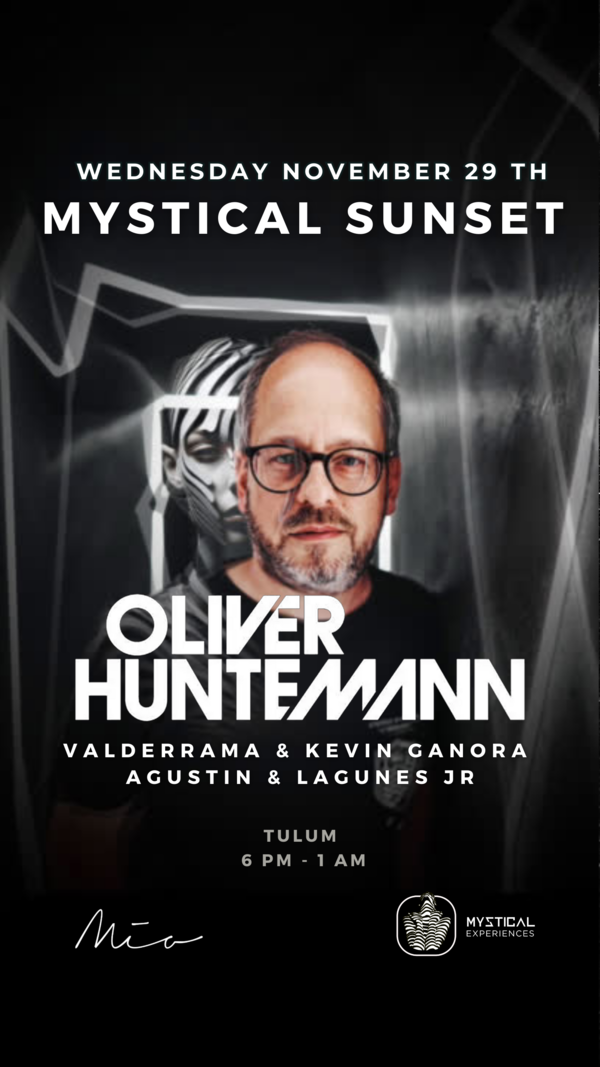 Top Parties and Club Events
23rd November - VAGALUME SESSIONS KEENE @VAGALUME
26th November - VAGALUME SUNDAZE MITA GAMI @VAGALUME
30th November - VAGALUME SESSIONS VALDOVINOS @VAGALUME
3rd December - VAGALUME SUNDAZE VALENTIN HUEDO @VAGALUME
7th December - VAGALUME SESSIONS MUSTAFA ISMAEEL @VAGALUME
30th December - PIKNIK POLO CORP & LEO LEONSKI @VAGALUME
31st December - NEW YEAR´S EVE @BAGATELLE TULUM
31st December - NYE PARTY 2024 @VAGALUME
13th March - LOCUS Tulum 2024