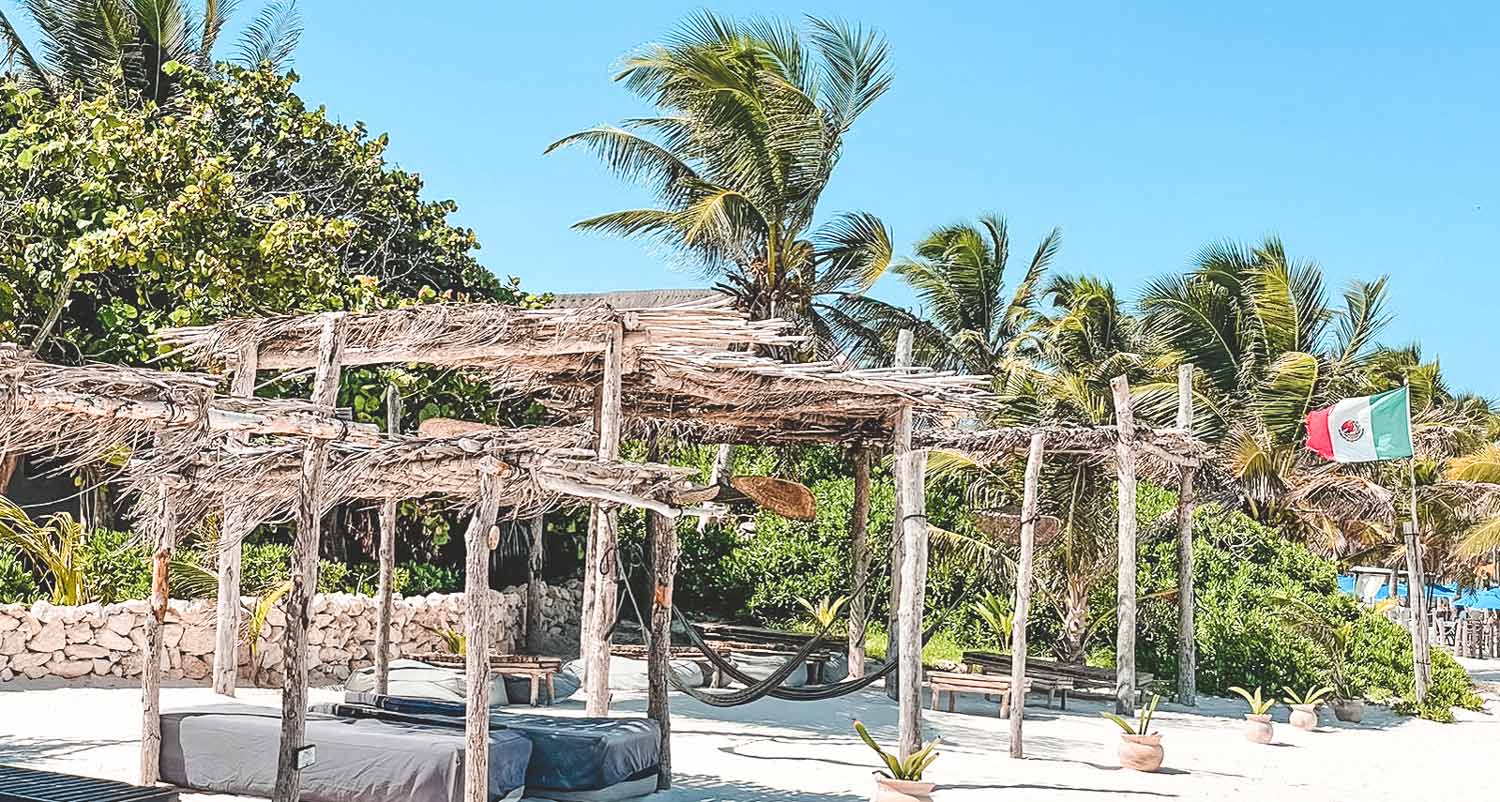 The Perfect Tulum Bachelorette Party Planning Guide
Congrats on the engagement! You made a great choice to celebrate a bachelorette party in Tulum, Mexico. We're so excited to show you the beauty of Tulum as there is so much a group of besties can do here! You girls will have a blast for sure!
Tulum is a beach city known for its untouched Mayan nature, home to beautiful cenotes and ancient Mayan ruins throughout Mexico. It is also home to luxurious hotels, restaurants and clubs across the coast of Riviera Maya! It is the perfect place to experience the wildest bachelorette party of your life! 
Nestled along the pristine turquoise waters of the Caribbean Sea, Tulum is a tropical paradise that promises an unforgettable experience for the bride-to-be and her closest gal pals. With its breathtaking white sand beaches, lush jungle surroundings, and vibrant nightlife, Tulum is the perfect backdrop for an epic bachelorette getaway. Whether you're seeking relaxation, adventure, or a mix of both, Tulum has it all (still, you can discover the top 5 bachelorette destination in Mexico here). Get ready to soak up the sun, dance the night away, and create memories that will last a lifetime as you embark on a sensational bachelorette adventure in this idyllic slice of paradise. Let the festivities begin!
To make your planning easier, we prepared a fun itinerary guide that explores Tulum! But if you really want to have the best service and take advantage of crazy benefits for FREE – check out the concierge service of Kelly and Virginia: they will really make your nights unforgettable. Let's start creating memories, girls!
Why you should choose Tulum for your bachelorette party
Celebrate your final days as a single woman in style! Though you have many choices for bachelorette destinations, why not get creative and choose Tulum? This paradise city boasts stunning beaches with crystal clear waters that are perfect for swimming – or just sunbathing under the sun. There's plenty to explore by day too; take a tour of ancient Mayan ruins nearby or simply soak up Tulum's unique culture. By night, revel in its vibrant clubs, bars and restaurants where friendly locals create an unforgettable atmosphere so you can party until the sun comes back up again!
Start planning now – this could be the best bachelorette experience ever created!
Here are some compelling reasons why you should choose this tropical paradise for your celebration:
Stunning Beaches
Tulum boasts pristine white sand beaches with crystal-clear turquoise waters, providing the perfect backdrop for relaxation and beachside fun with your besties. Whether you want to lounge under swaying palm trees, take a dip in the warm Caribbean Sea, or indulge in water sports like paddleboarding or snorkeling, Tulum's beaches have it all.
Laid-back Bohemian Vibe
Tulum exudes a unique bohemian vibe with its eco-chic hotels, yoga studios, and wellness centers nestled in the lush jungle. It's a haven for nature lovers and those seeking a more laid-back and holistic experience for their bachelorette party. You can unwind with spa treatments, take part in a yoga class, or simply revel in the serene surroundings.
Unmatched Nightlife
When the sun goes down, Tulum comes alive with its vibrant nightlife. From beachside bonfires to trendy bars and clubs, Tulum offers a diverse range of venues for partying the night away. Dance to the beats of live music, sip on delicious cocktails, and celebrate with your squad under the starry skies of Tulum.
Adventurous Excursions
Tulum is also a hub for thrilling outdoor adventures. Explore the nearby cenotes, which are natural sinkholes filled with crystal-clear freshwater, perfect for swimming or diving. Go on a thrilling zipline adventure through the jungle, or take a boat trip to the nearby UNESCO World Heritage site of Sian Ka'an Biosphere Reserve for wildlife spotting and snorkeling. There are plenty of exciting activities to keep you and your girls entertained during your bachelorette bash.
Culinary Delights
Tulum is a foodie's paradise, with an abundance of gourmet restaurants, beachfront eateries, and street food stalls offering a diverse range of culinary delights. From authentic Mexican cuisine to fusion dishes and farm-to-table organic fare, Tulum's dining scene is sure to please every palate. Indulge in delicious meals with your girlfriends and toast to the bride-to-be with some refreshing margaritas or mezcal cocktails.
Instagram-Worthy Backdrops
Tulum is known for its picture-perfect aesthetics, making it a haven for Instagram enthusiasts. The lush jungle, ancient Mayan ruins, colorful murals, and stunning beaches provide an array of breathtaking backdrops for capturing those memorable bachelorette moments. Get ready to fill your social media feeds with envy-inducing photos that will make your bachelorette party truly unforgettable.
So, if you're looking for a destination that offers a perfect blend of relaxation, adventure, nightlife, and culinary delights, all wrapped in a bohemian and tropical vibe, Tulum is the ideal choice for an unforgettable bachelorette party experience. Get ready to create lifelong memories with your besties in this captivating slice of paradise!
How can you get the best bachelorette party in Tulum?
It's time to take your bachelorette party up a notch! But how? 
Our friends Virginia and Kelly made it their mission to craft the best bachelorette experience ever. They know how important these moments are for you and your girlfriends, so let them handle all the details while you just enjoy yourselves in Tulum!
Their team of local experts curate unique itineraries that allow you to explore all the city has to offer – from luxury beach villas and amazing restaurants, bars & clubs, cultural sites and beautiful natural scenery. From start to finish, they'll make sure every element contributes towards making memories that will last a lifetime – all at an affordable price. Live like royalty for 3 days with private pool parties prepared by our DJs; tours on ATVs or around ancient Mayan ruins; dinner under starlit skies served by private chefs; sunset yoga classes… let them show you why Tulum is becoming one of Mexico's favorite destinations for unforgettable bachelorettes.
Contact them now and start organizing your ultimate destination weekend with Virginia & Kelly!
Create Your Dream Bachelorette Party Now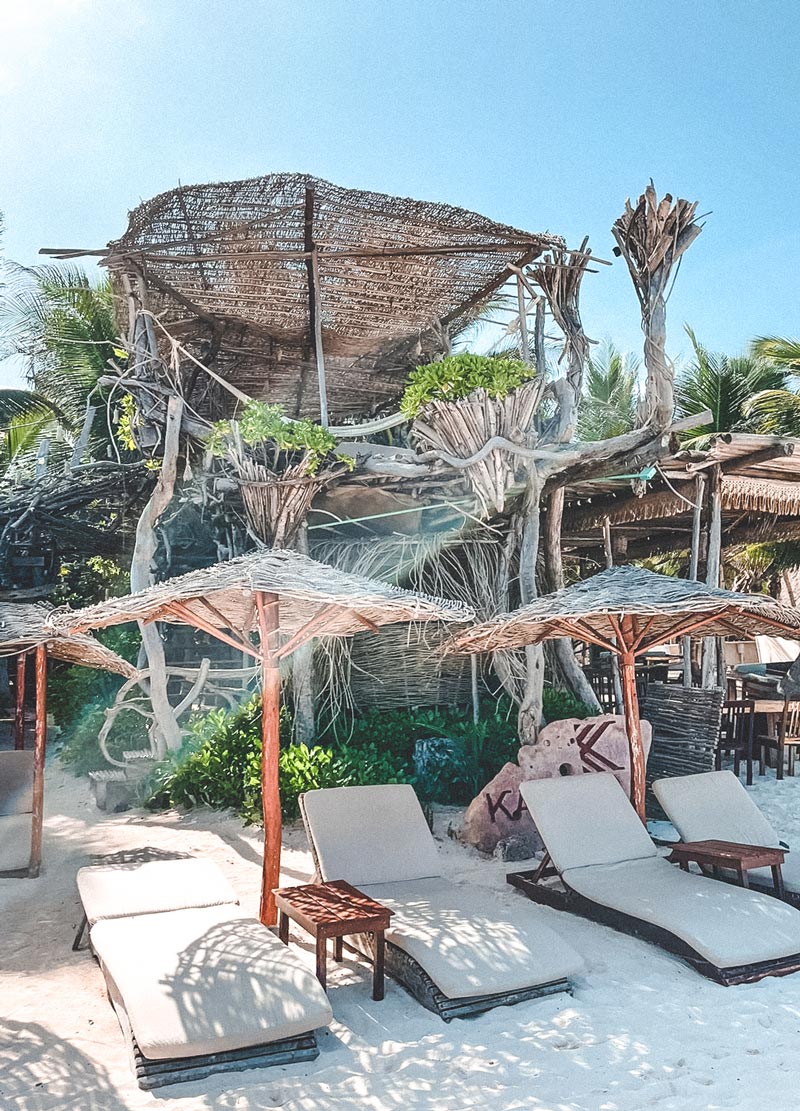 "There Are Incredible Venues In Tulum"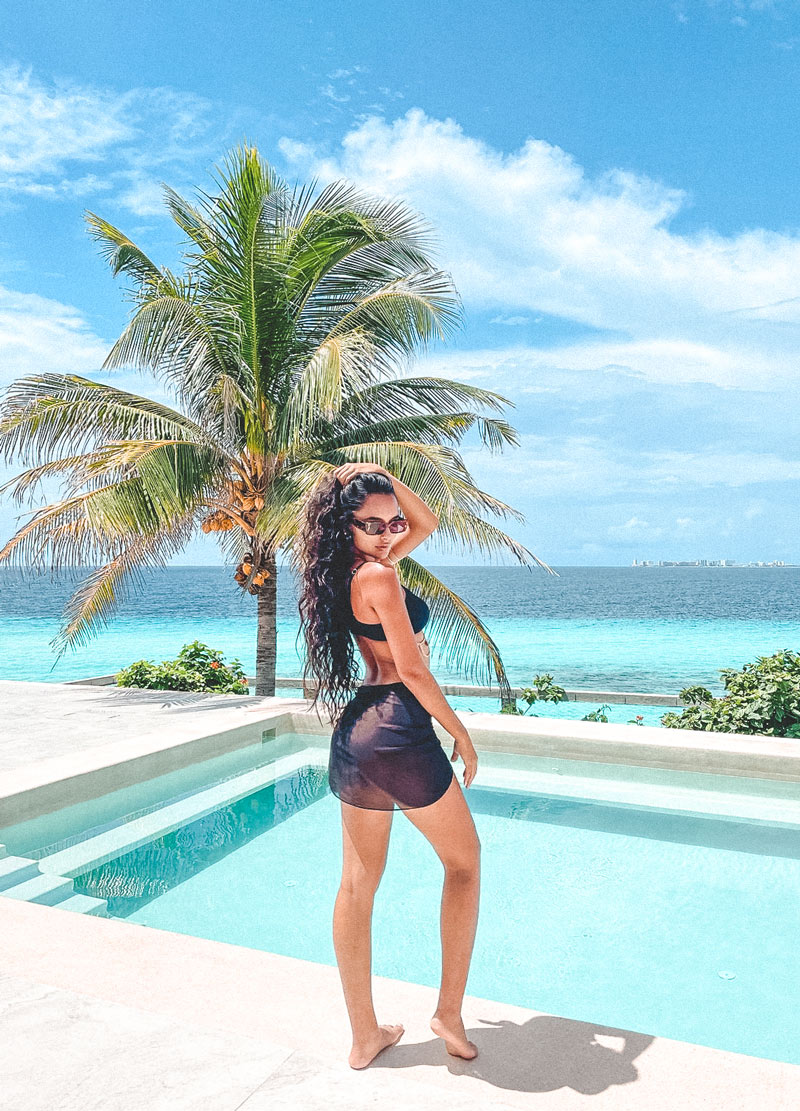 "Seaview Swimming Pool"
Problems you can avoid by getting the FREE help of Virginia and Kelly
Lack of Local Knowledge: Virginia and Kelly, being locals and experienced to Tulum, can provide insider information about the best beaches, restaurants, nightlife spots, and off-the-beaten-path attractions in Tulum. This can save you the hassle of extensive research and ensure that you don't miss out on any hidden gems that Tulum has to offer.
Language Barrier: If you're not fluent in Spanish, navigating Tulum can sometimes be challenging due to the language barrier. Virginia and Kelly can act as your language liaisons, assisting you with communication, translating menus or signs, and making sure you have a smooth experience during your bachelorette party.
Booking Confusion: Planning accommodations, activities, and transportation in a foreign destination can be overwhelming. Virginia and Kelly can help you with booking arrangements, ensuring that you secure the best deals, and avoid any confusion or miscommunication with local vendors or service providers.
Time Constraints: Planning a bachelorette party takes time and effort, and with busy schedules, it can be challenging to find the time to research and organize all the details. Virginia and Kelly can take the burden off your shoulders and handle the logistics, allowing you to focus on enjoying your bachelorette party without the stress of planning.
Safety Concerns: Traveling to a foreign destination may raise safety concerns, especially if you're unfamiliar with the local environment. Virginia and Kelly can provide valuable safety tips and guidance on navigating Tulum safely, ensuring that you and your squad have a worry-free and enjoyable bachelorette party experience.
Group Coordination: Coordinating a group of people for a bachelorette party can be challenging, with different preferences, schedules, and opinions to consider. Virginia and Kelly can help streamline the planning process, gather input from everyone, and ensure that the itinerary and activities cater to everyone's needs and preferences.
With the free help of Virginia and Kelly, you can avoid these potential problems and have a seamless and stress-free bachelorette party experience in Tulum. Let them take care of the details, so you can focus on creating unforgettable memories with your besties in this tropical paradise.
Take Advantage Of Free Concierge Service
As excellent to explore Tulum and its surroundings alone, you may need help figuring out where to start. To make the most of your money and time, contact Virginia and Kelly - two incredible Mexican girls living in Tulum for more than 15 years. They're familiar with the ins & outs of the Tulum town and hotel zone like the back of their hand! 
Since we arrived in Tulum 2 years ago, many adventures wouldn't have been possible without their help - they know literally everybody in Tulum and can perfectly organize every moment of your stay. Get the best tables, skip queues and get on the guest list of the coolest places in Tulum - this's only the beginning! 
They are ready to offer you guys FREE concierge service in Tulum for the time of your stay: take advantage of it, contact them on Whatsapp and live the best experience!
Get FREE Concierge Service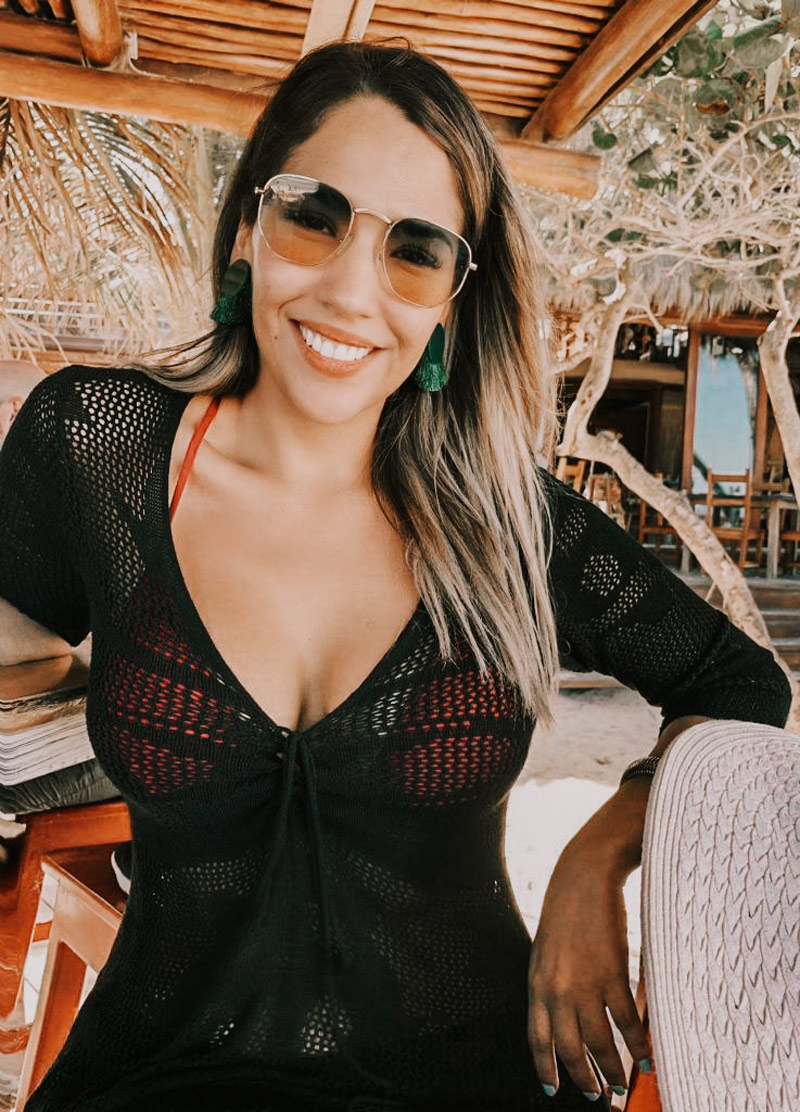 "Virginia Can't Wait To Make Your Stay Flawless"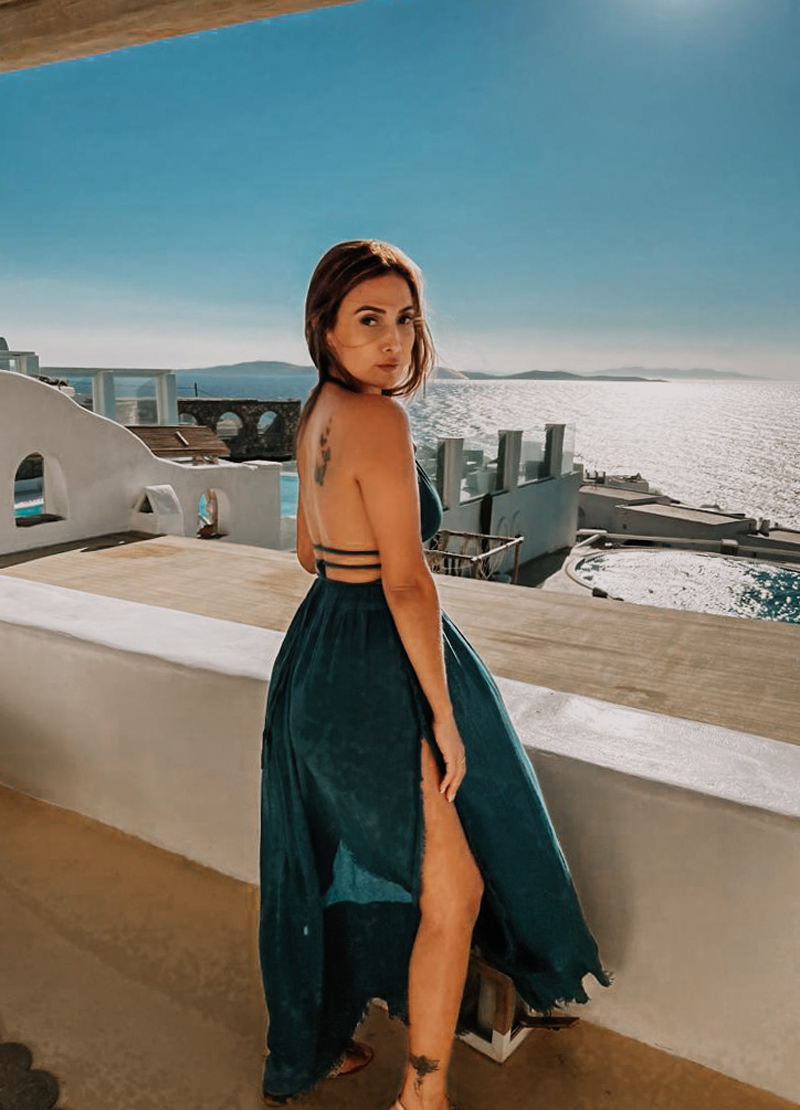 "Kelly Will Transform You In A Tulum Insider"
Exclusive Free Concierge Itinerary
Girls – we have the ultimate itinerary for the perfect bachelorette in Tulum. It was made from our friends Virginia and Kelly, the best when it comes to concierge services in Tulum. They helped us for so many things since we settle down in Tulum and our experience here wouldn't have been the same without them!
But let's focus on the itinerary – this is the best you can do in 4 day in Tulum. Best thing? You'll not have to worry about a thing because they will organize everything for you and your friends. This itinerary doesn't match your needs? Contact Virginia on Whatsapp and ask a personalized itinerary for FREE – you can thank us later 😉
Check down below the plan of a perfect bachelorette in Tulum!
Thursday to Sunday
DAY
TIME
ITINERARY
DETAILS
Thursday
2:00 PM
Airport Transfer
Private Airport Transfer
4:00 PM
Arrival to Tulum
Welcome drinks
5:00 PM
Lunch in the Villa
Ceviche bar
Pick up in the villa
Open Service for 6 hours
8:30 PM
Dinner
Illios
11:00 PM
Party
Vagalume
Friday
10:00 AM
Private Chef
Breakfast in the villa
12:00 PM
Tour
ATV + Zip line in cenotes with lunch in Buuts ha
Pick up in the villa
Open Service for 6 hours
8:30 PM
Dinner & Party
Gitano
Saturday
10:00 AM
Tour
Temazcal at the beach
1:00 PM
Beach Day
Lunch at Taboo
8:30 PM
Dinner
Rosa Negra
11:00 PM
Party
Papaya Playa
Sunday
10:00 AM
Brunch at the Villa
Mimosas and brunch
11:00 AM
1:00 PM
Private transfer
Create Your Own Bachelorette Itinerary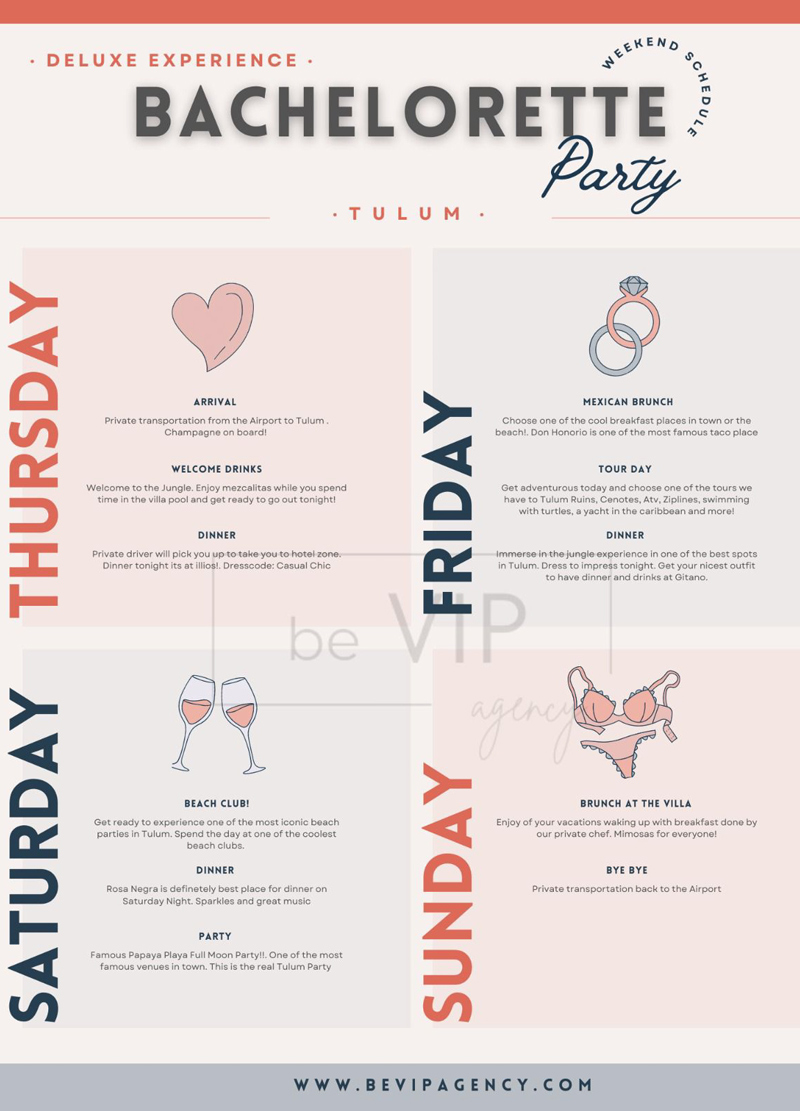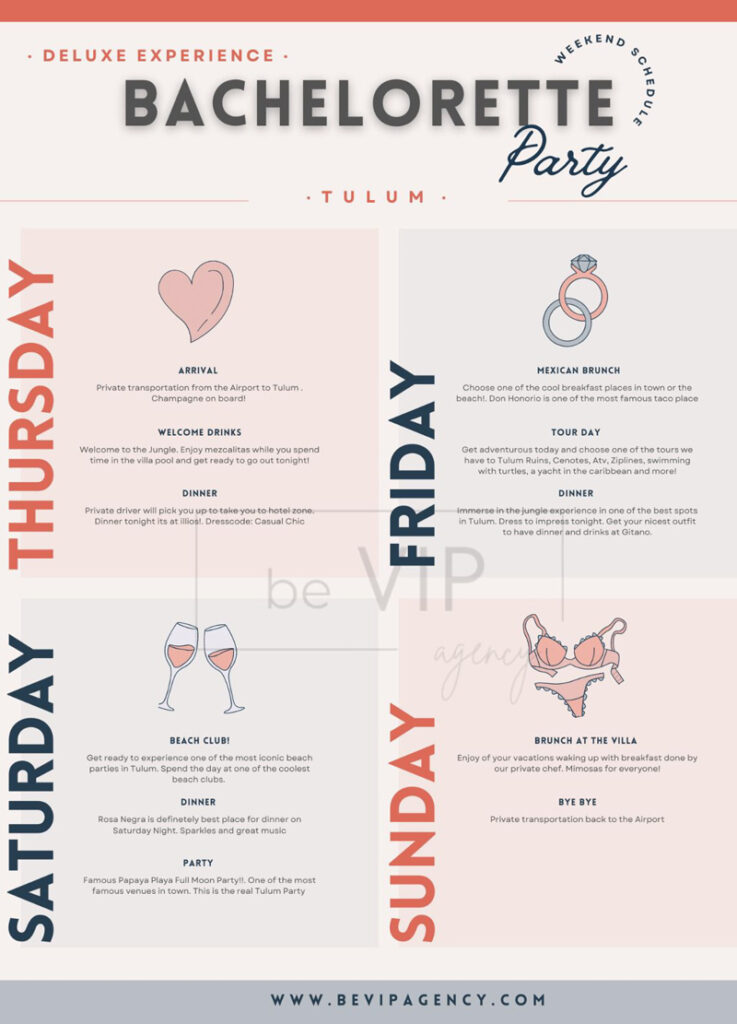 Services To Upgrade Your Bachelorette In Tulum
If you decide to organize your bachelorette with our angels, Virginia and Kelly, more than assure you all the possible fun, you can add to your plan these exclusive services at the best prices.
They include: 
Limo ride
Limo to villa transport
Van for luggages
Van with a driver Open service 12 hours
Grocery shopping
Bartender in-home
60min massage in-home
Temazcal
Atv + Zipline
Yachts
Other holistic activities
Opting for these services can greatly enhance your bachelorette experience in Tulum! Arriving in a luxurious limo sets the tone for an unforgettable celebration, and having convenient transportation options like a van with a driver allows you to explore the region hassle-free. Grocery shopping services ensure that you have all the supplies you need for your stay, while an in-home bartender can whip up delicious cocktails for you and your friends. Relaxing with a soothing in-home massage or participating in holistic activities like Temazcal can rejuvenate your mind and body. Adventure enthusiasts can enjoy thrilling activities like ATV rides and ziplining. And for a touch of opulence, renting a yacht for a day of cruising in the turquoise waters of Tulum is an experience you won't forget. These services can elevate your bachelorette celebration to new heights, creating cherished memories that will last a lifetime in the most beautiful bachelorette villas around Tulum – we can already seeing you having a blast and creating memories with your besties!
Contact Virginia to create the perfect itinerary
Save these free presets to elevate your bachelorette organization!
Enhance your bachelorette party in Tulum, Mexico with these complimentary presets! Save and download now to elevate your experience and create unforgettable memories with your friends!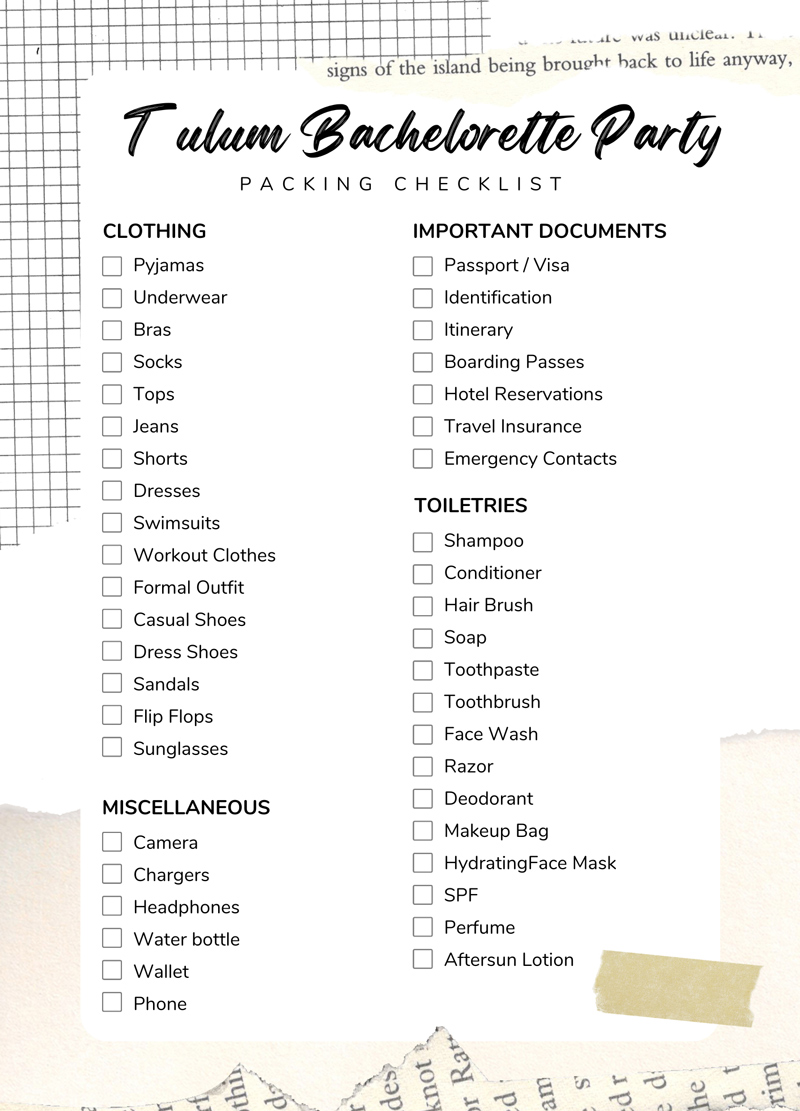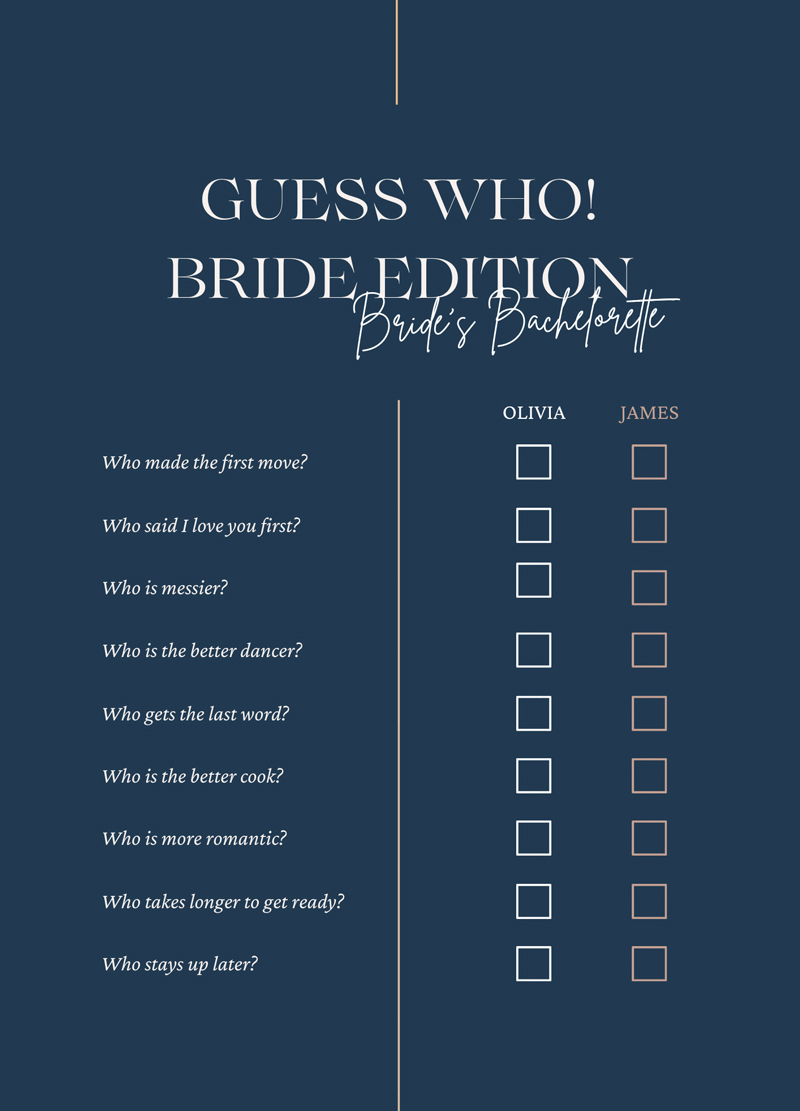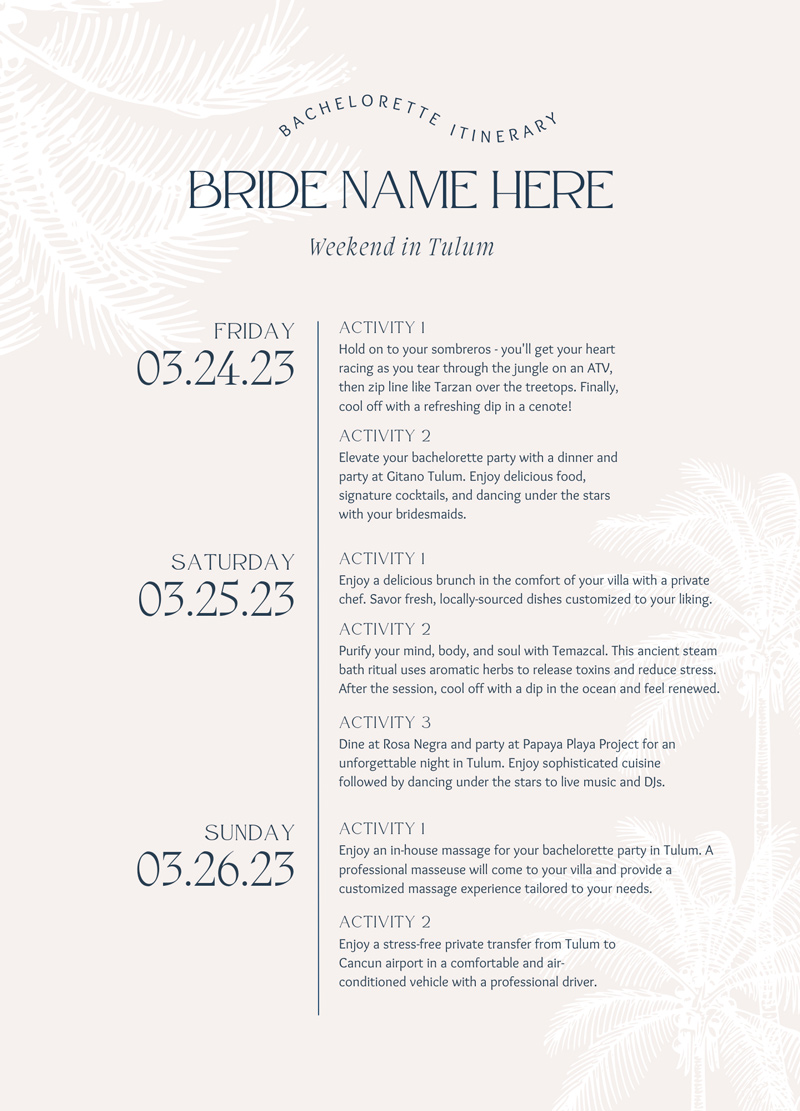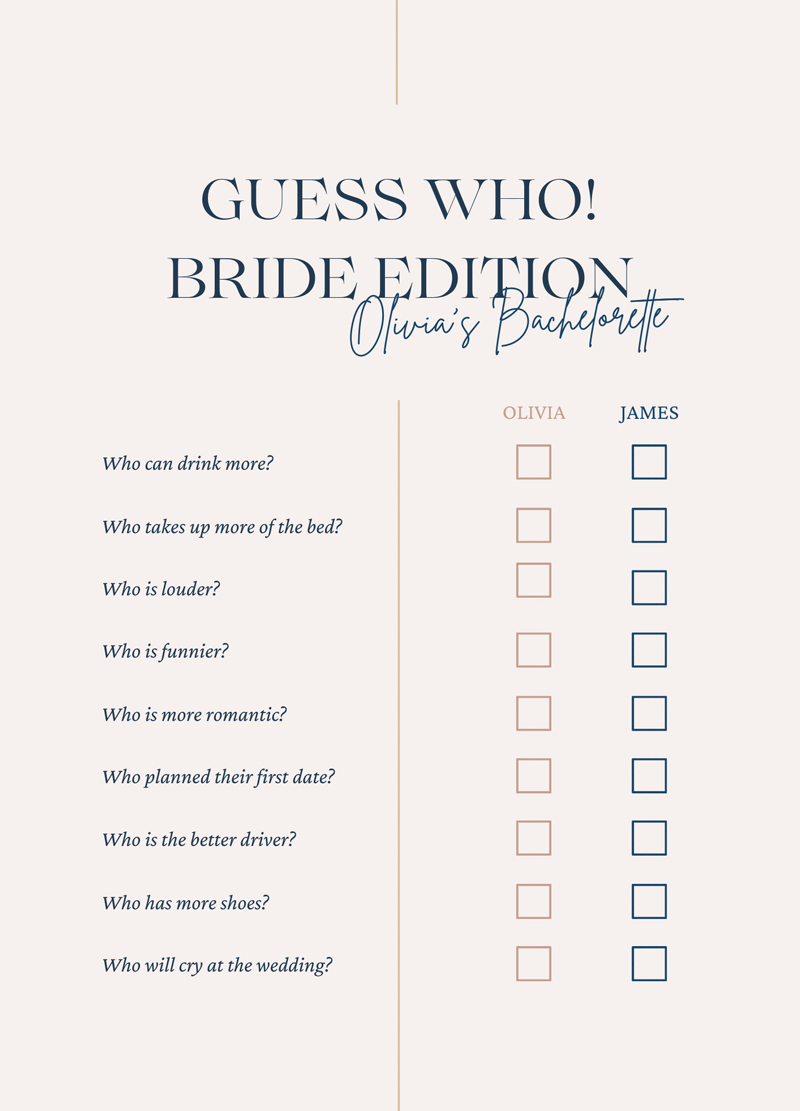 Our BACHELORETTE PARTY ITINERARY: GET THE MOST FUN OUT OF TULUM
Now, the fun begins! This bachelorette party itinerary is filled with adventures to get the most out of your short weekend stay in Tulum. Feel free to pick and choose! 
These are activities that we recommend you, Virginia and Kelly will be the best organizing for you the perfect time to do them! Hope you'll enjoy them as much as we did 😉
From beachfront yoga to exhilarating cenote snorkeling, from indulging in delicious local cuisine to dancing the night away at a beachside club, our itinerary ensures an incredible weekend packed with the best that Tulum has to offer. So grab your closest girlfriends, get ready for some sun-soaked fun, and let us take care of all the details for an unforgettable bachelorette party in Tulum!
*Check out our 15 amazing ideas for an unforgettable bachelorette party in Tulum*
HOW TO TRAVEL TO TULUM TOWN: CANCUN AIRPORT TO TULUM
Firstly, the best way to reach Tulum is to land at Cancun International Airport. Then, you can take the public bus or book a private shuttle that can take you directly to Tulum or your hotel. Both options are amazing for a group of people. It's also budget-friendly! If you want to explore Riviera Maya by your own, we really recommend you to rent a car with Renata in Tulum: it's only 50$ per day and we had an incredible experience. You can contact her here.
The journey is about 2 hours max from Cancun Airport to Tulum, and there is rarely any traffic along the journey. If you have any doubts about celebrating your bachelorette in Tulum or Cancun – or Playa del Carmen vs Tulum, we listed out our personal pro and cons in these two articles.
Another convenient way to travel from Cancun Airport to Tulum is by booking a private shuttle. Upon arrival at Cancun Airport, you can easily find authorized transportation providers in the designated transportation area. Booking a private shuttle allows you to enjoy a comfortable and hassle-free journey, as the driver will be waiting for you at the airport, ready to take you directly to your destination in Tulum. The drive from Cancun Airport to Tulum takes approximately 1.5 to 2 hours, depending on traffic, and offers stunning views of the turquoise Caribbean Sea and the lush jungle along the way. Alternatively, you can also opt for a shared shuttle, but this option may involve multiple stops and longer travel times. Whichever mode of transportation you choose, be sure to plan ahead and make reservations in advance for a smooth and enjoyable journey to Tulum – or contact Virginia and she will plan everything for you.
WHERE TO SPEND THE NIGHT: BEST HOTELS & NEIGHBORHOODS WITH GREAT VIBES
Don't know where to stay yet? We got you, girls!
They have it all here, from staying in luxurious hotel rooms with a private pool by the beach to renting a whole villa for the group. We recommend staying in La Veleta or Aldea Zama for a few days of vacation.
At the beach: There are many luxurious resorts – discover the best party resorts for bachelorette here – overlooking the Caribbean sea, surrounded by popular restaurants and an awesome nightlife experience. Accommodations at Tulum Beach are a unique blend of rustic luxury, eco-chic design, and serene beachfront living. Tulum is known for its eco-consciousness and sustainable tourism practices, and many of the accommodations in this area strive to minimize their environmental impact while providing a comfortable stay for guests. You'll find that the rooms are beautifully designed with a bohemian flair, featuring open-air spaces, cozy hammocks, and breathtaking views of the turquoise Caribbean Sea. Tulum Beach is also known for its wellness and holistic offerings. Many accommodations feature yoga classes, meditation sessions, spa services, and healthy dining options to nourish your body and soul during your stay.
La Veleta/Aldea Zama: Located close to town, it's the perfect place to stay for the weekend, and it's cheaper compared to the beach! We recommend staying at a villa or an apartment in this area – here our list of the best Airbnbs to host a bachelorette. Accommodations in Aldea Zama or La Veleta are a unique blend of modern comfort and a bohemian jungle retreat. Located just a short distance from the bustling Tulum Beach area, Aldea Zama and La Veleta are a tranquil and eco-friendly residential community that offers a serene escape from the tourist crowds, still with restaurants and many services around. The accommodations in this area range from luxurious villas and vacation rentals to boutique hotels and eco-lodges. You can expect to find spacious and well-appointed rooms with modern amenities, including air conditioning, Wi-Fi, and private bathrooms. Some accommodations may also offer private pools or rooftop terraces, where you can relax and take in the stunning jungle views.
Lastly, getting around Tulum is easier by renting a car than taking a taxi!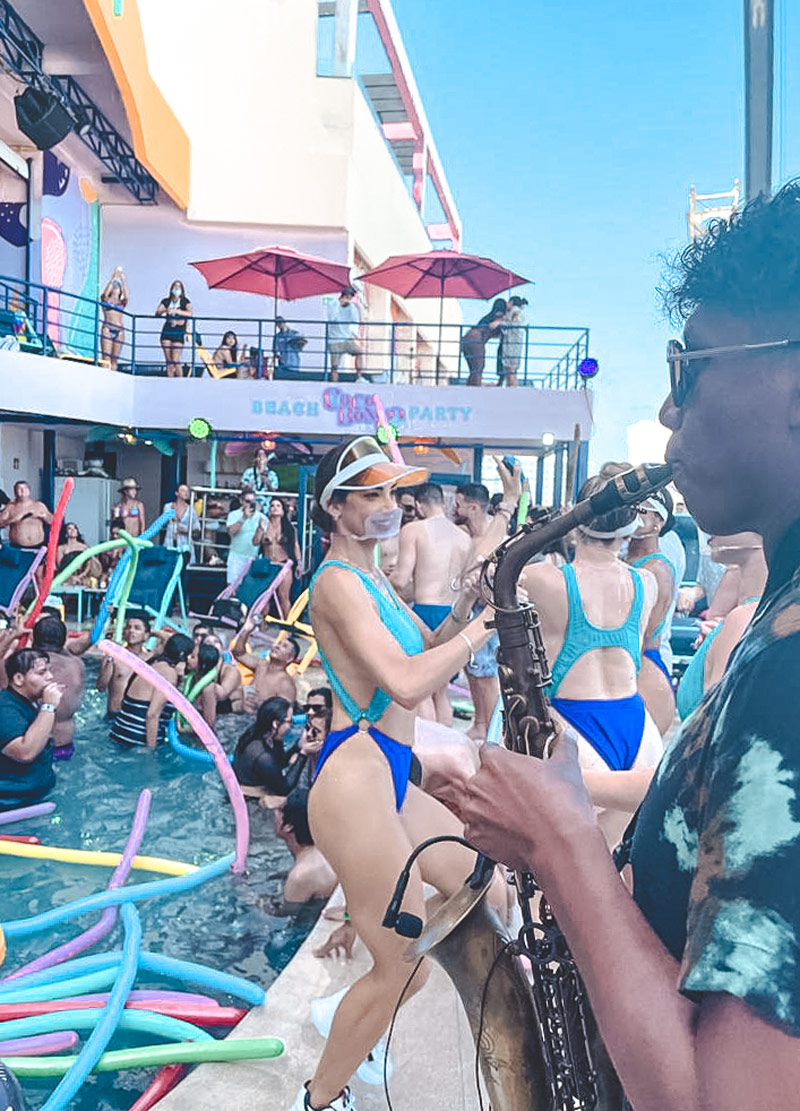 "Let's Party!"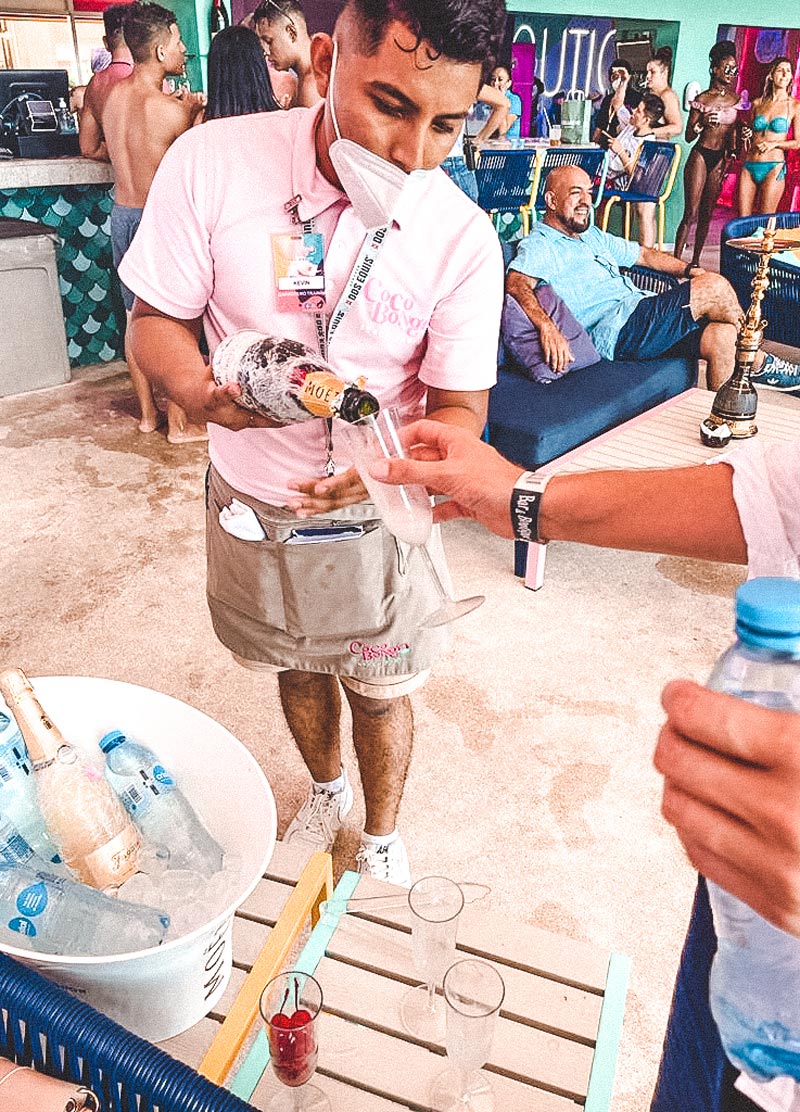 "Champagne Can't Be Missed"
DAY ONE: ARRIVAL & EXPLORING YOUR AREA
Touch down! You have finally arrived and checked in with your hotel! Traveling can be super tiring, and it's great to just spend the night relaxing. So, why not explore the area and grab dinner? There's a lot to see!
If you want to take a better look at our bachelorette itinerary, here you find the complete articles with insights and advices!
Take a stroll on the lively hotel beach zone, and dine at enchanting restaurants or go clubbing! Most of these places offer Mexican gourmet food that embodies the love, passion and culture of Mexico. Oh, not only do you enjoy your meals, but also the eccentric mixologies at the bar that's worth a try!!
Depending on your dinner location, you can spend about 1000 pesos per person. So, we highly recommend these restaurants:
ZIGGY BEACH CLUB – An eccentric restaurant with a stunning environment and ambiance. Enjoy vegan-friendly meals while listening to a variety of live music on different days! 
GITANO TULUM: RESTAURANT & BAR – Another luxurious and classy Mexican restaurant that shines beautifully at night, exerting a romantic and relaxing ambiance. Their mezcal bar serves the best cocktails around!
CASA JAGUAR: DINNER & PARTY – An elegant jungle-theme restaurant and bar that serves Mexican gourmet while hosting exciting night events: live music and jungle party!
If you're planning on spending a day at Tulum beach, check out these 5 beach games to have fun with your squad!
Take a trip along the main Tulum street and you will find a vast variety of restaurants, clubs, bars, local stores and so much more! We recommend renting bicycles to go around, it is super terrific!
Here are some of our favorite locations that you should look around:
Museo de la Cultura Maya Park | Campanella Crèmerie: Ice Cream Shop | Palma Central
Also, if you plan to travel to the beach, we recommend taking a taxi to avoid looking for a parking spot on the weekends!
DAY TWO: AN ADVENTURE IN TULUM'S NATURE
Visiting cenotes and the Mayan ruins is a must. You should definitely grab breakfast first before going on this full-day adventure. Finally, swim in the cenote and wash away the sweat! If you are in for more ideas, check out these 10 things to do for a bachelorette in Tulum.
We highly recommend going with a tour guide that takes your adventures to a whole new level! (4- 9 hours)
The most important meal of the day shouldn't be ignored! For an active day ahead, enjoying fulfilling and delicious food in the morning helps to energize the body. There are many popular Tulum cafes and restaurants that have their own breakfast/lunch menu. Try these places out:
Don Cafeto | Botanica Garden Cafe | Matcha Mama
Visiting the ancient Mayan ruins of Tulum is a sight to behold! Prepare to travel back in time and explore ancient history with your own eyes. As you pass through the stone walls around this ancient city, you begin your journey by visiting each temple and learning its history. 
We recommend hiring a guide that makes the touring experience more enchanting, as they will tell you the history, magic, and beauty of the Maya civilizations.
#2 STOP: CENOTE ADVENTURE
They are like nature's swimming pool, where you can explore the interiors of the cave tunnels and see the enchanting underground world! This should be your next stop because you can wash away the heat and dip in the cold water.
There are so many cenotes around, but these are our top recommendations that are nearby:
Gran Cenote | Cenote Calavera | Cenote Zacil-Ha
DAY THREE: RELAXING BEACH DAY & PARTY AT NIGHT
A trip to the beach is a must as a Tulum tourist. Why? It's all because of the calm and tranquil Caribbean ocean, and the lively ambiance as many people are gathering and relaxing on the soft sands too!
If you prefer a lively vibe, visit the Playa Paraiso. One of the popular public beaches in Tulum because you will see people hanging out and there are some live performances at the beach that are super cool! We recommend going to Ikal and renting their floating beds for the whole day!
If you prefer something more private and quiet. You can visit any beach restaurants across the hotel zone, as they are far away from the crowd. But, the catch is that you need to spend more. We recommend Ziggy Beach Club and Mi Amore.
A heavenly destination with bohemian style touches, serving an eccentric menu and gastronomy that is inspired by Latin American culture. Look around and notice that its design features a rustic and elegant space with dim warm lights on every corner.
Enjoy the night as you dine in style by the charming beach club with a festive atmosphere. Music events, flavourful dishes, and unique concoctions will make your evening the most unforgettable moment in Tulum.
Not convinced yet? RosaNegra is also nominated as Traveler's Choice 2021, and Dinner's Choice 2022. This reveals that other patrons fall in love with the services! This means you girls shouldn't miss this out too!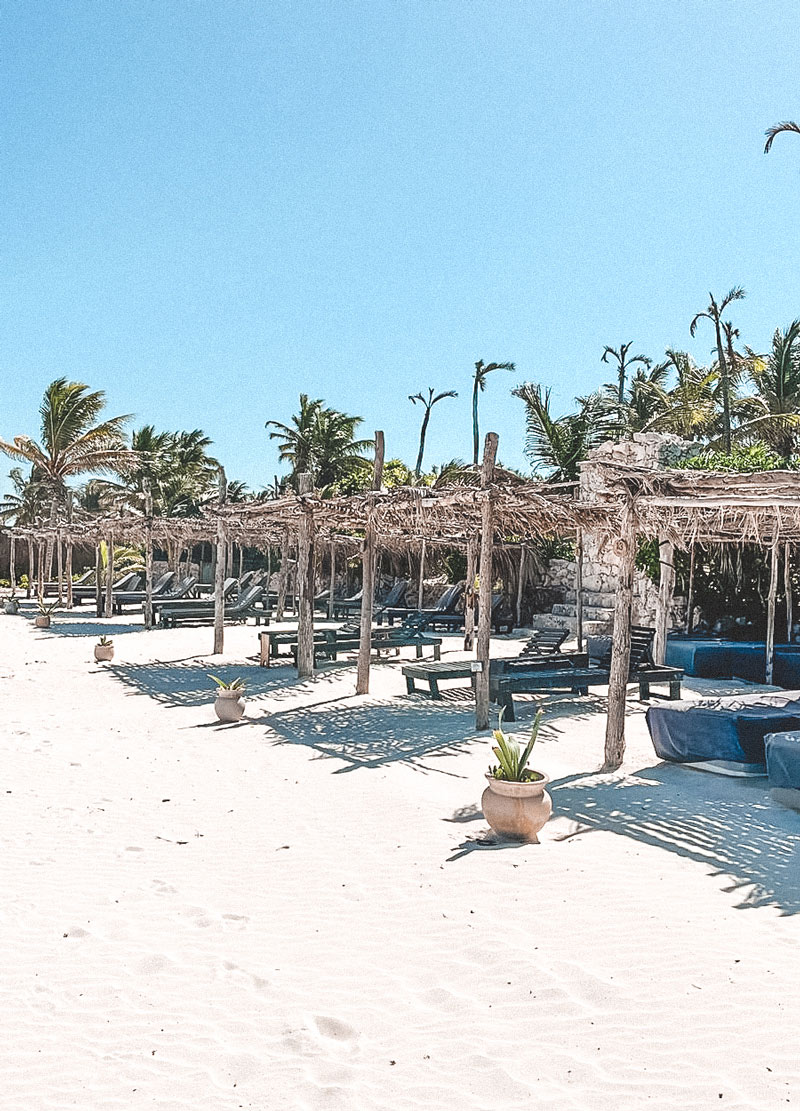 "Chilling In Tulum Beach After The Party"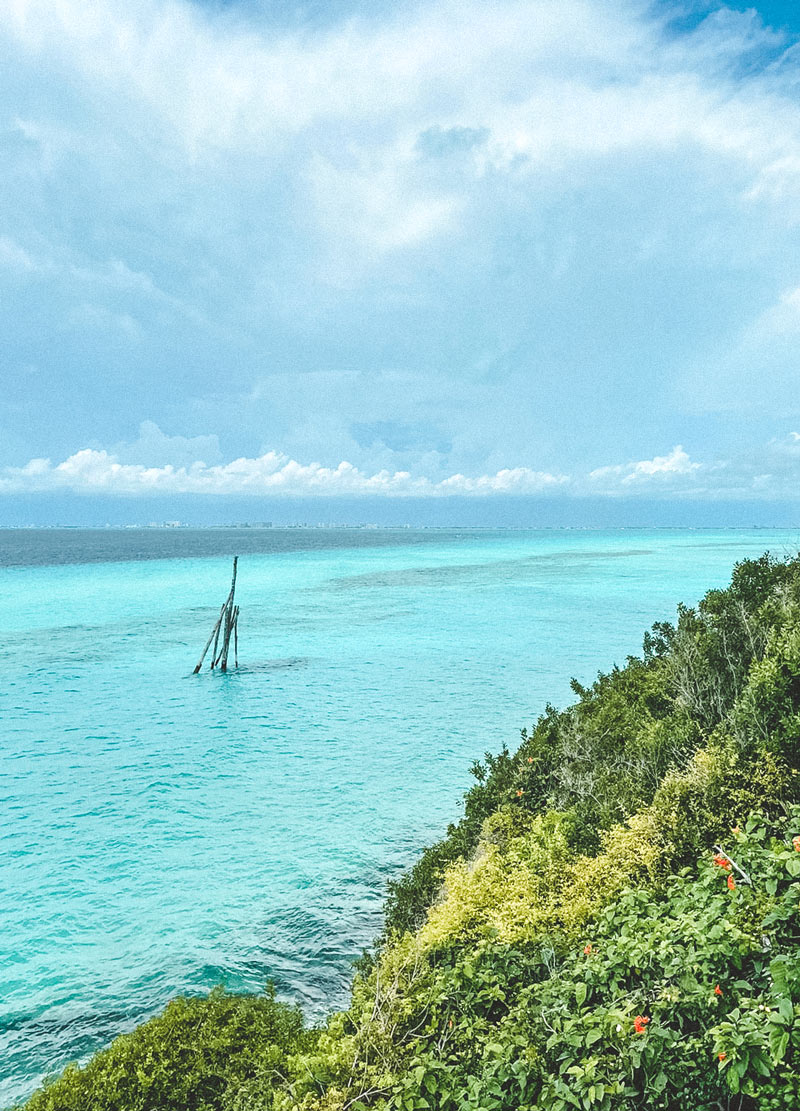 "Sea Is Always A Good Idea"
The day has come to leave Tulum. We hope you have a blast on this short weekend celebration before the bride gets married. It's time to bid farewell to the tropical paradise of Tulum and make your way back to Cancun Airport. Reflecting on the memories created during your weekend getaway, you can cherish the adventures, relaxation, and bonding experiences that you shared with your best friends. Whether it was dancing the night away in a beach club, exploring ancient ruins, indulging in delicious local cuisine, or simply basking in the sun on pristine beaches, Tulum has surely left an indelible mark on your hearts. As you head back to Cancun Airport, take a moment to soak in the last glimpses of the turquoise Caribbean Sea and the swaying palm trees, knowing that you're leaving with memories that will last a lifetime. With smiles on your faces and hearts full of joy, you'll depart Tulum, carrying the spirit of this unforgettable bachelorette adventure with you, and looking forward to the next chapter of your journey.
We hope you loved our itinerary list and let us know below how your bachelorette party went. We can't wait to hear it!
Tulum Bachelorette Party FAQ
Is Tulum good for a bachelorette?
Tulum is the perfect beach city in Mexico to enjoy your bachelorette party – known for its untouched Mayan nature, home to beautiful cenotes and white sand beaches. Luxurious hotels, restaurants and clubs across the coast of Riviera Maya are waiting for you! Tulum is definitely the perfect place to experience the wildest bachelorette party of your life!
How much should a bachelorette party cost per person?
Mexico is known for its cheap prices compared to what it offers. And Tulum is no exception. Organizing a 3 to 4 days bachelorette trip can cost around $500 per person with everything included.
What to do at bachelorette party in Tulum, Mexico?
If you want more ideas on activities to do more than our 4 days itinerary, here's some ideas:
– Book a tequila or mezcal tasting tour
– Attend a Mexican cooking class
– Party on a private yacht or catamaran
– Book a photo session for you and your friends
– Enjoy a spa day or a group yoga class
– Go snorkeling in the sea or a cenote
How far in advance should you have a bachelorette party?
You should organize your bachelorette party from 1 to 4 months before your wedding. In this way you will be able to enjoy it in full peace and relax without having to worry about the last adjustments of your wedding day.
Where to stay for a bachelorette party in Tulum?
For a bachelorette party in Tulum, Airbnbs are a great option to stay in! Select your desired amenities and the number of guests to be together in one place for celebration with your wedding team, all day long!
What is the best time of year to have a bachelorette party in Tulum?
The best time to have a bachelorette party in Tulum is between November and December when the weather is just perfect, and you won't have problems with unexpected rains! 
How do we get around in Tulum for a bachelorette party?
For a bachelorette party in Tulum, a good way to get around is renting a car, so you and your friends can manage the time and the places to go without worrying about public transportation or the high prices of the taxis, but you still have them if you don't want to drive!
Is Tulum safe for a bachelorette party?
Yes, Tulum is generally considered safe for a bachelorette party and solo female travelers in general. However, avoiding lonely and unlit places is important, especially at night. 
What should I pack for a bachelorette party in Tulum?
For a bachelorette party in Tulum you should pack lightweight clothing, a nice swimsuit, beach accessories, sunscreen, and your favorite sunglasses!  Don't forget a nice outfit for a night out and comfortable shoes for exploring.
Can I hire a private chef or catering service for a bachelorette party in Tulum?
Yes, there are numerous private chef and catering services available in Tulum that you can hire for a bachelorette party. They can come to your place, and make your nice unique adding some delicious flavors! 
Who should pay for a bachelorette trip?
When you're planning a bachelorette trip, usually the group split the costs, so everyone can help make the bride-to-be's celebration an unforgettable and enjoyable experience for all!
How many people to invite to a bachelorette party?
Usually, you can invite up to 10 people to your bachelorette party and it would be the perfect size! However, you can also invite just your closer friends and have a cozy bachelorette party, and still have a lot of fun! 
Top Events to Make Your Trip Unforgettable
MATTHIAS TANZMANN @BONBONNIERE TULUM
Join us for an unforgettable night of electrifying beats and pulsating rhythms with the incredible Matthias Tanzmann live at Bonbonniere Tulum! Get ready to dance the night away on Saturday, June 3rd, starting at 10 pm and going till late. With his signature blend of deep house and techno, Matthias Tanzmann will take you on a musical journey like no other. Prepare to lose yourself in the captivating sounds and immerse yourself in the vibrant atmosphere of Bonbonniere Tulum. Don't miss out on this extraordinary experience as we set the stage for an exceptional night of music and memories. Get your dancing shoes ready and mark your calendars for an unforgettable encounter with one of the finest DJs in the industry, Matthias Tanzmann!
🎟️ TICKETS
● Tier 1 - The entrance fee is of $1000 MXN ($55 USD)
Limited availability
Ready to join us? Get your tickets now! Early bird tickets are $55 USD (only 20 tickets available left).
Hurry – spots are filling up fast! 🙀 We can't wait to see you there!
Top Parties and Club Events
1st June - VAGALUME SESSIONS PALOMA @VAGALUME
1st June - NIÑO ARBOL @MIA TULUM
2nd June - BASTIDAS @BONBONNIERE TULUM
3rd June - THE FULL MOON @Papaya Playa Project
3rd June - MATTHIAS TANZMANN @BONBONNIERE TULUM
4th June - 8KAYS [AFTERLIFE] @MIA TULUM
4th June - VAGALUME SUNDAZE MALANDRA JR @VAGALUME
8th June - EDU IMBERNON @MIA TULUM
9th June - HARVY VALENCIA @BONBINNIERE TULUM
10th June - MOONGAZE @Papaya Playa Project
10th June - BASTIAN BUX @BONBONNIERE TULUM
11th June - SONA BEACH PARTY @MIA TULUM
11th June - VAGALUME SUNDAZE JAALEX @VAGALUME
17th June - SOEL [AFTERLIFE] @MIA TULUM
17th June - STARVAULT @Papaya Playa Project
24th June - ASTROBEAT @Papaya Playa Project
25th June - VAGALUME SUNDAZE OSCAR L @VAGALUME
1st July - THE FULL MOON @Papaya Playa Project
8th July - ASTROBEAT @Papaya Playa Project
15th July - MOONGAZE @Papaya Playa Project
22nd July - STARVAULT @Papaya Playa Project
29th July - THE FULL MOON @Papaya Playa Project
18th August - MECA @BONBONNIERE TULUM
25th August - GUYJ @BONBONNIERE TULUM
13th March - LOCUS Tulum 2024