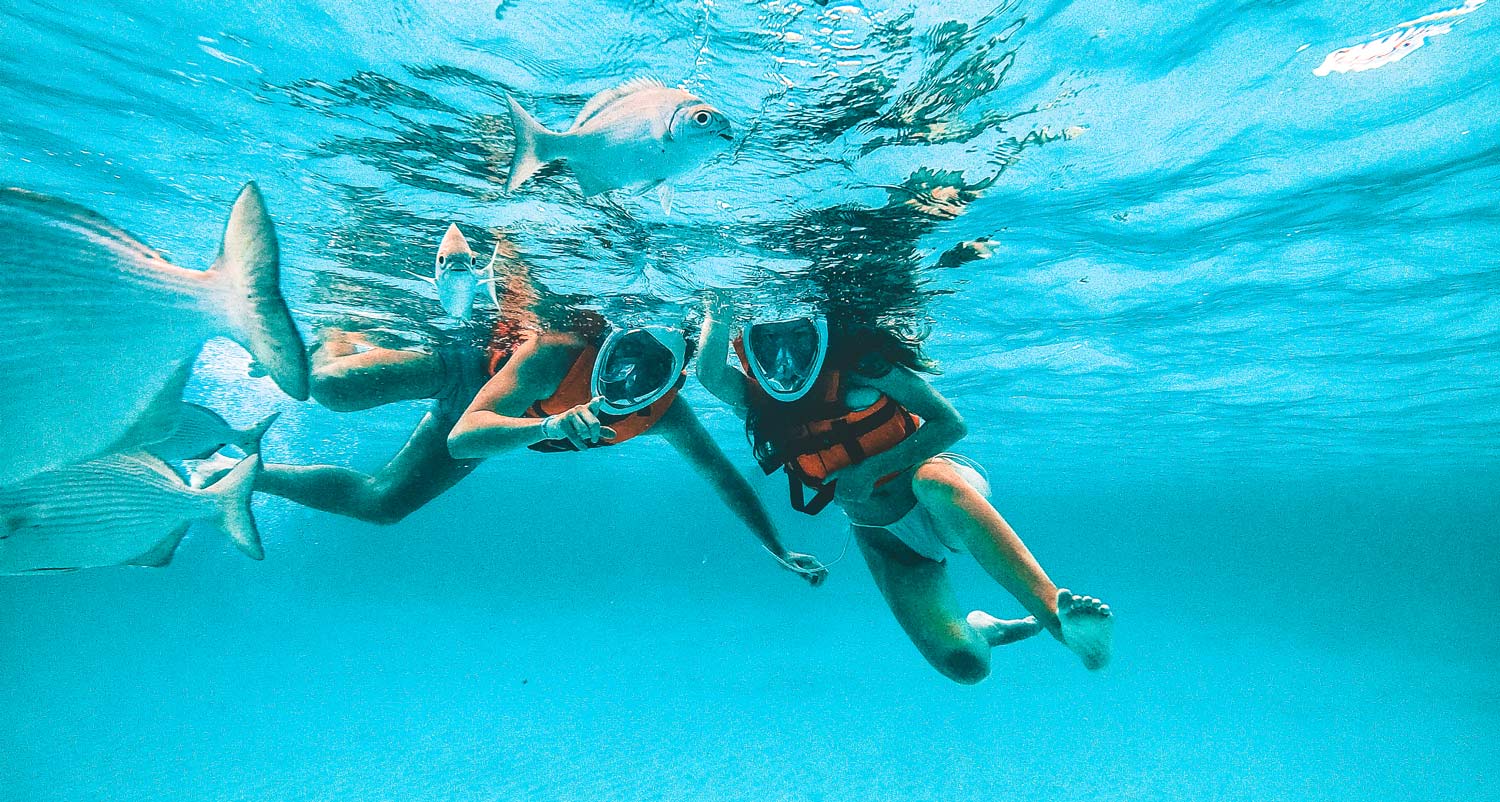 The Ultimate Itinerary for Your Dream Bachelorette Weekend in Tulum
Are you looking for the perfect destination for your upcoming bachelorette weekend with your girls? Look no further! Tulum, Mexico is quickly becoming the go-to destination for bachelorette trips, and it's not hard to see why. With its beautiful beaches, trendy restaurants and bars, and breathtaking views, Tulum is an Instagram-worthy destination that will make your bachelorette weekend unforgettable. So grab your girlfriends and let's dive into the ultimate itinerary for your dream bachelorette weekend in Tulum – here our ultimate guide to planning a bachelorette party in Tulum updated with important informations to know in 2023.
Dreaming of a stress-free bachelorette party? Look no further than Virginia's unmatched planning services in Tulum! With her insider knowledge of the party scene, extensive connections to the top villas, and expertise in creating unforgettable experiences, your best friends will thank you for choosing her. Say goodbye to the headache of party planning and hello to a weekend filled with non stop excitement – contact Virginia on WhatsApp now!
Why should you choose Tulum as a destination for your bachelorette?
Make your bachelorette party unforgettable by choosing Tulum as your destination. Why settle for a typical night out when you can enjoy stunning beaches with white sand and crystal-clear waters? Tulum's unique and trendy atmosphere emphasizes wellness, sustainability, and nature, creating an unparalleled experience. With a wide range of activities, you and your friends can party or relax while trying something new, from yoga and beach meditation to beach parties and nightclubs. Plus, Tulum offers a vibrant culinary scene, featuring fresh and healthy local ingredients for a delicious experience. Don't settle for a traditional bachelorette party – make it unforgettable in Tulum.
Our Weekend Itinerary for the perfect bachelorette in Tulum
After arriving in Tulum, it's time to kick off your bachelorette weekend with some well-deserved relaxation. Take some time to settle in and get comfortable in your hotel or Airbnb. If you're feeling a bit jet-lagged or just need some time to unwind, consider booking a spa day at one of Tulum's many luxurious spas. From traditional Mayan healing rituals to modern spa treatments, Tulum has something to offer for everyone.
Once you're feeling refreshed and rejuvenated, it's time to hit the beach. Tulum is famous for its stunning beaches, with powdery white sand and crystal-clear waters. Take a stroll along the shore or soak up the sun on a beach towel. You can also rent a paddleboard or kayak and explore the coastline from the water.
In the evening, head out to one of Tulum's many restaurants to sample the local cuisine. From traditional Mexican fare to international fusion cuisine, Tulum is a foodie's paradise. Sip on margaritas and indulge in fresh seafood while taking in the laid-back atmosphere and stunning views of the sea!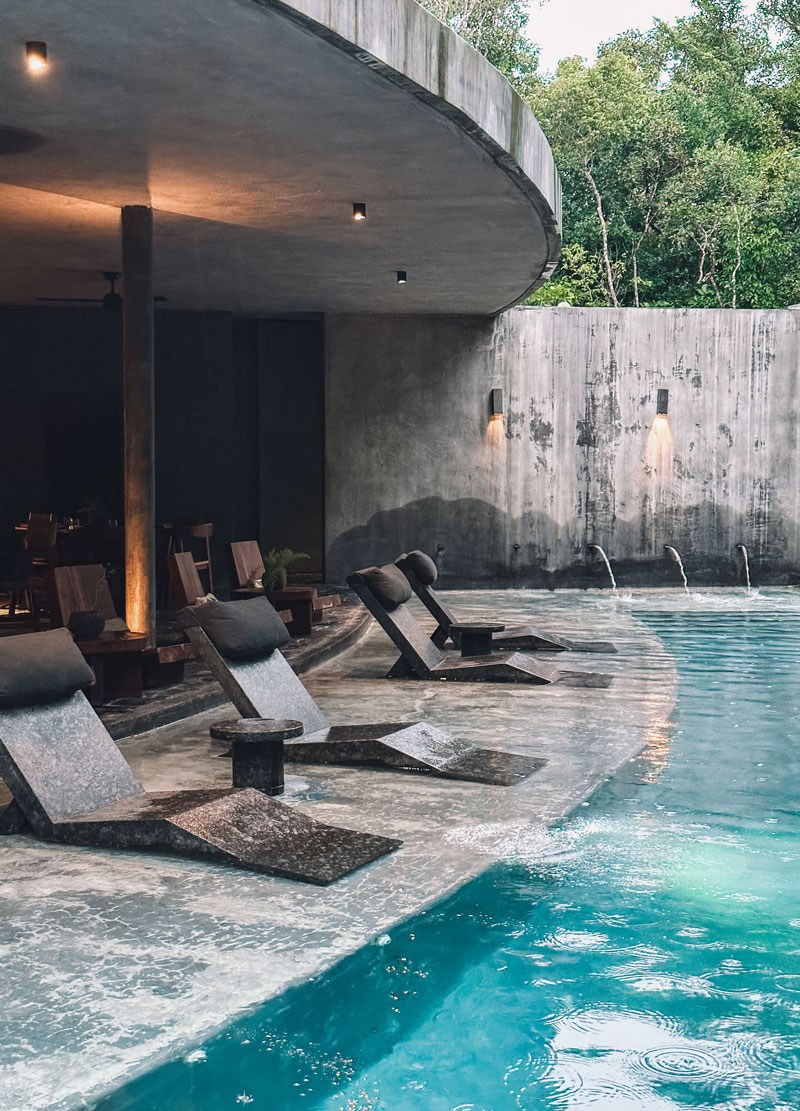 Day 2: Explore the Ruins and Hit the Beach Clubs
Day two of your bachelorette weekend in Tulum promises to be an exciting and enlightening day as you explore the Tulum Ruins, one of Mexico's most famous archaeological sites. Take a guided tour through the ruins and learn about the history of the Mayan civilization, including the role of Tulum as a vital port and commercial hub. Marvel at the intricate architecture, including the famous Temple of the Frescoes, which features elaborate carvings and murals depicting Mayan deities and daily life.
After your tour, it's time to hit up some of Tulum's famous beach clubs, such as Papaya Playa Project or Azulik. These beach clubs are the perfect place to unwind and relax after a day of exploring.
In the evening, head out to one of Tulum's many restaurants or bars for a night of delicious food and fun. Whether you're in the mood for traditional Mexican fare or international cuisine, Tulum has something for every taste. End the night with a round of mezcal shots or dance the night away at one of the area's vibrant nightclubs.
On day three of your bachelorette weekend in Tulum, take a break from the beach and consider booking a day excursion to one of the area's world-famous attractions. Tulum is home to some of Mexico's most stunning natural wonders, and a day trip is the perfect opportunity to explore and take in the breathtaking scenery.
One popular destination for eco-tourists and nature lovers is the Sian Ka'an Biosphere Reserve, a UNESCO World Heritage Site that spans over 1.3 million acres. The reserve is home to an incredibly diverse range of flora and fauna, including over 300 species of birds, manatees, jaguars, and even crocodiles. Visitors can take guided tours of the reserve, which may include snorkeling or kayaking in the sparkling lagoons and observing the abundant wildlife.
Another must-visit attraction is the Gran Cenote, a crystal-clear cenote surrounded by lush jungle vegetation. The cenote is perfect for swimming, snorkeling, or simply lounging on the wooden decks and taking in the scenery. The stunning turquoise waters are ideal for photography and social media, so don't forget to bring your cameras and capture the perfect shot for your Instagram feed.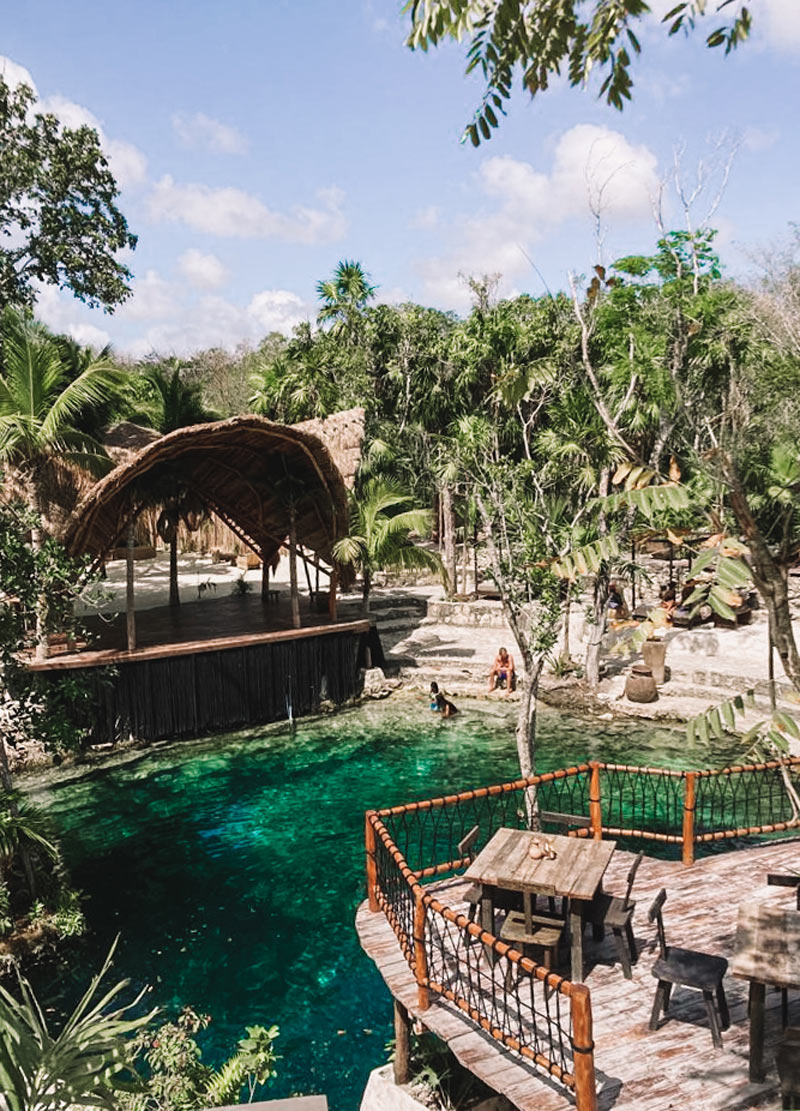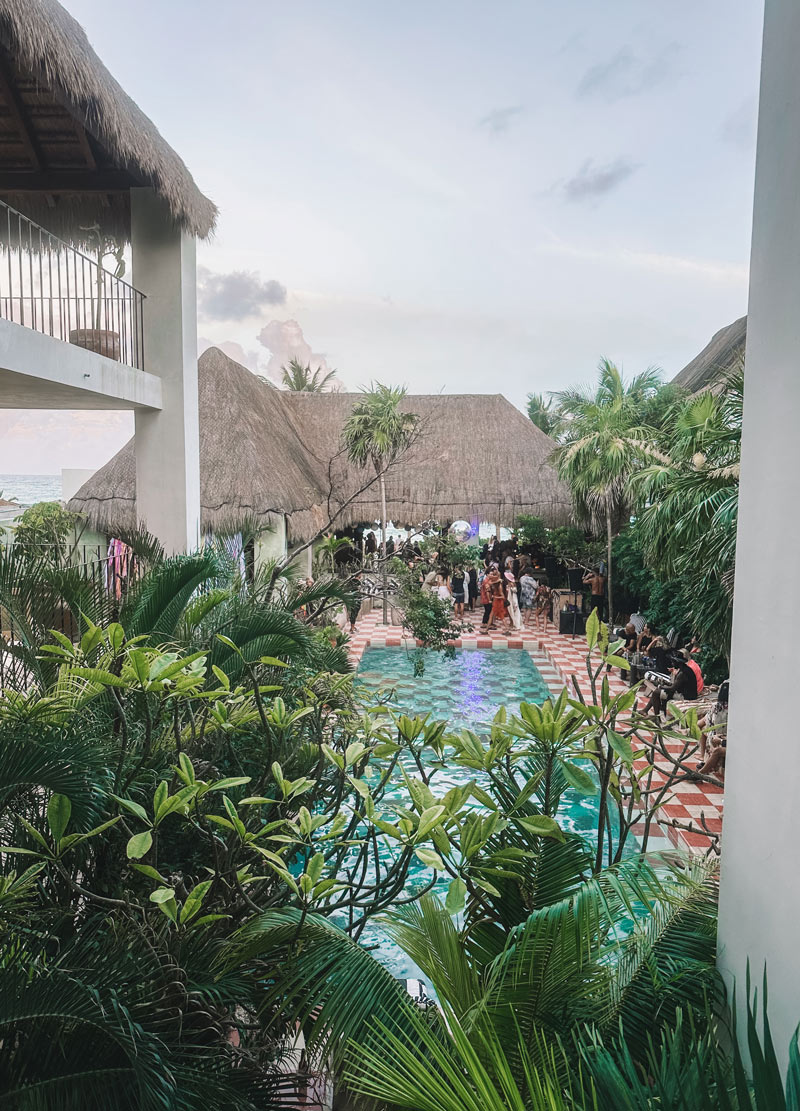 As your bachelorette weekend in Tulum draws to a close, it's time to savor your last moments in this tropical paradise. On the last day, take some time to soak up the sun and enjoy some last-minute beach time. Whether you're swimming in the crystal-clear waters, lounging on a beach towel, or simply taking a stroll along the shore, make the most of your final hours in Tulum!
If you're looking to do some souvenir shopping, Tulum has a wealth of local boutiques and artisanal shops selling everything from handcrafted jewelry to traditional Mexican textiles. Head to the Tulum Artisanal Market, for example, to browse a variety of handmade goods from local artisans.
As your departure time approaches, it's natural to feel a mix of emotions. Saying goodbye to the warm sunshine, stunning beaches, and vibrant culture of Tulum can be difficult, but you'll be leaving with incredible memories that will last a lifetime. Take one last look around, savoring the sights, sounds, and scents of this tropical paradise!
As you depart from Tulum, carry the warmth and vibrancy of this special place with you, knowing that you've experienced something truly unforgettable with your closest friends.
Exclusive Free Concierge Itinerary
Attention, ladies! If our weekend itinerary didn't give you enough ideas, we have the ultimate itinerary for the perfect bachelorette party in Tulum, crafted by our dear friends Virginia and Kelly, who offer top-notch concierge services in this paradise on Earth. They have been our go-to people since we arrived in Tulum, and we owe them for making our stay here unforgettable!
Are you ready for the best 4 days of your life in Tulum? The best part is that you won't have to lift a finger because Virginia and Kelly will take care of everything for you and your friends. But wait, if this itinerary doesn't suit your preferences, don't worry! You can contact Virginia on Whatsapp and request a personalized itinerary for free. Trust us; you'll thank us later!
Get ready to experience the perfect bachelorette weekend in Tulum with the following itinerary.
Thursday to Sunday
DAY
TIME
ITINERARY
DETAILS
Thursday
2:00 PM
Airport Transfer
Private Airport Transfer
4:00 PM
Arrival to Tulum
Welcome drinks
5:00 PM
Lunch in the Villa
Ceviche bar
Pick up in the villa
Open Service for 6 hours
8:30 PM
Dinner
Illios
11:00 PM
Party
Vagalume
Friday
10:00 AM
Private Chef
Breakfast in the villa
12:00 PM
Tour
ATV + Zip line in cenotes with lunch in Buuts ha
Pick up in the villa
Open Service for 6 hours
8:30 PM
Dinner & Party
Gitano
Saturday
10:00 AM
Tour
Temazcal at the beach
1:00 PM
Beach Day
Lunch at Taboo
8:30 PM
Dinner
Rosa Negra
11:00 PM
Party
Papaya Playa
Sunday
10:00 AM
Brunch at the Villa
Mimosas and brunch
11:00 AM
1:00 PM
Private transfer
Create Your Own Bachelorette Itinerary
Services To Upgrade Your Bachelorette In Tulum
Looking for the ultimate bachelorette party? Look no further than our angels Virginia and Kelly! They guarantee a non-stop adventure full of fun and excitement. And the best part? They've got exclusive services to make your bachelorette one for the books. Some of them are:
Limo ride
Limo to villa transport
Van for luggages
Van with a driver Open service 12 hours
Grocery shopping
Bartender in-home
60min massage in-home
Temazcal
Atv + Zipline
Yachts
Other holistic activities
Don't settle for a mediocre bachelorette, trust in Virginia and Kelly to make it absolutely amazing!
Get the perfect bachelorette itinerary
With its stunning beaches, beautiful scenery, and tons of exciting things to do, Tulum is the perfect destination for a bachelorette weekend. This itinerary for Tulum is just the tip of the iceberg, and there are so many other amazing things to experience in this beautiful region of Mexico. Come to Tulum for your bachelorette party, and we guarantee you will fall in love with the place, just like we did!
FAQ about bachelorette weekend itinerary in Tulum
What are the best things to do in Tulum for a bachelorette?
Tulum is a fantastic destination for a bachelorette party, offering a wide range of activities and experiences to enjoy with your friends. Here are some of the best things to do in Tulum for a bachelorette:
Relax on the beach

Visit the Tulum ruins

Take a cenote tour

Enjoy the nightlife

Try local cuisine

Go shopping

Relax at a spa
Where should we stay in Tulum for a bachelorette?
There are many great options for accommodations in Tulum that would be perfect for a bachelorette party. But if we had to choose one, we would suggest you to stay in Tulum beach or Aldea Zama in Tulum downtown for the ultimate experience.
How can we make sure we have a fun and safe bachelorette weekend in Tulum?
To ensure a fun and safe bachelorette weekend in Tulum, it's important to take some precautions and plan ahead. Here are some tips to keep in mind:
Research ahead of time:

Do some research on Tulum before you arrive, including the areas you will be visiting, any local customs, and potential safety concerns.
Stick together:

Make sure everyone in your group stays together, especially when out at night. 

Be mindful of alcohol consumption:

Alcohol is often a part of bachelorette parties, but it's important to drink responsibly. 

Use reputable transportation:

Make sure to use reputable transportation options, such as taxis or private drivers. 

Stay in communication:

Make sure everyone in your group has a way to communicate with each other.

Respect local customs and laws:

Tulum has its own unique culture and customs, so be respectful of the local people and traditions.
What are the best restaurants in Tulum for a bachelorette?
The best restaurants in Tulum for a bachelorette are:
Illios

Rosa Negra

Bak

Bagatelle

Porfirios

Taboo

Papaya Playa Project

Vagalume

Gitano

IT
What are the best bars in Tulum for a bachelorette?
The best bars in Tulum for a bachelorette are: 
Papaya Playa Project

Vagalume

Gitano

IT

Bonbonniere

Zamanik
What should we pack for our bachelorette weekend in Tulum?
When packing for a bachelorette weekend in Tulum, it's important to keep in mind the tropical climate and the activities you have planned. Here are some suggested items to pack:
Swimsuit

Sunscreen

Insect repellent

Comfortable shoes

Lightweight clothing

Beach bag

Camera

Cash and credit cards

Portable charger
By packing these items, you'll be ready to enjoy your bachelorette weekend in Tulum!
👉 FRIDAY, Dec 1
OPENING PARTY X TEN IBIZA 🎉🍹
🎧
ORIOL CALVO, BASTIAN BUX, VITE
📩
Contact Virginia
here
to book a table
💵
First Release Tickets: Mex$ 550 (incl. fees)
Don't miss out on the chance to join us in "A Journey into House Music" tonight at Vagalume. Contact Virginia here to secure your spot for an unforgettable evening! 🌟🍹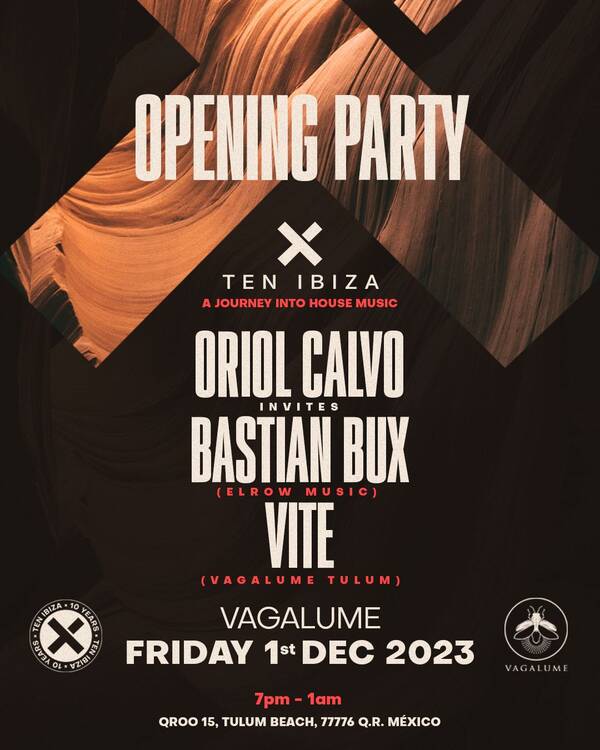 Top Parties and Club Events
23rd November - VAGALUME SESSIONS KEENE @VAGALUME
26th November - VAGALUME SUNDAZE MITA GAMI @VAGALUME
30th November - VAGALUME SESSIONS VALDOVINOS @VAGALUME
3rd December - VAGALUME SUNDAZE VALENTIN HUEDO @VAGALUME
7th December - VAGALUME SESSIONS MUSTAFA ISMAEEL @VAGALUME
30th December - PIKNIK POLO CORP & LEO LEONSKI @VAGALUME
31st December - NEW YEAR´S EVE @BAGATELLE TULUM
31st December - NYE PARTY 2024 @VAGALUME
13th March - LOCUS Tulum 2024