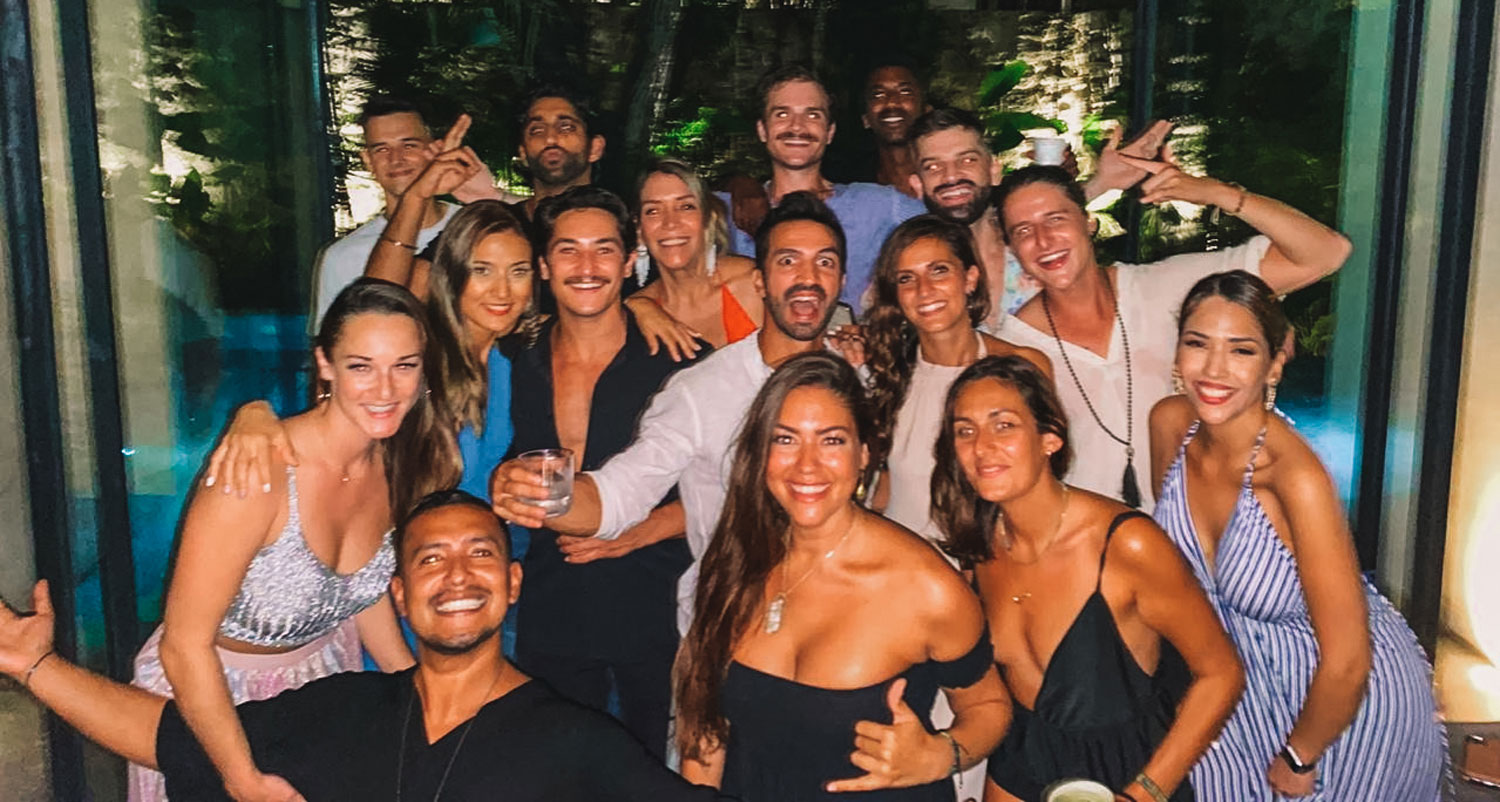 Gay Nightlife in Tulum Mexico: What You Should Know About It
You're in Tulum, Mexico, and looking for a nice gay event? One thing is sure: Tulum is a chilled place and at the beach, hotel zone and downtown, gays are very welcome. You will see that in Tulum it doesn't matter whom you love, the most important is to have a good vibe, an open heart and Tulum will serve you with the best parties and bars, new friendships or maybe even a new Love that will convince you to stay more than just a week!
Tulum is a place of freedom – freedom of being yourself, or finding your true self. Tulum is cheerful, in high spirits, lively, bubbly and playful, words that can be related to the gay's Community and that might be one of the reasons why so many people of the LGBTQ Community visit this beautiful paradise in Mexico Quintana Roo.
So let's have a little journey and let us guide you around the gay scene in Tulum. Let's get into it and have some fun!
La Guarida: best spot in Tulum for LGBTQ community
Whole week: 10:00 am – 00:30 pm / Wednesdays: 18:00 am – 00:30 pm
La Guarida is the top spot in Tulum for the LGBTQ community. The ambience is super cozy and you will feel at home the moment you enter the venue. It's not a specified "gay bar" but it's known that a lot from the LGBTQ Community hang here to have a good glass of wine, a beer or a yummy cheese plate at a good price. Moreover, amazing live bands from jazz, to folklore and Blues usually play here.
La Guarida is good at creating a beautiful mix of Spanish and Mexican culture that will make you feel like you just entered a little bar in Barcelona in the middle of the Caribbean. This makes it easy to open up and be confident in making new contacts!
The audience is very mixed – you can talk with a lawyer and in no time with an artist – and no dress code is needed. La Guarida is also an incredible spot for nomads to find locals to get in touch with Mexico and Tulum reality! Nice flirts are around the corner while you dance in the crowd when the live bands get into the groove 😉
La Guarida is located in Tulum downtown around the corner of Aldo's ice cream.
Bandera, when the restaurant turns into a club
Restaurant: all week 8:00 am – 00:00 pm / Parties: Friday and Saturday 10:00 am until the end
Banderas parties are one of the best in Tulum town. The party at the Hotel Zone is already over and you want to continue partying with an amazing crowd? Then don't miss Bandera and its events of pure joy! 
This spot is well known by the LGBTQ Community in Tulum and there is no label as a gay party needed – it naturally became a spot where gays, lesbians, and straights raise their hands together to worship love to life, community and freedom of expressing yourself as you are. 
Move your hips, embrace the hug of a new connection or just chill on the couch in a beautiful backyard in Tulum. Bandera is a pizzeria by day and turns into a venue for parties overnight at weekends. Not only is the vibe great, but they also have affordable prices and the best local DJs playing old school tunes perfectly mixed with house and electronic beats. Get ready to spin around and maybe receive an unexpected – but magical – kiss while you get lost in Tulum's night!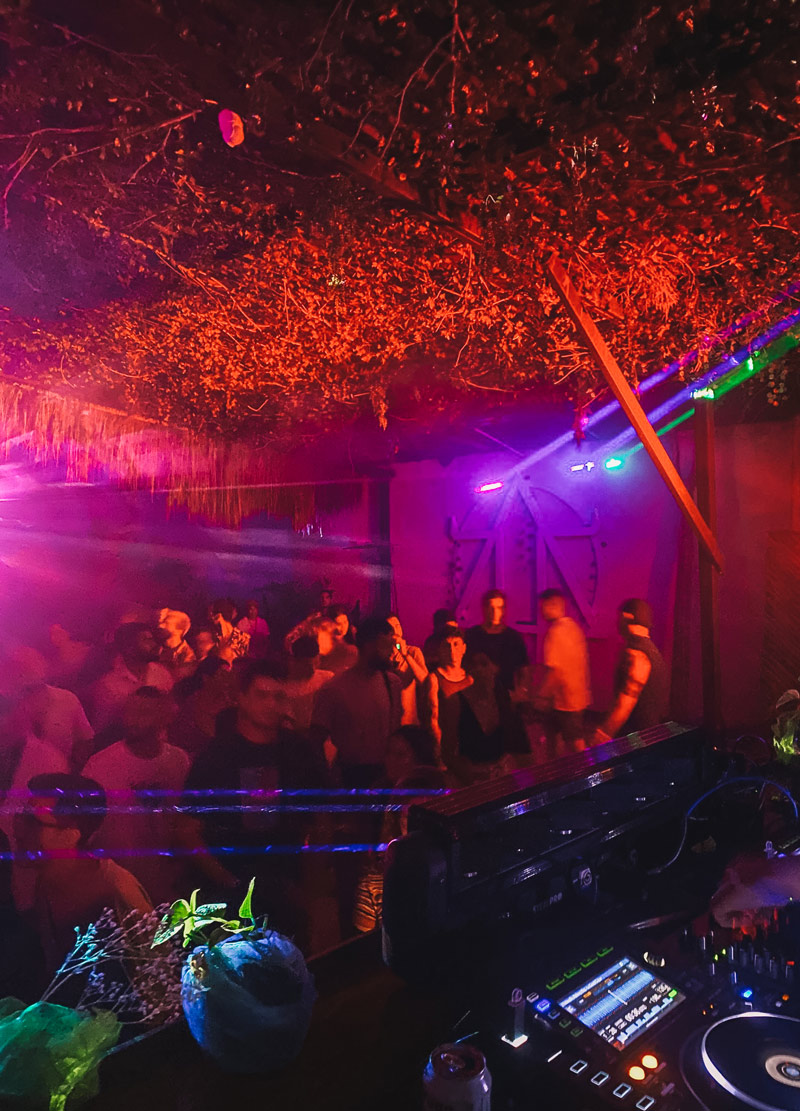 "Your Prefer The Crowd..."
"Or A Corner Of Peace In Tulum Centro?"
Fruits: the gay party full of pride, good vibes and uplifting music
What would Tulum be without Fruits? This event is a cult and is known as THE GAY PARTY in Tulum, happening every 2 weeks. Fruits organize events in different locations in Tulum town, everyone is welcome as in every gay party – just bring your smile and good vibe and you will be welcomed as an old friend! 
Fruits family is big and in times when locals find no time to catch, they know Fruits parties will be the moment to reunite with new and old connections. Fruits create events with a vibe that really takes over your spirit the moment you enter – people smiling, sparkling eyes of people having good times together. A bit like Tulum: always ready to surprise our souls and remind us how blessed we are to enjoy a moment of our life inside the beauty of the Caribbean in Mexico.
Contact Virginia to get the tickets of the next Fruits party!
Tulum Beach, the best is yet to come
Tulum beach not only offers you a magical view of the Caribbean Sea, but also some eye candy. High season means hot season, and we're not talking about the weather 😉 The crowd at the hotel and public beaches is very relaxed with the LQBTQ community, and you will have at least one flirt during your time in this Caribbean paradise.
Tulum beach has the same rules for gays as for straight people: respect the environment, be mindful that kids are around and take care of your trash! Your sexuality doesn't matter to anyone, so feel free to have a little kiss with your lover or to hold hands while enjoying a peaceful moment at sunset.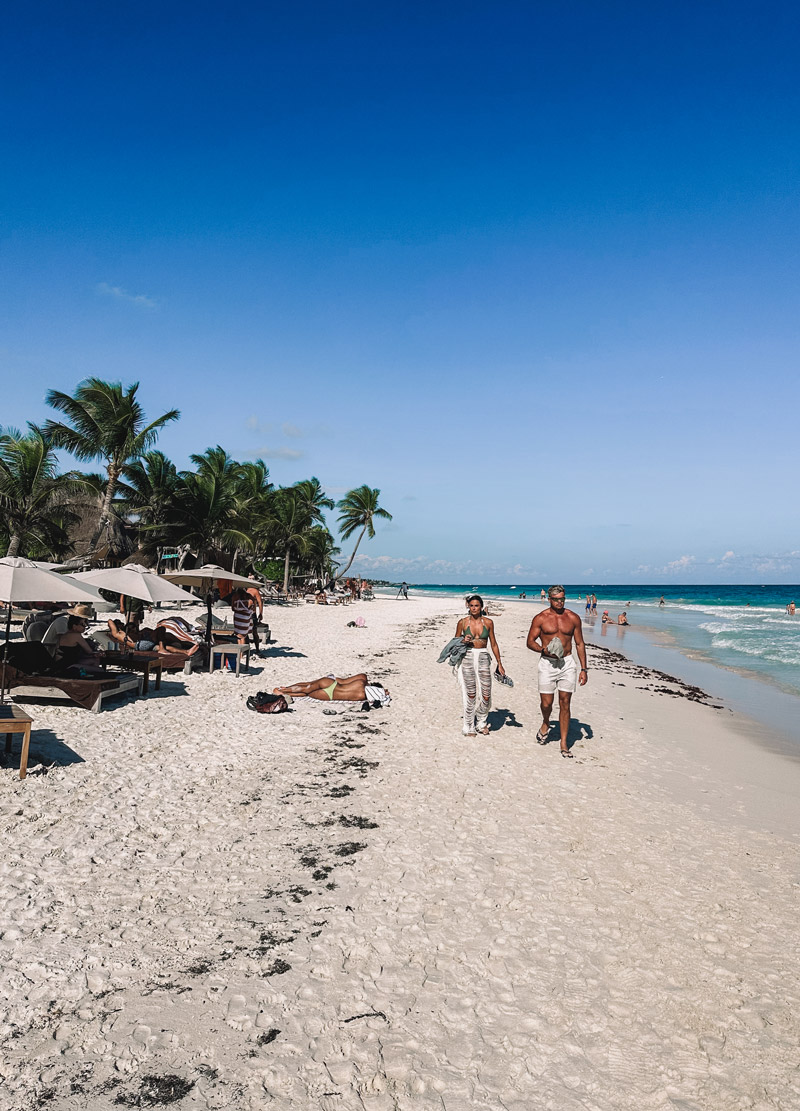 "Tulum Beach Is Very Inclusive!"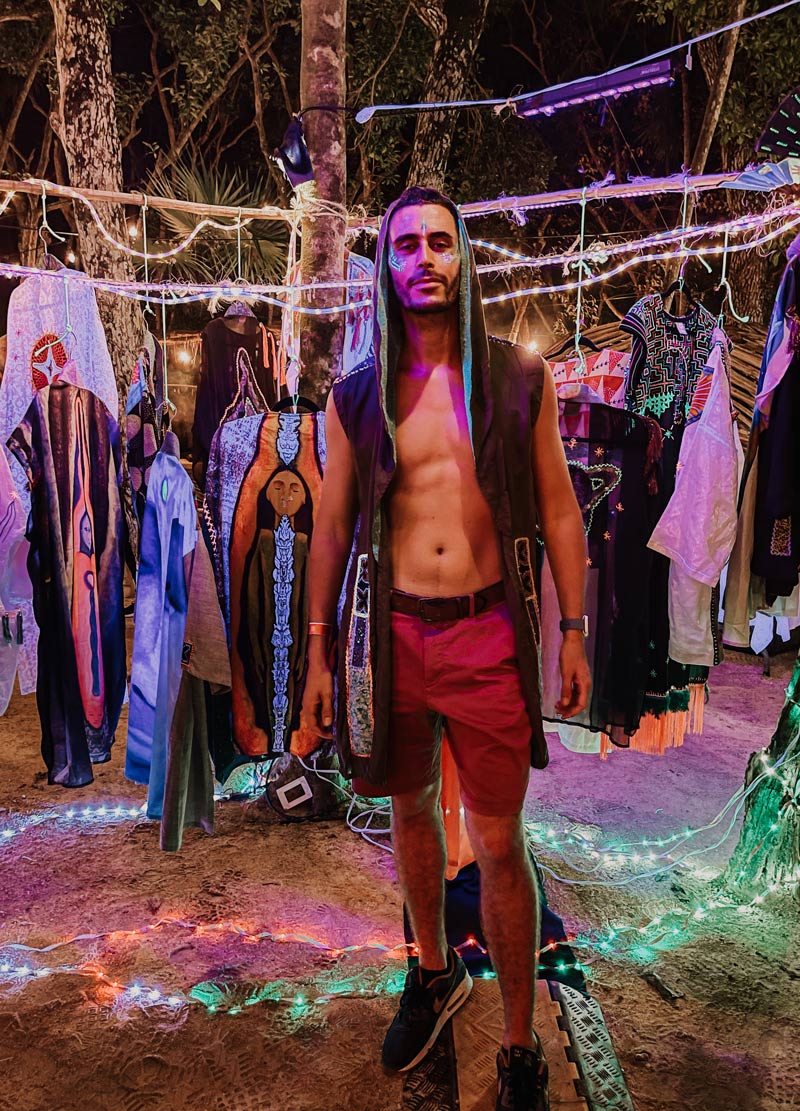 "Ready To Get Into Your Party Mood?"
Take Advantage Of Free Concierge Service
As excellent to explore Tulum and its surroundings alone, you may need help figuring out where to start. To make the most of your money and time, contact Virginia and Kelly - two incredible Mexican girls living in Tulum for more than 15 years. They're familiar with the ins & outs of the Tulum town and hotel zone like the back of their hand! 
Since we arrived in Tulum 2 years ago, many adventures wouldn't have been possible without their help - they know literally everybody in Tulum and can perfectly organize every moment of your stay. Get the best tables, skip queues and get on the guest list of the coolest places in Tulum - this's only the beginning! 
They are ready to offer you guys FREE concierge service in Tulum for the time of your stay: take advantage of it, contact them on Whatsapp and live the best experience!
Get FREE Concierge Service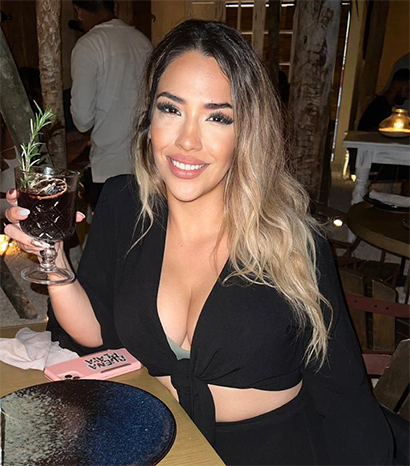 "Virginia Will Transform You In A Tulum Insider"
These are just some of the Tulum gay events and venues that will make it easy for you to feel comfortable to be yourself. Remember that if you show love and respect to people and nature, you will be served with a lifetime's experience no matter your sexuality. All that matters in Tulum is your energy not labels: that's why you can find yourself chilling at the beach next To Dua Lipa or talking with a dude that looks casual but just canceled his private jet because he just figured out how fun it is to stay in a hostel. 
Get ready to receive, go with the flow and you will see that Tulum's magic will set you free. Are you ready for your own Tulum story?
Top Events to Make Your Trip Unforgettable
DOMINIK TULUM @MIA TULUM
When: September 9, 2023 7:00 PM
Where: Mia Restaurant & Beach Club, Tulum
🌴 Join Us for An Unforgettable Night at DOMINIK - TULUM at Mia Tulum! 🌴
Friends, clear your schedules and get ready for a magical experience at Mia Tulum! This stunning location will host DOMINIK - TULUM on Saturday, September 9th, from 7 pm to 1 am. This isn't just another event; it's a fusion of nature, culture, and sound featuring an incredible line-up with GIORGIO STEFANO, AUDICTIVE, and MAURO TORRETA. At DOMINIK, you'll find the perfect blend of Tulum's lush jungles and pulsating underground beats, creating an environment where genuine connections blossom.
🎟️ Secure your tickets now:
Early Bird: $575 MXN ($38 USD), includes a welcome drink 🍹 (Limited Availability)
Tier 1: $805 MXN ($52 USD), includes a welcome drink 🍹 (Limited Availability)
Final Tier: $1150 MXN ($75 USD), includes a welcome drink 🍹 (Limited Availability)
Dinner + Party: $1380 MXN ($90 USD) 🍽️🎉 (Limited Availability)
See you there for a night you won't forget! 🎶✨
Ready to join us? Get your ticket now! Early bird tickets are already selling out, secure them at 632 pesos (only 15 tickets available).
Hurry – spots are filling up fast! 🙀 We can't wait to see you there!
Top Parties and Club Events
17th September - ANCESTRAL SOUL @BONBONNIERE TULUM
22nd September - TONY ROMERA @BONBONNIERE TULUM
29nd September - TIM BARESKO @BONBONNIERE TULUM
4th November - HOT SINCE 82 @BONBONNIERE TULUM
13th March - LOCUS Tulum 2024