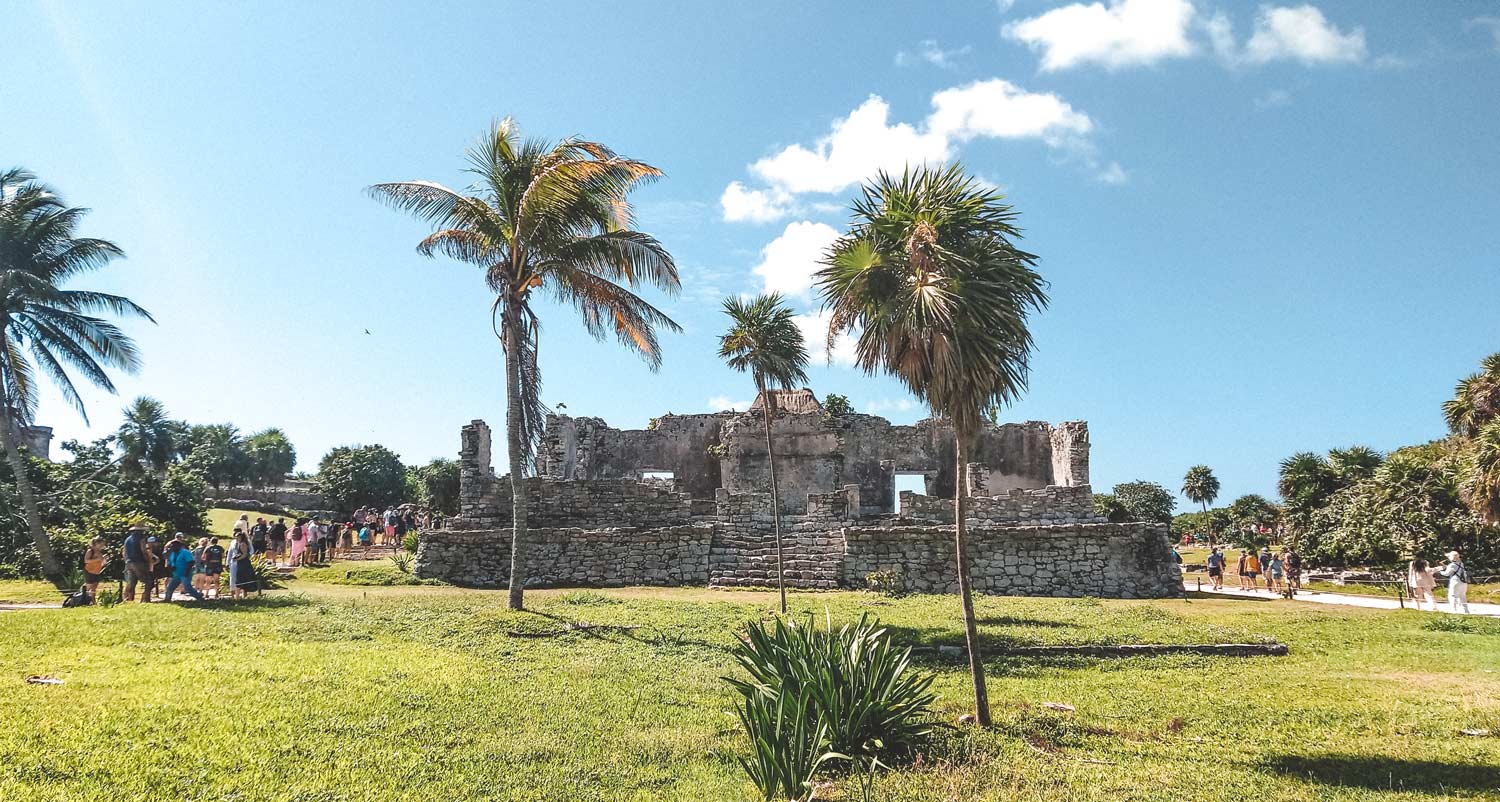 How To Visit Tulum Mayan Ruins In 2023: Our Complete Guide
Heading to Tulum and wanting to feel archaeologist for one day? Tulum Mayan ruins are the place to be! Tulum, located in the South-East part of Mexico in the Peninsula of Yucatan, is home to one of the most unique ruins sites in the whole world. In fact, Tulum ruins are located on a 12 meters cliff facing the Caribbean sea. Want to know what makes them even more extra? Underneath, you will be able to take a swim in a secret beach!
But Tulum wasn't always called like this. In fact, Mayans called it "Zamá" which you can translate as "place of the dawning sun." This is because it has a perfect view of the rising sun as it overlooks the Caribbean sea. Whether you're staying in Playa del Carmen or Cancun, planning a visit to the ruins is really worth it! When we first moved to Tulum, we met a guy at a party that started telling us about his job: he was in Tulum as a nature conservation ranger and of course benefited from advantageous rates to access all of the Natural Park and Cenotes. After a few shots of Mezcal, he was kind enough to give us a friends and family code offering a discount from 30 USD to 28 USD per person; here below, you can still benefit from this discount.
The day after we decided to follow the advice he recommend to us and we visited the Tulum archaeological site early in the morning! Guys – it was a mind blowing experience and in this article, which will be a kind of Q&A, we'll reply to any possible questions you might have on the Tulum Mayan ruins in order to make you live a great experience! Let's take a leap into Mayan history together!
*Attend the coolest secret parties in Tulum without being on the list*
What To See At Tulum Archaeological Site
Tulum Mayan Ruins are not the biggest site in Riviera Maya nor Yucatan. But, the fact the archeological site is very well preserved makes it really entertaining to visit! The site is a big park overlooking the ocean with many palm trees, exotic plants and flowers and sunbathing iguanas all around. There are 4 main elements from the Mayan era which once were the center of an ancient citadel where 1600 people were living. Let's discover in depth right here all you can get with the guided tour you can book with the friends and family code! 
El Castillo – the castle in English – is Tulum Archaeological Site's main pyramid, and was used as an ancient lighthouse. Two small windows at the top allowed sailors to navigate the bay at dusk. If merchant boat captains could see daylight through both windows as they sailed in, they wouldn't crash into the reef hiding just below the water!
This was our favorite part of the ruins. In fact the Temple of the Frescoes, located in front of El Castillo, is the best preserved building at the site. Peer inside to see an actual mural with colored paint still intact! 
The House of the Columns is a large, complex building with 4 rooms and a series of large columns for holding up the roof. It's crazy to think many years ago they were able to build such refined structures.
House Of The Halach Uinic
The ranger we met told us each Mayan city was ruled by a halach uinic, who served as high-priest in that time. The House of the Halach Uinic in Tulum ruins site is also well preserved. We loved imagining how life was back then and having the main buildings well preserved certainly helps!
We could literally spend hours telling you how great Tulum ruins park is, but let's go on and arrive at the point: here below you will find our Q&A and the friends and family code you can use to book your guided tour at Tulum Ruins site, Riviera Maya!
How to book your guided tour at Tulum Mayan Ruins Site
You can book your entrance ticket directly at the reception and the cover will be 30 USD. In our adventure we had the chance to get a friends and family discount code and get our ticket at 28 USD instead of 30 USD! We don't know till when this code will work, but if you wanna try it out you can go on this page and try to use it: XF78PQS.
With this code we saved 5 USD per 2 adults on the complete tour of the Tulum Mayan Ruins: it was really a great value for money and moreover, after the tour, the guide gave us so many advices to reach the secret beach and a cool local place to drink a fresh cerveza.
You can thank us later 😉 If the code is still functioning, we would really appreciate it if you guys could leave a comment here below!
"The Incredible Castillo Facing The Caribbean Sea"
Tulum Ruins Archaeological Site Q&A
Here below we put together every possible question that can cross your mind before you explore Tulum Mayan ruins. Check them out to organize a perfect day and to discover some secret tips!  
Where Are the Tulum Ruins?
Tulum ruins are located 3 km outside Tulum town. You will actually have to remember 3 places when in Tulum: Downtown Tulum, Tulum beach where most hotels are, and Tulum ruins. You can head there by bike or car without a lot of effort. A cab from the beach or town is also an option, especially if you can share the cost.
If you want to reach the ruins site from Playa del Carmen or Cancun, you will have to organize your trip a bit more. It will take you around 30 minutes from Playa del Carmen and 1 hour from Cancun, so definitely not so far away by car, bus or taxi – this last one of course is more expensive. If you are coming by bus you will arrive in Tulum town; if you are coming by colectivos – Mexico's minivan – you can ask the driver to leave you close to the ruins entrance. If you are coming by car, take the chance to visit some cool cenote around!
If you want to have a clearer idea about how to move in Tulum, make sure to check out our Tulum transport guide!
What Are the Hours for the Tulum Ruins?
The ruins site is open every day from 8AM to 5PM. Make sure to calculate how much it will take you to visit the site and to reach it from your hotel in Tulum town or beach, and if you want to take your time. Our advice is to go there a bit before what you planned, so that you don't have to rush, but visit the park at your own pace.
How Long To Visit The Ruins?
It will take you around 2 hours to explore the whole park, know the history of the place and have a calm and nice experience. As we saw from reviews online, it's one of the sites that requires the smallest time to visit, which can be really good if you are with kids! The time is the same if you are alone or on a tour. 
When To Visit The Ruins Of Tulum
Tulum ruins can be really crowded, depending on the time of the year and of the day. If you have the chance to plan your visit early in the morning you will for sure avoid the crowd and enjoy the park more. If you are going there after 3PM, you will have more people around but you will not suffer the extreme heat of the central part of the day. In fact, we really recommend you to avoid the time slot from 11AM to 3PM – it will get really hot and the only thing you will think about will be running at the beach!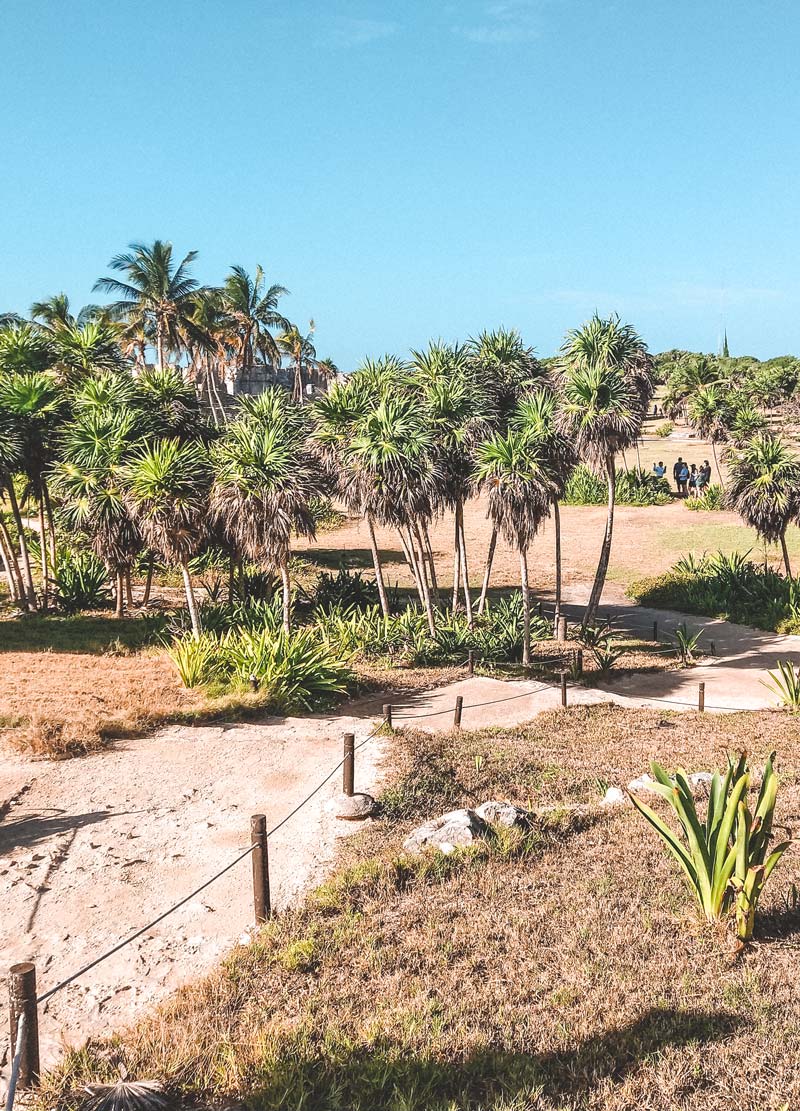 "Get Lost In The Ruins Site Of Tulum"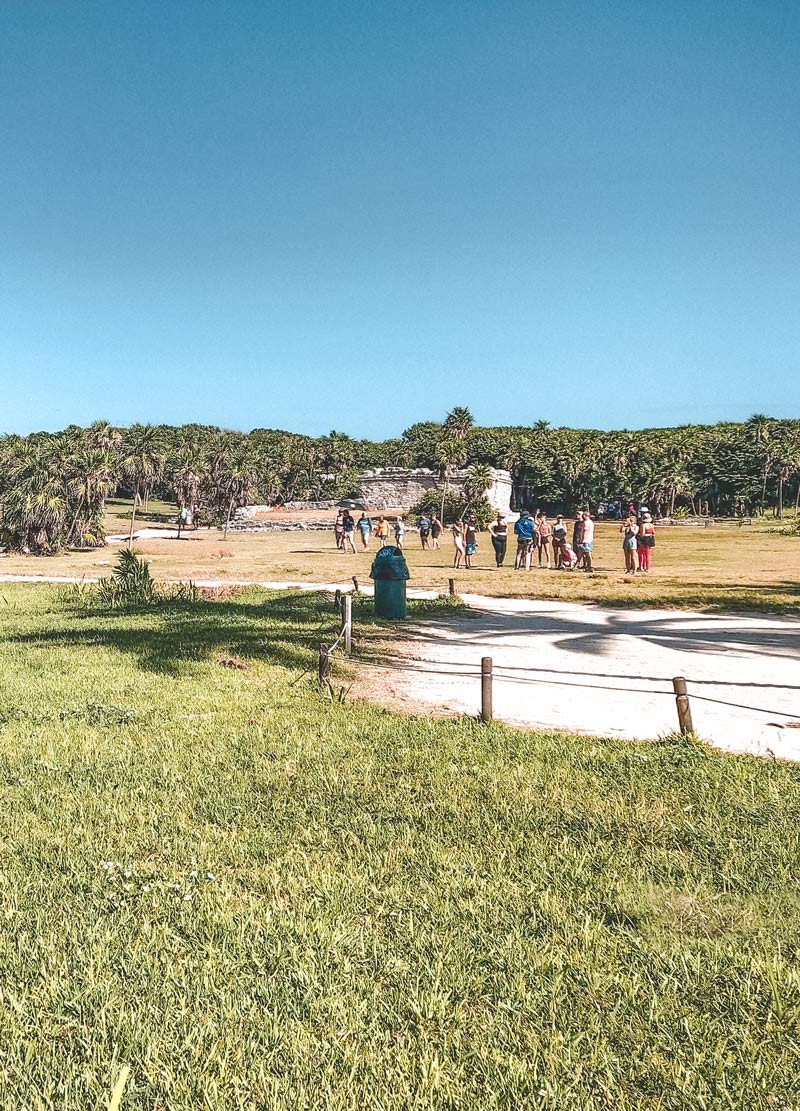 "It's Really A Must During Your Trip"
Swimming At Tulum's Secret Beach
From the panoramic point overlooking the Caribbean sea, you will be able to discover the underlying secret beach! A small golden shore where you can snorkel, swim and chill thanks to the fact waves don't really hit it. Make sure not to miss it!
Take Advantage Of Free Concierge Service
As excellent to explore Tulum and its surroundings alone, you may need help figuring out where to start. To make the most of your money and time, contact Virginia and Kelly - two incredible Mexican girls living in Tulum for more than 15 years. They're familiar with the ins & outs of the Tulum town and hotel zone like the back of their hand! 
Since we arrived in Tulum 2 years ago, many adventures wouldn't have been possible without their help - they know literally everybody in Tulum and can perfectly organize every moment of your stay. Get the best tables, skip queues and get on the guest list of the coolest places in Tulum - this's only the beginning! 
They are ready to offer you guys FREE concierge service in Tulum for the time of your stay: take advantage of it, contact them on Whatsapp and live the best experience!
Get FREE Concierge Service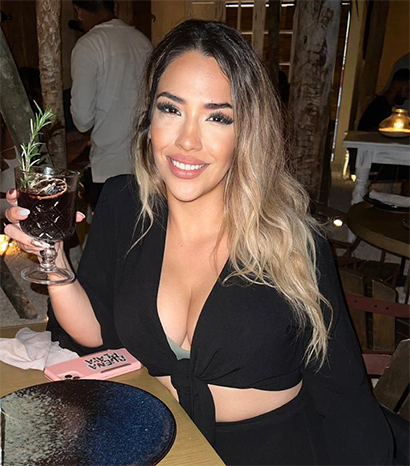 "Virginia Will Transform You In A Tulum Insider"
Where to Eat Near the Tulum Ruins
There are many cool restaurants close by, all along Tulum beach. Whether you prefer to head back to Tulum town or you want to stay the whole day at the beach, check out our restaurants guides: 
Other Mayan Ruins Near Tulum: Tulum Ruins vs. Chichen Itza
There are plenty of other important Mayan sites both in Yucatan and Riviera Maya. The other two most famous are Chichen Itza and Coba. If we have to make a competition between Tulum Ruins and Chichen Itza from our own experience and friends' reviews, we would say that if you have time during your travel for a day trip to Chichen Itza it's for sure worth it. If not, Tulum archaeological site is more than enough to know more about Mexico and Maya's history. 
If you are planning on visiting more than one site, check out our Chichen Itza and Coba guides!
Where To Stay In Tulum, Mexico
If you are still planning your travel to Tulum and you have to book your hotel, make sure to check out the articles we wrote about every kind of accommodation in Tulum: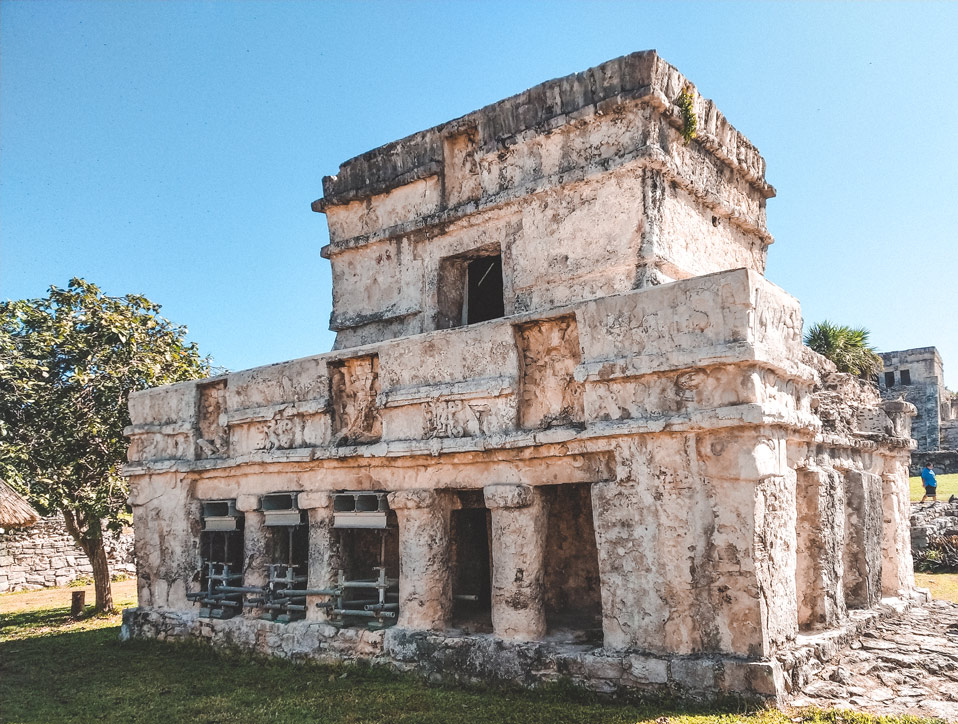 "Imagine The Site Was Inhabited By Mayans!"
Tulum Ruins Travel Tips & Advice
Arrive at the ruins 15 minutes before they open at 8AM to beat the horde of tourist buses that show up around 10AM. Late afternoon can be good too, but prefer the morning to enjoy your day after the visit.
Tulum's ruins are open Monday through Sunday from 8AM to 5PM. Entrance is free on Sundays for Mexican citizens and residents - so it's bustling!
Remember to bring your bathing suit if you want to swim or sunbathe on the secret beach at the base of the cliffs. You will be able to access around 10AM.
It costs an extra $1,50 - 30 pesos - if you want to bring a camera to the site.
The ruins don't have a ton of shade areas, so a hat, sunglasses, and sunscreen are recommended. Mucho calor!
Bring water to stay hydrated and some snacks to make sure not to miss anything during your visit.
Are the Tulum Ruins Worth Seeing?
Tulum ruins are definitely worth it! So make sure to save one day during your trip to Mexico to enjoy these ancient buildings from the past. If you visited any of the Mayan sites in Yucatan or Riviera Maya, write your favorite below!  
Great, let's feature the "MYSTICAL SUNSET /OLIVER HUNTEMANN" event at Mia Restaurant & Beach Club in Tulum on Wednesday, 29 November 2023. Here's the HTML snippet for your event: ```html
👉 WEDNESDAY, Nov 29
MYSTICAL SUNSET /OLIVER HUNTEMANN 🌅
📍
Mia Restaurant & Beach Club, Tulum
💵
Tier 1 Tickets: Mex$ 660 (incl. fees), Final Tier: Mex$ 880 (incl. fees)
📩
Contact Virginia
here
to book a table
Join us for an unforgettable evening at Mystical Sunset with Oliver Huntemann. Contact Virginia here to book your table and be part of this magical night on the beach! 🎶🔥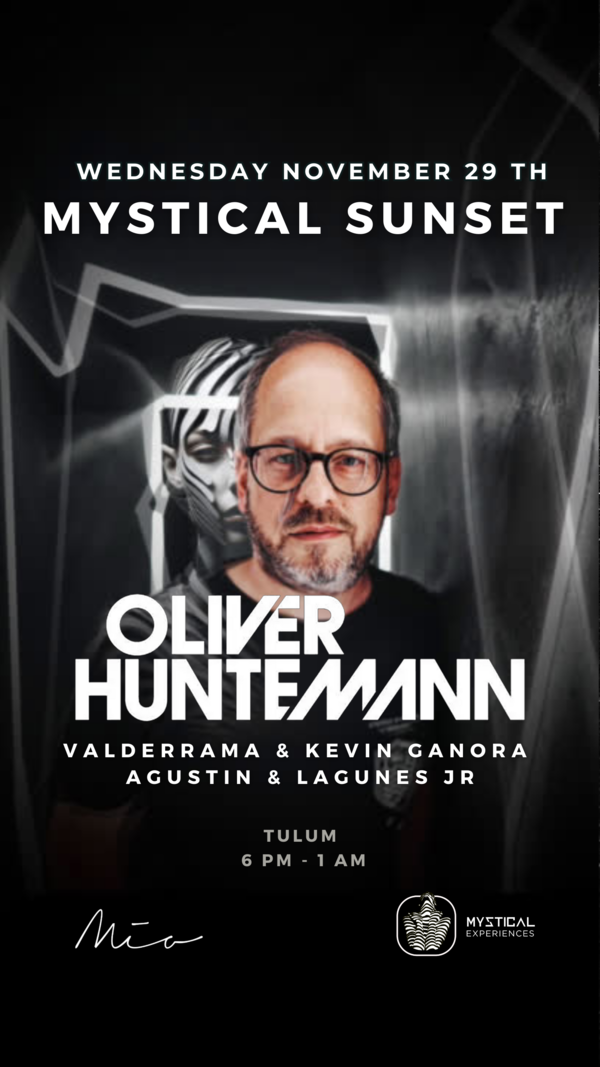 Top Parties and Club Events
23rd November - VAGALUME SESSIONS KEENE @VAGALUME
26th November - VAGALUME SUNDAZE MITA GAMI @VAGALUME
30th November - VAGALUME SESSIONS VALDOVINOS @VAGALUME
3rd December - VAGALUME SUNDAZE VALENTIN HUEDO @VAGALUME
7th December - VAGALUME SESSIONS MUSTAFA ISMAEEL @VAGALUME
30th December - PIKNIK POLO CORP & LEO LEONSKI @VAGALUME
31st December - NEW YEAR´S EVE @BAGATELLE TULUM
31st December - NYE PARTY 2024 @VAGALUME
13th March - LOCUS Tulum 2024