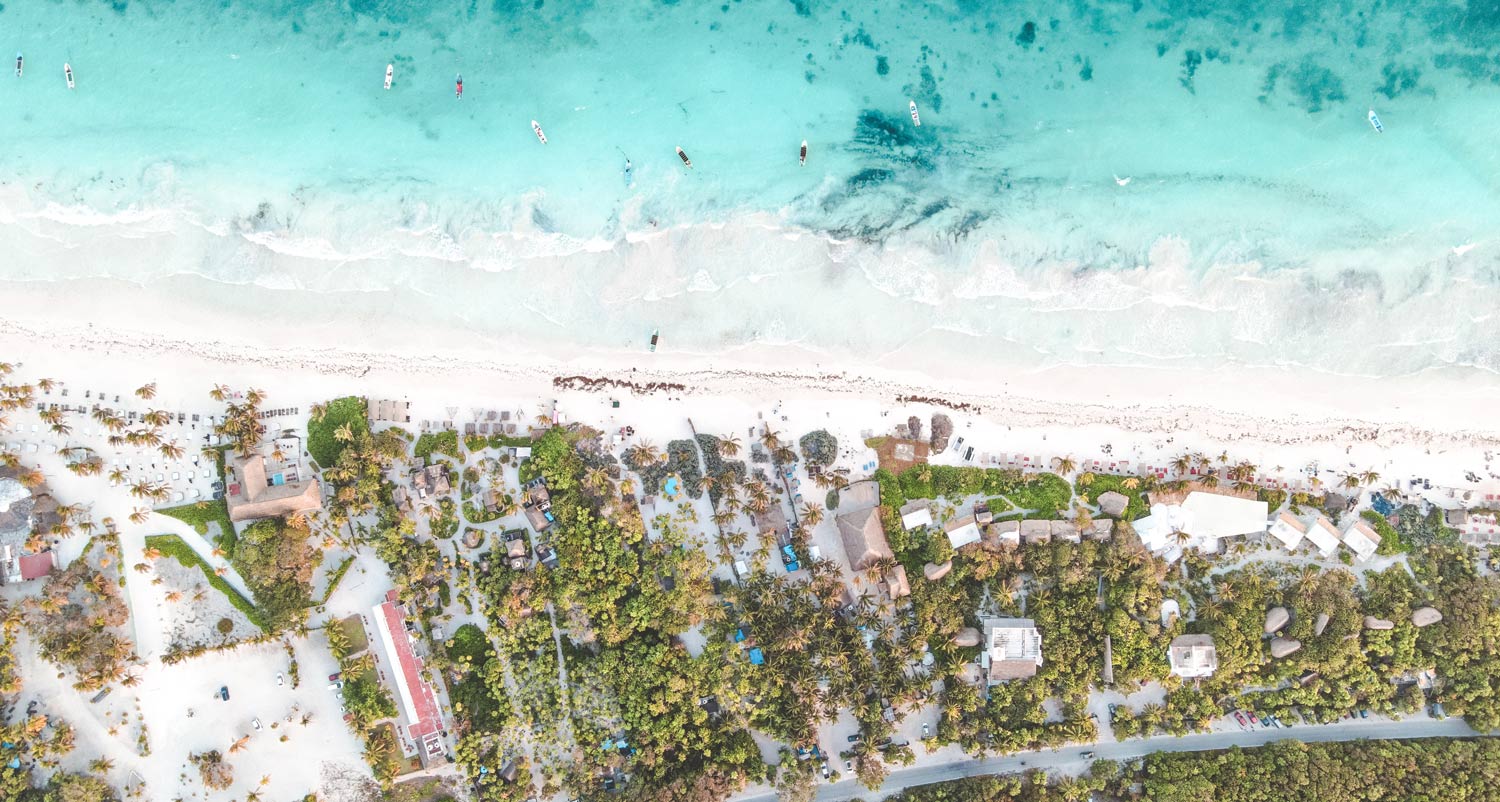 The Best Hotels In Tulum Beach You Don't Want To Miss
Tulum is a beautiful beach town in Mexico with a lot of incredible luxury hotels right on the beachfront. In the many rooms hotels are offering, there will be everything you always dreamed of: a boutique hotel with a private beach, a delicious restaurant with a beautiful view of the jungle, a relaxing spa with a pool just outside your room, a bar serving delicious cocktails to spice up your nights during your stay.
In the beachfront area of Tulum prices can be a bit higher, but definitely guests are treated like kings. We decided to make a guide of the most beautiful beachfront hotels in Tulum so we can help you during your booking. If you are planning your trip to Tulum or Mexico, be sure you don't miss our travel guide as well! 
*Still have to book the best hotel in Tulum?* – we really want to share with you how our friend Virginia made our stay in Tulum unforgettable. She made us stay in incredible locations throughout the town and we can't recommend her enough. Take advantage of her free service below!
Why choose a beach hotel for your stay in Tulum?
Private rooms, pool and beach
Tulum's hotels or resorts on the beach have beautiful rooms, let's face it! Most of the time, you can get for free a private pool or hydromassage just outside your room. How cool is that? If you are a privacy fan or if you want to have the whole structure of the hotel or boutique hotel for you and your friends, I'm sure you can make it private if you book in advance. The concept of luxury offers a private beach just outside the jungle where the resort is located.
Luxury property and outdoor spaces
A great aspect of spending your stay in one of these property on Mexico's coast is that outdoor and indoor spaces are incredibly well decorated. Your accommodation will offer you wifi, including breakfast from the restaurant, amazing views on the playa, great spa and pools in the jungle all in the price you will pay during your booking. All these services for the guests are featured with beautiful art works and architectural jobs, right on the beachfront.
You will not only feel as if you were at casa, but much better. During your vacation, especially if you choose a hotel on the beach, you want to relax, that's for sure. That's why these hotels, boutique hotels and resorts on Tulum's beach want to improve your relaxation experience with pools and beautiful spa. Moreover, you will be able to attend meditation and yoga classes on the terrace of the property overlooking the beach area. 
Incredible view on the jungle or the beach
Imagine reading a book or enjoying a romantic dinner with your partner. These simple experiences will bring you a completely different sensation at a beachfront hotel. In fact, being able to admire a beautiful view from every window of your room or suite is really a privilege. Moreover, these hotels often offer a terrace for every room directly overlooking the Caribbean sea and the beach. 
High quality restaurant and delicious breakfast
There are many restaurants on Tulum's beach, but as good as those in the hotels or resorts is very rare. During your booking you will be able to choose whether you want to have maybe dinner or lunch included in your offer, or only breakfast. Very often chefs in these restaurants have past experiences in the US or Europe, so be ready to taste something you have never tried before. Of course the price can be higher compared to restaurants in town, but here your experience will be completely different, with a great emphasis on luxury. I can already see you seated at the bar close to the pool sipping your delicious cocktail!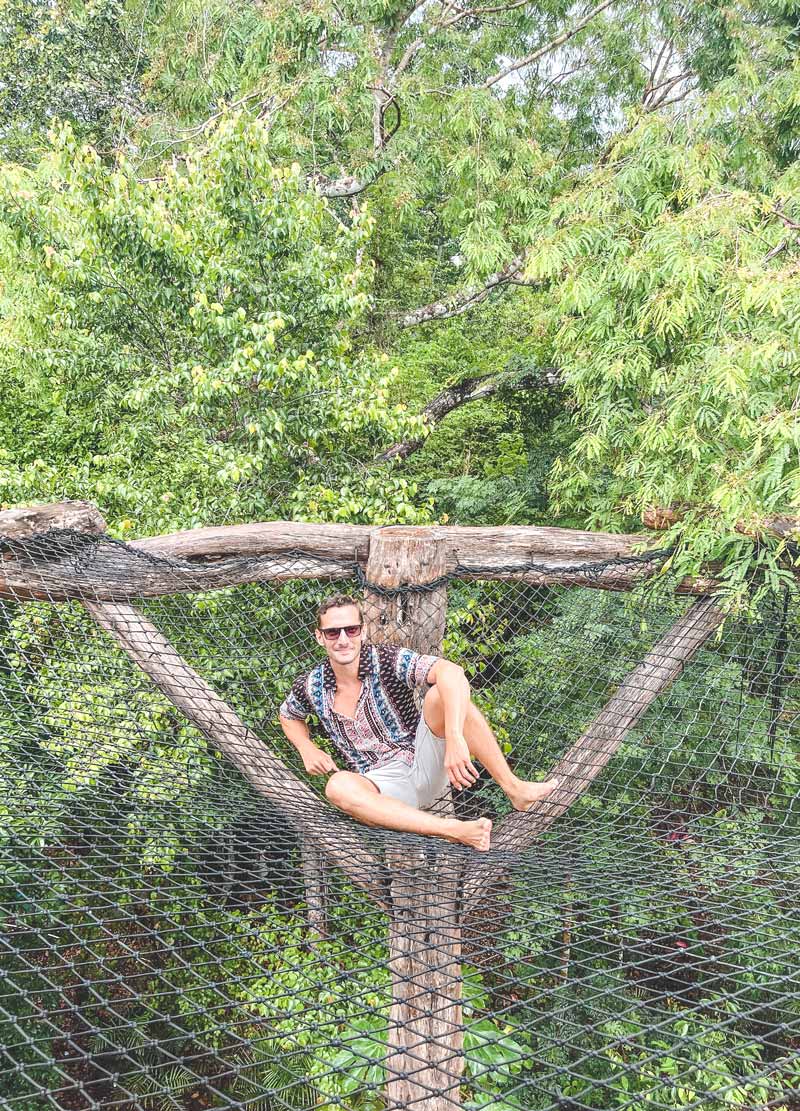 "Robin In A Beach Hotel"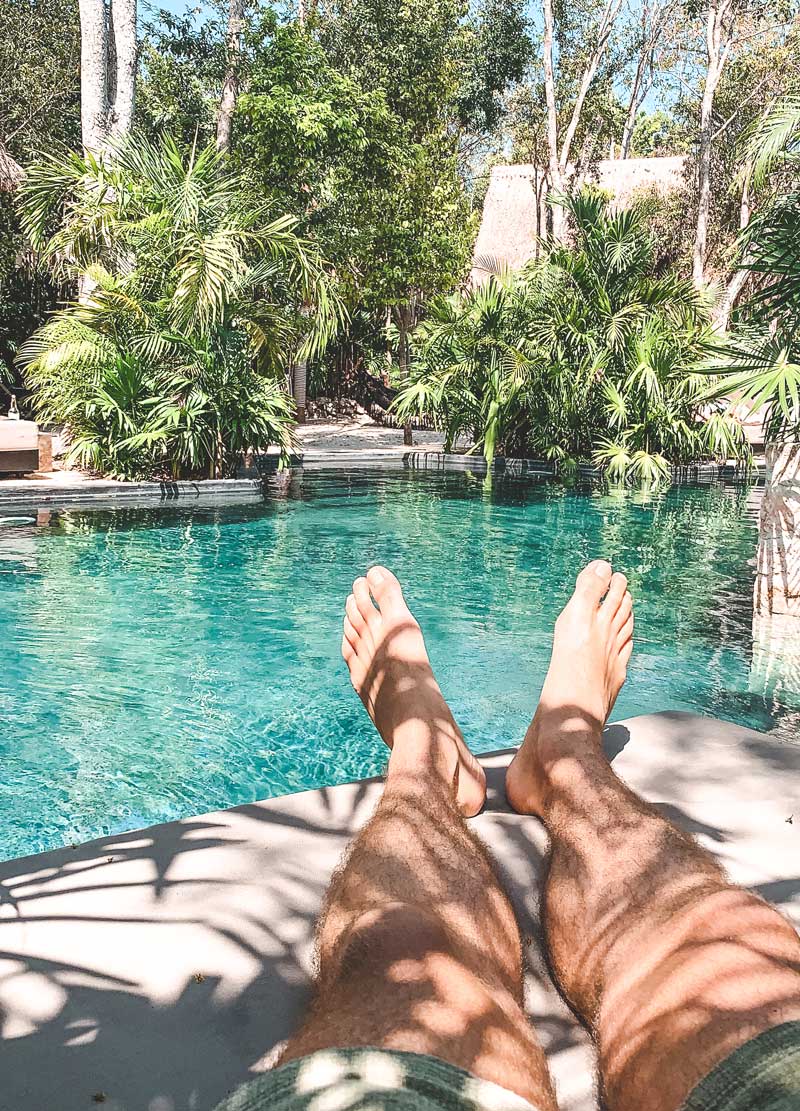 "Chilling By The Pool"
Take Advantage Of Free Concierge Service
As excellent to explore Tulum and its surroundings alone, you may need help figuring out where to start. To make the most of your money and time, contact Virginia and Kelly - two incredible Mexican girls living in Tulum for more than 15 years. They're familiar with the ins & outs of the Tulum town and hotel zone like the back of their hand! 
Since we arrived in Tulum 2 years ago, many adventures wouldn't have been possible without their help - they know literally everybody in Tulum and can perfectly organize every moment of your stay. Get the best tables, skip queues and get on the guest list of the coolest places in Tulum - this's only the beginning! 
They are ready to offer you guys FREE concierge service in Tulum for the time of your stay: take advantage of it, contact them on Whatsapp and live the best experience!
Get FREE Concierge Service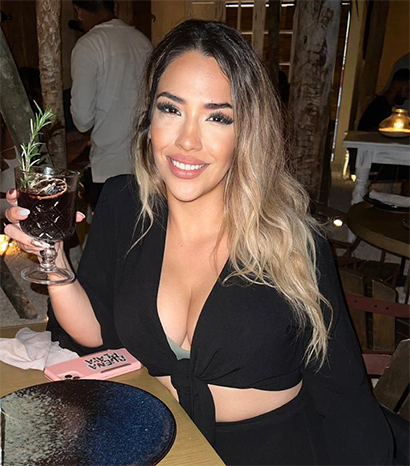 "Virginia Will Transform You In A Tulum Insider"
Our rating of the 30 best beach hotels in Tulum
Here's our selection of the 30 best beach hotels in Tulum. You will find them divided in categories following the geography of Tulum's beach, so you will have the North, the Center and the South. We made at the end a small selection of glampings for those of you who love to combine camping in nature with the luxury that Tulum can give. We really recommend you to check our map out and visit the websites of the hotels or resorts you like the most to check the availability of the rooms and the suites. Are you ready to be in paradise? 
Our favorite hotels in the North of Tulum Beach
The northern part of Tulum Beach is more free and definitely with a less luxury vibe all in all. You will be able to find services such as spa, pools and nice restaurants as well, but if you are searching for luxury beachfront property, this is not the area you should focus on. But let's take a look at our top three hotels here! 
Ikal Tulum Hotel is one of the best options if you are searching for yoga retreats, jungle vibes and great food (especially vegan) from their restaurant. With a beautiful view on the playa, its wellness center will make you fall in love with the property and the Mayan sanctuary will make you discover a bit more of Mexico's culture. This is definitely one of the best resorts in all of Tulum to spend your stay, so make sure to check their availability for rooms and suites before booking. Seminaries are also very popular, so book them on time to have the best rates and catch the offers! 
If you have read some Expedia's rating, Diamante K is for sure on top of the list of the best hotels to chill out and relax in Tulum. Close to the beach, with private rooms and suites, an amazing beachfront restaurant, Diamante K is a property that will be able to offer you that hint of luxury in the North area of Tulum's beach. Very close to the jungle, the casa also offers tours in Yucatan and Riviera Maya to discover the beauties of Mexico. 
Mi Amor hotel in Tulum is definitely a hidden pearl and one of our favorite places. With this boutique hotel feeling we are sure it will offer you an unforgettable vacation. Located in the South of Tulum's North beach, it's close to the town as to the beautiful beach. Their suites with a private pool overlooking the beachfront will be the perfect option for your stay, especially a romantic one with your partner. The guests here will feel like they are in a dream, that's why the resort is frequently booked: check out their rooms in the jungle or on the beach here.
Our favorite hotels in the Center of Tulum Beach
The central part of Tulum's beach mixes every good aspect and service of Tulum: proximity to the town, delicious restaurants bringing Mexico's traditional dishes to another level, incredible hotels and resorts to spend your stay, spa, pools and yoga retreats to reconnect with your inner-self. So if you want to be close to everything, but be able to enjoy the beach and the beautiful sea at the same time, this is definitely the Tulum's area you should choose.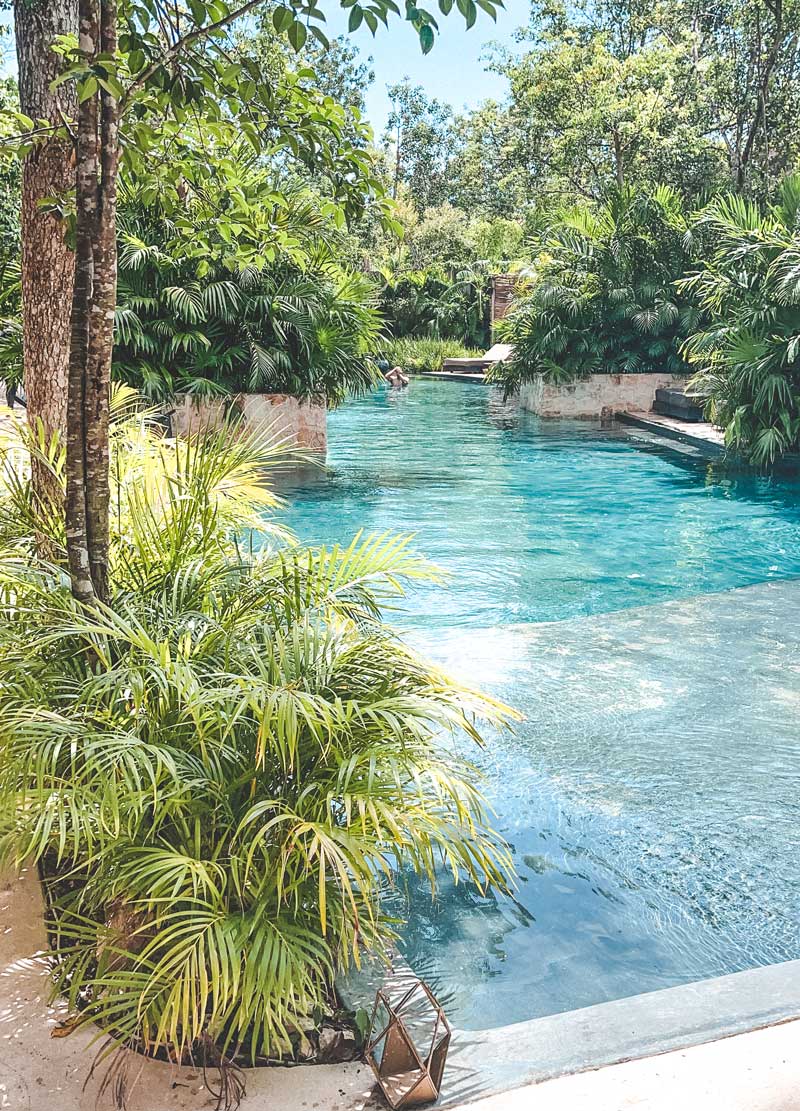 "We Love Pools"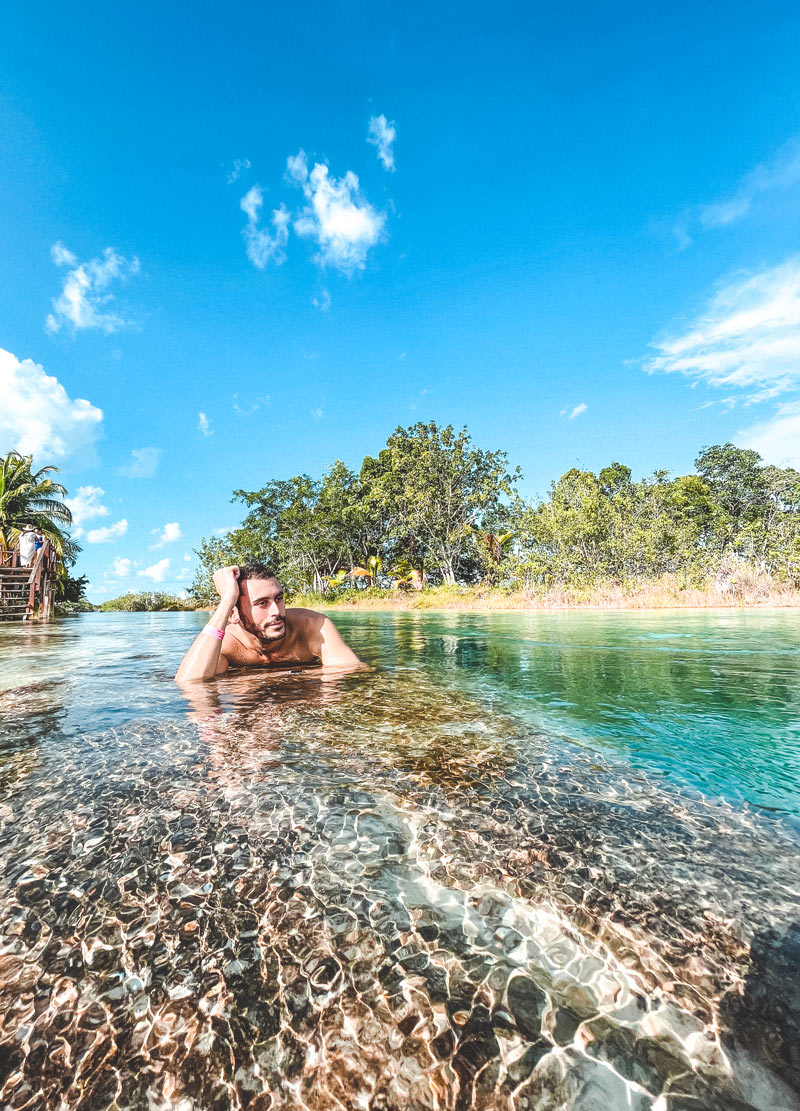 "Especially This One"
Hotelito Azul in Tulum is one of the best hotel for those of you who love rooms with a beachfront view and great food. In fact, almost every accommodation of Hotelito Azul has a view on the beach! Moreover, their restaurant is really great and you will fall in love with their food. They also host many special events or weddings. Their bar is also great and you will spend amazing nights with their cocktails and with the company of the other guests. Hotelito Azul is also very easy to reach because it's located just outside the center at the beginning of the coastal road. Be sure to check their rates and availability here. 
TAGO Tulum offers its guests really special prices for what its property has: great taste in decorating their rooms and suites, the ability to mix the free vibe of nature with luxury, incredible pool with beach view and the amazing restaurant and bar that offers their guests only high quality food and drinks. At TAGO Tulum every dream will become true and you will not want your stay to end. Check out their website and their beautiful rooms here or on their Expedia's page.
Habitas Tulum is a great property (and one of the most loved hotel on Expedia) in Tulum, where you will find multiple independent suites and rooms with your own private terrace or swimming pool. This luxury resort has basically every service you could dream of: a lot of privacy, great outdoor spaces, good price for their accommodation and excellent wifi to be always connected or to work from your room. The views that the resort offers are also breathtaking. Check out its prices and its availability on their website. 
Our favorite hotels in the South of Tulum Beach
The South area of Tulum Beach is the most expensive area of Tulum with Aldea Zama in the center of Tulum's town. So, if your budget permits you to enjoy your stay here, this is definitely the place where all your desires of luxury will become true. Below you will discover our three favorite resorts in this area. Are you ready to see some real beauty? 
Aldea Canzul is one of the most famous resorts in all of Tulum. Almost always booked, it offers its guests everything you could dream of, especially delicious private dinners. Moreover, if you are a foodie, you will be able to try many different restaurants and bars around since Aldea Canzul is located in one of the most dynamic areas of Tulum. People from Mexico and all over the world are coming here, so if you want to make friends and party, that's the place for you. Check out the pools and the suites of Aldea Canzul on their website. 
Hotel Panamera is among the classiest hotels in Mexico. Very close to the beach, where you will also be able to enjoy scuba diving thanks to its clear seabed, Hotel Panamera offers you private rooms and suites with a beachfront view. They define themselves as a lifestyle boutique hotel offering their guests 14 suites, a restaurant and a beach club. If you are searching for a hotel where design is king, that's the one for you: check out their gallery here. 
La Valise Tulum is a perfect resort for those of you who like minimal design mixed with nature. In fact, the accommodation is located in the jungle close to the beachfront, where you will be able to disconnect from routine and stress. This boutique hotel will make you feel like in a nest offering you many luxury treatments, for your body and your mind. If you are searching for a place to regenerate yourself, check their availability and rates here.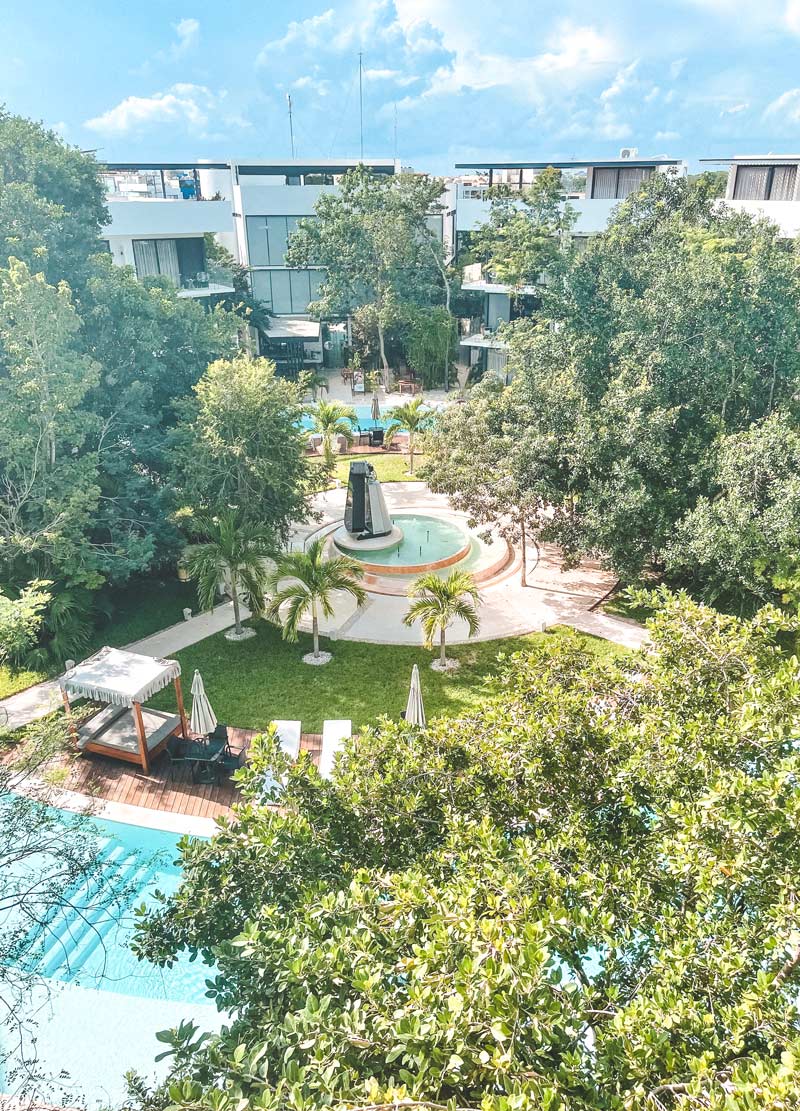 "You Can Also Find Beautiful Resorts"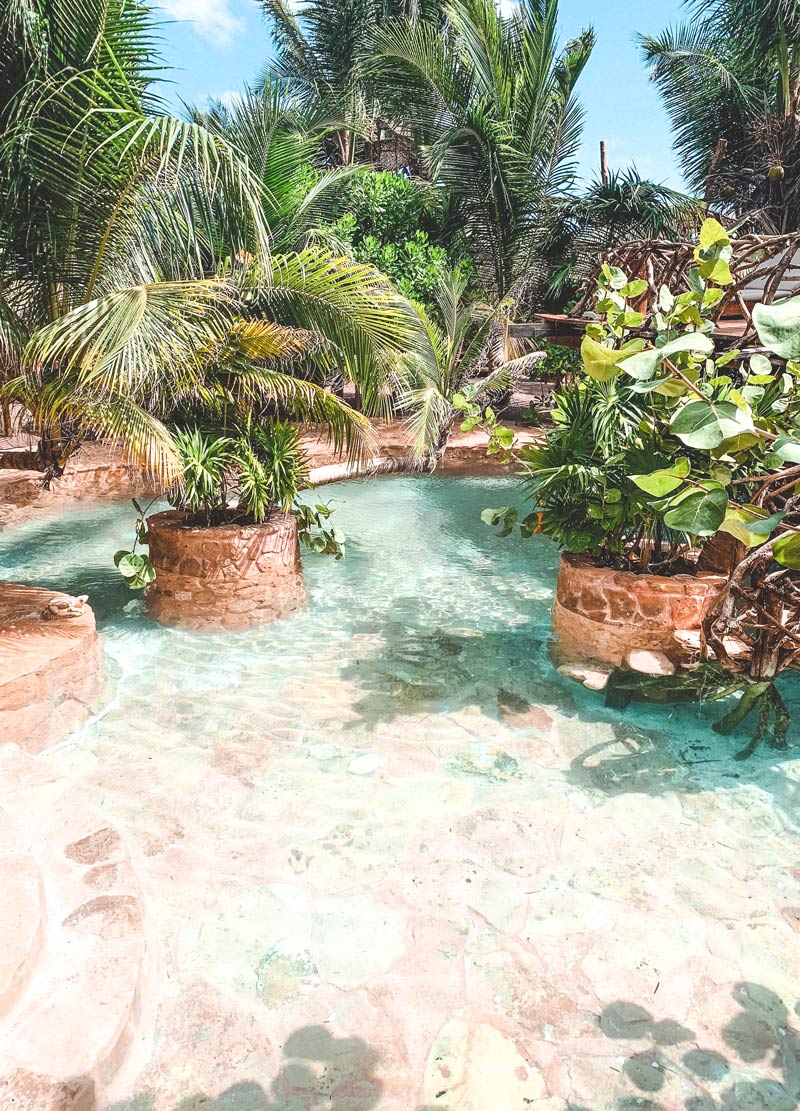 "We Love Tulum's Style"
Our favorite Glampings in Tulum Beach
The concept of glamping is really charming. Feeling the breeze of the ocean and being able to sleep in an outdoor space is something really special. Moreover Mexico and Tulum are the perfect areas to enjoy this concept of hotel. Two glampings in Tulum stole our heart: one is in the Northern area of Tulum's beach and the second one is at the end of the beach, in the extreme South. Are you ready to discover them? 
Casa Nawal Glamping is very close to Tulum Archaeological Site and Playa Paraiso, the most famous of Tulum. Here you will be able to unwind in the jungle, without giving up on luxury. Check out their beautiful tent on the white sand on their website, or visit their Expedia's page for more informations and rating. 
Nativus Glamping & Cenote Tulum
Nativus Glamping & Cenote Tulum is a jungle glamping located close to a beautiful cenote at the extreme South of Tulum's beach. This place is perfect if you want to visit the Sian Ka'an Reserve or the cenotes close by. Be ready to be far away from the chaos of the town, and reconnect to your inner-self thanks to their experiences. 
We hope our list of boutique hotels and resorts on Tulum's beach helps you find the best place to book for your stay. If you have any questions, please write them below and we will be happy to reply to you. Don't forget to share your experience with other travelers if you have already been in one of the hotels. Enjoy your trip in beautiful Tulum! 
Top Events to Make Your Trip Unforgettable
DOMINIK TULUM @MIA TULUM
When: September 9, 2023 7:00 PM
Where: Mia Restaurant & Beach Club, Tulum
🌴 Join Us for An Unforgettable Night at DOMINIK - TULUM at Mia Tulum! 🌴
Friends, clear your schedules and get ready for a magical experience at Mia Tulum! This stunning location will host DOMINIK - TULUM on Saturday, September 9th, from 7 pm to 1 am. This isn't just another event; it's a fusion of nature, culture, and sound featuring an incredible line-up with GIORGIO STEFANO, AUDICTIVE, and MAURO TORRETA. At DOMINIK, you'll find the perfect blend of Tulum's lush jungles and pulsating underground beats, creating an environment where genuine connections blossom.
🎟️ Secure your tickets now:
Early Bird: $575 MXN ($38 USD), includes a welcome drink 🍹 (Limited Availability)
Tier 1: $805 MXN ($52 USD), includes a welcome drink 🍹 (Limited Availability)
Final Tier: $1150 MXN ($75 USD), includes a welcome drink 🍹 (Limited Availability)
Dinner + Party: $1380 MXN ($90 USD) 🍽️🎉 (Limited Availability)
See you there for a night you won't forget! 🎶✨
Ready to join us? Get your ticket now! Early bird tickets are already selling out, secure them at 632 pesos (only 15 tickets available).
Hurry – spots are filling up fast! 🙀 We can't wait to see you there!
Top Parties and Club Events
17th September - ANCESTRAL SOUL @BONBONNIERE TULUM
22nd September - TONY ROMERA @BONBONNIERE TULUM
29nd September - TIM BARESKO @BONBONNIERE TULUM
4th November - HOT SINCE 82 @BONBONNIERE TULUM
13th March - LOCUS Tulum 2024