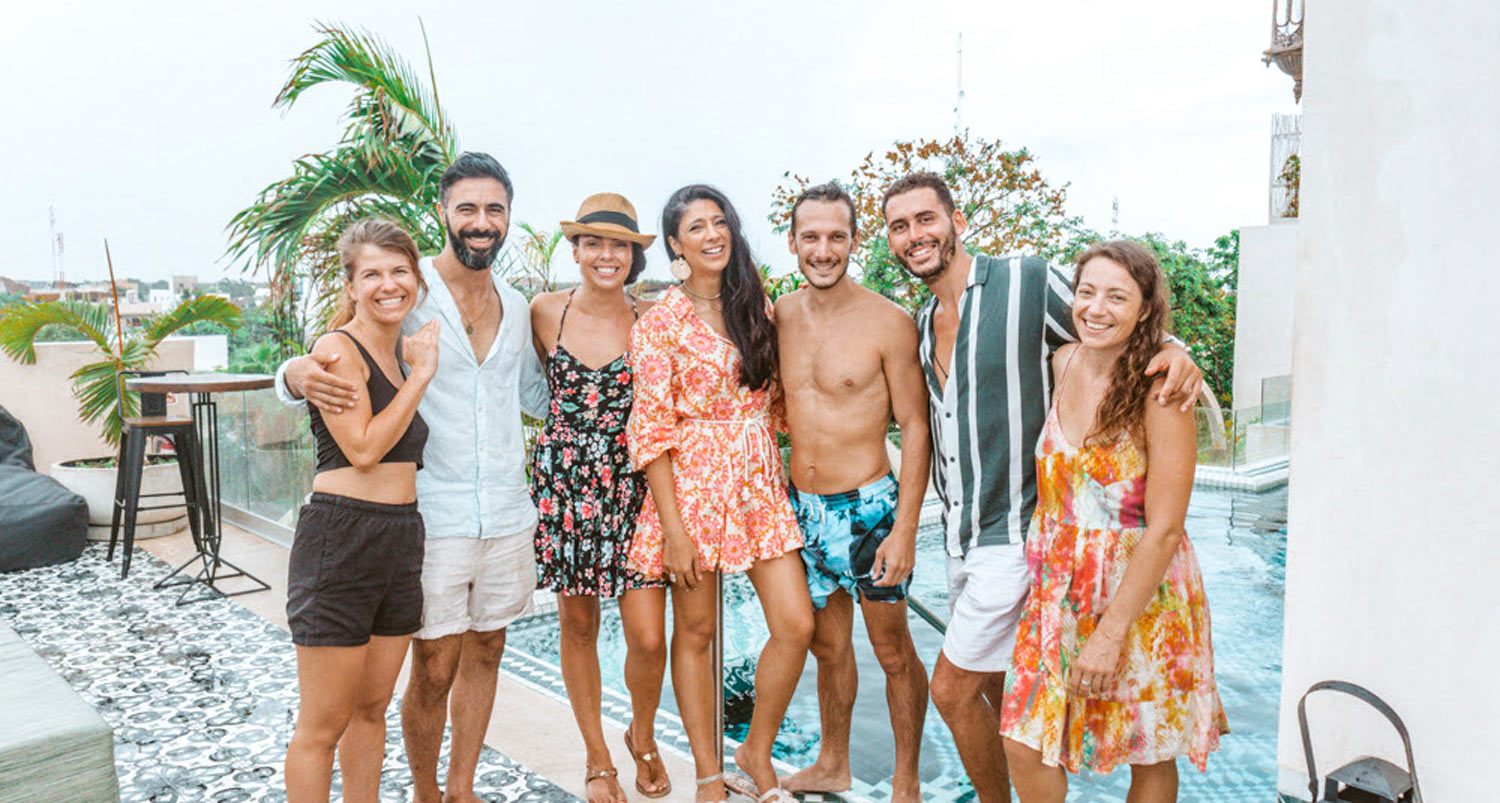 Ultimate Guide of the best Things to do in Tulum
If you are in Tulum and you are undecided whether you should visit a beach or a cenote, explore a new town or the ancient Mayan ruins, travel with a tour to Sian Ka'an lagoon or get lost into the Yucatan jungle with a motorbike, in our ultimate guide on the best things to do in Tulum we tried to give a reply to your dilemmas!
We explored Mexico, and especially Tulum and Yucatan, for over a year and we love to discover new "playa", visit less popular Mayan ruins sites like the one in Coba and try new food in the top restaurants. Check out our guide to organize a perfect trip in Tulum and Yucatan!
*heading to Tulum for the best parties?* – if that's the case, check out how our friend Virginia can help you for free to get the best tables, be on the guest lists and be part of the coolest parties in Tulum. Take advantage of her free service below!
Our favorite places and things to do in Tulum and Yucatan
What to visit and what to experience in Tulum
The best cenotes in Tulum and Yucatan
Cenotes are places where you will have for sure a great experience. Merging into clear water, diving and swimming with turtles and even crocodiles in the middle of the jungles is one of the best things you could ever do during your trip to Mexico. Whether you're going there alone or to dive professionally with a tour guide, we're pretty sure you will want to discover every cenote in Tulum and Yucatan. Moreover, they are pretty affordable and even if you can't swim, you'll be able to have a chill day far away from the chaos of the town. If you're planning a day trip from Tulum, why not combine your visit to a Mayan site with a refreshing stop in one of the many cenotes? We made a list of our favorite cenotes in this area, so check it out! 
Our 5 top cenotes for a day trip from Tulum
Cenote Car Wash
Casa Cenote (with Panchito, its crocodile)
Cenote Escondido
Cenote Noh-Mozon
Cenote Nah Yah (very close to Mayapan ruins site)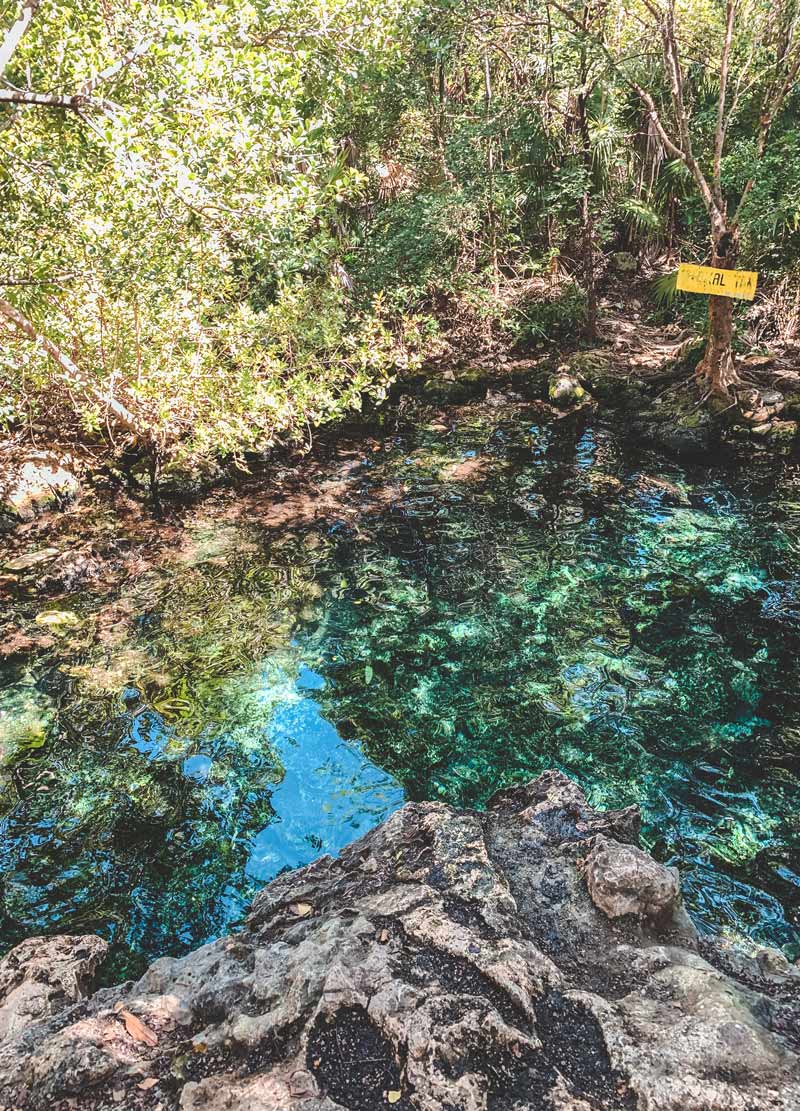 "Cenote In Yucatan"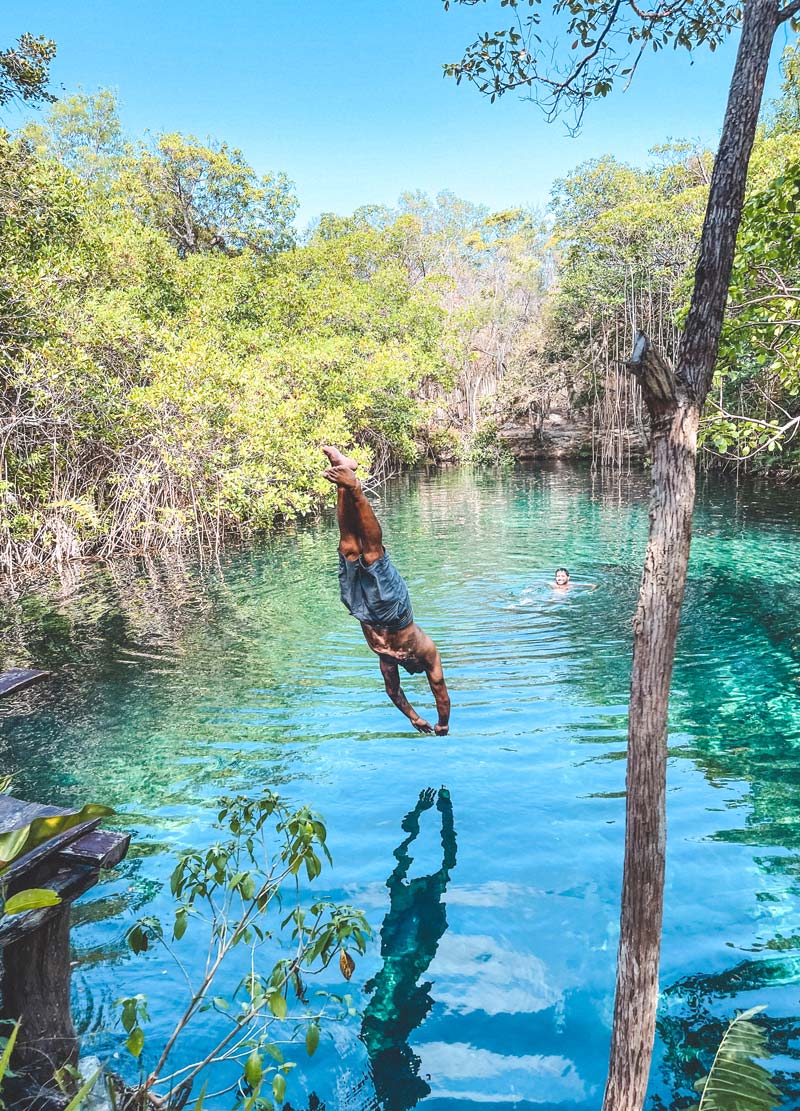 "Robin Jumping Into A Cenote"
White sand and clear water: our favorite beaches
For sure one of the best things to do in Tulum without booking a guide or a tour is a day at the beach. Beaches in Tulum and Yucatan are beautiful and they will stay in your memories forever. In Tulum beaches are located just outside the center area and it will be pretty easy to find them. They are always open and every time is special to explore them. Whether you are going there early in the morning to admire the Mayan ruins site, in the afternoon to play volleyball or in the night to have great food in one of the many restaurants, we are sure you'll fall in love with the playa. Moreover you can just spend the day there, for example in hotels like Delek or Diamante K under a palm tree admiring the ocean: they are between the cheapest and most beautiful restaurants on the beach where to chill. 
Our top 5 beaches to explore in Tulum and Yucatan
Playa Akumal
Playa Chemuyil
Playa Santa Fe
Playa Punta Cocos, Holbox
Playa San Crisanto, Yucatan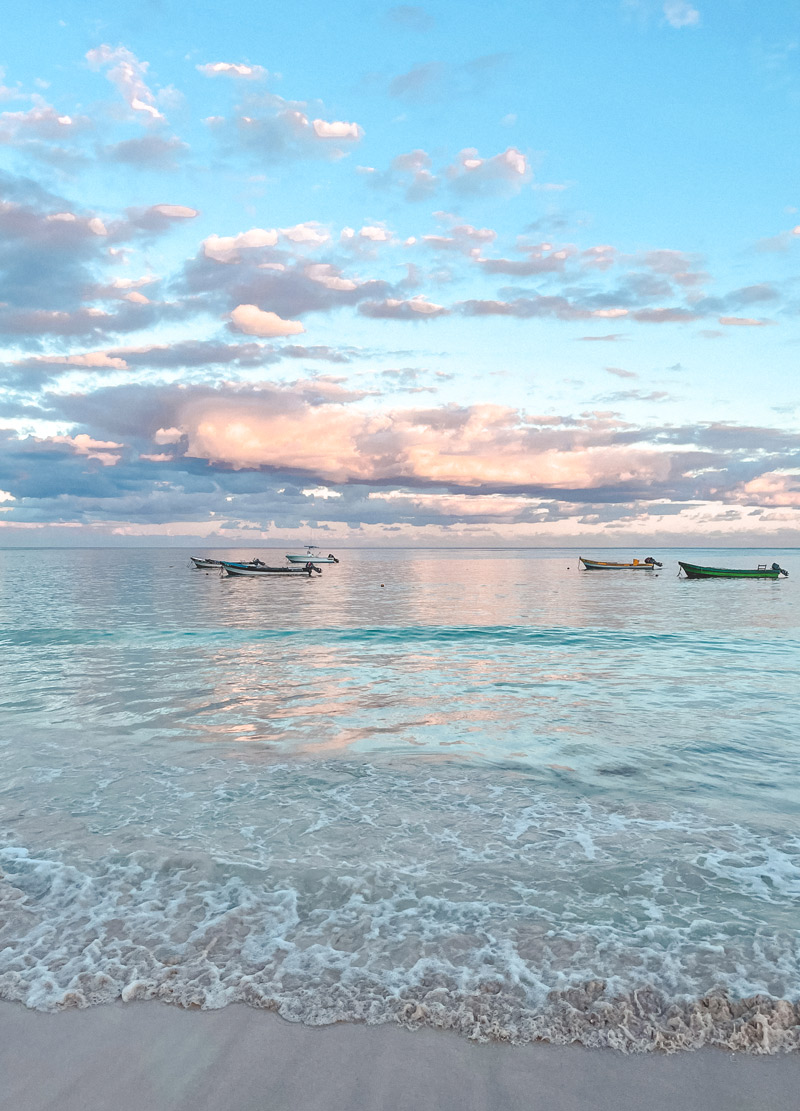 "Tulum Beach"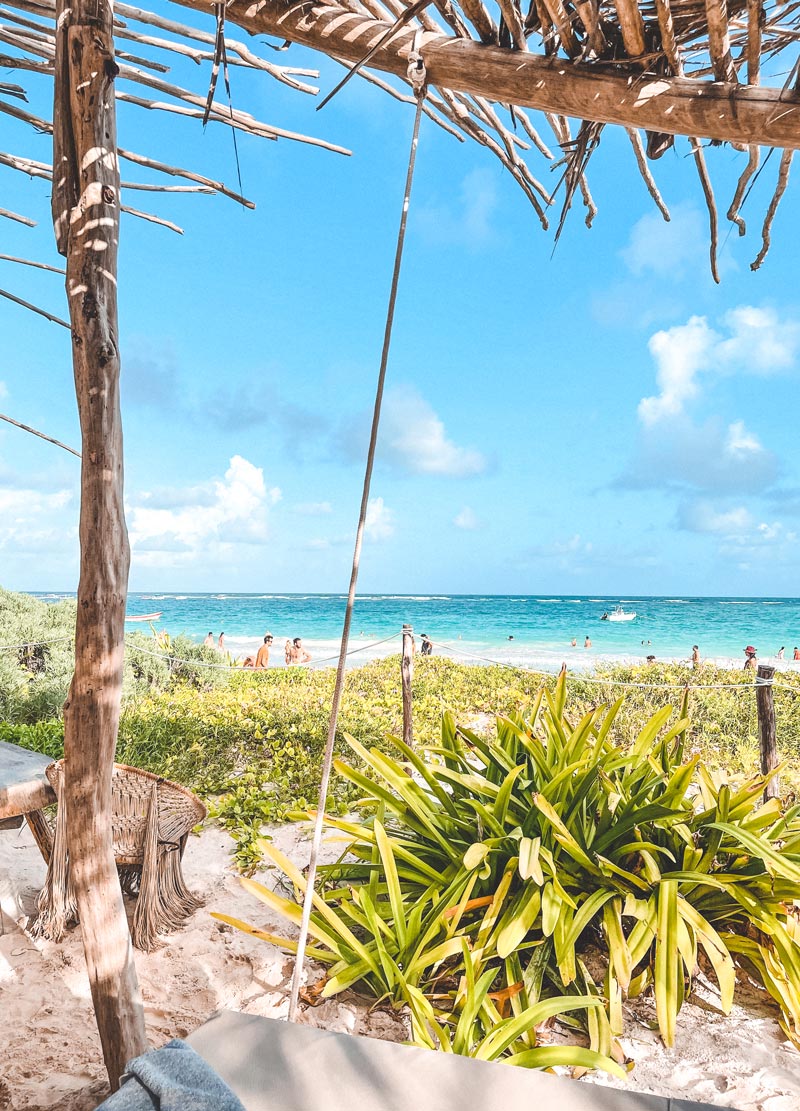 "Turquoise Water"
A unique thing in Mexico: Mayan Ruins
Mayan ruins are a pretty common place to visit during your trip in Mexico. In fact, it's not really difficult to find them! If you are in Tulum, they are located just outside the town and you can reach them in a few minutes. You can also find many small boats on the beach below the ruins offering a small tour to see the Mayan ruins from the sea for a few pesos. On the other hand, if you decide to have a day trip from Tulum to Yucatan, you will find plenty of Maya's ancient ruins sites to explore, from the most famous Chichen Itza to the less known sites of Muyil and Coba. These ruins are completely surrounded by the jungle and you'll feel connected with Mexico's history and nature at the same time. There are also plenty of great tours that include even more than one Mayan site per day if you don't have a lot of time to explore, so don't worry. 
Visit our favorite Mayan sites
Chichén-Itzá
Coba
Muyil
Ek Balam
Mayapan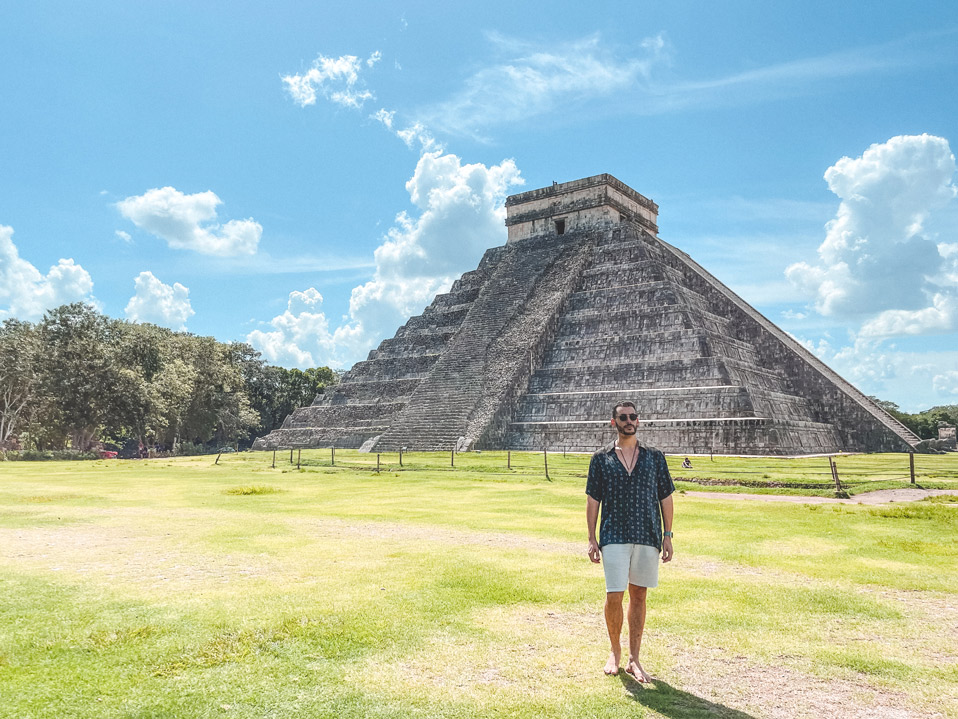 "Mayan Ruins Of Chichen Itza"
Discover Tulum town and the best hotel to unwind
Tulum is a beautiful small town on the Caribbean sea. If 20 years ago tourism wasn't there yet and what you could see were only palm trees and fishermen, nowadays things have changed. But not for the worst. The main street is lively and you will be able to feel that local vibe, especially in the Centro (check out our neighborhood guide here). There are many activities that we love, for example the Tulum Crypto Club on Wednesday afternoon at Cleo restaurant, or the rooftop activities in Hotelito Azul Tulum and Ciel Rose Sunset bar. If you are a digital nomad, a must in Tulum is CoWorking Tulum: a beautiful concept created by two siblings that will permit you to work from beautiful restaurants and hotels and connect with other digital nomads in town. Mystika Museum is another great place to check out. If you want to have a drink, eat some amazing food or party, places in Tulum are countless: among our favorites you find Ikal, Nomade, Be Tulum, Azulik and Casa Malca, Pablo Escobar's home.
The places you should visit in Tulum
Ikal
Nomade
Be Tulum
Azulik
Casa Malca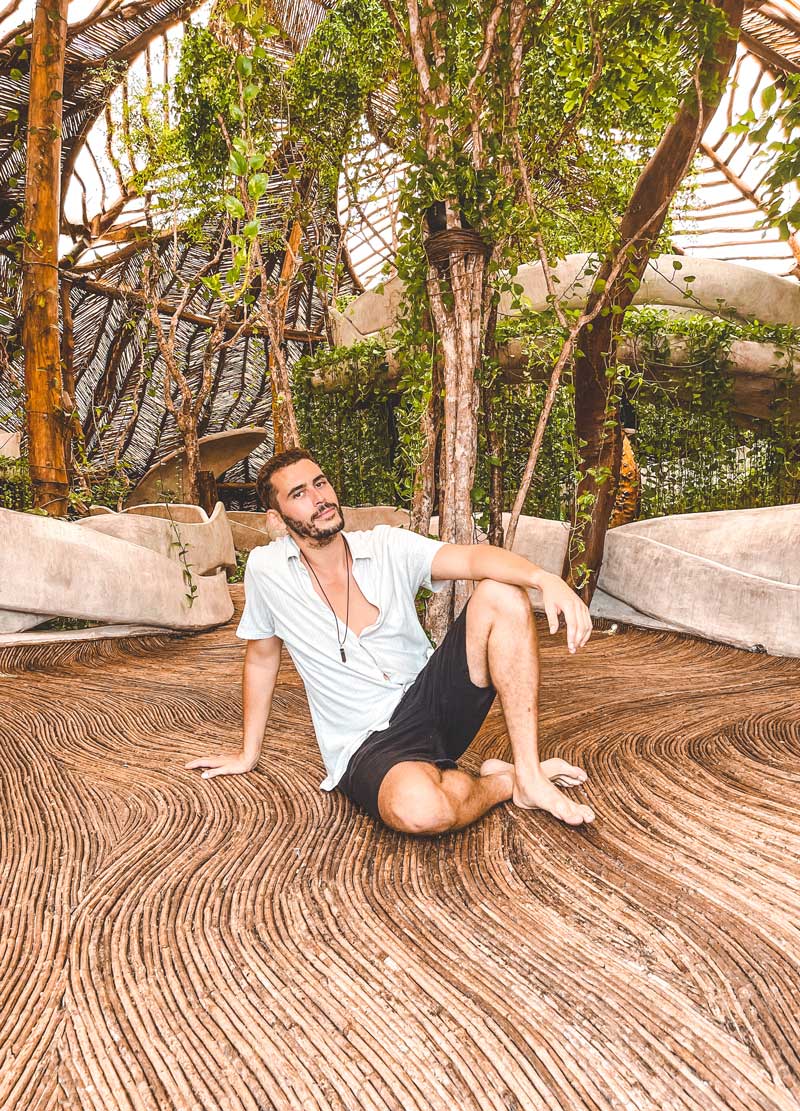 "Eddy In A Popular Hotel"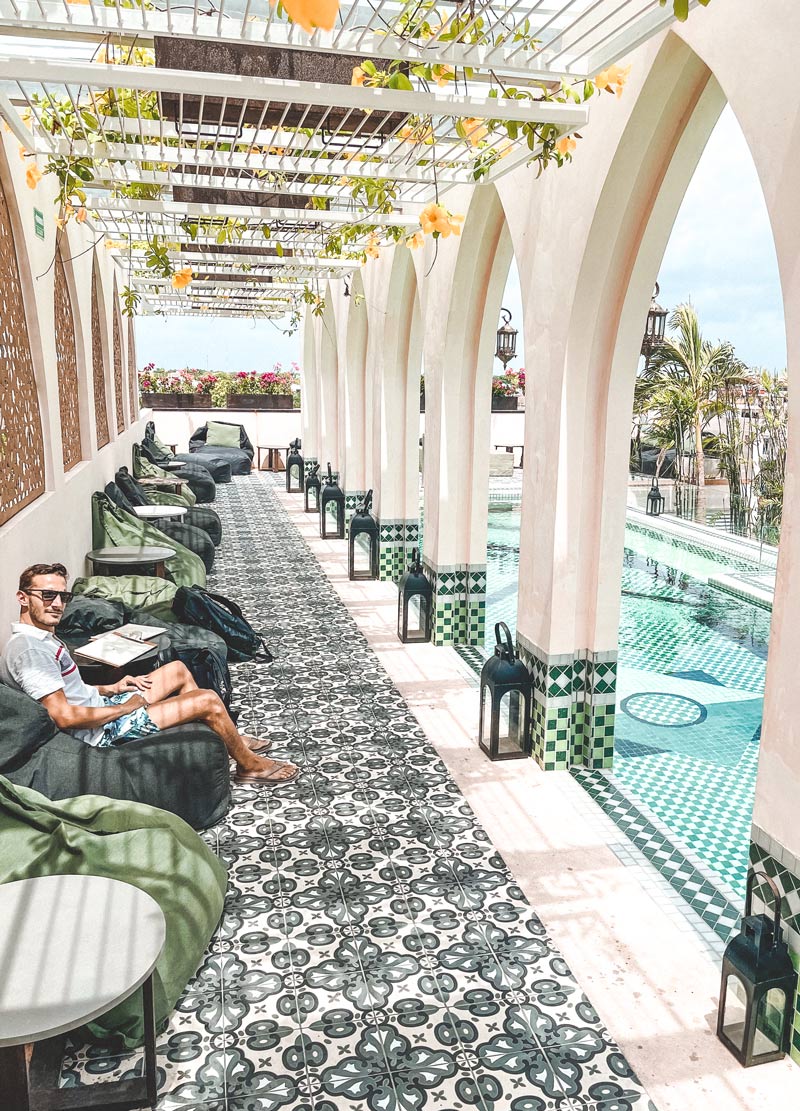 "One Of Our Favorite Hotels"
Discover your inner-self with spiritual rituals in the jungle
Tulum and Mexico mean spirituality. Guided by shamans through incredible experiences, you will be able to explore another part of yourself and the world that surrounds you. There are many meditation groups, as well as many holistic concerts (our favorites are held in Habitas) that will open your consciousness to new paths. In Mexico, Ayahuasca is also very popular and a life changing experience according to who did it. So, yeah, your trip to Tulum can also have a spiritual side you didn't expect.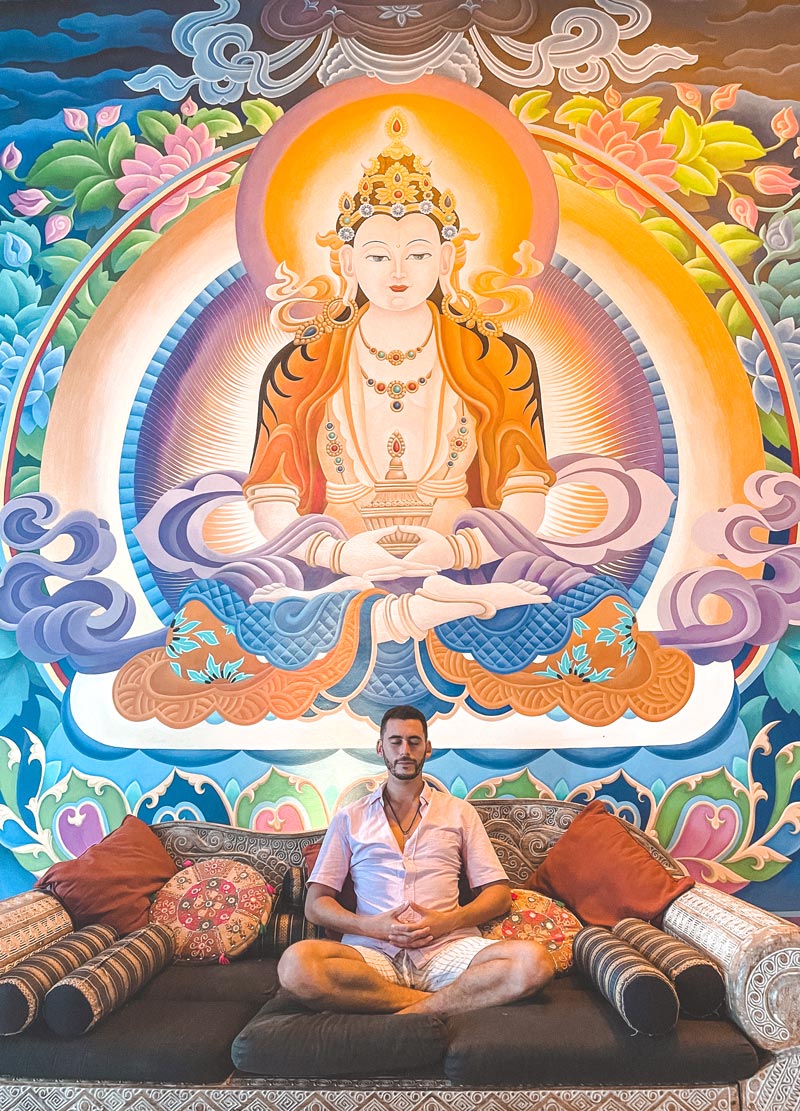 "Meditating Under A beautiful Mural"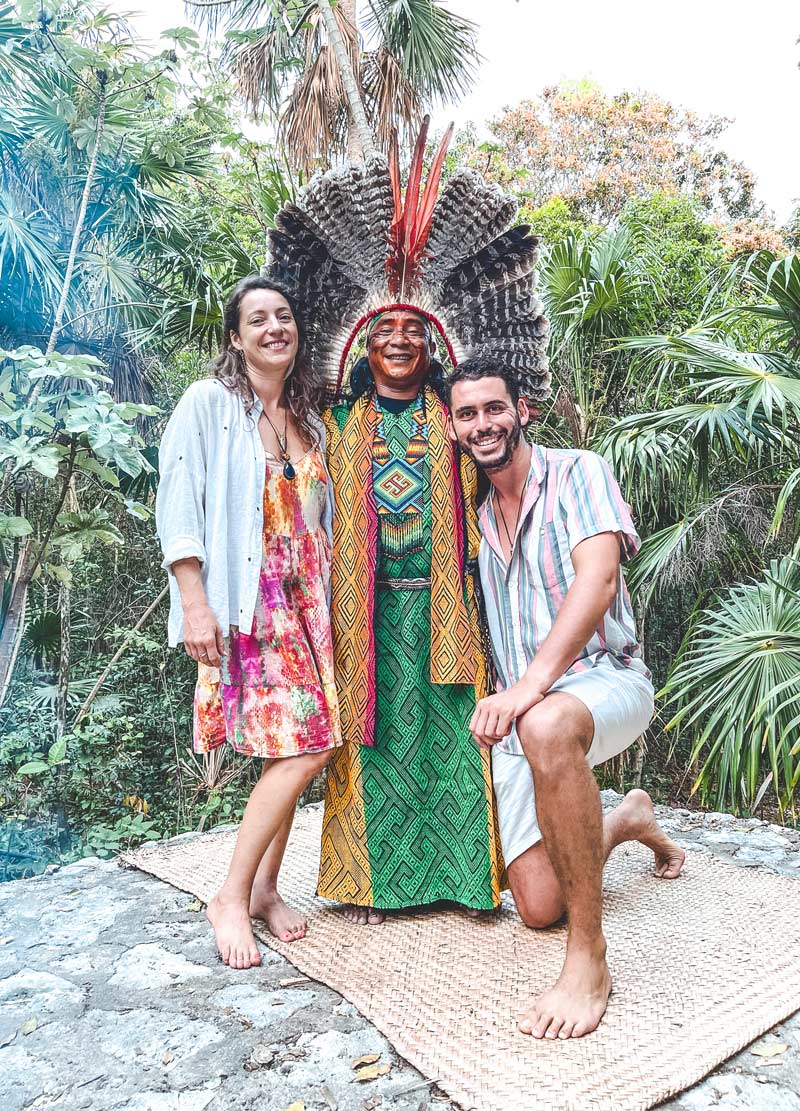 "Eddy And Esther After A Spiritual Rite"
Explore Mexico with day tours
Tulum is a great place to explore the South of Mexico. As we said before, the region is full of beautiful cenotes and beaches, but what about the incredible Sian Ka'an lagoon? Or the amazing clear water in Bacalar? These two places are even pretty close to Tulum: in fact you can reach them by car or motorbike in less than one hour. Sounds perfect for a day trip isn't it? There are also many tours ready to make you discover the amazing fauna and the unspoiled jungle there if you don't want to drive or venture too much. If you are into diving, then Isla Mujeres, Cozumel and Playa del Carmen will be some places to check out for some immersion in couples or with friends. For those who are brave, you can even swim with whale sharks in the area of Cancun from June to September, of course guided by a tour guide. If you are a cenote lover and you're planning a few days away from Tulum, visiting Yucatan and its major cities, Merida and Valladolid, is a great idea. You will also be able to see an incredible architecture left by the Spanish influence.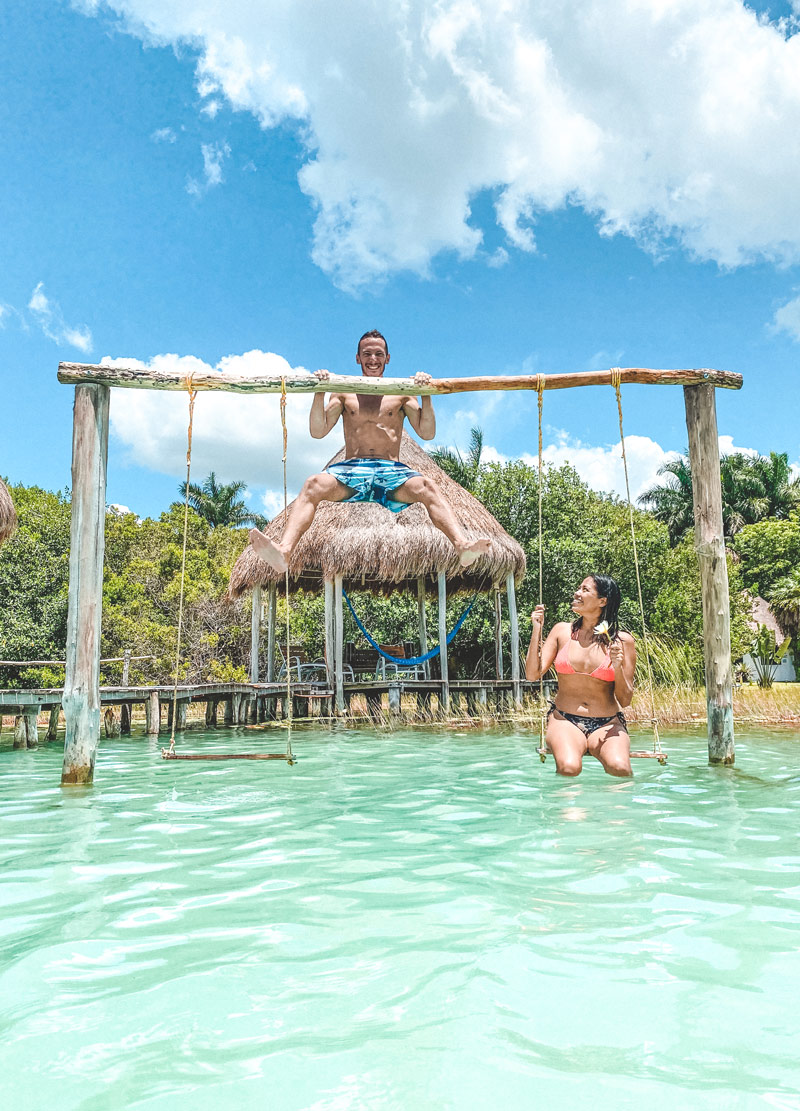 "Enjoying Sian Kaan Lagoon"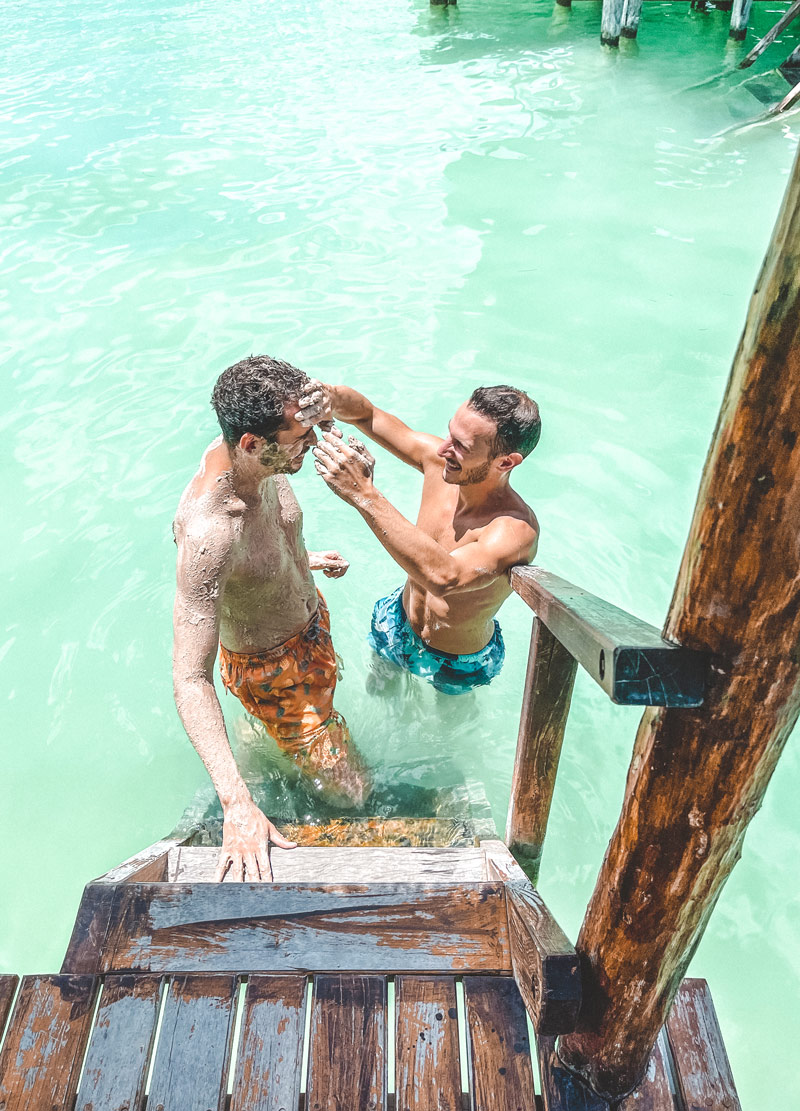 "Natural Muds Are Really Good For The Body"
how to move from Tulum or Cancun: car or motor-bike?
Tulum and Cancun are well connected with all the region, with buses or colectivos, so if you don't want to drive in Mexico it will not be a problem. If you want to rent a car or a motorbike, then you will not have to worry: the main streets have clear signage and it's not dangerous at all to drive in Mexico. Another thing is to buy a car or a motorbike, but we'll talk about that in another article. Just remember: make sure you have all the documents of the vehicle and your own. Police checks are frequent along the road, especially if you are a foreigner, so if you have everything in order you shouldn't have problems.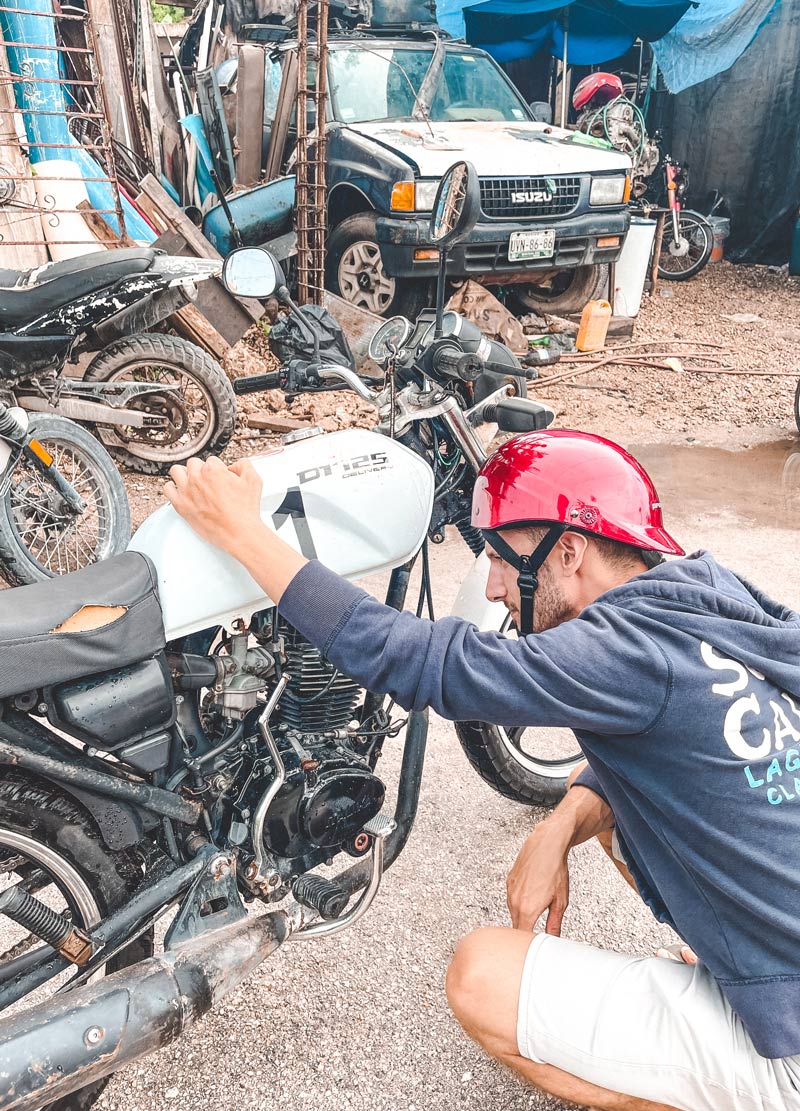 "Checking Our New Bike"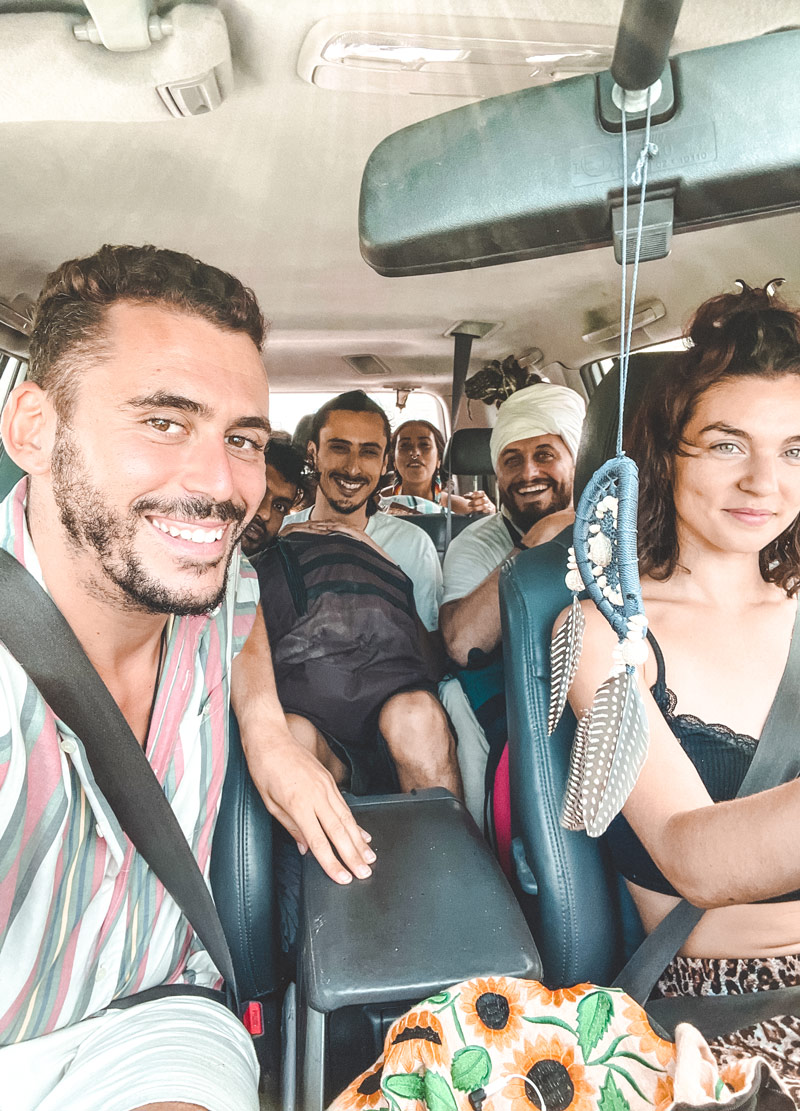 "Travel With Friends"
Eat the best food in our favorite restaurants
Tulum is a paradise for foodies! Here you will not only be able to find Mexican or Mayan dishes, but you'll have every kind of food. Restaurants can be a bit more expensive in Aldea Zama or at the beach, but in the center you will be able to eat incredible food at a cheap price. Moreover kitchens are pretty much always open at any time during the day. We made a list of our favorite restaurants in Tulum and also the best places to have breakfast or eat on the beach, so don't forget to check them out. Saikuk, Mestixa and Layla Hotel are also great places to unwind, eat some incredible dishes (many are also coming from the Yucatan tradition) and taste delicious drinks.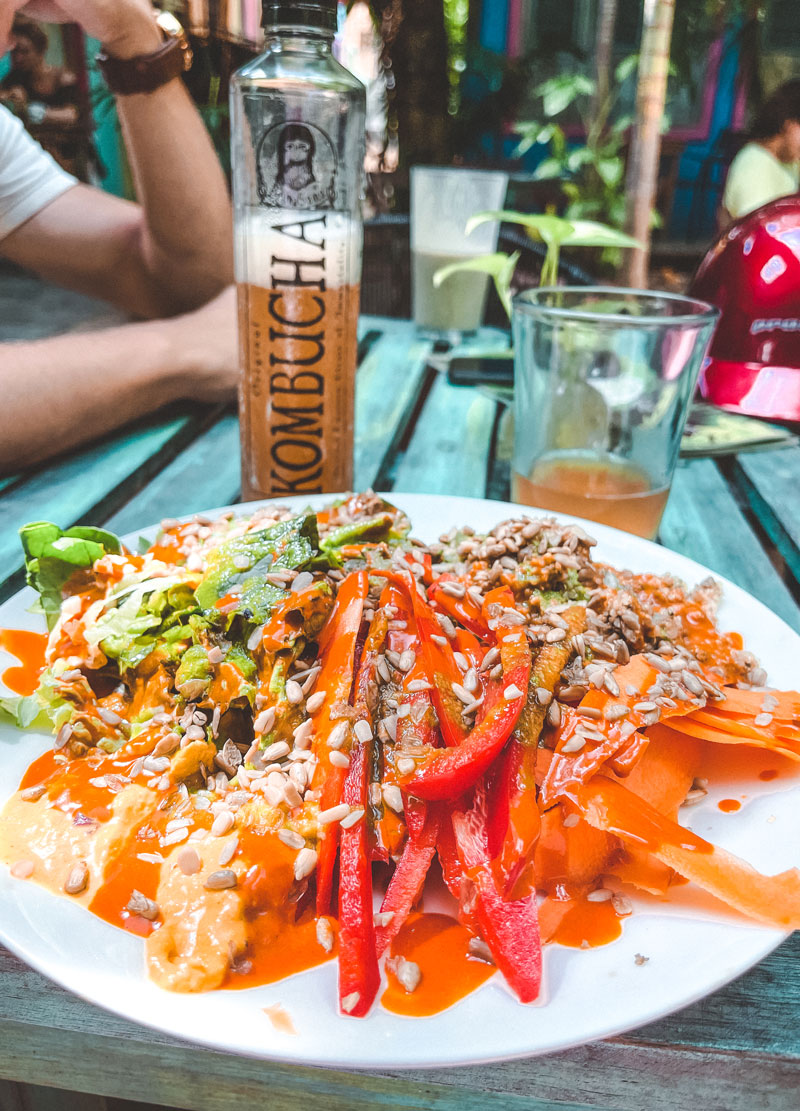 "Great Vegan Salad"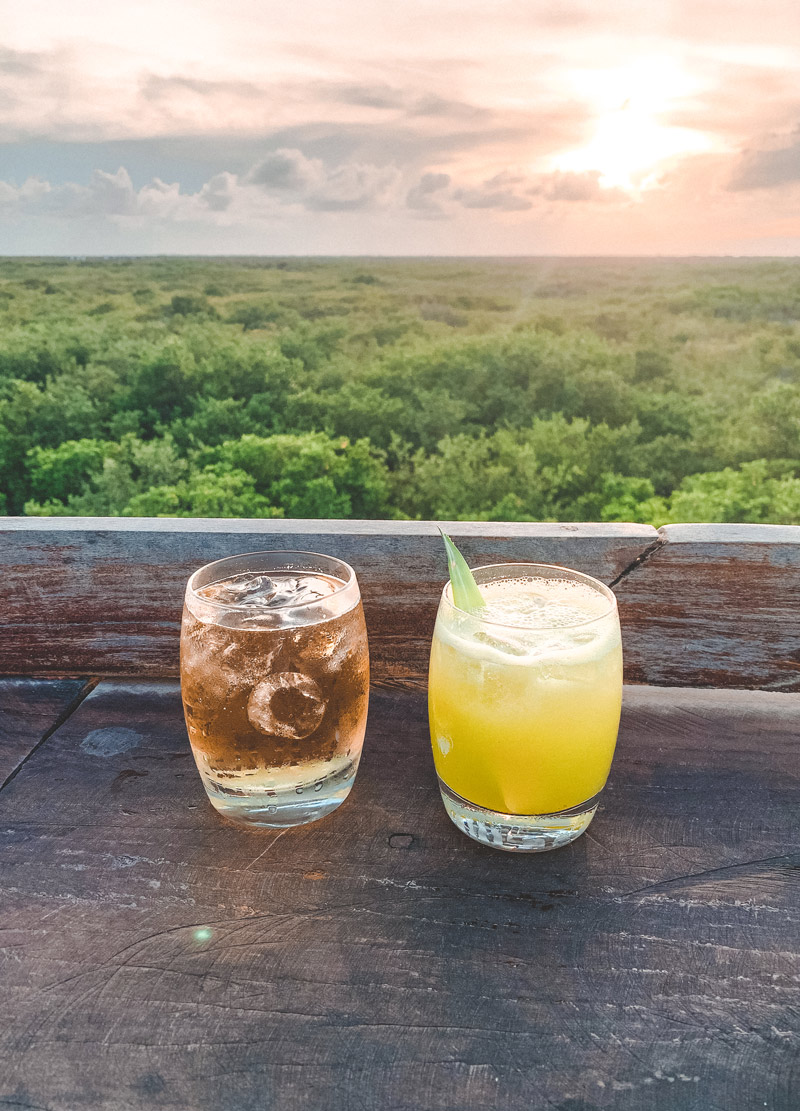 "Cocktails With A View"
The best places in Tulum for yoga
As we said before, Tulum is a place that will make you discover your spiritual side. As well as with meditation, Tulum is full of places to practice yoga. Holistika in La Veleta, close to the main center of Tulum, is one of our favorite places to take care of our mind and body. As well as Ikal, their beautiful shalas and ceremonies (our favorite is the sunrise one). Even if you never practiced yoga before, here you will find many teachers and a perfect environment to start practicing it. After a relaxing yoga session, we love to cuddle ourselves at Yäan wellness Healing Spa. You'll thank us later!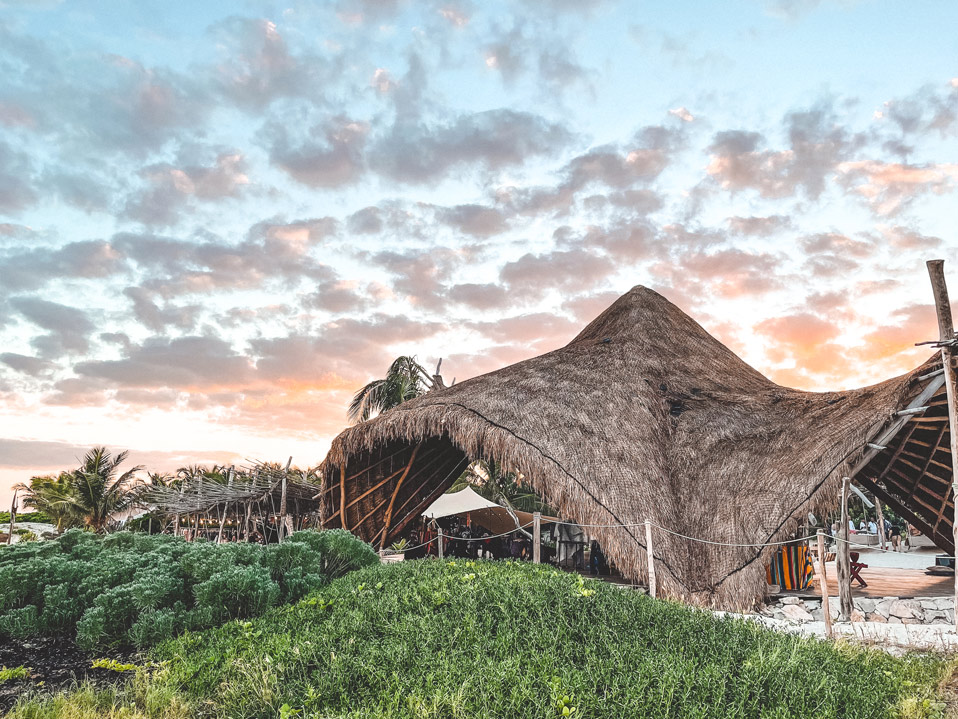 "A Yoga Shala By The Beach"
Where to party and make friends in Tulum
In Mexico it is easy to make friends because people are really outgoing. Even if you don't speak Spanish, in Tulum you will find many people and even local speaking English, so no boundaries at all. From January to April Tulum is full of amazing festivals, helded at the beach as well as in the jungle. There are so many events that meeting people will not be a problem. If you are a digital nomad like us we really recommend you to join CoWorking Tulum to attend dinner parties and an everyday office life to create a beautiful network with people from all over the world. Who knows, maybe you will also be able to collaborate with them one day. 
Take Advantage Of Free Concierge Service
As excellent to explore Tulum and its surroundings alone, you may need help figuring out where to start. To make the most of your money and time, contact Virginia and Kelly - two incredible Mexican girls living in Tulum for more than 15 years. They're familiar with the ins & outs of the Tulum town and hotel zone like the back of their hand! 
Since we arrived in Tulum 2 years ago, many adventures wouldn't have been possible without their help - they know literally everybody in Tulum and can perfectly organize every moment of your stay. Get the best tables, skip queues and get on the guest list of the coolest places in Tulum - this's only the beginning! 
They are ready to offer you guys FREE concierge service in Tulum for the time of your stay: take advantage of it, contact them on Whatsapp and live the best experience!
Get FREE Concierge Service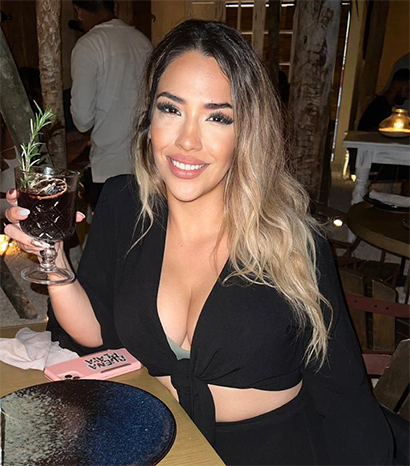 "Virginia Will Transform You In A Tulum Insider"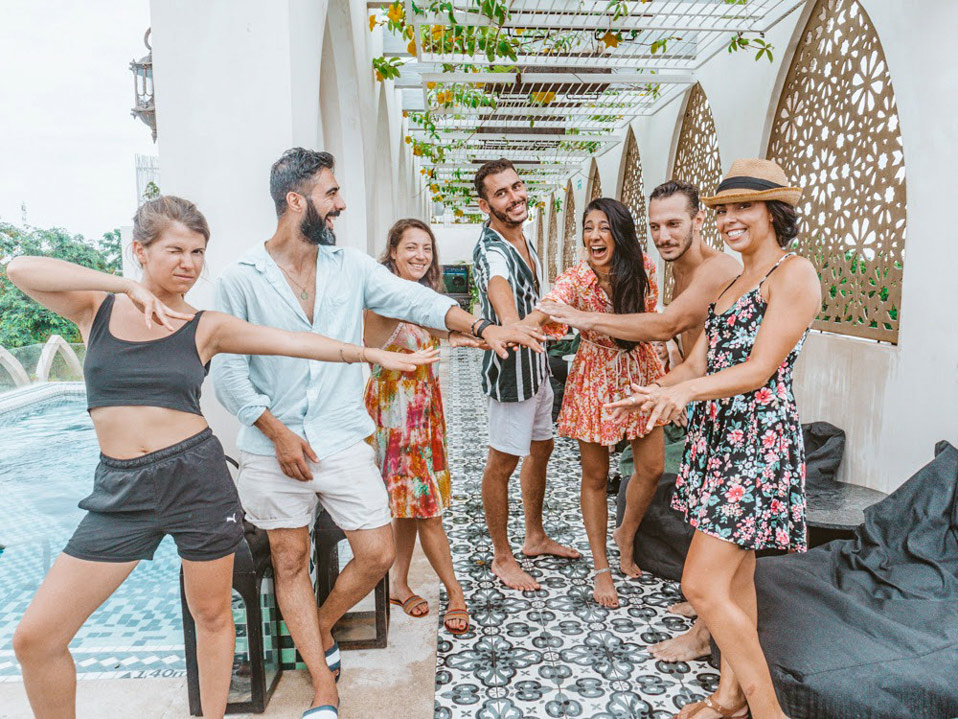 "Sharing Experience With Friends"
We hope we gave you some great ideas of things to do to explore Tulum and Yucatan, and if you are organizing your trip to Mexico don't forget to check out our other articles. Please, share your experiences with other travelers below or if you have any questions we'll be happy to give you our advice. See you in Tulum! 
Top Events to Make Your Trip Unforgettable
DOMINIK TULUM @MIA TULUM
When: September 9, 2023 7:00 PM
Where: Mia Restaurant & Beach Club, Tulum
🌴 Join Us for An Unforgettable Night at DOMINIK - TULUM at Mia Tulum! 🌴
Friends, clear your schedules and get ready for a magical experience at Mia Tulum! This stunning location will host DOMINIK - TULUM on Saturday, September 9th, from 7 pm to 1 am. This isn't just another event; it's a fusion of nature, culture, and sound featuring an incredible line-up with GIORGIO STEFANO, AUDICTIVE, and MAURO TORRETA. At DOMINIK, you'll find the perfect blend of Tulum's lush jungles and pulsating underground beats, creating an environment where genuine connections blossom.
🎟️ Secure your tickets now:
Early Bird: $575 MXN ($38 USD), includes a welcome drink 🍹 (Limited Availability)
Tier 1: $805 MXN ($52 USD), includes a welcome drink 🍹 (Limited Availability)
Final Tier: $1150 MXN ($75 USD), includes a welcome drink 🍹 (Limited Availability)
Dinner + Party: $1380 MXN ($90 USD) 🍽️🎉 (Limited Availability)
See you there for a night you won't forget! 🎶✨
Ready to join us? Get your ticket now! Early bird tickets are already selling out, secure them at 632 pesos (only 15 tickets available).
Hurry – spots are filling up fast! 🙀 We can't wait to see you there!
Top Parties and Club Events
17th September - ANCESTRAL SOUL @BONBONNIERE TULUM
22nd September - TONY ROMERA @BONBONNIERE TULUM
29nd September - TIM BARESKO @BONBONNIERE TULUM
4th November - HOT SINCE 82 @BONBONNIERE TULUM
13th March - LOCUS Tulum 2024