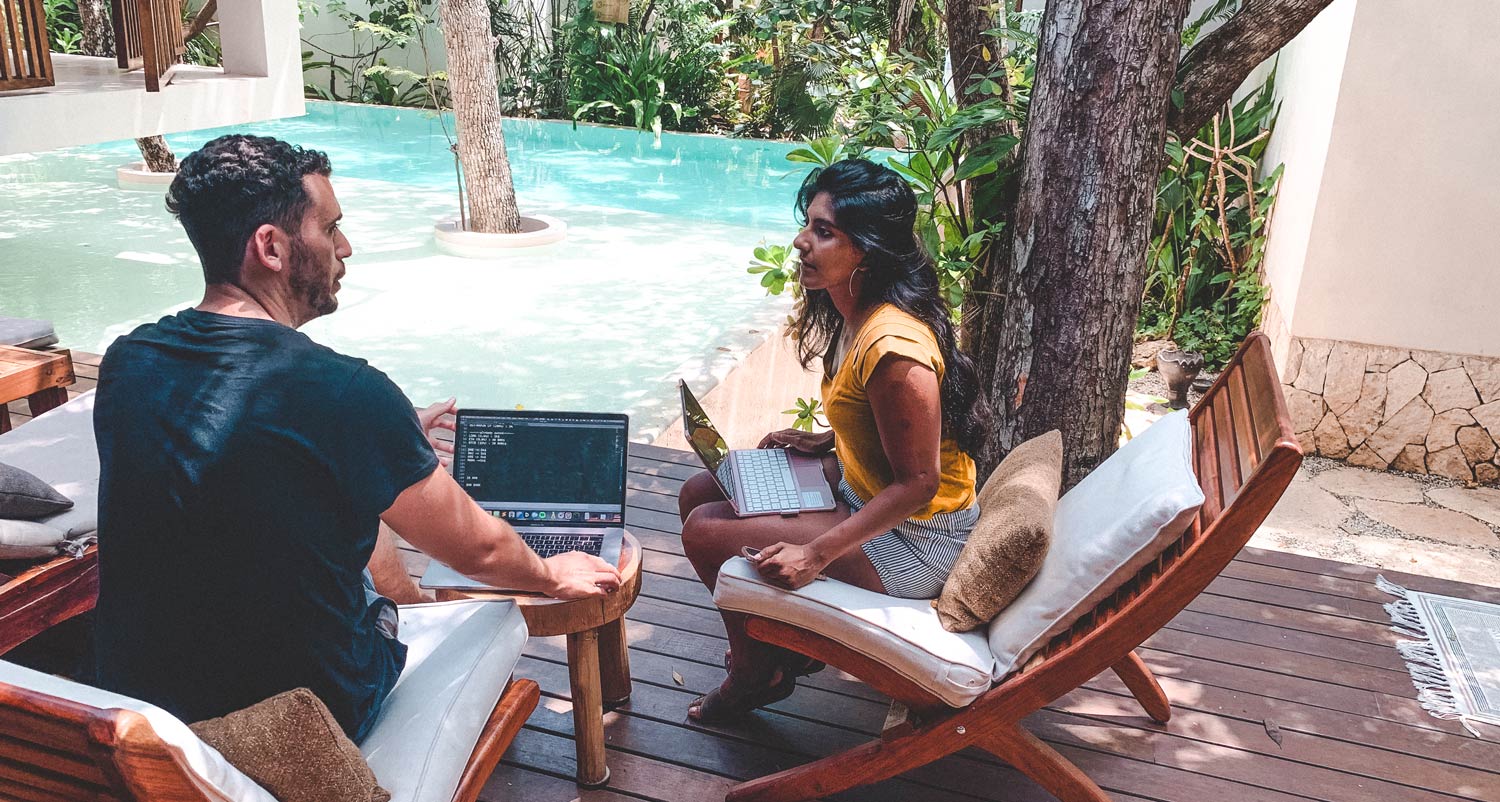 Where to stay in Tulum: Our neighborhood guide
Tulum, a lively town melting with a chilled white beach surrounded by jungle, is one of the area you should visit during your travel to Mexico. This apparently small town has it all: amazing hotels with a pool in the center, many luxury boutique hotels on the beachfront, great restaurants (even with Mayan cuisine) and many archaeological ruins all around. Whether you're staying in Tulum on a budget or you want to treat yourself during your stay with a hotel with a private pool in Aldea Zama, a luxury neighborhood of Tulum, you will be able to have a great experience in any case.
Discover in our Tulum's neighborhood guide which is the best zone to book your resort, or if you prefer sharing your travel with other guests in a hostel in the Centro or staying long term in a room or an apartment with a shared pool. Check out our Tulum's Travel Guide before coming to Mexico to find out all the tips and the best places before you travel!
If you like us, want to avoid Airbnb fees make sure to check out the incredible FREE concierge service of Virginia and Kelly. Check out more information below!
Neighborhood Map of Tulum
The Typical Mexican Pueblo: El Centro De Tulum
The Centro of Tulum is lively and it's the best zone to start discovering the town. In this area you'll find supermarkets, many free rooms for rent, plenty of restaurants from the typical cuisine to a more international or vegetarian one, top spa to unwind after a shopping day, and you'll not be so far from the most beautiful beaches and cenotes. The Centro is usually very crowded, so if you're searching for peace, prefer staying in the South of the city. There you'll find Aldea Zama or La Veleta, two places where most expats and travelers live.
Why staying in the Centro neighborhood?
If you're on a budget and you know you will spend your money on parties in the jungle or at the beach, then booking a hostel or one of the many hotels of the city will be for sure the right thing to do before you travel. If you're searching for a more private area, with less noise and calmer, then you should keep on reading about the other areas of Tulum located outside from the center and the main road.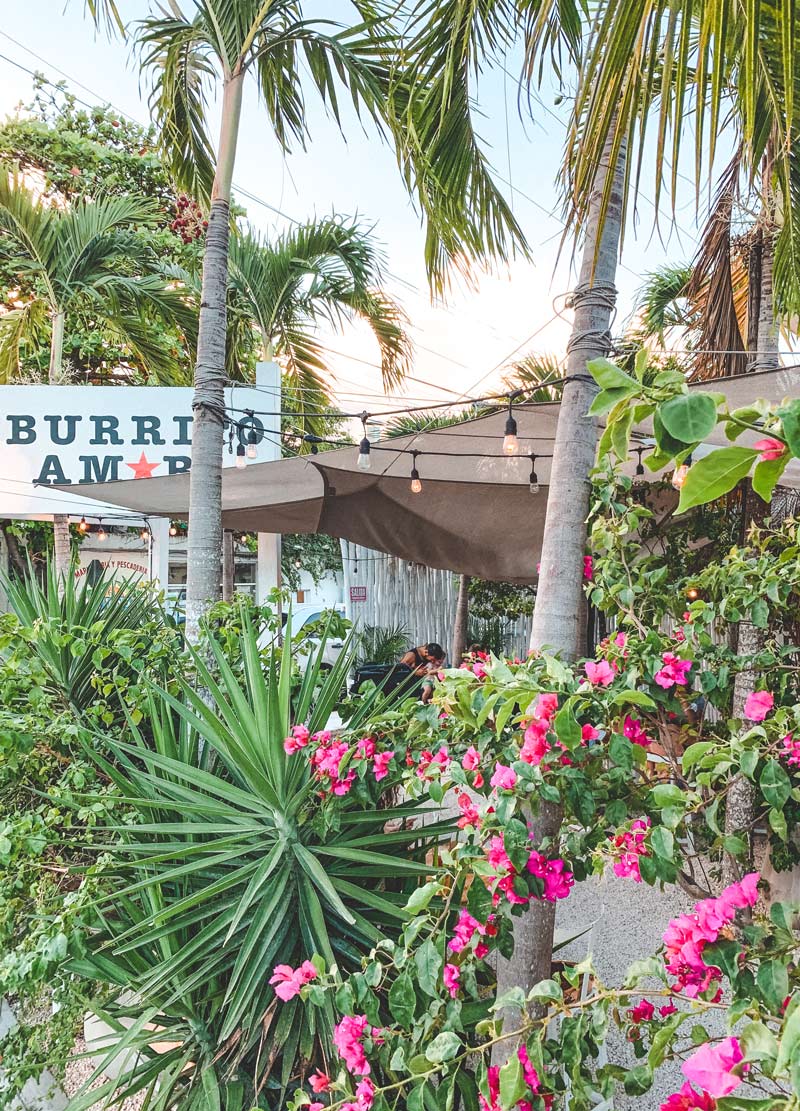 "Best Burritos In The Centro"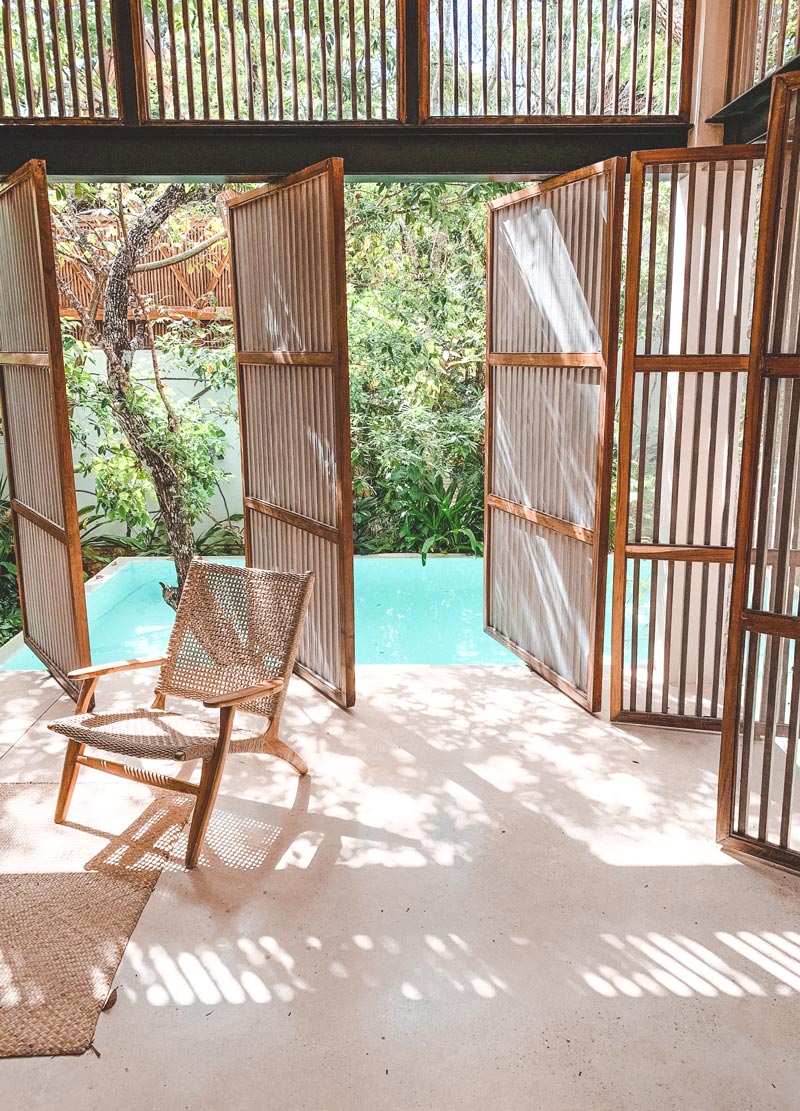 "Beautiful Places To Work From The Centro"
La Veleta, Tulum popular zone
This place is heaven for travelers who want to book a long-term apartment, room or boutique hotel. Here's where the expats are concentrated and where it will be easier for you to make friends. Not crowded like the Centro, La Veleta is full of beautiful small restaurants and "casa", the way Mexicans call private houses. Here you can find a casa with a private pool in a small garden that will feel like a jungle, more rooms to have space to host your friends or to share the whole house. We lived here and we really love this place: it's definitely the best to visit Tulum!
Why staying in La Veleta area?
If you will book your stay in La Veleta, most probably you made the right choice. In fact whether you're planning your travel on a budget or not, this zone will fit you perfectly. Not too far away from Tulum's Mayan ruins or the beach, here you're right where cool people, affordable restaurants, nice hotels and relaxing spa are.
Book A Car At The Best Car Rental In Tulum
We were planning some trips in Yucatan to explore cenotes and we desperately needed a car! It's not always easy to find the best deal and moreover - not to get scammed. We ran into Virginia, a really kind girl, during a yoga session in La Veleta. That's how we found out Virginia is renting cars and her business is really cool.
After seeing her bran new cars, we saw the super convenient prices she was applying and we decided to try her service out. We had an incredible experience - transparency, no need for deposit on our credit card, a lot of flexibility and kindness - in a nutshell: we loved our experience at BGH Car Rental and we can't recommend you any better company in Tulum especially during high season when the car rental market goes wild.
Rent a car at 40 usd per day with full coverage insurance and unlimited kilometrage today!
Book Your Car At The Best Price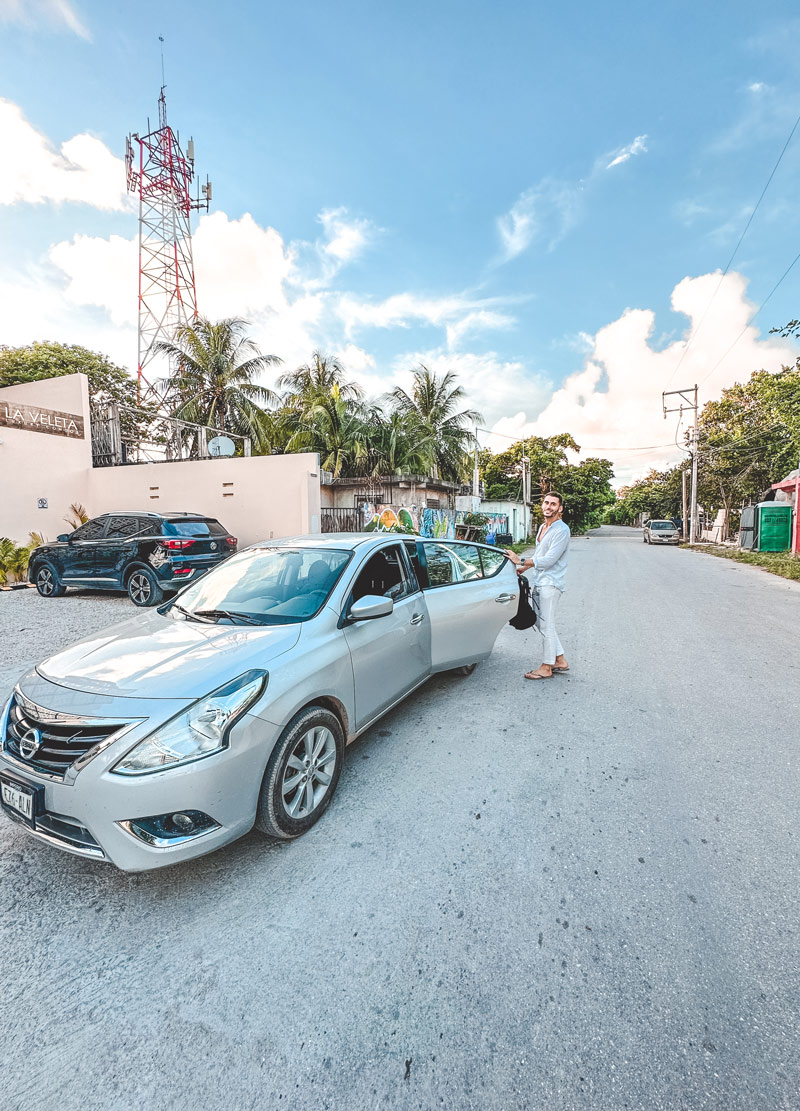 "Nissan Versa Was Perfect For Us"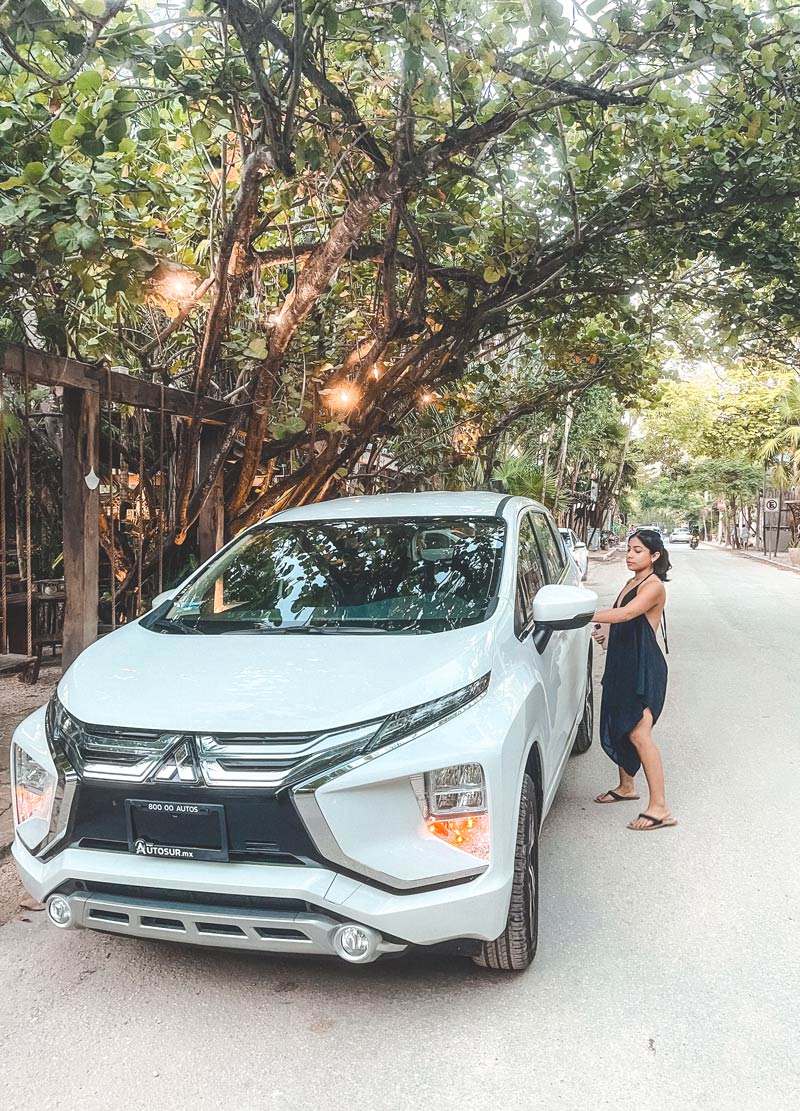 "Xpander Is The Best Car For Day Trips"
Aldea Zama, The Posh Area Of Tulum
As you saw on the title, if your travel is on a budget, then this shouldn't be the place to book your stay. In Mexico you can find many beautiful boutique and luxury hotels with great rooms, and Aldea Zama has a high concentration of them. Private parties close to the pool, eating every night at a different restaurant with amazing chefs, sounds dreamy but that's actually Aldea Zama lifestyle. Located in the South compared to Tulum's Centro, here you will be farther from Mayan ruins, but way closer to the white-sand beach, especially if you rent a scooter.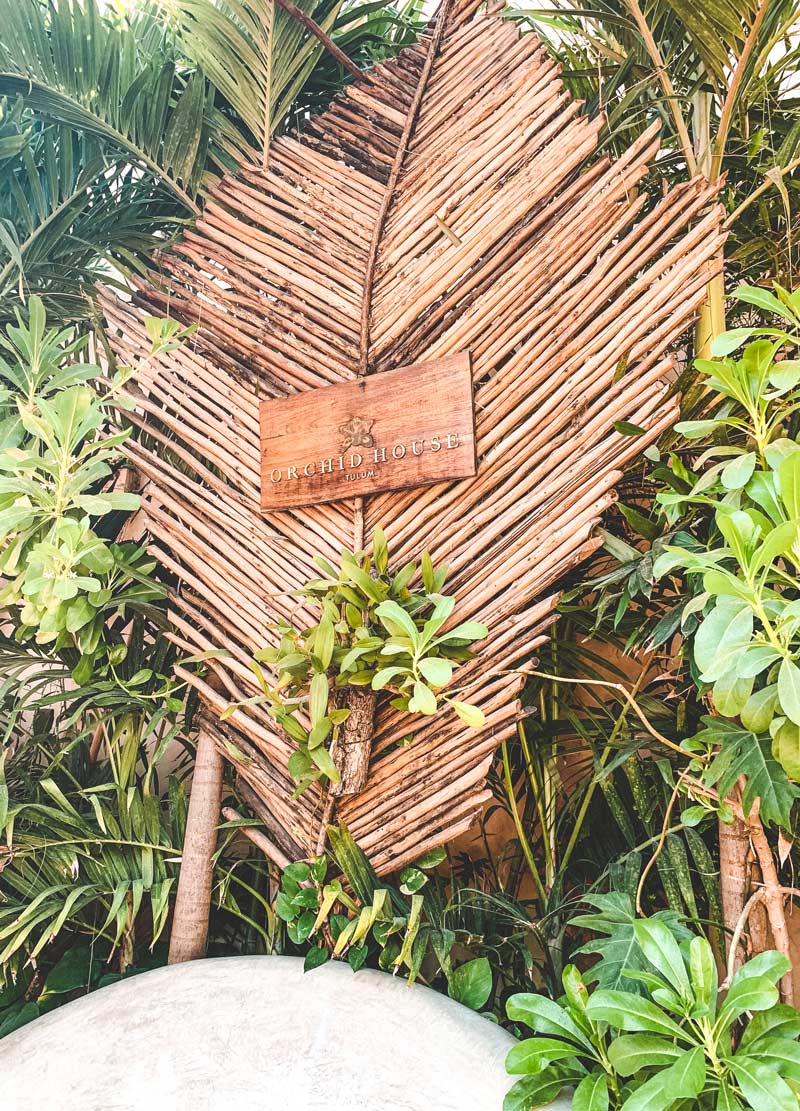 "Aldea Zama And Its Elegant Style"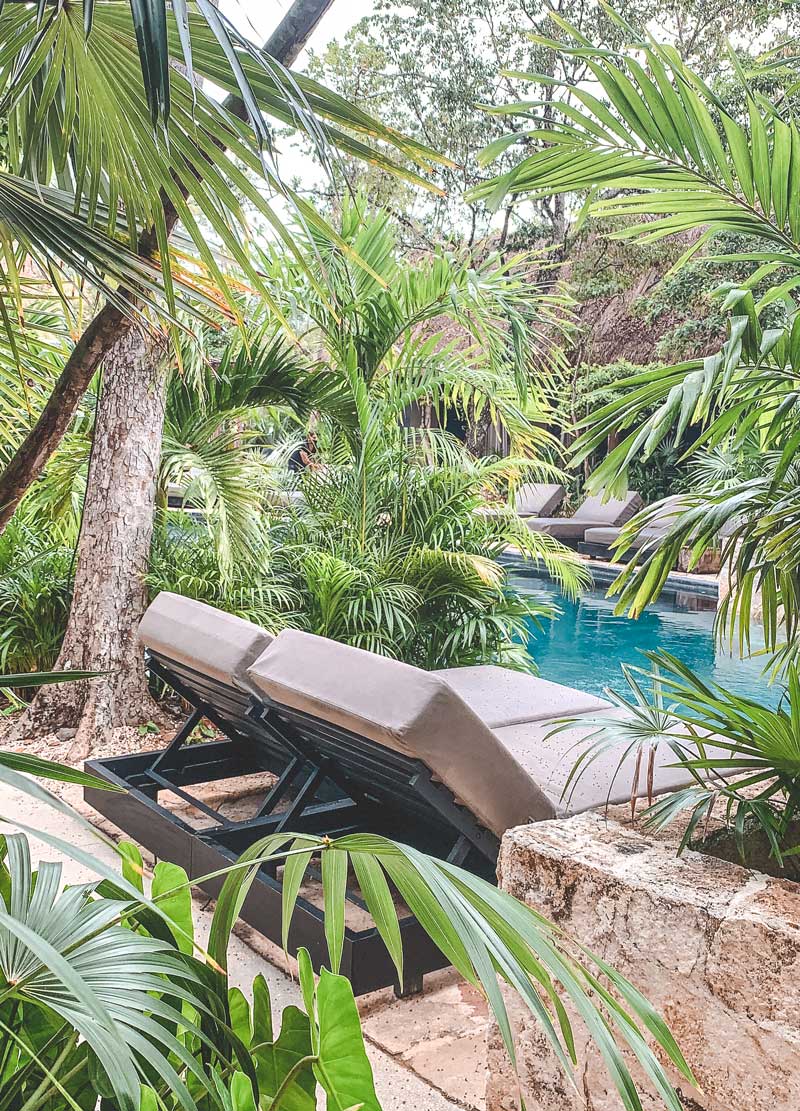 "Hotels Are Amazing In Aldea Zama"
Why staying in Aldea Zama neighborhood?
If you are searching for luxury, Aldea is definitely the best area in Tulum. The proximity to the beach is one of the reasons that make people book a hotel or a room here. Yeah, because sometimes from the Centro it can take you up to an hour to reach the playa and that can be really annoying. Aldea is also a pretty private zone, so you will not have to walk in crowded streets like on the main road in the Centro.
Tulum Beach And The Zona Hotelera
This area located in the South of Tulum has one side with the best beaches in Mexico and the other with jungle. This area is perfect for travelers who will not stay a long period in Tulum. In fact, there's the highest concentration of resort with private restaurant and hotels with great rooms. For sure the view on the white beach is guaranteed and just think about the privilege you will have by doing yoga alone in the morning beachfront. Tulum Beach is definitely the dreamiest zone.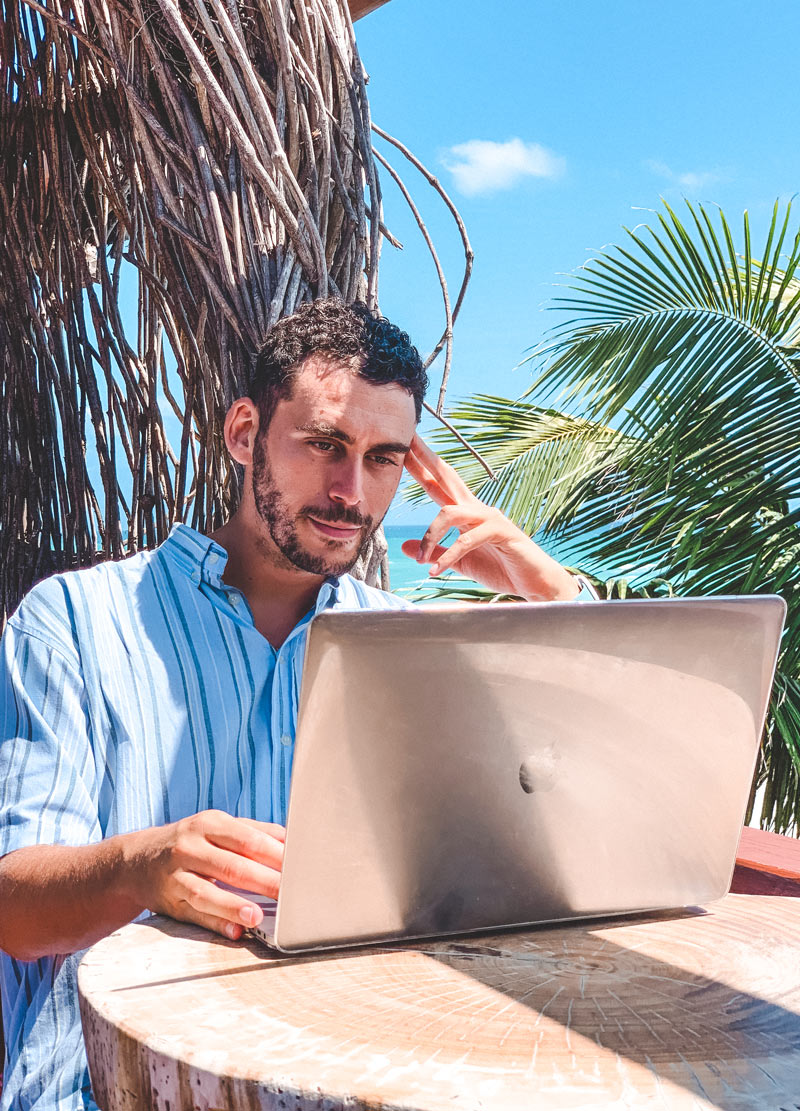 "Eddy Working From The Beach Zone"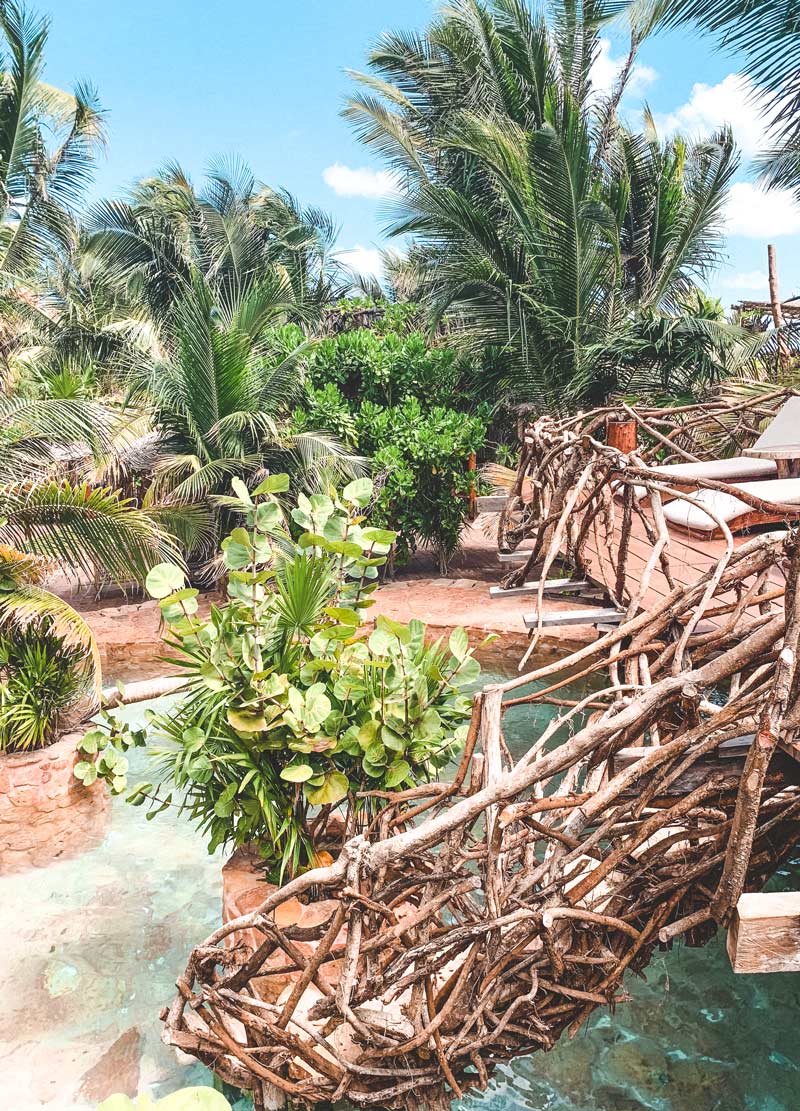 "Kanan In The Zona Hotelera"
Why staying in Tulum Beach neighborhood?
If your stay will last a week or two and you want to be in a great hotel, this place is the best. You will be able to choose between many beautiful rooms with private a pool and you will not be far away from the town. We're sure that when you check the resort out, you will be spoilt for choice. In the beach area you'll for sure make friends with other guests or travelers. If you are staying in the city center, don't worry: beaches are free in Tulum, so you can enjoy them without booking a beachfront hotel here.
Take Advantage Of Free Concierge Service
As excellent to explore Tulum and its surroundings alone, you may need help figuring out where to start. To make the most of your money and time, contact Virginia and Kelly - two incredible Mexican girls living in Tulum for more than 15 years. They're familiar with the ins & outs of the Tulum town and hotel zone like the back of their hand! 
Since we arrived in Tulum 2 years ago, many adventures wouldn't have been possible without their help - they know literally everybody in Tulum and can perfectly organize every moment of your stay. Get the best tables, skip queues and get on the guest list of the coolest places in Tulum - this's only the beginning! 
They are ready to offer you guys FREE concierge service in Tulum for the time of your stay: take advantage of it, contact them on Whatsapp and live the best experience!
Get FREE Concierge Service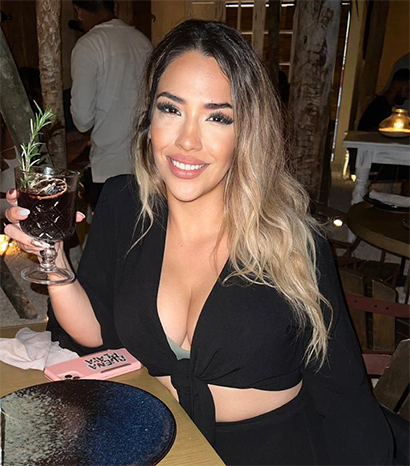 "Virginia Will Transform You In A Tulum Insider"
Dangerous areas to avoid in Tulum
Dark and empty places in Centro at night
At night, prefer staying on the main road in the city center, where everything is illuminated by street lamps and other travelers are around. We heard a few stories of some hotel guests being robbed at night and we always kept our eyes open. Moreover, the Centro has some pickpockets targeting the tourists too, so pay attention.
The Tulum's beach zone alone at night
We advise you not to walk on the beach alone at night because some robbers can be around the corner, especially if you're far from hotels or if you're leaving a party and maybe you drank too much. So, stay close to your friends and reach the main road when leaving a party.
Check out the travelers group in Tulum
There are many Whatsapp groups where travelers that are staying in Tulum share live news and advise you to avoid certain places if some issues with the drug cartel happened. So pay attention and check the news: nothing will happen, maybe you'll just have to avoid a zone for an afternoon or a night, but being safe is definitely more important.
We hope our Tulum's neighborhood guide helped you choose the perfect zone for you before starting your travel to Mexico. If you have any questions, share them with us and other travelers below: we will be happy to share our experience with you!
FAQ about Tulum Neighborhoods
How many neighborhoods are there in Tulum?
Tulum has four main neighborhoods: The Centro (also known as Tulum Pueblo), Aldea Zama, La Veleta,and the Beach Zone (Zona Hotelera).
What is The Centro in Tulum like?
Tulum Town is where you'll find a bustling atmosphere with a mix of locals and tourists, lots of restaurants, bars, shops, supermarkets, and more budget-friendly accommodation options.
What is Tulum Beach Zone like?
The Beach Zone is known for its white-sand beaches, turquoise waters, and luxury boutique hotels. It's where you'll find high-end restaurants, beach clubs, and yoga retreats.
What is Aldea Zama like?
Aldea Zama is a newer, planned residential and commercial area located between Tulum Town and the Beach Zone. It's becoming a hub for upscale dining and shopping.
Is it better to stay in Tulum Centro or in Tulum Beach Zone?
Whether to stay in Tulum Centro or Tulum Beach Zone, it depends on what you're looking for. If you want beach vibes, then the Beach Zone is absolutely your place. Tulum Centro is budget-friendly and offers local shops and markets- it's the perfect place to immerse yourself in the city's heartbeat.
How far is Tulum Centro from the Tulum Beach Zone?
Tulum Centro is about 5 km from Tulum Beach Zone, and you can go from one place to the other in just a 20-minute bike ride, or a quick 10 minute drive.
What is the party zone in Tulum?
Both Tulum Town and the Beach Zone are party zones in Tulum. Tulum Town has a more casual, local vibe, while the Beach Zone offers chic beachfront bars and clubs.
Where can I go grocery shopping in Tulum?
There are several supermarkets in Tulum Town, such as Chedraui, a big supermarket where you can find water bottles, groceries, clothes, and more! 
Can I rent a bike to get around Tulum?
Yes, you can rent a bike to get around in Tulum! Renting a bike can be a fun way to explore the area, especially between Tulum Town and the Beach Zone.
Is Tulum safe for tourists?
Tulum is generally safe for tourists. Just try to avoid lonely and unlit areas, like deserted beach roads, especially in the night.  
Where should I stay in Tulum for the best beach access?
For plenty of options with beach access, the Beach Zone offers numerous hotels right on the beach.
👉 FRIDAY, Dec 1
OPENING PARTY X TEN IBIZA 🎉🍹
🎧
ORIOL CALVO, BASTIAN BUX, VITE
📩
Contact Virginia
here
to book a table
💵
First Release Tickets: Mex$ 550 (incl. fees)
Don't miss out on the chance to join us in "A Journey into House Music" tonight at Vagalume. Contact Virginia here to secure your spot for an unforgettable evening! 🌟🍹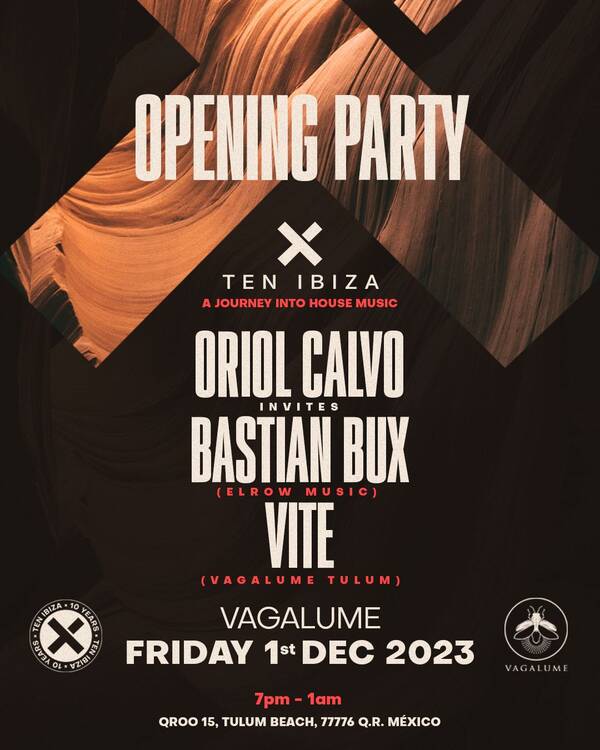 Top Parties and Club Events
23rd November - VAGALUME SESSIONS KEENE @VAGALUME
26th November - VAGALUME SUNDAZE MITA GAMI @VAGALUME
30th November - VAGALUME SESSIONS VALDOVINOS @VAGALUME
3rd December - VAGALUME SUNDAZE VALENTIN HUEDO @VAGALUME
7th December - VAGALUME SESSIONS MUSTAFA ISMAEEL @VAGALUME
30th December - PIKNIK POLO CORP & LEO LEONSKI @VAGALUME
31st December - NEW YEAR´S EVE @BAGATELLE TULUM
31st December - NYE PARTY 2024 @VAGALUME
13th March - LOCUS Tulum 2024