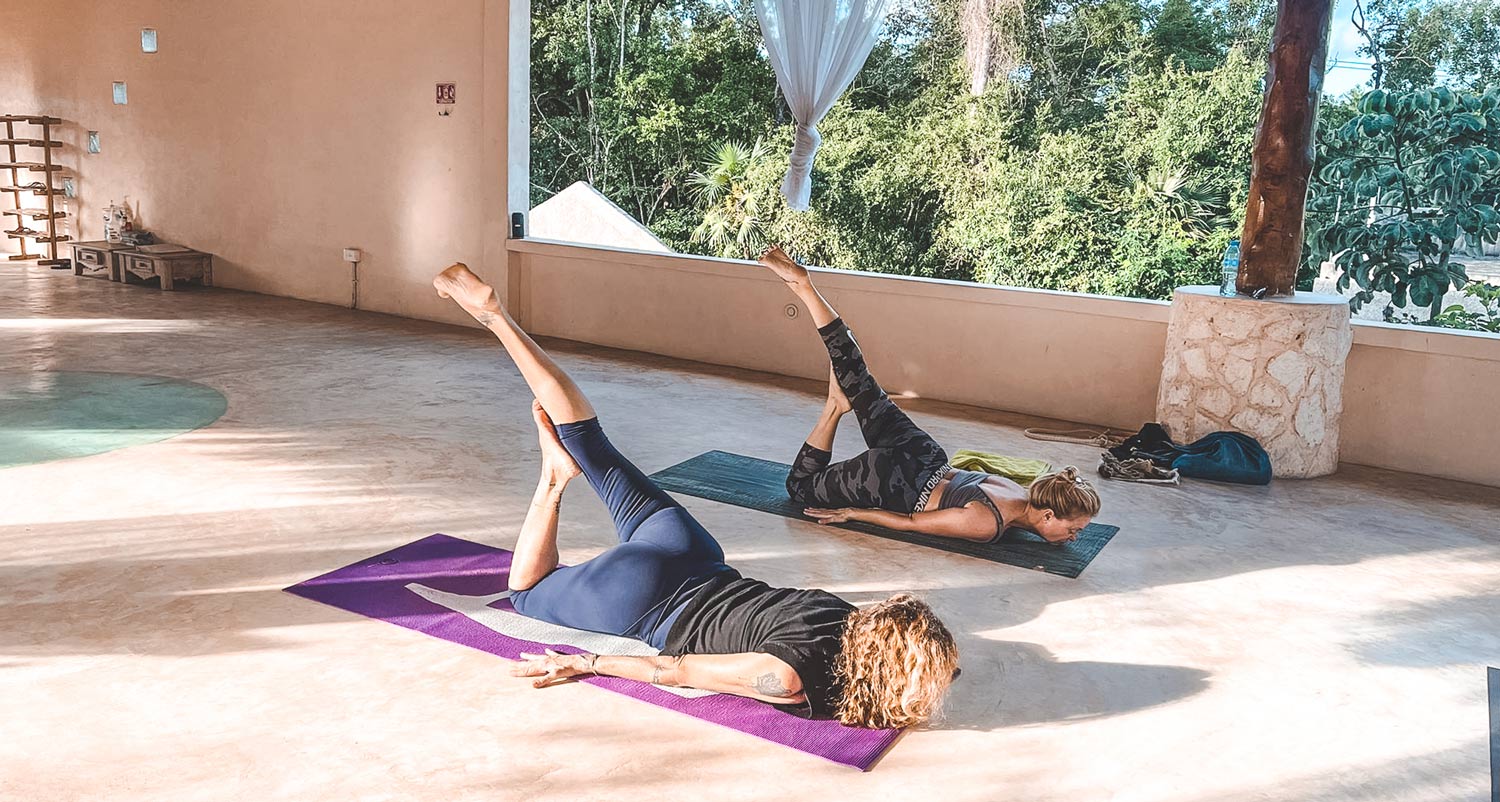 The Ultimate Yoga Tulum Experience: Best Yoga Classes, Retreats & Studios
Attention, beautiful yogis! Are you passionate about continuing your healing and wellness journey in Tulum, Mexico, but don't know what yoga is like here? Well, let's find out all there is to know about yoga and discover the best experience you will get from Tulum's yoga lessons, retreats, and more! Get ready to dive deeper into Tulum's wonders!
In Mexico, Tulum of Quintana Roo is known for the beautiful Mayan jungle, ancient Mayan ruins, and tranquil beach. But did you know Tulum is a retreat center to experience a profound healing journey? Yoga is one of them because there are many classes, teacher training sessions, retreats, and studios across Tulum: from the town to the beach and the hotel zone!
*stay in the best hotels* – if you want to find out the best hotels, apartments and villas in Tulum, contact for free our friend Virginia. She will be happy to help you during your trip!
So, hold on to your yoga mats and learn what yoga is like in Tulum!
HOW IS THE YOGA EXPERIENCE IN TULUM LIKE? WHAT TO EXPECT
Life as a digital nomad can be stressful and tiring. Sometimes we crave to free ourselves, retreat to a peaceful place, and return more refreshed! Throughout various wellness, healing, and meditation experiences in Tulum, Yoga is one of the greatest and favorite things to do. They are easy and fun; you can learn anywhere and anytime!
Yoga is a beautiful meditation tool for the body, mind, and spirit. It's remarkable in Tulum because the yoga sessions combine the training and experience with the Mayan nature. Here you are free to learn yoga by cenotes, join retreats, meet lovely people, and more!
So, stay around and check out our top yoga courses that are perfect for all levels!
BEST YOGA CLASSES IN TULUM: DAILY YOGA, TEACHER TRAININGS, & RETREATS
There are many yoga classes to enroll in Tulum. You can select many varieties of styles and studios. Say if you prefer to do yoga indoors, or closer to nature, you can do that there! Find out more and see what makes them stand-out than the rest!
Sonido del Mar: a yoga hotel in the heart of Tulum
Yoga styles: Ashtanga, Hatha Yoga, Vinyasa flow, Tibetan bowls, chakra meditation | Price: starts at $15USD | Time: All week long, check their schedule here
Highlights: Classes everyday, beautiful atmosphere, amazing teachers and community
One morning we accidentally ran into Sonido del Mar Yoga Hotel, located in the La Veleta neighborhood in the Tulum center. After meeting one of the yoga teachers, she showed us the two incredible yoga shalas, all the different classes they offer and the lovely atmosphere in the whole structure. Attending yoga classes in Sonido del Mar became part of our everyday life and we can't be more grateful. So if there was one studio we could recommend, well – they will be the one. Contact them through their Instagram profile or visit them directly at Sonido del Mar to start your transformation today.  
SANARA HOTEL TULUM: BEAUTIFUL BEACHFRONT YOGA EXPERIENCE
Yoga styles: few | Price: starts at $30USD | Time: day and night Yoga/1hr
Highlights: Passionate teachers and enchanting Domo
The well known tree top designed in Azulik Resort will take your breath away! But don't faint just yet. They offer a free yoga class for their guests under the intrinsic nest-like domo. Although the yoga domo is unique, it is not the exciting part!
Thanks to the passionate yoga teachers Edgar, Sergio, and Sophia, learning yoga feels more alive. Under their guidance, you will learn inspiring yoga philosophies and anecdotes that make the journey more than just physical work.
So if you stay in the fabulous rooms, do us a favor and don't miss this free yoga opportunity! It can change your life!
YÄAN HEALING, WELLNESS & SPA SANCTUARY: TREE TOP JUNGLE YOGA
Yoga styles: personalized | Price: $20USD | Time: Morning Yoga/75mins
Highlights: a charming and serene atmosphere
In the Tulum Hotel Zone lies a hidden oasis of serenity. Meet Yäan Sanctuary: a wellness, meditation, & spa center that practices a profound healing journey. This is done not only through yoga but also through their signature spa treatments with 4 therapeutic water rooms! Highly recommended.
Start your day learning mindfulness yoga with Jessica at the tree top. Experience a personalized yoga style unique to you, and afterward bask in their reviving spa treatments to refresh the body and mind!
I mean, just feel the peaceful energy by looking at the latest post on Instagram. 
SUP YOGA TULUM: YOGA ON A PRIVATE LAGOON
Yoga styles: SUP yoga | Price: starts at $110USD | Time: 3.5hr
Highlights: fun yoga activities in nature
Everyone should try this unique yoga style of SUP Yoga Tulum! SUP stands for "Stand Up Paddle," where you will learn this style on a paddle board hovering in shallow water. How whimsical is that?
From the multiple SUP yoga tours and retreats, the activity is set on a private lagoon at Sian Ka'an. A special place to learn a unique yoga style in Tulum's nature! Not to worry, there are certified SUP yoga teachers, CPR, and LIfeguard specialists on the spot!So, what are you waiting for? Book today and have a fun day!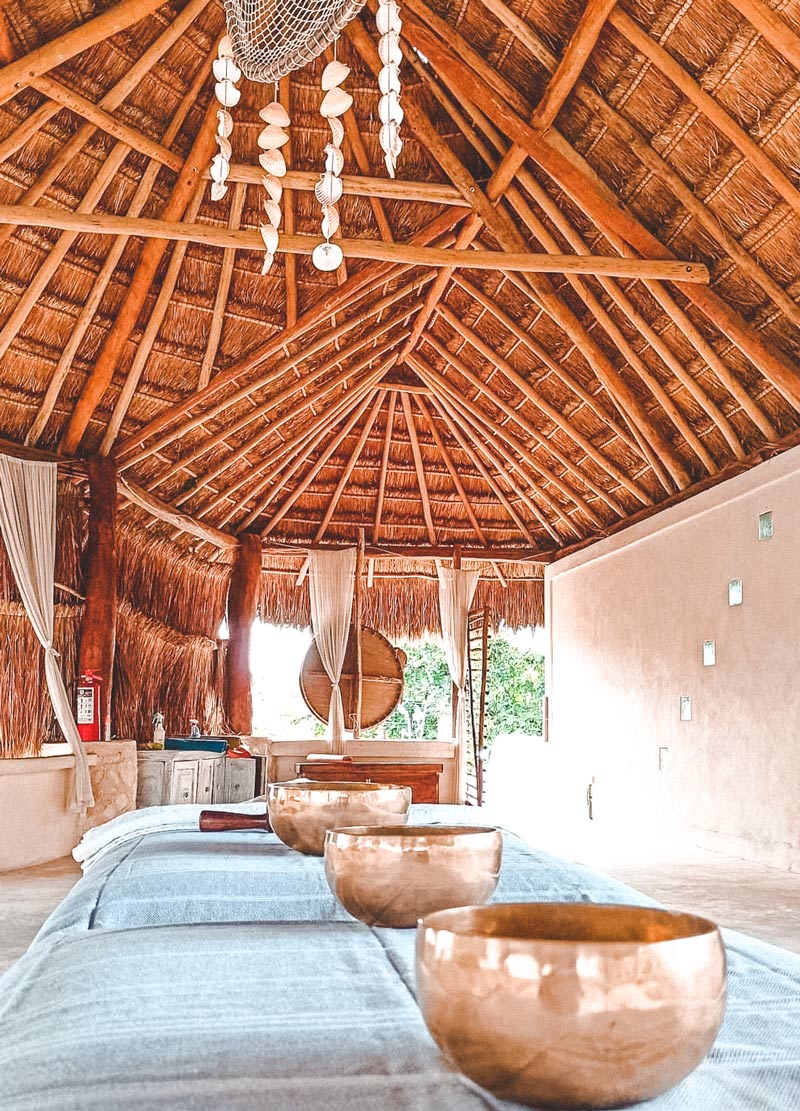 "Ready To Unwind?"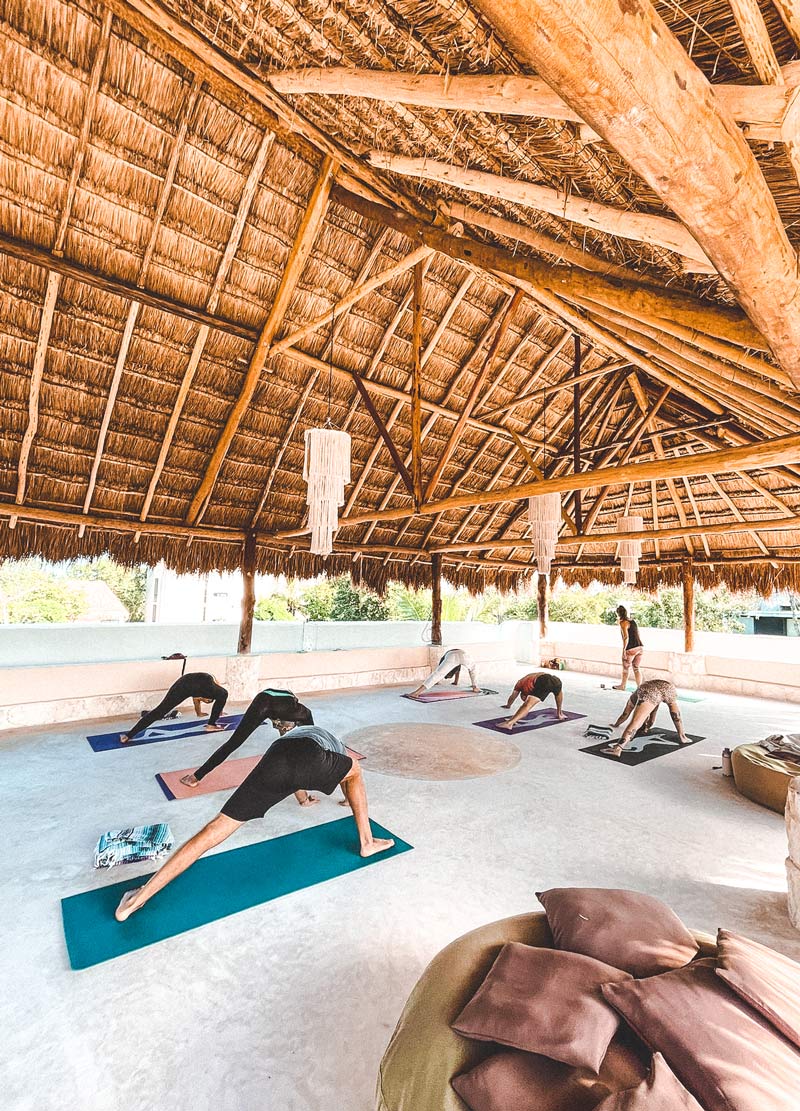 "Yoga Community"
JUNGLE YOGA TULUM: A STUDIO-LESS YOGA EXPERIENCE
Yoga styles: personalized yoga | Price: starts at $120USD | Time: 4hr
Highlights: yoga with fun adventures
The main attraction of Jungle Yoga Tulum is its studio-less yoga. It means you will learn yoga outdoors instead of indoors. Their daily yoga session offers multiple trips across Tulum and Quintana Roo of your choice! With their trips, you are free to do yoga that's set on the cenote, the sandy beach, or a private lagoon in Sian Ka'an!
This is perfect for adventurers and yoga enthusiasts who want two things simultaneously! Talk about a win-win yoga session!
TULUM YOGA SCHOOL: TEACHER TRAINING & PRIVATE SESSIONS
Yoga styles: 200hr-300hr teacher trainings | Price: starts at $2300USD | Time: Daily
Highlights: Teacher training
With Tulum Yoga School, get certified and become an inspiring yoga teacher in Tulum! Come and learn yoga with an internationally certified yoga instructor and owner, Richelle. With years of knowledge, Richelle offers you 200hr to 300hr yoga teacher training of Aligned Flow Yoga, combining elements of various yoga styles!
If you're curious, consider booking a private class suitable for all levels, and delight in their well known Beach Yoga with Mimosas. View the rates at their site today!
OM COLLECTIVE: BEST YOGA COMMUNITY IN TULUM
Yoga styles: many | Price: free to your heart's desires | Time: day and night/70-90mins
Highlights: budget friendly yoga activities
Om Collective is a generous yoga community in Tulum. The love and support of the community can be seen in how they charge customers. Only here that they allow you to leave any amount of conscious contribution after each session. There's no catch at all!
Their yoga programs are fun too! Come and practice yoga daily throughout the entire week, and learn different styles of yoga each day or night. This flexibility is excellent for digital nomads who get randomly busy during the week!
If you feel moved by their generosity, why not view their latest post on Instagram to explore all the details!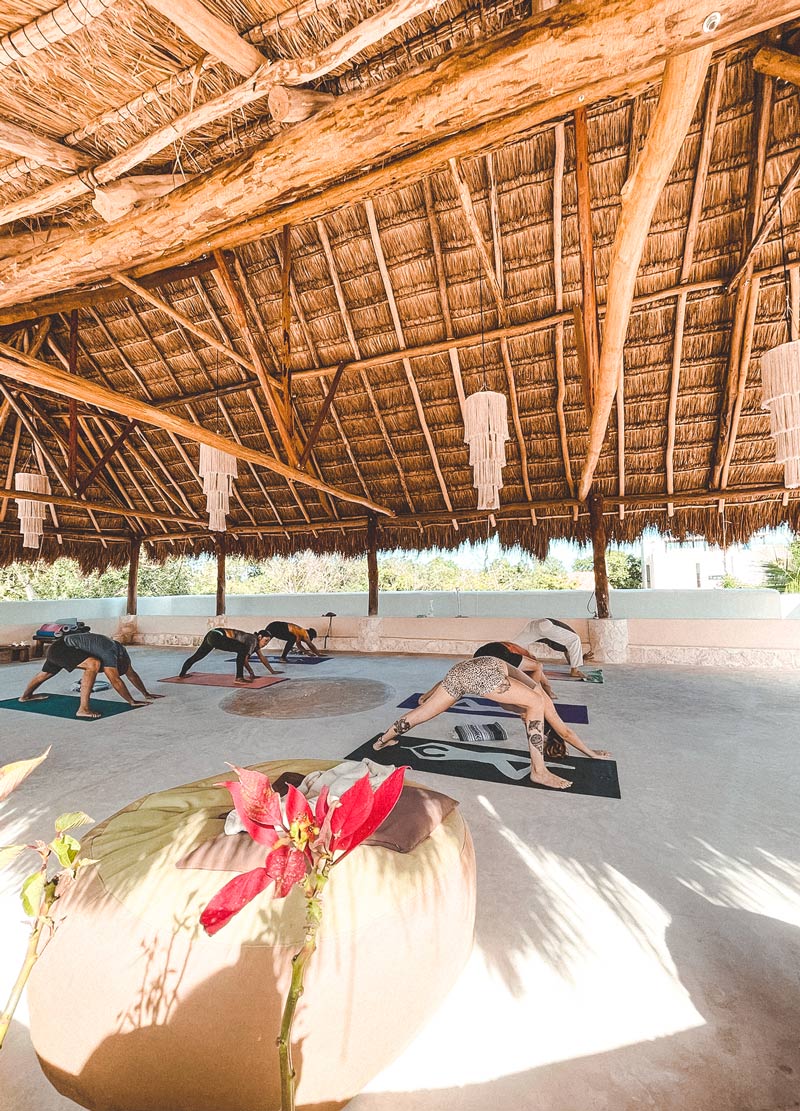 "Tulum Yoga Shalas"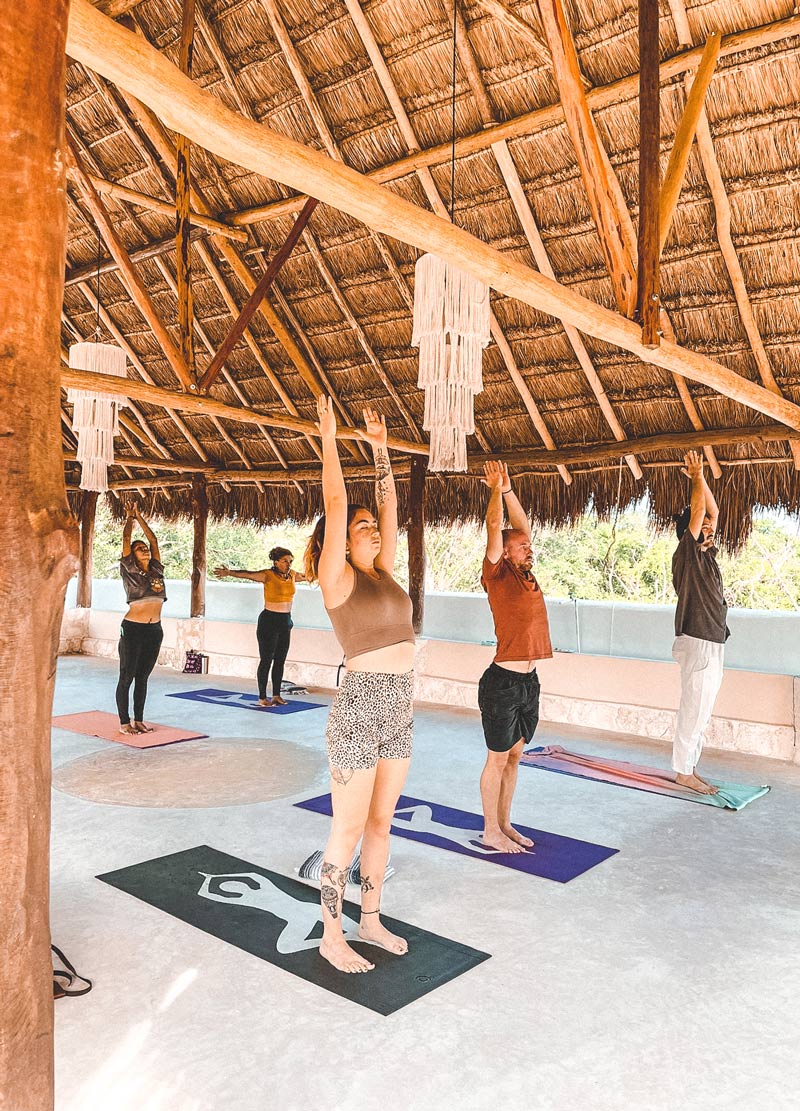 "Yoga In Tulum At Sonido Del Mar Studio"
TRIBAL TULUM: WELLNESS THROUGH ON THE SITE & VIRTUAL YOGA
Yoga styles: many | Price: starts at $18USD | Time: daily at 10am
Highlights: Virtual and on-site programs
Unlike others, Tribal Tulum offers comprehensive virtual and on-site yoga activities. Here, students are free to learn a personalized yoga style whenever and wherever! This is perfect for Digital nomads who are always on the go.
On the other hand, they also offer excellent retreat experiences. If you want to dive deep into yoga, consider joining their 30-day retreat while you stay in their fantastic loft rooms! It may not be for everyone, but who knows, you feel the calling. If you want to know more about yoga retreats in Tulum, check out the guide we wrote about them! 
Take Advantage Of Free Concierge Service
As excellent to explore Tulum and its surroundings alone, you may need help figuring out where to start. To make the most of your money and time, contact Virginia and Kelly - two incredible Mexican girls living in Tulum for more than 15 years. They're familiar with the ins & outs of the Tulum town and hotel zone like the back of their hand! 
Since we arrived in Tulum 2 years ago, many adventures wouldn't have been possible without their help - they know literally everybody in Tulum and can perfectly organize every moment of your stay. Get the best tables, skip queues and get on the guest list of the coolest places in Tulum - this's only the beginning! 
They are ready to offer you guys FREE concierge service in Tulum for the time of your stay: take advantage of it, contact them on Whatsapp and live the best experience!
Get FREE Concierge Service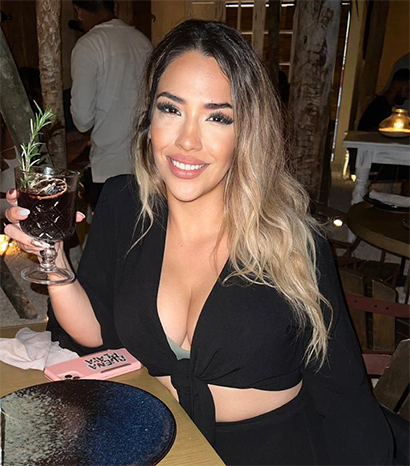 "Virginia Will Transform You In A Tulum Insider"
Yoga classes or retreats: WHICH ONE IS RIGHT FOR YOU?
Now you know of the top yoga classes in Tulum, choosing the right one can be confusing. 
For the average beginner and digital nomads, it's great to start from Om Collective because they offer a flexible schedule at a budget. While joining a retreat sounds appealing, checking for reviews and your budget first is essential!
Also, consider checking out Amansala Resort and Ahau Tulum yoga community. They are more luxurious than others, but it won't hurt to check them out!
Thank you for joining our journey of discovering yoga in Tulum. If you think our list is helpful, leave us a comment and tell us about your wellness journey in Mexico!
👉 FRIDAY, Dec 1
OPENING PARTY X TEN IBIZA 🎉🍹
🎧
ORIOL CALVO, BASTIAN BUX, VITE
📩
Contact Virginia
here
to book a table
💵
First Release Tickets: Mex$ 550 (incl. fees)
Don't miss out on the chance to join us in "A Journey into House Music" tonight at Vagalume. Contact Virginia here to secure your spot for an unforgettable evening! 🌟🍹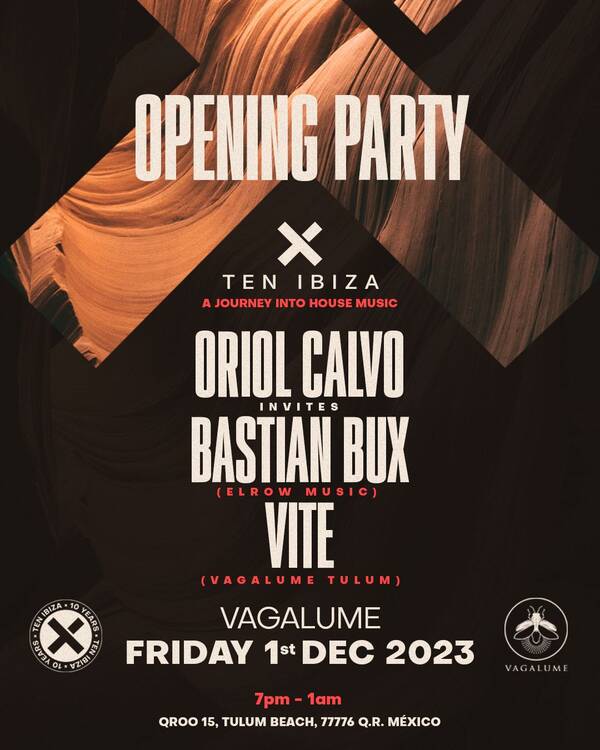 Top Parties and Club Events
23rd November - VAGALUME SESSIONS KEENE @VAGALUME
26th November - VAGALUME SUNDAZE MITA GAMI @VAGALUME
30th November - VAGALUME SESSIONS VALDOVINOS @VAGALUME
3rd December - VAGALUME SUNDAZE VALENTIN HUEDO @VAGALUME
7th December - VAGALUME SESSIONS MUSTAFA ISMAEEL @VAGALUME
30th December - PIKNIK POLO CORP & LEO LEONSKI @VAGALUME
31st December - NEW YEAR´S EVE @BAGATELLE TULUM
31st December - NYE PARTY 2024 @VAGALUME
13th March - LOCUS Tulum 2024