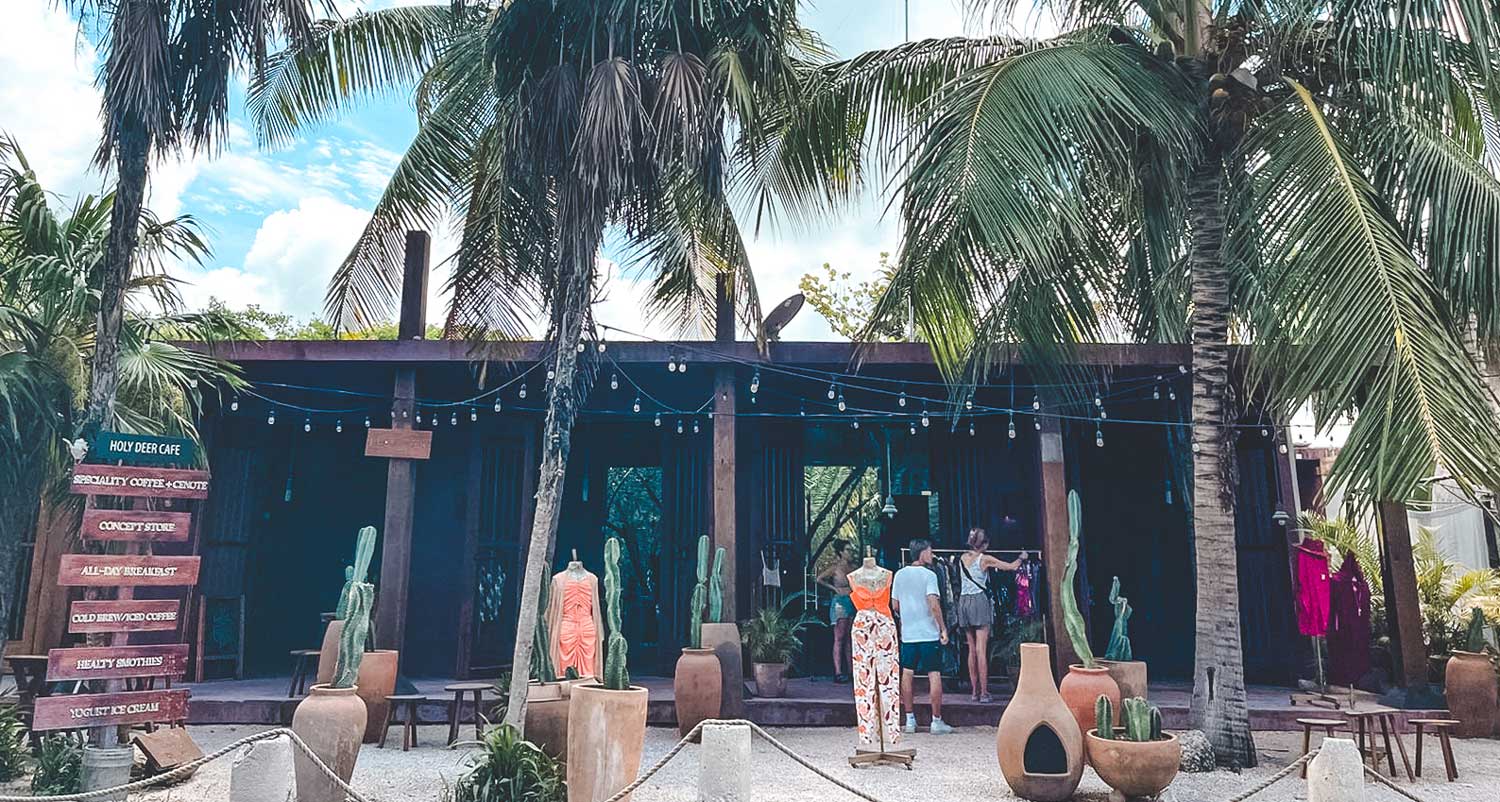 La Veleta Neighborhood In Tulum: All You Need To Know
Planning on a getaway trip to Tulum city, but don't know which part of the city you would like to stay in? Tourists always go to these 4-main neighborhoods because of its unique environment and charm. So, let's get familiar with Tulum and avoid any mistakes before traveling here!
Tulum is a beach city in Quintana Roo that sits along the coast of Riviera Maya, Mexico. This enchanting city is divided into four main neighborhoods – Tulum Centro, Hotel Zone, Aldea Zama and La Veleta. 
Today, we will be taking a journey to La Veleta and our experience living there for almost a year! But first, let us tell you why we love La Veleta and why it can be your next favorite vacation spot.
If you want the best experience during your trip to Tulum, take advantage of FREE concierge services here.
WHY STAY AT LA VELETA: BEST LUXURY HOTELS, PARKS AND MORE
La Veleta is essentially a developing residential area nestled between the Centro, Aldea Zama and the beach, suitable for property rentals. Similar to Aldea Zama and Hotel Zone, La Veleta is filled with luxurious hotels, apartments and villas on every corner. Which makes the perfect neighborhood for anyone looking to stay for a long time in Tulum.
You can also find many popular restaurants, groceries stores and wellness activities to visit during the day. While at night, take a stroll across the C. 7 Sur street and notice how it's flooded with upbeat music and people spend the night like there's no tomorrow!
The thing we love the most about La Veleta is the nearby access that takes you directly to the beach. It is the Av. Kukulkan street will lead you to the Hotel Zone while also avoiding the traffic at the Centro.
Now, take a look and view the map below to get more familiar with the neighborhood easily!
Take Advantage Of Free Concierge Service
As excellent to explore Tulum and its surroundings alone, you may need help figuring out where to start. To make the most of your money and time, contact Virginia and Kelly - two incredible Mexican girls living in Tulum for more than 15 years. They're familiar with the ins & outs of the Tulum town and hotel zone like the back of their hand! 
Since we arrived in Tulum 2 years ago, many adventures wouldn't have been possible without their help - they know literally everybody in Tulum and can perfectly organize every moment of your stay. Get the best tables, skip queues and get on the guest list of the coolest places in Tulum - this's only the beginning! 
They are ready to offer you guys FREE concierge service in Tulum for the time of your stay: take advantage of it, contact them on Whatsapp and live the best experience!
Get FREE Concierge Service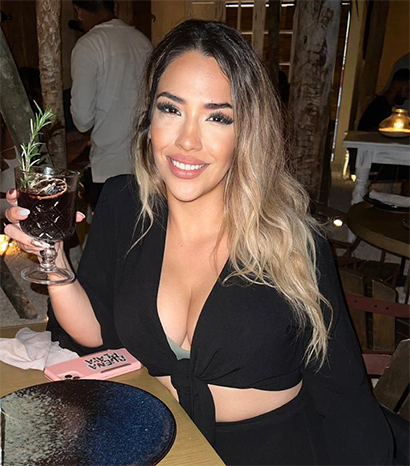 "Virginia Will Transform You In A Tulum Insider"
IMPORTANT INFO – More than offering you FREE concierge service, booking a villa or an apartment through them will make you pay 0$ of Airbnb fees. Sounds incredible, isn't it?
Take advantage of it by clicking on the button above!
5 BEST ACCOMMODATIONS TO STAY: LUXURY PROPERTY RENTALS WITH GREAT PRICES
First, let's explore the property listing around La Veleta and get you settled in the area well!
There is no doubt that you can find plenty of luxurious properties to rent such as hotels, apartments and even villas that offer great prices. It's also very common that these accommodations have their own eccentric outdoor park, beautifully designed bedrooms and an indoor pool included within your unit. Pretty fancy if you ask us!
Moreover, you'll be surprised the prices are relatively cheaper compared to the luxury resorts at the Hotel Zone and by the beach. You can save about hundreds of dollars per day here in La Veleta and you get better deals or property on sale if you stay for weeks to months!
Now, let us do your homework and save you time with our top accommodation picks in La Veleta. Also, let our list be a guide to show you what residential styles they offer.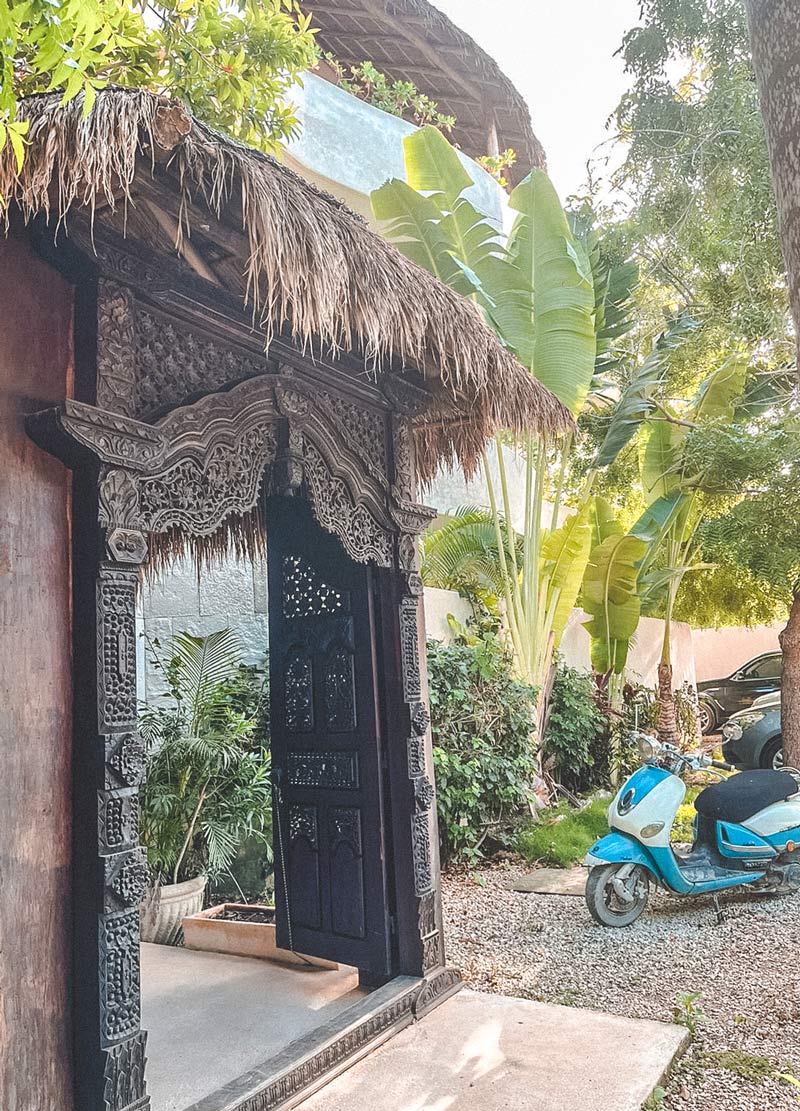 "Tulum Architecture Is Crazy"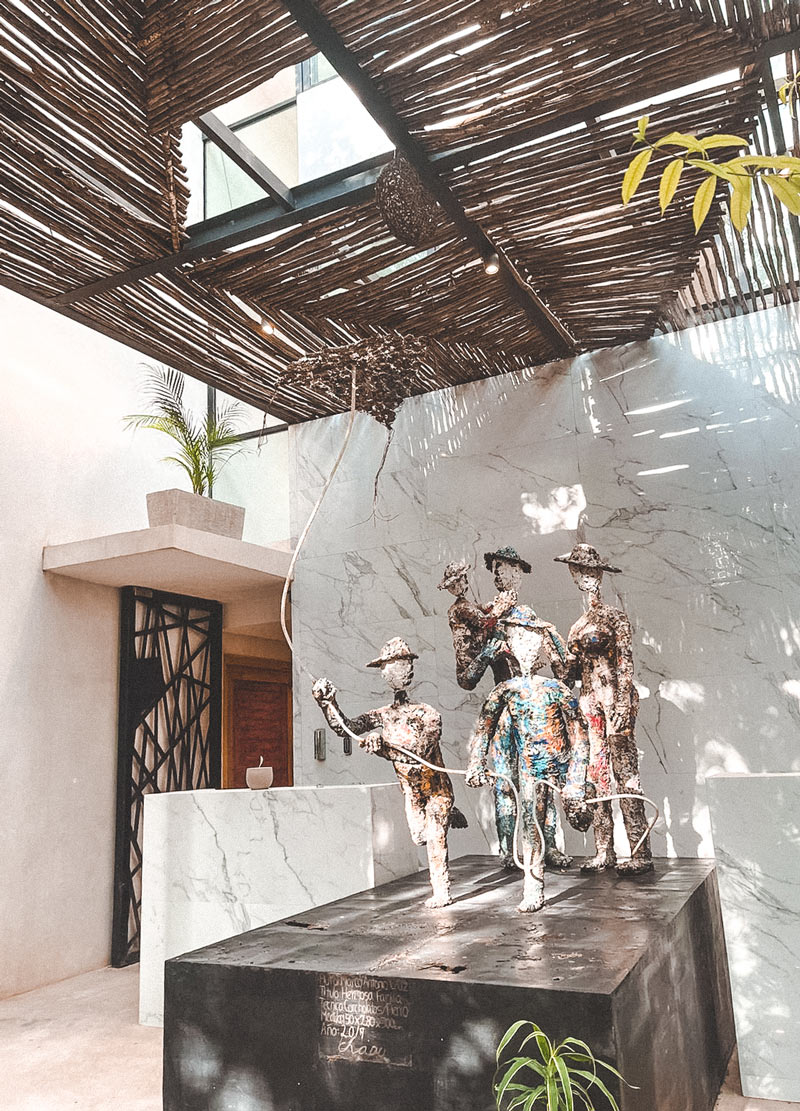 "Art Is Everywhere"
Price: 100 USD | Positive reviews on: Wellness activities, chic bedrooms and ambiance.
Holistika is a boutique hotel nestled around the lush Maya jungle. This luxury getaway is home to tropically decorated bedrooms with exclusive access to the swimming pool, restaurant, and a rich experience for guests. Holistika has it all as it is the perfect place to get all your needs in one place!
What makes Holistika stand out is the life-changing wellness activities that they host every day! It centers around mindfulness, healing, and spiritual journey. We bet you will love doing yoga here in Holistika just as we do, so check out our reviews at the best Tulum yoga retreats. 
Price: 60 USD | Positive reviews on: Staff services and homey rooms.
Hotel Boutique TerraNova is perfect for two travelers or couples who are looking to stay at a luxurious property on a lower budget. As you rest in the comfortable beds, enjoy the relaxing view of the pool and garden around the area by the balcony.
As a guest of the hotel, you are provided with many free amenities included. These are free access to Wi-Fi, parking and more. Check out further details on the link and for any sale, and start your booking today!
Starting price: 700 USD per night | Positive reviews on: Staff services and comfy ambiance.
Villa 88 is a two-story boutique house surrounded by the Maya jungle that comes with 5 bedrooms to host 12 guests. Imagine, having all your family and friends over and partying the night away!
Prepare to be fascinated by the modern-Mayan interior design that can be seen throughout the eccentric bedrooms, kitchen and furniture. Within the villa, you can take in the fresh air by the outdoor patio with a swimming pool at the center which creates a scenic hangout environment.
As the special guests, you will be treated with their executive concierge services included during your stay. Visit the link to check the details and good reviews! 
AMAKA CALMA RIVIERA TULUM
Starting price: 60 USD | Positive reviews on: Staff services and room varieties.
Means, The peace of Tulum that claims to be the best Tulum Hotel in Town. So, let's break down the details to see if it is true and real. 
Amaka Calma Riviera Tulum offers 17 condos, each classified as an apartment with different quantities of bedrooms in a unit. Ranging from a single room to a three-bedroom penthouse. Starting with the smallest apartment offers a single room for 2 guests with several free amenities included, notably a fully-equipped kitchen, and a stunning balcony view of the garden and pool (most valuable room for two!).
Interestingly, the hotel is located close to the main La Veleta street, C. 7 Sur. As we mentioned, this is where you can find all the delicious restaurants and bars to spend an unforgettable nightlife.
OTHER PROPERTY LISTING WEBSITES: AIRBNB
Starting price: 100 USD per night | Positive reviews on: Beautiful bedrooms and great prices.
Airbnb is your best friend when it comes to looking for the perfect place to stay the night. If you search the rental listing in La Veleta, you will find stunning condos, studio bedrooms and apartments below 100 USD. 
Moreover, these units have their own kitchen, washers and even a swimming pool included. To save more money on your vacation, we suggest scouting the area during low seasons from May to Aug and hunting for a sale or discounts.
What we mostly love about using Airbnb is how you can check for good reviews and instantly chat with the host for a sudden visit! This is really convenient if you need a quick stay for the night.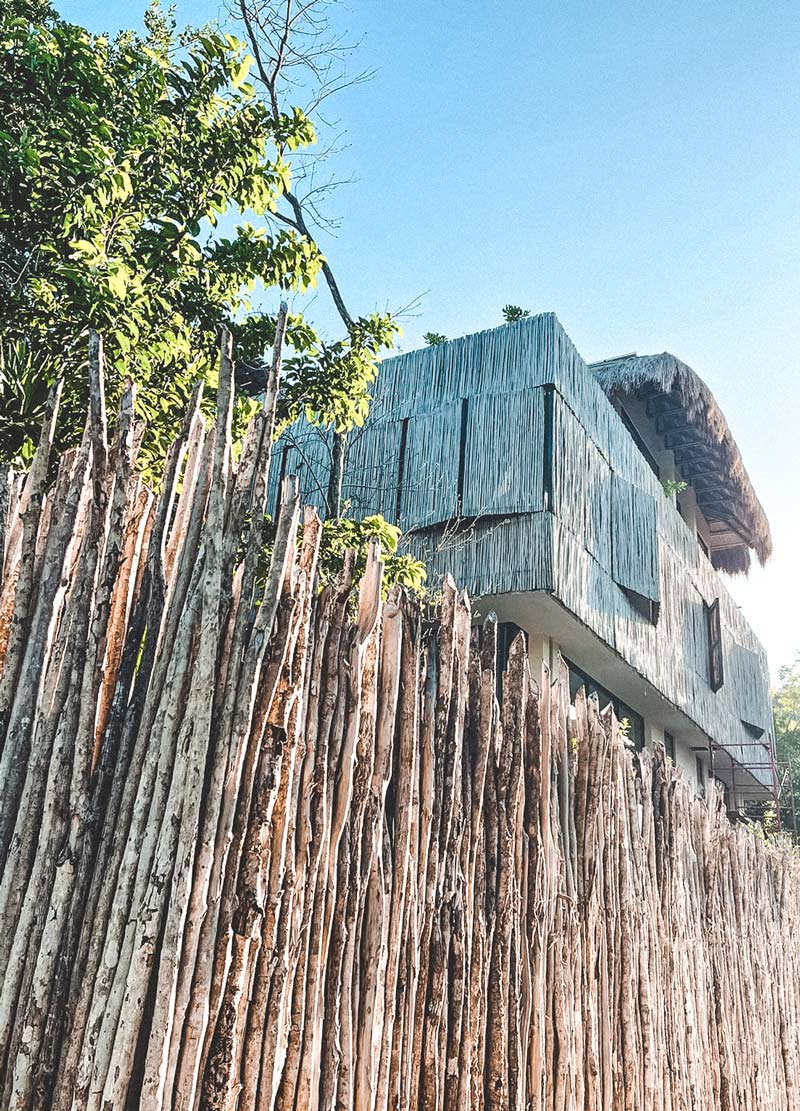 "You Can Rent Many Villas Here"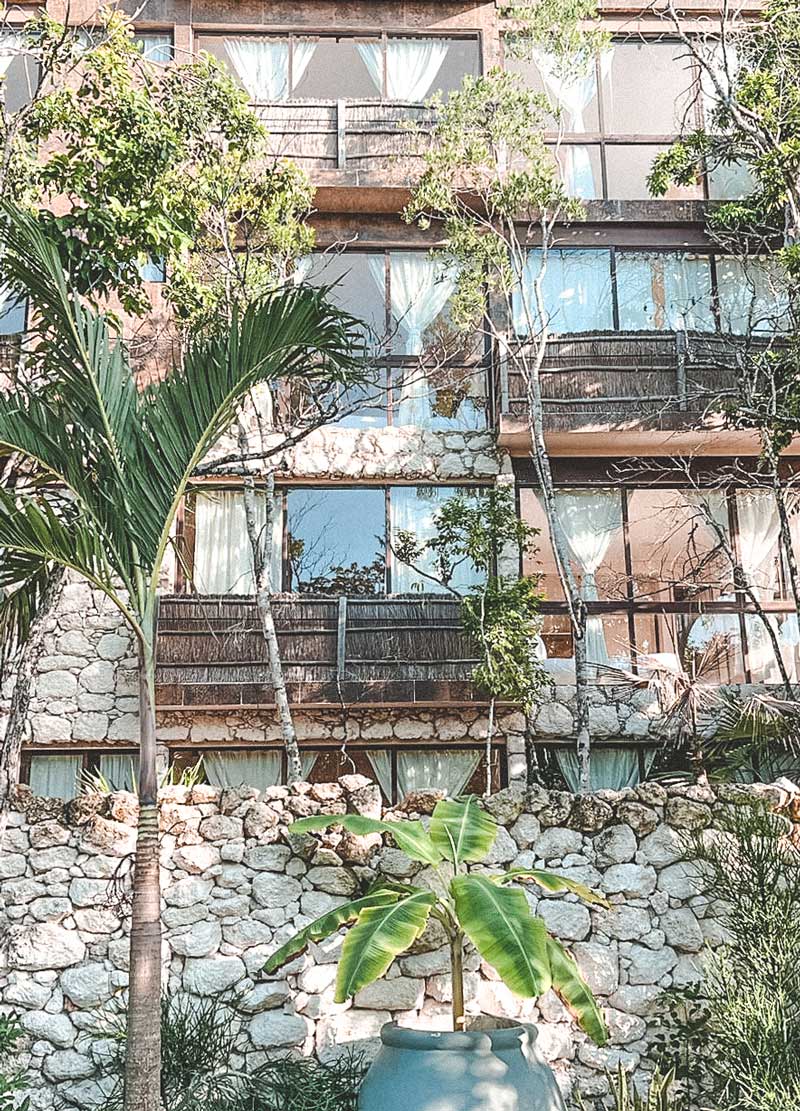 "Or A Fully Equipped Apartment"
FUN PLACES TO VISIT IN LA VELETA: SPICE UP YOUR STAY
La Veleta do have several restaurants, nightbars and other hangout places to visit. But there are few unique spots you can only find in La Veleta, and these are:
CENTRAL PARK: GYM, SPA AND RESTAURANT
Central Park is an inclusive eco-modern rental property (apartment) that has a fully-equipped gym, relaxing spa and the best pad thai restaurant in Tulum!
Although you are not guests of Central Park, you can still visit the gym, spa and restaurant. Where the Los Amigos Gym & SPA is one of few great places in Tulum to go exercising and their spa services are top-notch (highly recommended). While the restaurant is called the Curry by Po Thai, serving original Thai cuisines that taste muy delicioso!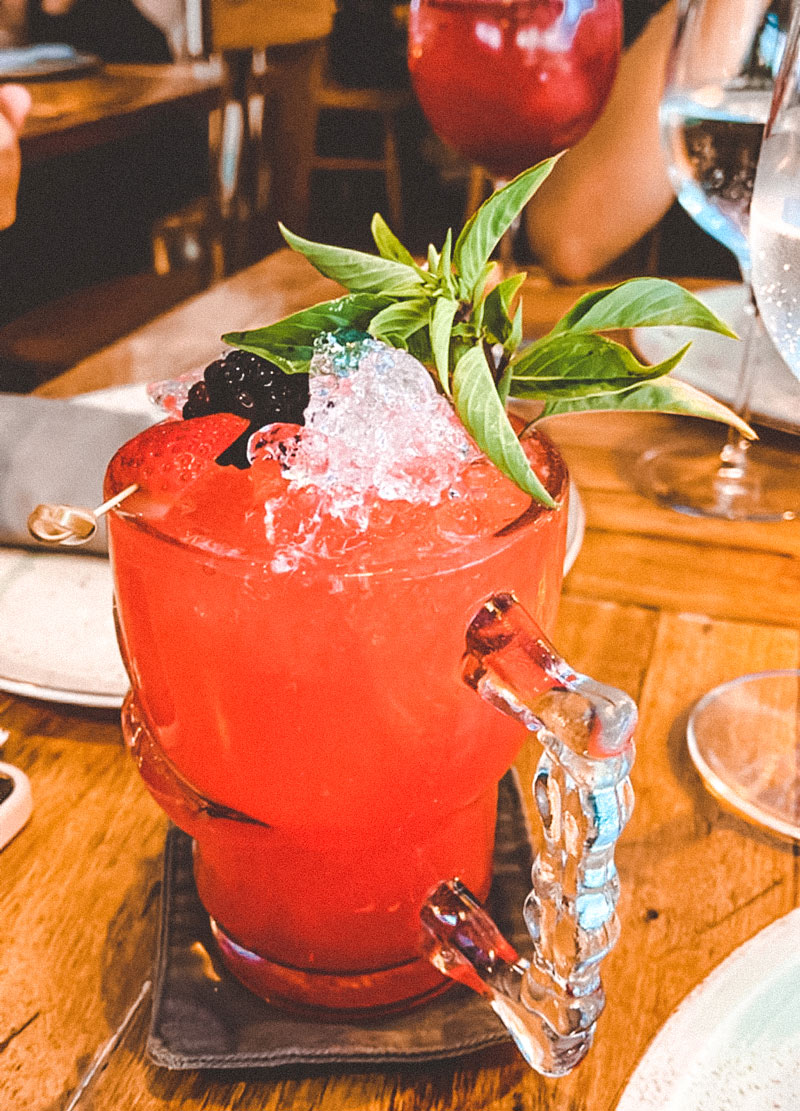 "There Are Incredible Places For Cocktails"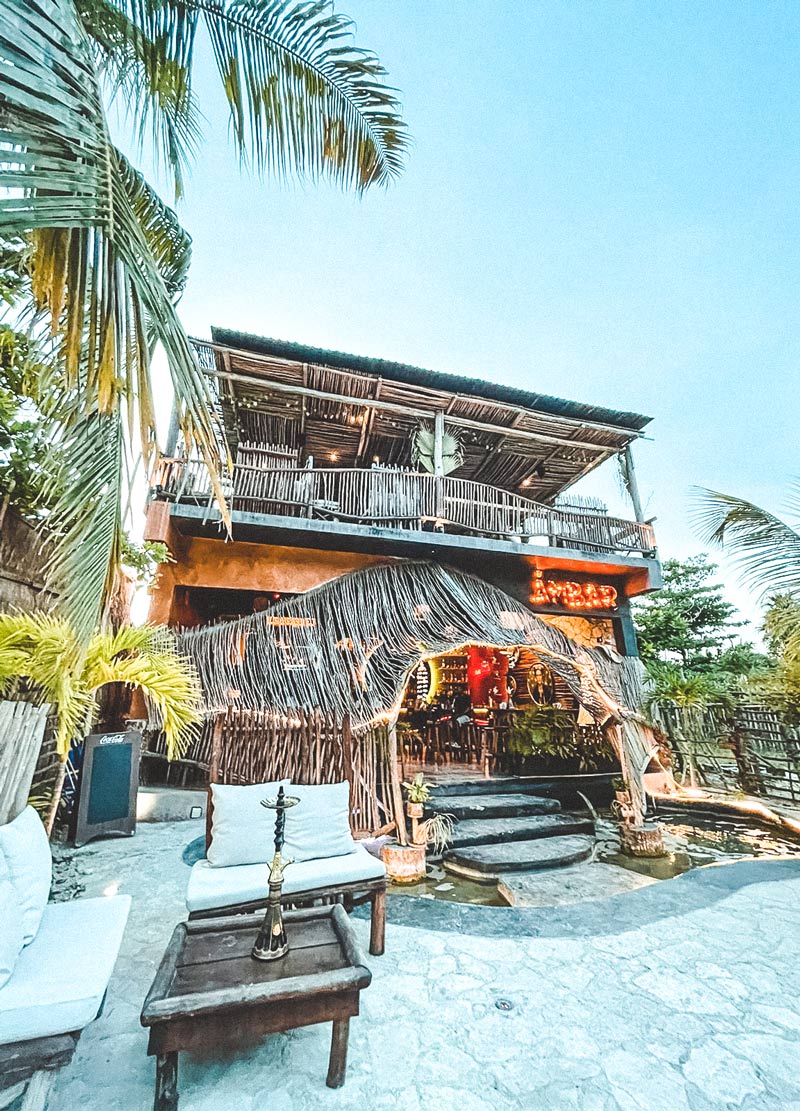 "Nightlife Is Also Cool In La Veleta"
DIGITAL JUNGLE: INTERNET CAFE
The most homey and comfy co-working space in Tulum and perfect for digital nomads. Not only do they offer super high-speed internet (upto 200 megabit), but you can also enjoy a free sip of coffee to boost your energy. 
With attentive staff around the cafe, they can serve you European cuisine from the restaurant which is good enough to fill your bellies. But, the highlight of Digital Jungle is just the working atmosphere. It sets the perfect mood that brings you back into focus that is really helpful for work.
Book A Car At The Best Car Rental In Tulum
We were planning some trips in Yucatan to explore cenotes and we desperately needed a car! It's not always easy to find the best deal and moreover - not to get scammed. We ran into Virginia, a really kind girl, during a yoga session in La Veleta. That's how we found out Virginia is renting cars and her business is really cool.
After seeing her bran new cars, we saw the super convenient prices she was applying and we decided to try her service out. We had an incredible experience - transparency, no need for deposit on our credit card, a lot of flexibility and kindness - in a nutshell: we loved our experience at BGH Car Rental and we can't recommend you any better company in Tulum especially during high season when the car rental market goes wild.
Rent a car at 40 usd per day with full coverage insurance and unlimited kilometrage today!
Book Your Car At The Best Price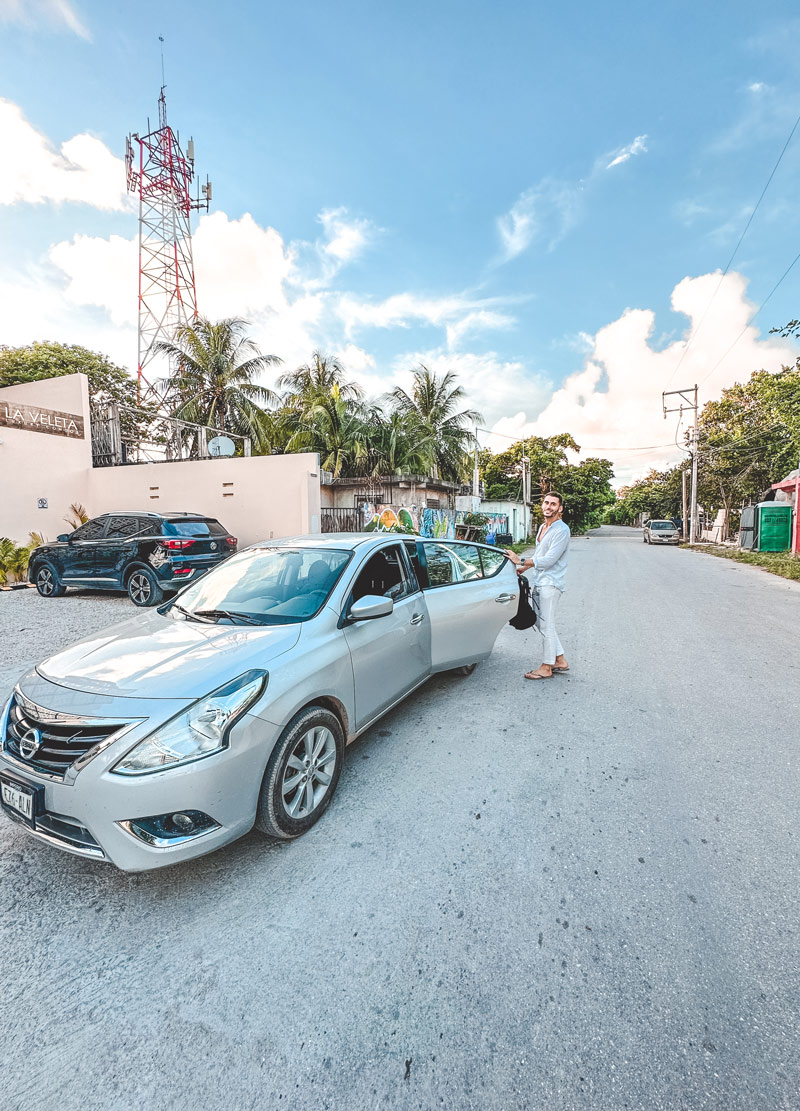 "Nissan Versa Was Perfect For Us"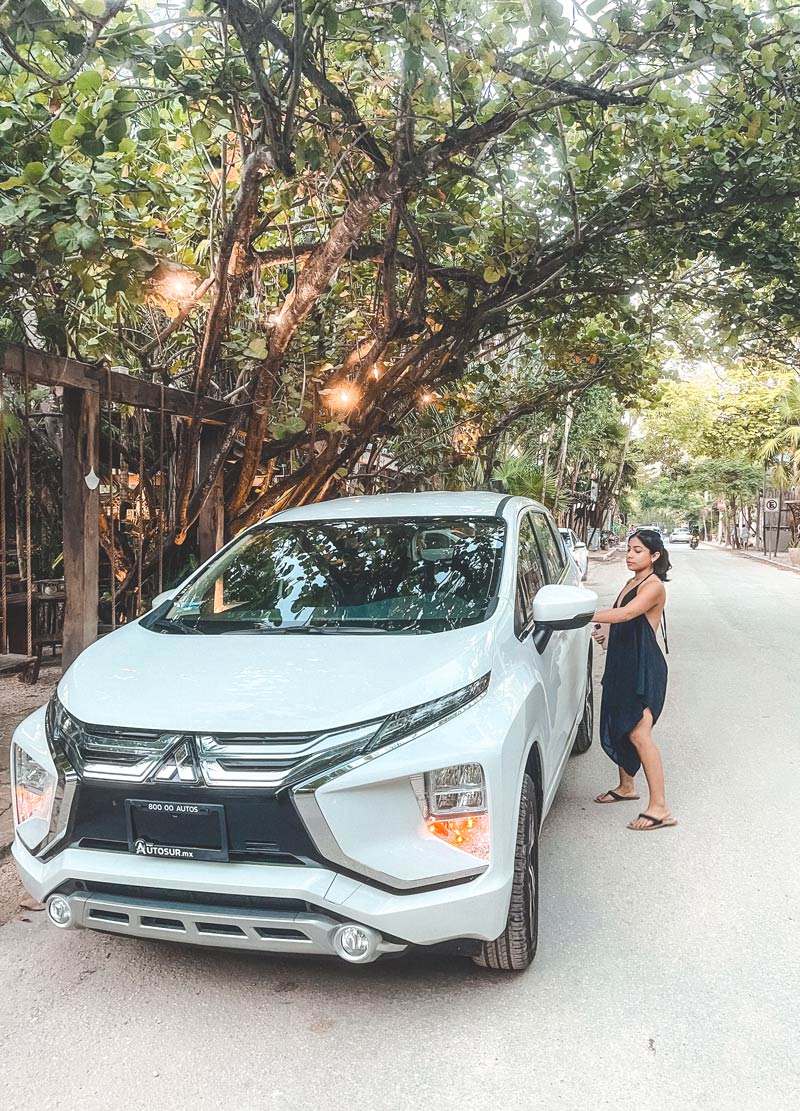 "Xpander Is The Best Car For Day Trips"
REASONS NOT TO STAY IN LA VELETA
Our only reason against staying in La veleta is the bumpy roads and constructions in some areas.
It is a safety hazard if you are driving a scooter at night and aren't careful with the road. Many accidents happen during this hour, but they can still be avoided if you are extra careful, especially at night!
Moreover, since La Veleta is still developing, you can be the unlucky person to be blessed by the annoying construction noises during the day. But do not worry, the noises are honestly bearable if you stay in your room, and sometimes you can hardly even notice it.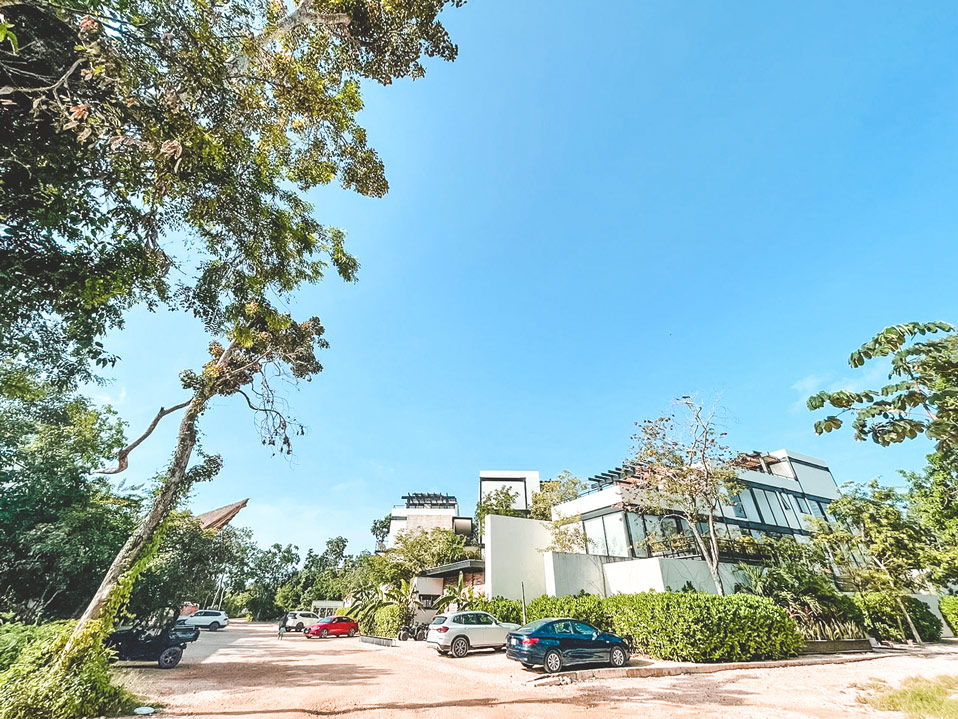 "Many Expats Live Here"
With almost a year living here, we think the benefits outweigh the drawbacks. This is still the ideal place for anyone who wants to experience luxury accommodation (hotels, apartments, villas) for a few weeks up to months.
It is also a great alternative to the mainstream hotels at the Hotel Zone by the beach, which can cost way more! 
We hope you enjoy the article, leave us a comment below if you love La Veleta by reading this!
FAQ about La Veleta Tulum
Where is La Veleta located in Tulum?
La Veleta is located just south of Tulum's town center, between the Centro, Aldea Zama and the beach.
How far is La Veleta Tulum from the Centro?
La Veleta Tulum is located about 10-minutes away from the Centro.
How far is La Veleta Tulum from the beach?
La Veleta is located just about 10 – 30 minutes from the beach, depending if you are going by foot, bike or car.
Is La Veleta a safe neighborhood?
La Veleta is generally considered a safe neighborhood. However, we recommend you to stay aware of your surroundings, especially at night. 
What is the community like in La Veleta?
La Veleta has a diverse community, with a mix of locals, expats, and digital nomads! There's a lot of energy in the area, with plenty of restaurants and bars to explore!
What is the cost of living in La Veleta?
The cost of living in La Veleta can vary depending on your lifestyle and housing choices. However, it's generally considered to be more affordable compared to the beachfront areas of Tulum.
Are the roads in La Veleta good?
No, we wouldn't say that the roads in La Veleta are good, most of them are unpaved. During the rainy season, some roads can become muddy or difficult to navigate. We recommend you to check the condition of the roads if you plan on driving or biking.
Can I rent a bike in La Veleta?
Yes, you can rent a bike in La Veleta. It's a nice way to explore Tulum, just be careful with the roads, and enjoy biking!
Great, let's feature the "MYSTICAL SUNSET /OLIVER HUNTEMANN" event at Mia Restaurant & Beach Club in Tulum on Wednesday, 29 November 2023. Here's the HTML snippet for your event: ```html
👉 WEDNESDAY, Nov 29
MYSTICAL SUNSET /OLIVER HUNTEMANN 🌅
📍
Mia Restaurant & Beach Club, Tulum
💵
Tier 1 Tickets: Mex$ 660 (incl. fees), Final Tier: Mex$ 880 (incl. fees)
📩
Contact Virginia
here
to book a table
Join us for an unforgettable evening at Mystical Sunset with Oliver Huntemann. Contact Virginia here to book your table and be part of this magical night on the beach! 🎶🔥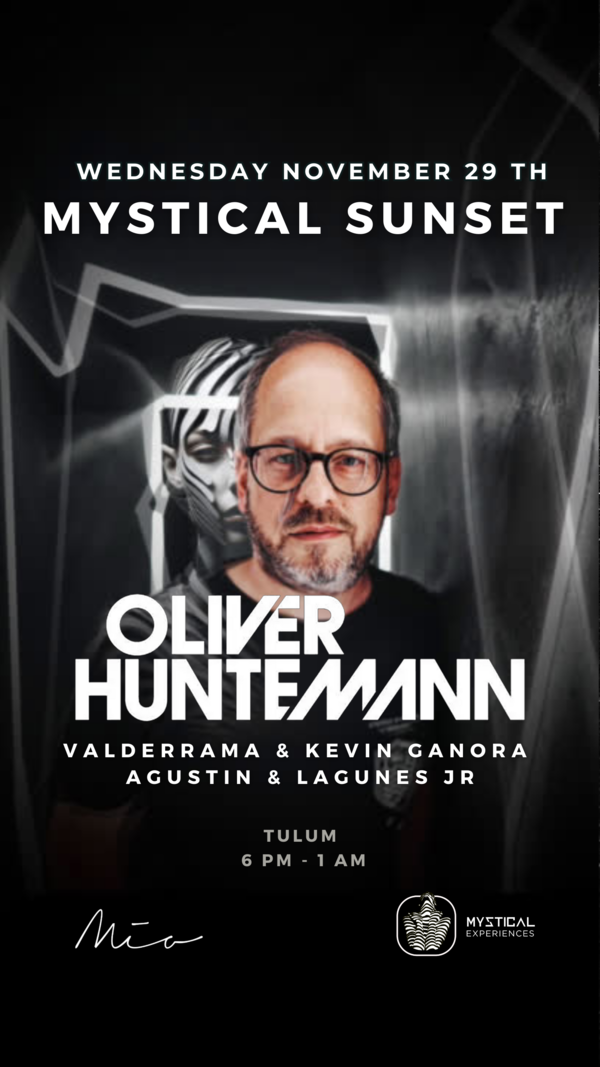 Top Parties and Club Events
23rd November - VAGALUME SESSIONS KEENE @VAGALUME
26th November - VAGALUME SUNDAZE MITA GAMI @VAGALUME
30th November - VAGALUME SESSIONS VALDOVINOS @VAGALUME
3rd December - VAGALUME SUNDAZE VALENTIN HUEDO @VAGALUME
7th December - VAGALUME SESSIONS MUSTAFA ISMAEEL @VAGALUME
30th December - PIKNIK POLO CORP & LEO LEONSKI @VAGALUME
31st December - NEW YEAR´S EVE @BAGATELLE TULUM
31st December - NYE PARTY 2024 @VAGALUME
13th March - LOCUS Tulum 2024