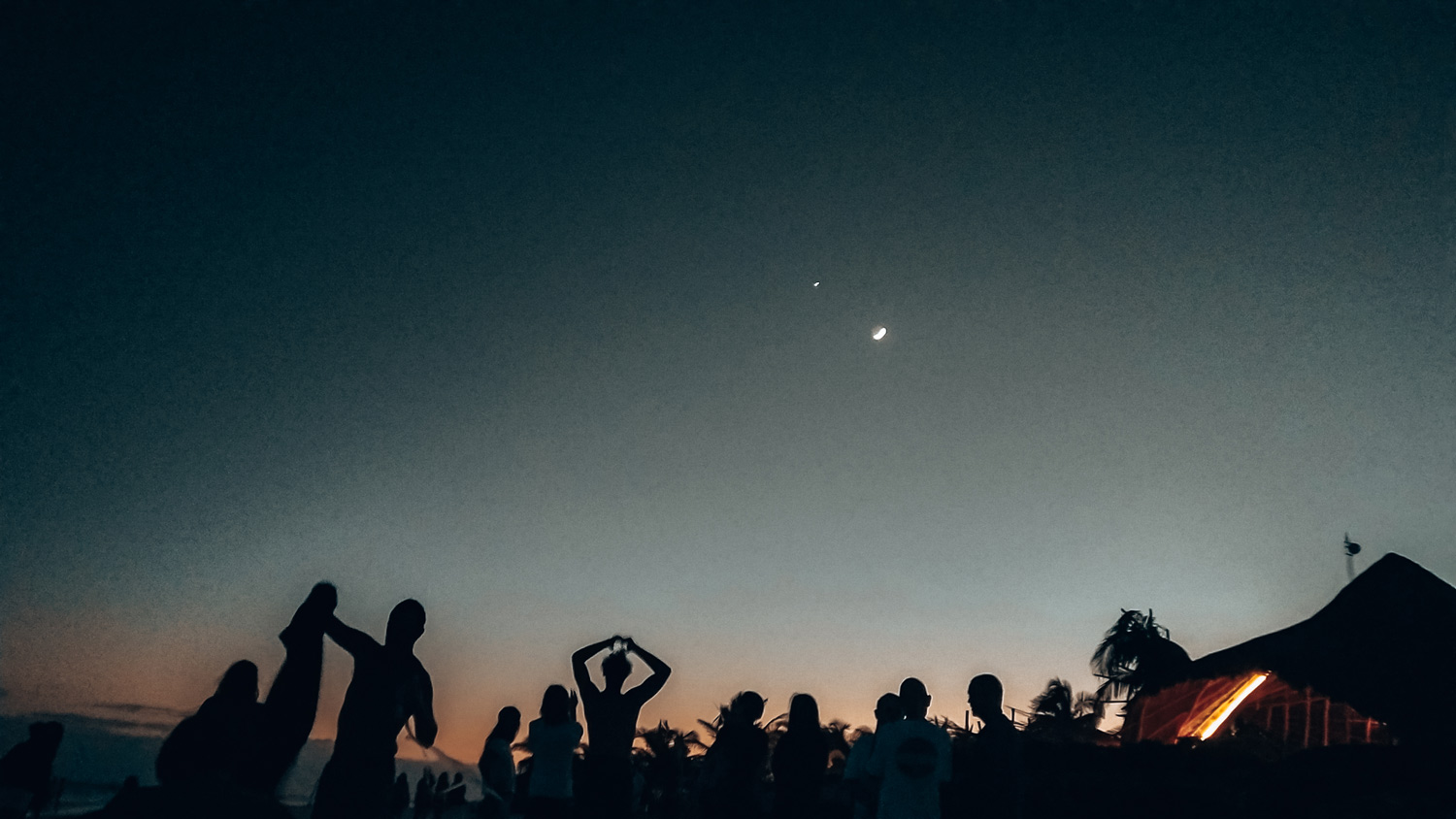 The Best Bars In Tulum To Upgrade Your Nightlife
"Twinkle twinkle little star… point me to the nearest bar!" Eddy cheered right before we left our Airbnb to explore the nightlife of Tulum, Mexico. Afterward, it was an unforgettable evening and an experience of a lifetime! The tunes played by the DJ had entirely dominated the atmosphere and elevated everyone's mood to just shake it. As everyone drank mezcal and danced the night away, Eddy and I had a great idea to look for the same place that exerts an awesome vibe! 
So we began to search for many bars and discos in Tulum to find the best place – check out our ultimate nightlife guide here. At last, we found there were a variety of clubs to party, bars to chill out and a bar restaurant that serves delicious munchies to accompany your favorite cocktail. Thus, we are excited to present the best bars in Tulum!
If you want to take advantage like us of the FREE concierge service Kelly and Virginia are offering, contact them below. They put us on the guest list of the best Tulum clubs avoiding us to pay the entrance, they organized unforgettable nights, they know everybody in Tulum – in a nutshell: we couldn't recommend them more.
THE BEST BARS IN TULUM: FROM REGIONAL MEZCAL BEVERAGES TO AUTHENTIC MIXOLOGY
Here we list our top picks of the best bars in Tulum. Some are located around Tulum Centro, by Tulum Beach or Tulum Hotel zone.
Just a heads up, if you plan to celebrate on a Friday evening or the weekends, expect a limited parking space (especially the bars or clubs by the beach). So consider taking a scooter or a taxi instead. 
Let's discover together the best bars in Tulum to drink the best cocktails and dance to cool beats!
CASA JAGUAR: TODOS SANTOS BAR
💲 Price range: $$$$$
📌 Area: Beach Zone
✨ Best for: Cozy night vibe, upbeat tunes and jungle party
Casa Jaguar is a popular restaurant that is located next to the beach and has a lavish backyard, where the fiesta is at. Introducing Todos Santos Bar, a boutique bar that radiates its very own aesthetic and vibe. Come here every Tuesday evening at 10PM to experience their live midi performance and watch as the backyard turns into a party in the forest! Where the DJ starts to blast upbeat tunes and people dancing to the beat. It is the perfect place and time to put your charisma to the test and mingle with the people! 
If you want to have the best place or table – contact our friend Virginia that personally know the staff at Casa Jaguar and will be happy to get you a table for free!
☝🏼 Our expert tips: jungle means mosquitos – so be aware of it and bring with you some spray!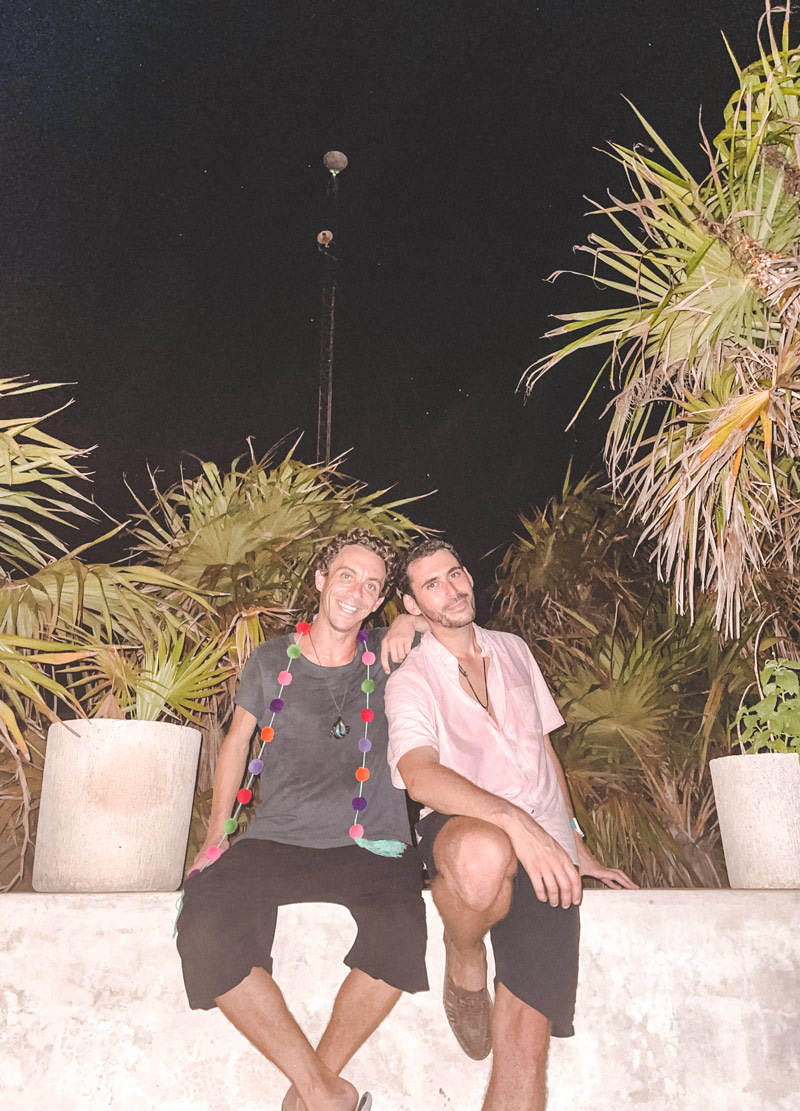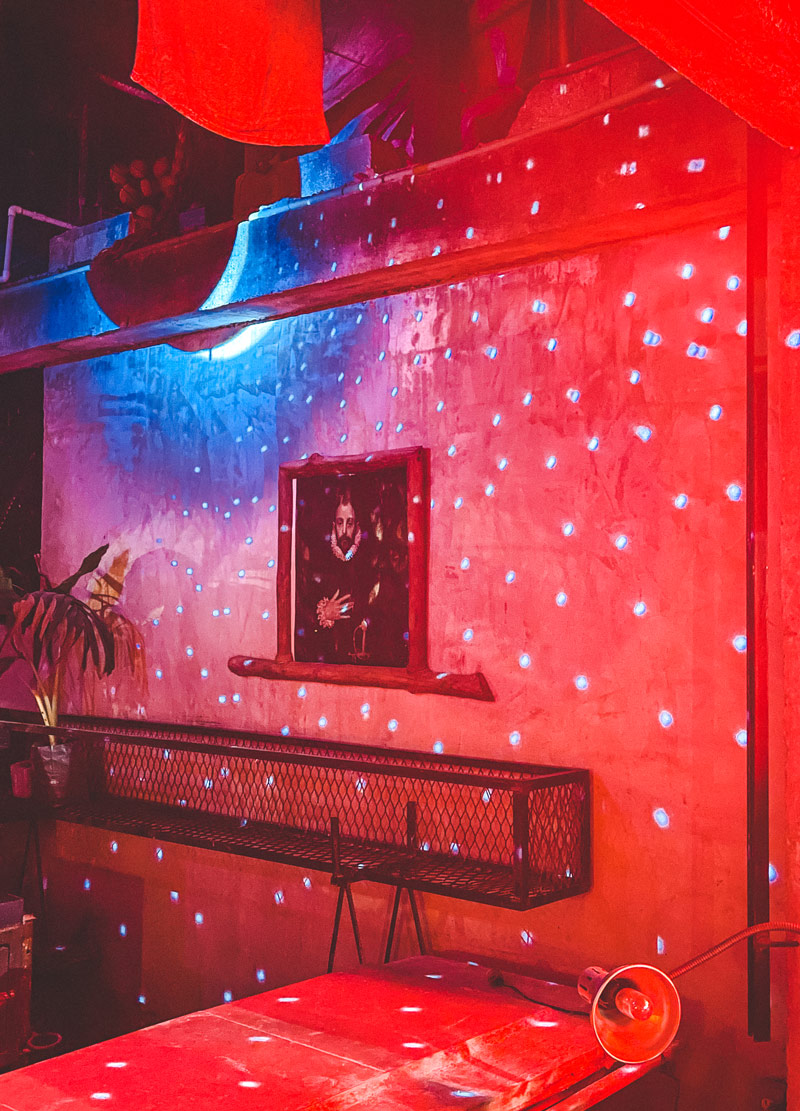 BATEY MOJITO AND GUARAPO BAR
💲 Price range: $$$$$
📌 Area: Centro
✨ Best for: Local bar, live songs at night and refreshing beverages at day
Located in Tulum Centro, the Batey Mojito & Guarapo Bar feels like a local dive bar to us. You can see this from their rustic design aesthetic, the bartender and their drink menu. They especially serve mouth-watering mojitos and guarapo topped with a sugar cane stick as garnish (it's pretty authentic if you ask me). Oh and their tacos, very delicious and a perfect munching buddy for your cocktail.
Come here at 7PM and 9PM (on most days) if you fancy a live songs performance in the backyard. Otherwise, spend the day or the early night with a cold-refreshing mojito on your hands. Cheers!
☝🏼 Our expert tips: mojito lovers there you go – try their mojito with watermelon and passion fruit with freshly squeezed sugar cane syrup! 
NANA ROOFTOP BAR: A RESTAURANT & COCKTAIL BAR
💲 Price range: $$$$$
📌 Area: Centro
✨ Best for: Rooftop bar, live music, chill vibe and delicious foods and beverages
Centered in Tulum town, Nana Rooftop Bar is a fusion drink bar and restaurant taking inspiration from both Mexico and Japan's culture. They serve an authentic mix of cuisine foods, mezcal beverages and many more (take a look at their menu). They start to open at 6PM every day and play live songs on most days but expect a more chill atmosphere during the night. Lastly, their prices are around 150 to 300 pesos, which is a common price range at some bars in Tulum town.
☝🏼 Our expert tips: try "the geisha" their sake cocktail and the sushi cake!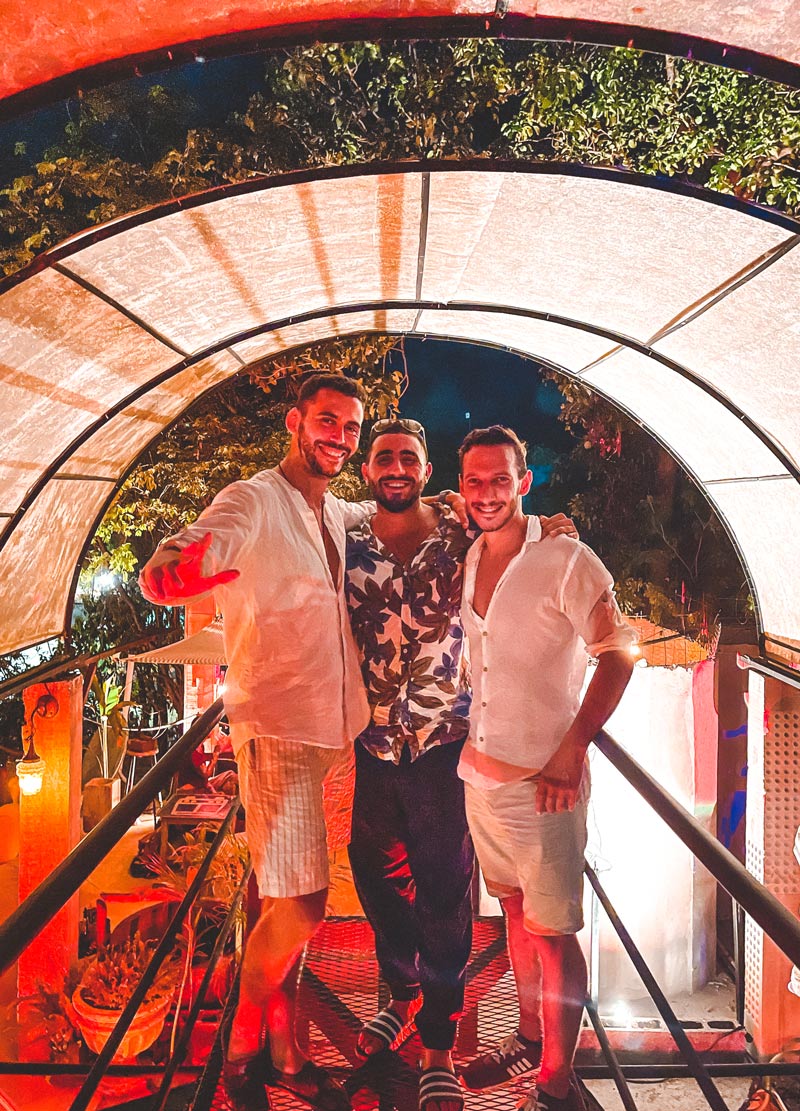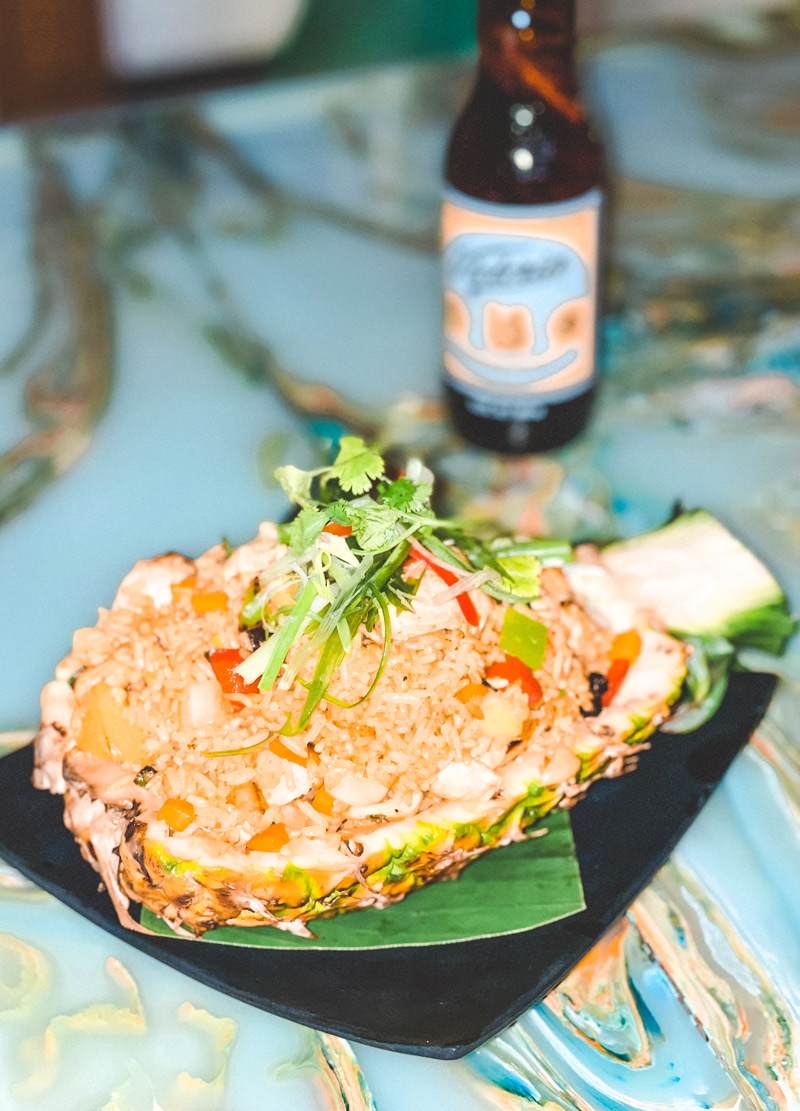 💲 Price range: $$$$$
📌 Area: Beach Zone
✨ Best for: Amazing sports bar and ambiance
Mateo's Mexican Grill is also one of our top picks of the best restaurant around Tulum that deserves to be on this list. They are absolute winners for the staggering ambiance during sports events and the tunes that sets the atmosphere perfectly during the night. Popular for its regional dishes, Mateo's Mexican bar emits a comfortable vibe because of its top-notch bartender, Luismi and Samuel. You'll definitely have a wonderful time watching your favorite sport (NFL, NBA, football, etc) with delicious dishes and refreshing cocktails by the bar.
☝🏼 Our expert tips: check out their happy hours at sunset!
THE BEACH CLUB by PAPAYA PLAYA PROJECT
💲 Price range: $$$$$
📌 Area: Beach Zone
✨ Best for: Beach bar, great party vibe and amazing view
One of the best beach discos that love to host popular events in Tulum, such as the Full Moon Party. Their beach bar serves a variety of authentic local mixology cocktails, an exclusive wine bar and delicious regional style munchies that goes well with your drink. What we love most about Papaya Playa Project is the scenery, and we can't say no to a beach bar that blasts a cold ocean breeze as you sip a refreshing mezcal. To us, it is a place to spend a hot summer day at the bar by Tulum beach.
Definitely visit their event calendar to view upcoming live music or spectacular events – especially if you want a table for your couple or friends to enjoy the night: it's FREE and you can book it by contacting our friend Virginia on WhatsApp!
☝🏼 Our expert tips: don't miss their chilled mezcal cocktail!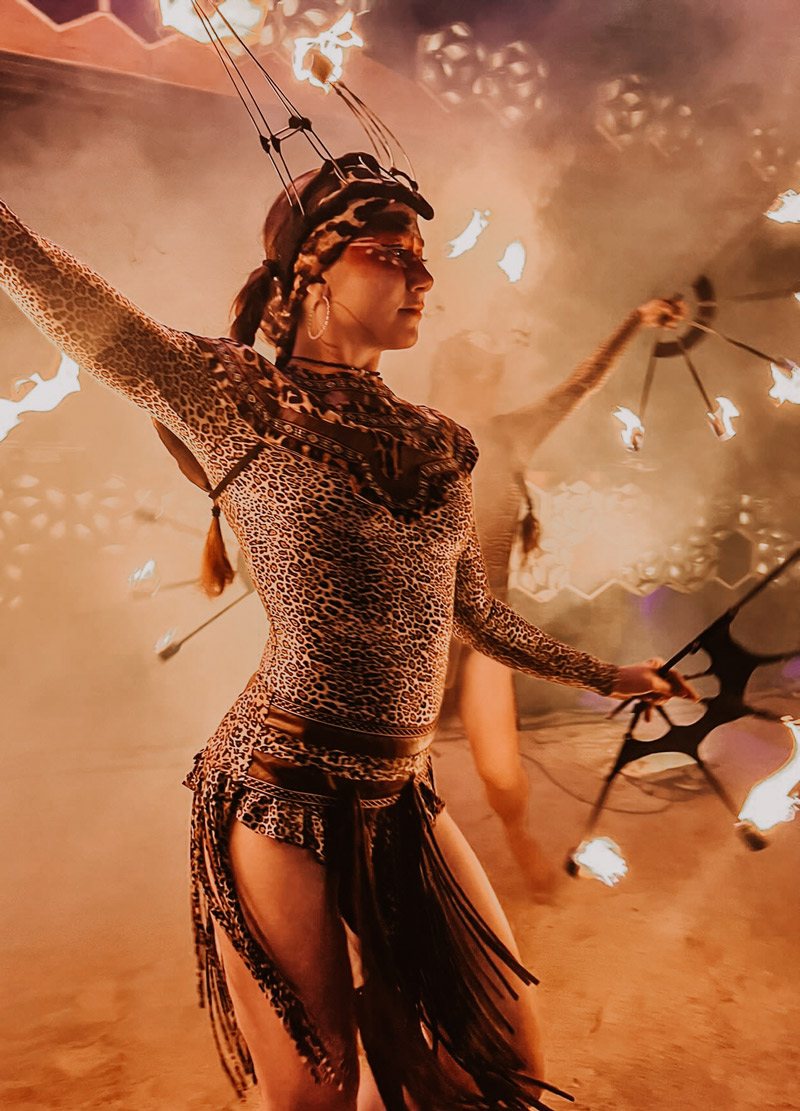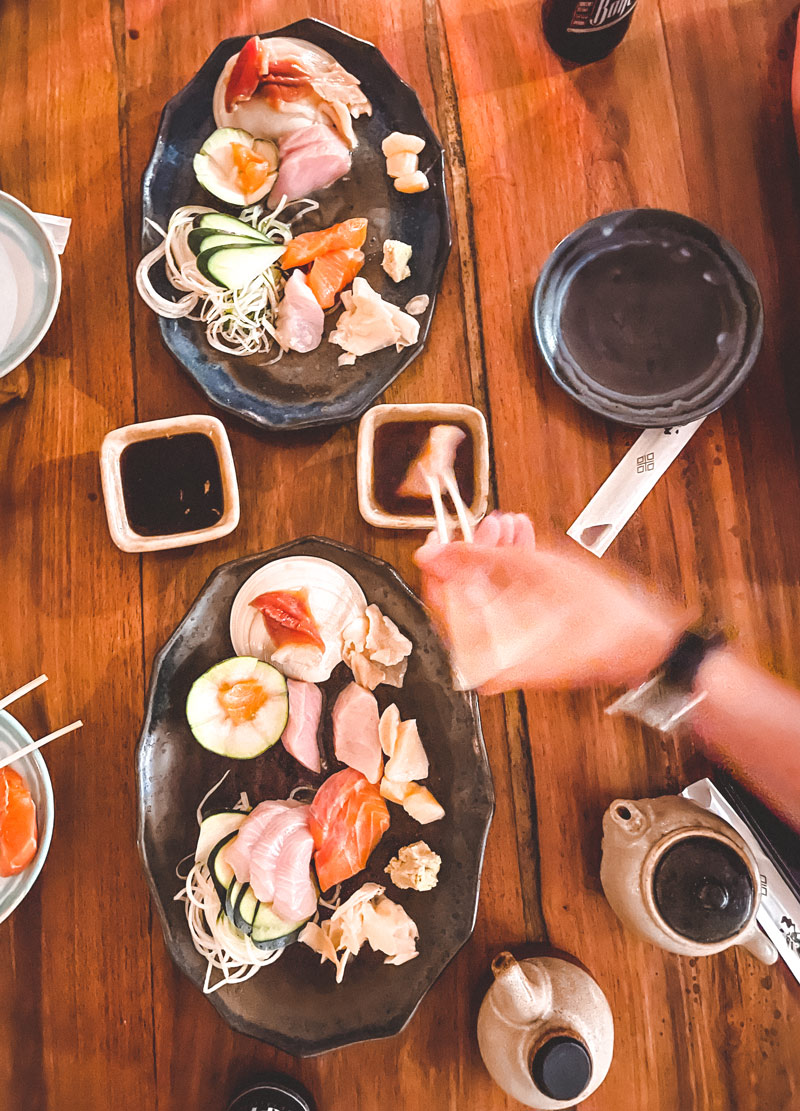 💲 Price range: $$$$$
📌 Area: Jungle
✨ Best for: A nightlife of dining experience, luxurious scenery and host events
Not to get mistaken, Gitano Jungle Tulum is a modern Mexican restaurant that is located along the Tulum Hotel Zone. They have a similar aesthetic to Casa Jaguar but lean more towards the luxurious and classy side. Gitano Tulum Restaurant & Mezcal Bar exerts a colorful and enchanting backyard wild aesthetic that lights up when the night arrives. Not only do they have delicious regional foods and mezcal cocktails, but you can also book the place to host a private night event! Whether it is a celebration, a party or an enchanted candle-lit dinner, we highly recommend this place because of its nourishment and setting.
Contact our friend Virginia to get the best table at Gitano – we know you want it!
☝🏼 Our expert tips: perfect place for a birthday celebration to get their sparklers! Don't miss their cocktail "kisses in the car".
💲 Price range: $$$$$
📌 Area: Beach Zone
✨ Best for: Partying, upbeat music and sport bar
I say that Ambar Tulum is one of the best night clubs in the Tulum hotel zone, just because of their authentic "Juicy Wiggle" song (more about that later). Ambar Tulum is a local dive bar where most of the loud parties or sports events are happening by the bar. They also have a rooftop that is much more chill and laid back compared to their bar downstairs.
Back to the Juicy Wiggle song. As it started to play, the staff gathered around and danced. It was like a flash mob! We just laughed in excitement and enjoyed the atmosphere. Important: Be sure to properly check your bill before paying (especially with the music and strobe lights around) because we got complications with the staff during our payment.
☝🏼 Our expert tips: great for celebrations and big groups.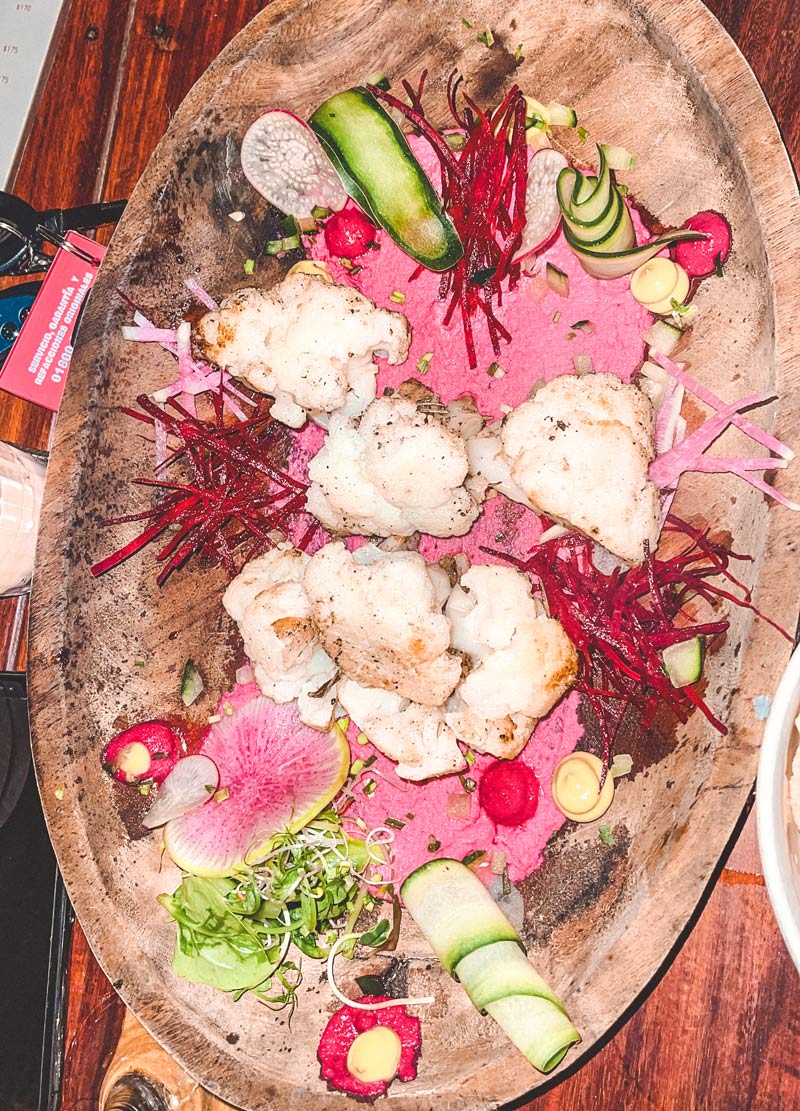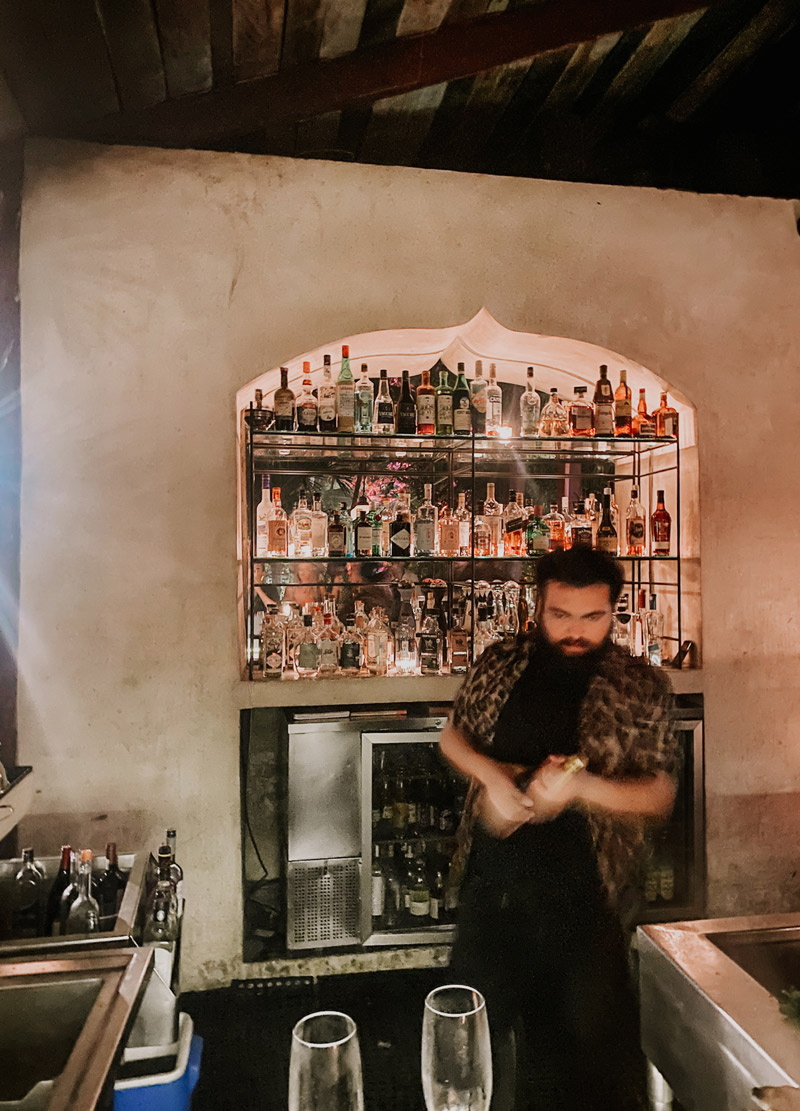 KIN TOH by AZULIK RESORT TULUM
💲 Price range: $$$$$
📌 Area: Beach Zone
✨ Best for: Gorgeous scenery and luxurious environment
Kin Toh is a luxurious rooftop restaurant by Azulik Resort hotel Tulum. They really take the rooftop dining experience to a whole new level. You'll dine at one of their nests, located on the roof of Kin Toh, having a clear bird's-eye view of the nature around you. As for their high-concept bar, they serve several mezcal drinks, wines, cocktails and many more on their menu. 
As you guessed it, dining here will cost way more than the common price for drinks in Tulum. We decided to include it in our best bars list mostly because of the scenery and aesthetic, which is perfect for a romantic sunset dinner or night. If you fancy this place to go drinking, we advise you to book first on their website.
☝🏼 Our expert tips: nests are great for big groups, otherwise they can be pretty expensive for only two people (1000 + USD). 
Take Advantage Of Free Concierge Service
As excellent to explore Tulum and its surroundings alone, you may need help figuring out where to start. To make the most of your money and time, contact Virginia and Kelly - two incredible Mexican girls living in Tulum for more than 15 years. They're familiar with the ins & outs of the Tulum town and hotel zone like the back of their hand! 
Since we arrived in Tulum 2 years ago, many adventures wouldn't have been possible without their help - they know literally everybody in Tulum and can perfectly organize every moment of your stay. Get the best tables, skip queues and get on the guest list of the coolest places in Tulum - this's only the beginning! 
They are ready to offer you guys FREE concierge service in Tulum for the time of your stay: take advantage of it, contact them on Whatsapp and live the best experience!
Get FREE Concierge Service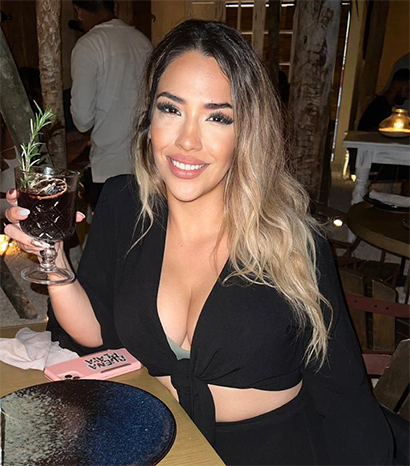 "Virginia Will Transform You In A Tulum Insider"
THE TOP 5 BARS IN TULUM CENTRO
Here you'll find the best bars in Tulum Centro. Why should you prefer to hang out in Tulum downtown than at the beach? Well, here the atmosphere is more relaxed and local. If your budget is more tight, you'll for sure have more choices here. Tulum streets are very lively at night and you'll have no problems in meeting new people and making new friends.
Check here below our favorite 5 bars in Tulum Pueblo!
THE TOP 5 BARS IN TULUM BEACH
If you want to have an extra night and experience Tulum luxurious vibe, Tulum beach and Hotel Zone are the places you should head to. With plenty of choice, you can't go wrong.
If you are still having doubts, you should contact our friend Virginia who knows well the staff of the fanciest and coolest bars in Tulum beach. Contact her on WhatsApp to get the best recommendations of upcoming secret parties, get the best table or be on the guest list.
Check here below our favorite 5 bars in Tulum Beach and Hotel Zone!
THE BEST TULUM BARS ON A MAP
To help you find your way around while searching for the best clubs in Tulum, here below we created a map of the best bars in Tulum Centro and Beach Zone.
Check them out and cheer with your partner or friends to your vacation to Mexico – as we say "Salud"!
Things you need to know about bars in Tulum
Tulum Bars: Practical tips and advices
After attending bars in Tulum for the last 2 years, we listed a few tips and advices that can be practical and help you when organizing your nights out. There you go!
Double check your bill: Always make sure to double check your bill before paying in bars in Tulum. The staff can easily make confusion and add you more drinks than what you take. So check, pay and leave a tip if it was not included in the bill!
Bar timetables: Bars in Tulum usually open from 6 pm to 7 pm during happy hours at sunset, and closes between 12 am and 3 am.
Best time to go to a bar in Tulum: if you are on a budget, happy hours are great. Otherwise since bars in Tulum close pretty late, you can join them after dinner to sip a nice and refreshing cocktail.
What to wear: You'll more likely find dress codes at Tulum beach, while in Tulum Centro everybody is much more relaxed. In any case you can't go wrong with a dress and a sandal, or light trousers and a tank top!
Happy Hours for discount on drinks? Happy hours are pretty common in Tulum where you can have from 5 pm to 7 pm advantageous prices on cocktails and drinks. There are also bars offering the 2×1 or free drinks for girls!
Are Tulum bars expensive?
Tulum bars are almost aligned when it comes to prices. You'll actually find cocktails from 100 to 300 MXN pesos, which are 6 to 15 USD. If prices are higher is most probably because of the zone – beach and hotel area – or on the quality of alcohol they are using.
What can be expensive in Tulum is ordering bottles or spirits. But if you keep it on two cocktails per person it will not cost you an arm and a leg!
What happens if you are drunk on Tulum streets?
Police in Tulum is not always your best friend. If you are a gringo (foreigner) they will try every way to get some money from you. Once Eddy was walking in town with a beer, and he wasn't drunk at all, and police stopped him because it's apparently forbidden. They then asked him money and luckily he gave them only 500 pesos and they left him go.
So, no – it's not a great idea to be drunk in Tulum streets or even worst – drink alcohol while you're walking. Same goes for drugs and co. Police will bring you to jail overnight and then ask you money so that you'll be able to exit!
Frequently asked questions about bars in Tulum
Down below a list of questions to give you all the info you might need about bars in Tulum. Check them out!
Where to get a drink in Tulum?
You can get a drink in Tulum both in the Centro as at the beach. Tulum beach certainly has many more bars than Centro.
What time do bars close in Tulum?
Bars in Tulum close between 12 AM and 3 AM.
Are children and minors allowed in bars in Tulum?
Not every bar in Tulum allows minors or children. You'll have to check it at the entrance, but in any case you'll not be able to order alcohol if you're a minor of 18 years old.
Where is the main strip in Tulum?
The main strip in Tulum is at Tulum Beach on the road called Carrettera Tulum-Boca Paila.
Which are the best bars in Tulum for couples?
The best bars in Tulum for couples are Casa Jaguar and Nana Rooftop Bar.
Which are the best bars in Tulum for groups?
The best bars in Tulum for groups are Papaya Playa Project and Gitano.
What is the minimum age to drink alcool in Tulum?
The minimum age to drink alcool in Tulum is 18 years old.
What is the best bar of Tulum?
The best bar of Tulum is Casa Jaguar.
How can I pay in bars in Tulum?
In Tulum bars you can pay both with credit card and MXN pesos. If you're thinking to pay with USD, they will maybe not be accepted or the change rate will not be in your favor.
Are bars in Tulum safe?
Yes, bars in Tulum are safe. If something dangerous concerning a cartel or other incidents happen, you'll be notified by the community and you can spend a night at your hotel or Airbnb in complete safety.
Are tips included in the service price at bars in Tulum?
You'll have to check the bill to see if tips are included in the bar where you are in Tulum. Usually tips in bars are separate from the bill and you'll be able to leave them in cash or when you pay with credit card.
Is there a minimum spend at bars in Tulum?
No, there is not a minimum spend at bars in Tulum.
Which kind of music is it played at bars in Tulum?
It depends on the bar or the night, but music played in bars in Tulum varies from chilled music to techno and house sounds. Old school sounds and latin music are also very popular!
Is there a dress code at bars in Tulum?
Dress code in Tulum bars depends a lot on the area. In Tulum beach you'll have a more elegant dress code, while in Tulum Centro you'll be definitely more casual.
Top Events to Make Your Trip Unforgettable
DOMINIK TULUM @MIA TULUM
When: September 9, 2023 7:00 PM
Where: Mia Restaurant & Beach Club, Tulum
🌴 Join Us for An Unforgettable Night at DOMINIK - TULUM at Mia Tulum! 🌴
Friends, clear your schedules and get ready for a magical experience at Mia Tulum! This stunning location will host DOMINIK - TULUM on Saturday, September 9th, from 7 pm to 1 am. This isn't just another event; it's a fusion of nature, culture, and sound featuring an incredible line-up with GIORGIO STEFANO, AUDICTIVE, and MAURO TORRETA. At DOMINIK, you'll find the perfect blend of Tulum's lush jungles and pulsating underground beats, creating an environment where genuine connections blossom.
🎟️ Secure your tickets now:
Early Bird: $575 MXN ($38 USD), includes a welcome drink 🍹 (Limited Availability)
Tier 1: $805 MXN ($52 USD), includes a welcome drink 🍹 (Limited Availability)
Final Tier: $1150 MXN ($75 USD), includes a welcome drink 🍹 (Limited Availability)
Dinner + Party: $1380 MXN ($90 USD) 🍽️🎉 (Limited Availability)
See you there for a night you won't forget! 🎶✨
Ready to join us? Get your ticket now! Early bird tickets are already selling out, secure them at 632 pesos (only 15 tickets available).
Hurry – spots are filling up fast! 🙀 We can't wait to see you there!
Top Parties and Club Events
17th September - ANCESTRAL SOUL @BONBONNIERE TULUM
22nd September - TONY ROMERA @BONBONNIERE TULUM
29nd September - TIM BARESKO @BONBONNIERE TULUM
4th November - HOT SINCE 82 @BONBONNIERE TULUM
13th March - LOCUS Tulum 2024