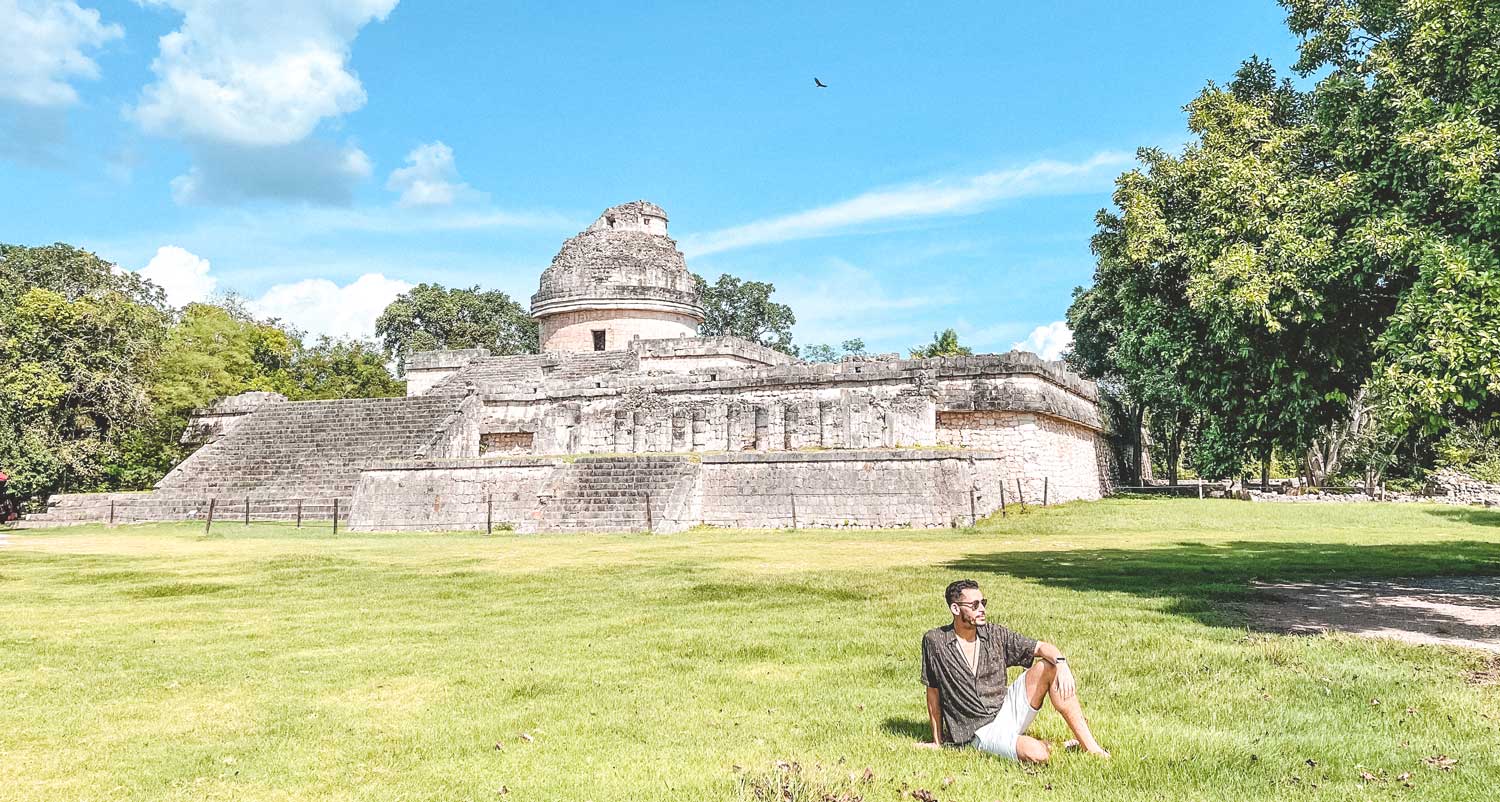 Rental car in Tulum: why you should rent one and how to avoid scams
Renting a car in Tulum, even only for one day, can be challenging. But hey, don't despair! We are here to share with you our tricks on how to rent a vehicle in Tulum and avoid scams. Mexico is a beautiful country, but it's really huge: so what's better than traveling by car during your trip to be able to visit as many city as possible? From our experience this is one of the best deals to enjoy your trip without any problems. There are many locations of rentals in Tulum, Cancun and Playa del Carmen, both of companies from Mexico and America, in town as at the airport where you will be able to rent a car and pick it up immediately at your arrival. In this guide you will find our reviews on the best car rentals in Tulum, Cancun and Playa del Carmen, which rental is mediocre and which has the best prices, in which location you can make a reservation by credit card and which company has the largest choice of cars, from the economy and compact to the most fancy suv. Ready to drive? Vamos!
The Best Car Rental in Tulum: which one has the best price?
We once rented a car in Merida, one of the biggest city in the South of Mexico with Cancun, to reach Tulum. On that occasion we chose Alamo Rent a Car, one of the most popular car rental company, and we really had a great experience. Once in Tulum, we discovered BGH Car Rental, a great small company with incredible prices and brand new cars: we had an amazing experience with them! Keep on reading to discover why their location price is really good, which kind of vehicle they have and which insurance they offer to their customers.
Price : 40 USD per day with insurance included, or 30 USD per day if your rental period is higher than 3 days
Opening Hours : 6 AM – 12 AM
Location : BGH Car Rental
BGH Car Rental was a total discovery. We usually rent cars with big companies, but we have to admit that sometimes they are not so convenient. Moreover, we heard a lot about cars overbooking in Tulum, so we preferred renting a car with a local business. That's when we first contacted Renata, that with her kindness made renting a car easy and effortless. We rented a new Nissan Versa with all the comforts you can think of, and a decent space in the trunk so that we could fit all our stuff in it without problems. They don't ask you for a credit card to rent one of their cars and moreover, you have great insurance included in the price. Kilometrage is illimited and you are simply free to leave for an adventurous day trip from Tulum! Feel free to contact Renata at +529841568080 to check their availability. 
No need to have a credit card, insurance included, new cars, kind staff
Nothing: we loved our experience with them and Renata!
Price : 60 USD per day with insurance included
Opening Hours : 8 AM – 6PM
Location : Alamo Rent a Car
Our review on Alamo company is definitely positive! They are pretty clear and their employees are really kind. We decided to rent a car to reach Tulum from Yucatan and then we decided to extend the rental for a few more day. The guy, even though there wasn't any available car in Tulum, made a call to their other locations in Playa del Carmen and Cancun, and he finally got us a car for the afternoon of the same day. Moreover, if you know a few words in Spanish, everything will be way easier and you will even be able to get a discount on the price while you make your reservation. A thing we really liked is that the deposit they take on our credit card at the moment of the reservation is the lowest you can find. We also enjoyed the service that in the basic price you get already an insurance which covers you and the car for many scenarios. This definitely saves you time!
Low deposit required on your credit card, insurance included, cleanliness, kind staff
Maybe the choice of cars if you are searching for a suv or a pick up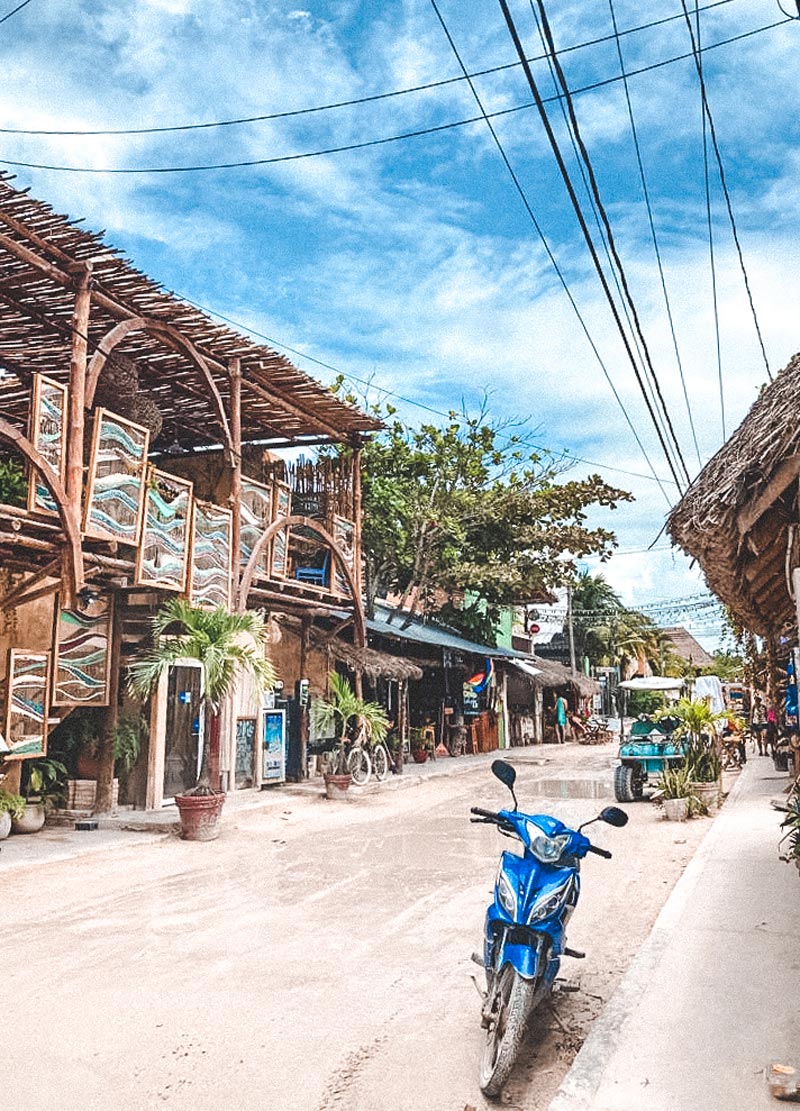 "Scooters Are Life-Saving In Tulum"
"Walking To The Car Rental"
The Best Car Rental in Cancun: find out the best deals from the airport
In Cancun you have for sure a lot of concurrence, but City Car Rental seems not to be scared of it! We loved this company and we are not alone: they have amazing reviews, they offer a really good price and they are close to the airport. Can it get better?
Price : 25 USD per day
Opening Hours : 7 AM – 11 PM
Location : City Car Rental
City Car Rental is a company from Mexico which has different locations all around the country. Their reviews are anything but mediocre! In fact they offer really good deals: their location is in Cancun airport, which most probably you will land in, so you can pick up your car immediately at your arrival, the price they offer for the vehicle includes insurance without any additional price and they accept credit car. They will soon open many locations in America as well, so they are really doing a great job. Be careful to check their availability because since they are one of the most popular car rentals, they can run out of cars pretty fast! 
Very reliable, great deals and prices, good opening time
They have an high demand since they are pretty popular
The Best Car Rental in Playa del Carmen: pick up the best offer
Playa del Carmen is a great spot to travel in Yucatan and Riviera Maya. For sure there are many international companies operating here, but check out our pick for Playa del Carmen: 100% Mexican, very reliable and with the possibility to rent one of the most popular cars in Mexico. 
Price : 40 USD per day in Playa del Carmen / 35 UDS in Cozumel
Opening Hours : 8 AM – 6 PM
Location : Rentadora Isis
Rentadora Isis is a rental car company from Mexico, so it's really cool because in this way you can sustain local business. Even though they don't have any locations in America, they have two locations in Playa del Carmen and Cozumel. It's perfect if you plan to visit the beautiful island to snorkel or dive. Their reviews are great and they have really good deals. Moreover, in Cozumel they offer a really typical car in Mexico: the Vocho! We love it, the classic Beetle always has its charm. You will be able to rent it for only 35 USD per day in Cozumel island. Imagine yourself at the beach with this old beauty after a day swimming in the ocean! We never found any rentals offering Vocho, so this company is really not an average one, believe us. 
You can rent a Vocho, they have really good prices and you will have no surprises
They have more compact and economy cars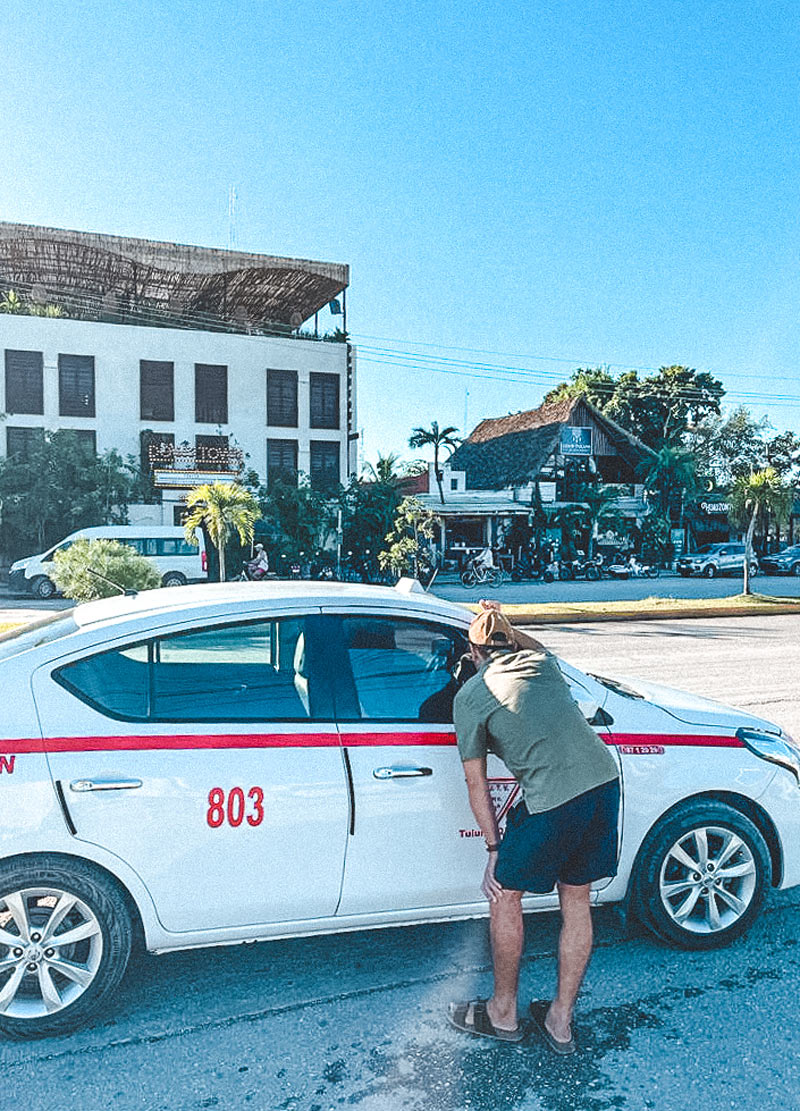 "Cars Are Much More Comfortable Than Taxis"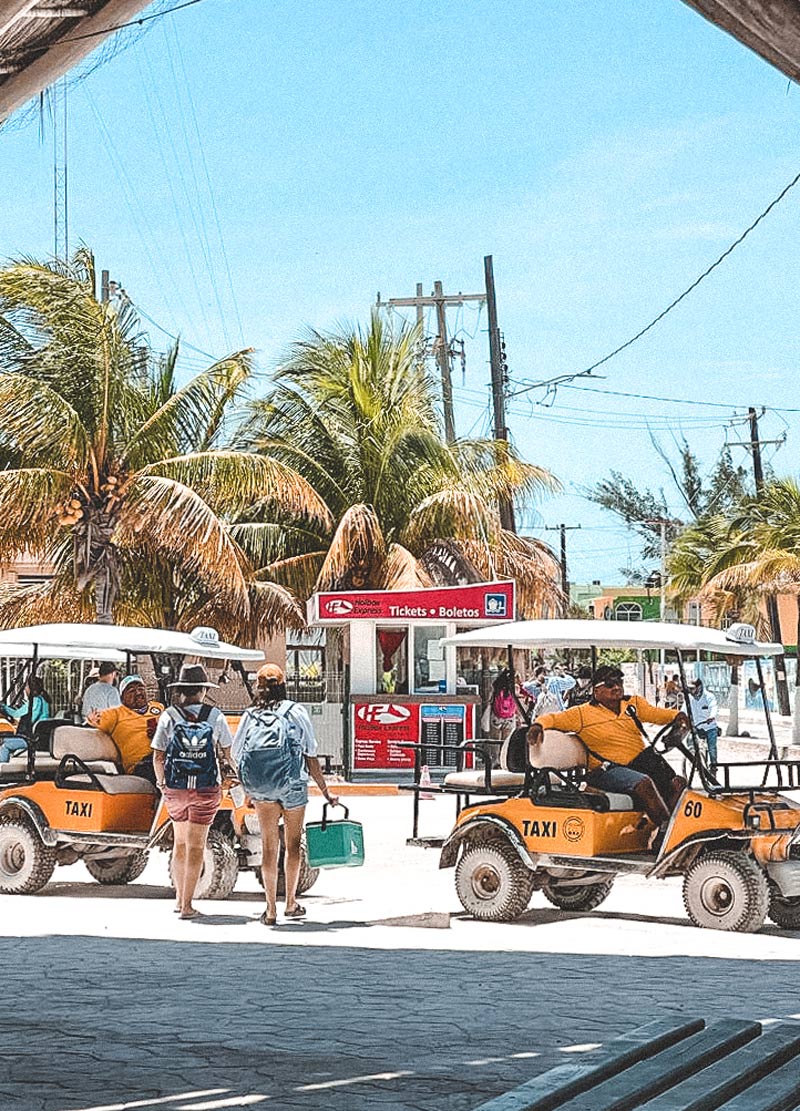 "But They Can Be Funny As Well"
Which coverage you should choose and some advices for your trip
After having shared with you the best car rentals in Tulum, Cancun and Playa del Carmen, below you will find some advice to make your trip even smoother. Ready to upgrade your rental experience and not get scammed?
Is it better to rent a car with credit card or cash?
Now that you had a wide view on car rentals in Mexico, you most probably noticed that a credit card is almost essential. In fact, most rental companies block you a certain amount of money for the deposit on your credit card. Without it, in many cases you will not be able to rent a car. Moreover, you can even get better deals online by paying with a credit card, so we really recommend you to get one, even a prepaid one, to be sure not to have problems during your reservation.  
Should I get insurance for an additional price?
In many cases, you already get basic insurance at the price you are paying per day. In that insurance you usually have all you need during your trip. But, if you are traveling to other regions in Mexico, I advise you to pay for an additional and more extended one. It's never more than 20 USD per day and you never know what can happen along the road. 
Which vehicle should I rent for my trip?
This is the best option if you are traveling from city to city and you are not going to the jungle or to remote cenotes. It's cheap and it will definitely make you save some money during your trip. But, if you have to travel more than 3 hours, I would book an upgrade model: Mexican roads aren't the best, so favor your comfort.
With this kind of vehicle you are sure to get basically everywhere. Not the best if you are planning to stay in the city (Tulum can get really crowded), but definitely the best option if you want to travel without problems.
Scooters and motorbikes are really cheap in Mexico and one of the best ways to move in Tulum. As we said, Tulum and especially its beach get really crowded, so you will thank us when you will save even half an hour on your arrival time. Pay attention: you can not travel in a scooter on the highway or the main carretera, for example from Tulum to Playa del Carmen, so prefer public transport if you rented a scooter for the center.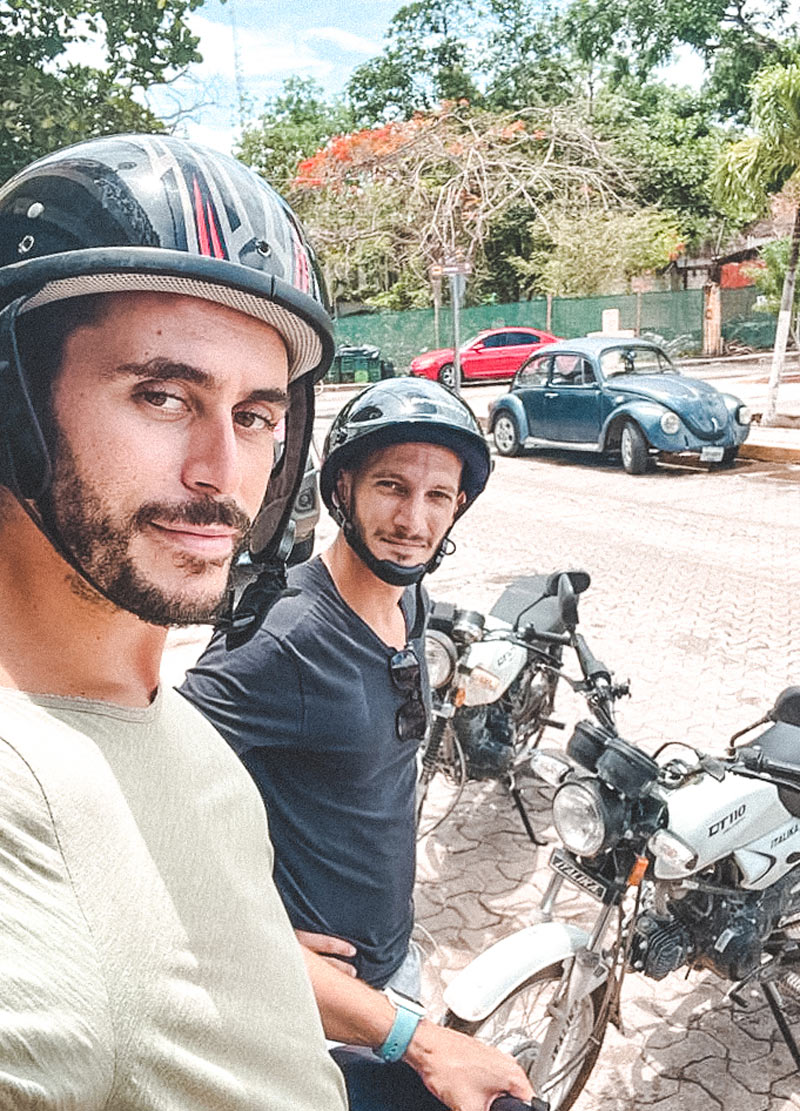 "We Love Riding Motorbikes"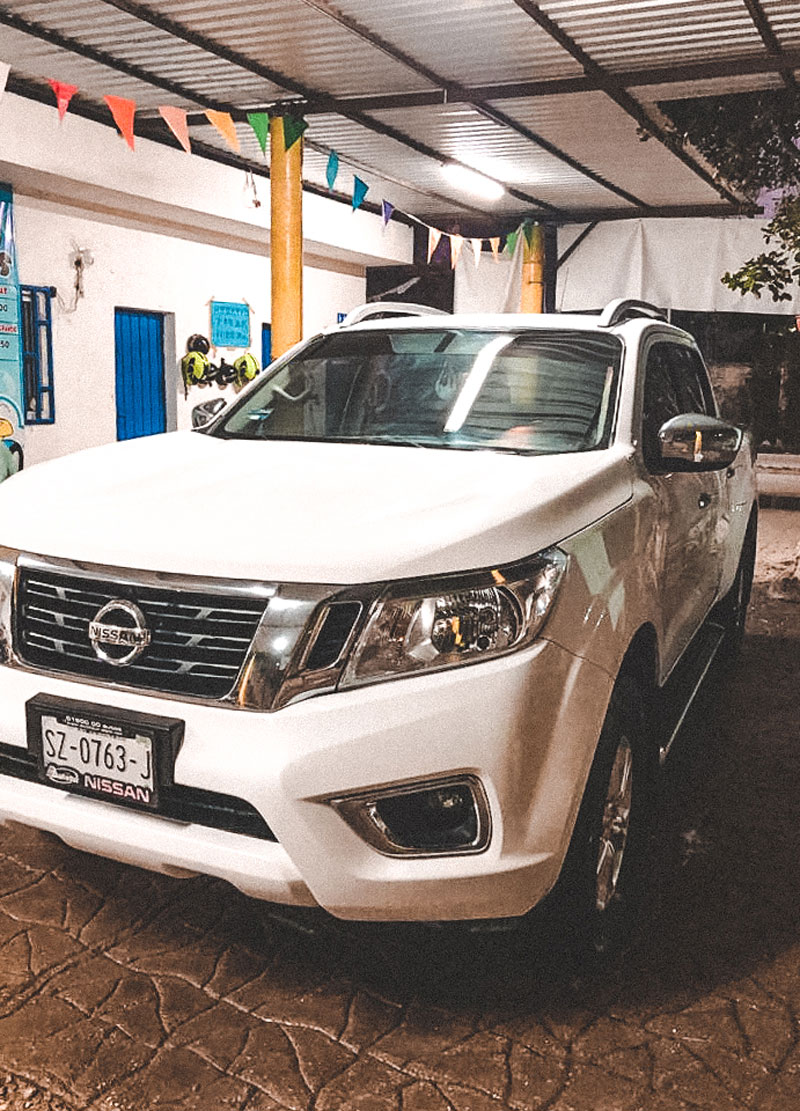 "Pick Ups Are The Best If You Will Travel A Lot"
How to avoid scams when renting a car in Mexico
Mexico can be really full of scammers, but if you carefully read every point of your rental contract, we are pretty sure you will not have any surprises. You can even contact the company before to make sure what you read online is true and to double confirm what you want to reserve. We always recommend you to book online so that you can have the contract before your arrival and you are sure it was not made approximately adding unknown fees or deposit.  
We hope our article on renting a car in Tulum helped you! If you have any questions or you want to share your experience with other travelers, write us a comment below. See you in Mexico! 
OUR BASIC GEARS FOR PHOTOGRAPHY