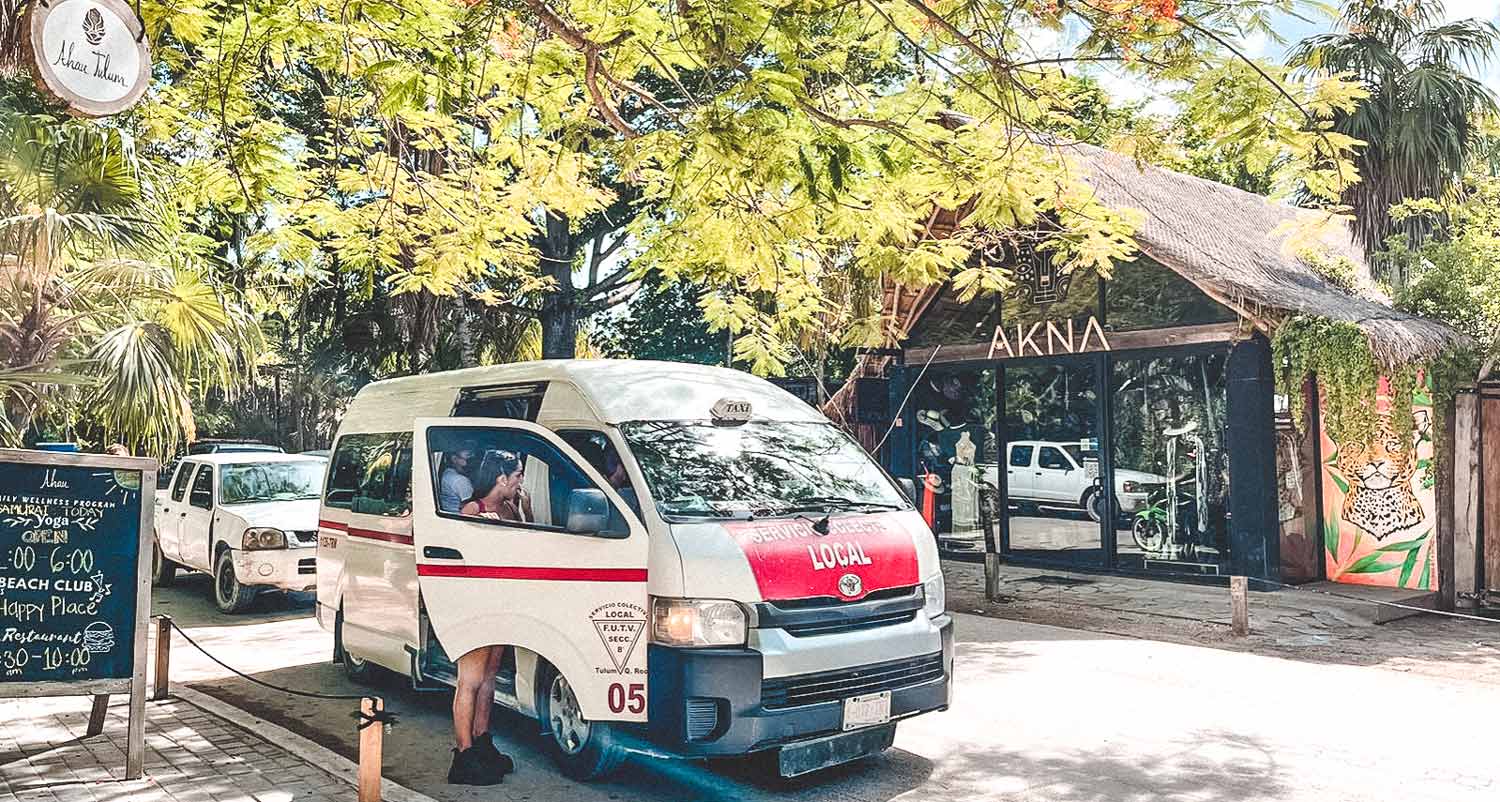 Cancun To Tulum Shuttles: Which One Is The Best in 2023?
You've booked your next trip to Mexico in Riviera Maya. You can't wait to get lost in beautiful cenotes, beaches and Mayan ruins (not to talk about Mexican delicious food), but your flight lands in Cancun and you have to reach Tulum. Tulum doesn't have its own airport, which will soon open in 2023, that's why you are landing with your flight in Cancun International Airport, which is known for tourism a lot more than this small town overlooking the Caribbean sea.
But hey, don't despair: we are here to help you! In our article you will find all the transportation option to reach Tulum from Cancun, and in particular the list of the best transfers and private shuttles leaving directly from Cancun airport and driving you right in front of your hotel's door. Check out which transfer takes less time to reach Tulum, which one has the best reviews and the one offering the best price, and book your shuttle right away!
Tired of organizing your trip? We know how overwhelming it can be – our friend Virginia can help you for free to organize your trip from the best hotel to transportation between Cancun and Tulum, to the most amazing nights out: Take advantage of her service down below!
The best transportation option from Cancun International Airport to Tulum
Once your flight lands in Cancun Airport, you will have plenty of option to reach Tulum. Most of the transfers will take approximately 2 hours, passing through Playa del Carmen, another big city in Riviera Maya, to bring you to your final destination. We recommend you to book your transfer at least a day before if you want to arrive in Tulum at a certain time. It might be that the shuttle or bus you want gets full pretty quickly, so organize yourself on time!
All these option are extremely safe and you will not have any problems. Riviera Maya is a pretty touristic region of Mexico, so you will feel safe most of the time during your travel: nothing to worry about! You will even be able to pay in USD if you haven't changed your money yet. But let's go on and discover the best transport option to reach Tulum!
Our experience reaching Tulum from Cancun airport with a shuttle
Our trip from Cancun to Tulum? Oh, it was a total blast! We, being the digital nomad couple we are, were super excited about this journey. And guess what? We had Virginia, this awesome girl based in Tulum, helping us out. She works at one of the best local car rental spots and knows her way around like nobody's business.
It wasn't just a shuttle ride with Virginia; it was more like a mini adventure, packed with amazing sights and local tidbits. We chatted, laughed, and soaked up the stunning views of the coastline and the lush greenery. The sun setting over the horizon was just the cherry on top of a great day. And the ride? So smooth, it felt like we were gliding on air!
Virginia's rates are super reasonable too, usually between 90 and 110 USD, depending on the time of the year and how busy things are. But honestly, for the peace of mind and the fun time we had, it was worth every penny.
And if you're wondering about the logistics, don't. Virginia's got you covered. She's super helpful, answering any questions we had and sorting out everything for our arrival. She made it all feel so easy, like a friend helping out friends. So, yeah, if you're headed that way, contact Virginia today to secure your shuttle – you won't regret it!
Secure your shuttle today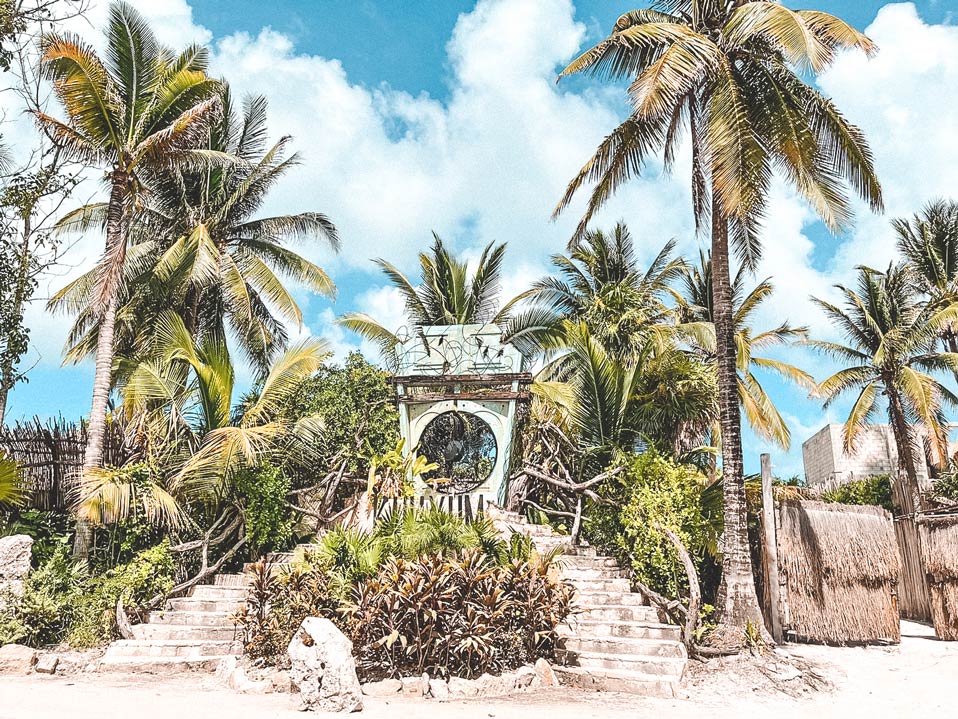 "There Are Many Resorts On The Way To Tulum"
Location: ADO bus | Price: around 21 USD | Passengers: as many as the free seats on the bus
ADO buses are the most famous taxi in Riviera Maya and Yucatan Peninsula in Mexico. This company is really safe and they offer a high quality transfer at a convenient price, depending on the hours you travel to Tulum. There is almost a bus per hour and you are very well connected with the whole Riviera Maya. Of course, the bus can't bring you in front of your hotel, but it's a really good option if you are traveling on a budget, but you want to have something safe at the same time. So if you ask us, we would definitely recommend this transportation! 
There are little to no cons about choosing to travel with an ADO bus. Of course it's not a luxury or something fancy, but it does its job (and even more than decently). Between all the transport services, it's the one we recommend to our friends, so even if you will take a few more minutes than with the car or the taxi, it's totally worth it for their prices and the time you will reach your destination: Tulum!
3 things to keep in mind when choosing Ado buses to reach Tulum
Here are three things to keep in mind when taking ADO buses to reach Tulum from Cancun:
Schedules and routes: The ADO bus company operates several buses daily from Cancun to Tulum, and it's important to check the schedules and routes ahead of time. The buses can fill up quickly, especially during peak travel seasons, so it's best to book your tickets in advance to secure your seat.
Luggage restrictions: The ADO buses have limited luggage space, and there are restrictions on the size and weight of bags that you can bring on board. Be sure to check the luggage restrictions ahead of time to avoid any issues or additional fees.
Safety and security: While ADO buses are generally safe and reliable, it's important to take precautions to ensure your safety and security during the journey. Keep an eye on your belongings, avoid carrying large amounts of cash or valuables, and be aware of your surroundings at all times. It's also recommended to keep your passport and other important documents with you, rather than in your checked luggage.
Private taxi driver for a group transfer
Location: in front of Cancun International Airport | Price: around 65 USD | Passengers: from 1 to 8
Even if taxi driver in Mexico can be pretty tough and they will for sure try to scam you, it is still an option to reach Tulum. You will find them right outside Cancun International Airport and it will be pretty easy to find one that will bring you to Tulum. So yeah, a positive point is that you will not have to book it a day before, but you will be ready to go! Since it will be a private transport, it is definitely a more luxury experience than with the bus. You will even be able to organize some tours with the driver if you are up to it, or ask him to leave you right in front of your hotel. In a nutshell: it's definitely comfortable, but you will have to deal with some cons… check them out below!
The biggest disadvantage of this transport service is that the driver, since you are a tourist and most probably not speaking Spanish, will try to scam you asking you for double the price or who knows how much. The ride all in all it's not even expensive if you share the price with other passengers, but you will have to find first a taxi driver who respects the fare. The trip will definitely be shorter, but be ready to bargain.
3 things to keep in mind when choosing a taxi to reach Tulum
Here are three things to keep in mind when taking a taxi to reach Tulum from Cancun:
Negotiate the fare: Taxis in Cancun do not have a metered system, and it's important to negotiate the fare with the driver before getting into the taxi. The fare can vary depending on the distance, time of day, and demand, so it's important to agree on a price before starting the journey to avoid any misunderstandings or overcharging.
Use a licensed taxi: To ensure your safety and security, it's recommended to use only licensed taxis in Cancun. Licensed taxis have official identification and are regulated by the government, which means they are subject to safety inspections and background checks. Avoid unlicensed taxis, as they may not have proper insurance or safety measures in place.
Know the route: It's helpful to have a general idea of the route to Tulum before getting into the taxi. This can help you to avoid any unnecessary detours or delays and ensure that you reach your destination safely and efficiently. If possible, use a GPS or map app to track the journey and confirm that you are on the right track.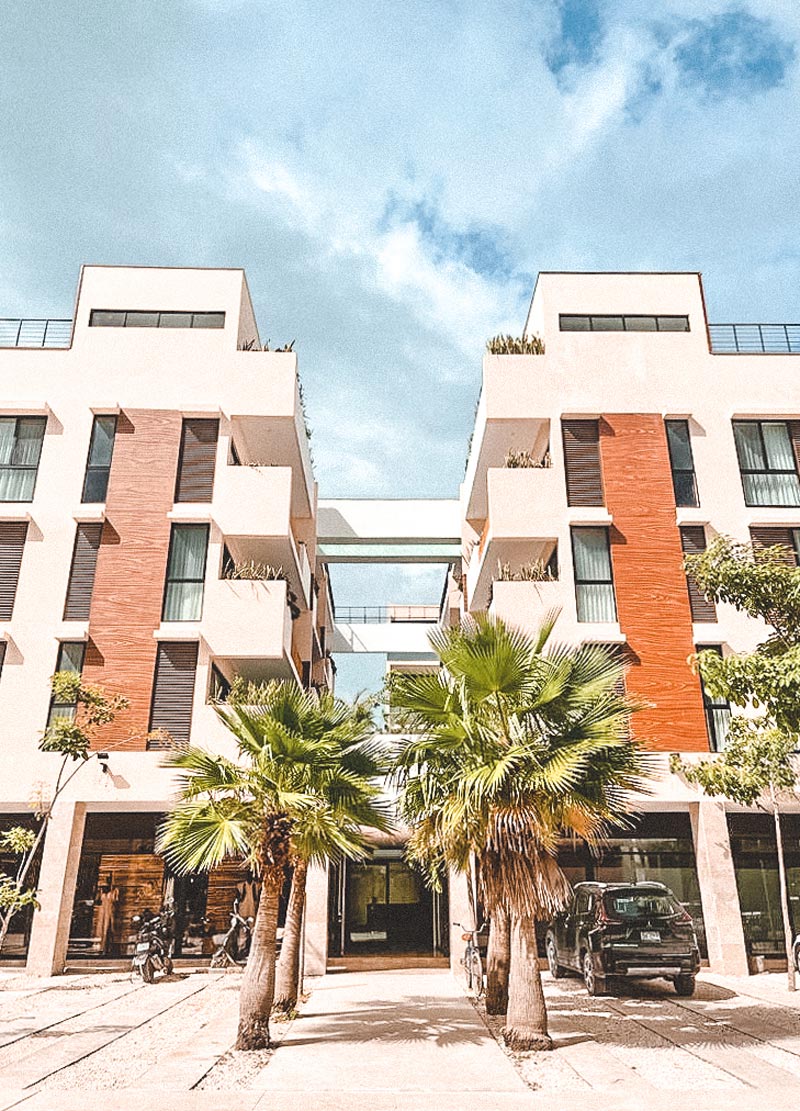 "Typical Riviera Maya Buildings"
"Shopping Is Always A Good Idea"
The best Cancun Airport to Tulum private and shared shuttle
If you arrived at this point of the article is because you want to travel with a private shuttle to your hotel in Tulum: how to blame you! You will have a professional driver waiting for you right in front of Cancun Airport and will bring you to the hotel you book in Tulum. Between all the transport options, this one is definitely the most luxury one and the one that will permit you to have zero stress starting your trip. Let's find out the best 3 shuttle rentals in Cancun Airport! 
3 things to keep in mind when choosing a shuttle to reach Tulum
Here are three things to keep in mind when taking a shuttle to reach Tulum from Cancun:
Book in advance: It's recommended to book your shuttle in advance to secure your seat and ensure a smooth and timely journey. Many shuttle companies offer online booking or can be booked through your accommodation provider in Tulum.
Confirm pickup time and location: Before the day of your journey, confirm the pickup time and location with the shuttle company to avoid any confusion or delays. Be sure to be ready and waiting at the designated pickup point at least 10-15 minutes before the scheduled pickup time.
Luggage restrictions: Most shuttle companies have luggage restrictions, so it's important to check the luggage policy before booking. Generally, one large suitcase and one carry-on bag per passenger are allowed, but it's best to confirm the exact restrictions with the shuttle company beforehand. If you have more luggage than allowed, additional fees may apply.
Location: Kalido Travel | Price: 120 USD for the van or 195 USD for the suv | Passengers: 8 per shuttle or more if you book more than one shuttle
This Mexican company has incredible reviews on Google Maps! With a rating of 5 stars, you will have a friendly driver that will bring you smoothless to your destination. Their prices are on average of the other transfers at the airport, but their strength is their professionality, the care they put in their job and the way they will think about everything. You will also be able to organize tours with them around Riviera Maya if you are traveling with your family or with a group of friends. If you are searching for luxury, then Kalido offers you a suv transfer at only 195 usd: pretty convenient if you compare it to other companies.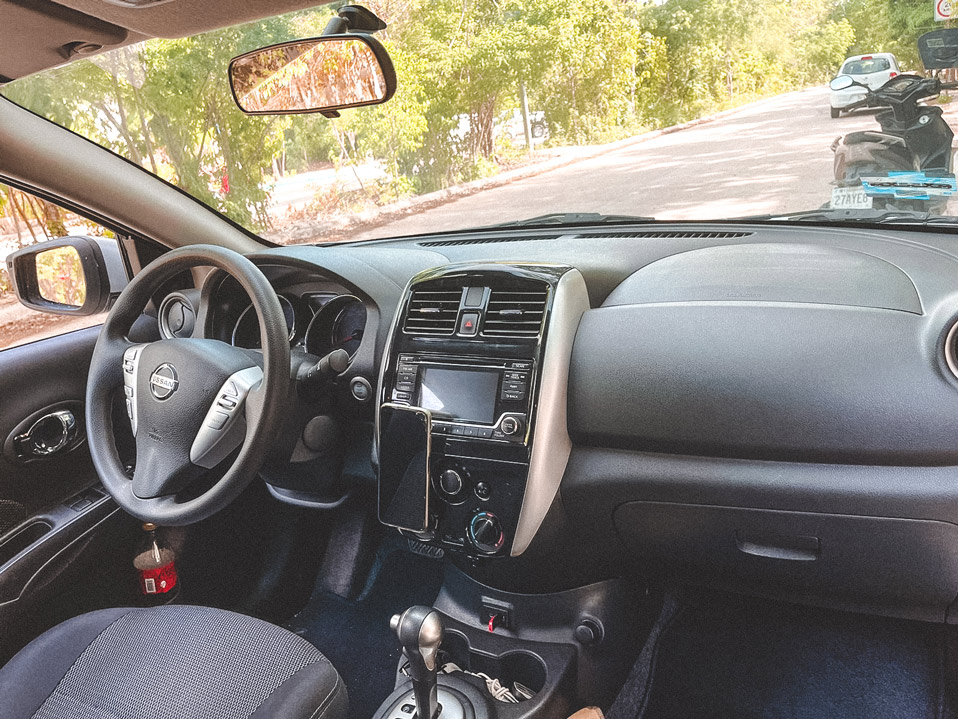 "The Car We Rented To Move In Tulum"
Location: Cancun Shuttle and Tours | Price: 119 USD for the van | Passengers: 10 per shuttle or more if you book more than one shuttle
Cancun Shuttle and Tours is one of the best companies for their value for money. In fact, their shuttle is one of the cheapest. If this is not enough for you, know that in their price you will have a free water bottle or beer at your arrival in Cancun, your driver will speak English and you will have no bad surprises. Their capacity is 10 passengers maximum per van, plus luggages and every vehicle has A/C and are fully insured. Not a bad deal, isn't it?
Official Cancun Airport Transportation
The Official Cancun Airport Transportation, or eTransfer, is also a great company to move around Riviera Maya. They organize tours, or private transport to your hotel, whether you book it in Playa del Carmen or Tulum. They are professional and their reviews can confirm that. If you want to sustain a local business, the first two shuttles are definitely the ones you should go for. But if they are fully booked and you still want a decent private transfer, then this company is not bad at all!
Take Advantage Of Free Concierge Service
As excellent to explore Tulum and its surroundings alone, you may need help figuring out where to start. To make the most of your money and time, contact Virginia and Kelly - two incredible Mexican girls living in Tulum for more than 15 years. They're familiar with the ins & outs of the Tulum town and hotel zone like the back of their hand! 
Since we arrived in Tulum 2 years ago, many adventures wouldn't have been possible without their help - they know literally everybody in Tulum and can perfectly organize every moment of your stay. Get the best tables, skip queues and get on the guest list of the coolest places in Tulum - this's only the beginning! 
They are ready to offer you guys FREE concierge service in Tulum for the time of your stay: take advantage of it, contact them on Whatsapp and live the best experience!
Get FREE Concierge Service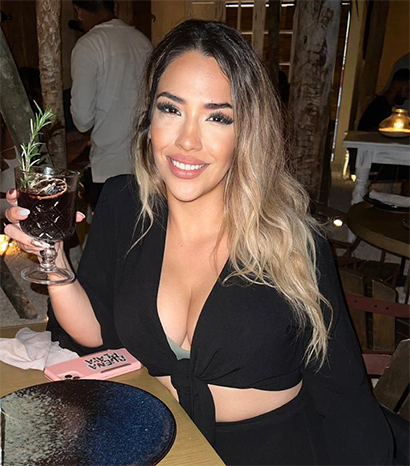 "Virginia Will Transform You In A Tulum Insider"
Best transportation option in Tulum: Rent a car
You are finally in Tulum and you can't wait to discover all its beauties, definitely understandable! But if you want to make your trip smoothless, move when you want without following a schedule and get lost in amazing places around Yucatan, we really advise you to rent a car. We rented with standard rental car companies and our experience wasn't always great: hidden extra prices behind a cheap price, no insurance or even worse, scams. 
That's why, after our experience, we recommend you to rent a car with Virginia of BGH Car Rental. She will provide you a fully equipped Nissan Versa, up to 5 passengers, with high board insurance, without needing a deposit on your credit card, at only 40 USD per day. Wait, if you book it for more than 3 days, the price will decrease at 30 USD. You can contact her at +529842558049 and check for their availability. Definitely the best, safest and cheapest option to discover Tulum. If you have any extra questions and you want to know more about renting a car in Tulum and not get scammed, check out our guide about that!
3 things to keep in mind when renting a car in Tulum
Here are three things to keep in mind when renting a car in Tulum:
Insurance: Make sure you have proper insurance coverage when renting a car in Tulum. The rental company will offer various insurance options, such as collision damage waiver, liability coverage, and theft protection. It's important to carefully review the policy and understand what is covered and what is not.
Driving regulations: Familiarize yourself with the driving regulations in Mexico before hitting the road. For example, the speed limit on highways is usually around 100 km/h, and the legal blood alcohol limit is 0.08%. It's also important to wear your seatbelt at all times and avoid using your phone while driving.
Road conditions: The road conditions in Tulum and the surrounding areas can vary, and it's important to exercise caution when driving. Watch out for potholes, speed bumps, and uneven surfaces, especially in rural areas. It's also important to be aware of the local driving customs and etiquette, such as using your horn to signal passing or turning.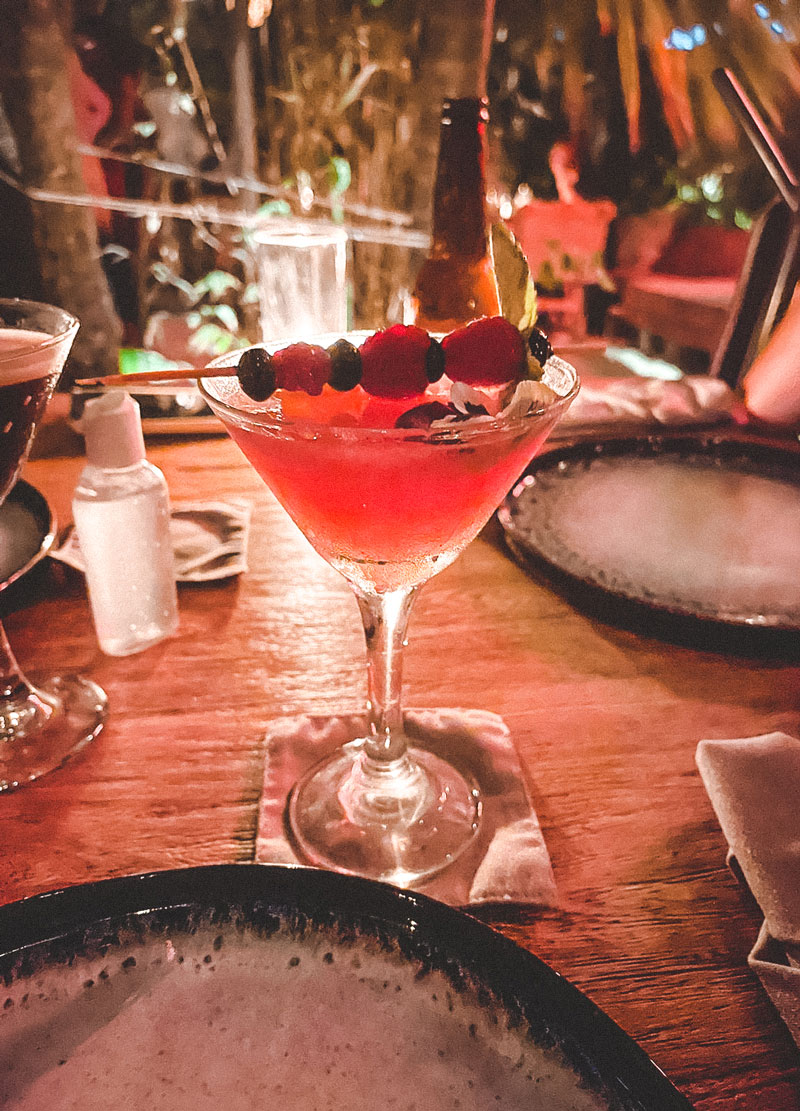 "Delicious Cocktail In Tulum"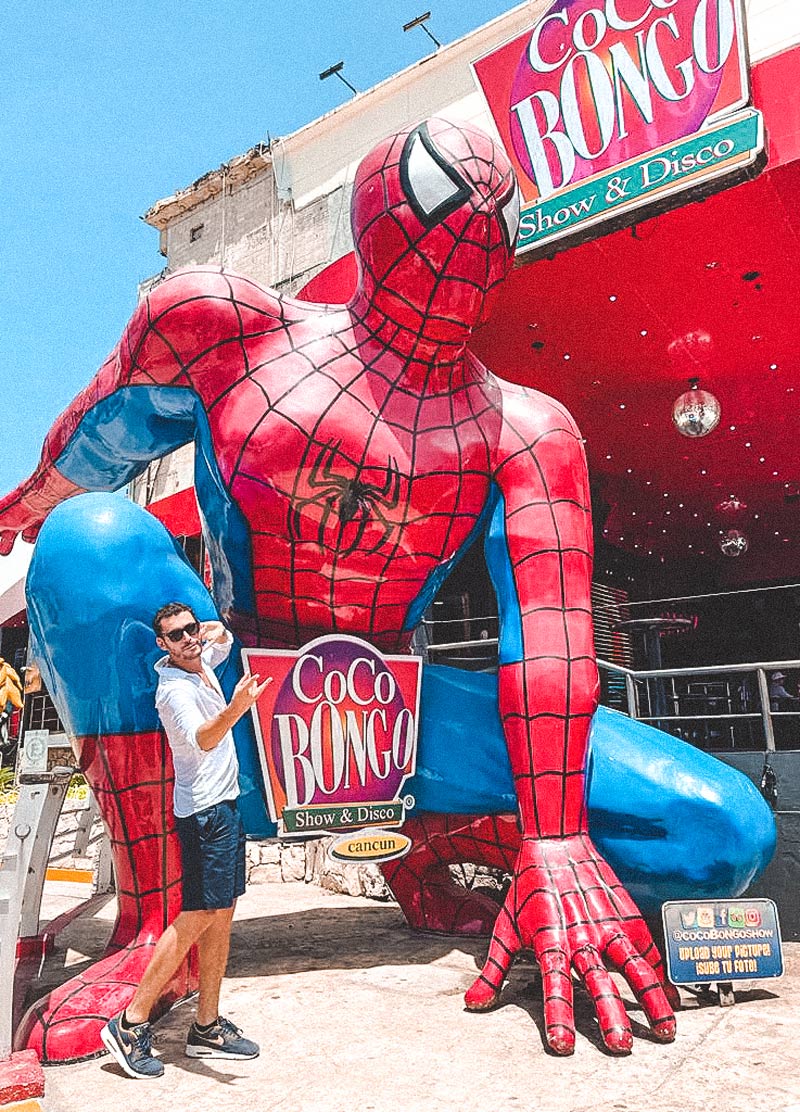 "Cancun Is The Perfect Place To Party"
We hope our guide helped you out choosing the best private shuttle transport from Cancun to Tulum! Let us know below how your experience was and if you prefer Cancun or Tulum! 
FAQ about Cancun to Tulum Shuttles
How far is Tulum from Cancun Airport?
Tulum is approximately 120 kilometers or about 75 miles from Cancun Airport, about 2 hours driving. 
Are shuttle services from Cancun Airport to Tulum working daily?
Yes! You can find shuttle services from Cancun Airport to Tulum any day you arrive at the airport, even on the weekend! 
Should I book a shuttle from Cancun to Tulum in advance?
Yes, you should book a shuttle from Cancun to Tulum in advance, so you have your seat reserved. If you don't want to worry about busy shuttle services, just make sure you book in advance to travel whenever you need to! We always travel with Virginia's shuttles, you can contact her on WhatsApp today and secure your place at the best price!
How much is a shuttle from Cancun airport to Tulum?
The cost of a shuttle from Cancun airport to Tulum may vary according to your preferences, but generally the prices are around 120 USD per van. 
What is the cheapest transportation from Cancun to Tulum?
The cheapest transportation from Cancun to Tulum is the ADO bus service, which will cost you about 21 USD. 
Where can I find the shuttles at Cancun Airport?
Shuttle services typically have designated pick-up areas at Cancun Airport. If you can't find them, don't worry! Just ask one of the airport's staff and they'll be happy to help you out!
Is it safe to take a shuttle from Cancun to Tulum?
Yes, shuttle services from Cancun to Tulum are generally safe, but if you want to be sure, check for reviews or recommendations like the ones we shared with you in this article!
Can I take a private shuttle from Cancun to Tulum?
Yes, many companies offer private shuttle services from Cancun to Tulum. This option may be quicker and convenient especially for larger groups and families! 
Do the shuttle services offer hotel drop-off in Tulum?
Yes, most shuttle services offer drop-off directly at your hotel or accommodation in Tulum, so you don't have to worry about reaching your hotel with your luggage. Just head over, drop your bags, and start enjoying Tulum hassle-free!
👉 FRIDAY, Dec 1
OPENING PARTY X TEN IBIZA 🎉🍹
🎧
ORIOL CALVO, BASTIAN BUX, VITE
📩
Contact Virginia
here
to book a table
💵
First Release Tickets: Mex$ 550 (incl. fees)
Don't miss out on the chance to join us in "A Journey into House Music" tonight at Vagalume. Contact Virginia here to secure your spot for an unforgettable evening! 🌟🍹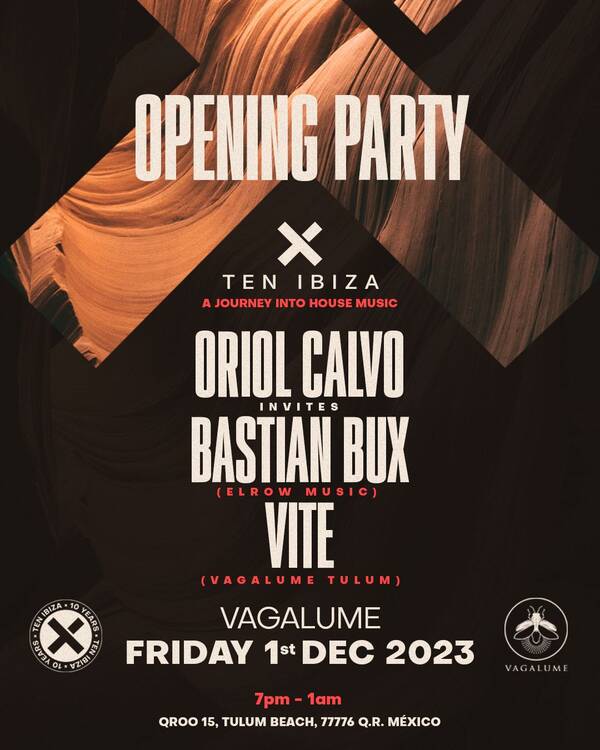 Top Parties and Club Events
23rd November - VAGALUME SESSIONS KEENE @VAGALUME
26th November - VAGALUME SUNDAZE MITA GAMI @VAGALUME
30th November - VAGALUME SESSIONS VALDOVINOS @VAGALUME
3rd December - VAGALUME SUNDAZE VALENTIN HUEDO @VAGALUME
7th December - VAGALUME SESSIONS MUSTAFA ISMAEEL @VAGALUME
30th December - PIKNIK POLO CORP & LEO LEONSKI @VAGALUME
31st December - NEW YEAR´S EVE @BAGATELLE TULUM
31st December - NYE PARTY 2024 @VAGALUME
13th March - LOCUS Tulum 2024