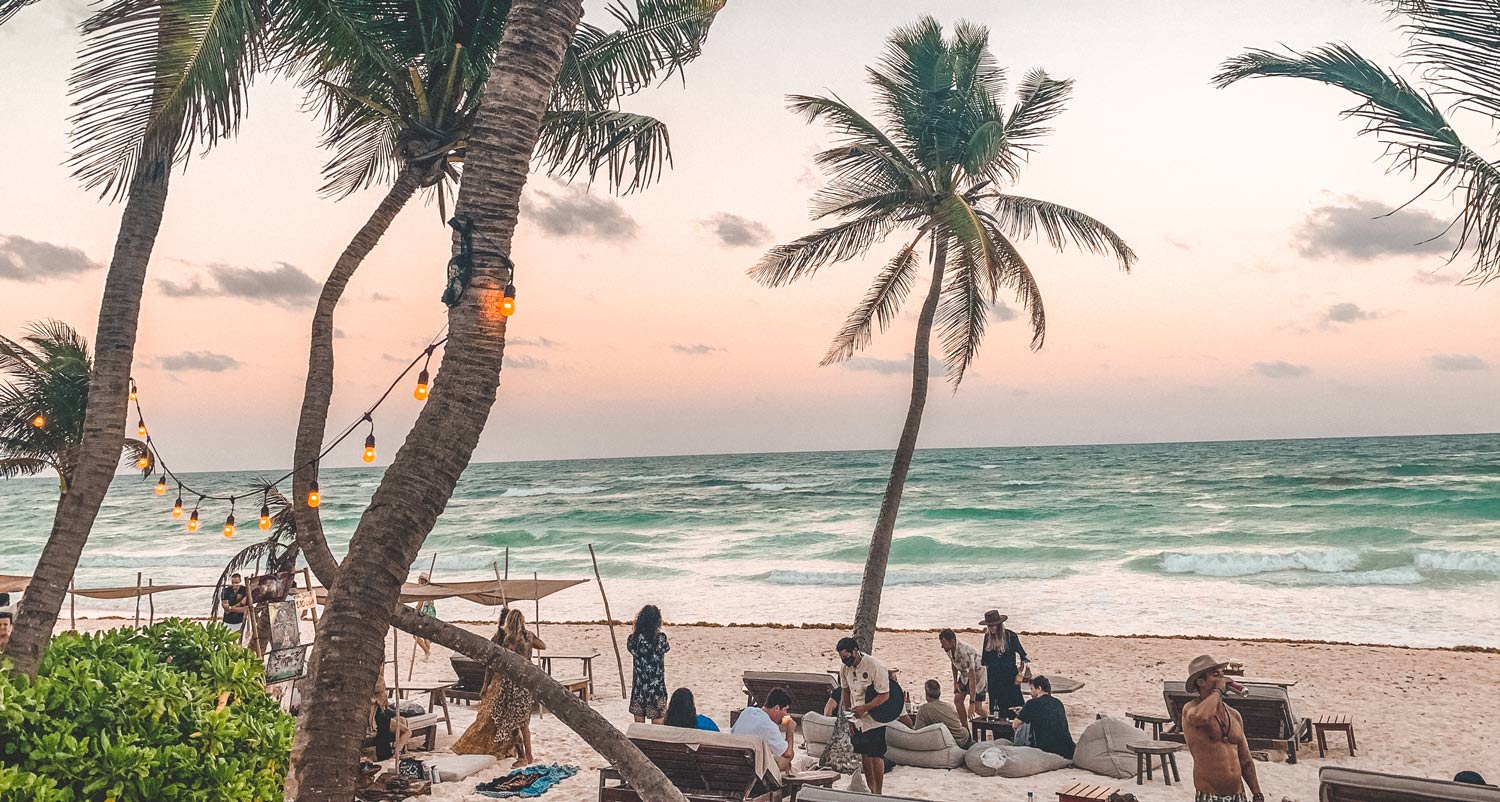 Tulum is one of the pearls of Mexico. With a long white beach with turquoise water located just few steps away from the center, some of the best jungle cenotes of the Quintana Roo region, fancy hotels with the typical Tulum style and architecture, Mayan ruins located at less than one hour, restaurants, bar and hotels with great Mexican food, yoga and spiritual retreats, Tulum is definitely the place to be in 2022.
Whether you're a digital nomad and you want to move there or you're just planning your next trip to Mexico (check out our guide to Mexico here), Tulum is a must. We fell in love with the town and its vibe, everything is great and unique here. Moreover, if you rent a car, you have plenty of day trips from Tulum. Yucatan, Playa del Carmen and Cancun are located just a few hours away. In the close region of Yucatan you will be able to swim in secret cenotes, visit Mayan villages and ruins and see a more authentic and local side of Mexico.
Tulum is also a popular hub for digital nomads, in fact we met many people from the US, Canada and Europe working here in beautiful beach clubs. Sounds dreamy, isn't it? 
Start organizing your trip today – if you need some extra help, don't think twice about contacting our girls Kelly and Virginia which will upgrade your vacation with their FREE concierge service!
Here you'll find our travel guide to Tulum and our reasons to visit this beautiful town overlooking the Caribbean sea.
Our Reasons to Visit Tulum
The beautiful Cenotes around Tulum
Did you know that the word Cenote comes from the Maya word "D'zonot" which means "well"? If you have never been to Mexico, then you most probably never swam in a cenote before. A cenote is a mix between a lake and the sea, in fact it has freshwater and it's usually located in a cave with a hole on the top. The hole lets light enter and thanks to it you can have beautiful play of lights in the water while you swim or dive. Many animals live in these sinkholes: from bats to fishes, turtles and even crocodiles, cenotes are really important for the ecosystem in Yucatan. We love to free dive and snorkel in cenotes: it's a pretty cheap activity and if you are not so good at swimming, you can always enjoy the environment around the cenote. Here we made a list of our favorite cenotes in Yucatan and around Tulum: check it out if you're up for some adventure!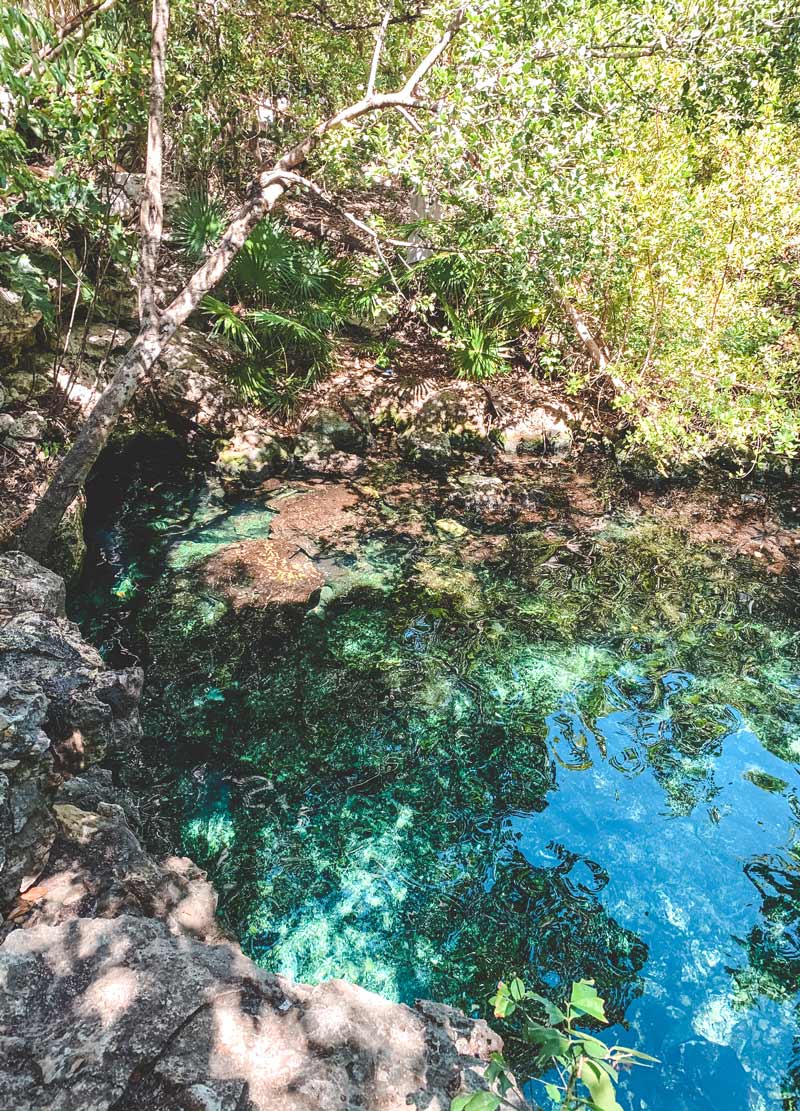 "A Secret Cenote In Yucatan"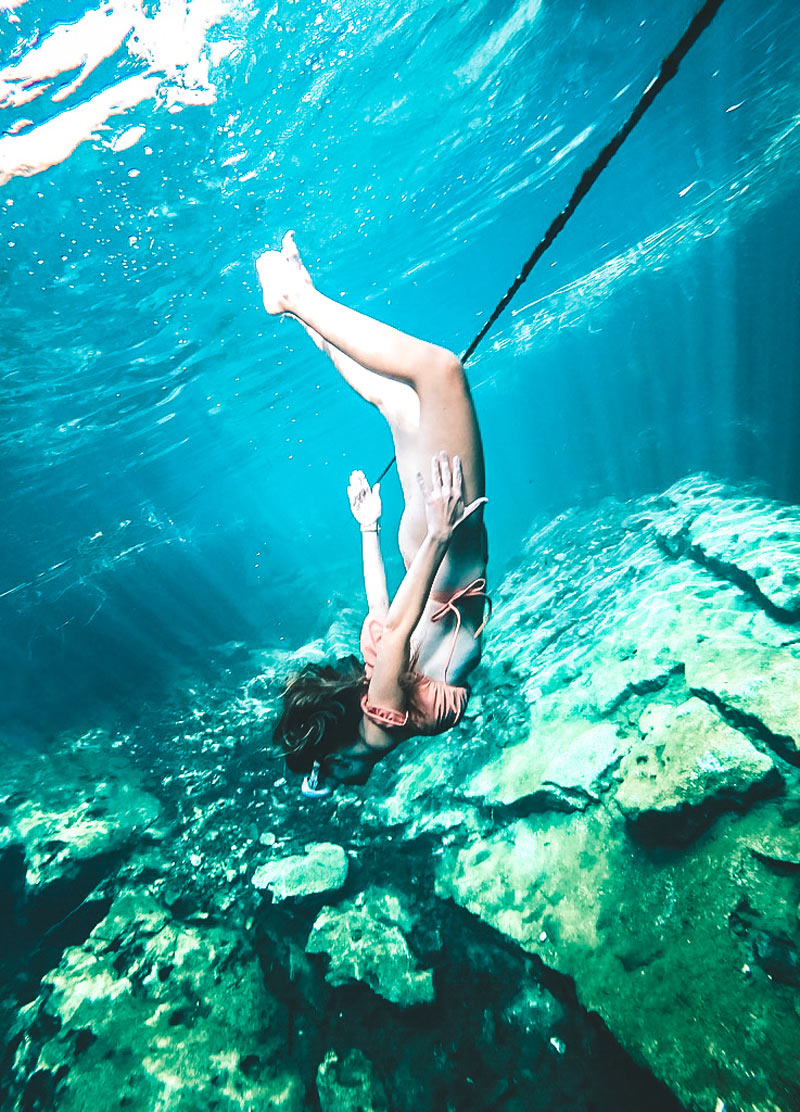 "Alessia Diving In Cenote Escondido"
Yoga in Tulum recharges mind and body
After a day of shopping in town or a tiring day of work, what's better than a yoga session at sunset? Tulum is the perfect place for that! We usually practice yoga in the morning to start our day at best, but here you can actually find many different sessions at every time and in every location. A lot of hotels on the beach are offering that as well as many Mexican and Mayan spiritual ceremonies. Many tourists in fact come to Tulum for yoga retreats or to find their spiritual side. This area is full of places that can offer this kind of things and if you're travelling to Mexico searching for some spiritual experience, then take a look at what our friend Ryan wrote here about yoga retreats in Tulum.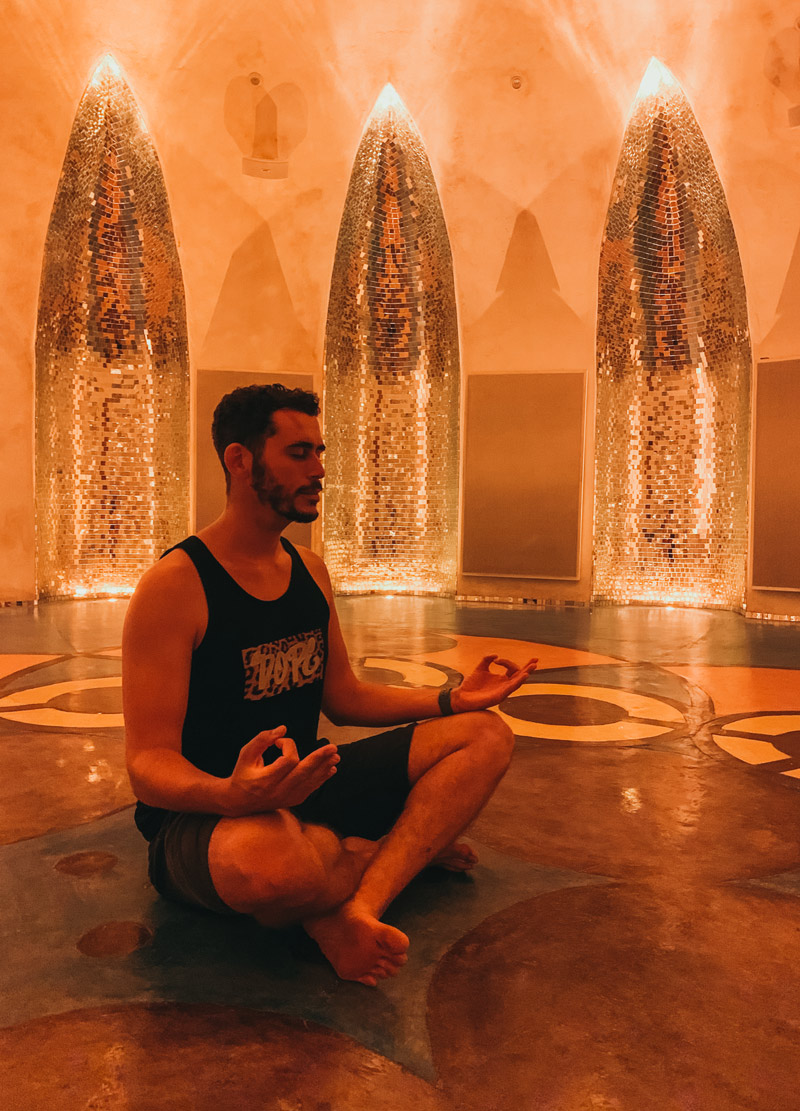 "Eddy Before A Yoga Session"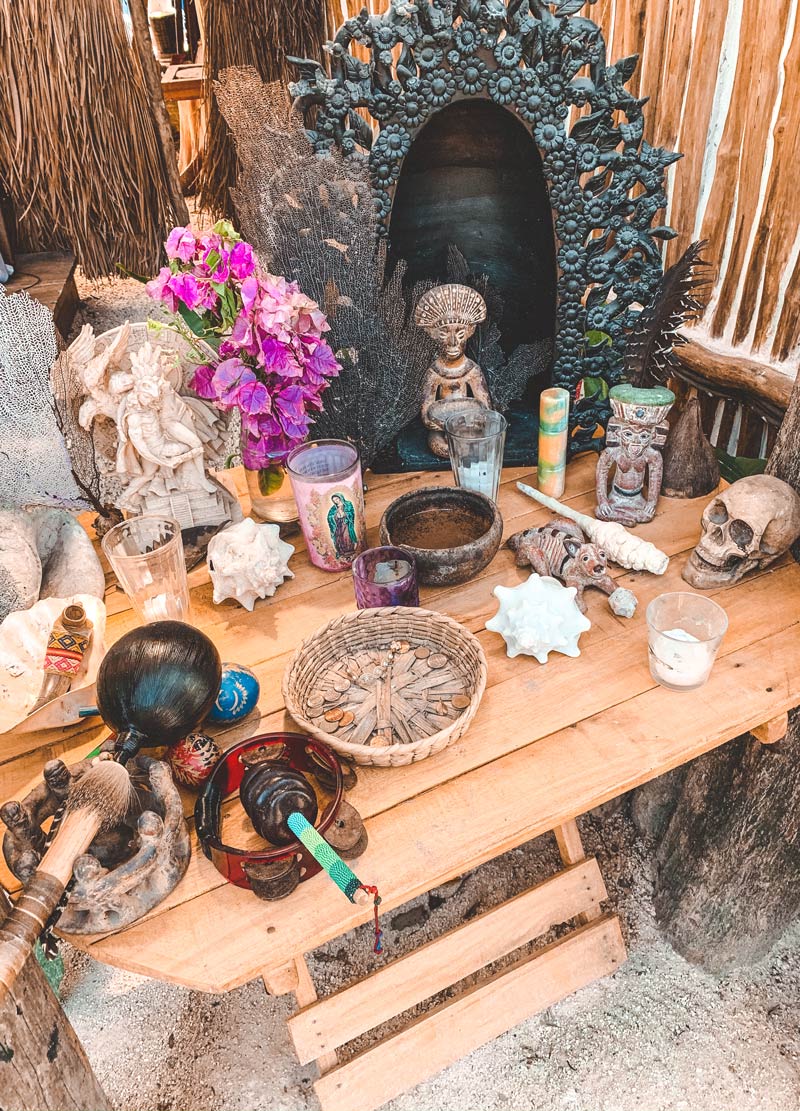 "Tulum And Its Spiritual Side"
Swim in the best beaches of Quintana Roo
Whether you're staying in a hotel or a restaurant, you will most probably be able to see the beach from where you are. Playa Las Palmas and Playa Paraiso, with their beautiful waters, line the southern part of Tulum. The zone next to the beach is either natural with jungle and many trees all around, or with some of the most beautiful hotels in Tulum: Papaya Playa, Kanan, Nomade and Casa Malca are just a few of them. Check out here the list of our favorite secret beaches in Tulum.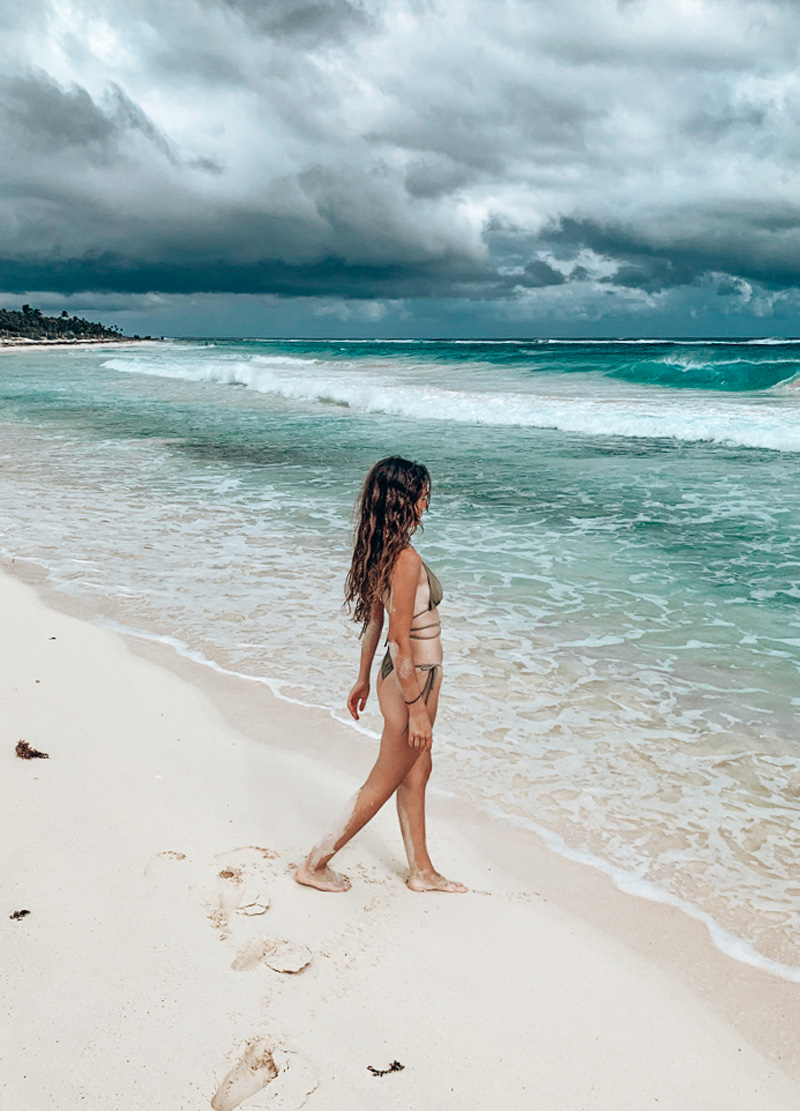 "Alessia Loves Playa!"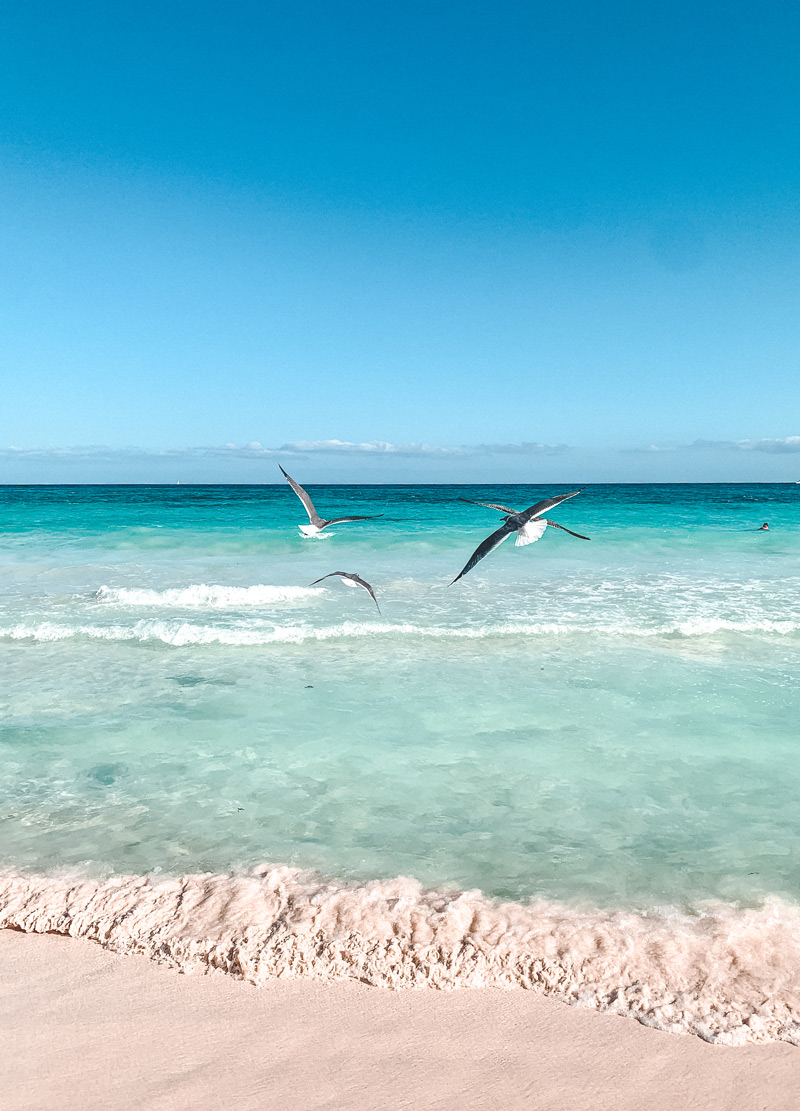 "Playa Paraiso In Tulum"
Discover the typical city center of Tulum
Most probably you've already read many things to do about the center of Tulum. Tulum is a small town and you'll be able to visit it in a week or so. La Veleta, Aldea Zama, Centro and the Beach Zone will be your next favorite places to hang out! Moreover, the Centro will also permit you to eat in great restaurants with just a few pesos. We created here a list of places in Tulum's neighborhoods where we love to hang out, eat some delicious Mexican food or work from. Tulum is also well connected: in fact, you can reach the center of Tulum by car or bus from Cancun airport in just 1:45h, in case you're planning to go there just for a day trip.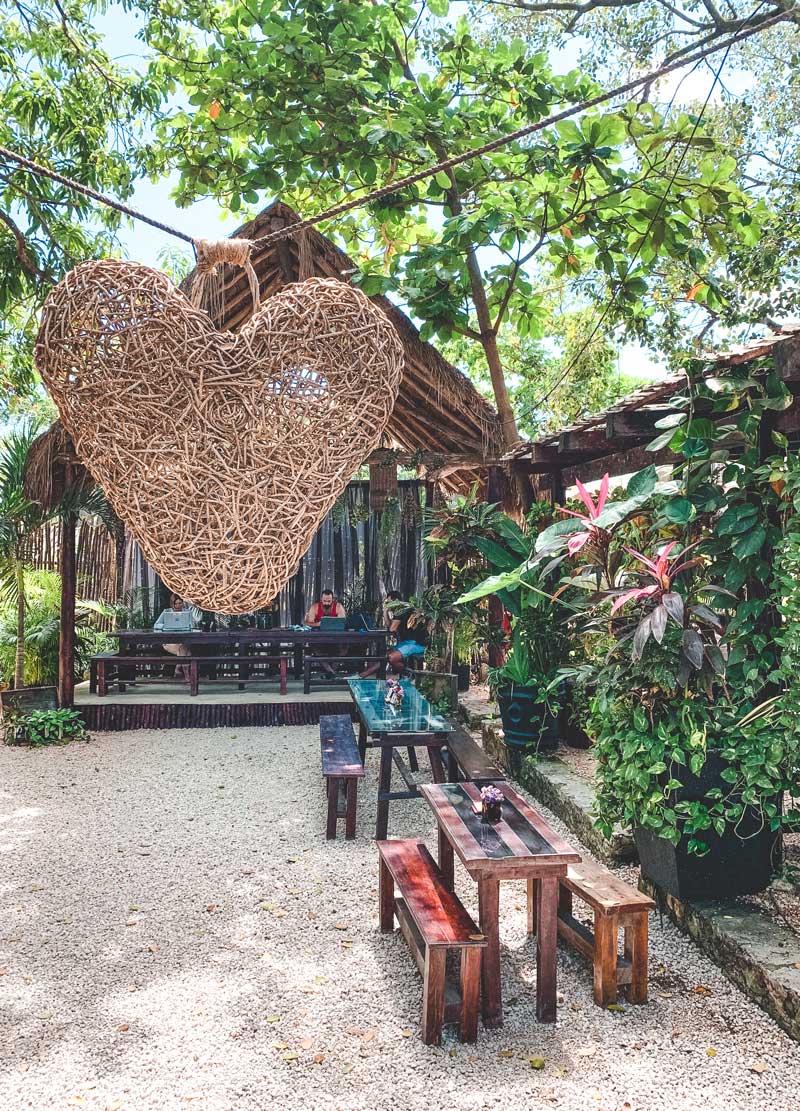 "Encanto Cantina In The Center"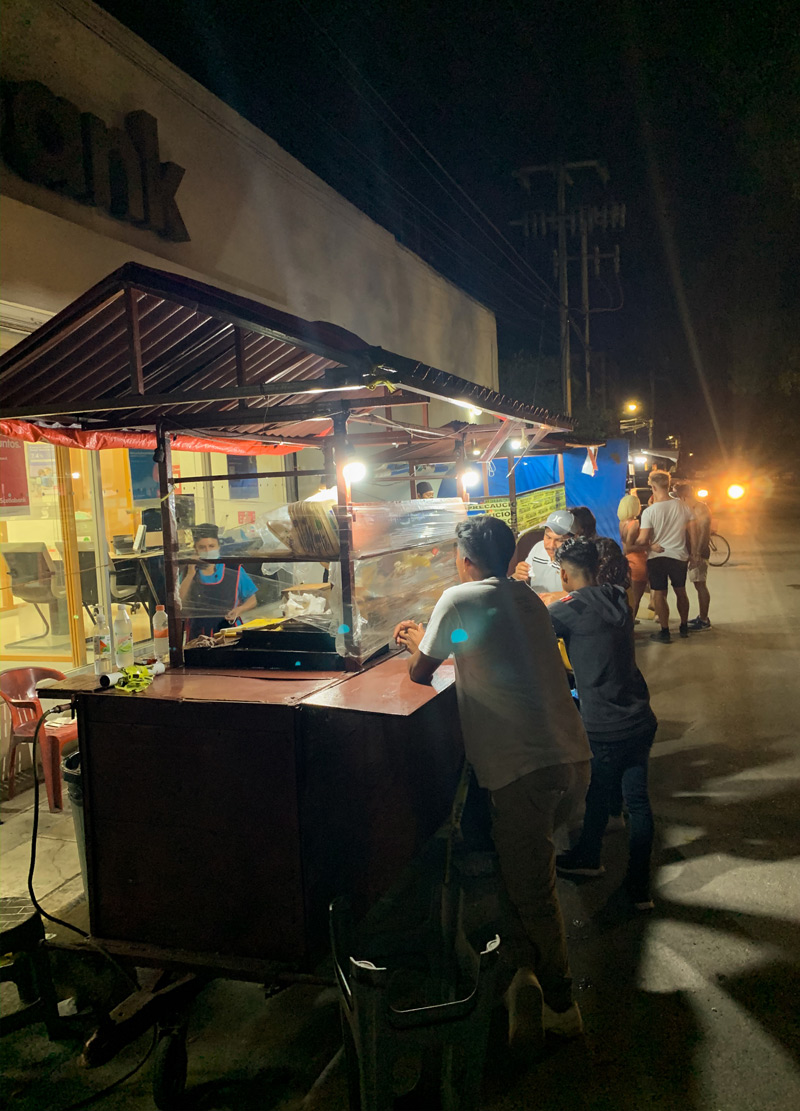 "Local Food In Tulum"
Tulum's full of amazing activities
For sure in Tulum you will never get bored. We had so many parties, on the land and beyond, that we can really say that Tulum made our nights unforgettable. You can find open bar parties as well as private parties in amazing villas with incredibly popular DJs. If you're not into partying hard, restaurants and hotels are often offering live music too. But Tulum's not only parties: here you can find many different sports to practice with your partner or with friends, yoga sessions, artistic classes and so on. After a few months here, we made a list of the top 10 activities to do in Tulum, check them out!
"Tulum's Fun!"
Book A Car At The Best Car Rental In Tulum
We were planning some trips in Yucatan to explore cenotes and we desperately needed a car! It's not always easy to find the best deal and moreover - not to get scammed. We ran into Virginia, a really kind girl, during a yoga session in La Veleta. That's how we found out Virginia is renting cars and her business is really cool.
After seeing her bran new cars, we saw the super convenient prices she was applying and we decided to try her service out. We had an incredible experience - transparency, no need for deposit on our credit card, a lot of flexibility and kindness - in a nutshell: we loved our experience at BGH Car Rental and we can't recommend you any better company in Tulum especially during high season when the car rental market goes wild.
Rent a car at 40 usd per day with full coverage insurance and unlimited kilometrage today!
Book Your Car At The Best Price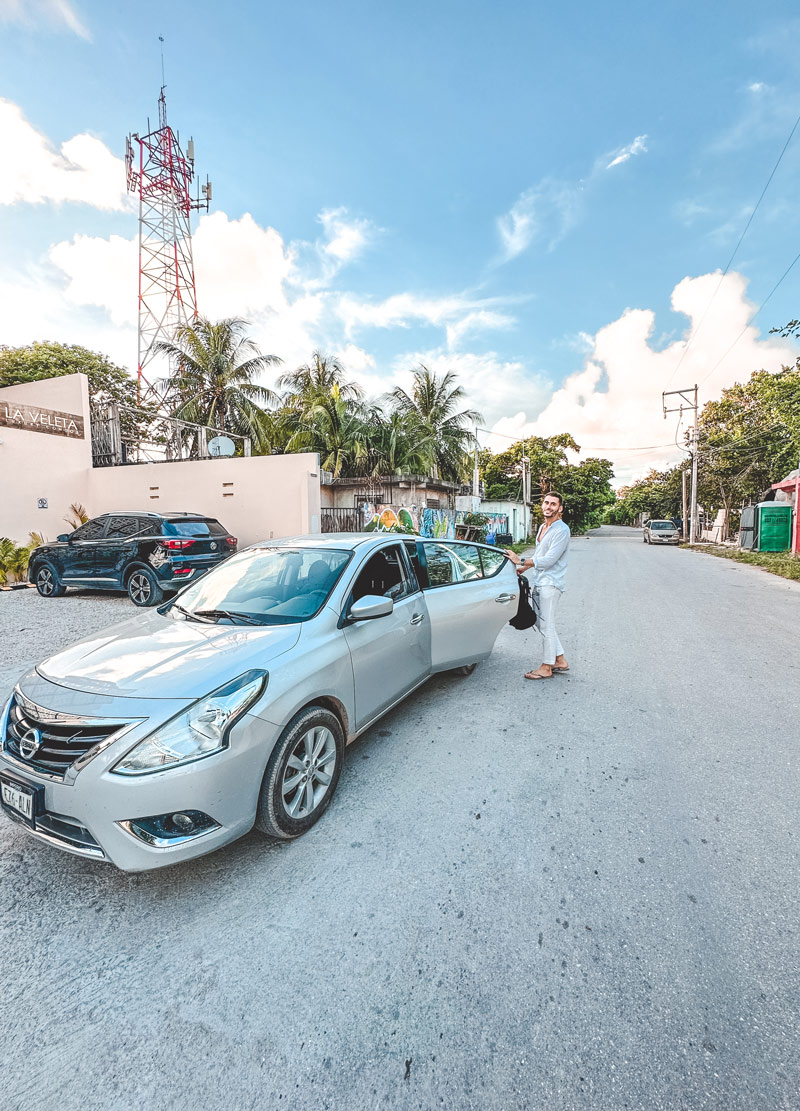 "Nissan Versa Was Perfect For Us"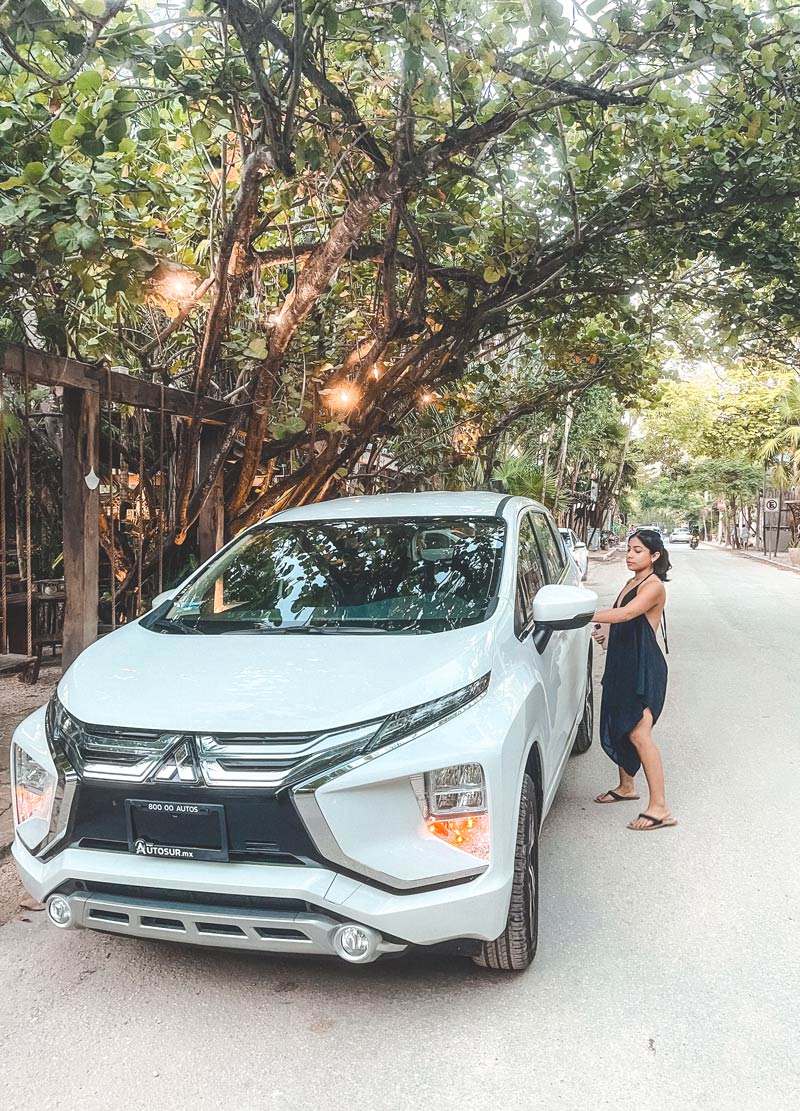 "Xpander Is The Best Car For Day Trips"
A Jump into the past: discover Mayan ruins
Whether you like history or not, traveling to this part of Mexico and not visiting Chichén Itzá it's almost a crime! In fact, it's one of the New Seven Wonders of the World, and since it's located only 2 hours by car from the center of Tulum, why not visit it? Moreover you will be able to know a bit more about Maya's culture in Yucatan, as well as try great food in local restaurants or swim in secret cenotes along the road (some of them are even free in many villages, but knowing a few words in Spanish could be good to socialize with locals). If you can't go to Chichén Itzá, then check out Tulum Archeological Mayan Site: they are worth the trip too!
Taste Mexican Cuisine in Tulum
In Tulum you can find local food on many stands selling on the street, but we don't recommend you to eat fish or meat if your stomach is not used to eating them in Mexico, you could eventually get sick. You still have a good amount of vegetarian or vegan options, especially in Tulum or where many tourists are. We made a guide of the best spots from where you can eat in Tulum, and it's even digital nomad friendly if you have to do some business during your lunch break. In general, Tulum has every kind of food: from Typical Mexican which you can afford with a few pesos, to more expensive restaurants in hotels or clubs on the beach. In any case, you'll not be disappointed!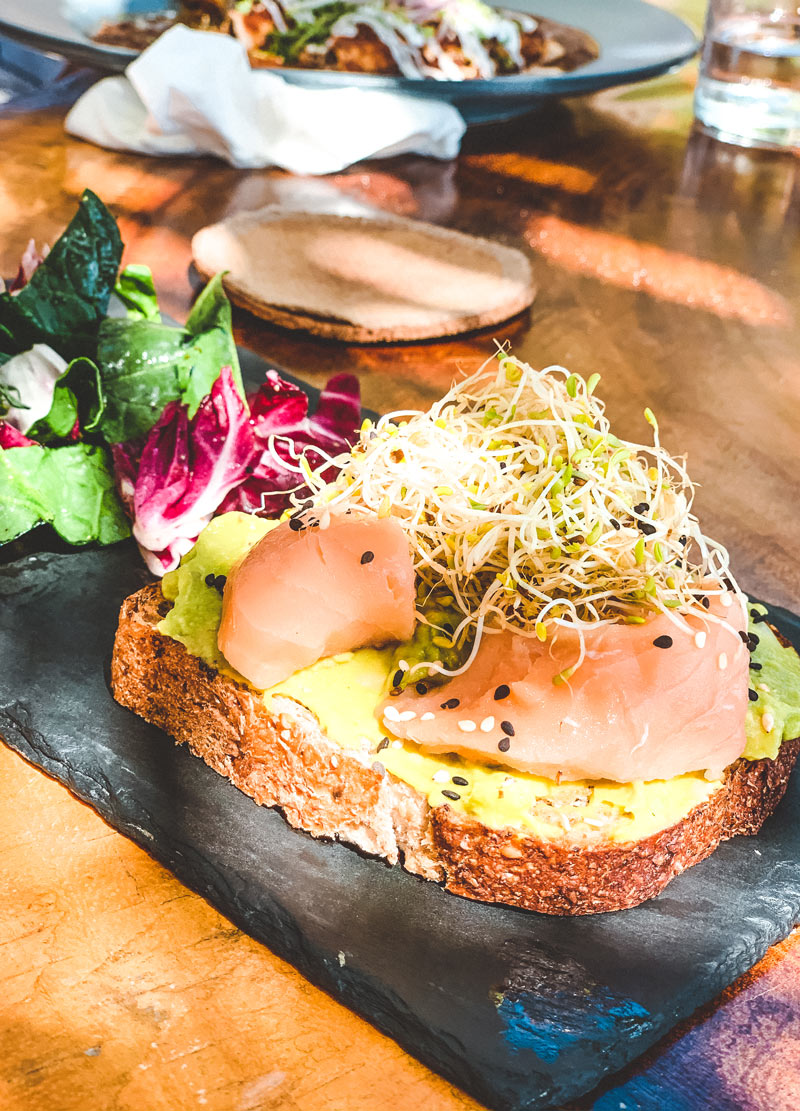 "Amazing Brunch In Botanica Cafe"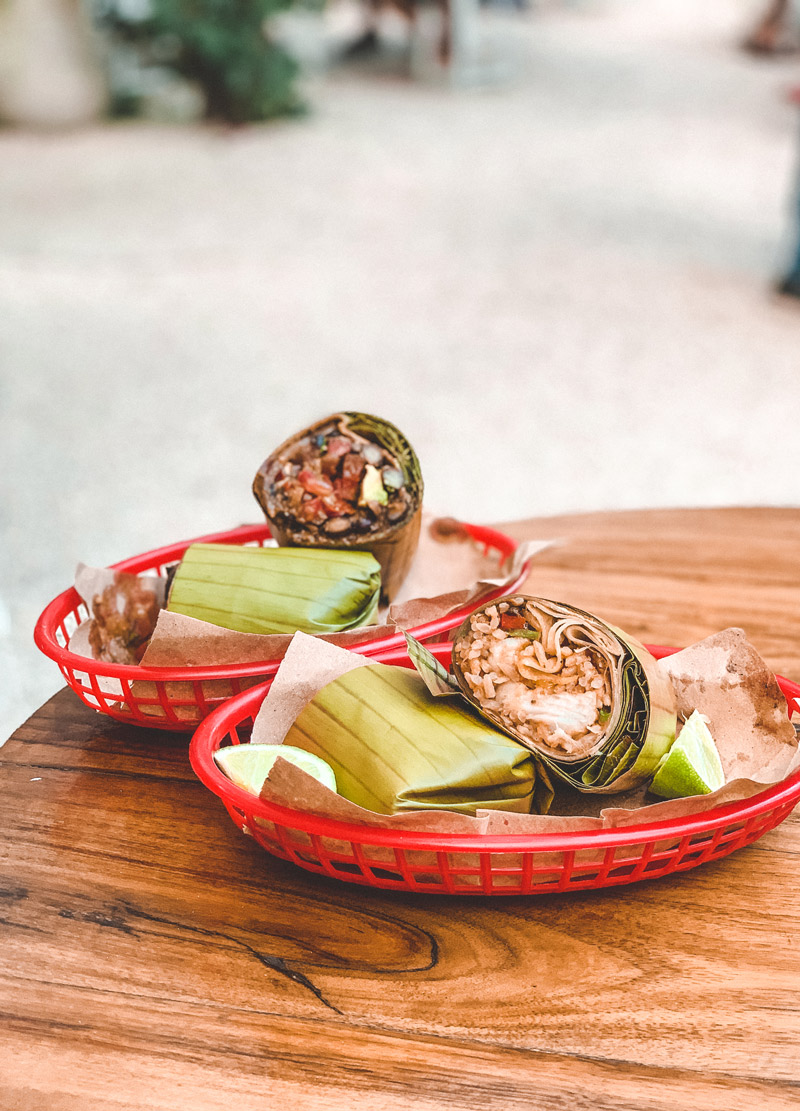 "Burrito Amor: A Must"
Is Tulum a safe destination?
The safety issue in Mexico can be scary, especially if you come from the US or Europe. While Merida and the entirety of Yucatan are pretty calm places, Cancun and Tulum can get pretty dangerous sometimes. Police in Mexico are a problem wherever you are and even more at night time, especially if you don't speak Spanish. They can try to threaten you by saying you can go to jail for 24 to 48 hours, but in the end they just want some money and they will let you go. Here's some anecdotes we had with the police and some tips on how you can get out of delicate situations.
Tulum and its crazy nightlife
As we said before, Tulum is really amazing for parties. You can party every day of the week, at every time. Moreover you'll not have only an area of the town partying, but all the neighborhoods have a crazy nightlife. Even if you're staying in a hotel and you don't want to go out, most probably our hotel will organize top parties with DJs and dancers. If you're a fan of them, Tulum's also famous for raves in the jungle. Open bar, pools with nice water and great music: aren't they the perfect ingredients for a sunset party on a rooftop? Check out our favorite places to party in Tulum right here.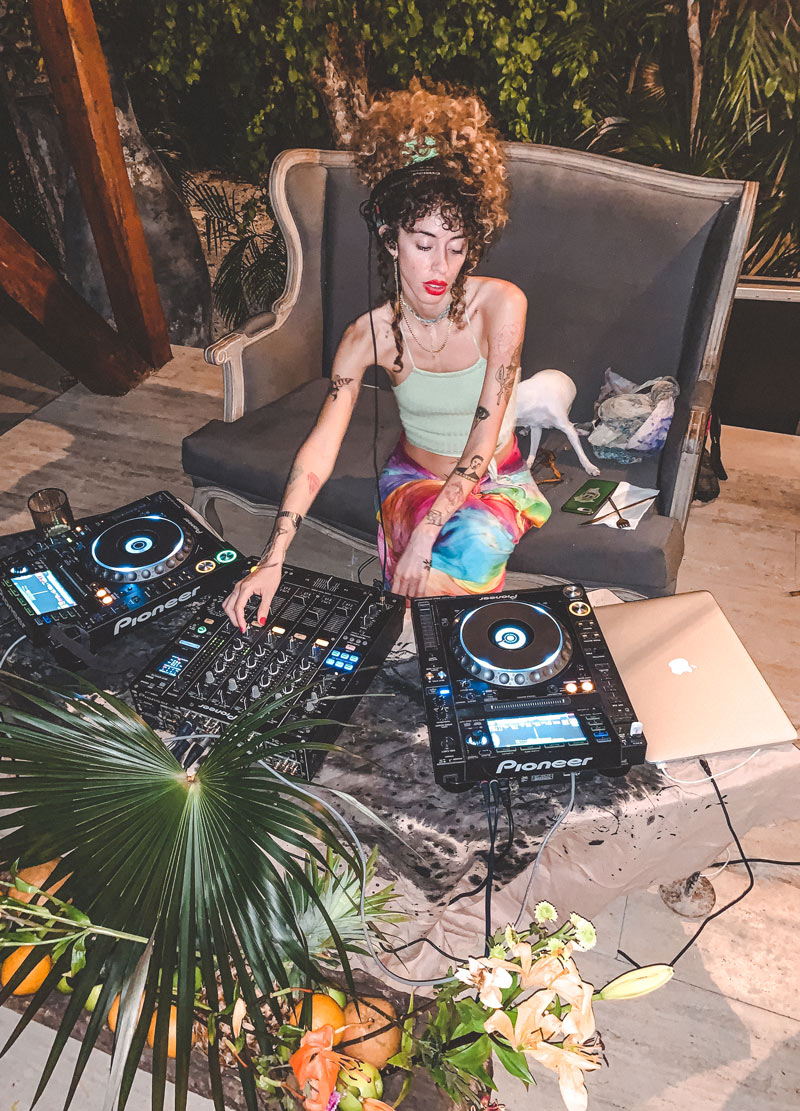 "Tulum Is Dj's Paradise"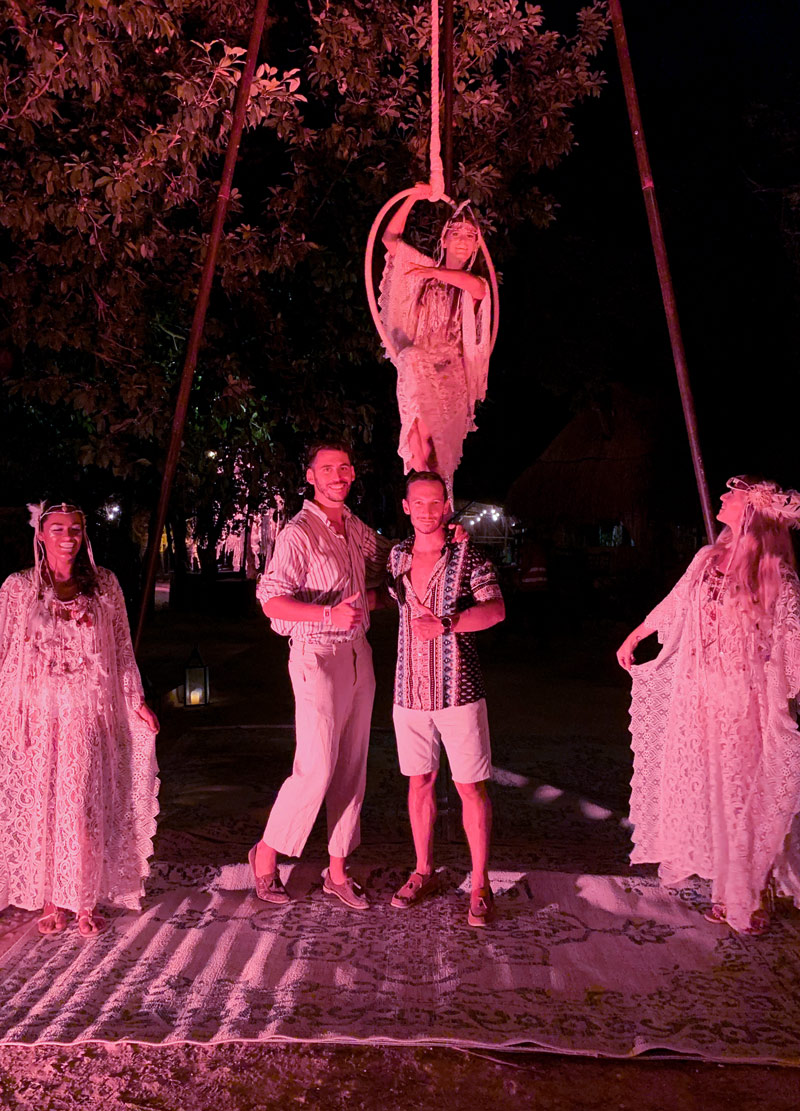 "Partying With Robin"
Take Advantage Of Free Concierge Service
As excellent to explore Tulum and its surroundings alone, you may need help figuring out where to start. To make the most of your money and time, contact Virginia and Kelly - two incredible Mexican girls living in Tulum for more than 15 years. They're familiar with the ins & outs of the Tulum town and hotel zone like the back of their hand! 
Since we arrived in Tulum 2 years ago, many adventures wouldn't have been possible without their help - they know literally everybody in Tulum and can perfectly organize every moment of your stay. Get the best tables, skip queues and get on the guest list of the coolest places in Tulum - this's only the beginning! 
They are ready to offer you guys FREE concierge service in Tulum for the time of your stay: take advantage of it, contact them on Whatsapp and live the best experience!
Get FREE Concierge Service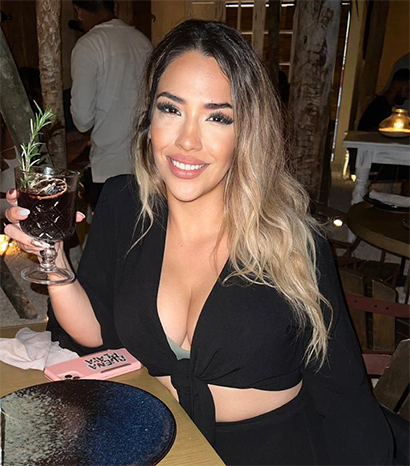 "Virginia Will Transform You In A Tulum Insider"
Is Tulum a good place to live?
Tulum is definitely one of the best places to live in Mexico as an expat or a digital nomad. We lived in Tulum for several months and we had the chance to meet amazing human beings and entrepreneurs. So, even if you only plan to visit this town on the Caribbean coast for a short time, we are pretty sure you will find everything you could ever search for. We wrote an article telling the story of how we bought a car, found a place to stay for a long term, made friends with locals, and many other tricks you can only discover by living there. In any case, we'll be happy to share our experience with you and answer your questions down below!
Jungle, amazing restaurants and hotels, local charm in the old pueblo of Tulum, yoga retreats, top DJs and parties, great beaches and cenotes, Maya's culture: all this is Tulum and we hope we shared with you just even a bit of its magic through this article!
FAQ about Tulum Travel Guide
When is the best time to visit Tulum?
The best time to visit Tulum is between November and January. The weather is just perfect, temperatures are warm, but not too hot, and the rain won't be a problem during your stay! 
What are must-visit attractions in Tulum?
The ruins of Tulum, the Gran Cenote, the Sian Ka'an biosphere, or the Laguna Kaan Luum are all must-visit attractions in Tulum! Visiting Tulum's beaches is also a must when you are here. Playa Paraíso is one of our favorite beaches! 
What is the local currency in Tulum?
The local currency in Tulum is Mexican (MXN) pesos, which you can get from ATMs in Tulum for a favorable exchange rate.
What kind of water activities can I do in Tulum?
Kayaking, swimming, snorkeling and diving in cenotes or beaches are the most popular water activities that you can do in Tulum.  
Do people speak English in Tulum?
Yes, most people speak English in Tulum because it's a touristic destination, and you may find a big international community and locals that speak English as well. However,  it's always good to have some Spanish words under your belt, just in case! 
How many days is enough in Tulum?
Staying in Tulum 3-7 days would be enough if you want to experience its atmosphere, visit some beaches and meet new people. However, it depends on what you want to see! We have been living in Tulum for two years now, and we are still discovering new things to experience! 
How is Tulum's nightlife?
The nightlife in Tulum is vibrant and lively! You can find a variety of bars, clubs and restaurants to choose from! From salsa dancing to live music, you will have plenty of activities to enjoy your vibrant night in Tulum! 
Is the Wifi in Tulum good?
Yes, Wifi in Tulum is great, you just need to find the perfect spot to get it. Co-workings in Tulum are a great idea if you need a good Wifi connection and a relaxed atmosphere. We love visiting them to have a productive day!
What are some day trips I can take from Tulum?
Some day trips you can take from Tulum are to the nearby city of Coba or to the Laguna Kaan Luum. You can also try snorkeling in Cenote Dos Ojos, and have a new incredible underwater experience!
Do I need a visa to visit Tulum?
If you are a US or European citizen, you don't need a visa to visit Tulum and you can stay up to 180 days.
Great, let's feature the "MYSTICAL SUNSET /OLIVER HUNTEMANN" event at Mia Restaurant & Beach Club in Tulum on Wednesday, 29 November 2023. Here's the HTML snippet for your event: ```html
👉 WEDNESDAY, Nov 29
MYSTICAL SUNSET /OLIVER HUNTEMANN 🌅
📍
Mia Restaurant & Beach Club, Tulum
💵
Tier 1 Tickets: Mex$ 660 (incl. fees), Final Tier: Mex$ 880 (incl. fees)
📩
Contact Virginia
here
to book a table
Join us for an unforgettable evening at Mystical Sunset with Oliver Huntemann. Contact Virginia here to book your table and be part of this magical night on the beach! 🎶🔥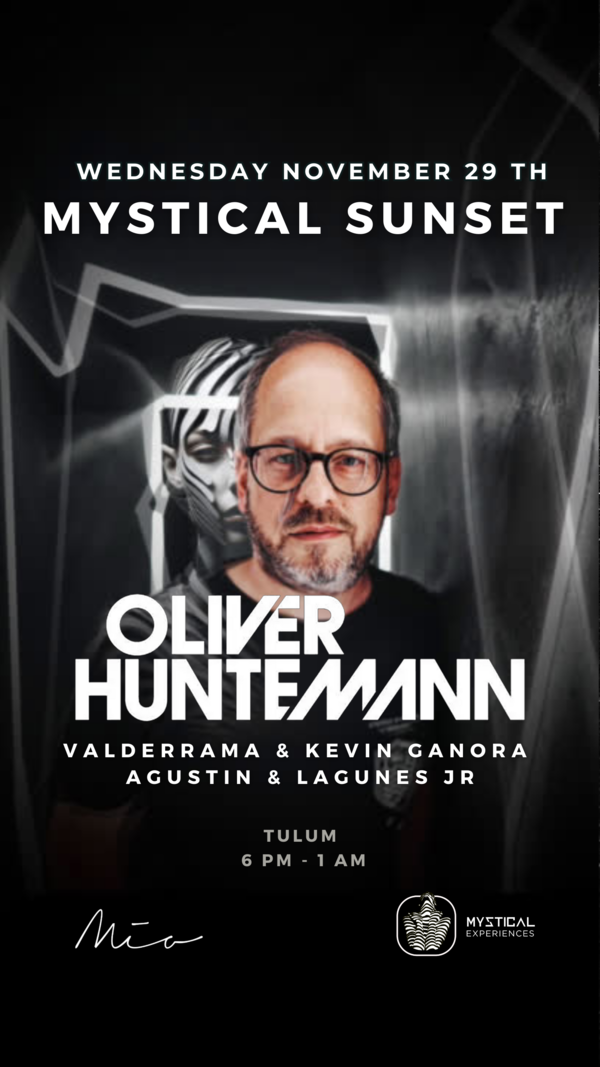 Top Parties and Club Events
23rd November - VAGALUME SESSIONS KEENE @VAGALUME
26th November - VAGALUME SUNDAZE MITA GAMI @VAGALUME
30th November - VAGALUME SESSIONS VALDOVINOS @VAGALUME
3rd December - VAGALUME SUNDAZE VALENTIN HUEDO @VAGALUME
7th December - VAGALUME SESSIONS MUSTAFA ISMAEEL @VAGALUME
30th December - PIKNIK POLO CORP & LEO LEONSKI @VAGALUME
31st December - NEW YEAR´S EVE @BAGATELLE TULUM
31st December - NYE PARTY 2024 @VAGALUME
13th March - LOCUS Tulum 2024
OUR FAVORITE DESTINATIONS IN Mexico