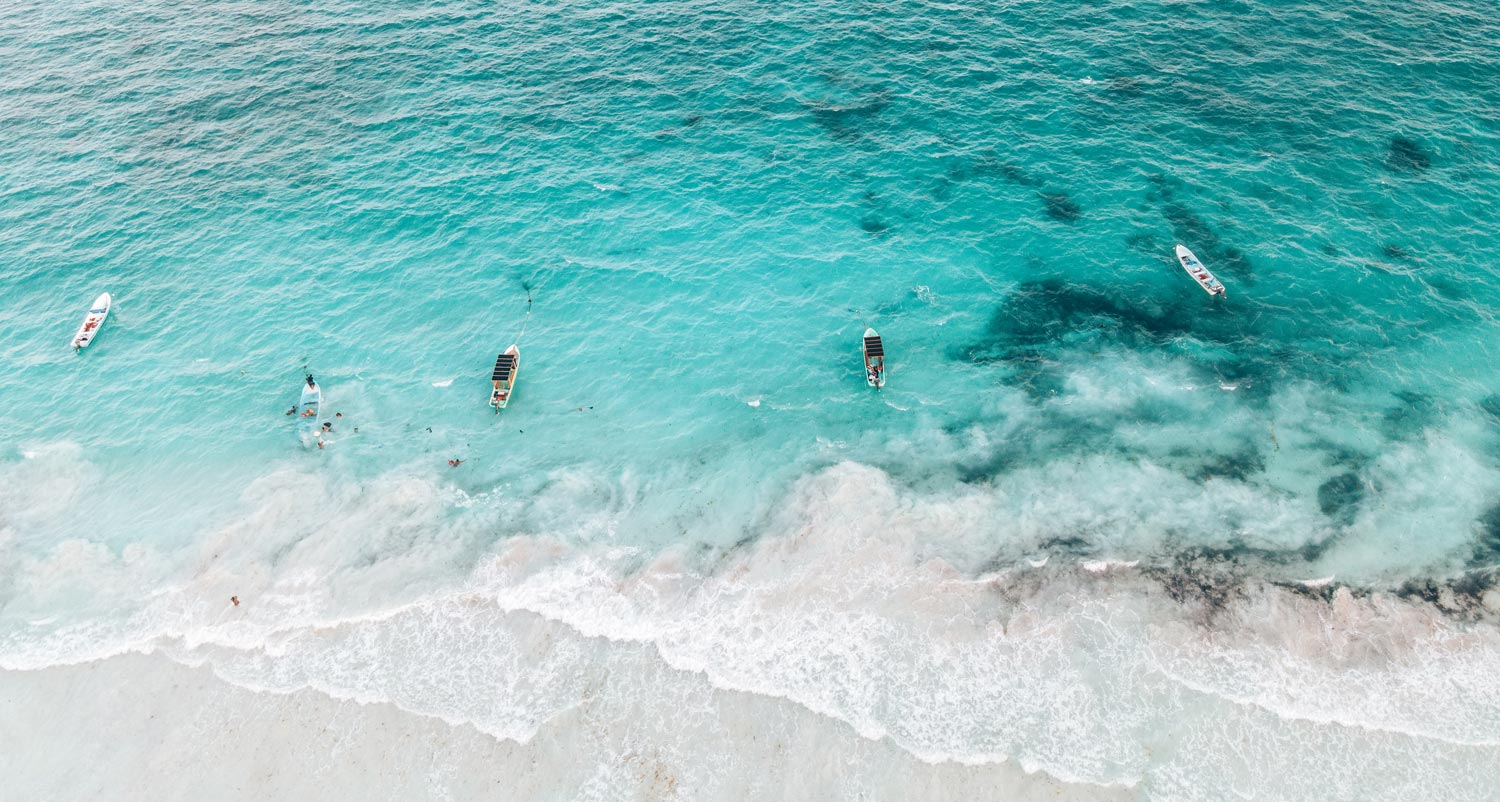 Tulum Mexico Beach: All The Insider Secrets
When I say Tulum, you most probably think about its beautiful beaches, how to blame you. Tulum in fact is one of the best town in Mexico considering all it has to offer for a travel: incredible hotels, white sand beaches with crystal clear water, beachfront restaurants, its proximity to Cancun, the incredible Maya ruins, the inclusive resorts close to Playa del Carmen, the great cenotes in the Mexican jungle, not talking about the multitude of activities you will be able to enjoy during your trip.
Tulum town and Tulum beach offer many choices whether you travel on a budget or not. But let's go forward and discover the best activities, hotels and restaurants in every Tulum beach!
*Still have to attend the best parties in Tulum?* – we really want to share with you how our friend Virginia made our stay in Tulum unforgettable. She made us enjoy Tulum coolest events and parties throughout the town and we can't recommend her enough. Take advantage of her free service below!
Playa Santa Fe is the first beach in the North zone of Tulum beach. You will probably end up here after your visit at the Mayan ruins just above the beach. This beach is also close to cenote Tankah, which is located a bit northern on the road. It might not be the best beach of Riviera Maya, but you have some hidden gems located here too: let's check them out!
The Best Hotel To Stay In
Our favorite hotel in Playa Santa Fe is for sure the beautiful La Diosa Tulum. One of the first hotels on the road to the North of Tulum beach, it is composed of small cabanas surrounded by the nature of the beach, giving you the maximum of privacy. The only thing you will have to worry about will be walking until the sea under the shadow of the palm trees. Their price is also very attractive, so if you are searching for a small private resort, with a boutique hotel vibe, this should be the one.
Casa Galeones wins when talking about good and fresh Mexican food in Playa Santa Fe. The place is amazing: you will have the choice between tables on the sand and double sunbeds to unwind. It is really one of the most relaxing beach clubs of Tulum beach, and you will not have to book. Also, their prices are fair compared to other restaurants. What you can't miss? Their shrimp tacos!
One of the best activities to do here, except for sunbathing, swimming and chilling out, is for sure visiting the Tulum Mayan ruins just above the beach. After visiting them, you will be able to jump into the clear water of the sea or negotiate a short boat trip with the fishermans to see the ruins and the beach from the sea. Definitely something to try, at least to take wonderful photos at sunset.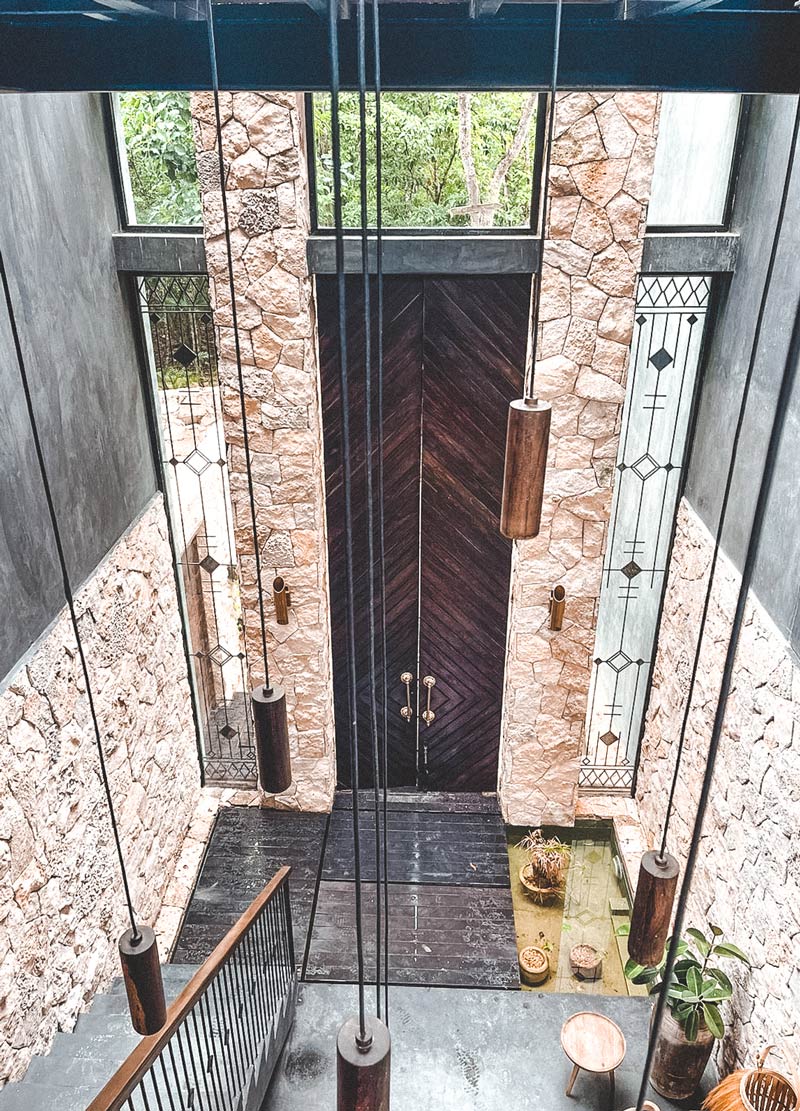 "There Are Many Luxury Villas"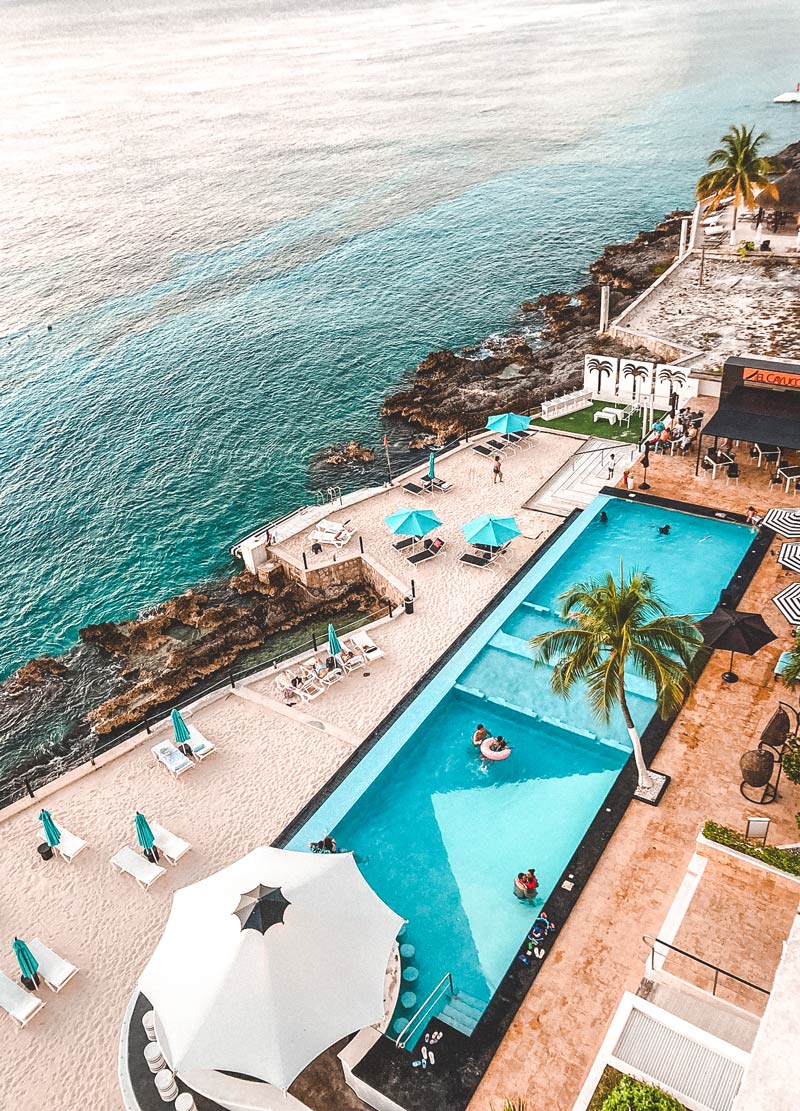 "Pool Or Sea?"
Playa Pescadores, together with Paradise Beach, are the most attended beaches in Tulum. They are located in the center of Tulum beach and have definitely more hotels and restaurants. Here there are also many beautiful places to upgrade your nightlife during your trip. Let's find out all of them!
The Best Hotel To Stay In
IKAL Tulum Hotel is definitely our go-to for Playa Pescadores. The staff here is so kind that you will not want to leave anymore. We love how they take care of the structure and the many activities they organize. If in doubt, that's the place you should book for your travel!
Maia Restaurant is the best hotel in Playa Pescadores. If you love chilling out in a peaceful place, this should be your choice. The food is just delicious, mixing Mexican traditional dishes and healthy recipes. You will have the choice between a normal table and sunbeds, depending on the kind of time you want to spend. 
What I didn't mention before is that both IKAL hotel and Maia restaurant are facing beautiful yoga shalas on the beach. Their shalas are an open structure made of wood, right on the beachfront. Here you will be able to meditate and attend yoga classes, connecting with many interesting people from all over the world. If you are interested, check out our article about yoga retreats in Tulum. 
Paradise beach is most probably the most famous beach in Tulum. Located right in the center of Tulum beach zone, here you will find people at any time of night and day. If in the other beaches in the North you could have found budget friendly options, here the places start becoming more and more fancy as soon as you head South. But let's discover these places together!
The Best Hotel To Stay In
Cinco Tulum is both a glamping and a small restaurant on the beach. Here you will be able to stay in beautiful tents with a Tulum vibe and enjoy the atmosphere that the cool staff creates on the beach club side. Definitely one of our favorite places to hang out in Paradise beach.
Pancho Villa is really a must visit during your travel in Mexico. Here you will be able to sip refreshing and delicious cocktails, with an isla vibe all around. Right on the beachfront, they serve great seafood and Mexican tacos. Even though it is located in a pretty fancy zone, it is still a budget friendly place to hang out.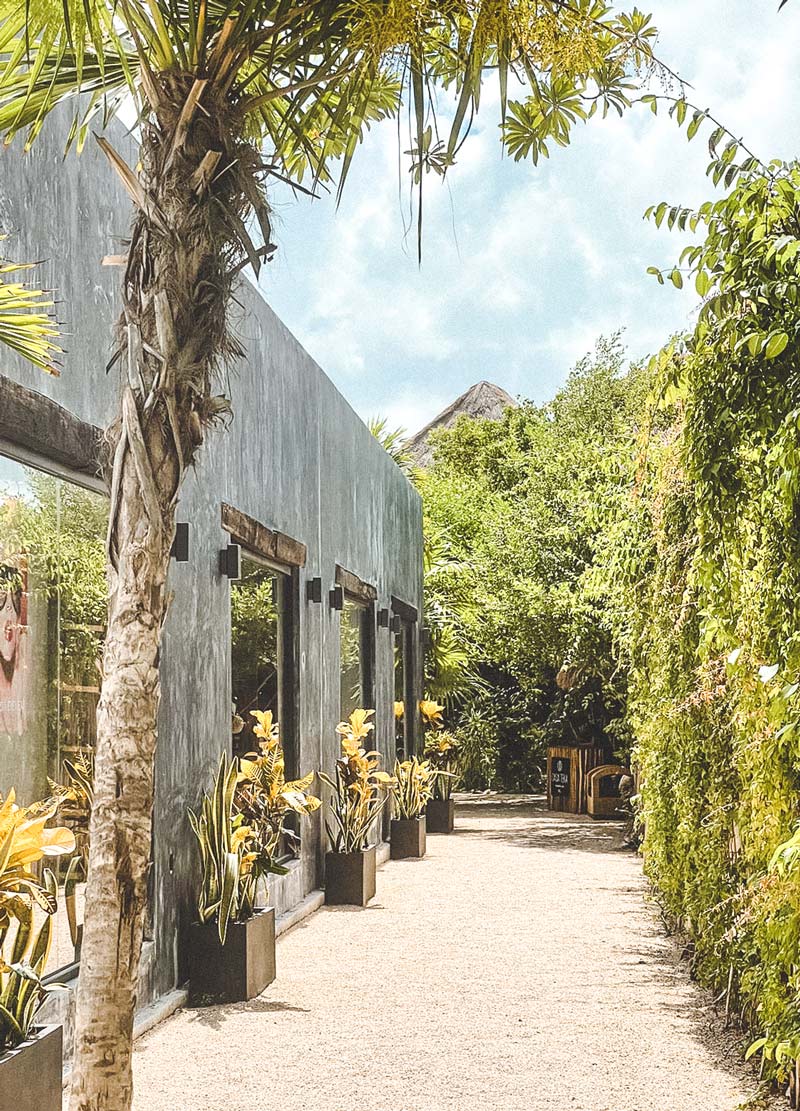 "Boutique Are Lovely In The Beach Zone"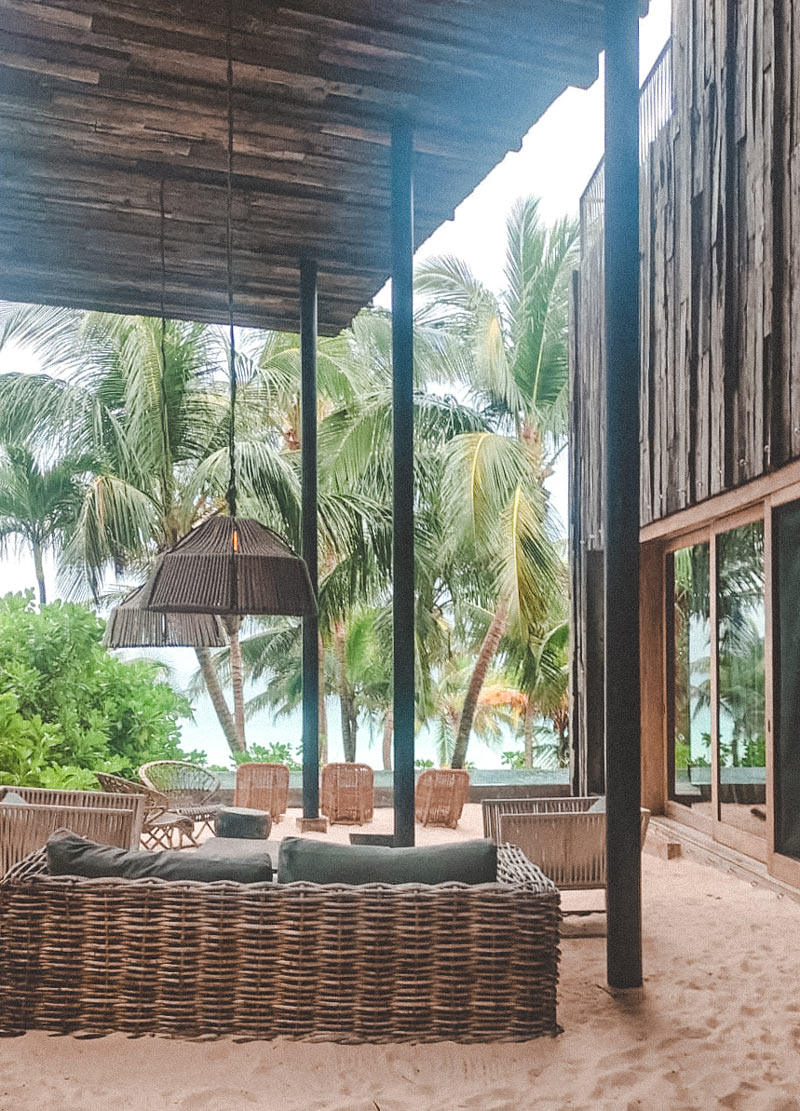 "Beach Clubs Are So Chilled"
From Playa Las Palmas heading South you will find more and more fancy hotels, restaurants and beach clubs. You should definitely give these places a try and merge in an atmosphere you will not find in Cancun or anywhere else. 
The Best Hotel To Stay In
Mezzanine Hotel Tulum is great! With an average price of 200$ per night, you will stay in a beautiful structure and will feel like in an all inclusive resorts. We love this beachfront hotel for its amazing view, its proximity to Tulum town and for the chic Riviera Maya vibes. Check it out at any time during the year!
Casa Maria is a grill offering the most delicious pulp you have ever tried! Their food is elegant and the atmosphere of the place is perfect for a romantic dinner. The zone right on the beach is perfect during the day, with the charming sunbeds they are offering. The restaurant on the other hand gives its best at night with the cozy lights they put on. 
If you book one of the hotels or resorts for your stay here, you will love its unique vibe. Moreover many scuba diving or kitesurfing tours start from here. So if you are up for some aquatic sports you know where to find them!
Take Advantage Of Free Concierge Service
As excellent to explore Tulum and its surroundings alone, you may need help figuring out where to start. To make the most of your money and time, contact Virginia and Kelly - two incredible Mexican girls living in Tulum for more than 15 years. They're familiar with the ins & outs of the Tulum town and hotel zone like the back of their hand! 
Since we arrived in Tulum 2 years ago, many adventures wouldn't have been possible without their help - they know literally everybody in Tulum and can perfectly organize every moment of your stay. Get the best tables, skip queues and get on the guest list of the coolest places in Tulum - this's only the beginning! 
They are ready to offer you guys FREE concierge service in Tulum for the time of your stay: take advantage of it, contact them on Whatsapp and live the best experience!
Get FREE Concierge Service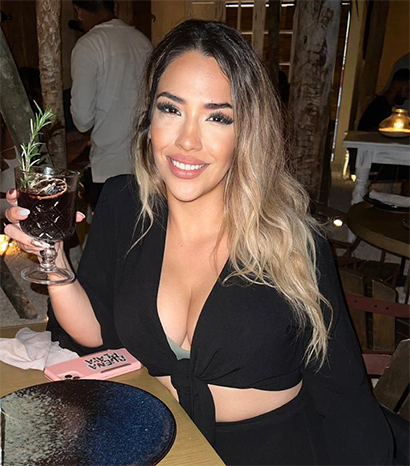 "Virginia Will Transform You In A Tulum Insider"
This is where all the hotels and resorts are, but also where the sea is less crowded because it's more far from Tulum town. Far from the cenotes in the North, but close to the road heading to Sian Ka'an, let's find out what this place has to offer. 
The Best Hotel To Stay In
Maria del Mar Tulum is a beautiful hotel where you can feel they take care of every detail. Offering rooms with a great view on the beach, they also have amazing outdoor places to chill out and disconnect from the stress and negative thoughts. Their swimming pool will for sure help you on that!
Potheads – Beach Road is another location of one of our favorite restaurants in Tulum town. This place is definitely a go-to for breakfast and brunch to kickstart your day. Try out their juices: they are simply the best and will charge you in vitamins! 
Many boat tours leave from here and it definitely is a good place for a day trip. If you are not up for an excursion, you should check out the most famous hotels of Tulum for their incredible architecture, like Papaya Playa Project and Azulik.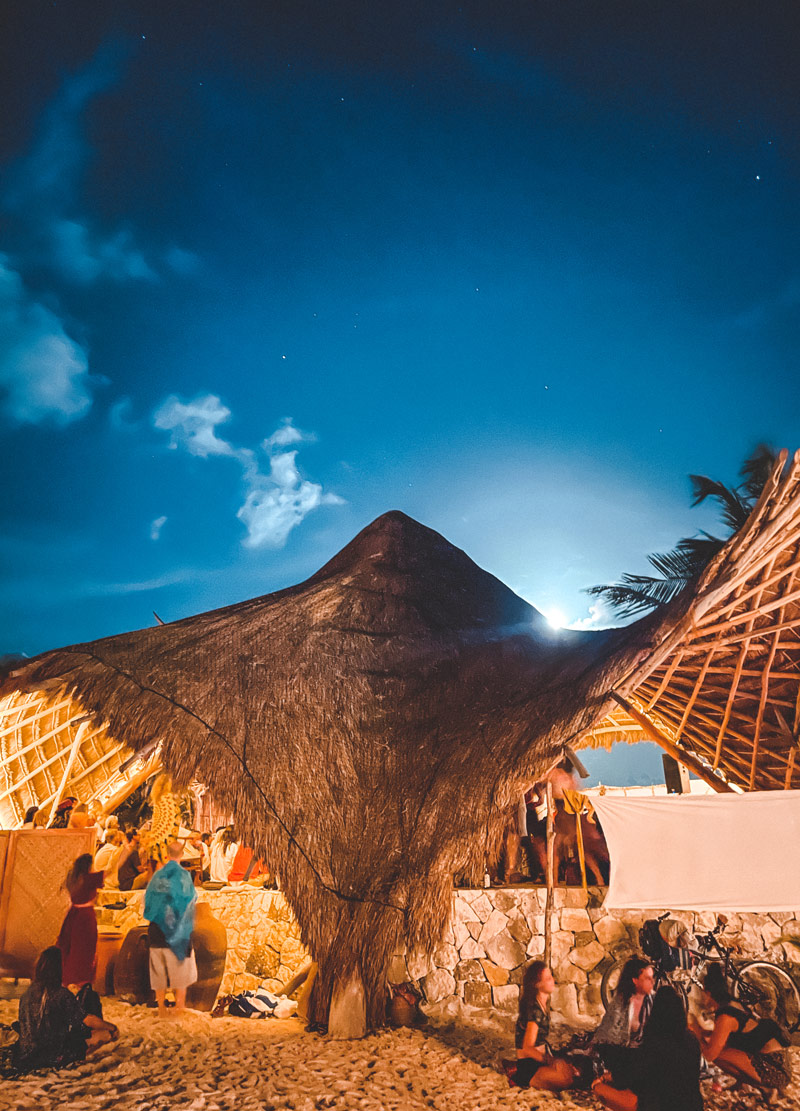 "Yoga Shala By The Beach"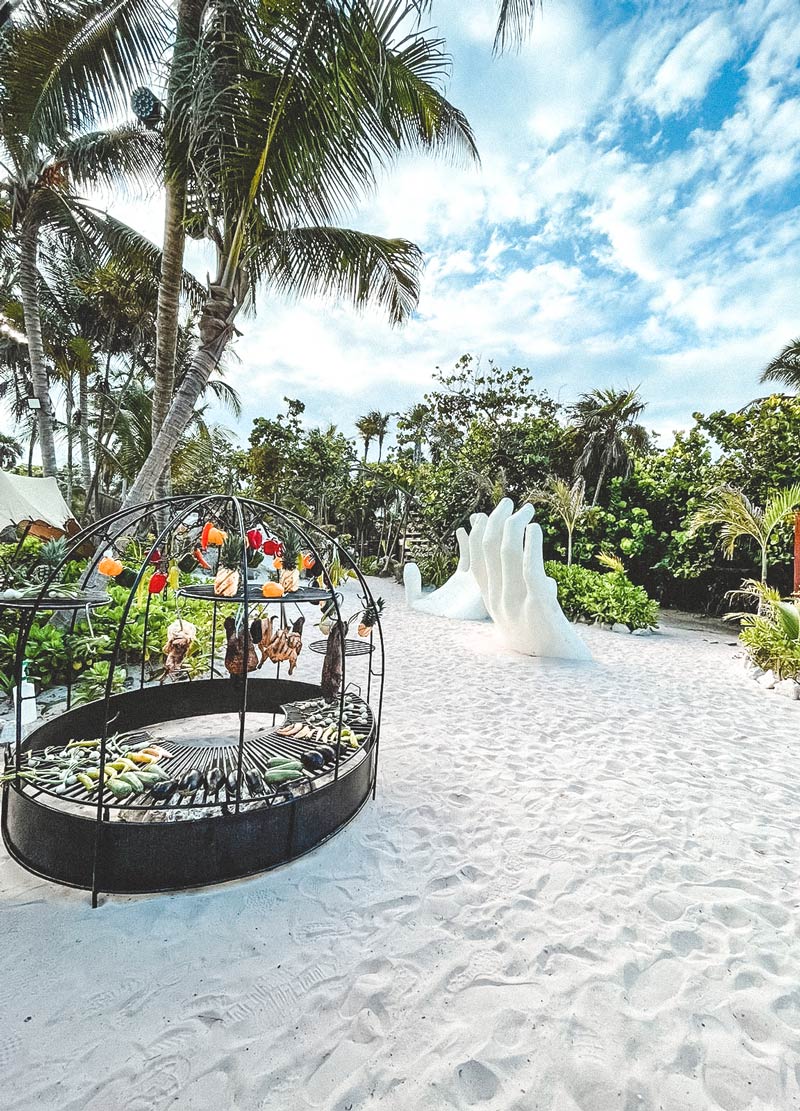 "Crazy Grill On The Shore"
South of this you only have the Sian Ka'an lagoon. Similar to the North of Tulum beach, this area is calm and perfect to chill out. More you go down the road to Sian Ka'an, the more you will discover beautiful nature. Definitely something to experience during your stay. 
The Best Hotel To Stay In
Maya Tulum is a beautiful hotel, or a small resort, where you will feel like you are in a nest. Their breakfasts are amazing and the swimming pool overlooking the sea has no price. Moreover, we love the simplicity of their decoration!
Ha Ana Tulum is a new restaurant and hotel right on the beachfront of Playa Punta Piedra. Come here if you want to find great cocktails and have a candlelight dinner with the noise of the waves in the background. 
This South zone of Tulum beach is perfect to explore Sian Ka'an lagoon. If your budget is not permitting you to book any tour, you can try to venture alone with a car or an atv and head down to Punta Allen and be amazed by the lush nature around.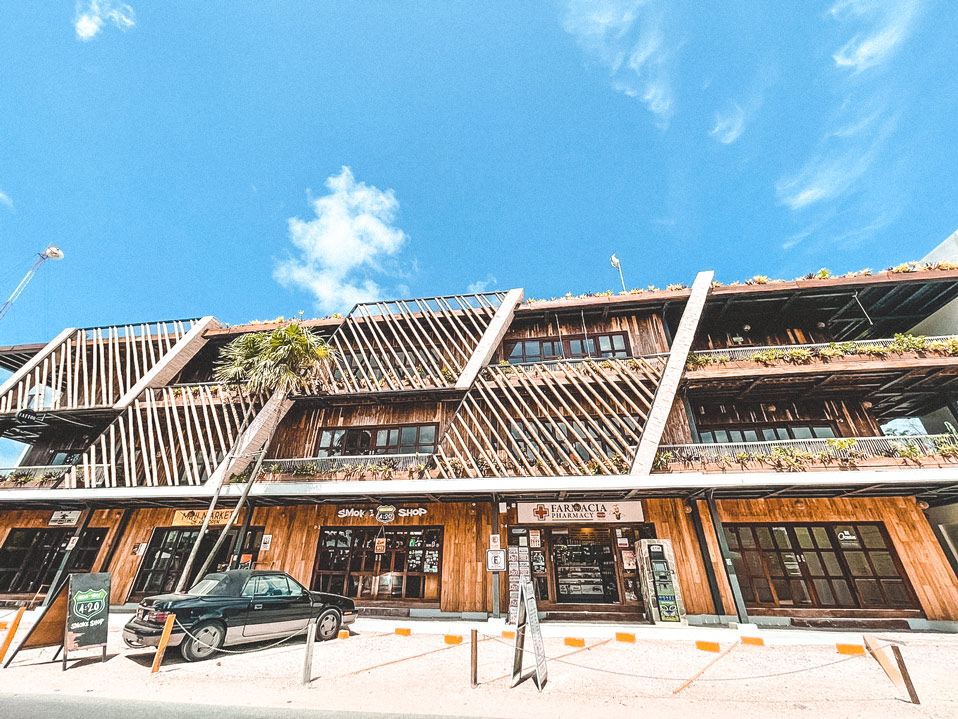 "Chilling In Tulum Beach After The Party"
We hope our article about the Tulum beach zone gave you some ideas for your trip. Don't forget to share down below your favorite places to inspire other travelers! 
Top Events to Make Your Trip Unforgettable
DOMINIK TULUM @MIA TULUM
When: September 9, 2023 7:00 PM
Where: Mia Restaurant & Beach Club, Tulum
🌴 Join Us for An Unforgettable Night at DOMINIK - TULUM at Mia Tulum! 🌴
Friends, clear your schedules and get ready for a magical experience at Mia Tulum! This stunning location will host DOMINIK - TULUM on Saturday, September 9th, from 7 pm to 1 am. This isn't just another event; it's a fusion of nature, culture, and sound featuring an incredible line-up with GIORGIO STEFANO, AUDICTIVE, and MAURO TORRETA. At DOMINIK, you'll find the perfect blend of Tulum's lush jungles and pulsating underground beats, creating an environment where genuine connections blossom.
🎟️ Secure your tickets now:
Early Bird: $575 MXN ($38 USD), includes a welcome drink 🍹 (Limited Availability)
Tier 1: $805 MXN ($52 USD), includes a welcome drink 🍹 (Limited Availability)
Final Tier: $1150 MXN ($75 USD), includes a welcome drink 🍹 (Limited Availability)
Dinner + Party: $1380 MXN ($90 USD) 🍽️🎉 (Limited Availability)
See you there for a night you won't forget! 🎶✨
Ready to join us? Get your ticket now! Early bird tickets are already selling out, secure them at 632 pesos (only 15 tickets available).
Hurry – spots are filling up fast! 🙀 We can't wait to see you there!
Top Parties and Club Events
17th September - ANCESTRAL SOUL @BONBONNIERE TULUM
22nd September - TONY ROMERA @BONBONNIERE TULUM
29nd September - TIM BARESKO @BONBONNIERE TULUM
4th November - HOT SINCE 82 @BONBONNIERE TULUM
13th March - LOCUS Tulum 2024