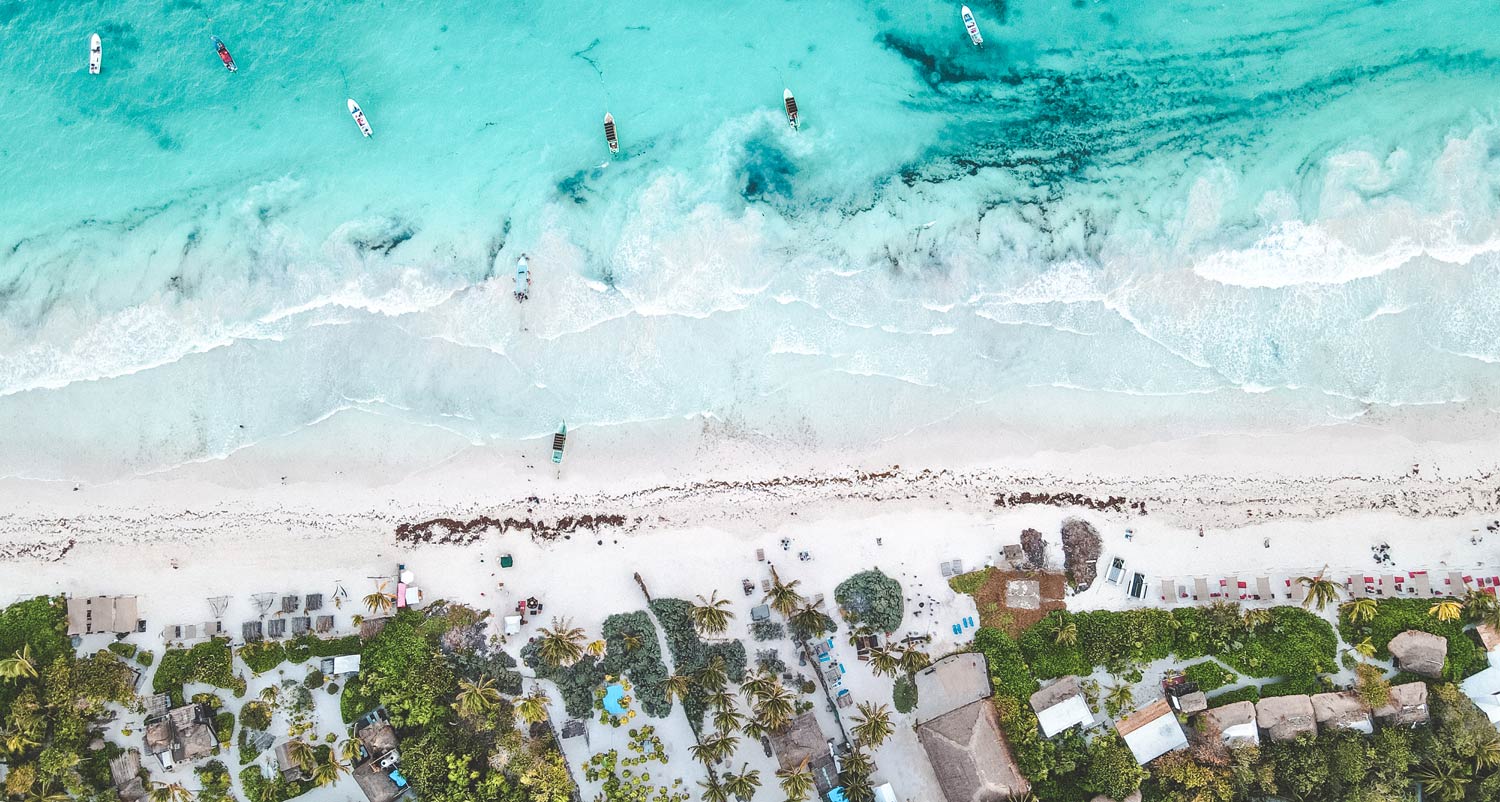 The Best Restaurants On The Beach In Tulum
As you know, Tulum town in Mexico is known for its beautiful beach and calm ocean. You can feel the soft cushy sands, the fresh Caribbean sea breeze and the exciting activities to do. But, have you ever thought of spending time to visit and dine at any of the restaurants around the beach?  
Well, if you are bored of the restaurants in Tulum Centro, why not visit the restaurants around the Tulum beach zone or Tulum Zona Hotelera. The ambiance is compared to when you are dining in Tulum Centro. It opens up a whole new dining experience to enjoy the mesmerizing view and the delicious food that the chef prepares. There are flavors to die for! 
If you don't know where to start – check out our favorite restaurants below or take advantage of FREE concierge service in Tulum to get the best tables, skip queues and be on the guest list. Forget about struggling with your Spanish to get a table and experience amazing dining during your travel!
What Makes Tulum Beach Restaurants worth your visit?
The main reason to have dinner in one of the restaurants or hotels in Tulum beach is the extraordinary experiences you will feel as it's a completely different mood! Partying by the bar at night, having a romantic candlelit dinner just hits different when you are in front of the beach view. These are the little things that sometimes you don't get around in Tulum Centro.
As for the food, you have plenty of cuisine options and new flavors to try. But you should definitely try the local Mexican cuisine, such as tacos and especially local grilled seafood. The seafood is usually a fresh catch from the ocean and imagine how delicious that is. Moreover, these restaurants may host several live events such as live music, nightclubbing and many more.
If you are not convinced yet, visit their website or Instagram profile below!
Take Advantage Of Free Concierge Service
As excellent to explore Tulum and its surroundings alone, you may need help figuring out where to start. To make the most of your money and time, contact Virginia and Kelly - two incredible Mexican girls living in Tulum for more than 15 years. They're familiar with the ins & outs of the Tulum town and hotel zone like the back of their hand! 
Since we arrived in Tulum 2 years ago, many adventures wouldn't have been possible without their help - they know literally everybody in Tulum and can perfectly organize every moment of your stay. Get the best tables, skip queues and get on the guest list of the coolest places in Tulum - this's only the beginning! 
They are ready to offer you guys FREE concierge service in Tulum for the time of your stay: take advantage of it, contact them on Whatsapp and live the best experience!
Get FREE Concierge Service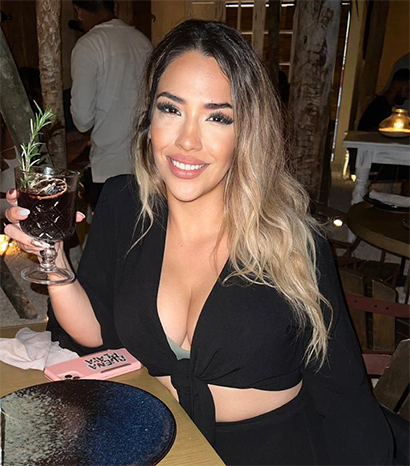 "Virginia Will Transform You In A Tulum Insider"
The Best Tulum Beach Restaurants: Our Guide
Here you will find where the best beach restaurants are located. They are across the Tulum beach zone or Zona Hotelera, where the main hotels and resorts are. This area is dominated by many famous Tulum beach restaurants, so there is a lot to explore. Now it will be easier for you to navigate their address, especially if you haven't been around Tulum yet. Ready to read our guide? Let's go!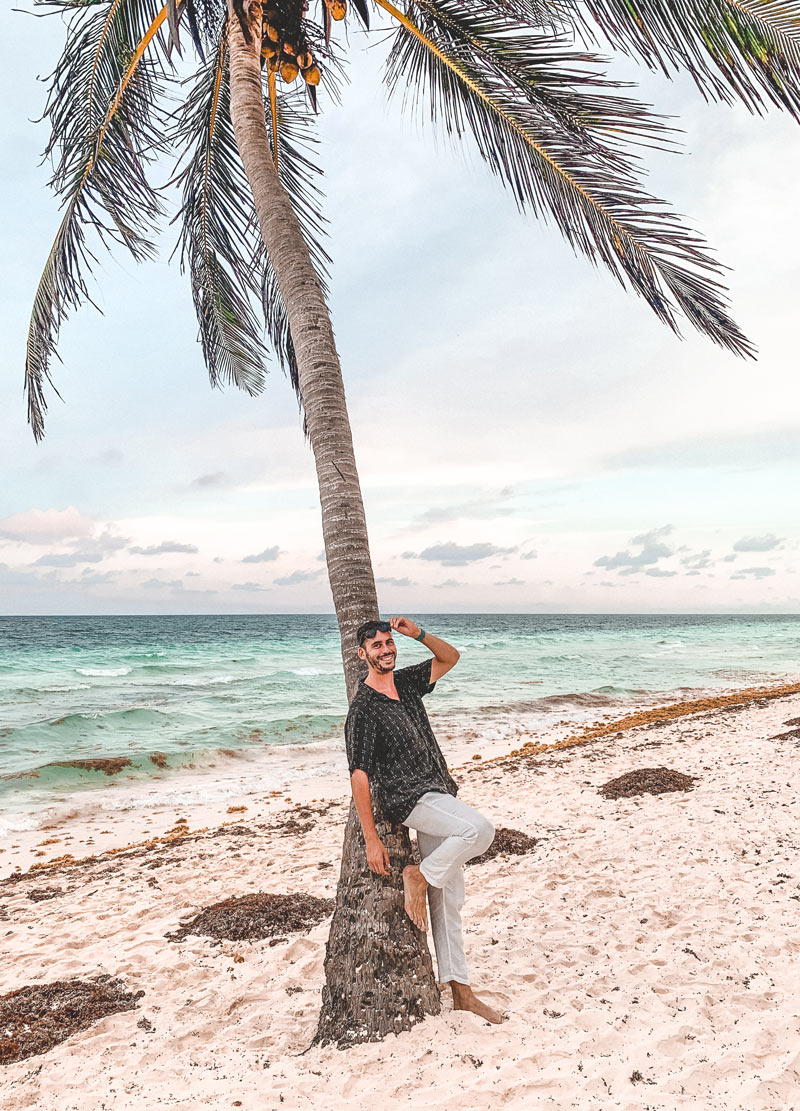 "Sunsets In Tulum Beach Are Amazing"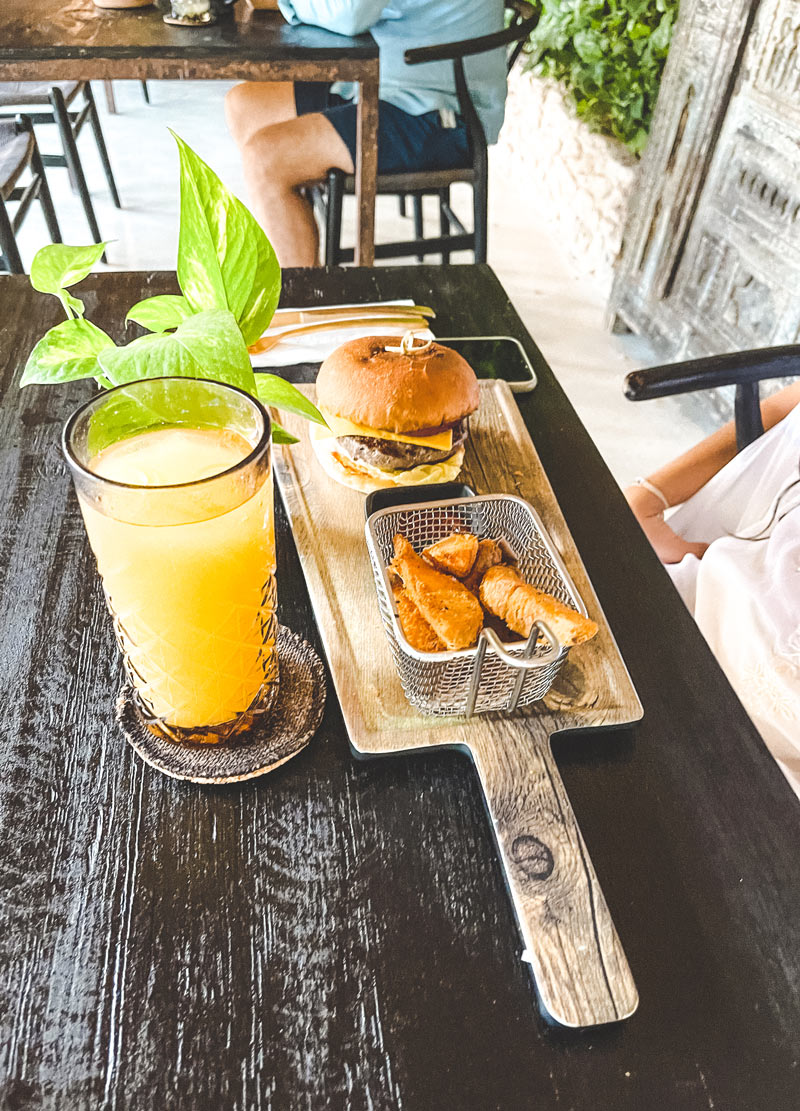 "A Delicious Brunch By The Beach"
Posada Margherita - Boutique Hotel & Ristorante
Open Hours: 7:30am – 10:00pm | $$$$ | Menu
They bring authentic-traditional Italian cuisine right into your mouths. Savor their delicious homemade pasta, their fresh catch of grilled seafood and tasty gelato for dessert. Take a visit to their options of dining: The pizzeria serves oven-baked and fresh homemade Italian pizzas, made with local prime ingredients. The beach bar offers the finest wines, beers and proudly handcrafted mezcals. The juice bar offers healthy and organic juice to freshen up your body. Lastly, the picture-perfect view by the beach is excellent for your Instagram post and a romantic date. Keep in mind that they don't accept reservations and only accept cash. Find out more about their menu and hotel on their website.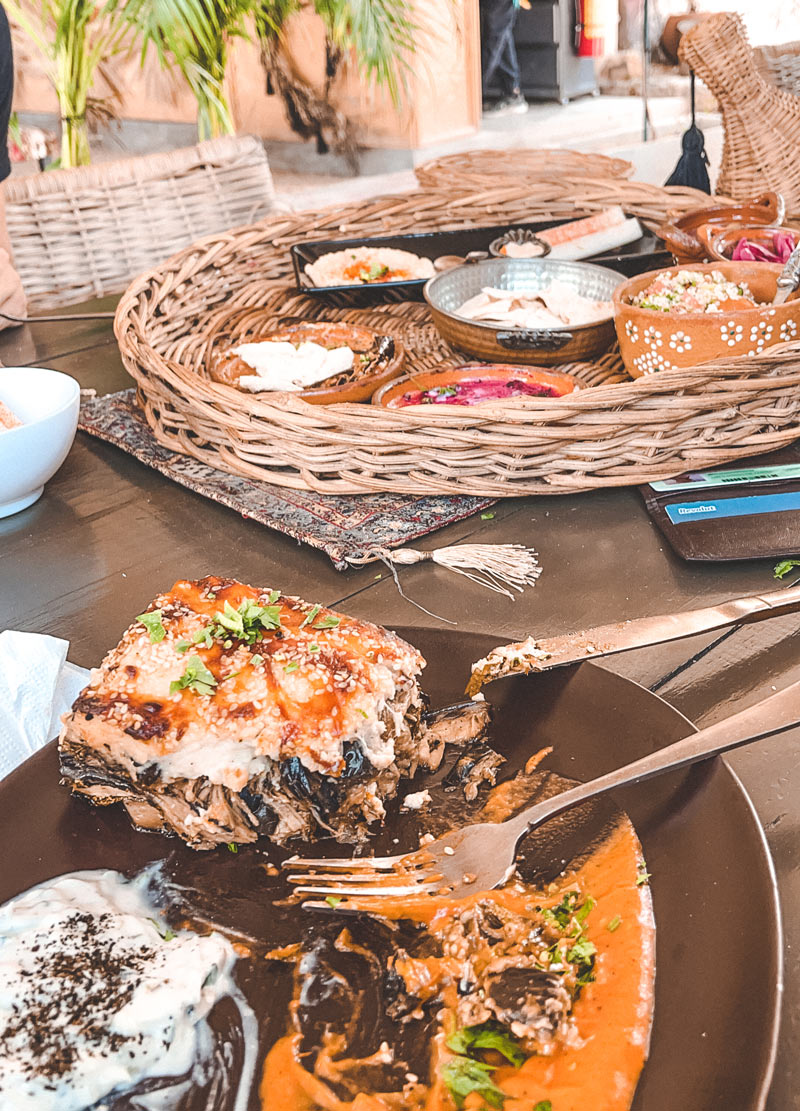 "Eating Some Delicious Food"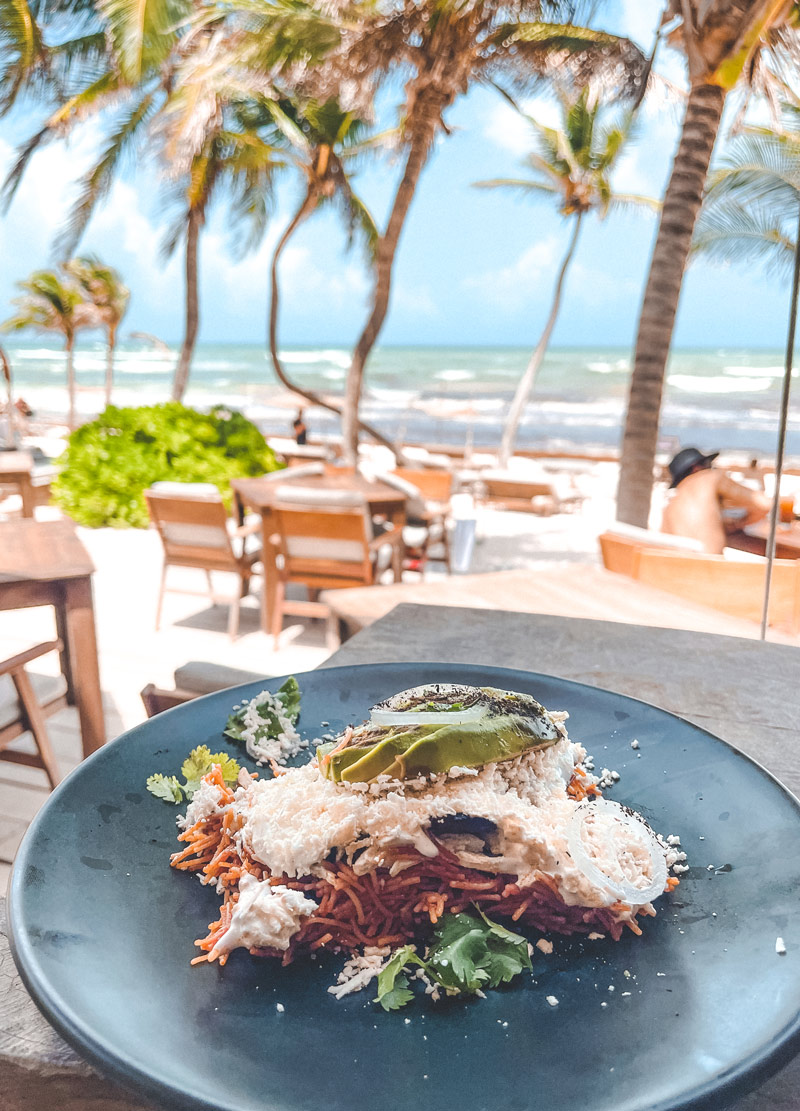 "We Love Italian Cuisine"
Open Hours: 6:00pm – 11:00pm | $$$ – $$$$ | Menu
Known for their enchanted backyard garden, where many people love to visit for the delicious local Mexican food and scenic candlelit dinner. To enhance the taste of your food, visit their Todos Santos bar and order some of their signature cocktails of the day. Also, come on Thursdays if you feel like partying, as they usually host live music events of various artists. Come join the jungle party and mingle with new people! Visit here to learn more about their "Music Culture" event.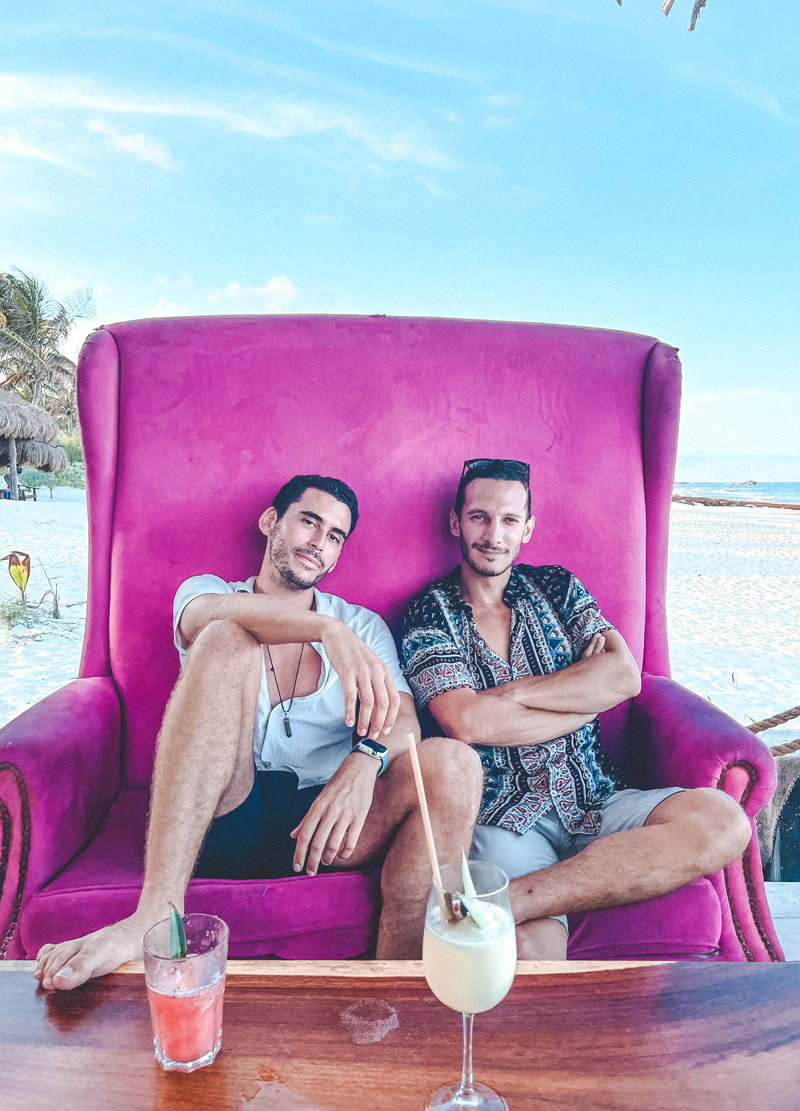 "Eddy And Robin Enjoy Nice Cocktails"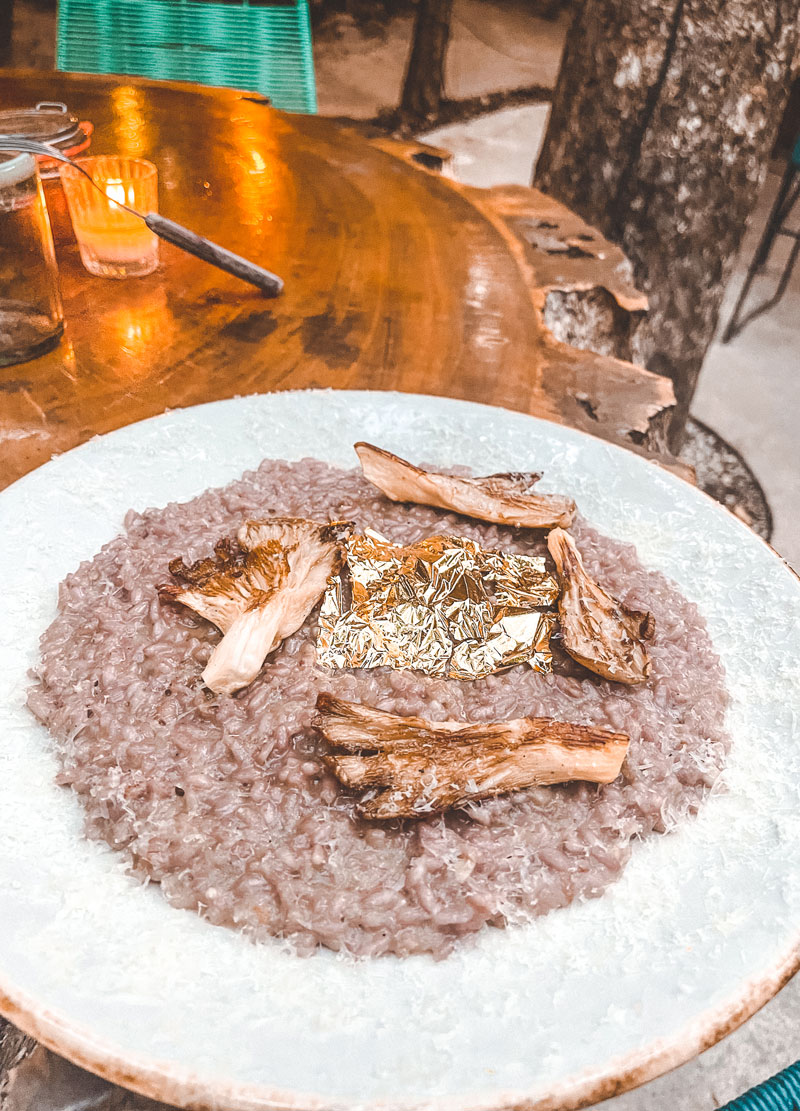 "Casa Jaguar Serves A Delicious Risotto"
Don't be mistaken, there are two different lavish restaurants, and you should definitely visit both of them. Gitano Beach is the newest establishment, nestled on a private beach facing directly the Caribbean sea. It is perfect to have a luxurious lunch, where they serve freshly caught seafood that is grilled on an open fire. Also, their private beach has a peaceful atmosphere, away from the crowds. Then Spend the evening at Gitano Tulum, a tropical jungle-themed restaurant to eat delicious mixed cuisine and handmade cocktails. The best part is the live music: dance under the disco ball and get lost in the vibe.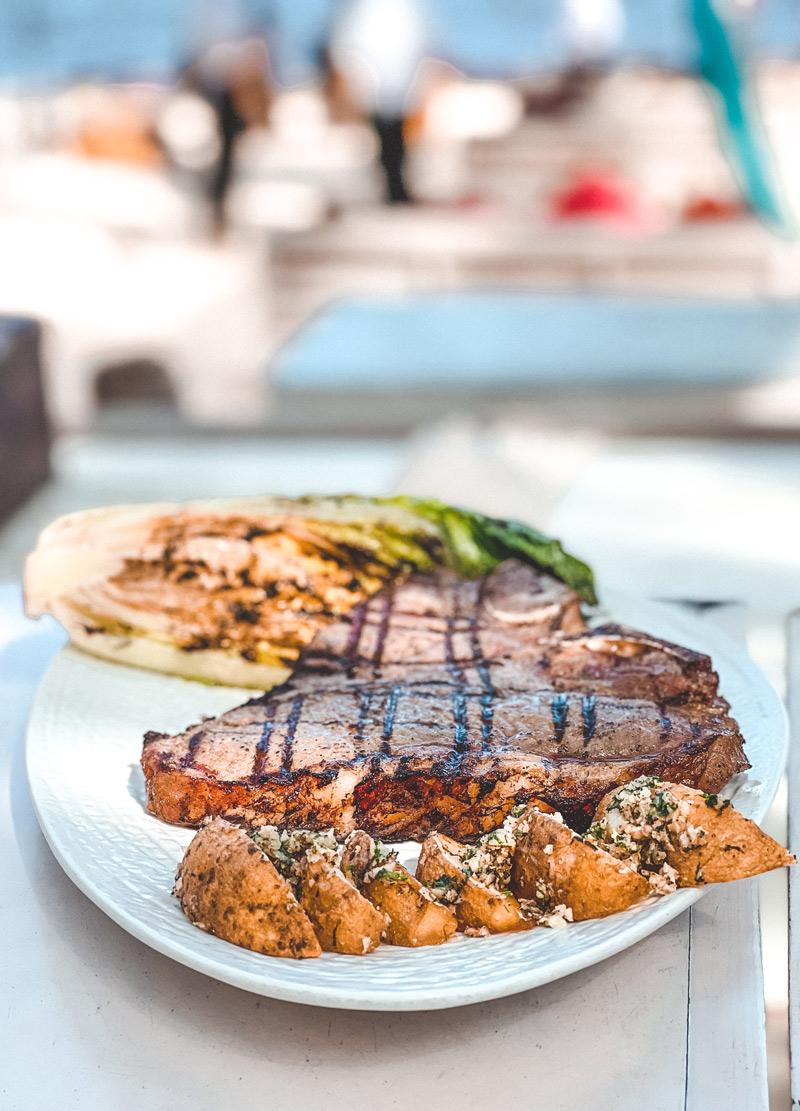 "Grilled Meat In Gitano"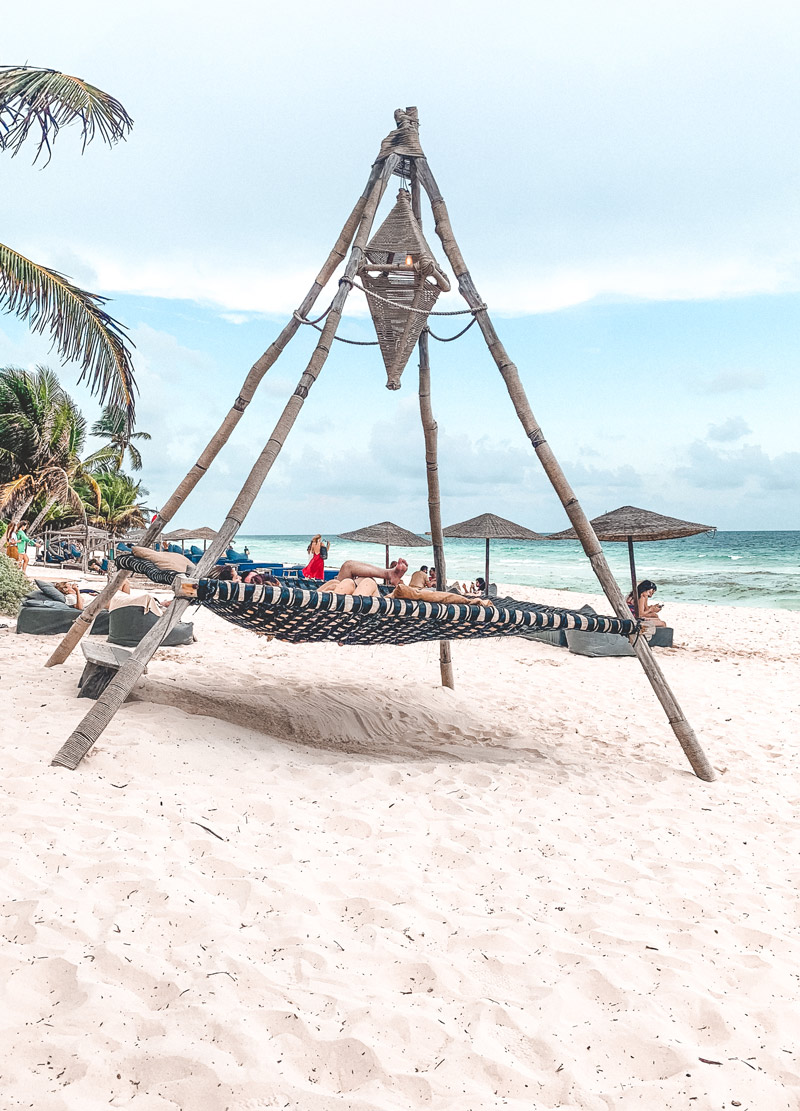 "Chill On The Beach With A Jungle Vibe"
Book A Car At The Best Car Rental In Tulum
We were planning some trips in Yucatan to explore cenotes and we desperately needed a car! It's not always easy to find the best deal and moreover - not to get scammed. We ran into Virginia, a really kind girl, during a yoga session in La Veleta. That's how we found out Virginia is renting cars and her business is really cool.
After seeing her bran new cars, we saw the super convenient prices she was applying and we decided to try her service out. We had an incredible experience - transparency, no need for deposit on our credit card, a lot of flexibility and kindness - in a nutshell: we loved our experience at BGH Car Rental and we can't recommend you any better company in Tulum especially during high season when the car rental market goes wild.
Rent a car at 40 usd per day with full coverage insurance and unlimited kilometrage today!
Book Your Car At The Best Price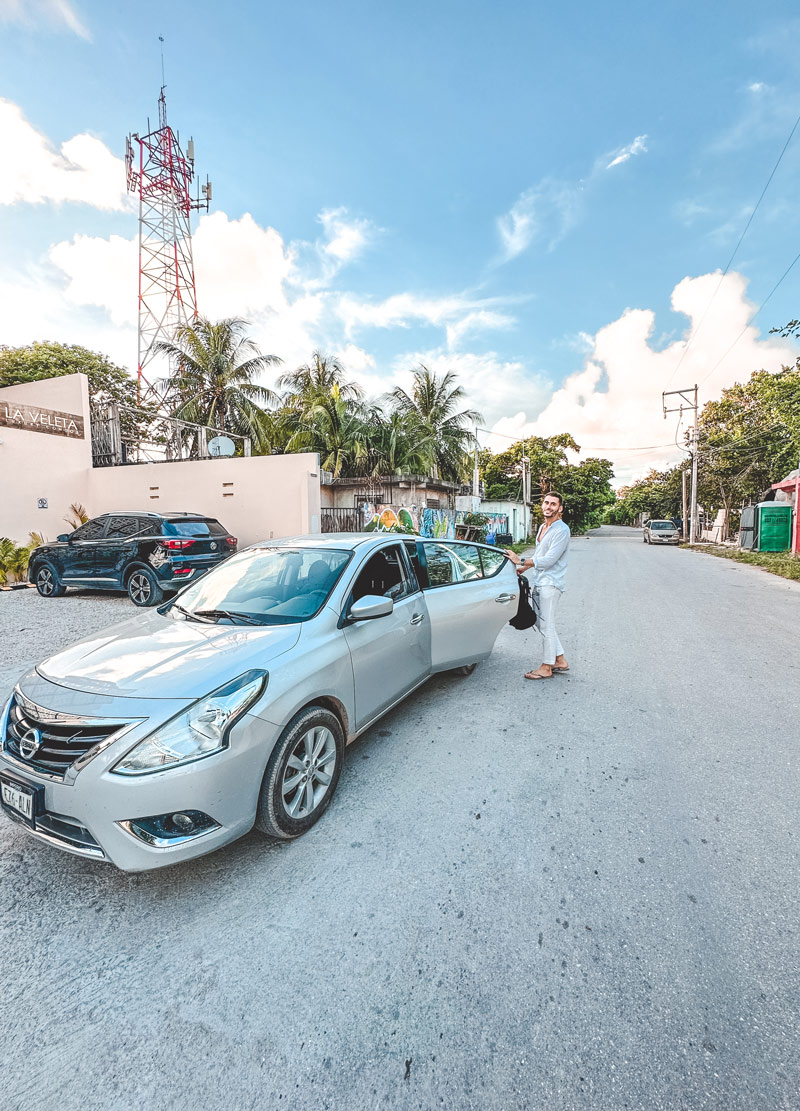 "Nissan Versa Was Perfect For Us"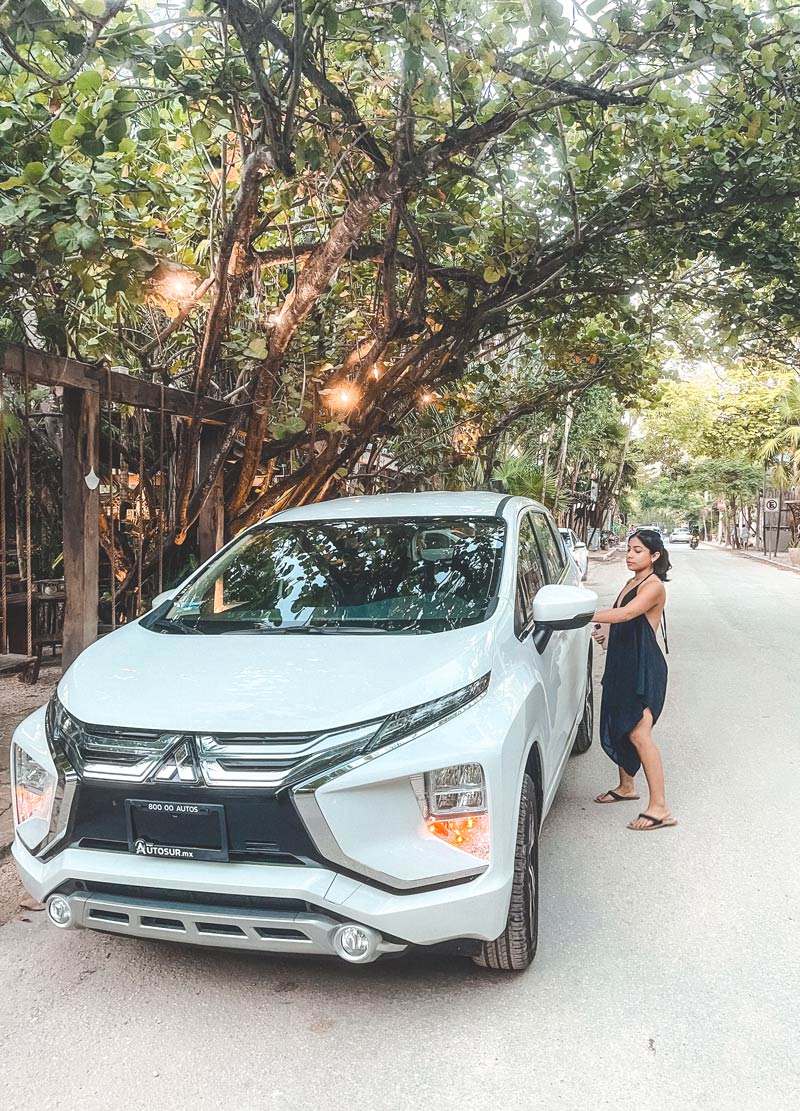 "Xpander Is The Best Car For Day Trips"
Open Hours: Sun – Wed 8:00am – 11:00pm | Thu – Sat 8:00am – 1:00am| $$$ | Instagram
Add a stop to visit another local and authentic Mexican restaurant! Like Taqueria Honorio (from our best breakfast restaurants article), Mateo's Mexican Grill is known for their specialty in making delicious fish tacos and stunning luminous scenery at night. As for the food on the menu, they offer appetizing tacos, cheesy burritos, juicy burgers and fresh seafood dishes. If you are there at night, don't forget to stop at their bar and have a great time with Luis, he is an amazing bartender!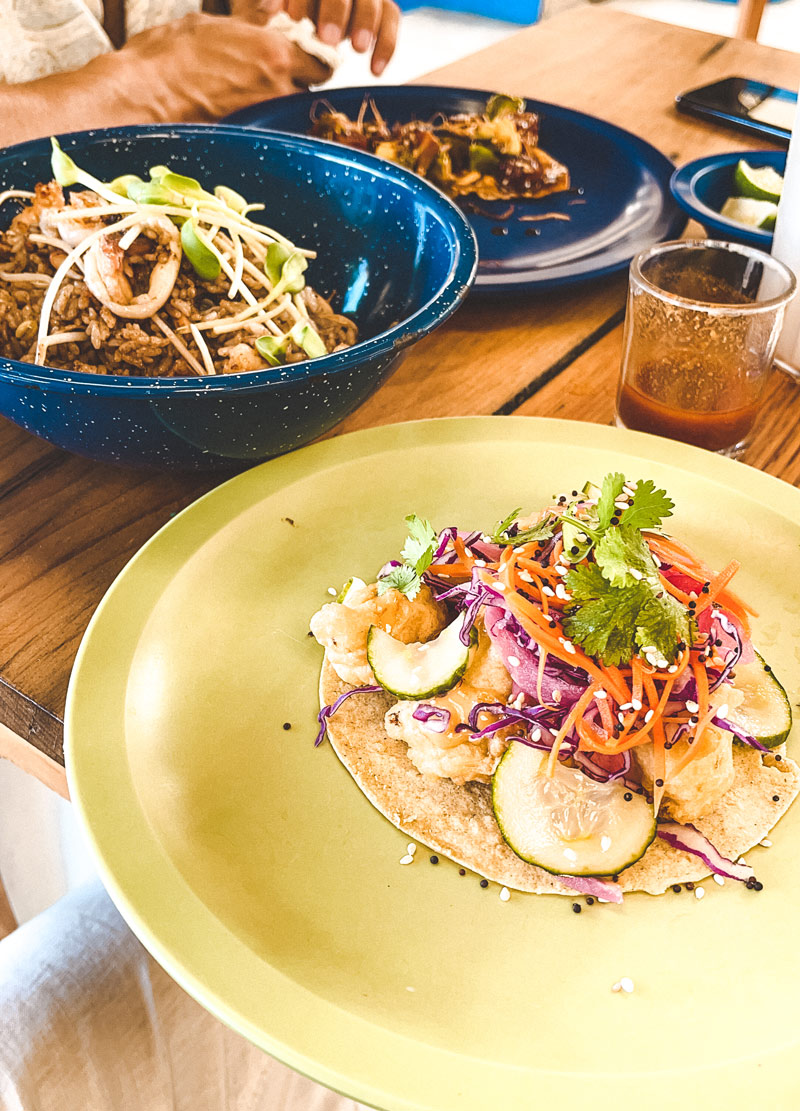 "Local Mexican Tacos"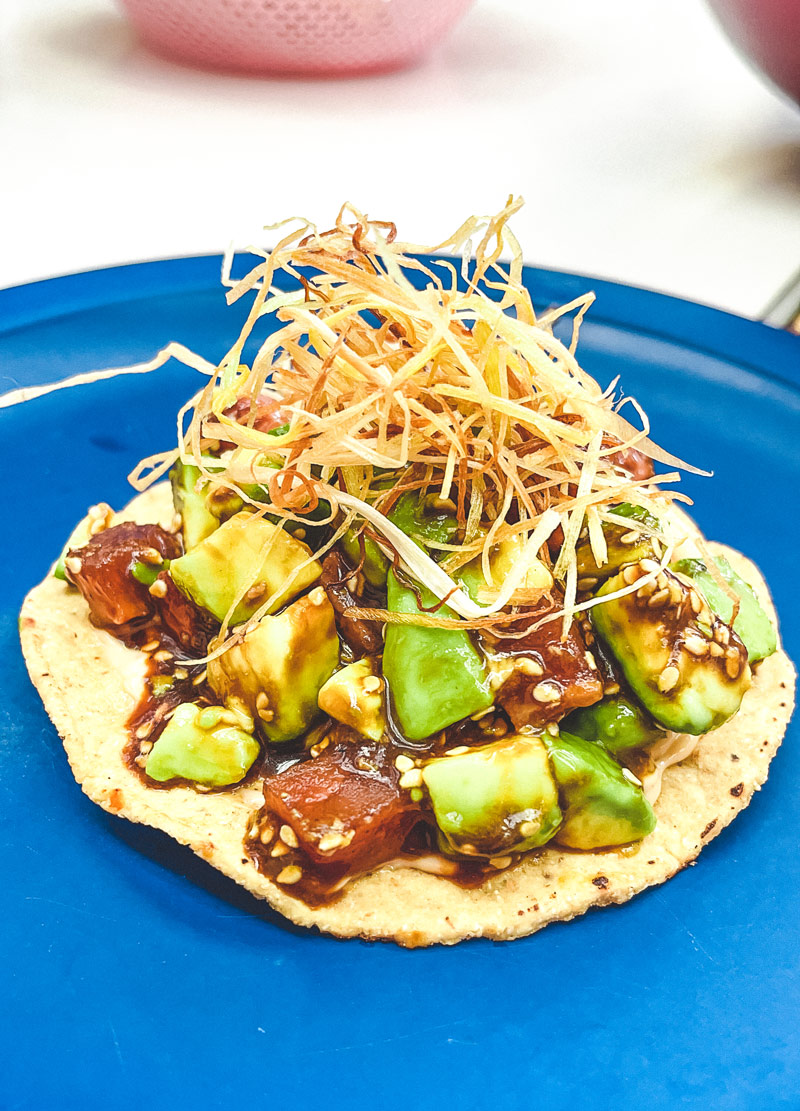 "Tostada With Seafood"
BOCCANERA PIZZERIA Y CERVECERIA
Open Hours: 12:00pm – 10:00pm | $$$ | Menu
If you are starving and thirsty from spending a hot day at the beach, then have a big bite at Boccanera. It is one of the best restaurants in Tulum that you should definitely visit for a pizza! Have a taste of their delicious wood oven pizzas and a sip of a fresh cold beer straight from the bar. This is a perfect place to enjoy traditional Italian cuisine by the Tulum beach, at a reasonable price.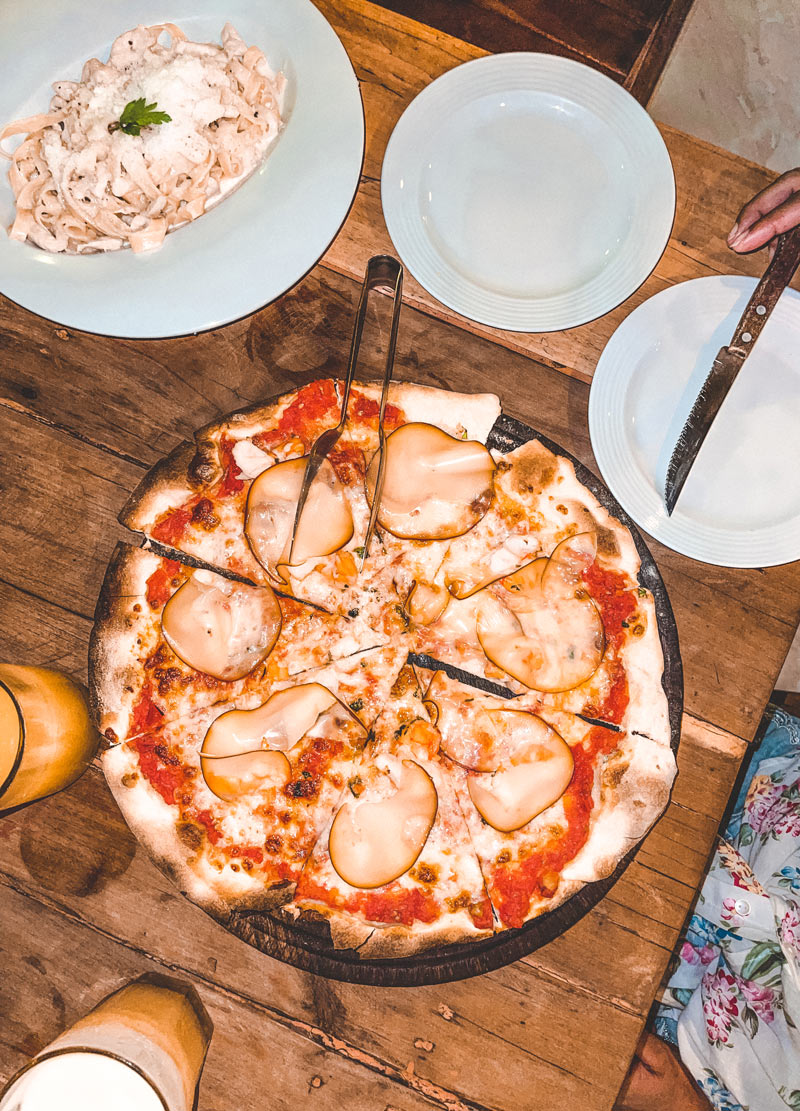 "Boccanera Serves Only Fresh Pizza"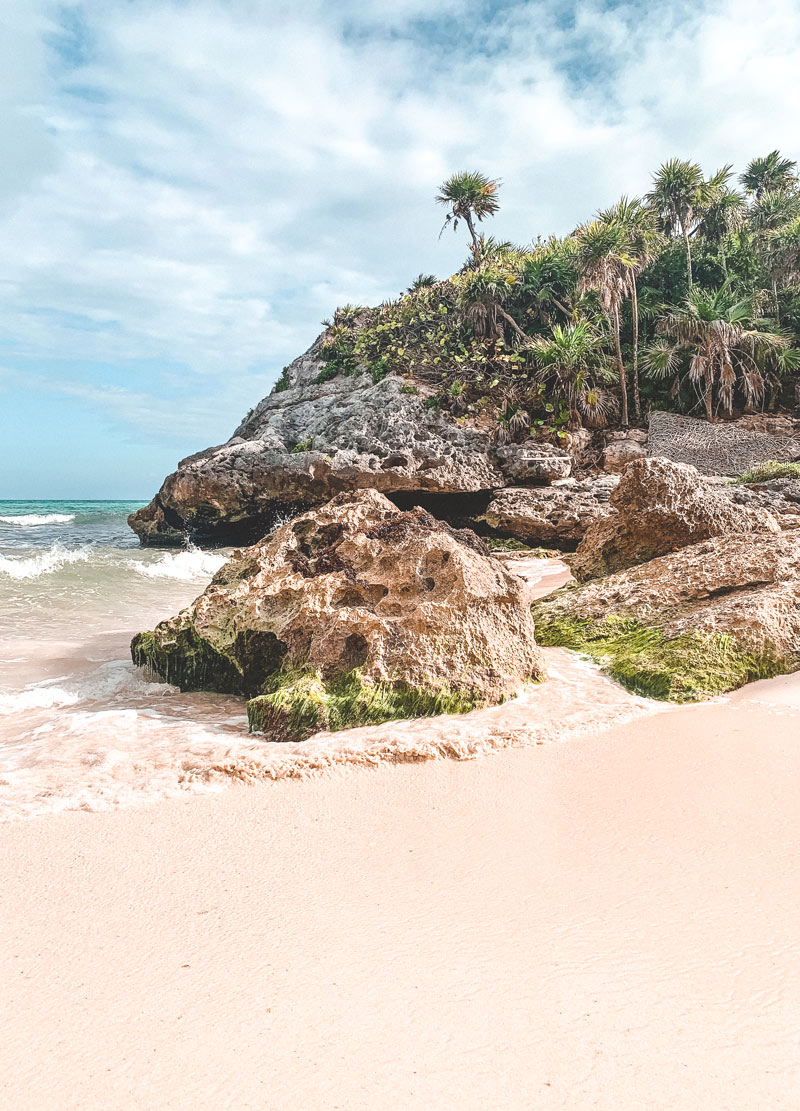 "The Beach Across The Street"
RESTAURANTE LAS ESTRELLAS
Open Hours: 8:00am – 9:00pm | $$$ | Website
Refused to go down due to Covid and decided to design a new concept for their beloved guests. Now, the main menu of the restaurant consists in local Mexican dishes, a healthy mix of vegan and seafood dishes, fresh from the sea. Savor a light breakfast and enjoy a hot cup of coffee or a fresh juice, paired with their signature traditional Mexican chilaquiles. Visit at night to have a scenic dinner by the porch and under the stars. Let the sound of the waves crashing by and a fresh ocean breeze accompany your evening.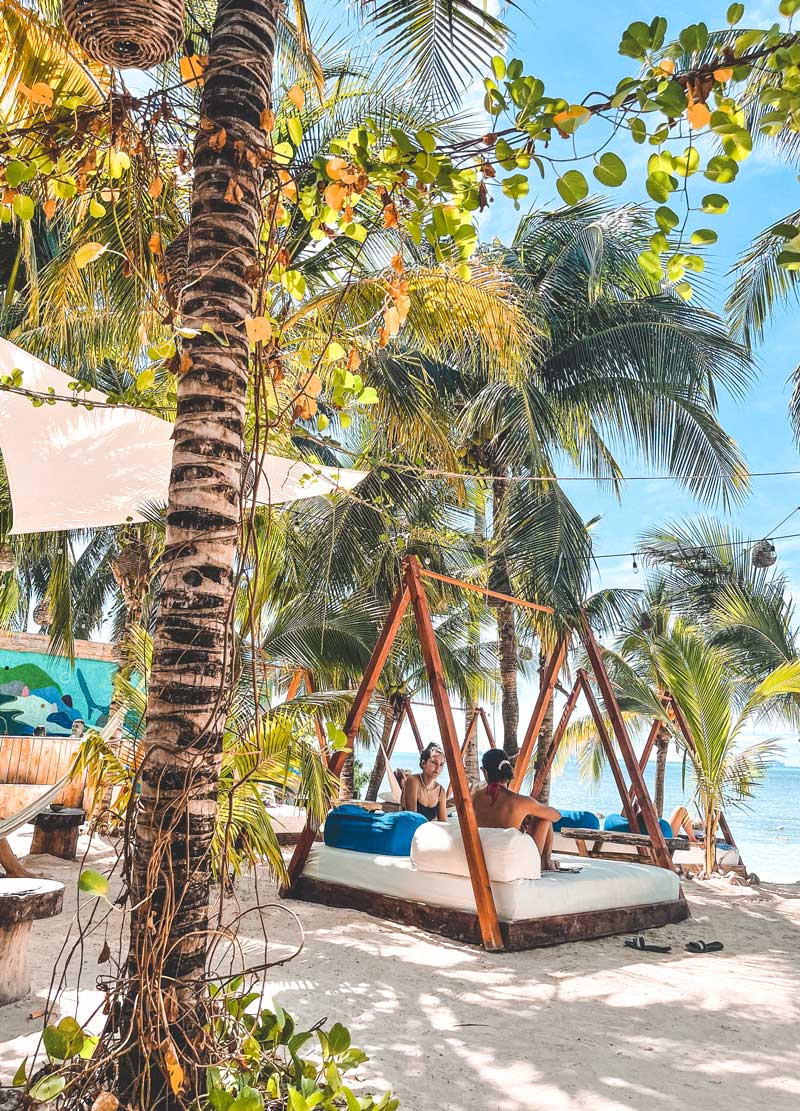 "Chilling Under The Palm Trees At The Beach"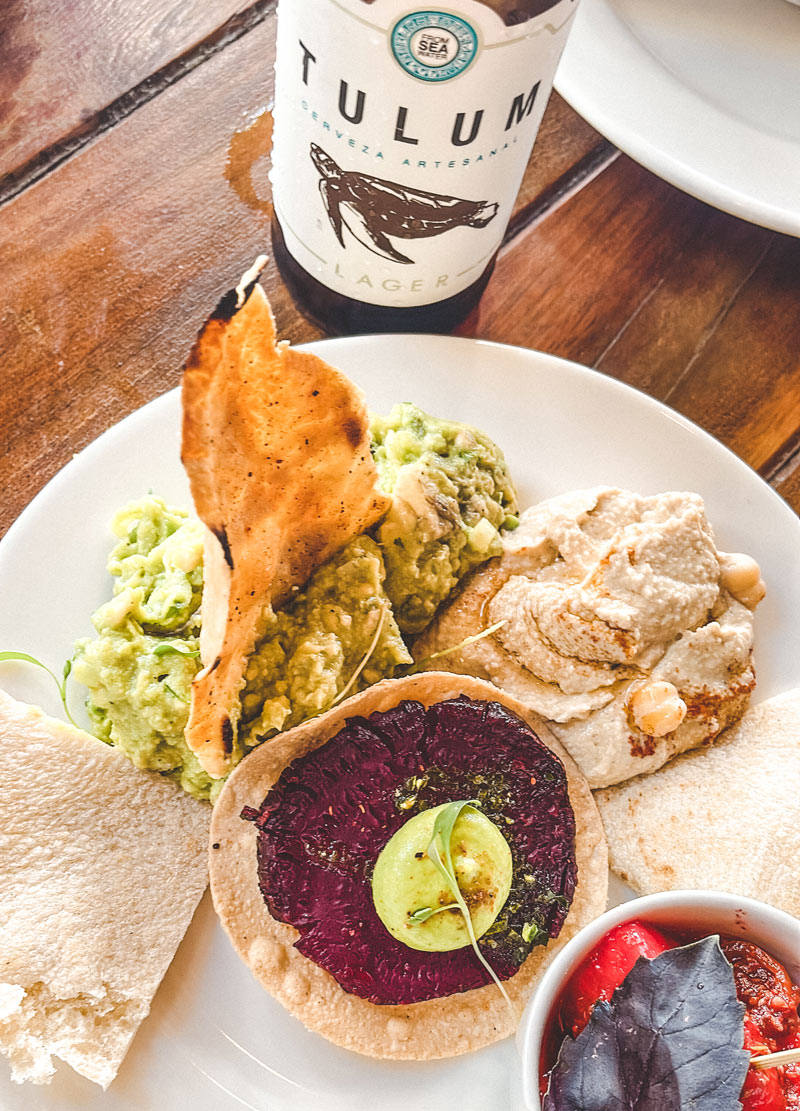 "Fresh Beer And Mexican Appetizers"
Well of course, our list of beach restaurants shouldn't be the only options for you. Let it be your own adventure to visit and explore new restaurants around the beach! But before, let us know what you think about these restaurants down below, and tell us which restaurant you want us to cover next, so we can check the place out.
Thank you and have a wonderful dining experience!
FAQ about Beach Restaurants
What kind of cuisine can I find in Tulum's beach restaurants?
Tulum's beach restaurants offer a wide range of cuisines, including traditional Mexican food and Italian food. We have tried incredible pizzas with a picturesque view of the beach!
Are Tulum's beach restaurants expensive?
Yes, generally Tulum's beach restaurants are expensive. As the beach zone is a popular tourist destination, some beach restaurants can be pricier. However, you can also find more affordable options, for example Boccanera Pizza is quite affordable compared to the other restaurants, and the atmosphere is more rustical. 
Do I need to make a reservation before going to a Beach Restaurant in Tulum?
While it is not necessary, we recommend making a reservation before visiting a beach restaurant in Tulum to ensure you get the best table. Sometimes these restaurants fill up quickly!  Our friend Virginia is incredible at getting the best tables at the best restaurants in Tulum – just contact her and enjoy your meal! 
Do Tulum's beach restaurants offer vegetarian or vegan options?
Yes, many of Tulum's beach restaurants cater to various dietary preferences and offer vegetarian and vegan options, like the restaurant "Las Estrellas".
Are the beach restaurants in Tulum open all year round?
Yes, most beach restaurants in Tulum are open year-round. Some restaurants may close for a few weeks during the slower seasons or vacation, but you will always find an open restaurant for you! 
Do beach restaurants in Tulum accept credit cards?
Many restaurants in Tulum accept credit cards, but we recommend you to carry some cash just in case, as some smaller establishments or street food vendors may be cash only. Moreover, paying with MXN pesos will help you to get better exchange rates. 
What time do beach restaurants in Tulum open?
Most beach restaurants in Tulum tend to open in the late morning, around 11 am or 12 pm, while some of them can open at 7:30am, like Posada Margherita. 
What time do beach restaurants in Tulum typically close?
Usually, beach restaurants in Tulum stay open until 9pm or 11pm. Some places, especially those with a bar or nightclub, may stay open even later. 
👉 FRIDAY, Dec 1
OPENING PARTY X TEN IBIZA 🎉🍹
🎧
ORIOL CALVO, BASTIAN BUX, VITE
📩
Contact Virginia
here
to book a table
💵
First Release Tickets: Mex$ 550 (incl. fees)
Don't miss out on the chance to join us in "A Journey into House Music" tonight at Vagalume. Contact Virginia here to secure your spot for an unforgettable evening! 🌟🍹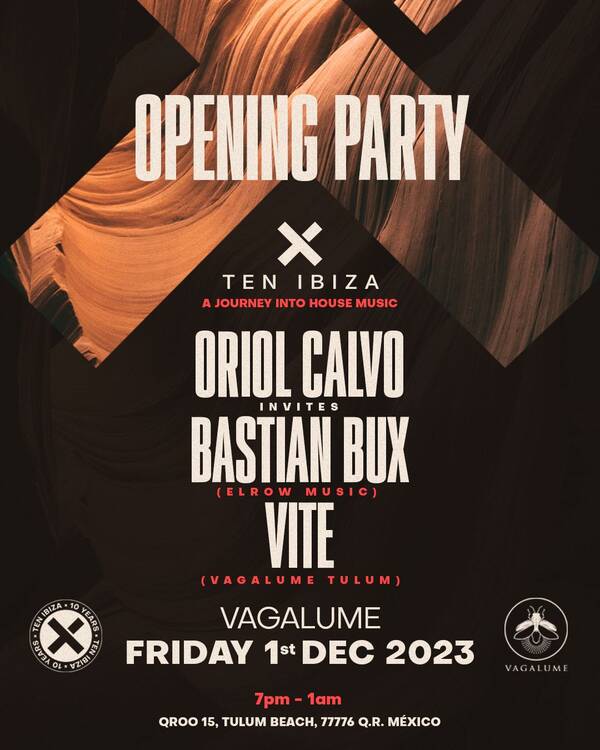 Top Parties and Club Events
23rd November - VAGALUME SESSIONS KEENE @VAGALUME
26th November - VAGALUME SUNDAZE MITA GAMI @VAGALUME
30th November - VAGALUME SESSIONS VALDOVINOS @VAGALUME
3rd December - VAGALUME SUNDAZE VALENTIN HUEDO @VAGALUME
7th December - VAGALUME SESSIONS MUSTAFA ISMAEEL @VAGALUME
30th December - PIKNIK POLO CORP & LEO LEONSKI @VAGALUME
31st December - NEW YEAR´S EVE @BAGATELLE TULUM
31st December - NYE PARTY 2024 @VAGALUME
13th March - LOCUS Tulum 2024