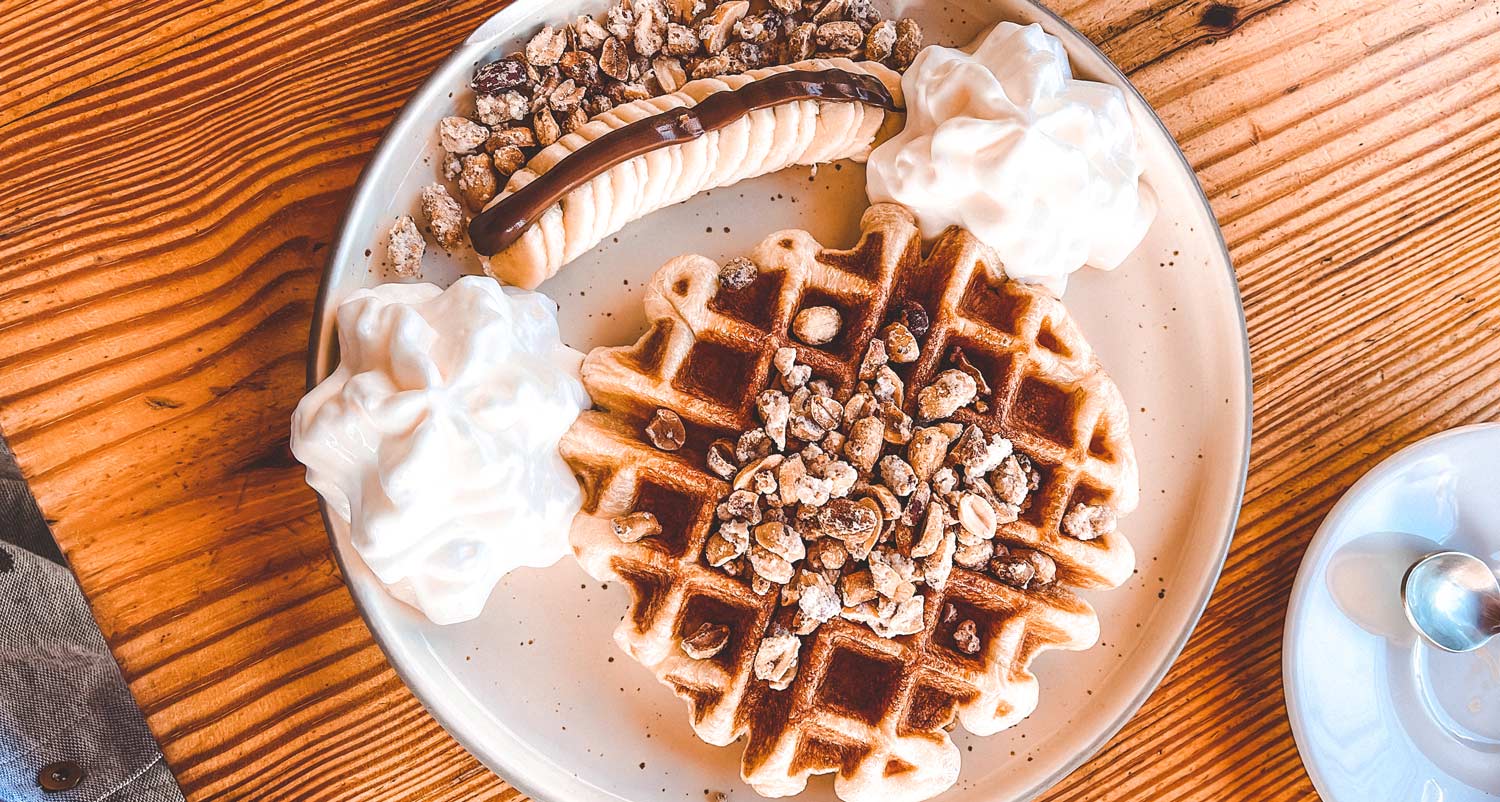 Best Breakfast Restaurants in Tulum That You are Probably Missing Out 
WAIT! You don't want to have an empty stomach before you go out adventuring Tulum, do you? Have a cup of hot coffee, eat highly nutritious-energy food, and begin your day with a delicious meal at the best breakfast restaurants around Tulum!
For those picky foodies out there, their menu offers plenty of variety of cuisine. Say goodbye to the boring old breakfast routine, and say hello to many of the exciting breakfast brunch restaurants you are probably missing out on.
If you want to secure yourself the best experience at bars and restaurants, skipping queues and being on the guest list – check out our secret right here.
What can you find for Breakfast in Tulum: From Local Mexican to International Food
Looking for a restaurant with plenty of breakfast options? Maybe something light and quick, or fulfilling and affordable? Don't worry, you are in Tulum, Mexico, you can always spot restaurants at every corner. Plenty of these Tulum restaurants offer a special breakfast menu that is perfect for your morning cravings.
Many of them serve local Mexican food, where you can get the best vegan breakfast tacos, huevos rancheros or Mexican scrambled eggs. You can also visit many Italian restaurants to enjoy home-baked croissants while sipping a hot coffee in Centro Tulum. They are all delicious, refreshing, and affordable. You will never run out of options to get breakfast here in Tulum!
If these mouth-watering food makes your stomach growl, then check out our list of the best breakfast restaurants in Tulum!
Take Advantage Of Free Concierge Service
As excellent to explore Tulum and its surroundings alone, you may need help figuring out where to start. To make the most of your money and time, contact Virginia and Kelly - two incredible Mexican girls living in Tulum for more than 15 years. They're familiar with the ins & outs of the Tulum town and hotel zone like the back of their hand! 
Since we arrived in Tulum 2 years ago, many adventures wouldn't have been possible without their help - they know literally everybody in Tulum and can perfectly organize every moment of your stay. Get the best tables, skip queues and get on the guest list of the coolest places in Tulum - this's only the beginning! 
They are ready to offer you guys FREE concierge service in Tulum for the time of your stay: take advantage of it, contact them on Whatsapp and live the best experience!
Get FREE Concierge Service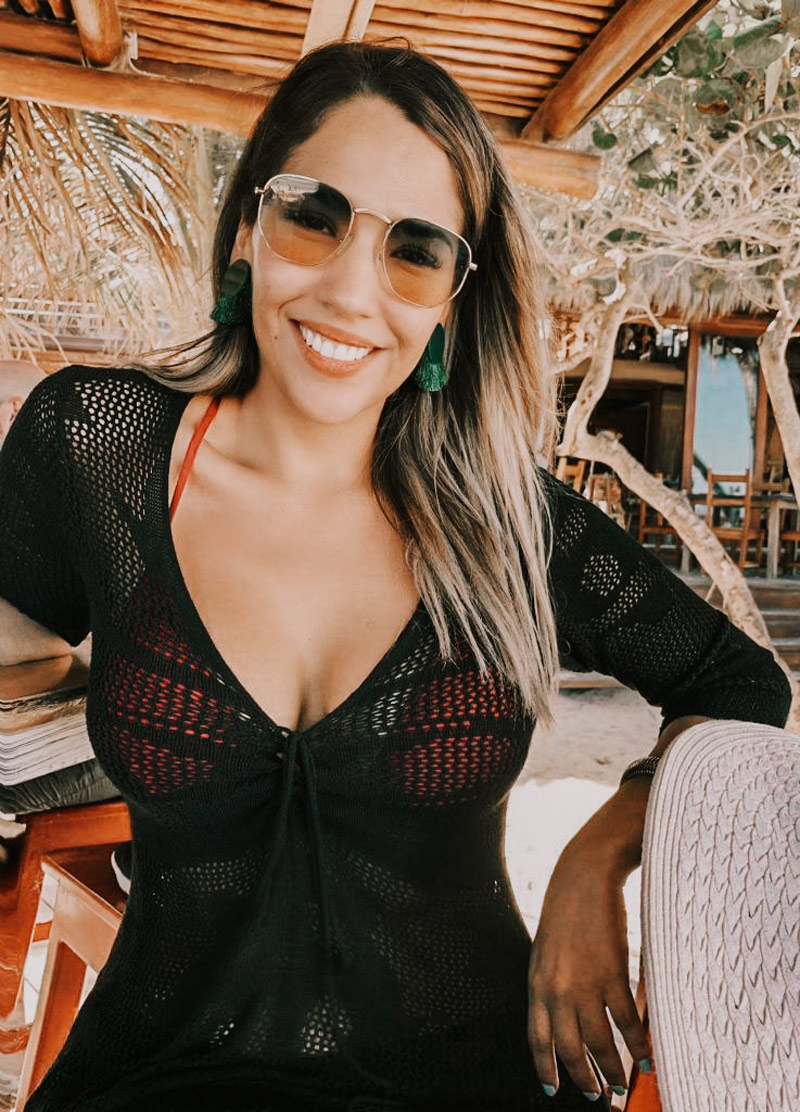 "Virginia Can't Wait To Make Your Stay Flawless"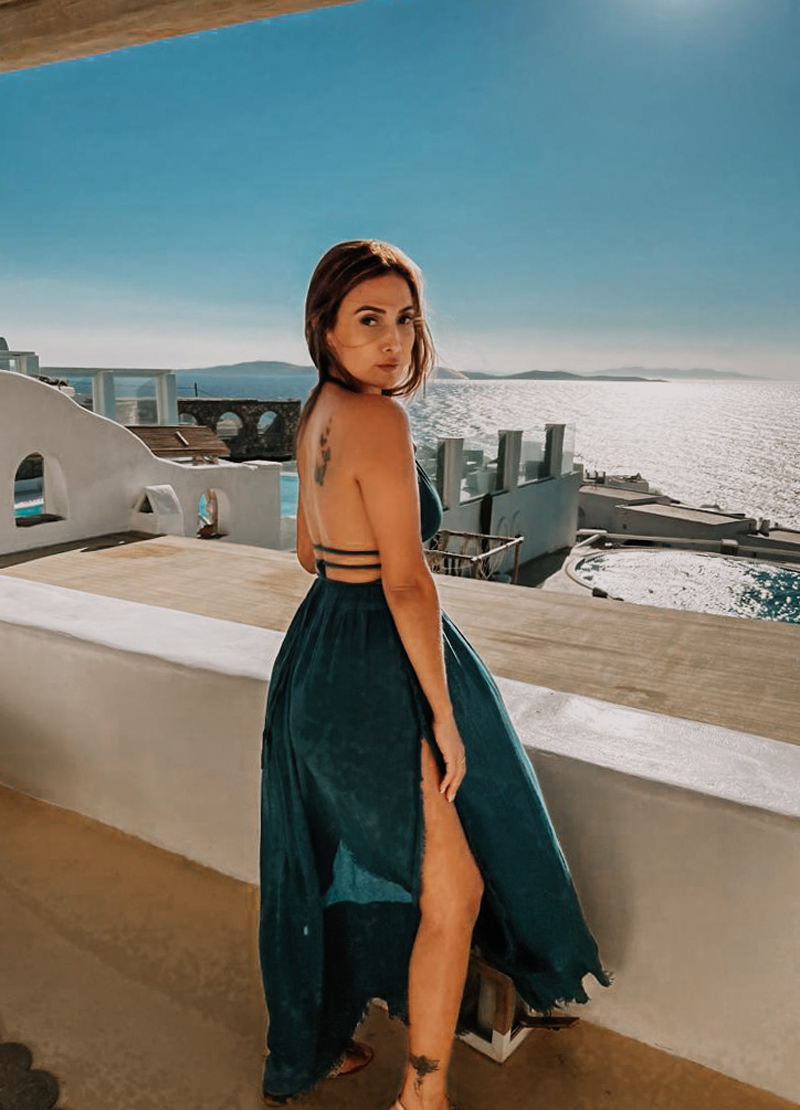 "Kelly Will Transform You In A Tulum Insider"
Best Breakfast Restaurants Around Tulum Centro
If you live in Centro Tulum or just passing by, we highly recommend you to visit these restaurants along the main road. The atmosphere is also worth mentioning, as some have a beautiful themed garden and some have a cozy vibe.
Open hours: 8am – 6pm | $ – $$ (40 – 200 mxn) | menu
This Garden Cafe is one of the best restaurants you can find in Centro Tulum, and it is the perfect spot to get breakfast. They serve local Mexican and European cuisine that is also vegetarian friendly. You can savor the morning with something fresh with their finest juices or smoothies. You can also enjoy something more fulfilling like their Mexican omelet, or something sweet like their fluffy banana pancakes. Definitely take a seat at their beautiful tropical garden and vibe with the live music!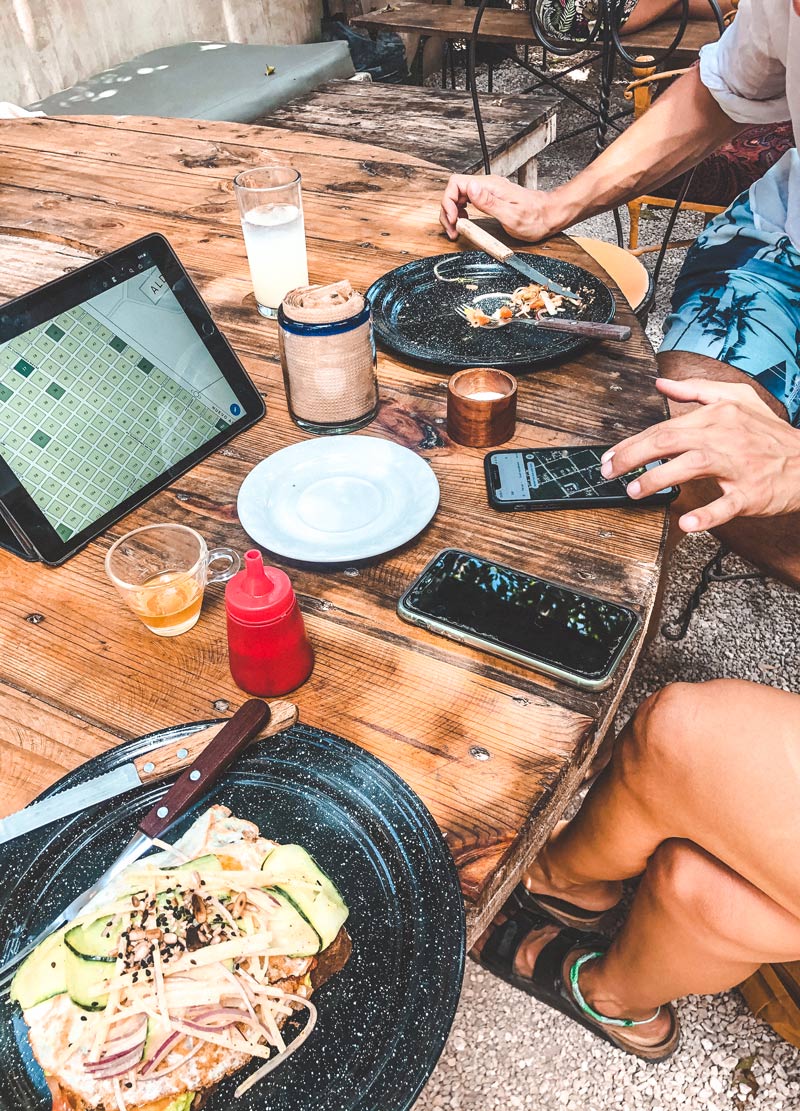 "Working And Having A Delicious Breakfast"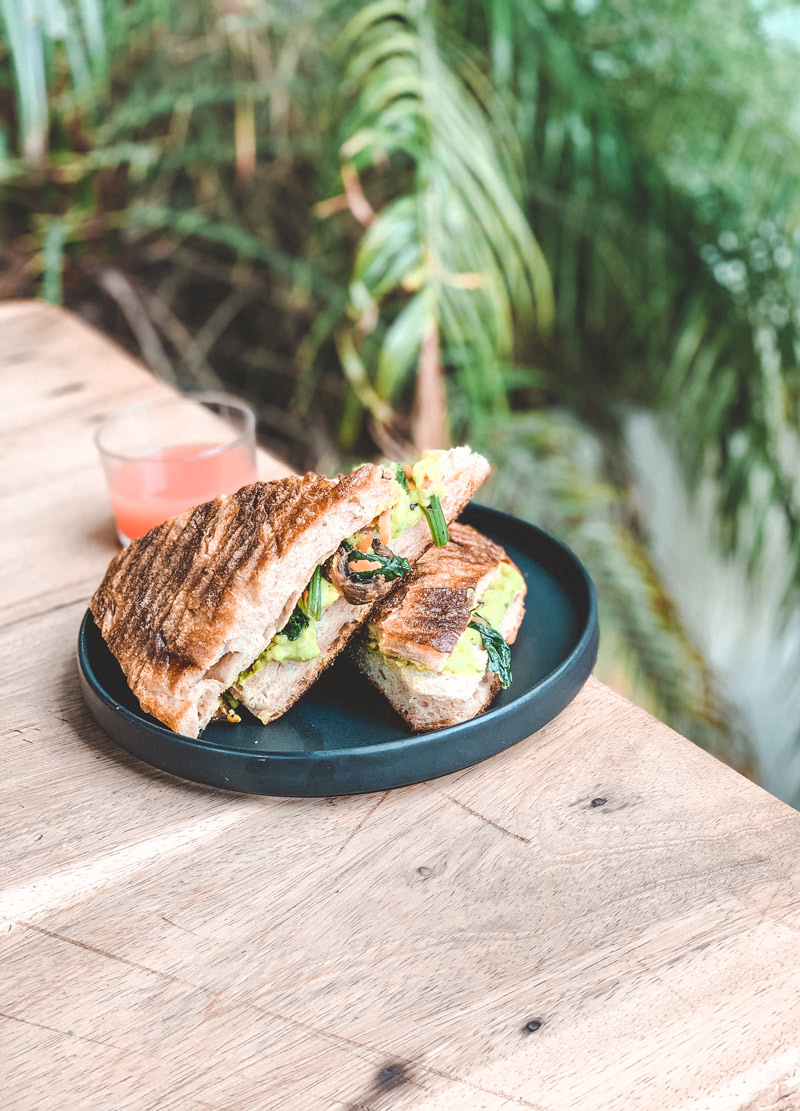 "Vegan Sandwich"
Open Hours: 7am – 7pm | $$$ (around 120 – 240mxn) | menu
Similar to Botanica Garden Cafe, Potheads is a part of our list of the best restaurants in Tulum. This jungle-themed restaurant offers a mix of local Mexican and American cuisine that hits close to home. For the most healthy options, you can get quinoa bowls, salads, or smoothie bowls. For something more fulfilling, you can have delicious burritos, home-baked goods, or a classic egg breakfast. You should definitely visit their breakfast menu on the link above. Note: Some of the options on the menu, such as tacos and quesadillas, are served after 2pm.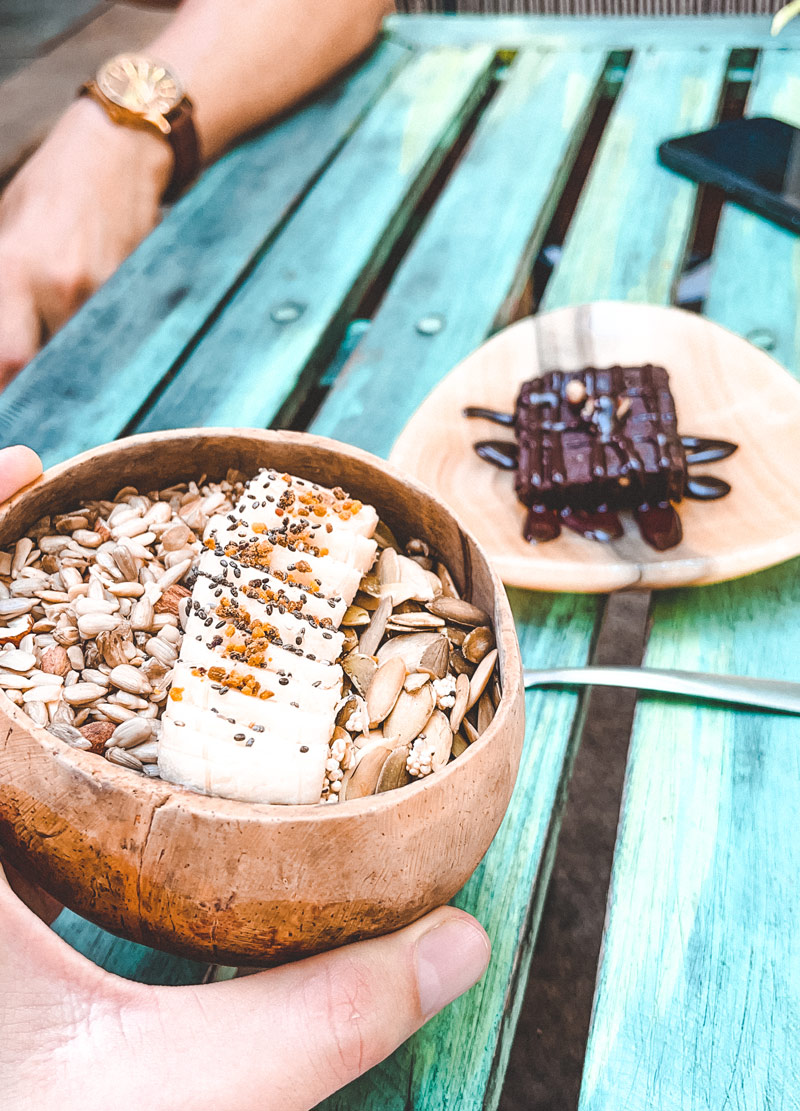 "Amazing Grain Bowl"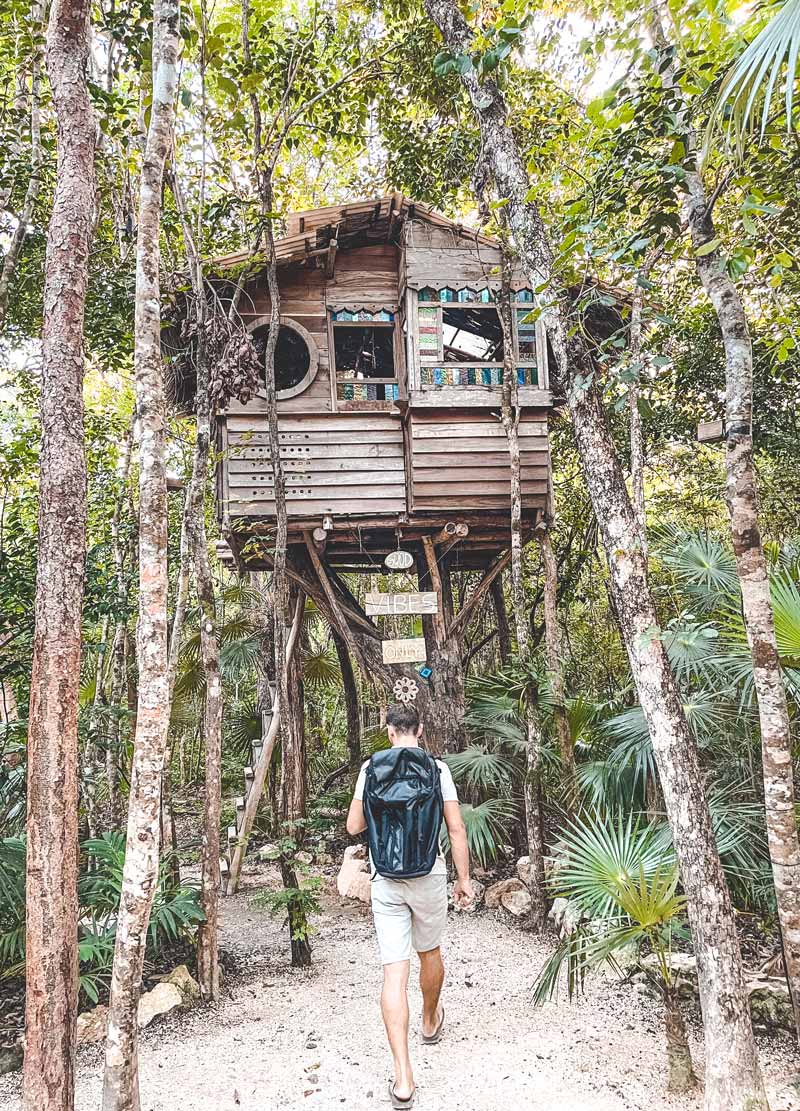 "Breakfast In The Jungle"
Open hours: 8am – 4pm | $$ (around 100 – 140mxn) | menu
A small Italian bistro to go for delicious and healthy sandwiches. They offer a variety of options to enjoy freshly made animal meat, vegetarian and vegan sandwiches. Where they are served with toasted ciabatta or focaccia bread of your choice. For this high quality of food and service, the prices are reasonable. It is perfect if you want something that is quick and fulfilling. Oh, don't forget to leave some room for Tiramisu, a must try dessert!
Open Hours: 6am – 3pm | $ (under 100mxn)
Best tacos in town! Many would agree that their tacos are delicious, authentic and super affordable. Taqueria Honorio is a local Mexican – Latin fast food restaurant that does not have many options. But, for you meat lovers out there, you need to try their savory meat tacos, sandwiches and quesadillas. You and your buddies can have a feast without worrying about the cost. That's because all of the prices on their menu are under 100 pesos. However, the restaurant gets crowded fast. So it is best to visit earlier, before 10 pm or at lunchtime. Note: If you got caught in a long queue, don't forget to get your name written down on the waitlist.
Open Hours: 8am – 10pm | $$ – $$$ | menu
Similar to Taqueria Honorio, they serve local Mexican and Latin cuisine that is vegetarian friendly. This restaurant is amazing, as the staff is super friendly and their Mexican dishes are delicious. We love everything on the menu, including the vegetarian burrito, shrimp tacos, guacamole and vegetarian enchiladas. If you are lucky, their live music can brighten up your mood that lasts for the whole day.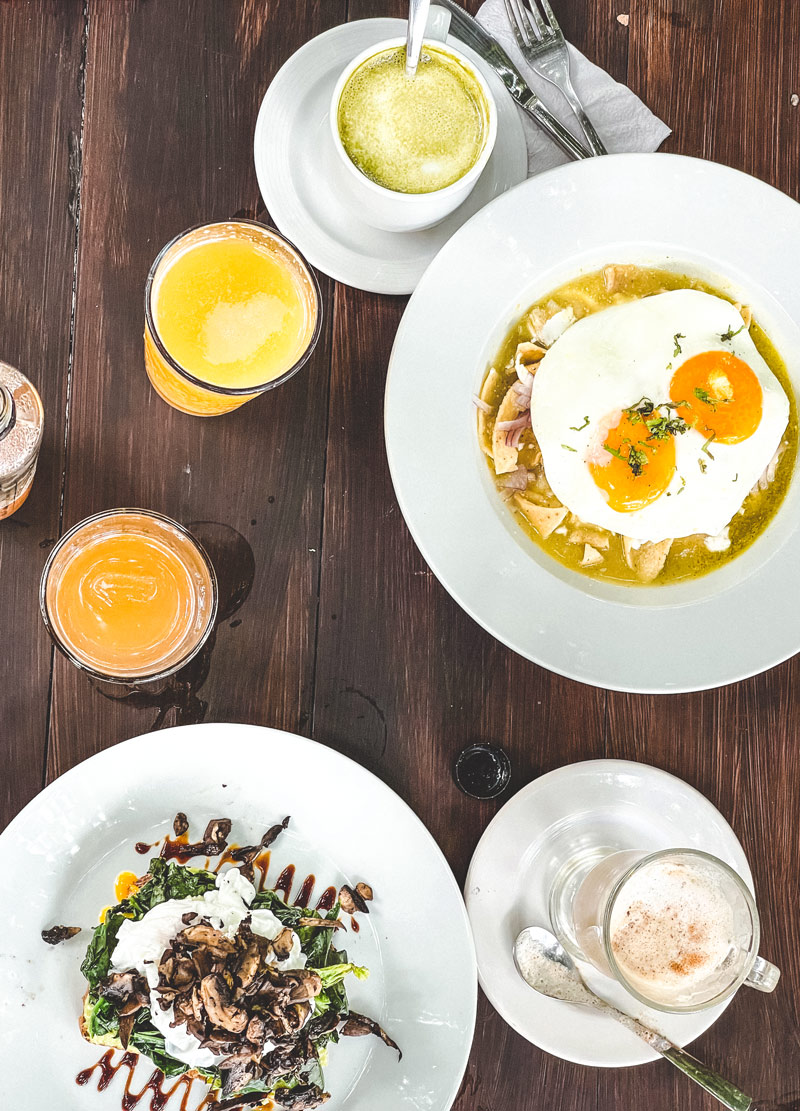 "The Typical Mexican Breakfast"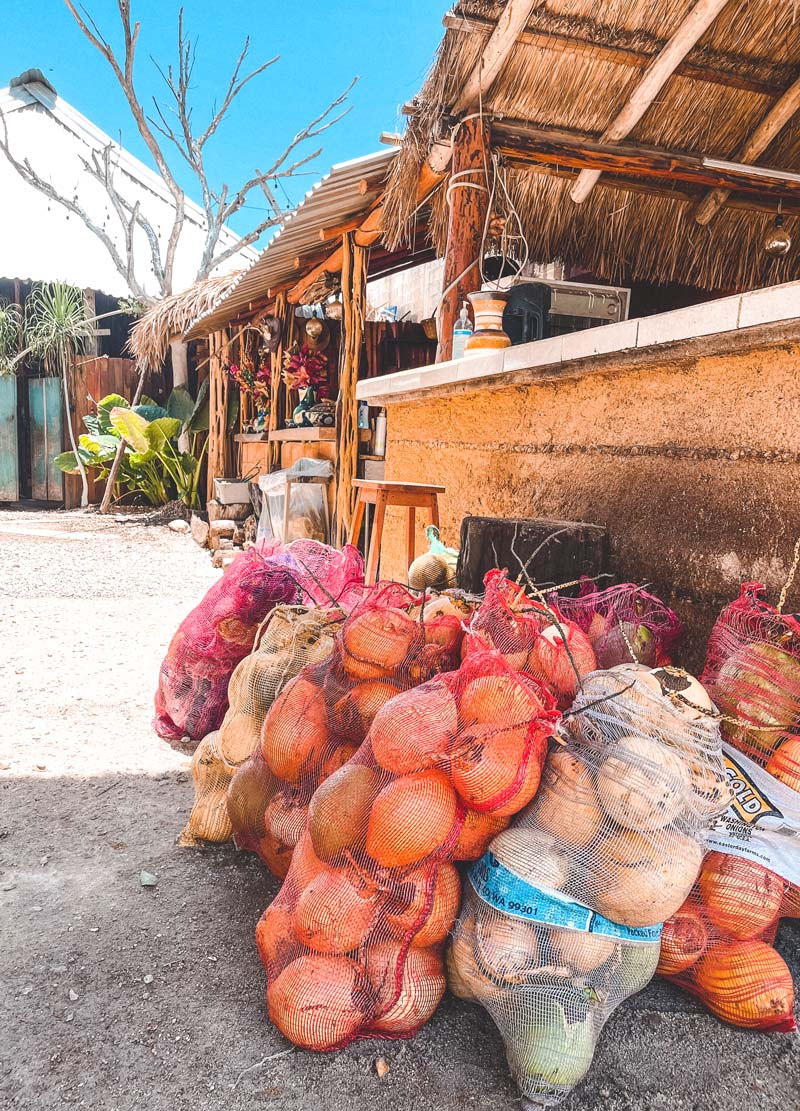 "Fresh Coconuts"
Book A Car At The Best Car Rental In Tulum
We were planning some trips in Yucatan to explore cenotes and we desperately needed a car! It's not always easy to find the best deal and moreover - not to get scammed. We ran into Renata, a really kind girl, during a yoga session in La Veleta. That's how we found out Renata is renting cars and her business is really cool.
After seeing her bran new cars, we saw the super convenient prices she was applying and we decided to try her service out. We had an incredible experience - transparency, no need for deposit on our credit card, a lot of flexibility and kindness - in a nutshell: we loved our experience at BGH Car Rental and we can't recommend you any better company in Tulum especially during high season when the car rental market goes wild.
Rent a car at 40 usd per day with full coverage insurance and unlimited kilometrage today!
Book Your Car At The Best Price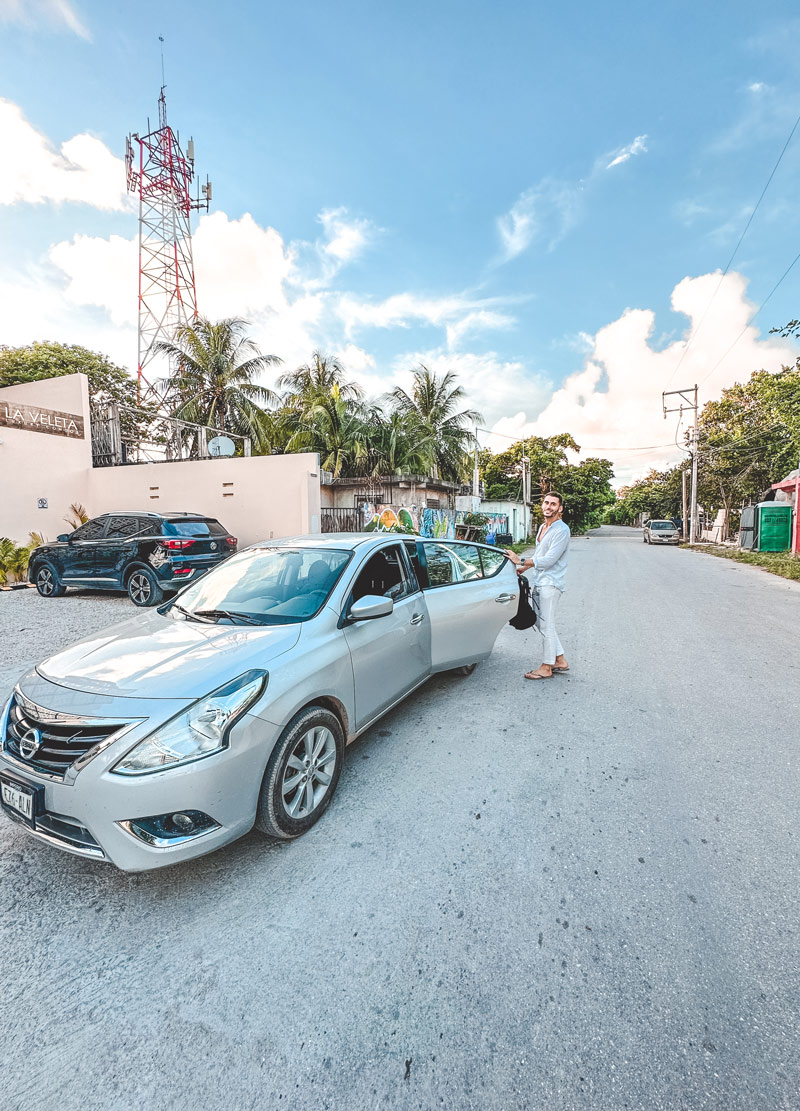 "Nissan Versa Was Perfect For Us"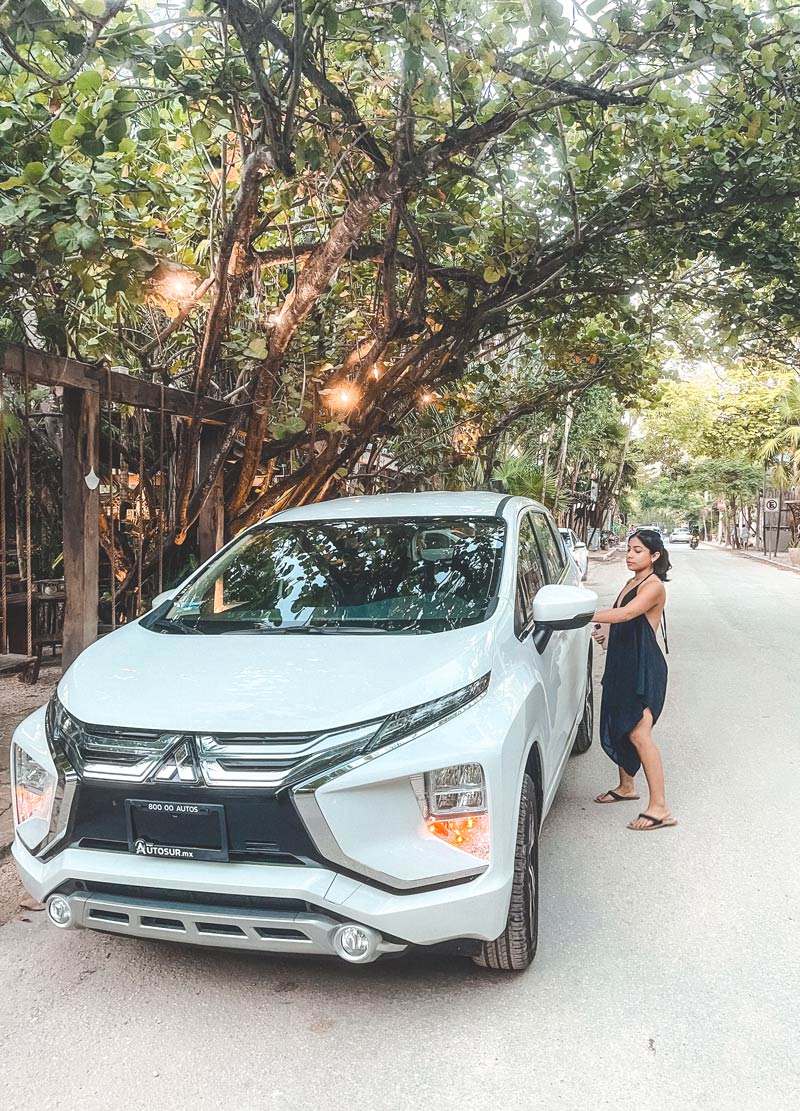 "Xpander Is The Best Car For Day Trips"
Best Breakfast Restaurants Around Tulum Beach
Do you love to visit the beach to start your day? Walking along the soft sandy beach, feeling the fresh Caribbean sea breeze and listening to the sounds of waves crashing by? Well, before or after spending your beach activity, don't forget to visit these restaurants to fuel the body!
Open Hours: 7am – 10:30pm | $$$ | menu
Unlike other Tulum beach restaurants, Ziggy's beach club is luxurious as they have a stunning environment and professional service. Start your day with their healthy breakfast menu that offers animal meat, vegan, vegetarian, and gluten-free meals. We definitely love their fulfilling Machaca and eggs tacos paired with a cold and refreshing orange juice. They also held daily events to enjoy different kinds of live music. Find out more here.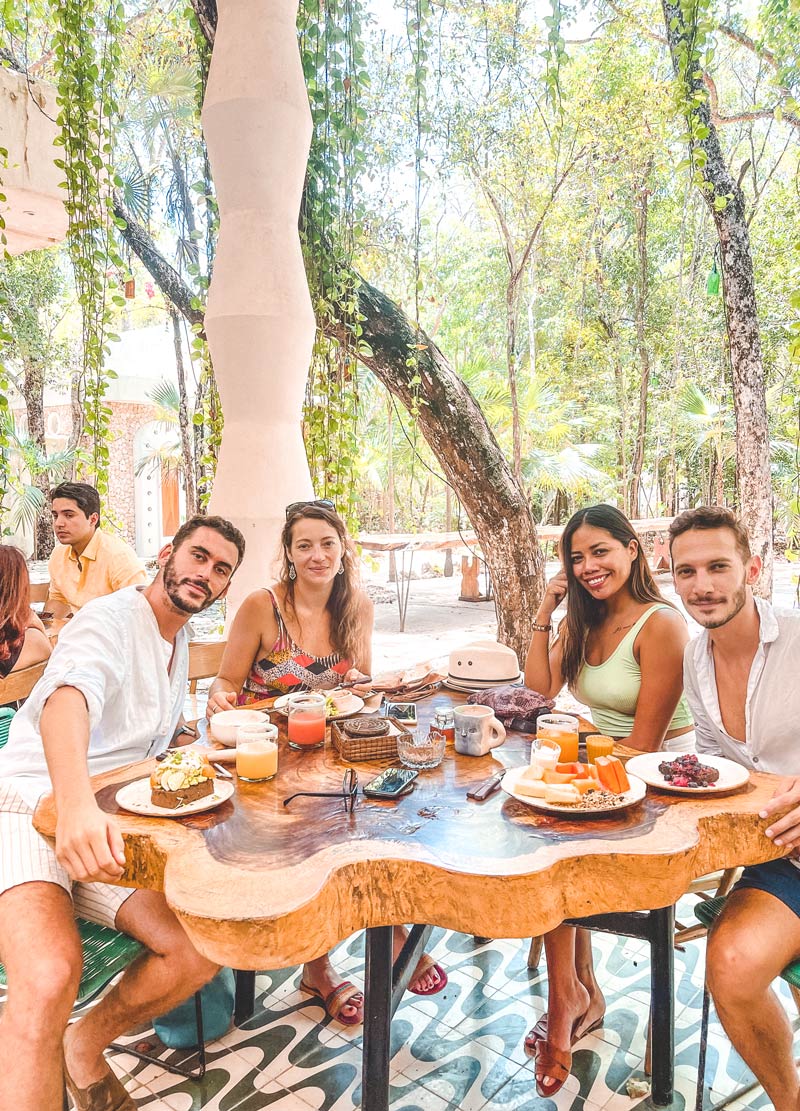 "Breakfast With Friends To Start The Day"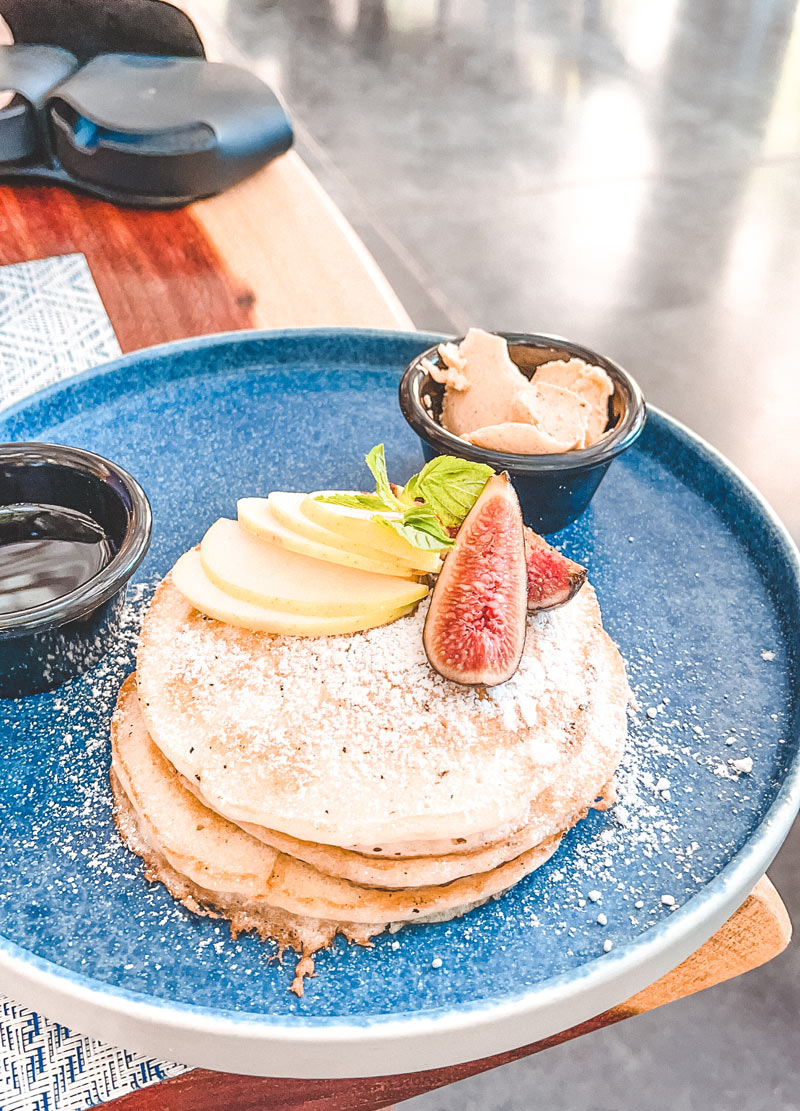 "Pancakes With Some Fresh Fruits"
Matcha Mama is a small juice bar that only serves vegan and healthy meal options. You can get all of your favorite smoothies, bowls, kombucha and ice cream there. This tropical-themed bar has a relaxing vibe where you can take plenty of instagramable pictures almost at every angle. We love coming here again day by day and trying everything. This is one of the best places to wash away the heat and cool off our bodies!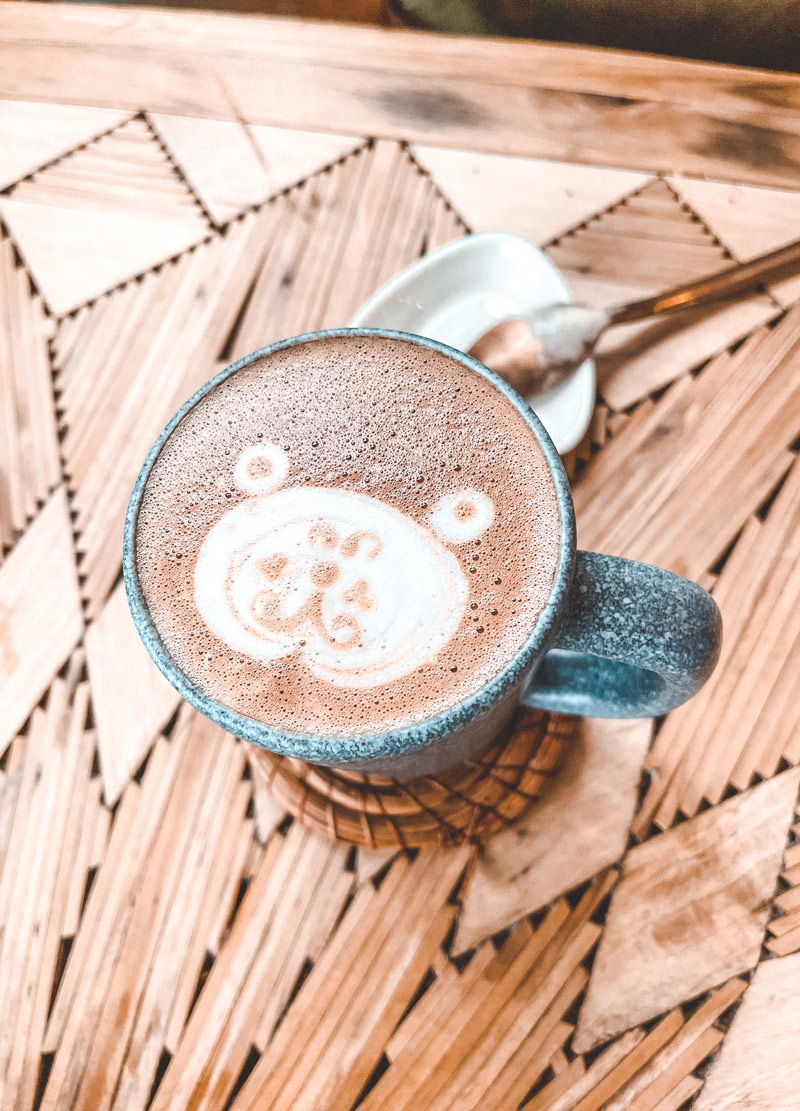 "Coffee Art To Start Your Day With A Smile"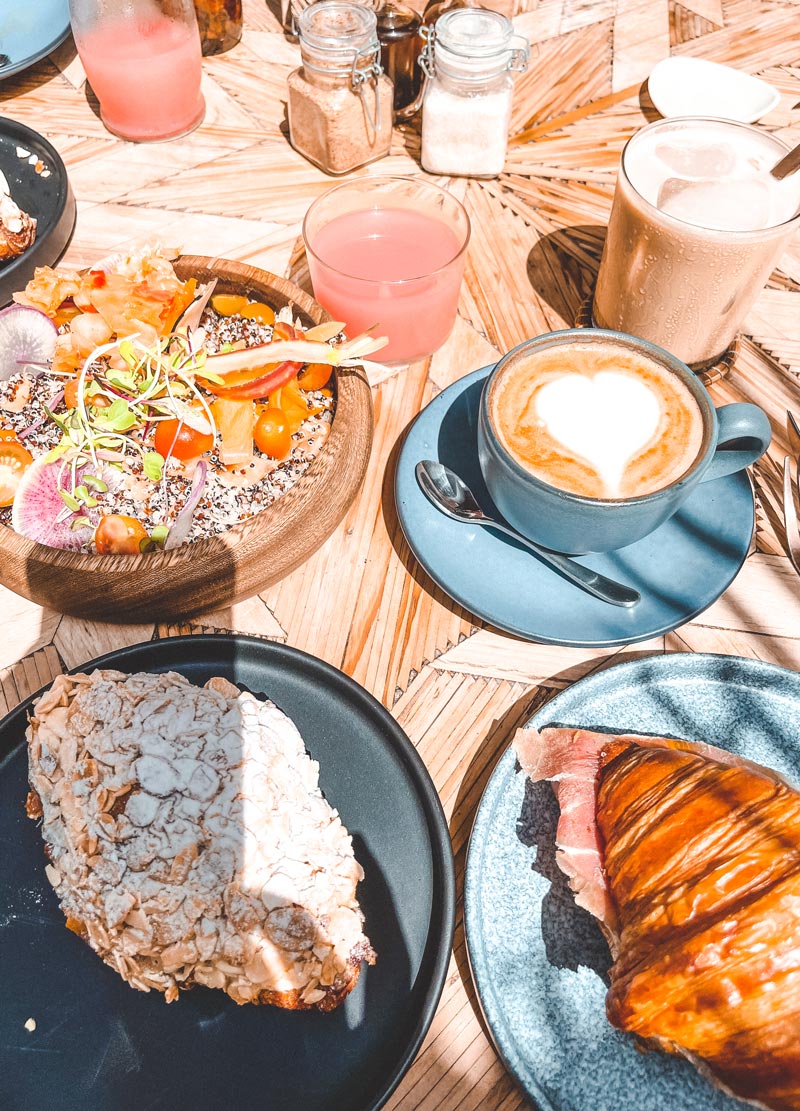 "Amazing Sunday Brunch"
MAIA RESTAURANT - IKAL TULUM HOTEL
Open Hours: 9am to 10pm | $$ | menu
This is a cozy beachfront restaurant that is perfect for you to enjoy the morning atmosphere at the beach. They serve delicious local Mexican food such as omelets, vegetarian/vegan enchiladas and healthy fruit bowls. The best part about Maia Restaurant is that you can enjoy your breakfast at one of their floating beds, hanging a few inches from the sand. Also, there is no entrance fee regardless if you are not a guest of their hotel. How awesome is that?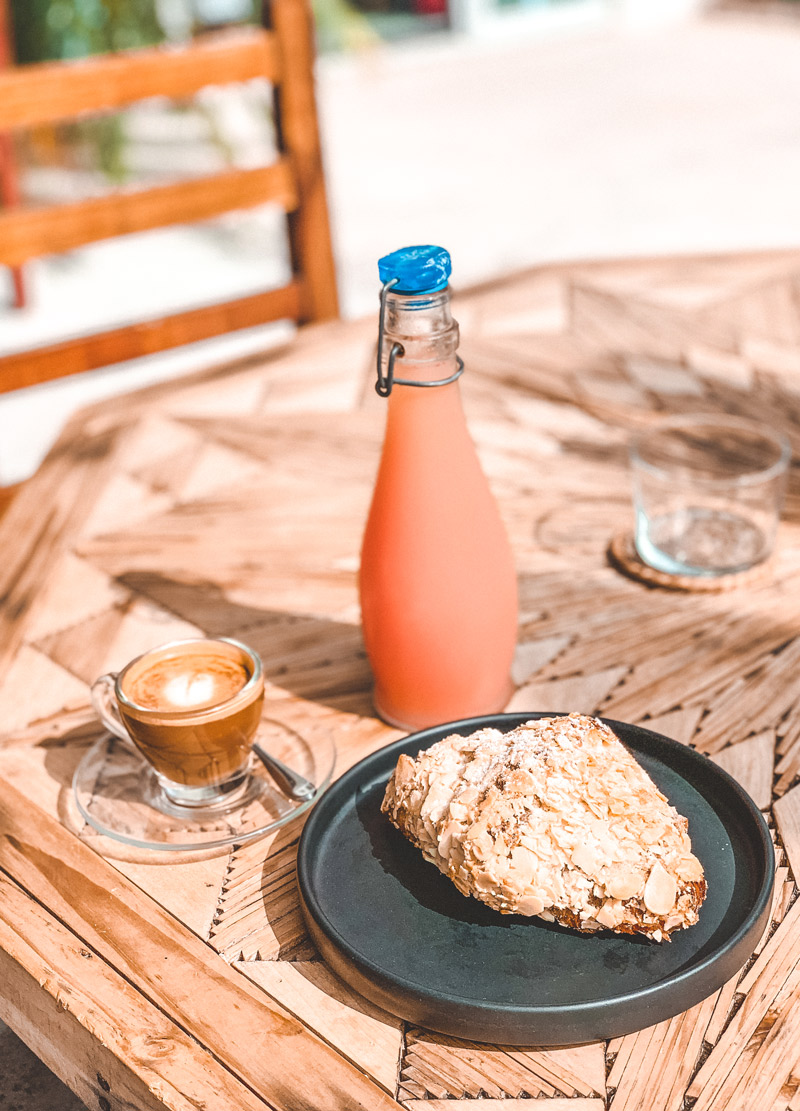 "Coffee, Fresh Juice And A Croissant"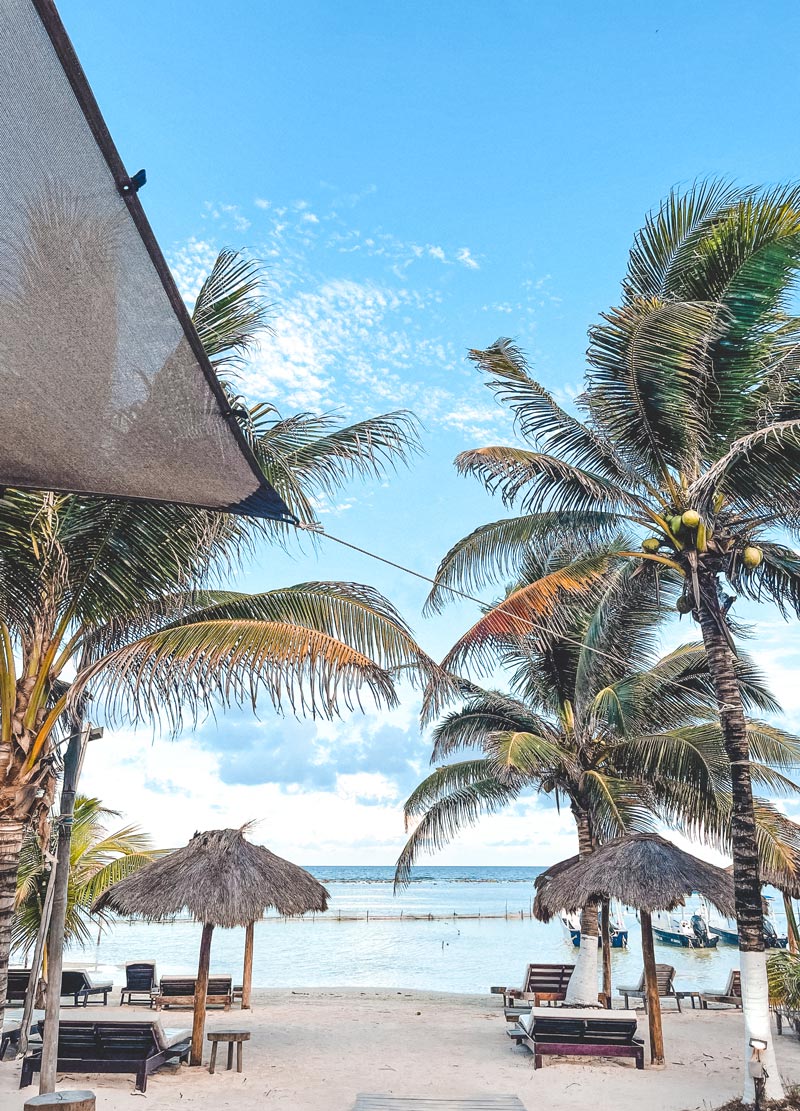 "Beautiful Place To Start The Day In Tulum"
We hope our list gives you a better idea of where to go for breakfast to start your day.  Let us know if we convinced you to visit any of the restaurants we mentioned and tell us your own experience down below!
Enjoy your breakfast and have a beautiful day!
Best upcoming parties in Tulum