Best Beaches in Tulum: Everything you Need to Know
Do you enjoy spending the day relaxing on the white sand and watching the sunrise? Or taking a dive with the sea animals, and spending the night at the best clubs by the beach? If your answer is yes, check out what we have to say about these beaches in Tulum!
You can find plenty of the best beaches across Riviera Maya, which is located on the eastern Yucatan Peninsula coastline, from the town of Tulum to Playa del Carmen and Cancun. We love to visit all the beaches there because they are well preserved (even with Mayan ruins in Tulum), convenient and filled with plenty of activities to do.
There are a bunch of beaches to travel to, but don't make the mistake of going to the wrong place before checking out what the zone have to offer first. So, here we compare the different beaches to help you decide which beach is the best one for you!
*parties at the beach* if you're searching the best beach parties, contact our friend Virginia on WhatsApp to get the best tables and be on the guest list – know more about her free service here.
The Best Beaches in Tulum area
There are two beach zones in Tulum: one in the north and one in the south. If you want to know more about Tulum, check out our travel guide. The north beach zone (from Playa Ruinas to Playa Las Palmas) is the most visited beach where many tourists and locals spend their day. While the south beach zone is dominated by luxurious hotels, where you can enjoy the best beach clubs, stay at great hotels and relax on their private beaches.
The North Beach Zone: Near Tulum Town, White Sand, Easy Road Access
1. PLAYA PARAISO - THE PARADISE BEACH
This is the main beach that people go to. You can't really blame them because of how beautiful this beach is, and there is just so much to do to enjoy your time there. You can spend the day relaxing on the white sand, floating on the water of the Caribbean Sea and enjoying the atmosphere of the beach. There are also some places where you can rent some beach lounge chairs and unwind under the shade of the parasol. Moreover it's only few minutes from the neighborhoods in the center. Lastly, you can also find several clubs and bars across Playa Paraiso. If you are into seafood, check out some of the beach clubs where they usually offer refreshing drinks and serve their seafood fresh from the sea.
Pros: Best for relaxing and picnicking by the ocean
Cons: Limited parking space for cars, plenty of seaweeds by the beach during some seasons
Just north of Playa Paraiso, you will find motorboats parking by the coast and people offering to guide you to the Caribbean Sea. Prepare yourself to be blown away by the magnificent aquatic life and coral reef under the water. Just be sure to compare the prices first between different guides. Right after your journey to the ocean, there are a few beach clubs where you can rest, revitalize your energy and eat some great food.
Pros: Best for swimming activities, such as snorkeling and under water exploration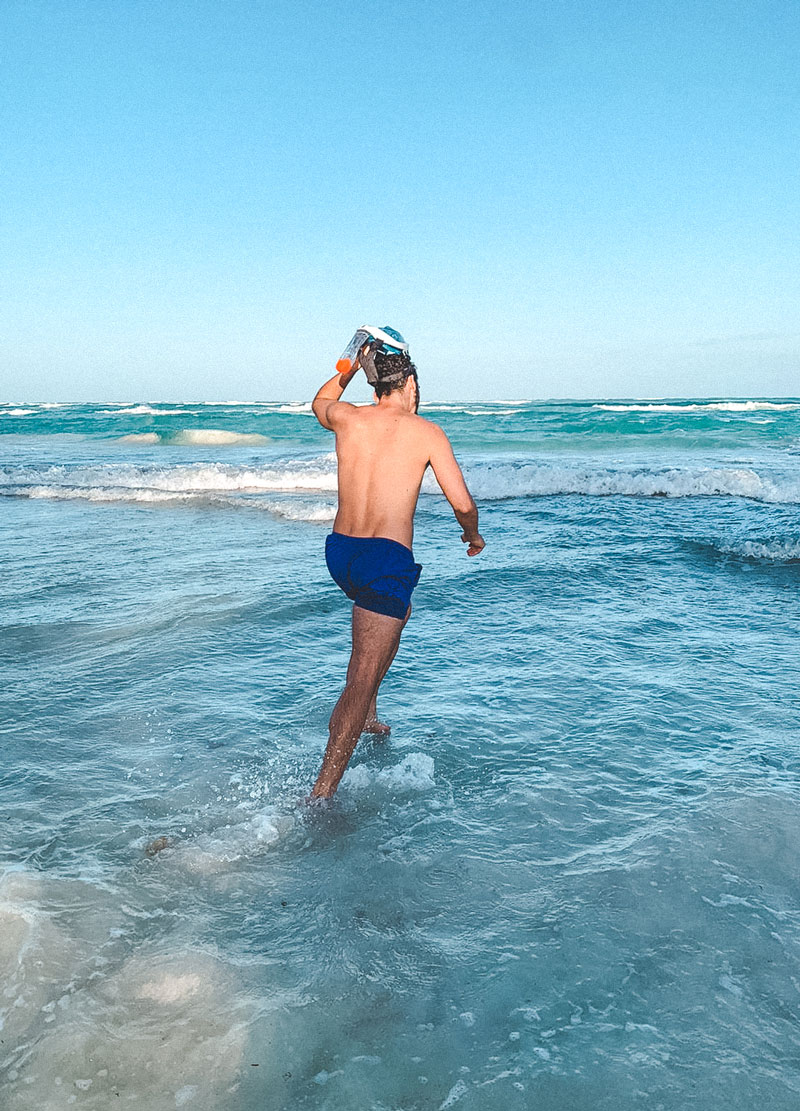 "Eddy Loves Snorkeling"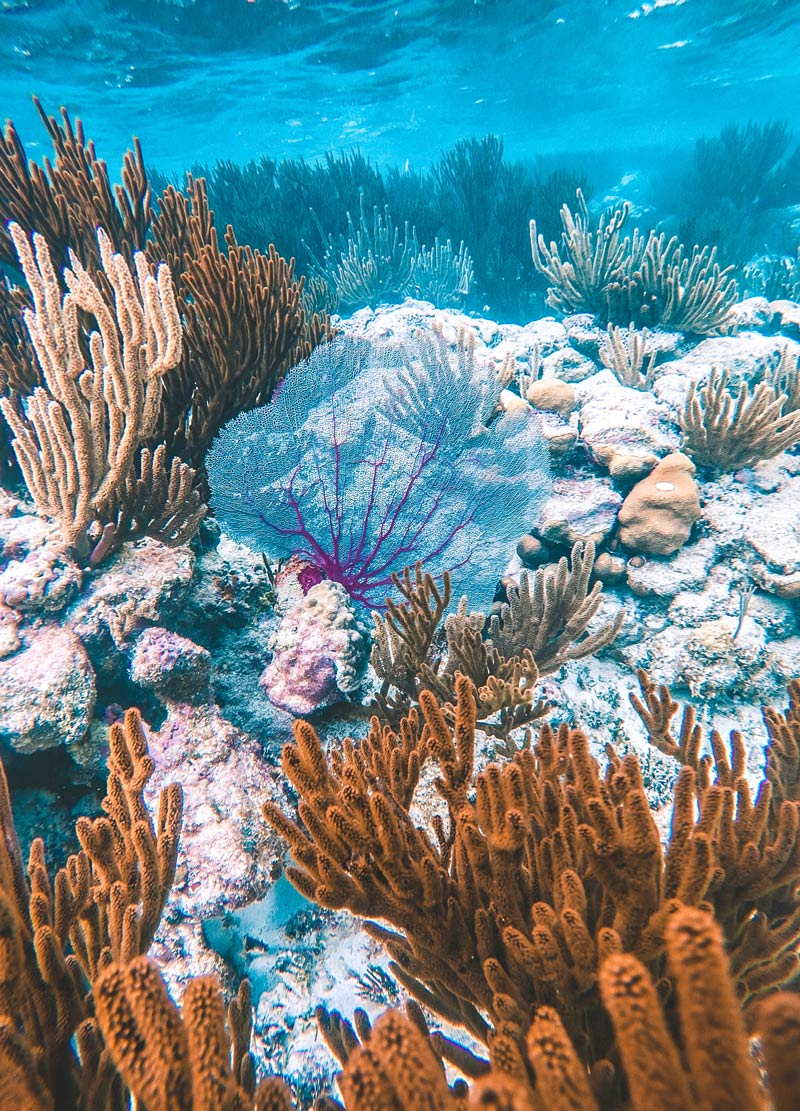 "The Beautiful Coral Reef"
If you keep walking north from Playa Pescadores, you will notice one of Tulum's Mayan ruins above the rocky cliff. This playa is the best part of the beach to avoid the crowd as it is much more secluded, peaceful and quiet. You can also find a rocky staircase that leads to the top of the cliff where you can capture the astonishing aerial view of the beach and the ocean. But unfortunately, it does not lead you to the Mayan ruins. 
Pros: Best for peace as there are fewer people, capture the aerial view of the beach
Located south of Playa Paraiso, this part of the beach is more peaceful than Playa Santa Fe as few people and activities are going on. So prepare for some silence, and enjoy the pure blissful sounds of the ocean breeze and the subtle waves crashing by the rocky beach. It calms your soul. Furthermore, there are a few local restaurants that serve delicious and fresh Mexican kinds of seafood like ceviche.
Pros: Perfect if you don't want any hotel or club close, but nature instead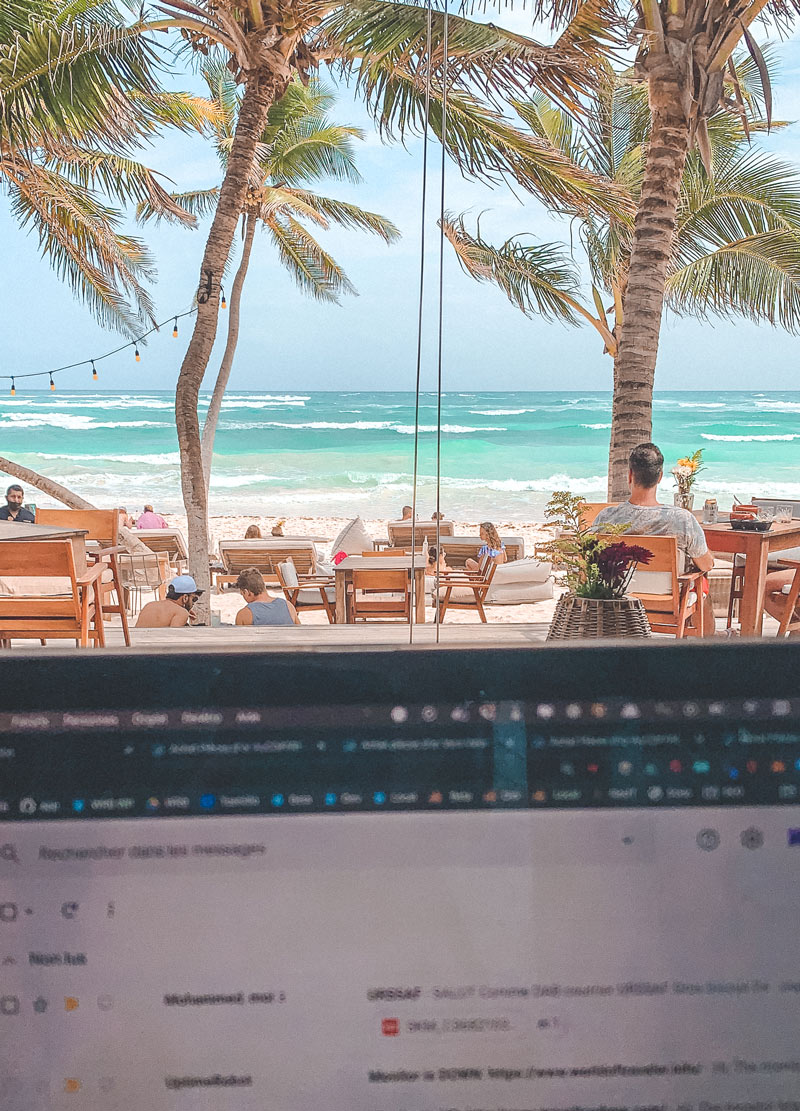 "We Love Working From The Beach"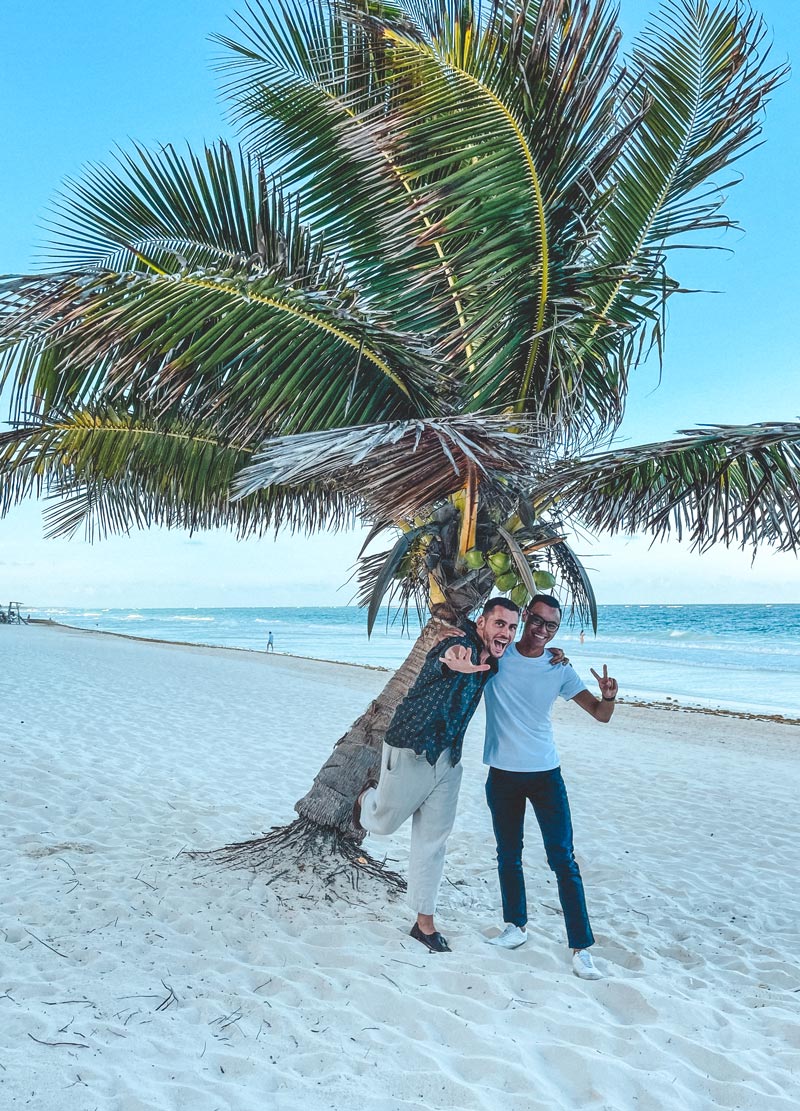 "Hanging Out With Friends"
It is located by the Tulum Archaeological Site, an ancient Mayan ruins, and to visit the beach you must walk down the wooden stairs first. The beach is well taken care of and cute little iguanas are hanging around the sand (super harmless creatures btw!). Also, remember to take beautiful panoramic shots at the stairs while looking out into the Caribbean Sea and the Mayan ruins. It costs 85 pesos to enter the ruins and the beach for an unlimited time. IMPORTANT: Ignore the people along the long road (from Mystika Tulum to the site) that try to sell you tickets, be your tour guide or anything they offer. Only buy the tickets at the official booth by the end of the road, before you enter the ruins.
Tips: You can also take the Colectivo (Tulum – Playa del Carmen) from town, which costs 20 pesos

The South Beach Zone: Luxurious Hotels and Great Beach Clubs
One of the most popular beach clubs where people in Tulum enjoy events during their stay! If you are a social person and just love to spend time with new people, you should definitely check this place out. Moreover, this place is also a hotel and here you will be able to taste really great food too. The entrance fee can get a bit pricey, but Eddy and I think it's totally worth the cost. They usually host several events such as nightclubs by the beach, ceremonies, live music and many more! Check out their schedule here.
Take Advantage Of Free Concierge Service
As excellent to explore Tulum and its surroundings alone, you may need help figuring out where to start. To make the most of your money and time, contact Virginia and Kelly - two incredible Mexican girls living in Tulum for more than 15 years. They're familiar with the ins & outs of the Tulum town and hotel zone like the back of their hand! 
Since we arrived in Tulum 2 years ago, many adventures wouldn't have been possible without their help - they know literally everybody in Tulum and can perfectly organize every moment of your stay. Get the best tables, skip queues and get on the guest list of the coolest places in Tulum - this's only the beginning! 
They are ready to offer you guys FREE concierge service in Tulum for the time of your stay: take advantage of it, contact them on Whatsapp and live the best experience!
Get FREE Concierge Service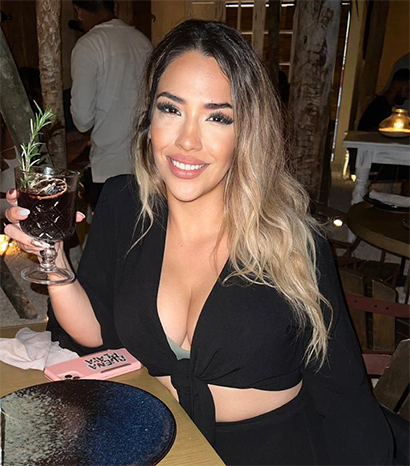 "Virginia Will Transform You In A Tulum Insider"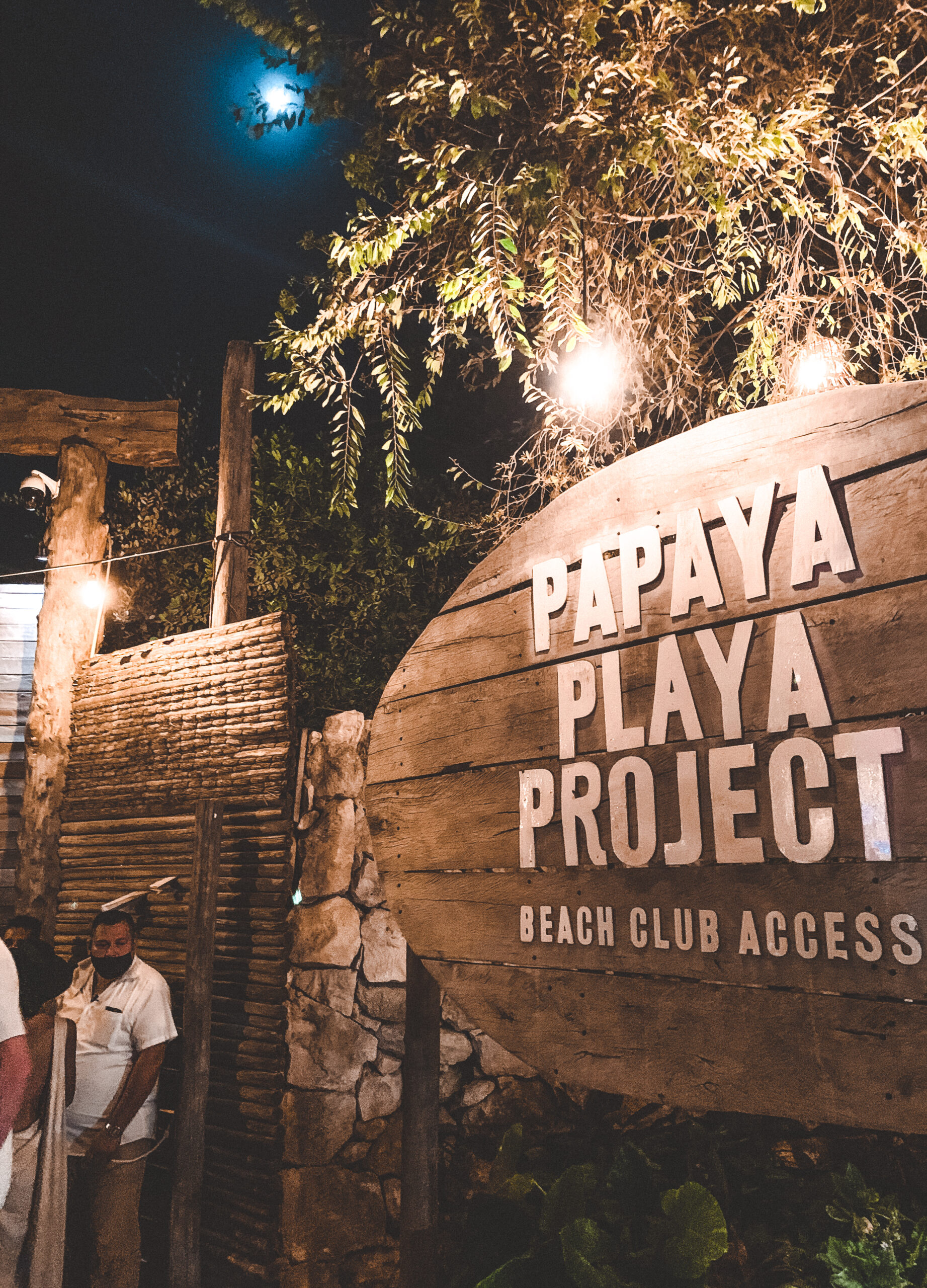 "Papaya Playa Project"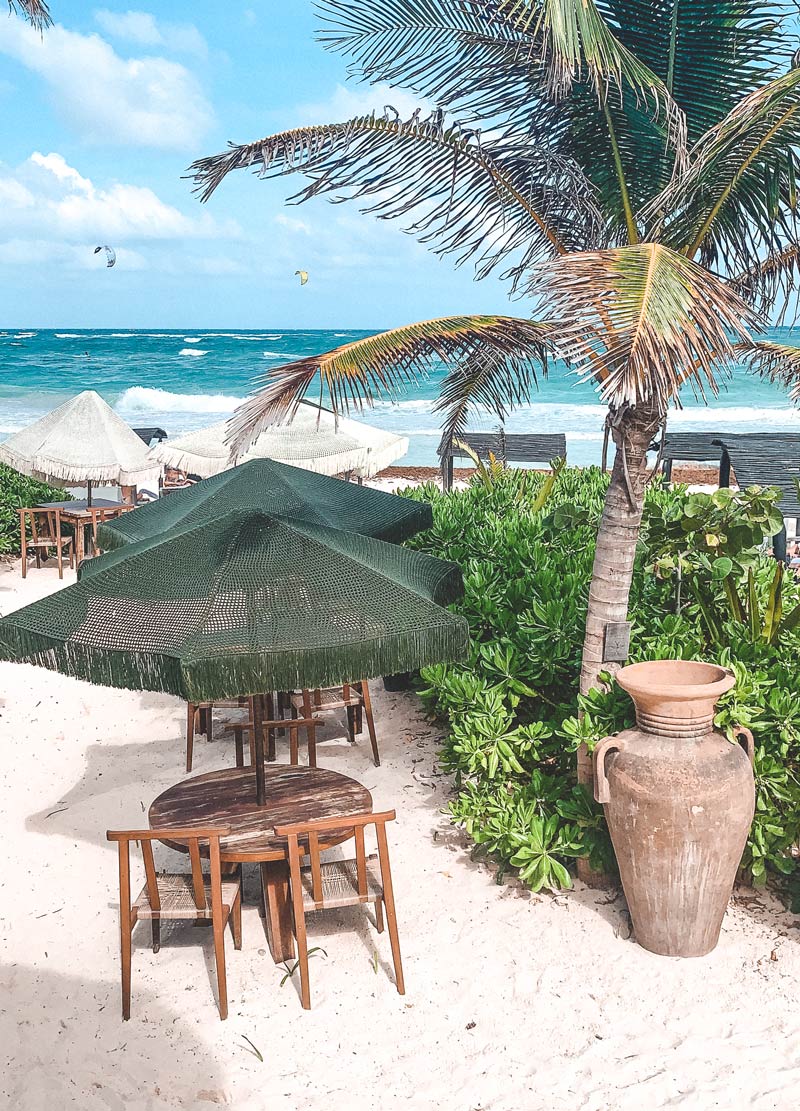 "The South Beach Of Tulum"
The Best Beaches around Tulum: Discover Riviera Maya
1. PLAYA AKUMAL - THE LAND OF TURTLES
Akumal Beach is home to the large green turtles in Mexico. They look exactly like the turtles from the movie "Finding Nemo". It is a great place for tourists to spend their day and swim with the colorful fishes, the giant manta rays and of course, the green turtles! Across the beach, you will find palapa roof bars, hotels, clubs and restaurants that are open for the whole day. To travel there, if you don't have a car, you can take the public transport Colectivo (Tulum – Playa Del Carmen) and tell the driver to stop at Akumal. Don't worry, it will cost you around 30 pesos per person.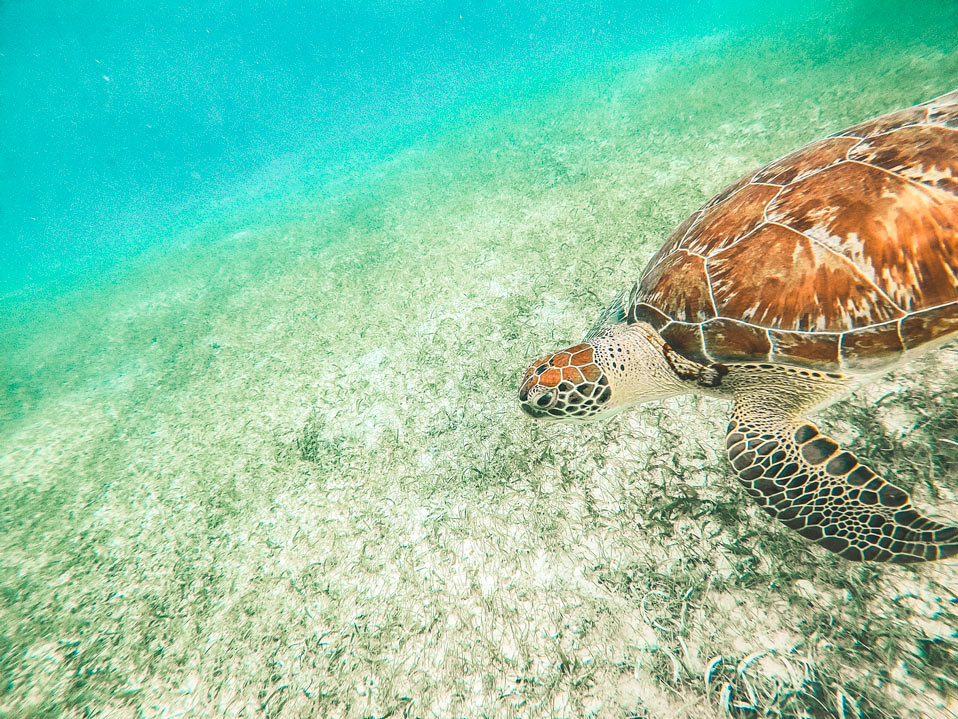 "Swimming With Turtles"
Playa del Carmen and Cancun were for sure more popular in the past, but if Cancun scares you with all those hotels and clubs, in Playa del Carmen you will actually find a more relaxed atmosphere. North of Tulum, this is yet another best beach where many tourists love to travel to. The beach itself has an entirely different scenery compared to Tulum because of the many hotels and restaurants, but it preserved a natural and local vibe. There are plenty of activities you can find here such as parasailing, scuba diving and many more! And since you're there, why not to visit Playa del Carmen's town center? You will find plenty of shopping centers, fancy beach clubs and gorgeous sculptures (you should definitely take pictures by the portal Maya).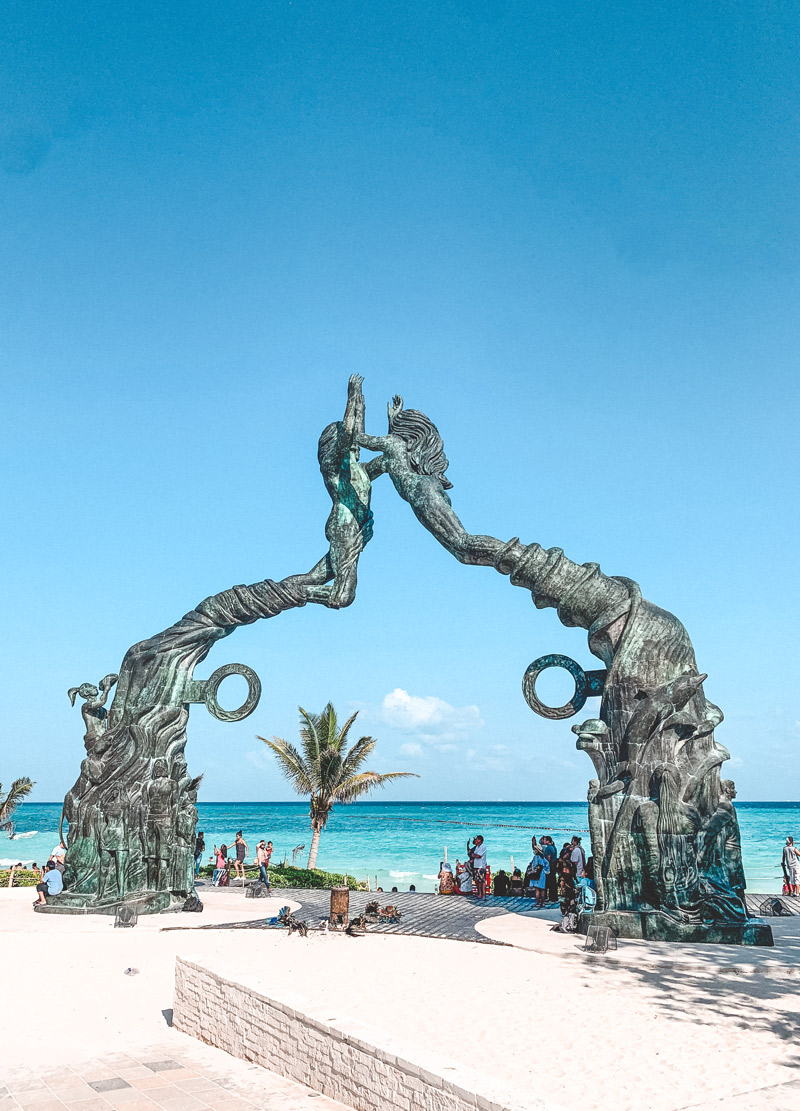 "Playa Del Carmen"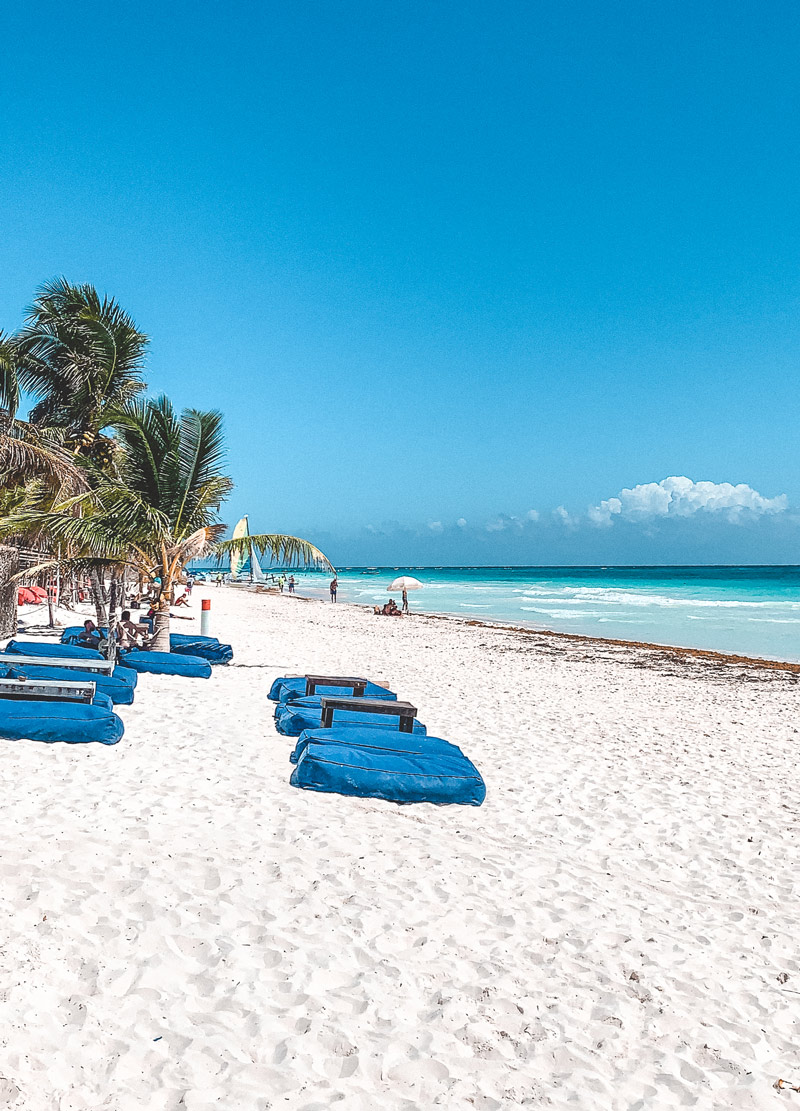 "Chilling At The Beach"
3. SIAN KA'AN BIOSPHERE RESERVE
Just south of Tulum, Sian Ka'an Biosphere Reserve is known to be a hidden gem of Tulum that not a lot of tourists know about. The nature around the area is heavily preserved by Mexico and its white sand beaches and jungle are home to thousands of exotic wildlife. If you are curious to learn more interesting facts about the Biosphere Reserve, check out this page. The best places to visit around the reserve are Laguna De Muyil and Punta Allen. In Laguna De Muyil, you can explore the untouched lagoon and view the mangrove stands. Punta Allen is where the white sand beaches are located, where the locals can guide you to see the dolphins and marine life.
We hope our list of best beaches around Tulum and the Mayan Riviera helps you to have more knowledge about the beautiful nature, all for you to explore. Before you go, did you find the perfect beach that you are looking for? Let us know down below!
Top Events to Make Your Trip Unforgettable
DOMINIK TULUM @MIA TULUM
When: September 9, 2023 7:00 PM
Where: Mia Restaurant & Beach Club, Tulum
🌴 Join Us for An Unforgettable Night at DOMINIK - TULUM at Mia Tulum! 🌴
Friends, clear your schedules and get ready for a magical experience at Mia Tulum! This stunning location will host DOMINIK - TULUM on Saturday, September 9th, from 7 pm to 1 am. This isn't just another event; it's a fusion of nature, culture, and sound featuring an incredible line-up with GIORGIO STEFANO, AUDICTIVE, and MAURO TORRETA. At DOMINIK, you'll find the perfect blend of Tulum's lush jungles and pulsating underground beats, creating an environment where genuine connections blossom.
🎟️ Secure your tickets now:
Early Bird: $575 MXN ($38 USD), includes a welcome drink 🍹 (Limited Availability)
Tier 1: $805 MXN ($52 USD), includes a welcome drink 🍹 (Limited Availability)
Final Tier: $1150 MXN ($75 USD), includes a welcome drink 🍹 (Limited Availability)
Dinner + Party: $1380 MXN ($90 USD) 🍽️🎉 (Limited Availability)
See you there for a night you won't forget! 🎶✨
Ready to join us? Get your ticket now! Early bird tickets are already selling out, secure them at 632 pesos (only 15 tickets available).
Hurry – spots are filling up fast! 🙀 We can't wait to see you there!
Top Parties and Club Events
17th September - ANCESTRAL SOUL @BONBONNIERE TULUM
22nd September - TONY ROMERA @BONBONNIERE TULUM
29nd September - TIM BARESKO @BONBONNIERE TULUM
4th November - HOT SINCE 82 @BONBONNIERE TULUM
13th March - LOCUS Tulum 2024