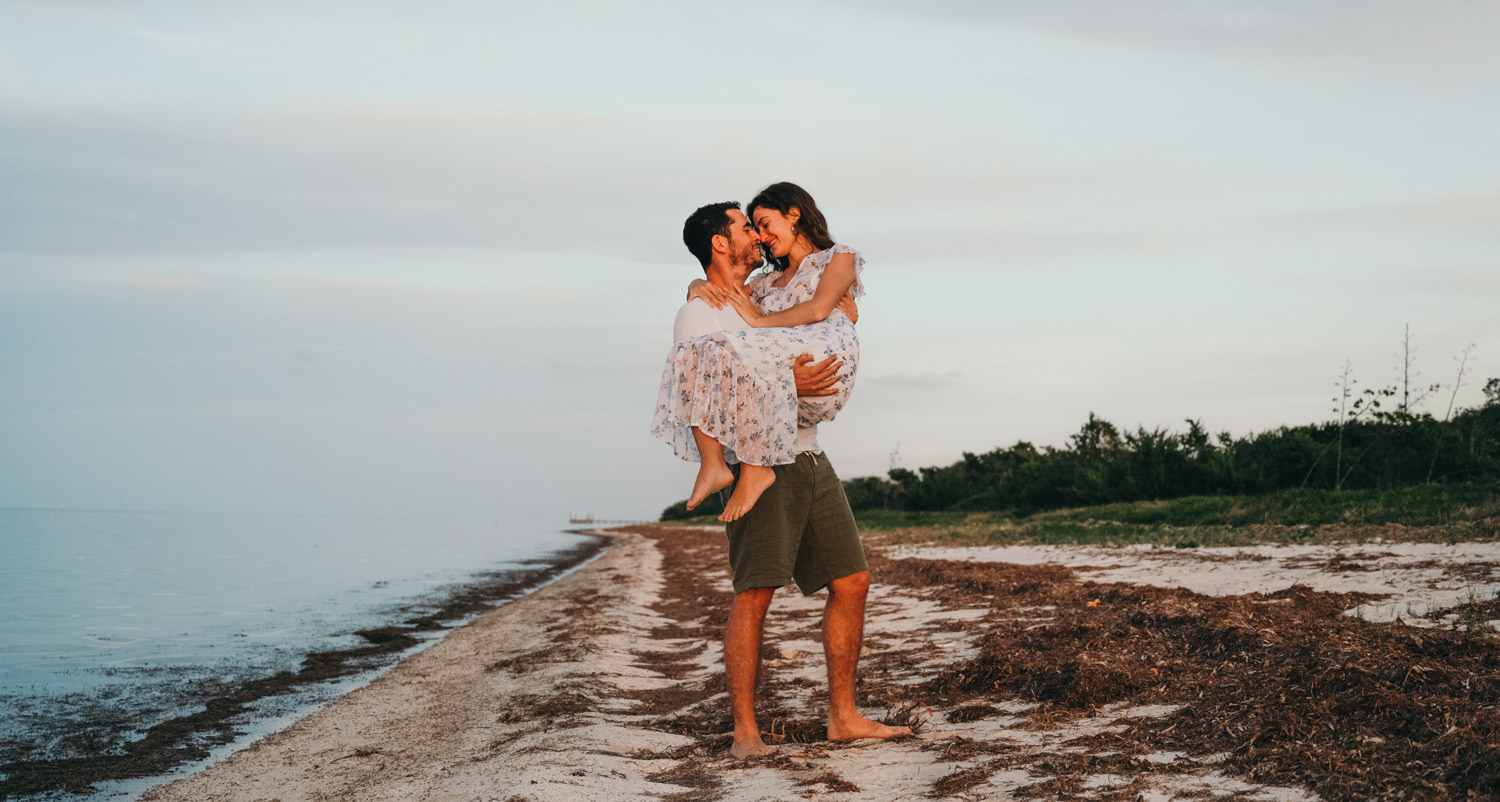 Tulum Photoshoot: A Guide to Top Photo Spots and Tips
We are the kind of couple that are always looking for picturesque spots to take all kinds of amazing pictures: pictures together to add to our yearly albums, pictures of the landscape for our social media, or pictures with great people we meet on our way that we aim to keep in our memories. 
When we moved into Tulum two years ago, we discovered a lot of amazing picturesque places for capturing a moment. Yes, the best and most beautiful places that are full of history, natural green and turquoise waters – and we want to share them with you in our short guide! 
*If you want to live the best parties of your life*: discover how our friend Virginia can help you have the best tables, get on the guest lists, and much more – moreover, it's FREE! Take advantage of her service here.
TIPS WHEN TAKING A PICTURE IN TULUM
Every place is special when taking a photoshoot, but Mexico, and specially Tulum, has that combination between culture, nature and mayan history that we love, and haven't found anywhere else in the globe. However, we would like to share with you some recommendations for you to consider when you are about to take a photoshoot in Tulum:
Bring sunscreen, water, and bug spray – the weather in Tulum can be hot and humid, and you don't want to be uncomfortable during your shoot.
Wear comfortable shoes and clothing that are easy to move in – you may need to climb, hike, or walk through sandy areas to get to the perfect spot.
Incorporate local elements into your shoot – whether it's a traditional dress, a local vendor's products, or the natural surroundings, adding local elements can make your photos more unique and memorable, and you can even live a cultural experience!
Experiment with angles and perspectives – try different angles, heights, and poses to find the perfect shot.
Use natural elements to your advantage – Tulum is home to beautiful natural scenery, so take advantage of it! Use the beach, jungle, or cenotes as a natural backdrop. What about a palm leaf hiding half of your face?
Incorporate props into your shoot – whether it's a colorful umbrella or a giant inflatable pool float, incorporating props can add a playful element to your photos.
Book a session with a local photographer or guide – a local photographer or guide can offer unique insights and perspectives, as well as knowledge of the area and local customs.
Remember to have fun and enjoy the experience! Tulum is a magical place, and your photoshoot will reflect that.
THE TOP CENOTES FOR STUNNING AND NATURAL PHOTOGRAPHY SESSIONS
Are you looking for the perfect place to capture stunning and natural photos during your visit to Tulum? Look no further than the hidden gems of Tulum's cenotes! These gorgeous natural swimming holes are not only breathtakingly beautiful but also make for the perfect backdrop for your photography sessions. With crystal-clear waters, lush jungle surroundings, and a sense of tranquility, you'll feel like you've stepped into paradise. Join us as we explore the top cenotes in Tulum for capturing the most memorable and stunning photos!
But wait - What is exactly a cenote?
Well, briefly, a cenote is a natural swimming hole formed when limestone bedrock collapses, revealing crystal-clear freshwater underneath. It's like a natural pool, underground. They're found in Mexico's Yucatan Peninsula and offer a unique experience to swim, explore caves, and observe aquatic life – that's one of the best parts!
Immerse yourself in the ethereal beauty of Cenote Suytun, a captivating location for a breathtaking photoshoot. Nestled in the heart of the Yucatan Peninsula, this natural wonder boasts crystal-clear turquoise waters, dramatic rock formations, and enchanting natural light streaming through the cenote's opening. Capture mesmerizing images as you stand on the wooden platform, surrounded by hanging vines and the serene ambiance of this mystical underground oasis. Let the ethereal atmosphere of Cenote Suytun inspire your photography and create stunning memories amidst its awe-inspiring natural backdrop.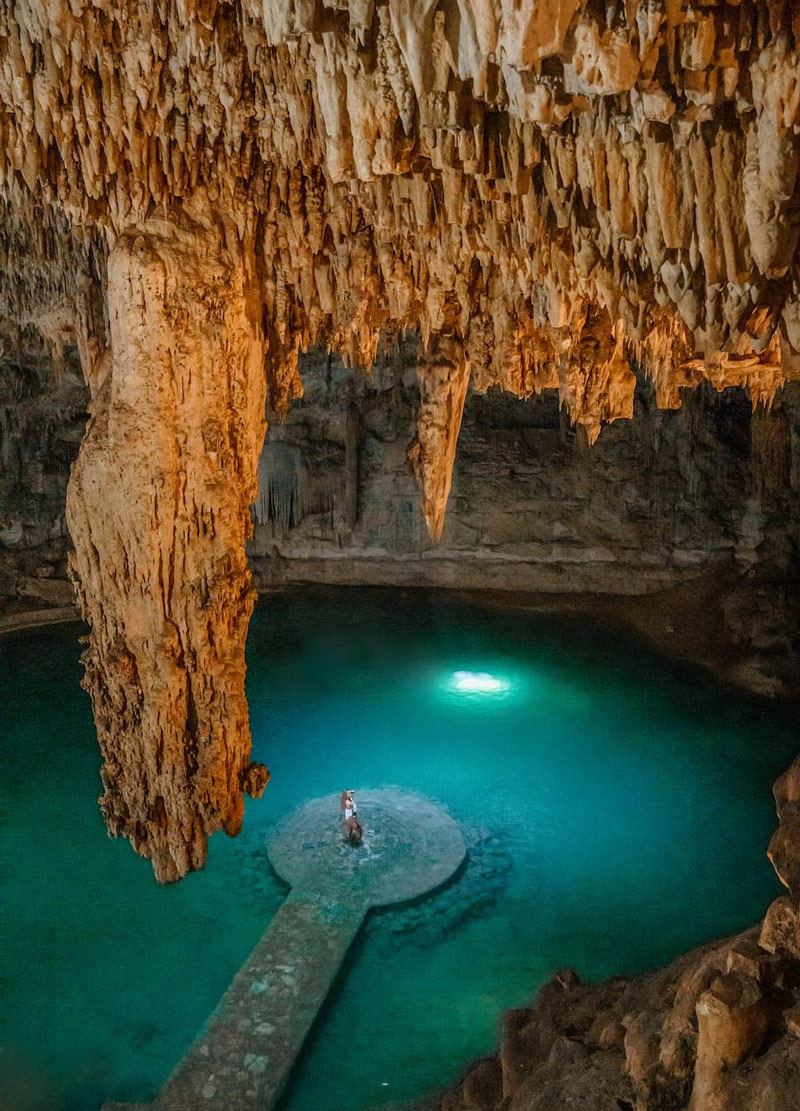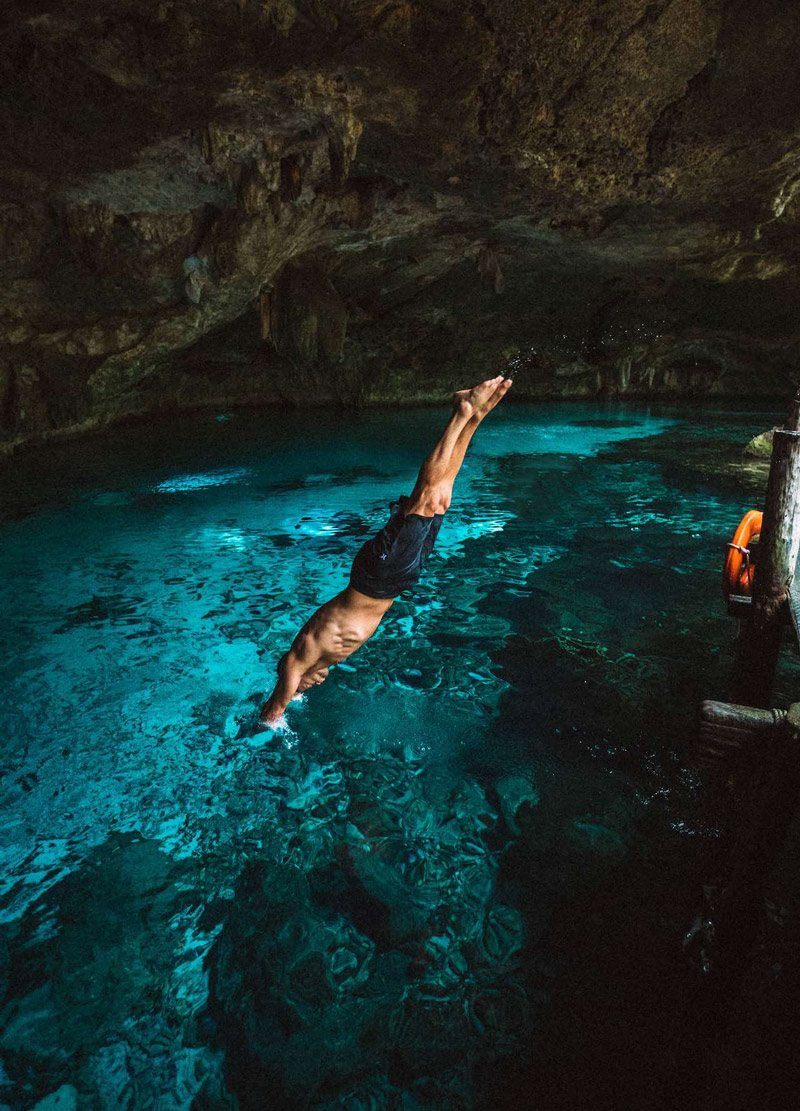 Embark on a photographic journey into the mesmerizing depths of Cenote Dos Ojos. This iconic cenote, located in the Riviera Maya, offers a surreal setting for an unforgettable photoshoot. Dive into the crystal-clear waters and explore a world of captivating rock formations, intricate stalactites, and shimmering turquoise pools. With its unique underwater landscapes and dramatic lighting, Cenote Dos Ojos provides a photographer's paradise. Capture awe-inspiring shots both above and below the surface, immersing yourself in the natural beauty that makes this cenote a true gem. Unleash your creativity and let Cenote Dos Ojos be the backdrop for extraordinary and breathtaking images.
UNIQUE SPOTS FOR TAKING PICTURES IN TULUM YOU WON'T FIND EVERYWHERE
If you are on the hunt for the perfect photo spots in Tulum, that are unique and memorable, you got this! Tulum is home to a variety of unique and picturesque locations that are perfect for capturing your special moments. We'll take a closer look at three of the top photo spots in Tulum – Playa Santa Fe on Abandoned Boats, Tulum Ruins, and the "Follow that Dream" Sign. These spots offer a variety of backdrops, from historical landmarks to colorful and playful signs. Let's dive in and explore what makes these locations so special for capturing those unforgettable moments!
Playa Santa Fe on Abandoned Boats
Uncover the captivating allure of Playa Santa Fe and its abandoned boats in Tulum, a photographer's haven waiting to be explored. Set against the backdrop of pristine white sands and the turquoise waters of the Caribbean Sea, these weathered vessels tell stories of adventure and time. Capture the raw beauty of decay and the juxtaposition of nature reclaiming man-made structures. With each click of the camera, immortalize the unique charm and melancholic ambiance of Playa Santa Fe's abandoned boats. Let your lens weave a tale of forgotten dreams and artistic expression as you uncover hidden treasures on this stunning shoreline.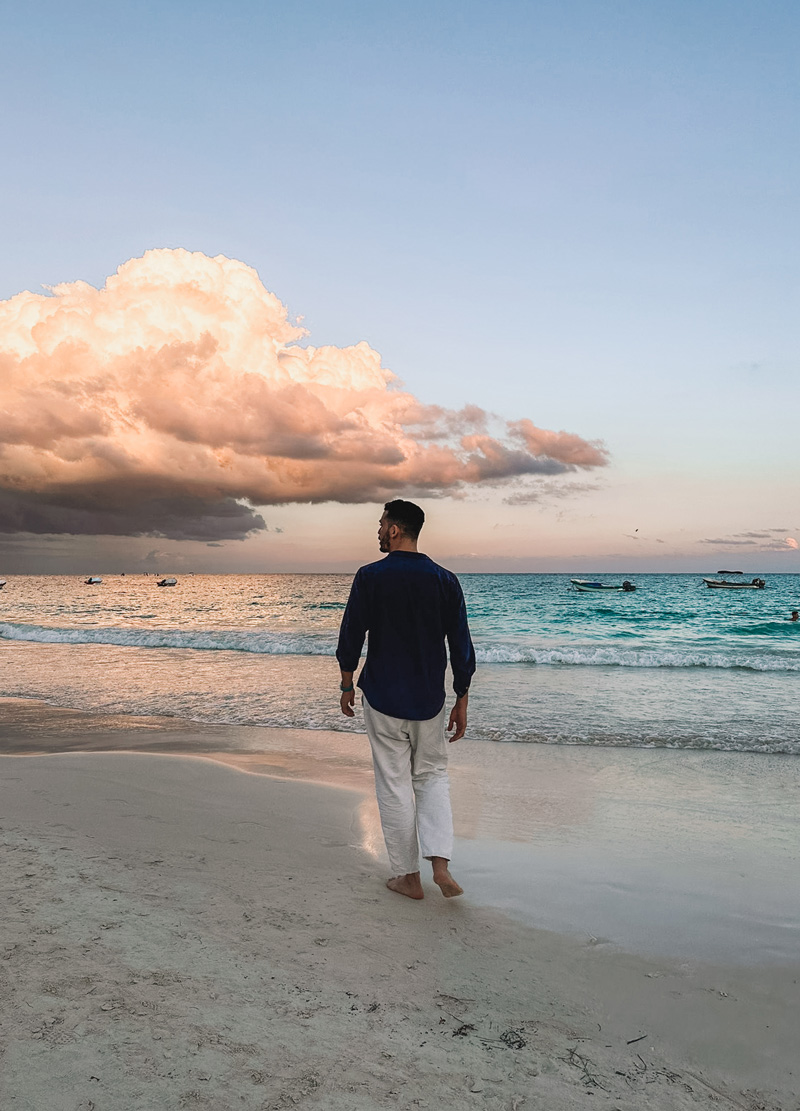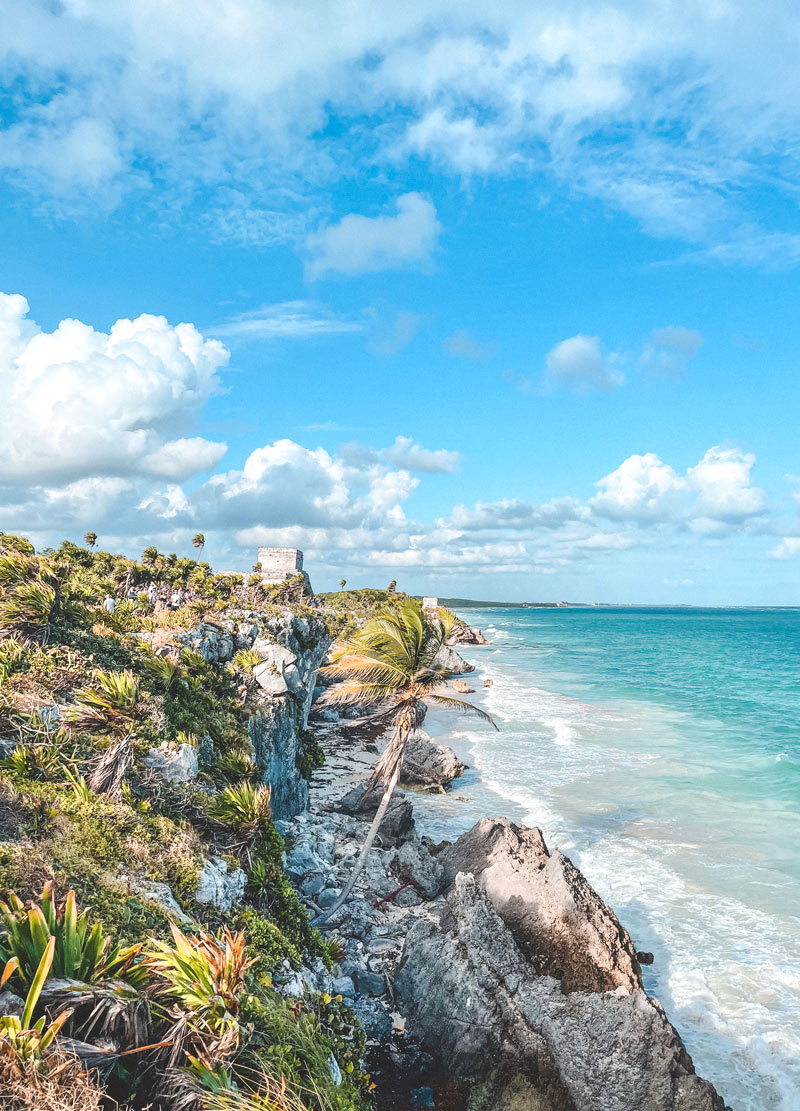 Transport yourself back in time to the ancient Mayan civilization at the Tulum Ruins, a captivating location that beckons photographers. Perched majestically on a cliff overlooking the Caribbean Sea, these archaeological wonders offer a perfect blend of history and natural beauty. Capture the awe-inspiring remnants of this once-thriving city, from the iconic El Castillo pyramid to the intricate stone carvings that adorn the temples. With the turquoise waters as a backdrop and the lush greenery surrounding the ruins, every shot at Tulum is a testament to the grandeur of the Mayan legacy. Immerse yourself in the mystical ambiance and unlock the secrets of the past through your lens, as you capture the timeless allure of the Tulum Ruins.
This is a very, very popular picture spot. It is present on Instagram, Facebook, Pinterest and so on… But it's because of a reason: surrounded by lush vegetation and a blue sky, there is a quote that represents us all: our desire to follow that specific dream that we always wanted to achieve. Sometimes the dreams are related to freedom, paradise, travel, and this picture is just the perfect description for it. A nice Instagram caption with this picture could be: "I followed my dream, and it led me to Tulum". A bit of humor, a bit of reality!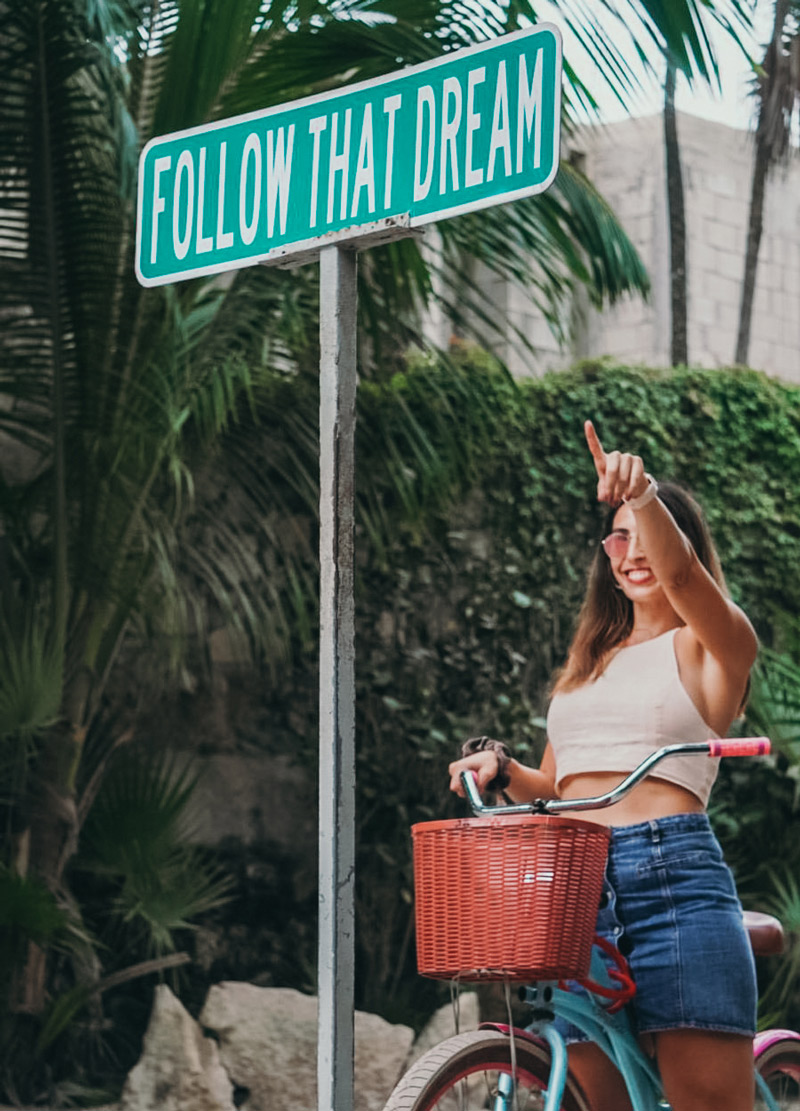 FOOD, FUN AND MEMORIES: SOME PLACES FOR STUNNING PHOTOGRAPHY SESSIONS
What about testing great Mexican food and then taking nice pics? What a plan! If you also like capturing pictures in nice restaurants that you enjoyed with your friends, then make sure to check out these stunning restaurants in Tulum!
Immerse yourself in the bohemian vibe of Papaya Playa Project, an eco-friendly beach club in Tulum. Capture the laid-back atmosphere with rustic wooden structures, palm trees, and a stunning beach backdrop. Don't miss the opportunity to snap incredible photos during the magical sunset while sipping on a refreshing drink. Indulge in a delightful dining experience surrounded by the natural beauty of Tulum. Let the serene ambiance and picturesque setting ignite your creativity. Papaya Playa Project offers the perfect blend of relaxation, delicious cuisine, and unforgettable photo opportunities. Embrace the bohemian charm, unwind in paradise, and create timeless memories at this enchanting beach club.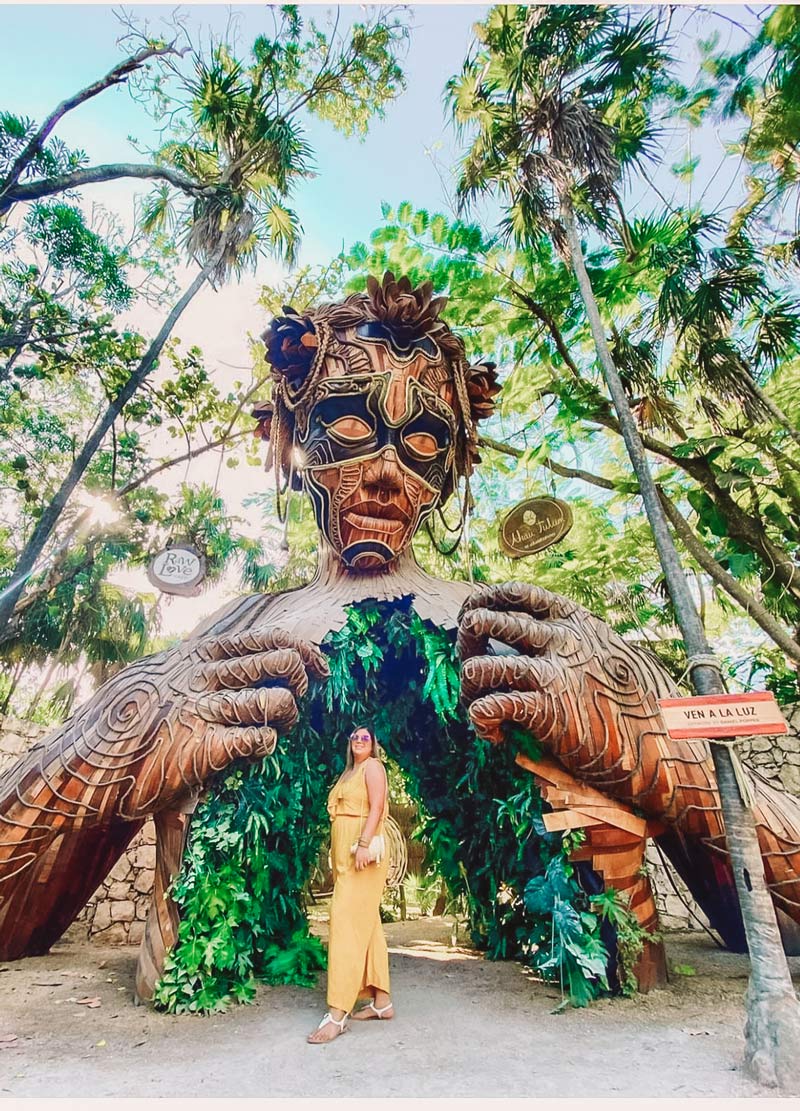 Experience the vibrant ambiance of Raw Love, a tropical-inspired plant-based café in Tulum. The café's vibrant colors and intricate details create a unique and eye-catching backdrop for capturing distinctive photos. Don't miss the chance to snap shots of your Instagram-worthy smoothie bowl or colorful salad, showcasing both the aesthetic appeal and deliciousness of the food. Let the tropical-inspired décor ignite your creativity and add a touch of whimsy to your photography. After capturing those perfect shots, savor the delightful plant-based dishes and nourish your body with delicious and healthy cuisine at Raw Love.
Immerse yourself in a culinary journey at Kin Toh, a restaurant in Tulum that offers a truly unique experience with each plate. From ancient-inspired dishes to exclusive mixology, every bite and sip will be a delight for your taste buds. Not only will you embark on an amazing culinary adventure, but the extraordinary setting also presents the perfect opportunity to capture memorable shots. Let the ambiance of Kin Toh inspire your photography as you capture the exquisite presentation and artistic flair of each dish. Cherish the moments and flavors that make dining at Kin Toh an unforgettable experience in Tulum.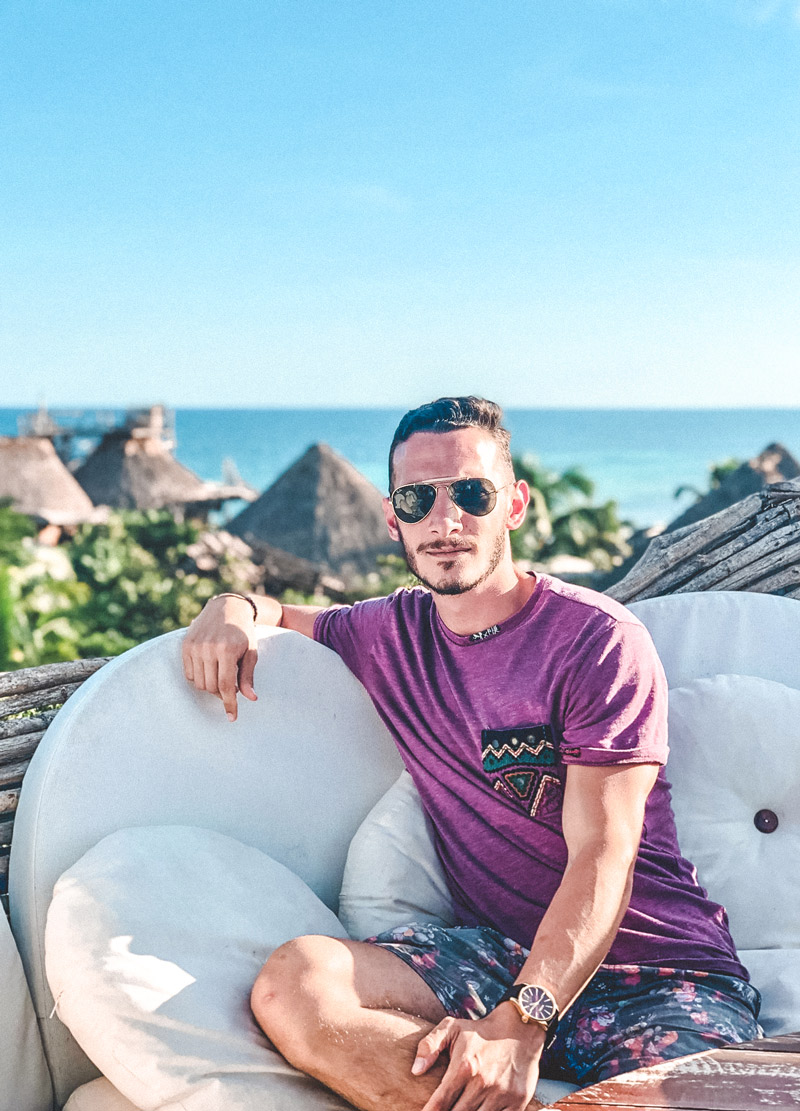 BOOK A PHOTOGRAPHY SESSION - BE THE STAR OF YOUR OWN MEMORIES
If you are in a paradise like Tulum, in Mexico, you probably want to take some pictures to remember that time, because "life is short, the world is wild, and we are making some memories…" Taking pictures is one of the best ways to capture the moment. In the digital era, we don't really know if people still use to print their pictures and make a familiar album to show to their grandchildren in the future, but imagine what nice it would be to have an album that reminds us of the good times shared! 
However, taking good pictures is an entire art, and it is always nice getting some professional help. When our friends from Italy came to Tulum for their one-year-wedding anniversary, they decided to hire a professional photographer, who not just took, edited and printed the picture, but also suggested some locations, poses and objects to include in the photoshoot. 
And let us tell you, the results were memorable! If you, like them, would like to freeze a special moment in a picture, hiring a professional photographer would be really a nice idea! There are also some photography tours available, so check them out!
Freeze Your Tulum Memories Forever
HOW LONG CAN A PHOTOSHOOT SESSION BE IN TULUM?
Well, when it comes to a photography session, it's all about your personal vibe! But hey, if you're curious about how long a photoshoot session in Tulum usually lasts and want some fun recommendations, let us spill the beans. It totally depends on how much time you wanna shine in front of the camera.
If you're just looking for a quickie, a 30-minute mini-session is like a drive-thru photoshoot – in and out, no fuss, no muss. Quick and snappy, like a perfectly timed selfie!
But if you're down to get a little fancy and have some extra fun, then buckle up for a 90-minute session. That's where the real party starts! You can switch outfits, strike a pose (or two, or ten), and explore different rad locations all around Tulum. Beach? Jungle? Ruins? You name it, the photographer will make it happen!
Now, if you're feeling like a true superstar and wanna go all out, then a 2-hour session is where the magic really unfolds. It's like a photoshoot marathon, but with more outfit changes and less sweat.
So, the length of your photoshoot session is all about what tickles your fancy. And rest assured, we promise it's gonna be a blast. Because who says getting your picture taken can't be an absolute hoot? Let's have some fun and create memories that'll make you smile every time you look at those fabulous photos!
WHY TO BOOK A PRIVATE PHOTOSHOOT EXPERIENCE IN TULUM?
As nice as it is to take your own pictures, we also love it, sometimes it's really nice to have a professional to help us, and upgrade our results, especially if it is an important once-in-a-lifetime occasion. And here are some reasons why we should definitely recommend you to book your own photography session in Tulum!
Tulum is known for its stunning natural scenery, including beautiful beaches, turquoise waters, and lush jungle. A private photoshoot experience allows you to capture these unique backdrops without the crowds of tourists that can often be present in popular spots.
If you book a private photoshoot, you have the full attention of your photographer, who can work with you to capture the shots that you want. You can also take your time and not feel rushed, allowing for a more relaxed and enjoyable experience.
Memories to Last a Lifetime
A private photoshoot is a great way to capture memories that will last a lifetime. Whether you're celebrating a special occasion or just want some beautiful photos of yourself or your loved ones, a private photo shoot can provide a unique and personalized way to capture those memories.
Professional Quality Photos
With a private photoshoot, you're working with a professional photographer who has the skills and equipment to capture high-quality photos that you'll be proud to display and share with others.
GREAT OCCASIONS TO TAKE A NICE PHOTOSHOOT
Family vacation photoshoots
Tulum is a popular destination for family vacations, and what better way to remember your trip than with a family photoshoot? Whether it's on the beach, in the jungle, or in front of the Tulum ruins, a family photoshoot is a great way to capture memories and have fun together.
Tulum is known for its romantic and picturesque settings, making it the perfect location for a couple's photoshoot. Whether you're celebrating an anniversary or just want to capture your love for each other, a couple's photoshoot can be a fun and intimate experience.
Capture the beauty and excitement of your pregnancy with a sweet and intimate photoshoot.
Celebrate your love story with a fun and romantic photoshoot that showcases your personalities and relationship.
Whether it's a milestone birthday or just a special day, a photoshoot is a great way to celebrate and capture memories with your loved ones.
Personal branding photoshoots
If you're an entrepreneur or influencer, you might need professional photos for your website or social media. A personal branding photoshoot can help you showcase your personality and style in a way that resonates with your audience.
Take Advantage Of Free Concierge Service
As excellent to explore Tulum and its surroundings alone, you may need help figuring out where to start. To make the most of your money and time, contact Virginia and Kelly - two incredible Mexican girls living in Tulum for more than 15 years. They're familiar with the ins & outs of the Tulum town and hotel zone like the back of their hand! 
Since we arrived in Tulum 2 years ago, many adventures wouldn't have been possible without their help - they know literally everybody in Tulum and can perfectly organize every moment of your stay. Get the best tables, skip queues and get on the guest list of the coolest places in Tulum - this's only the beginning! 
They are ready to offer you guys FREE concierge service in Tulum for the time of your stay: take advantage of it, contact them on Whatsapp and live the best experience!
Get FREE Concierge Service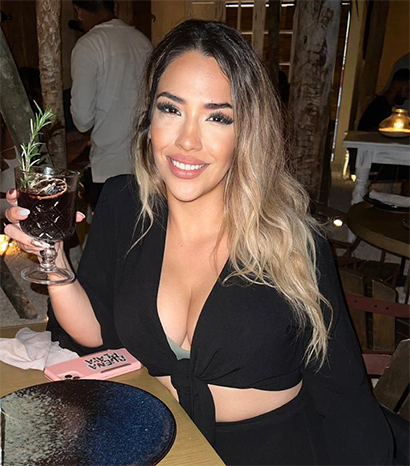 "Virginia Will Transform You In A Tulum Insider"
FAQ about Tulum Photoshoot
What are the best photo spots in Tulum?
Some of the best photo spots in Tulum include the Tulum Ruins, the Gran Cenote, the Tulum beach, and the Sian Ka'an Biosphere Reserve.
What's the best time of day to take photos in Tulum?
The best time of day to take photos in Tulum is during the "golden hour" – the hour after sunrise and the hour before sunset. This is when the light is soft and warm, and the colors are at their most vibrant.
How can I avoid crowds in my Tulum photos?
To avoid crowds in your Tulum photos, try to visit popular spots early in the morning or late in the day. You can also venture off the beaten path to find quieter and more secluded spots to shoot.
What camera gear do I need to take great photos in Tulum?
You don't need fancy camera gear to take great photos in Tulum! A basic camera or smartphone can capture the natural beauty of the town. However, if you want to take your photos to the next level, consider booking a local photographer. 
What should I wear for a Tulum photoshoot?
Tulum has a bohemian and beachy vibe, so choose clothes that are flowy and comfortable. Pastel colors and earthy tones work well in the natural setting, and don't forget to bring a hat and sunglasses for sun protection.
How can I incorporate Tulum's colorful street art into my photos?
Tulum has a vibrant street art scene, and you can incorporate this into your photos by seeking out murals and graffiti around town. Use the artwork as a backdrop for your shots, or pose in front of it for a pop of color.
👉 FRIDAY, Dec 1
OPENING PARTY X TEN IBIZA 🎉🍹
🎧
ORIOL CALVO, BASTIAN BUX, VITE
📩
Contact Virginia
here
to book a table
💵
First Release Tickets: Mex$ 550 (incl. fees)
Don't miss out on the chance to join us in "A Journey into House Music" tonight at Vagalume. Contact Virginia here to secure your spot for an unforgettable evening! 🌟🍹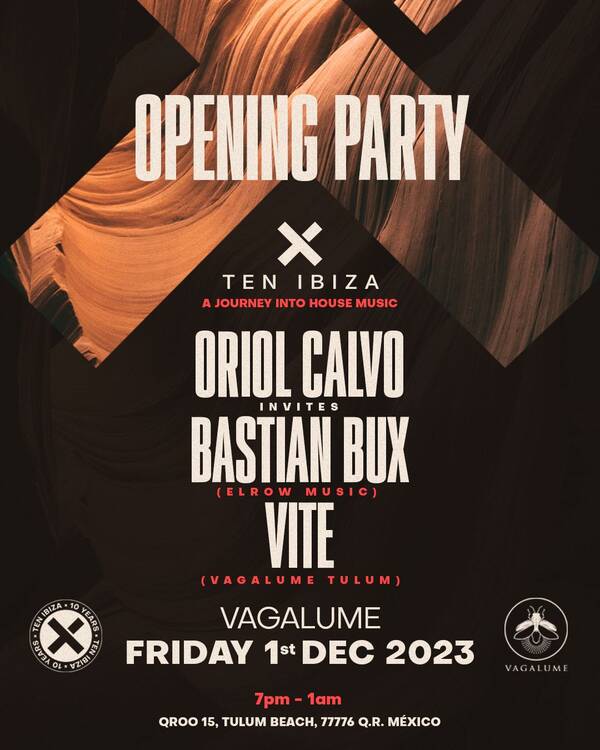 Top Parties and Club Events
23rd November - VAGALUME SESSIONS KEENE @VAGALUME
26th November - VAGALUME SUNDAZE MITA GAMI @VAGALUME
30th November - VAGALUME SESSIONS VALDOVINOS @VAGALUME
3rd December - VAGALUME SUNDAZE VALENTIN HUEDO @VAGALUME
7th December - VAGALUME SESSIONS MUSTAFA ISMAEEL @VAGALUME
30th December - PIKNIK POLO CORP & LEO LEONSKI @VAGALUME
31st December - NEW YEAR´S EVE @BAGATELLE TULUM
31st December - NYE PARTY 2024 @VAGALUME
13th March - LOCUS Tulum 2024