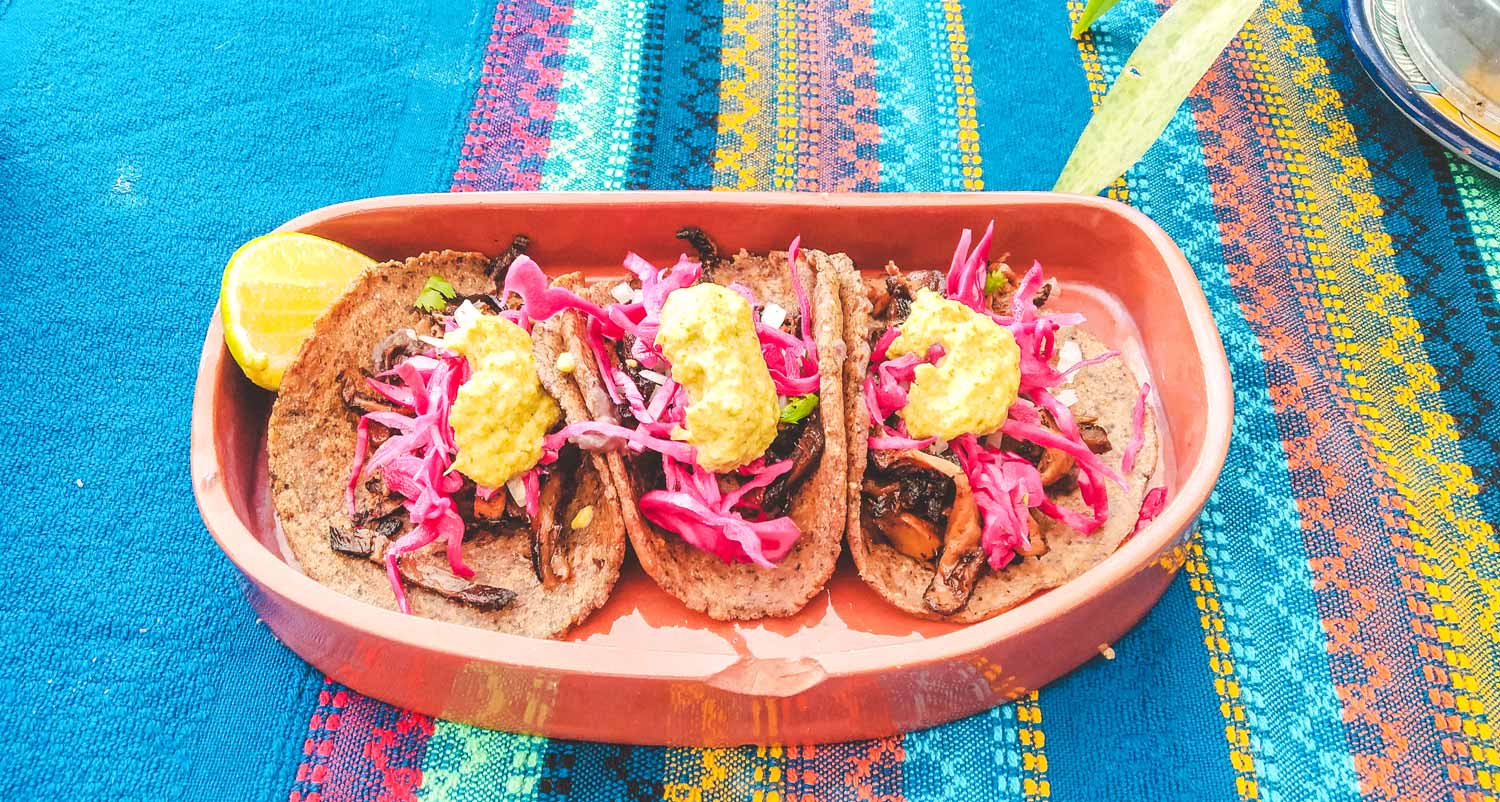 Where To Find The Best Tacos In Tulum
Where else would you go for an authentic Mexican taco than in Mexico? For me, there is nothing special about the tacos in Europe, and if you think Taco Bell was good, wait until you get a taste of the real ones in Tulum. It's like the best thing ever!
Mexico has always adored its street food culture, especially in Mexico City, and tacos are one of them. They are solely made for your "antojitos", little cravings, which you can find almost anywhere in Tulum. But, only a few notable places are worth the visit. So, let's get familiar with the dish and explore the best taco restaurants in Tulum!
If you want the best experience ever while dining and attending the most beautiful restaurants and beach clubs of Tulum, don't hesitate in taking advantage of Kelly and Virginia FREE concierge service. We loved the dining experience they organized for us and they're really good also about Tulum nightlife. Check out more below!
GET TO KNOW YOUR TASTE FOR TACOS!
This beautifully-handcrafted dish has a variety of styles and toppings that you can easily find on the menu. These are:
De Pescado - Served with seasoned grilled or fried fish and garnished with some veggies
De Camarones - Served with grilled or fried or breaded shrimp and some vegetables
De Asador - Grilled and spit meat (chicken or steak) garnished with guacamole, onion, salsa and cilantro
Al Pastor/De Adobada - Pork steak marinated with red chili seasoning
We love the shrimp and fish tacos because they taste the greatest! You should definitely try them.
Book A Car At The Best Car Rental In Tulum
We were planning some trips in Yucatan to explore cenotes and we desperately needed a car! It's not always easy to find the best deal and moreover - not to get scammed. We ran into Virginia, a really kind girl, during a yoga session in La Veleta. That's how we found out Virginia is renting cars and her business is really cool.
After seeing her bran new cars, we saw the super convenient prices she was applying and we decided to try her service out. We had an incredible experience - transparency, no need for deposit on our credit card, a lot of flexibility and kindness - in a nutshell: we loved our experience at BGH Car Rental and we can't recommend you any better company in Tulum especially during high season when the car rental market goes wild.
Rent a car at 40 usd per day with full coverage insurance and unlimited kilometrage today!
Book Your Car At The Best Price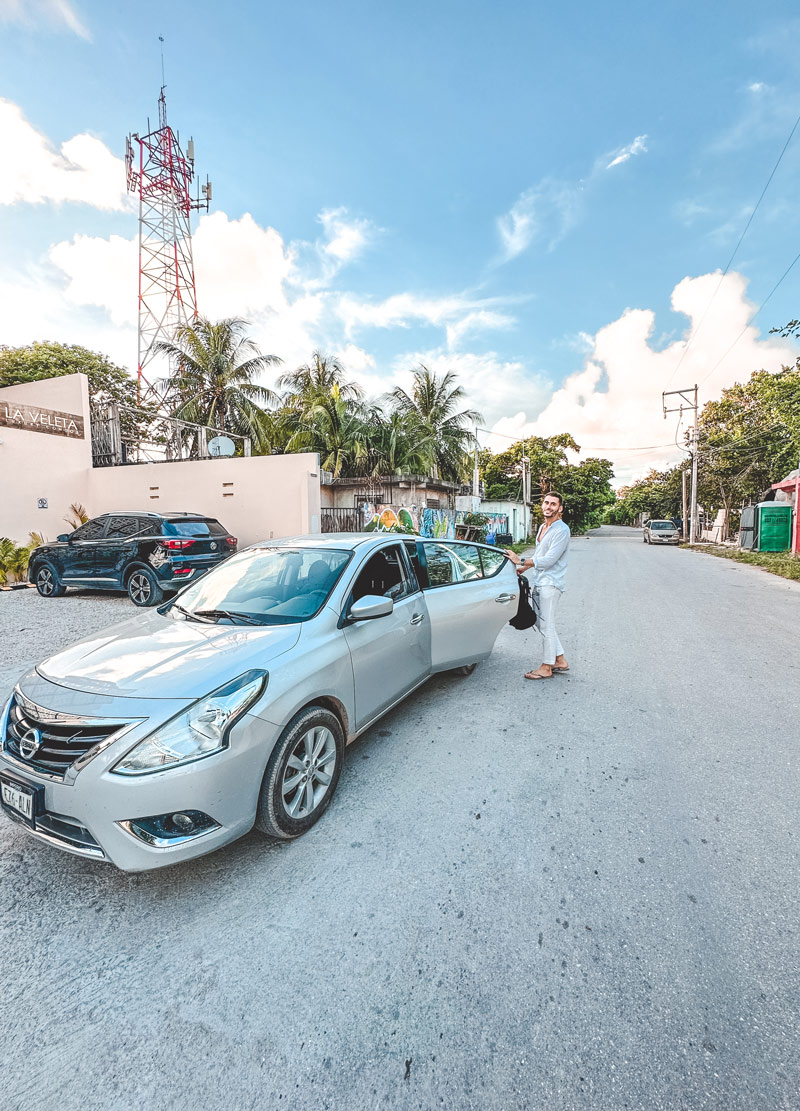 "Nissan Versa Was Perfect For Us"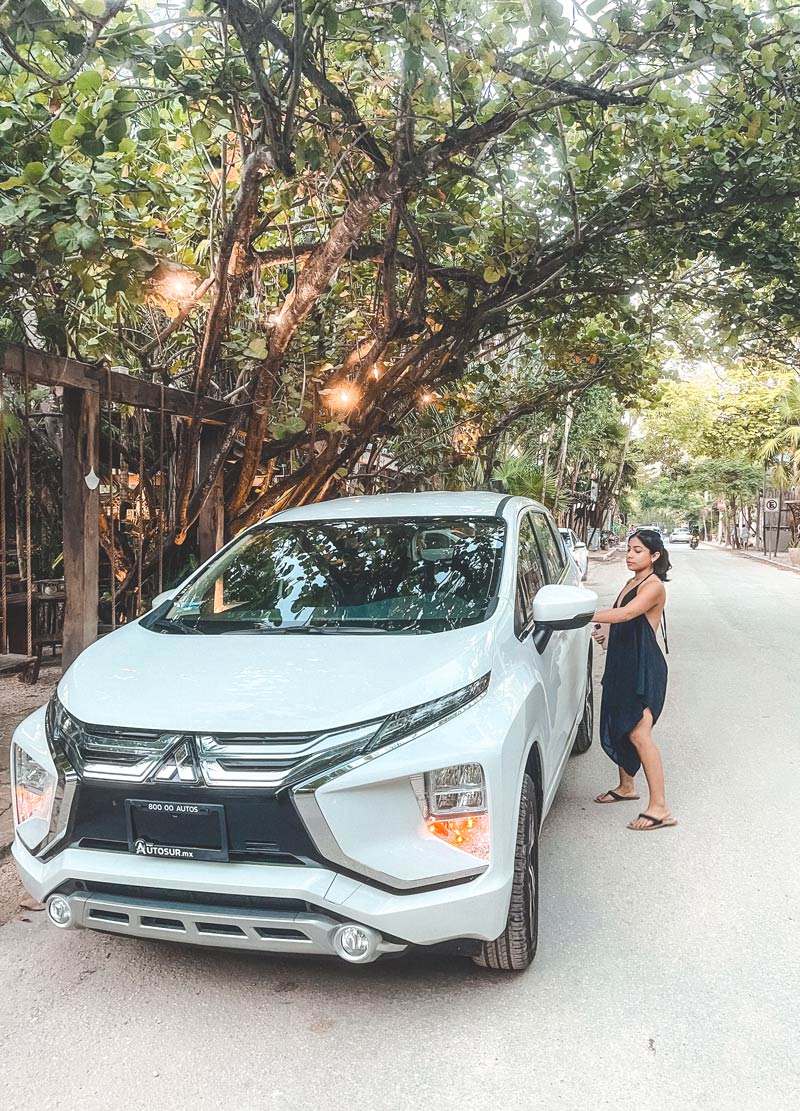 "Xpander Is The Best Car For Day Trips"
BEST TAQUERIA RESTAURANTS IN TULUM
Just about anyone can make good food from basic ingredients. But, only we foodies know what makes food great. It all depends on how much the chef poured his heart and passion into crafting the tastiest dishes. In this case, be prepared for an experience that blows your mouth away, melts your taste buds and gleefully tingles your body!
So, here is our top list of restaurants where you can eat mouthwatering tacos in Tulum!
TAQUERIA HONORIO: AN AUTHENTIC MEXICAN ANTOJITOS
Open hours: 6am – 3pm | Mainly non-vegan menu | Price: under 100 pesos for a meal
Best local tacos in Tulum town! Affordable, authentic and delicious are the highlights of Taqueria Honorio. Only 24 pesos per piece, every inch of the tortilla is covered with your favorite choice of topping. Starting with their flavorful cochinita pibil (roasted pork) is a must-try, and it is the most recommended tacos on their menu! Their vegetarian options are also outstanding, where the tortilla is topped with eggs, avocado and cheese. You can definitely feed a family here without spending a lot.
The restaurant has this local vibe where you dine under the cold shade, quick service about 30 minutes in and out and a very long queue. So, come before 10am to avoid the crowd! IMPORTANT: If you see a long queue, your priority is to talk to the waiter and ask for your name to be written on the waitlist! Visit their Facebook page and take a peek at their food.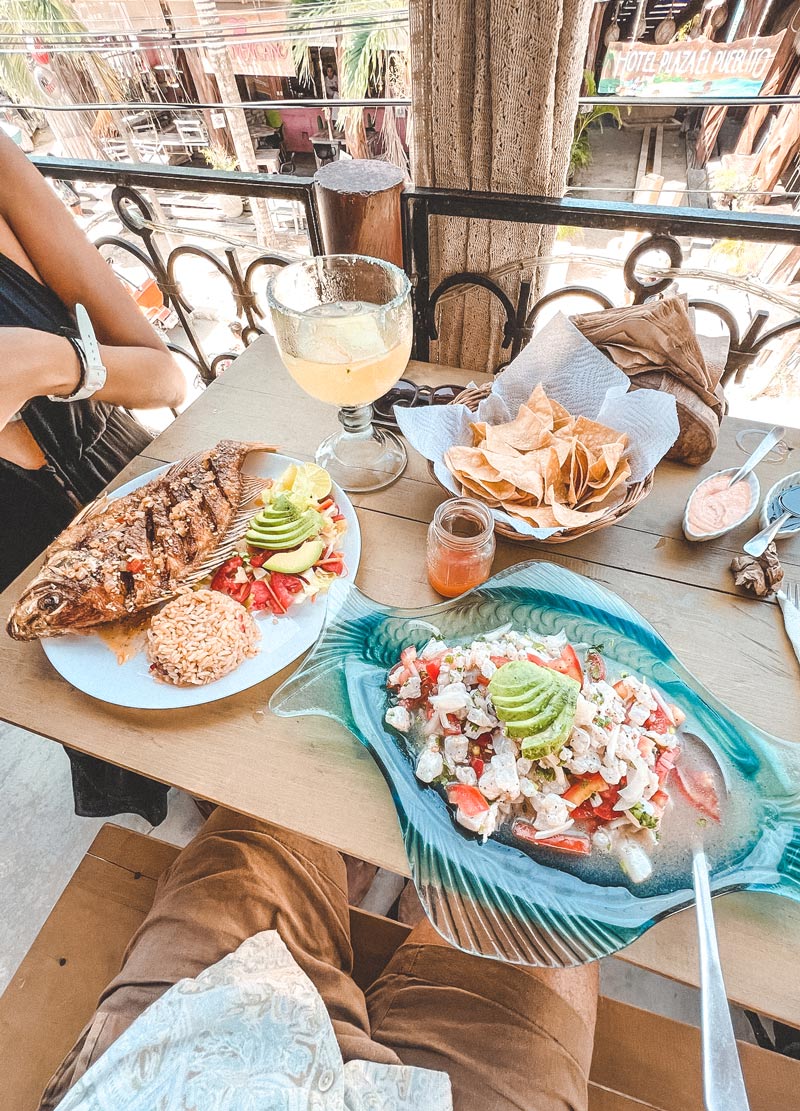 "Mexican Food Is Delicious"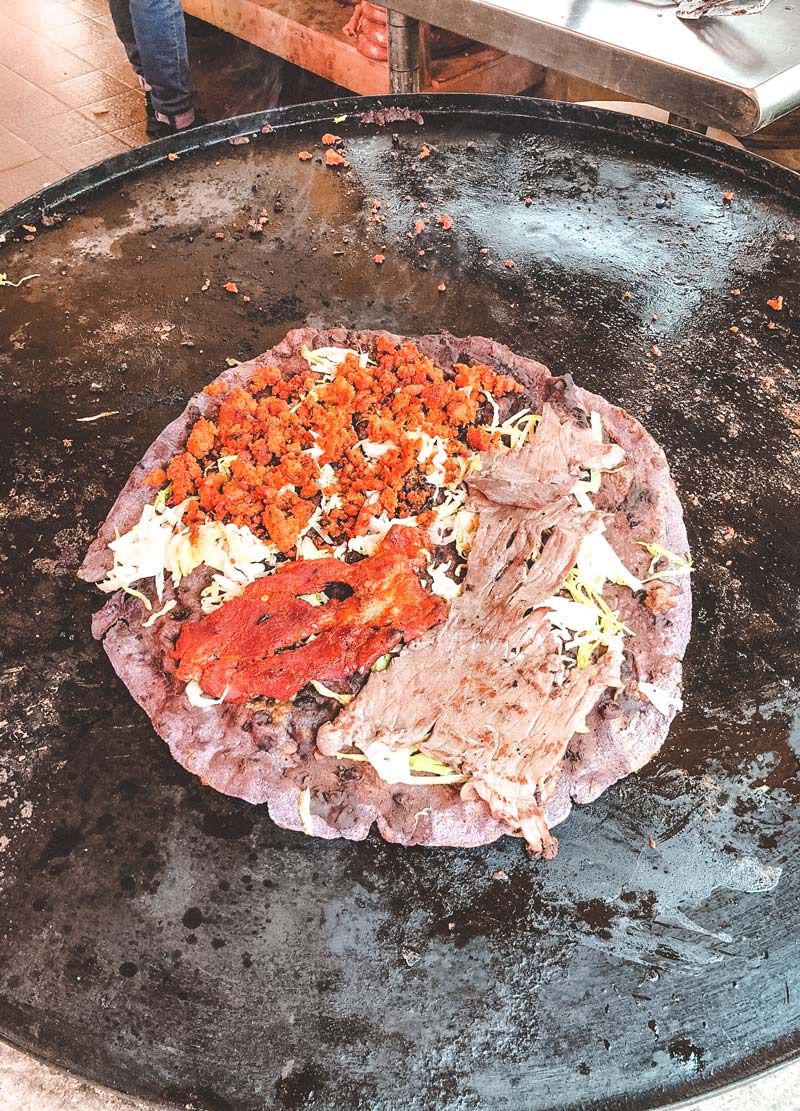 "Nothing Beats A Fresh Taco"
ANTOJITOS CHIAPANECA: BEST PORK TACOS IN TULUM
Open hours: 10am – 11pm | Mainly non-vegan menu and cash only | Price: under 100 pesos for a meal
Antojitos Chiapaneca is a great competitor against Taqueria Honorio because their tacos are out of this world, and their prices are also affordable. With just a dollar for a taco, you have a variety of seasoned meat (pork, beef and chicken) and vegetarian options to choose from!
Hands-down, you should go for the tacos with flour tortilla, while drinking the sweet horchata drink to have a full belly. Also, the Mexican tostada and guacamole is a better option if you are a vegetarian. You can visit their Facebook page and post to see their menu.
Since they are one of the famous taquerias in Tulum, it can get busy around lunch to dinner time (12pm – 9pm). This is what you should watch out for, as the servers can forget to make your order. So, you need to make an effort to remind them about your order or if they make mistakes.
LOCO TULUM: A CHEF'S SIGNATURE RESTAURANT
Open hours: 9am- 1am | Mediterranean dishes | Price: 250 pesos and more
Idan Lifshitz, a renowned chef, welcomes you to his signature restaurant, Loco Tulum. It is a Mediterranean restaurant and bar with a jungle vibe that is located along the hotel zone. The highlight of the restaurants is their famous tacos and 5-star service!
Well, that's because this is where I tasted the most delicious seafood tacos ever! Their famous dish, fish tacos, is the star of the show. It is made with fresh red tuna and white fish, marinated with a savory 7 middle eastern spices that give a kick in your mouth. No doubt, it can't get better than this.
Travel to their website and take a look for yourself!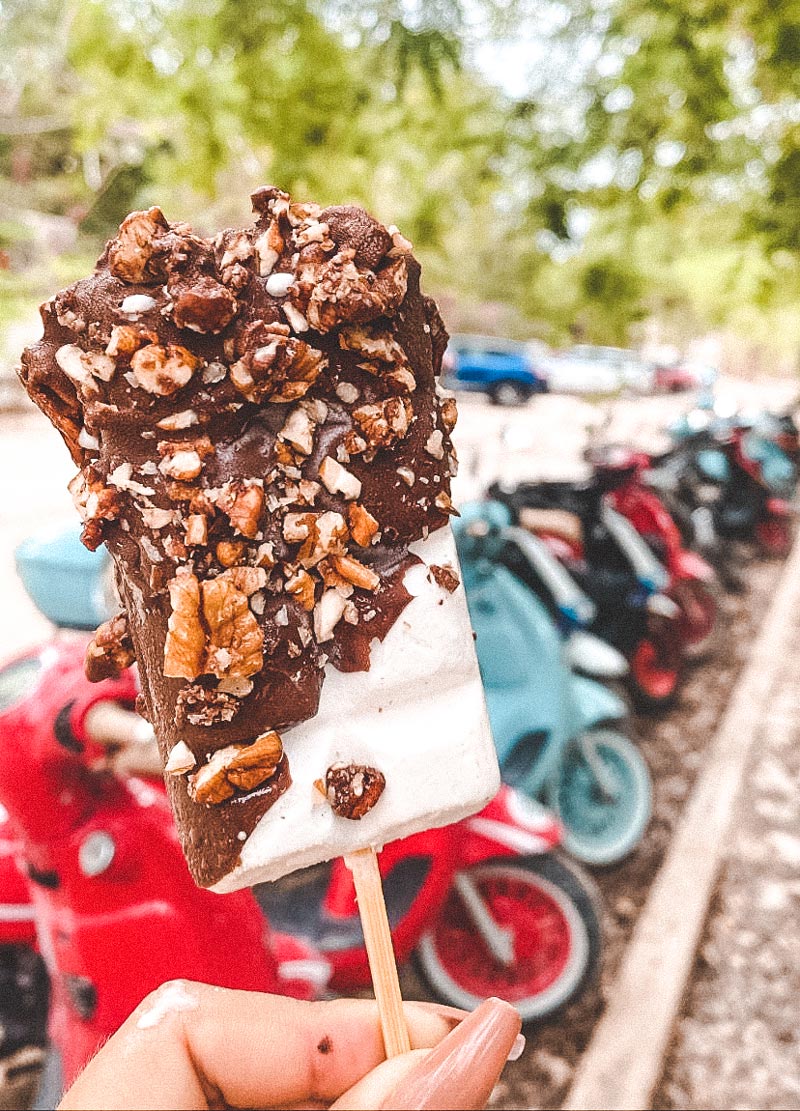 "A Nice Ice Cream To Refresh After A Taco"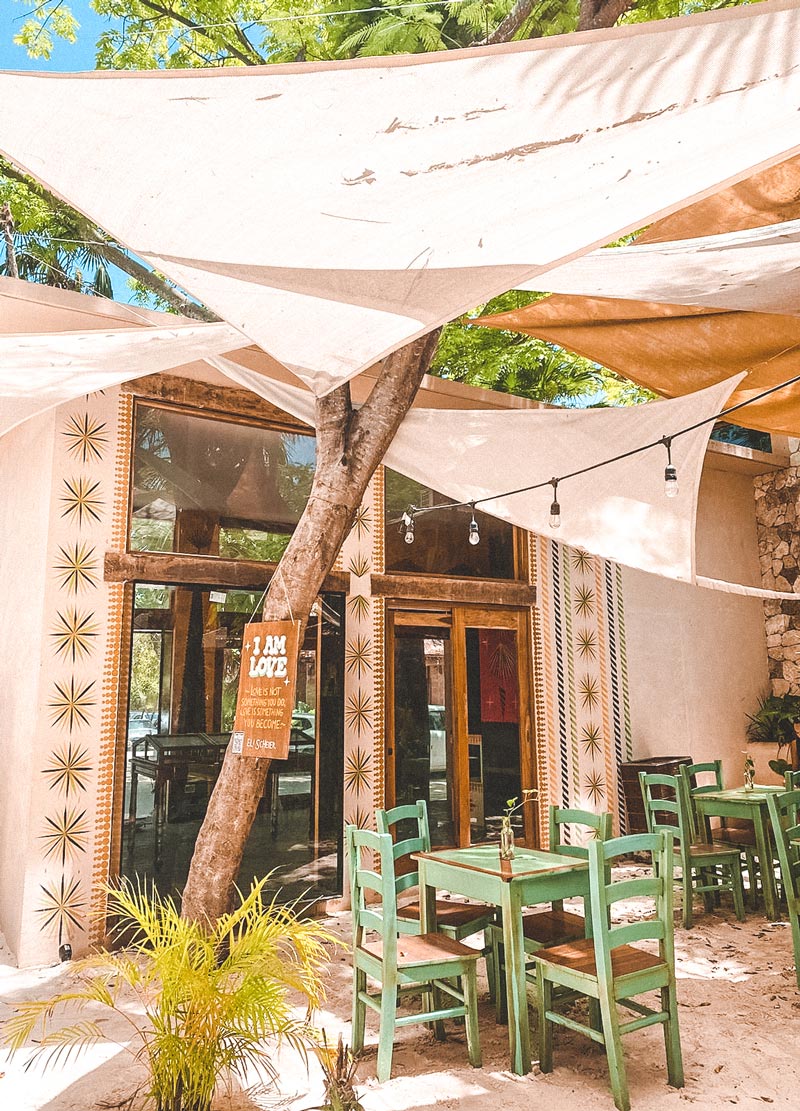 "We Love This Restaurant In Tulum"
ZIGGY'S BEACH RESTAURANT: A BEACHFRONT DINING EXPERIENCE
Open hours: 7am – 11pm | Variety of tasty tacos | Price: 300 pesos and more
Ziggy's beach restaurant and bar is the perfect place to enjoy classic Mexican-Caribbean seafood by the ocean, where they also host daily events to keep you entertained during your visit.
This also includes enjoying their variety of exclusive tacos for both meat lovers and vegan foodies! Their taco menu serves a fresh selection of seafood such as their marinated and breaded shrimp, juicy skirt steak and battered fish. While for my vegan foodies, you try to get their famous roasted cauliflower tacos, dressed with peanut sauce and spicy Morita chili. Although the food is amazing and expensive, it is reasonable because of the 5-star service and relaxing ambiance you are spoiled with.
Just remember to take in the relaxing ambiance, enjoy the fresh seafood dishes and spend the day with a wonderful dining experience.
SUCULENTA TULUM: THE BEST MUSHROOM TACOS IN TOWN
Open hours: 9am – 8:30pm and 9am – 5pm on weekends | Vegan friendly | Price: around 100 pesos
Suculenta Tulum is a local backyard restaurant serving traditional Mexican dishes such as tamales, enchiladas and beans. This place may be small from the outside, but they have the juiciest and chewiest mushroom tacos in the city!   
Their oyster mushroom tacos are a bomb for your mouth. Where the seasoned mushrooms are grilled on fiery charcoal and placed on their homemade tortilla. With just 110 pesos, you will get full from just eating 3 pieces. So, if you are passing by the area, Suculenta Tulum welcomes you with the smoke of a grilling mushroom.
I feel blessed to discover this place because it feels as if we found a buried treasure in the sand.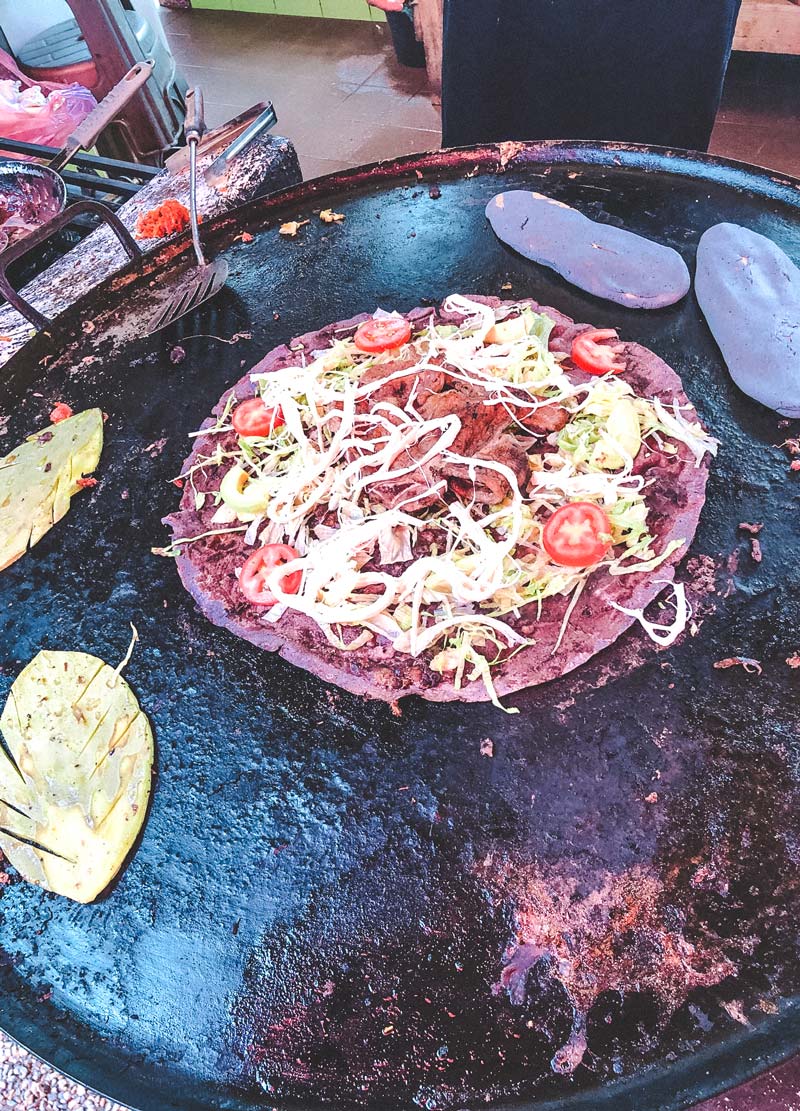 "Handmade Taco In Tulum Town"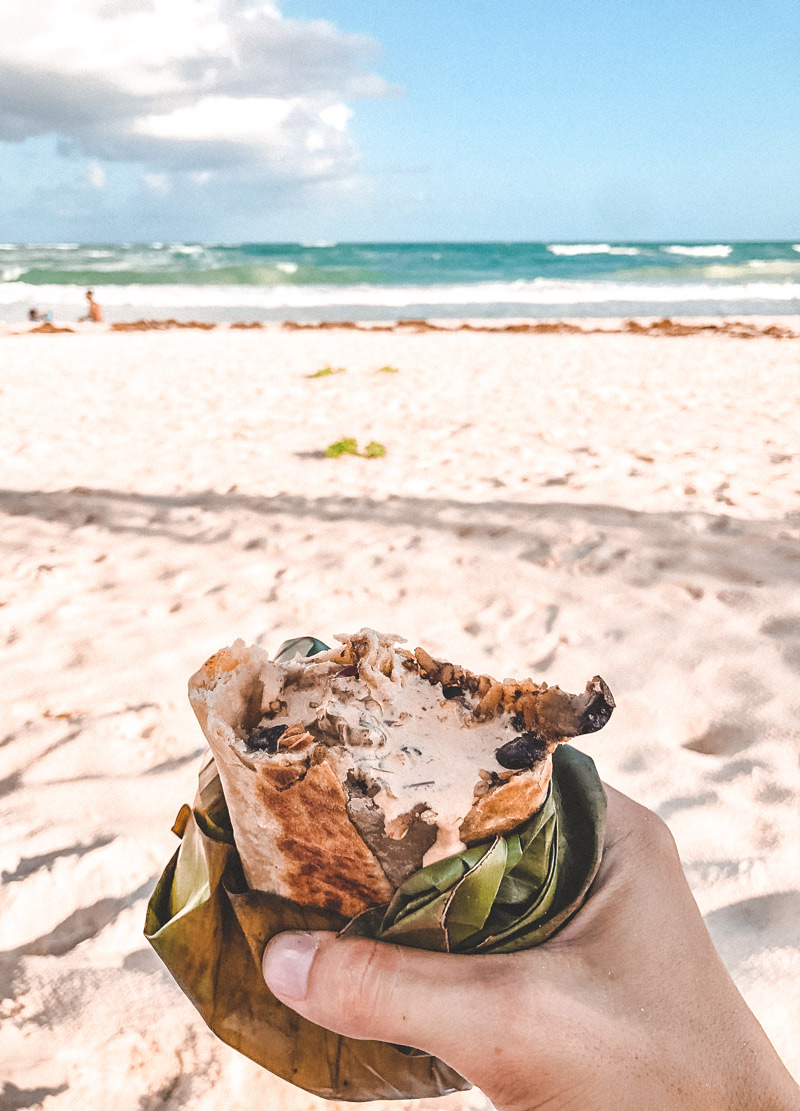 "We Love Burritos Too!"
Take Advantage Of Free Concierge Service
As excellent to explore Tulum and its surroundings alone, you may need help figuring out where to start. To make the most of your money and time, contact Virginia and Kelly - two incredible Mexican girls living in Tulum for more than 15 years. They're familiar with the ins & outs of the Tulum town and hotel zone like the back of their hand! 
Since we arrived in Tulum 2 years ago, many adventures wouldn't have been possible without their help - they know literally everybody in Tulum and can perfectly organize every moment of your stay. Get the best tables, skip queues and get on the guest list of the coolest places in Tulum - this's only the beginning! 
They are ready to offer you guys FREE concierge service in Tulum for the time of your stay: take advantage of it, contact them on Whatsapp and live the best experience!
Get FREE Concierge Service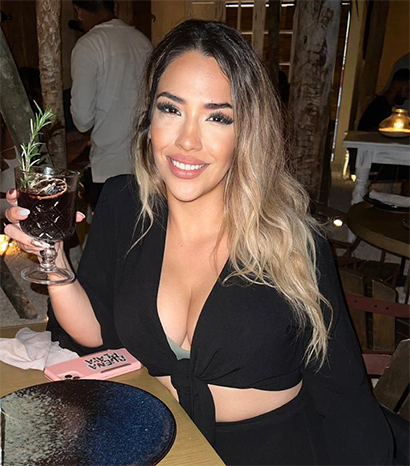 "Virginia Will Transform You In A Tulum Insider"
Now that you have discovered the places to visit, I challenge you to venture into the streets of Tulum and travel into one of their "antojitos" food cultures! It can be a daring adventure, but it is one of the things you should do while you're here. Just be sure to leave on an empty stomach!

We hope you enjoyed the article, remember to share with us your favorite Mexican tacos in Tulum down below and have a beautiful day!
FAQ about Tacos in Tulum
What are tacos made of?
Usually, tacos are made with a tortilla filled with pork, chicken, or beef, but also you can find tacos filled with veggies only, fish only and countless other delicious fillings!
Which part of Mexico has the best tacos?
Tulum and Quintana Roo region are known for having the best tacos in Mexico! People from all around the world come to Tulum just to try their tacos! There are many places in the city that serve up traditional Mexican tacos, with a lot of flavors to choose from!
How much is a taco in Tulum?
The price of a taco in Tulum is around 100 MXN pesos per meal, in some of the best restaurants in the city. However, if you buy a taco in the street, you can get it cheaper!
Do taco stands in Tulum accept credit cards?
While some taco stands in Tulum may accept credit cards, especially the biggest restaurants, many smaller taco stands are cash-only. We always try to carry some pesos on hand.
Can I find vegan or vegetarian tacos in Tulum?
Yes,you can find vegan or vegetarian tacos in Tulum, as many places offer vegan and vegetarian taco options, like tacos filled with mushrooms, rice, or vegan cheese. 
How do I know if a taco stand is safe to eat at?
Restaurant taco stands are generally safe to eat at, and you don't really have to worry. However, if you are trying a taco stand in the street, look for signs of good hygiene like cleanliness, freshly made dishes, or staff wearing gloves. Even street stands are generally safe and delicious! 
What types of tacos are popular in Tulum?
Popular taco varieties include pulled pork, al pastor (marinated pork), de asador (grilled steak), and pescado (grilled or fried fish).
What is a taco place called in Tulum?
In Spanish, taco places are generally referred to as taquerías or taco stands.
Top Events to Make Your Trip Unforgettable
DOMINIK TULUM @MIA TULUM
When: September 9, 2023 7:00 PM
Where: Mia Restaurant & Beach Club, Tulum
🌴 Join Us for An Unforgettable Night at DOMINIK - TULUM at Mia Tulum! 🌴
Friends, clear your schedules and get ready for a magical experience at Mia Tulum! This stunning location will host DOMINIK - TULUM on Saturday, September 9th, from 7 pm to 1 am. This isn't just another event; it's a fusion of nature, culture, and sound featuring an incredible line-up with GIORGIO STEFANO, AUDICTIVE, and MAURO TORRETA. At DOMINIK, you'll find the perfect blend of Tulum's lush jungles and pulsating underground beats, creating an environment where genuine connections blossom.
🎟️ Secure your tickets now:
Early Bird: $575 MXN ($38 USD), includes a welcome drink 🍹 (Limited Availability)
Tier 1: $805 MXN ($52 USD), includes a welcome drink 🍹 (Limited Availability)
Final Tier: $1150 MXN ($75 USD), includes a welcome drink 🍹 (Limited Availability)
Dinner + Party: $1380 MXN ($90 USD) 🍽️🎉 (Limited Availability)
See you there for a night you won't forget! 🎶✨
Ready to join us? Get your ticket now! Early bird tickets are already selling out, secure them at 632 pesos (only 15 tickets available).
Hurry – spots are filling up fast! 🙀 We can't wait to see you there!
Top Parties and Club Events
17th September - ANCESTRAL SOUL @BONBONNIERE TULUM
22nd September - TONY ROMERA @BONBONNIERE TULUM
29nd September - TIM BARESKO @BONBONNIERE TULUM
4th November - HOT SINCE 82 @BONBONNIERE TULUM
13th March - LOCUS Tulum 2024