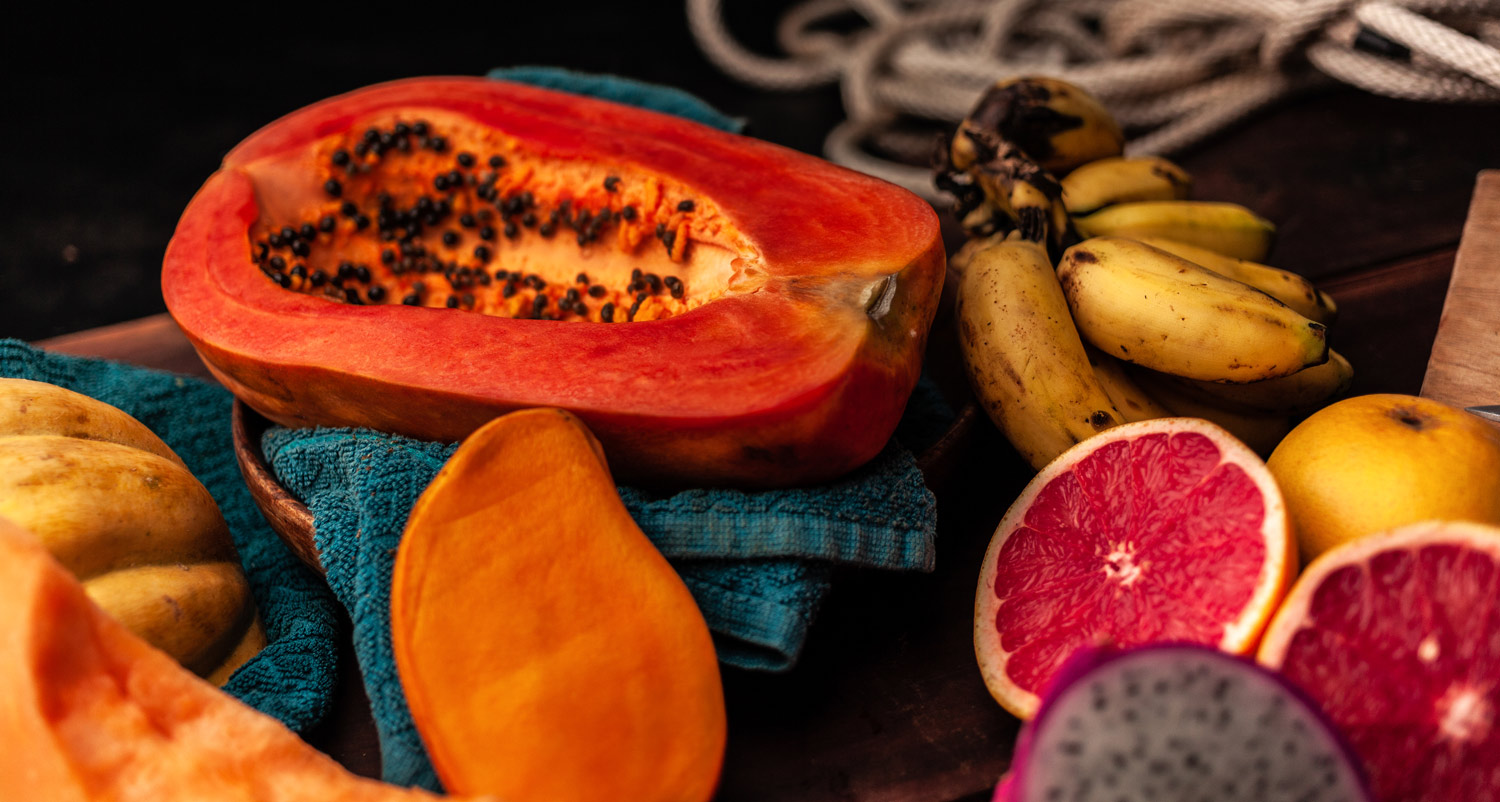 Which is Tulum Best Mexican Restaurant?
Does your tongue ever crave an authentic Mexican and Yucatan dish but not sure what to get? Do not fret. Join our journey to explore Tulum and Riviera Maya Mexican restaurants that serve these delicious cuisine!
As all-time digital nomads and foodies, exploring the beautiful food culture of Mexico is our passion. We visited various Mexican restaurants in Tulum to sample new dishes and list in a guide our favorite Mexican food that people should try out! 
In summary, these restaurants don't disappoint! From cheese taco served with beans and rice to delicious sauce like pico de gallo, from grilled chicken or beef burrito to a fresh made guacamole, you will fall in love with Mexican cuisine. Check out in our guide the best hotels and restaurants in this Caribbean region to delight your palate during your travel!
*want to live the best nights in Tulum?* check down below how our friend Virginia can arrange the best nightlife while you'll be in Tulum. Get the best tables, be on the guest lists and feel one with Tulum night!
MOUTH-WATERING DISHES OF THE YUCATAN: MEXICAN TRADITION
Across the Riviera Maya of Mexico, Tulum is one of the towns that boast delicious Mexican gourmet served with special sauce and fine ingredients. Like a miracle, all of them harmonized and created unique tastes that are only in the Yucatan! Dishes change from town to town: you will find more touristy restaurants in Cancun or Tulum, while the ones following Mexican and Mayan traditions will be more in Holbox, Bacalar and in small islands like Isla Cozumel or Mujeres. Around the beaches you will always find a small restaurant serving freshly fished ceviche with pico de gallo. If you are in the inland of Yucatan, you will have the chance to eat with Mayan: be ready for some delicious grilled beef and some ancestral delights!
So, ready to discover the best and local's favorite Mexican dishes, also popular in Mexican restaurants in Tulum?
Taco dishes in Mexico's culture are referred to as antojitos, which translates to snacks. These tasty bites are a hand-sized tortilla topped with your choice of meat, usually beef or chicken, with salad. If you are more of a seafood type, don't worry: these delish are usually served with fresh ceviche all along Riviera Maya!
In Tulum, the tacos are usually served with chicken, beef, cheese, beans, fish, and shrimps. Not only does the sauce taste delicious, but they are very affordable. Usually costs 1 dollar per taco, it's more of a meal for us! 
But, our favorite is the Taco de asador – grilled meat (chicken or beef) garnished with guacamole and habanero sauce, and Taco de Pescado – grilled fish with veggies. You can always ask for a side dish of pico de gallo, rice or black beans: this is a very common and cheap Mexican dish and it's one of the things you should really try during your time in Mexico!
CEVICHE: Mexican way of eating fish
Ceviches is a famous dish made from fresh raw fish, shrimp, or octopus. They are a widely popular menu across the beaches and hotel restaurants of Riviera Maya, from Cancun to Playa del Carmen and Tulum. In the islands you will find particular versions of ceviche, so check it out in Holbox and Cozumel. The thing that makes ceviche special is how the sour flavor and texture refreshes our bodies!
This is the perfect dish when you spend a hot day at the beach or after diving in the Caribbean ocean.
PICO DE GALLO: Mexico's most famous sauce
Our favorite salsa and a great alternative to guacamole, you will be able to find it in restaurants all over Mexico, not only in Yucatan. Pico de Gallo is served mainly with diced tomatoes, onion, lime, and cilantro. It tastes like ceviches, but you pair it with corn chips (totopos) or over your taco instead. That's the perfect vegan alternative and they are wonderful for snacking!
CHILAQUILES: Yucatan style breakfast
A simple Yucatan breakfast served with toasted taco tortillas soaked with hot sauce. To enhance the dish, you can add chicken, beef, or eggs on top. Lastly, the cheese, coriander, beans, and onion are sprinkled as toppings and served hot!
It's basically the most loved breakfast in Yucatan and definitely worth trying during your visit to Mexico!
AGUAS FRESCAS: the best way to beat Mexico's heat
The term Aguas Frescas means fresh water. This is a non-alcoholic drink that is served from mixed fruits, sweeteners, and water. They are heavenly to drink on a hot beach day, and it goes well with any other Mexican meals you eat! You will find them between the street food stands as well as in restaurants. Our favorite? Horchata!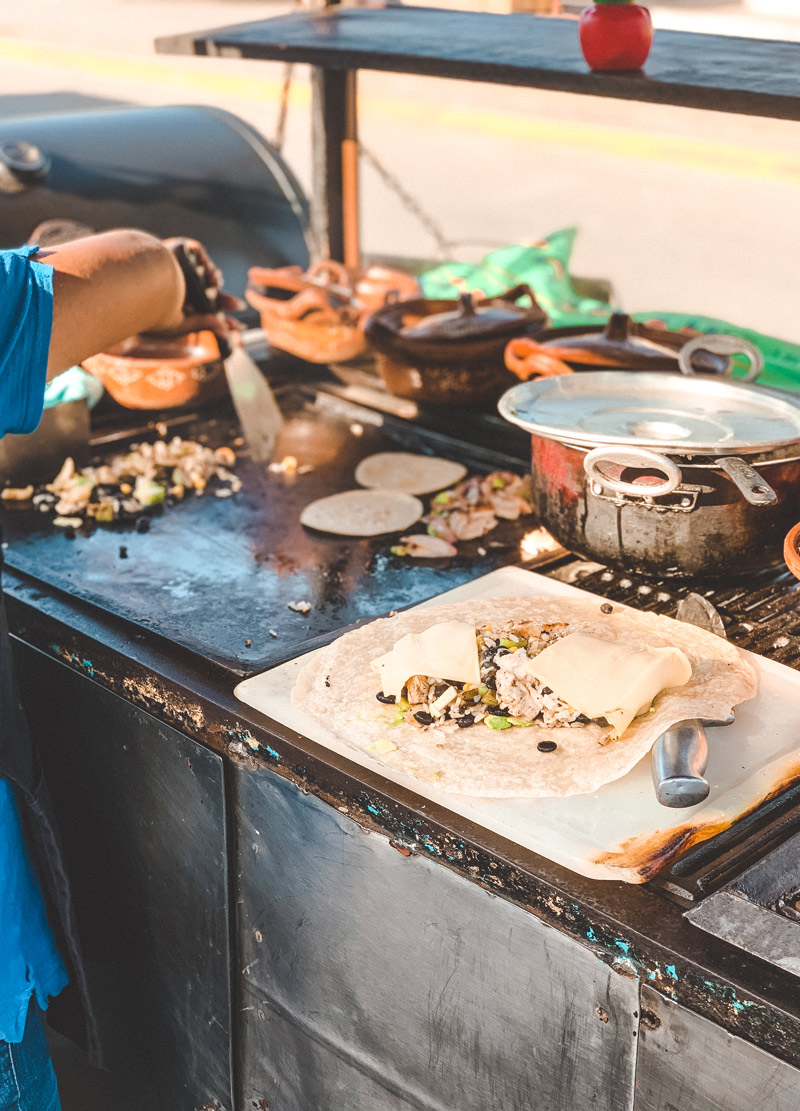 "Street Food Burrito In Tulum"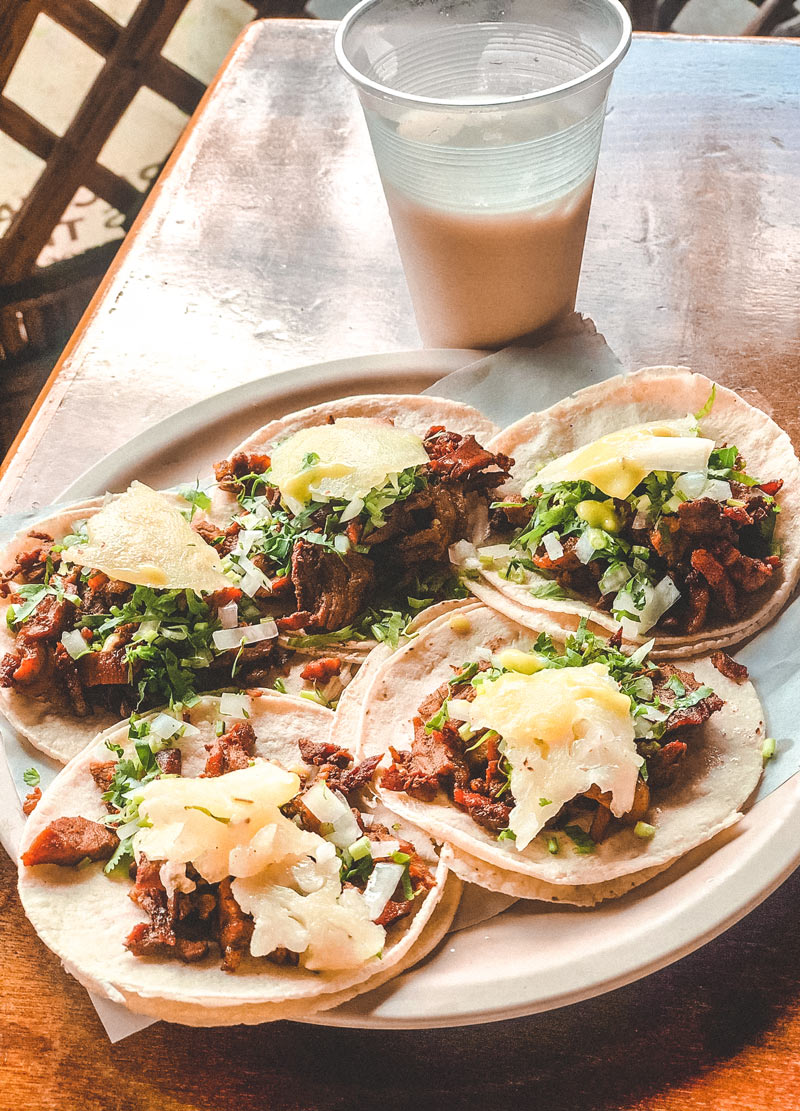 "The Real Mexican Taco!"
MAIN MAYAN DISHES In Yucatan and TULUM
The Yucatan peninsula, home to ancient Maya ruins and cenotes, boasts its own traditional Mayan dishes! 
But don't worry about mixing the Mexican and Yucatan dishes up. Below we will show our favorite Yucatan dishes that are more affordable in town, unlike the restaurants in the hotel zone. You will try the best of Mayan cuisine in Yucatan's inland, but there are some great Mayan restaurants in Tulum as well.
So, let's travel and explore the popular Yucatan dishes below!
An original Mayan roasted pork dish from the Yucatan! It's mainly pork stew marinated with achiote sauce and wrapped with banana leaves, and left to to cook slowly. Once ready, open the leaves and enjoy the tender pork stew. You can also add your favorite side dish, for us that will be either tortillas, rice and sometimes beans topped with cheese. In fact, during your day trip to Yucatan you can't miss a taco with cochinita pibil!
A signature Mayan dish combines two essential Yucatan ingredients: pork & sour orange. Unlike Cochinita Pibil, this juicy pork dish is grilled and topped with habanero sauce. It will let all the flavor blend with the meat nicely. At last, poc chuc is commonly enjoyed with rice and refried beans and it's easy to find it in many restaurants in Yucatan.
Similar to tacos, Salbutes y Panuchos has its tortilla stuffed with refried beans, sealed, and fried. Then, they are topped with tomatoes, chicken, beef, onion, and avocado. They are ideal for a quick bite and a short lunch break before going on the go.
Take Advantage Of Free Concierge Service
As excellent to explore Tulum and its surroundings alone, you may need help figuring out where to start. To make the most of your money and time, contact Virginia and Kelly - two incredible Mexican girls living in Tulum for more than 15 years. They're familiar with the ins & outs of the Tulum town and hotel zone like the back of their hand! 
Since we arrived in Tulum 2 years ago, many adventures wouldn't have been possible without their help - they know literally everybody in Tulum and can perfectly organize every moment of your stay. Get the best tables, skip queues and get on the guest list of the coolest places in Tulum - this's only the beginning! 
They are ready to offer you guys FREE concierge service in Tulum for the time of your stay: take advantage of it, contact them on Whatsapp and live the best experience!
Get FREE Concierge Service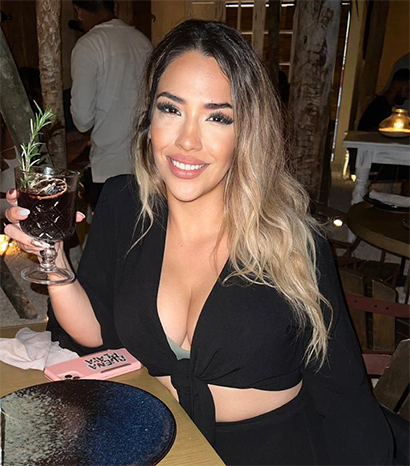 "Virginia Will Transform You In A Tulum Insider"
AUTHENTIC MEXICAN RESTAURANTS ACROSS RIVIERA MAYA TULUM
We all know how beautiful Tulum's nature can be. From the enchanting Mayan jungle, underwater cenotes, and spectacular Caribbean view, the Yucatan dishes are something you should try out. There are a lot of restaurants to visit!
The things that make it better is their affordability and great taste in local restaurants. You don't have to spend your money on restaurants and hotels in the beach zone.
Out of the cities in Riviera Maya, from Isla Mujeres, Cancun, and Playa del Carmen, Tulum has the tastiest Mexican and Mayan dishes around! So, don't travel out of Tulum yet before taking a visit to these restaurants!
Best for grilled and stew pork, fresh fruit water, and habanero sauce
Best local taco in Tulum! Taqueria Honorio is famous for its grilled pork dishes, especially the poc chuc. For just a price of 24 pesos per piece, you will enjoy every inch of the juicy flavors and texture of the grilled pork. To enhance the taste, add hot sauce and cheese, and buen provecho! 
Note: We highly recommend you visit right before or after lunch time to avoid the hungry crowds.
Best for Tacos, salad, and toppings (chicken, beef, and cheese)
Another popular taqueria in Tulum is known for its flavorful meat (beef, chicken, and pork) and customizable dishes! For my vegan foodies, the guacamole is also great to pair with the tostadas.
Note: If you want more amazing taco restaurants in Tulum, visit our top list of taquerias! Take note of all the affordable and delicious tacos around!
MATEO'S MEXICAN GRILL: BEST GRILLED DISHES IN TULUM
Best for grilled meat (chicken, beef, pork), burrito, and tacos
The grilled dishes here are some of the best in Tulum! Delight in the juicy and savory tacos, meats, and seafood! 
Nestled north of the hotel zone and before Playa Paraiso. Has a beautiful spot above the Mayan jungle with a great view of the Caribbean horizon and the surrounding nature. Now, to get the most out of this restaurant, the best time to come is in the afternoon to view the beautiful sunset, and stay till night to listen to live music!
Note: try out their grilled beef burrito, super recommended!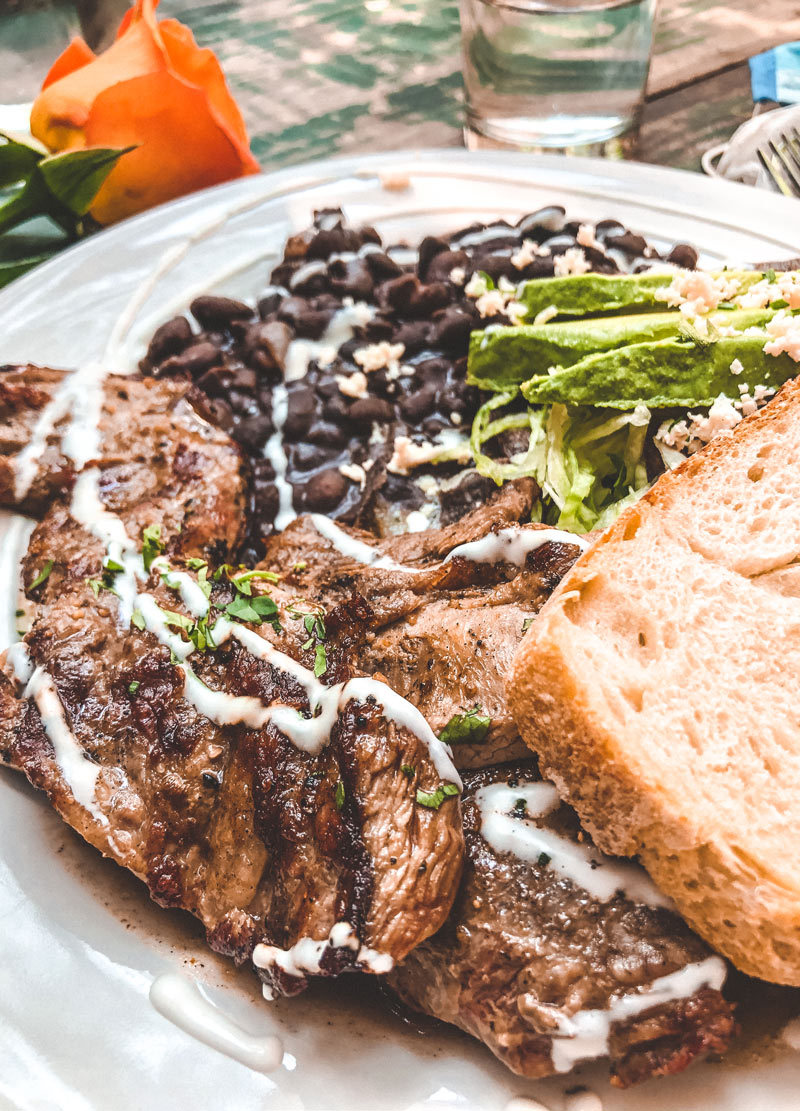 "Chilaquiles To Start Your Day"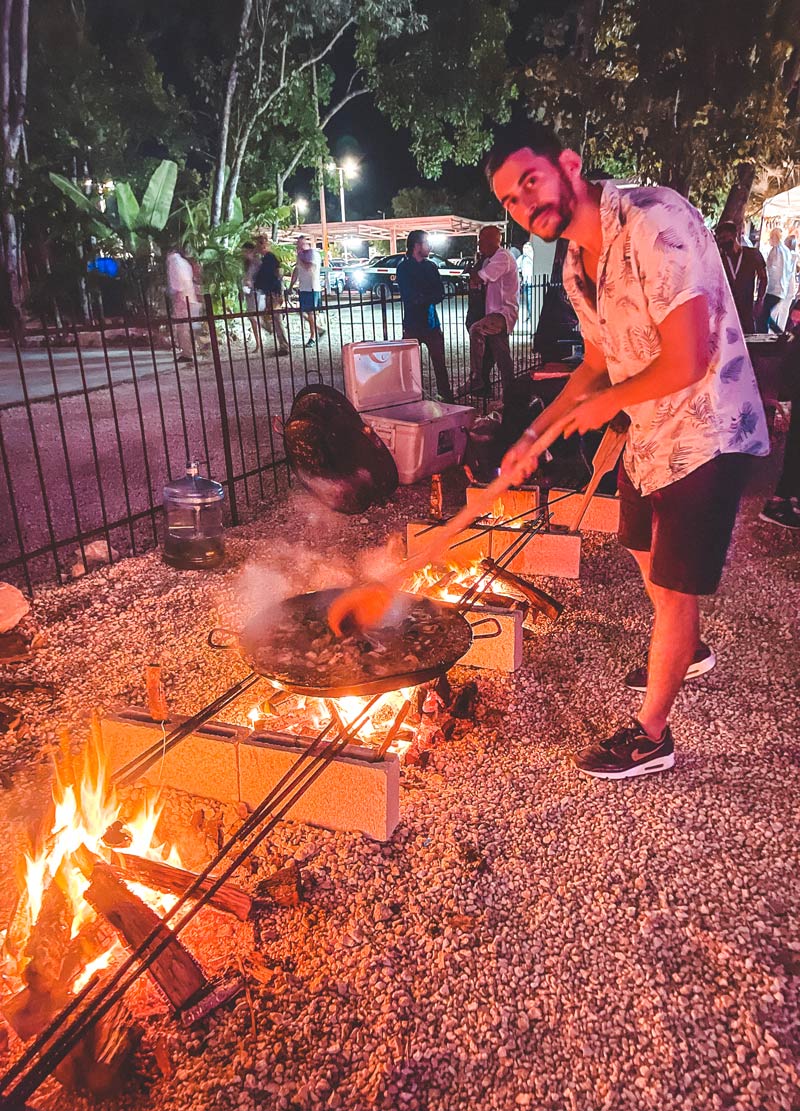 "Eddy Cooking Grilled Mexican Dishes"
Best for: Ceviches, rice, pico de gallo, beans, and guacamole
Although almost all hotel zone restaurants serve seafood dishes, El Camello is the only restaurant that serves the best ceviches in town! 
This is our go-to restaurant for ceviches. The ceviches' flavor sits perfectly in our mouths out of all the others! As a side dish, try their rice, which is surprisingly flavorful than at other restaurants.
After taking your order, they will serve you traditional black beans topped with cheese that you can dip in. Tortillas. But, if you prefer another appetizer, we recommend ordering the guacamole or the pico de gallo! They are delicious, and you will love them.
LA ZEBRA BEACH RESTAURANT & BAR
Best for Grilled meat burrito, taco, salad, and refreshing fruit water
La Zebra is one of the luxurious hotels across the hotel zone. This one stands out because of its savory Mexican cuisine, gastronomy, and live music that we love so much. So, do yourself a favor and enjoy their scrumptious shrimp tacos, salads, and refreshing fruit water!
You can arrange a private candle dinner just by the beach with La Zebra for special occasions. Highly recommend it for couples to enjoy an intimate space and the tropical Caribbean scenery together.
IS IT WORTH TRYING MEXICAN & YUCATAN DISHES?
Trying out the food culture in Tulum is a must, hands-down. There are many authentic Mexican & Yucatan dishes in Tulum, and you don't want to miss anything! 
So, if you stay at Cancun, Isla Mujeres, Playa del Carmen, or Cozumel, come stop by and delight in its Yucatan food culture. We bet you will be so tired from all of the cenotes diving, nature, and tour guide activities that going to these places is what your body needs!
We hope our article inspires you to try authentic Yucatan cuisine. Let us know below your first experience trying out the dish we mentioned, can't wait!
Top Events to Make Your Trip Unforgettable
DOMINIK TULUM @MIA TULUM
When: September 9, 2023 7:00 PM
Where: Mia Restaurant & Beach Club, Tulum
🌴 Join Us for An Unforgettable Night at DOMINIK - TULUM at Mia Tulum! 🌴
Friends, clear your schedules and get ready for a magical experience at Mia Tulum! This stunning location will host DOMINIK - TULUM on Saturday, September 9th, from 7 pm to 1 am. This isn't just another event; it's a fusion of nature, culture, and sound featuring an incredible line-up with GIORGIO STEFANO, AUDICTIVE, and MAURO TORRETA. At DOMINIK, you'll find the perfect blend of Tulum's lush jungles and pulsating underground beats, creating an environment where genuine connections blossom.
🎟️ Secure your tickets now:
Early Bird: $575 MXN ($38 USD), includes a welcome drink 🍹 (Limited Availability)
Tier 1: $805 MXN ($52 USD), includes a welcome drink 🍹 (Limited Availability)
Final Tier: $1150 MXN ($75 USD), includes a welcome drink 🍹 (Limited Availability)
Dinner + Party: $1380 MXN ($90 USD) 🍽️🎉 (Limited Availability)
See you there for a night you won't forget! 🎶✨
Ready to join us? Get your ticket now! Early bird tickets are already selling out, secure them at 632 pesos (only 15 tickets available).
Hurry – spots are filling up fast! 🙀 We can't wait to see you there!
Top Parties and Club Events
17th September - ANCESTRAL SOUL @BONBONNIERE TULUM
22nd September - TONY ROMERA @BONBONNIERE TULUM
29nd September - TIM BARESKO @BONBONNIERE TULUM
4th November - HOT SINCE 82 @BONBONNIERE TULUM
13th March - LOCUS Tulum 2024