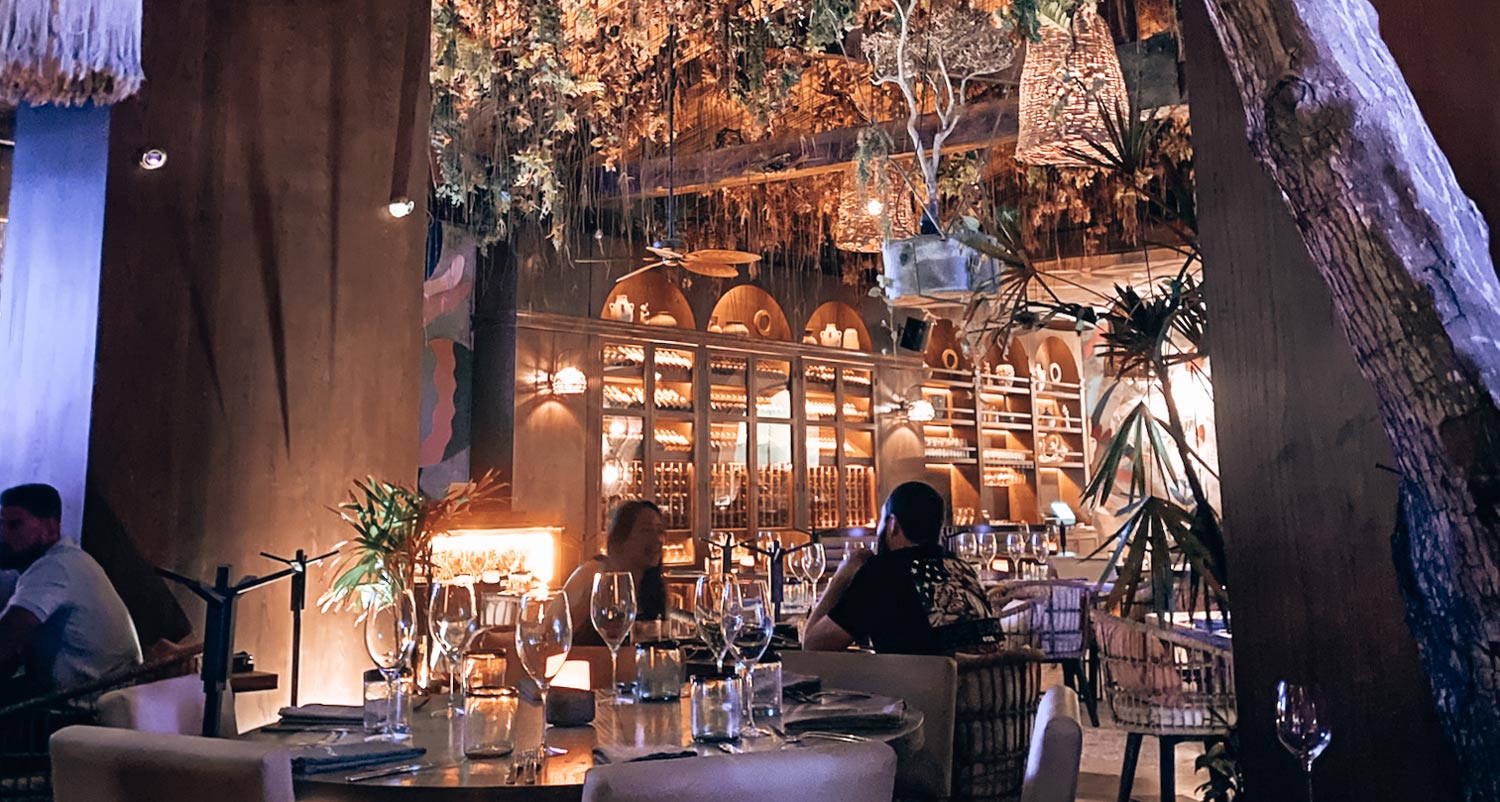 Porfirios Tulum Definitive Guide: Elevate Your Mexican Dining Experience
Looking for a great restaurant to dine at? Or where to eat Mexican dishes in Tulum? Well, why not experience an unforgettable evening at Porfirios Restaurant Tulum! Delight in the exquisite flavors of authentic Mexican food and drinks while you marvel at the lively atmosphere of Latin-inspired music, a live Mariachi band, and vibrant décor. From delicious tacos to savory enchiladas, Porfirio's has something for everyone!
If you are new to Tulum, you are in for a treat! This boho-chic town boasts a stunning beach, lush green nature, and a fun-filled lifestyle. Besides the ancient ruins of Tulum and enchanting cenotes, the nightlife is the best. Anywhere you go in Tulum, you will hear people talking about various music events in nature and iconic gastronomical dinners to go to at night. If you're curious, one of the best ways to get the most out of Tulum's nightlife is by visiting fancy restaurants, and Porfirios is one of them.
What is Porfirio Tulum, and what can you expect?
Firstly, Porfirios is part of Grupo Anderson's, which has a deep passion for offering its patrons delicious culinary and memorable dining experiences. Unlike the other restaurants that Grupo Anderson's owns, Porfirio is a premier Mexican restaurant that offers a unique culinary experience inspired by the roots and traditions of Mexico. Here you can enjoy the wood-fired ovens, juicy local ingredients, and iconic mixology made with love. You may have heard of this restaurant in Cancun or Playa del Carmen, but it differs from Tulum!
Unlike the brothers in Cancun or Playa del Carmen, the restaurant in Tulum offers an immersive jungle and earthy vibe in the atmosphere giving guests an earthy feel to the whole dining experience. The entire escapade, from the interior design to the hip parties, expresses the fiery spirit of Tulum, which makes this restaurant one of a kind!
Without further ado, let us reveal the secrets of Porfirio as we will explore its enchanting atmosphere, lively events, and mouth-watering food. With all combined, it creates a magical experience!
Parties and events in Porfirios Tulum
Porfirio Tulum restaurant is the perfect place to experience a truly unique and unforgettable night out! Not only do they serve delicious food and drinks, but they also host lively shows with remarkable entertainment!
Don't just save your stomach for the food and drinks. Feast your eyes on the immersive dining adventure! Featuring a live Mariachi band, folkloric dancers, and lit-up sparkles, prepare to leave your jaw dropped! The show will be presented on Thursdays to Saturdays at night around 10 pm. So take this juicy info and book a table today!
Tip: But not so fast! Let us introduce Virginia, a great friend who helped us get the most out of Porfirio Tulum. She is a fantastic concierge service provider living in Tulum for 15 years. With her help, you can get the most out of your trip to Tulum and experience the best nightlife activities this city offers. Virginia knows all the best venues and parties, depending on the day or period, so she can guide you to where you should go for a great time. Plus, if your group is larger than 10 people, Virginia will visit restaurants and beach clubs beforehand so that everything is well when booking tables or services. So don't hesitate – to let Virginia make your trip to Tulum extraordinary for FREE!
Get In Touch With Virginia Today
NYE celebration: dedicated to celebrating the new year where they will prepares something special for all the guests! From special dining menus to extraordinary live performances, countdown the last seconds of the new year being immersed in Mexican culture!
Organize your own private events: The staff will help you make your dream event come true! Expect a special night of celebration with live music and lit-up sparkles, and dance the night away! So, if you love the culture of Mexico and elegance, you should definitely celebrate your special day here.
Porfirios Amenities & Services
Below is the list of amenities and services to make your night memorable!
List of amenities:
Free parking space for guests
Indoor dining venue
Terrace
Smoking area
Restrooms
Free Wifi
Various lounge and dining tables
List of services:
Attentive, friendly, and fun staff!
Variety of cocktails and drinks
Live Mariachi band and dancers in the evenings
Open to organizing your private events in the venue.
Kid-friendly menu!
If you compare the prices between the beach and the town area, the latter is more affordable. However, most restaurants in town don't have fun events like at the beach. So, if you consider the immersive jungle-like atmosphere of the restaurant combined with a live mariachi band, tasty Mexican dishes, and fine cocktails, it's worth the price! To plan a budget and get the most out of the experience, check out our booking tips and list prices on the menu below.
Booking tips & Best deals
To guarantee a spot in the restaurant, it is always best to make a reservation beforehand. Not to worry, the process is super simple, easy, and free! On our last visit, we asked Virginia's help to book our international friends and us to dine here. She did a fantastic job organizing our party, and we saw the live Mariachi band! Her assistance makes things stress-free for our friends and us. So, save your troubles and let Virginia handle the stress for you. You can reach her anytime!
Book Your Ticket + Table Here
Sample prices at Porfirios Tulum:
Here is a list of sample prices get a better idea of the place:
Average cost for a food dish: 17 USD // 320 pesos
Average price for Mixology: 12 USD // 230 pesos
Average price for drinks: 4 USD // 80 pesos
Average price for kids menu: 6 USD // 120 pesos
Prices at Porfirios Restaurant
Here is a list of prices for the flavorful dishes they make, which includes appetizers, the finest meat cuts, various tacos, and more!
Shrimp Tacos 4 pieces: 17 USD // 320 pesos
Rib eye with marrow: 39 USD // 750 pesos
Grilled Octopus 8.8 oz.: 31 USD // 580 pesos
Guacamole appetizers: 7 USD // 140 pesos
Chocolate cake: 13 USD // 240 pesos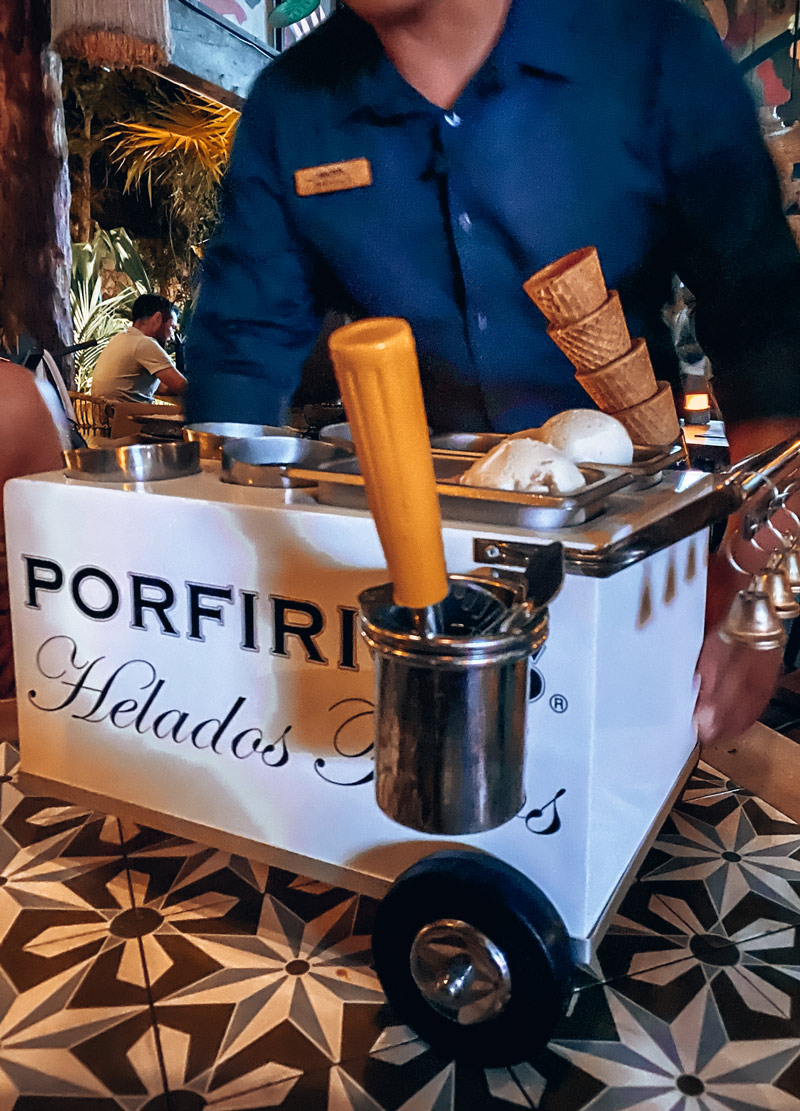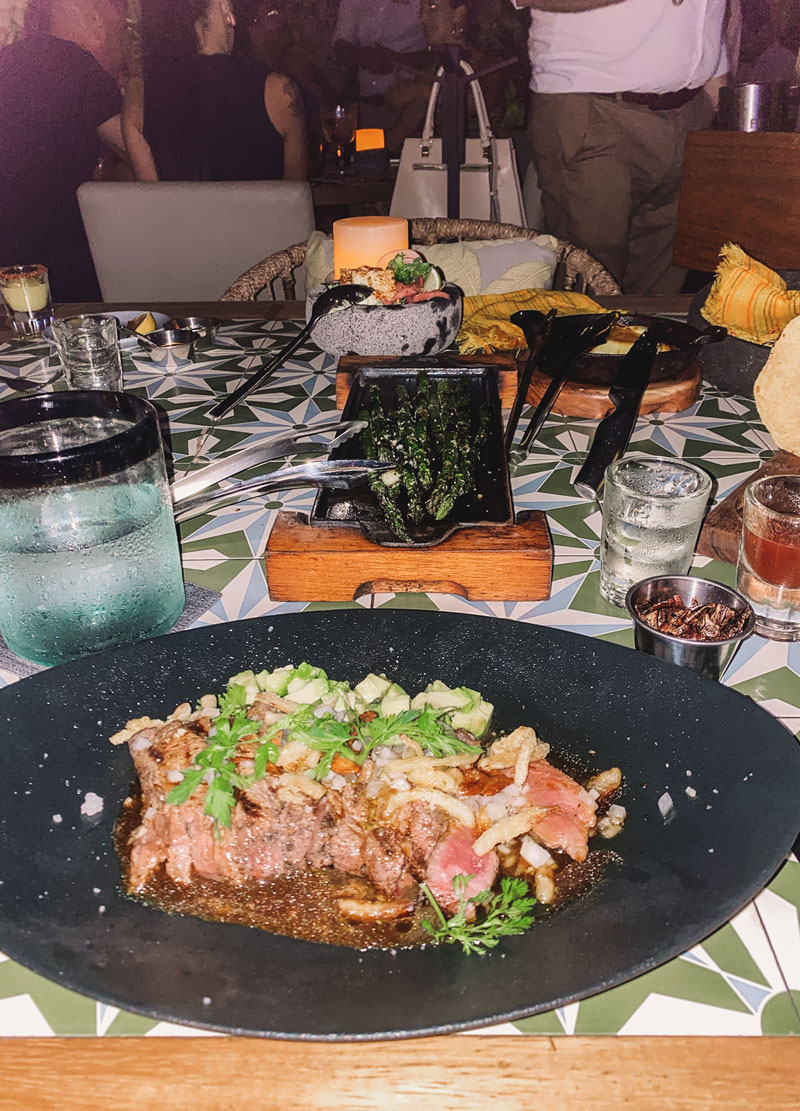 Lastly, check out the prices of the authentic mixology menu of cocktails, mocktails, and other alcoholic drinks for the night!
Mojito: 10 USD // 190 pesos
Chocolate Martini: 14 USD // 260 pesos
Margarita: 7 USD // 130 pesos
Espresso Martini: 15 USD // 290 pesos
Tropical Mango: 10 USD // 190 pesos
Tips: To get the most dining experience here, it is best to ask Virginia to help organize your seating or party! She is amazing at arranging what you want and the availability of the restaurant. Plus, her services are FREE. What are you waiting for? She is always there when you need her!
Book Your Table Here
If you have concerns about the venue, check out our reviews and read what other patrons say about this great restaurant!
Although you can experience Mexican dining anywhere in Tulum, nothing screams more luxurious and glamorous other than Porfirio Tulum. Starting from the lively atmosphere of Latin-American-inspired music, chic interior design, and a proper Mariachi band, it all unifies that it radiates elegance above anything else!
Also, besides the artisan food and drinks, the little things count. Here we are talking about the amazing staff service, and their character lights up our night! Homero and Pamela are super fun to be around! They really know the restaurant like the back of their hand, and their top-notch service speaks volumes.
What people say about Porfirios Tulum
Generally, people are enchanted by the experience and fall in love with the restaurant! Especially the food, music, and staff, are the best things ever. Because of them, they are the hearts of Porfirios, and they make the place come to life!
Even Forbes reviewed and has a say about the venue – " The tortilla soup at this place is not to be missed."
Rating on Facebook: ⭐⭐⭐⭐ 4 on average, with 1,311 reviews at March 2023
Rating on TripAdvisor: ⭐⭐⭐⭐⭐ 5 on average, with 85 reviews at March 2023
Rating on Google: ⭐⭐⭐⭐⭐ 4.7 on average, with 55 reviews at March 2023
Rating on OpenTable: ⭐⭐⭐⭐⭐ 4.8 on average, with 5 reviews at March 2023
Book Your Table Here
Where is Porfirios located in Tulum?
Porfirio Tulum is located along the Zona Hotelera but on the jungle side of the area instead of on the beach.
Porfirios is located in the Hotel Zone Neighborhood
Carr. Tulum-Boca Paila Km. 8, Tulum Beach, Zona Hotelera, 77780 Tulum, Q.R.
Since the venue is located at the Zona Hotelera, you can get there with any vehicle, such as cars, ATVs, bicycles, motorcycles, etc. To add to your convenience, unlike many other beach clubs in Tulum, their restaurant has its own private parking space reserved only for guests! It is super helpful for the high seasons from October to March. However, if you do not have a personal vehicle, taking a taxi or walking if you live close by is a great alternative. Just remember that taxis are relatively expensive in these areas, especially during the high season. Be wise!
Which hotels are close to Porfirios?
If you are planning to visit Tulum and stay at any of the hotels listed below, that means you are just walking distance from this fantastic restaurant. How lucky!
FAQ about Porfirios Tulum
What is the minimum age to get into Porfirios Tulum?
There is no minimum age rule in Porfirio Tulum. Children are more than welcome to visit the restaurant, and the kid's menu awaits!
Are large groups accepted at Porfirios Tulum?
Large groups are more than welcome at Porfirio Tulum. There are various tables that can accommodate up to 6 people per table. It is also possible to mix the tables to accommodate larger groups. That is why reserving a table is important.
Are kids allowed in Porfirios Tulum?
Yes, kids are allowed in Porfirio Tulum. They are welcome to sit with the adults and enjoy their very own kids' meal menu.
Is it possible to make a reservation at Porfirios?
Yes, it is possible to make a reservation at Porfirios. But why bother going through the back-and-forth emailing? Where you can instead contact Virginia, who knows the best tables and who is always one call away. Plus, her concierge service is free!
At what time does Porfirios close?
From Monday to Sunday, Porfirios Tulum closes at 12pm.
At what time does Porfirios Tulum open?
Porfirios Tulum is open from Monday to Sunday at 5pm.
Does Porfirios Tulum have a Pool ?
Porfirios Tulum does not have a pool in the venue. But they do have a terrace to enjoy the outdoors.
What kind of music is played at Porfirios Tulum?
The kind of music that is played at Porfirios Tulum is Latin-American music. There is also some other time when it is played by a live DJ.
Is Porfirios Tulum a good place to party?
Porfirios Tulum is generally not the best place to party like a rave or a music event. The venue is ideal for dining while being entertained by the night shows.
Are tips included in the service price at Porfirios Tulum?
No, gratuity or tips are not included in the service at Porfirio Tulum. Furthermore, it is optional and not mandatory.
Does Porfirios Tulum accept Cash?
Yes, Porfirios Tulum accepts cash in pesos.
Does Porfirios accept credit cards?
Generally, Porfirios Tulum accepts credit cards. But also bring cash in pesos just in case the card machine doesn't work.
When is the best time to go to Porfirios Tulum?
The best time to go to Porfirios is early at night. Arrive around 6 or 7 to dine first before watching the live performances.
What is the dress code at Porfirios Tulum?
There is no strict dress code at Porfirios Tulum. It is generally recommended to wear something comfortable and appropriate.
Is it possible to organize a wedding at Porfirios Tulum?
No, it is not possible to organize a wedding at Porfirios Tulum. But if you want to plan an after-wedding celebration of just dining, they will be happy to help!
Who owns Porfirios Tulum?
Porfirios Tulum is owned by Grupo Anderson's that also owns other restaurant chains in Tulum, Cancun, Playa del Carmen, and across Mexico.
Top Events to Make Your Trip Unforgettable
EDU IMBERNON @MIA TULUM
Line Up: EDU IMBERNON, MIKE GANU & SAM SPARACIO
JUN 8TH, 7 pm to 1 am
Don't miss out on an unforgettable night of electronic music at Mia Tulum! We are thrilled to bring you the sensational talents of Edu Imbernon, a true force in the industry. Get ready to be swept away by his melodic, emotive, and energetic sounds that will keep you dancing all night long.
Join us at The Club, situated at the beautiful Mia Tulum beach, for an electrifying atmosphere that will bring together electronic music enthusiasts from all walks of life. From emerging talents to renowned international DJs, this is your chance to immerse yourself in a night of pure musical bliss. Secure your spot and get ready to vibe, dance, and create unforgettable memories at Mia Tulum!
👾👉🏼 GENERAL ACCESS
🎟️ TICKETS
● Early Bird - The entrance fee of $575 MXN ($35 USD) Includes one welcome drink.
Limited availability
● Tier 1 - The entrance fee of $805 MXN ($49 USD) Includes one welcome drink.
Limited availability
● Final Tier - The entrance fee of $1,380 MXN ($84USD) Includes one welcome drink.
Limited availability
Ready to join us? Get your tickets now! Early bird and Tier 1 tickets are already sold out. Only final tier tickets at $85 USD are still left (only 15 tickets available).
Hurry – spots are filling up fast! 🙀 We can't wait to see you there!
Top Parties and Club Events
7th June - SAGRADO TULUM @VAGALUME
8th June - EDU IMBERNON @MIA TULUM
9th June - HARVY VALENCIA @BONBINNIERE TULUM
10th June - MOONGAZE @Papaya Playa Project
10th June - BASTIAN BUX @BONBONNIERE TULUM
11th June - SONA BEACH PARTY @MIA TULUM
11th June - VAGALUME SUNDAZE JAALEX @VAGALUME
16th June - SOUNDS OF RITUALS @BONBONNIERE TULUM
17th June - SOEL [AFTERLIFE] @MIA TULUM
17th June - STARVAULT @Papaya Playa Project
24th June - ASTROBEAT @Papaya Playa Project
24th June - DEMUIR @BONBONNIERE TULUM
25th June - VAGALUME SUNDAZE OSCAR L @VAGALUME
25th June - ANCESTRAL SOUL @BONBONNIERE TULUM
1st July - THE FULL MOON @Papaya Playa Project
8th July - ASTROBEAT @Papaya Playa Project
15th July - MOONGAZE @Papaya Playa Project
22nd July - STARVAULT @Papaya Playa Project
29th July - THE FULL MOON @Papaya Playa Project
18th August - MECA @BONBONNIERE TULUM
25th August - GUYJ @BONBONNIERE TULUM
13th March - LOCUS Tulum 2024