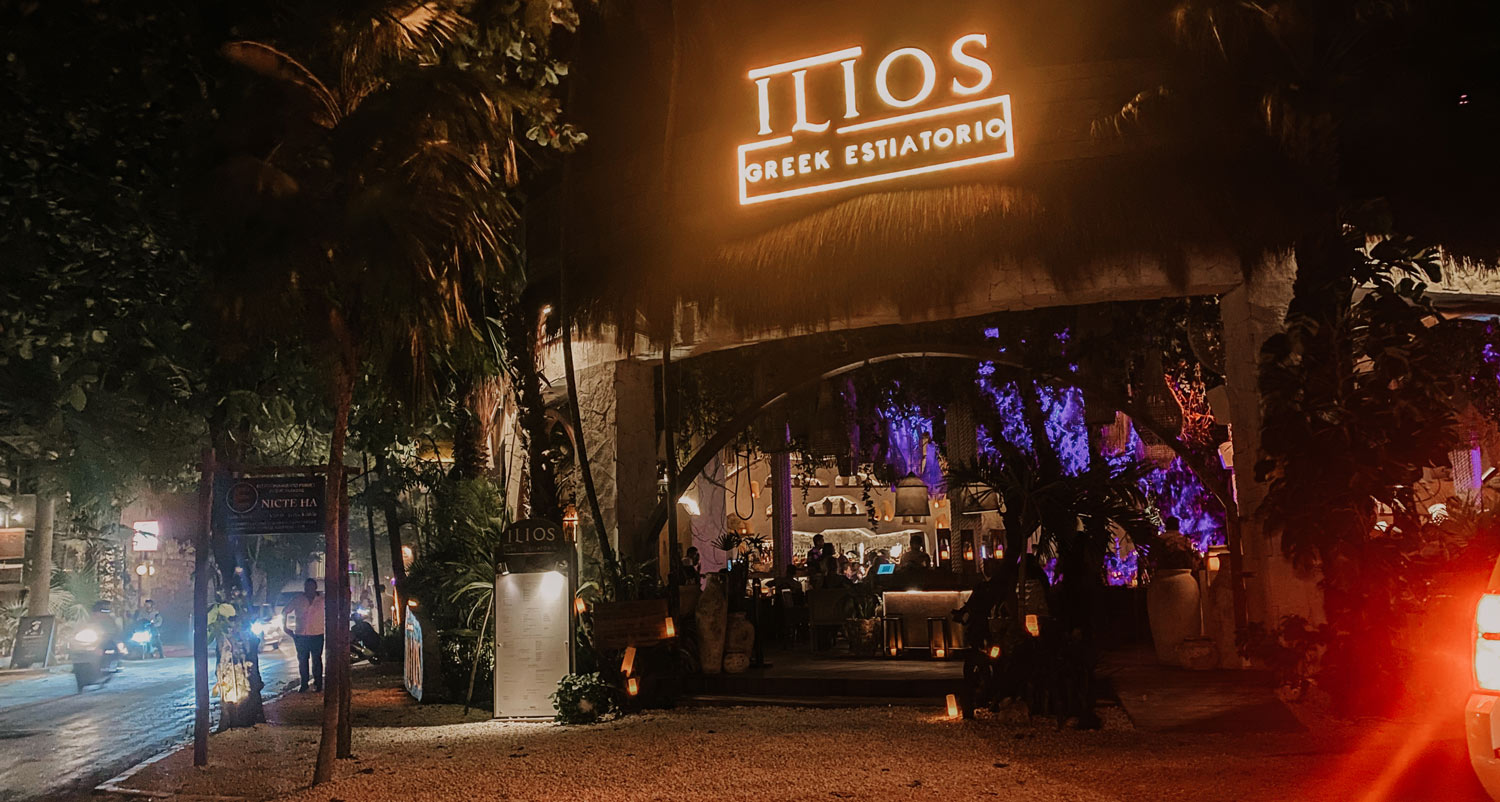 Ilios Tulum Ultimate Guide: Where Greek Cuisine Meets the Caribbean
Are you looking for an authentic Greek experience in Tulum? Look no further! The Ilios Estiatorio has everything you need – from the best Greek food and drinks to night entertainment of smashing plates and dancing!
Nestled amidst the lush Mayan nature of Tulum, this chic city is one of Mexico's most stunning beach destinations, boasting pristine white sands and crystal-clear waters perfect for sunbathing or swimming. Tulum is also home to beautiful Mayan ruins, great cenotes for snorkeling, and thrilling nightlife. In this article, one of the best ways to enjoy Tulum's nightlife is to experience Ilios Estiatorio. They will take you on an incredible journey through this idyllic paradise while combining it with the warmth of Mediterranean cuisine and culture!
So, let's explore the venue because you are in for a unique and memorable experience!
What is Ilios Tulum, and what can you expect?
The Ilios restaurant is an authentic Greek experience in the heart of beautiful Tulum, Mexico. Just like the other Ilios in Cancun and Playa del Carmen, you can expect to enjoy the best food and drinks from traditional Greek gastronomy with a modern twist. But that is not all, prepare to witness your night enchanted by the various live entertainment from DJs playing music, fire shows and dancers, and celebrating Greek traditions like smashing plates!
If you have been to Ilios in Cancun, where the restaurant is situated on the seafront, taking full advantage of the gorgeous ocean and sea breeze. In that case, you should check out the one in Tulum. In contrast to the seafront view in Cancun, the one in Tulum provides a more intimate ambience with its eco-integrating architecture that respects the beautiful green nature. Open from 5pm till midnight, this setting enchants guests to experience fantastic Mediterranean cuisine and a vibrant night in the lush Mayan nature and enjoy the hip nightlife of Tulum!
Now, let's dive into the exciting performances in Tulum to give you a better idea of the fun that awaits!
Parties and events in Ilios Tulum
At Ilios Tulum, guests can enjoy amazing parties with a unique Greek atmosphere every night! Come and celebrate different aspects of traditional Greek culture, where you are always entertained by live DJs playing music and fire shows from expert performers and dancers who perform to the beat of traditional folk music. Smashing plates (1 dollar each) has also become popular in Ilios Tulum. This tradition is done to show appreciation for the hospitality shown at each party.
No matter which night you choose to visit Ilios Tulum for an unforgettable experience, you will surely be immersed in an oasis of Mediterranean cuisine with good taste and excellent hospitality! So, what are you waiting for? Come join the festivity, and let's cheer – Opa!
Tips: There's more! Get ready to meet Virginia, our amazing ally who'll take your Ilios Tulum experience to a whole new level. This fantastic concierge whiz has been living the Tulum dream for 15 years and knows exactly how to spice up your trip. With her insider knowledge, you'll be partying at Tulum's best-hidden gems and hottest venues in no time!
Got a big group of 10 or more? No worries! Virginia has your back – she'll personally ensure that restaurants are prepared and perfect for your unforgettable group outing. So, why wait? Let Virginia wave her magic wand and make your Tulum adventure legendary – all for FREE!
Get In Touch With Virginia
NYE Celebration:

The start of the new year is a time for celebration. What better way to welcome the new year than with an unforgettable dining experience at Ilios? For the event, they will offer an exclusive menu featuring signature dishes as well as night entertainment including smashing plates and dancing. Start your evening with starters like tabbouleh with pomegranate, Greek salad, and beef carpaccio. For the main course, you can choose from mushroom and truffle spaghetti, orzo and lobster, or a spectacular lamb rack. End off your meal with a delicious sokolatina or Olympus cheesecake! Welcome the new year in style – book now for an authentic Greek getaway!
Ilios Amenities & Services
With gastronomical cuisines, live shows, and activities, it is all thanks to their amenities and service. Find out the complete list of Ilios amenities and services below!
List of amenities:
DJ booth
Bathrooms for men, women, and family
various dining tables for up to 10 people
Raw bar
Bar
List of services:
Valet Parking
Live Dj
Free WIFI
Unique Greek experiences each visit
Fire show
Ilios is a relatively inexpensive restaurant compared to other restaurants in the hotel zone of Tulum. Prices are more or less the same, but something special about Ilios makes it worth every penny – their spectacular live performances! Every night at Ilios, you can enjoy not only fantastic Mediterranean cuisine but also enjoy live shows and a vibrant atmosphere. So why wait? Let Virginia wave her magic wand and make your Tulum adventure unforgettable. Contact her on WhatsApp today!
Booking Tips & Best deals
Looking for a stress-free dining experience that guarantees you a spot at the restaurant? Say no more! Making a reservation is the easiest and simplest way to secure your spot. And the best part? It's completely free! You won't have to worry about a thing if you let our star employee Virginia handle the job.
Not only is she fantastic at what she does, but she will also turn your dining experience into a night to remember. Need proof? She always organized our parties and took care of everything, from booking our table to getting the best view during the live shows. So, why stress when you can sit back, relax, and let Virginia make your night memorable? Give her a call, and you won't regret it!
Book Your Ticket + Table Here
Sample prices at Ilios Tulum:
Here is the list of sample prices at the Ilios to have a better idea of their menu:
Average price for main dishes: 27 USD / 500 pesos
Average price for mixology drinks: 15 USD / 280 pesos
Average price for desserts: 15 USD / 280 pesos
Tips: You can contact Virginia anytime for special deals and get the most demanded seats first!
Prices at Ilios Restaurant
From authentic Greek appetizers to desserts, delight in the mouthwatering taste of their pasta, seafood, grilled meats, and delicate dishes from the raw bar!
Meraki Spaghetti: 21 USD / 390 pesos
Salmon Carpaccio 5 oz: 20 USD / 380 pesos
Spanakopita 3 pcs: 15 USD / 280 pesos
Topiko Quelites: 8 USD / 150 pesos
Lamb rack 10 oz: 51 USD / 950 pesos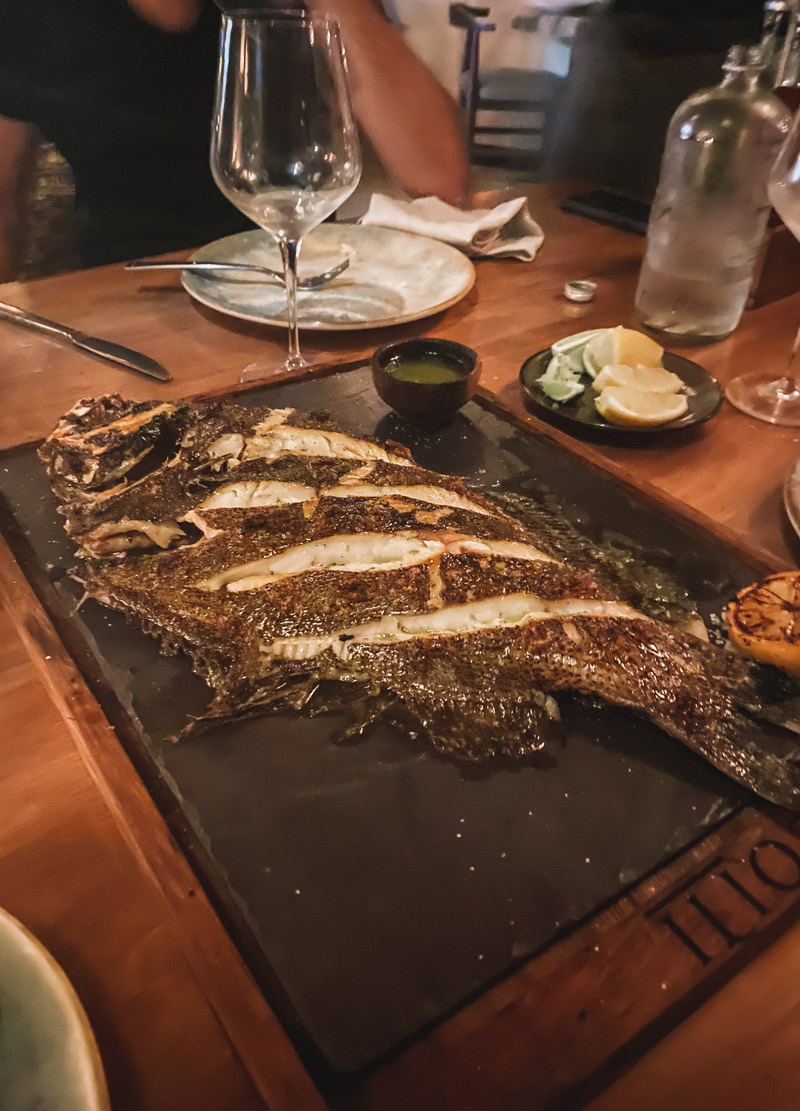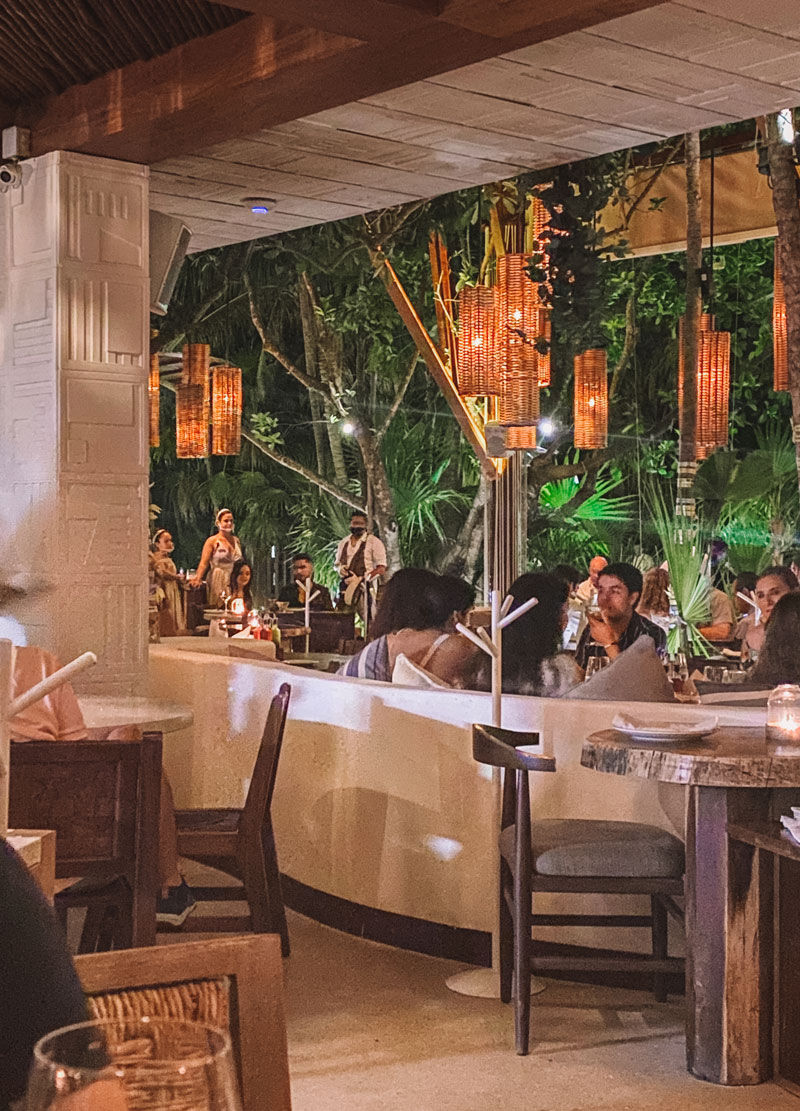 Try out some of the finest selection of mixology, cocktails, and mocktails at the chic bar:
Margarita: 13 USD / 240 pesos
Negroni: 12 USD / 230 pesos
Baileys beer: 9 USD / 170 pesos
Ophiuchus Mezcal: 15 USD / 280 pesos
Hades Mocktails: 5 USD / 85 pesos
Tips: Virginia's concierge service is the perfect way to ensure you get the most out of your visit at these venues by providing free assistance and helping you book tables, tickets, and special events in advance. Super easy and stress-free – get in touch with her today
Book Your Table Here
Still trying to decide whether to go? Well, check out the review from us and read what other patrons say about the authentic Greek restaurant!
We recently visited Ilios Tulum again and had an incredible experience! From the moment we stepped into the restaurant, we were greeted by Alfredo, Cesar, and Diego – three of the most attentive staff members. They were all so friendly and welcoming, putting us in a good mood for dinner. The food was delicious too; everything tasted amazing, from appetizers to main dishes to desserts. But what truly made our night special was their live shows with DJs, fire shows, and dancers! It added such a vibrant ambience that will stay in my memory forever. Highly recommend visiting Ilios Tulum if you're looking for an exciting dining experience!
What people say about Ilios Tulum
People who have visited Ilios Tulum have nothing but good things to say about it. Their reviews are overwhelmingly positive, with many guests praising the food, live shows, and unique Greek experiences like smashing plates. Their impressive hospitality has also earned them recognition from major publications such as Forbes Food and Travel, Food & Wine Magazine, and more. Whether you're looking for a romantic dinner or an entertaining night out with friends, Ilios Tulum will surely deliver an unforgettable experience!
Rating on Google: ⭐⭐⭐⭐ 4.4 on average, with 527 reviews at March 2023

Rating on OpenTable: ⭐⭐⭐⭐ 4.5 on average, with 359 reviews at March 2023

Rating on TripAdvisor: ⭐⭐⭐⭐ ⭐ 5 on average, with 69 reviews at March 2023

Rating on Facebook: ⭐⭐⭐⭐⭐ 4.6 on average, with 43 reviews at March 2023
Book Your Table Here
Where is Ilios located in Tulum?
The restaurant is located in the Hotel zone and on the jungle side across the beach. Plus, it takes about 20 minutes to get there from the centro. Come and learn more about their location below!
Ilios is located in the Tulum Hotel Zone Neighborhood
Carretera Federal Tulum to Boca Paila Km. 8, Hotel Zone, 77780, Tulum, Quintana Roo
Going to Ilios Tulum is accessible by any vehicle, such as cars, motorcycles, bicycles, and ATVs. However, the area where the venue is located often has traffic in the afternoons and nights, especially during the high seasons from September to february.
Unfortunately, Ilios does not have a private parking space but offers valet parking for a fee. There are plenty of public parking spaces nearby that you can look up on google maps, and there's also one 3 minutes away from the restaurant. The prices are about 50 – 100 pesos per hour or 400 for the whole day. On the other hand, you can also take a taxi but the prices will be higher compared to the fees in the city.
Which hotels are close to Ilios?
Here is a short list of the hotels located close to Ilios. Consider staying at these hotels if you like to walk across the hotel zone and explore the magical nightlife of Tulum!
FAQ about Ilios Tulum
At what time does Ilios close?
Ilios Tulum closes at 2:00 am every day.
At what time does Ilios open?
Ilios Tulum opens at 5:00 pm every day.
Are kids allowed in Ilios?
Yes, Kids under the age of 18 are allowed in Ilios.
Are large groups accepted at Ilios?
Large groups are accepted at Ilios. Many tables can seat 10 adults.
What is the minimum age to get into Ilios?
There is no minimum age restriction in Ilios, and the restaurant is family-friendly.
Does Ilios accept credit cards?
Yes, Ilios accepts credit and debit cards, such as Visa, master card, and AMEX.
Does Ilios have a Pool?
Unfortunately, Ilios does not have a swimming pool.
What kind of music is played at Ilios?
The live Dj at Ilios plays various genres of music, from pop, old songs from the 70-80s, upbeat tribal, and more!
Is Ilios a good place to party?
Definitely, Ilios is a great place to party. It may not seem like a nightclub, but the lively ambience is perfect for a night of celebration!
Is it possible to make a reservation at Ilios?
Yes, it is possible to make a reservation at Ilios. But to make the bookings easier and stress-free, we recommend contacting Virginia. She will organize everything, from getting the best seats to watching the live shows you want to see. Contact her on WhatsApp today!
When is the best time to go to Ilios?
Anytime is best to go to Ilios. You should arrive early to eat first before the show starts.
What is the dress code at Ilios?
There is no strict dress code to eat at Ilios, but we suggest you wear smart casual outfits.
Is it possible to organize a wedding at Ilios?
No, it is not possible to organize a wedding at Ilios. Still, it is possible to host a wedding celebration to eat!
Who owns Ilios Tulum?
Ilios is owned by Grupo Anderson's, who also owns Porfirios and BAK restaurant in Tulum.
Are tips included in the service price at Ilios?
The tip is not included in the service at Ilios, and it is not mandatory. But the minimum percentage to tip is 15%.
Does Ilios accept cash?
Yes, Ilios also accepts cash in Mexican pesos.
Great, let's feature the "MYSTICAL SUNSET /OLIVER HUNTEMANN" event at Mia Restaurant & Beach Club in Tulum on Wednesday, 29 November 2023. Here's the HTML snippet for your event: ```html
👉 WEDNESDAY, Nov 29
MYSTICAL SUNSET /OLIVER HUNTEMANN 🌅
📍
Mia Restaurant & Beach Club, Tulum
💵
Tier 1 Tickets: Mex$ 660 (incl. fees), Final Tier: Mex$ 880 (incl. fees)
📩
Contact Virginia
here
to book a table
Join us for an unforgettable evening at Mystical Sunset with Oliver Huntemann. Contact Virginia here to book your table and be part of this magical night on the beach! 🎶🔥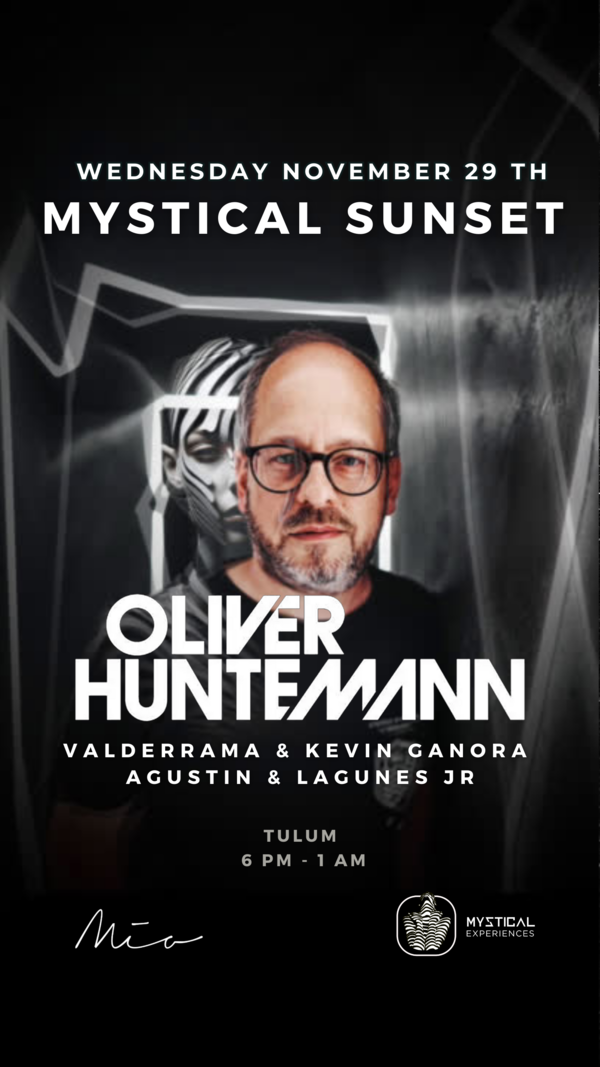 Top Parties and Club Events
23rd November - VAGALUME SESSIONS KEENE @VAGALUME
26th November - VAGALUME SUNDAZE MITA GAMI @VAGALUME
30th November - VAGALUME SESSIONS VALDOVINOS @VAGALUME
3rd December - VAGALUME SUNDAZE VALENTIN HUEDO @VAGALUME
7th December - VAGALUME SESSIONS MUSTAFA ISMAEEL @VAGALUME
30th December - PIKNIK POLO CORP & LEO LEONSKI @VAGALUME
31st December - NEW YEAR´S EVE @BAGATELLE TULUM
31st December - NYE PARTY 2024 @VAGALUME
13th March - LOCUS Tulum 2024