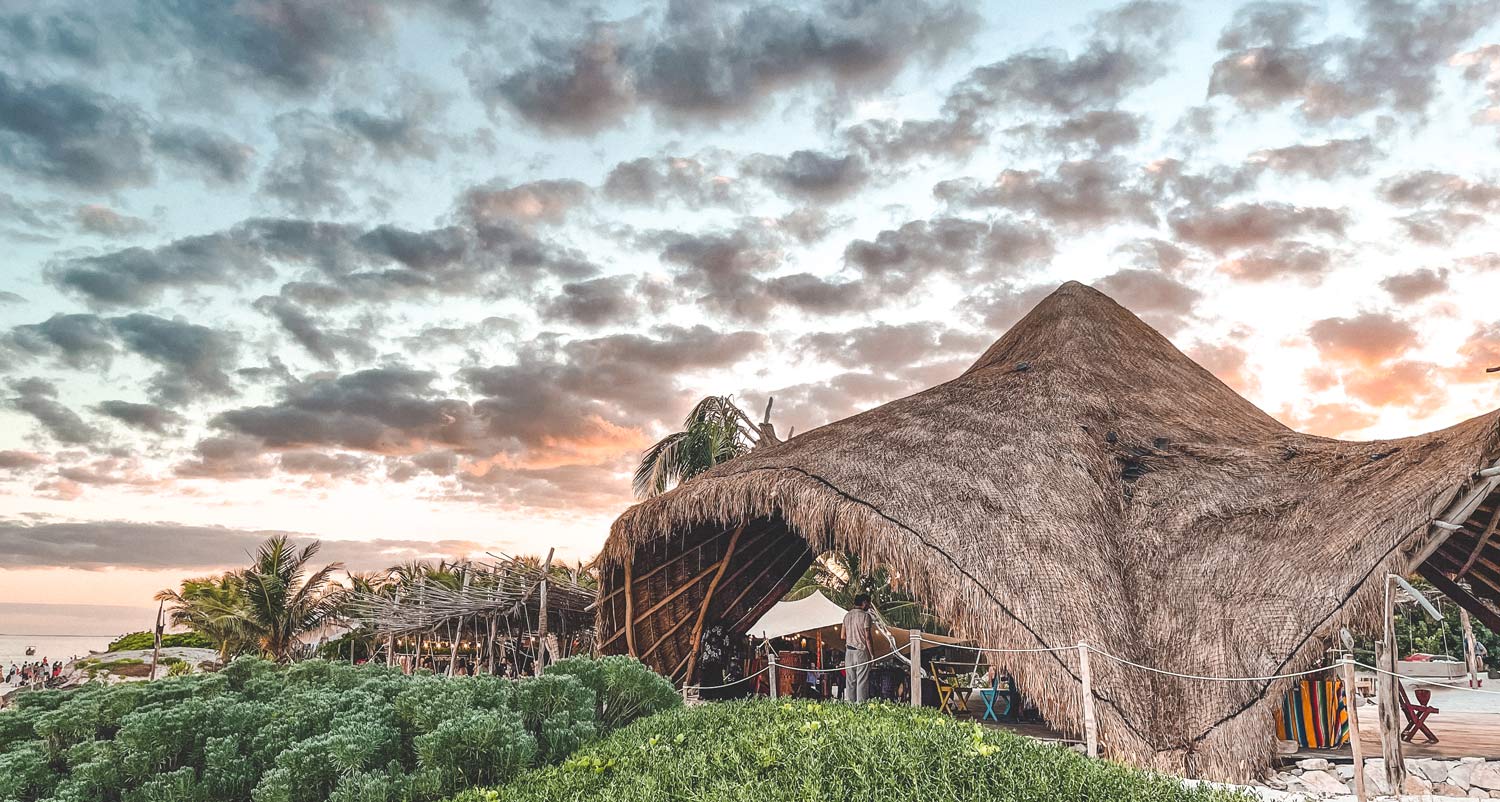 Best Boutique Hotels And Villas In Tulum
We all need a getaway in our lives sometimes, a break from our problems and responsibilities, just for a moment of peace.  
The fact that you are here, looking for the best boutique hotels to stay in, tells me a lot about you. I know what you want, a private space where the only thing to focus on is to unwind while having all your basic needs fulfilled in one spot. A beautiful location at good prices, a place where to read in peace and a curated property.
Tulum is no stranger to the idea of mindfulness, and it can provide you exactly what your spirit needs. As you probably red on Expedia good reviews, staying at luxurious boutique hotels is one of the best ways to get that escape you dreamed of. In this article, you may find that one perfect place that can make you go "ahhh… just what I needed" kinda feeling. So take a peek at our top picks now!
*Still have to book the best villa in Tulum?* – we really want to share with you how our friend Virginia made our stay in Tulum unforgettable. She made us stay in incredible locations throughout the town and we can't recommend her enough. Take advantage of her free service below!
STAY AT THE BEST BOUTIQUE HOTELS: ALL YOUR NEEDS IN ONE PLACE
Boutique hotels can provide you the experience you need – a private room nested in the magnificent nature of Tulum, a private swimming pool that is inches away from your bed, a restaurant that serves you healthy nourishment from dusk till dawn and many more. Sure it is more expensive, but letting go of all of the stress will make the price you are paying for the night worth it, don't you think so?
Here, our map displays the best suites of the boutique hotels across Tulum where the wellness of their guests is at the first place, either located along Tulum Hotel Zone or near Tulum Centro. Also, with hotels that offers similar amenities, like spa, pools, yoga retreats and outdoor environments, it can be confusing to find the perfect one. So here we categorize and bring out the unique factor of the hotel!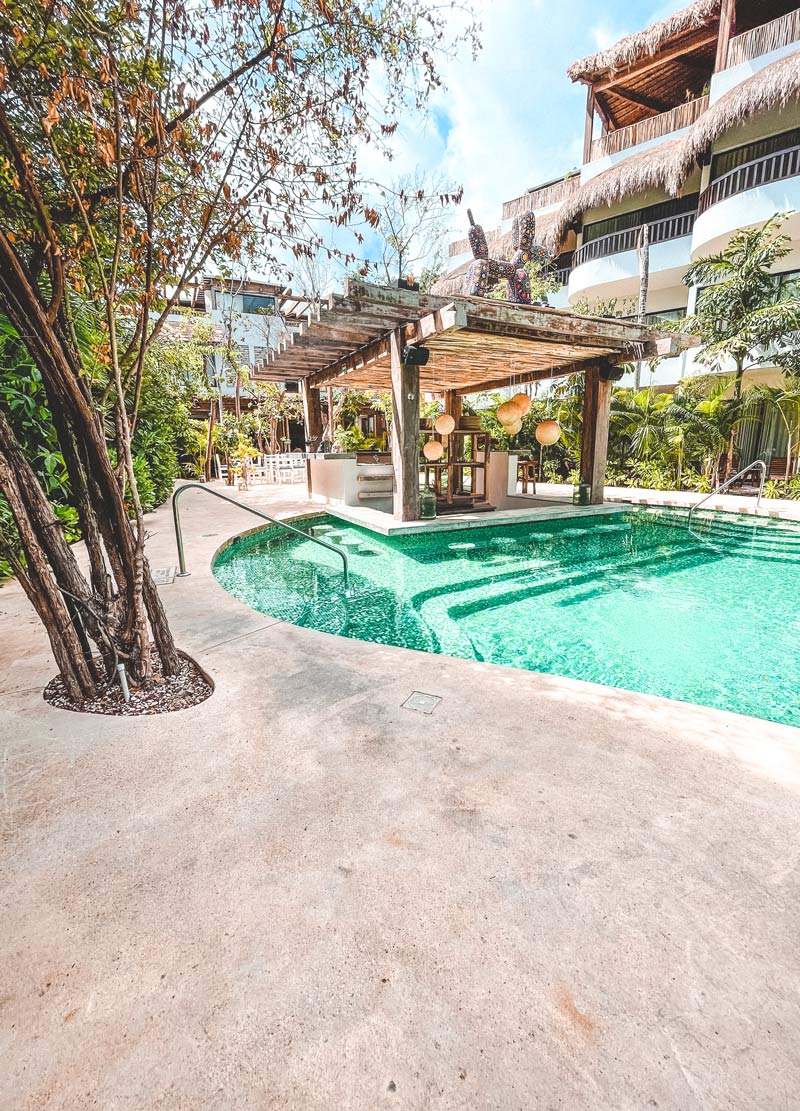 "Imagine Having This View Every Morning"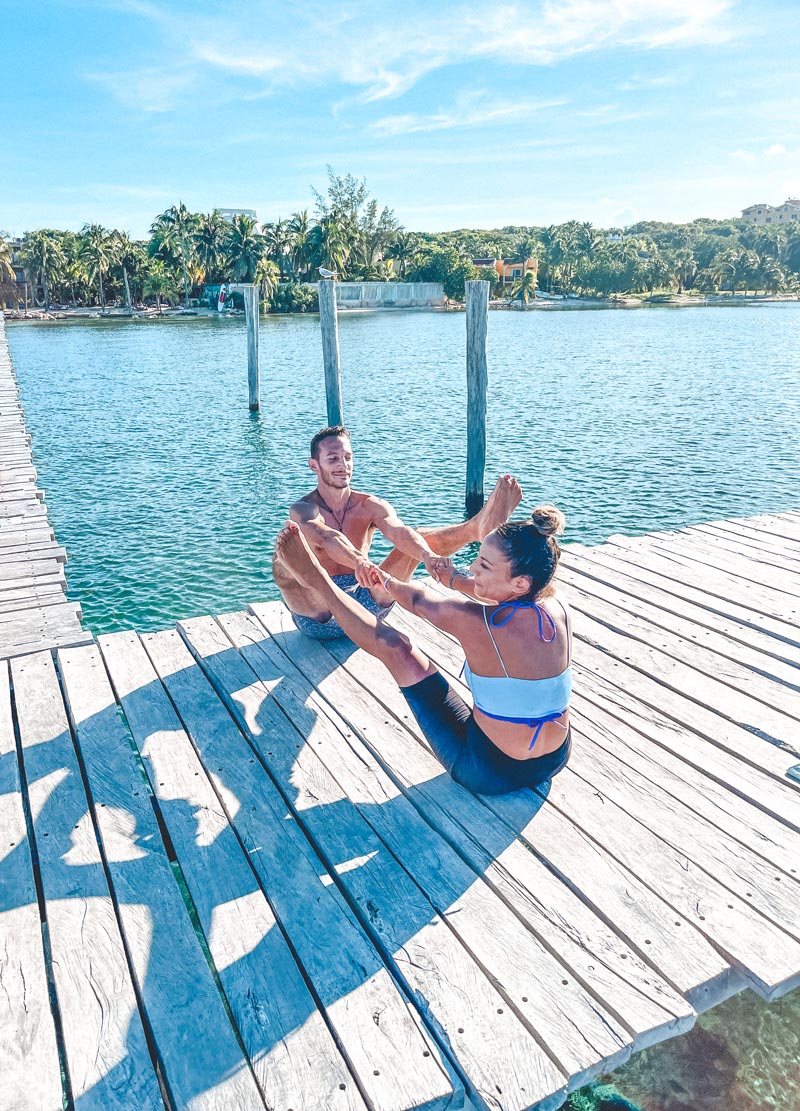 "Yoga Class To Wake Up Your Body"
BEST BOUTIQUE HOTELS BY TULUM BEACH: OVERLOOKING THE CARIBBEAN SEA
Many of these boutique hotels are located all over the coast of Riviera Maya, Mexico, offering their guests beautiful views and outdoor. It is a perfect area to catch the early sunrise over the Caribbean sea, bathe in the fresh ocean breeze and dine at a beachfront restaurant for the delicate seafood. Enjoy your stay in their private rooms that come with a private swimming pool, oceanfront rooms, unique interiors, free wifi and many more.
Habitas Tulum is a luxury boutique hotel that touches both land and sea, only for adults. They prioritize your comfort and experience above all else, so you can peacefully immerse yourself in nature far from the chaos of Tulum town. Stay over at their "cabanas" style rooms with a clear view of the beach, the jungle and somewhere in between. Their accommodations are excellent if you look for adventure and mindfulness, as they offer healing rituals, live music, lagoon adventures at Bacalar and many more. Definitely check availability for the night, and price, and visit their website to learn more!
Other noteworthy amenities: Wellness activities, exciting activities and a clear ocean view from the swimming pool.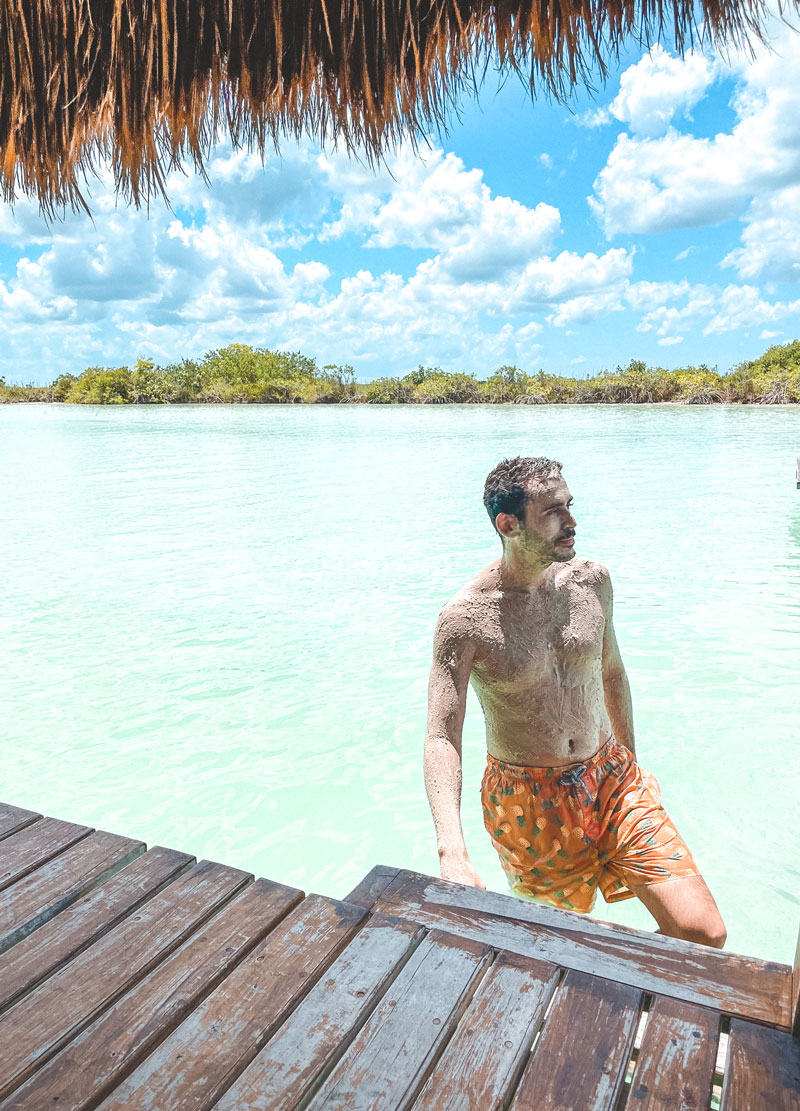 "Bacalar Lagoon"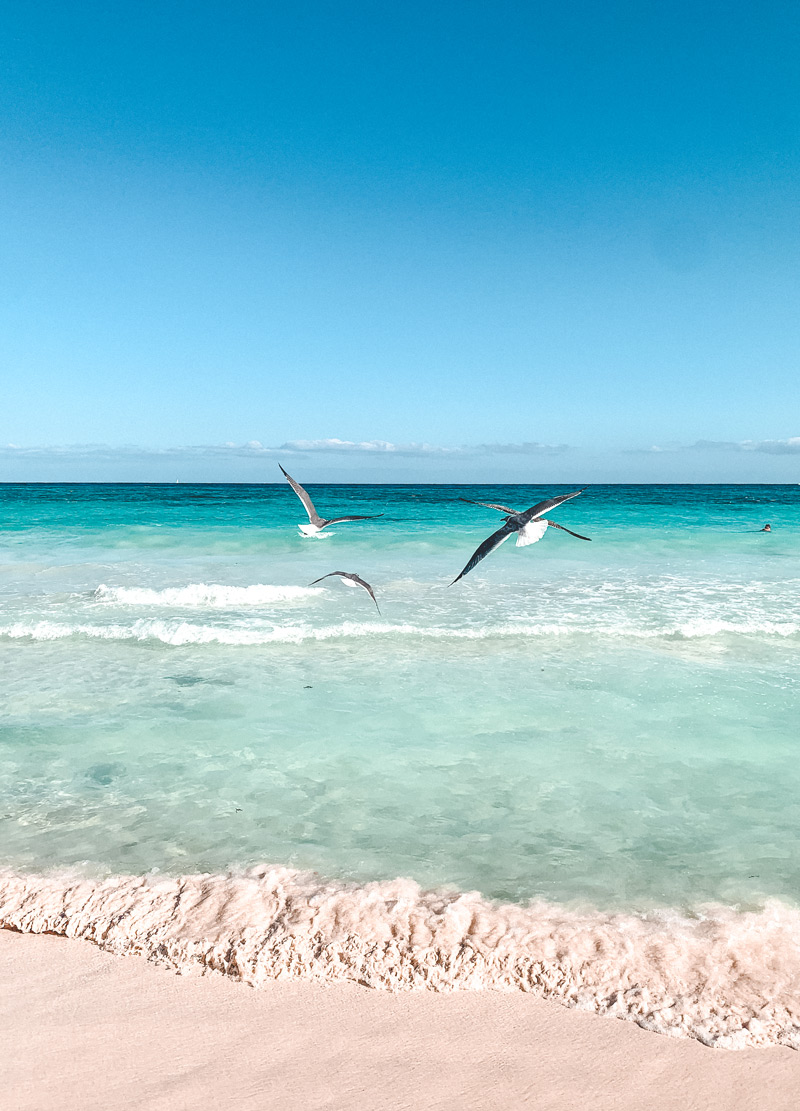 "The Caribbean Ocean In Tulum"
Another top-of-the-line boutique hotel, The Beach Tulum Hotel provides you with comfortable beachfront rooms to gaze upon the Caribbean ocean. Where you may select to set foot at the sandy beach directly as you slide open the doors, or rather an aerial view of the beach from the rooftop rooms. They also own Ziggy's Restaurant (one of the best restaurants in Tulum), located not far from your doorstep. Spend the day chugging savory seafood, drink their finest cocktails and celebrate a private candlelit dinner by the sand. Check the hotel website and start booking your stay today!
Other noteworthy amenities: Free high-speed wifi and parking, wellness activities and hotel activities.
BEST BOUTIQUE HOTELS FOR THE BODY AND SPIRIT: NEAR TULUM CENTRO
Well, Tulum is no stranger to wellness activities. It is home to traditional ceremonies from different cultures and other mindful activities that build a healthy lifestyle. Here we list the hotels where you can find the best wellness activities.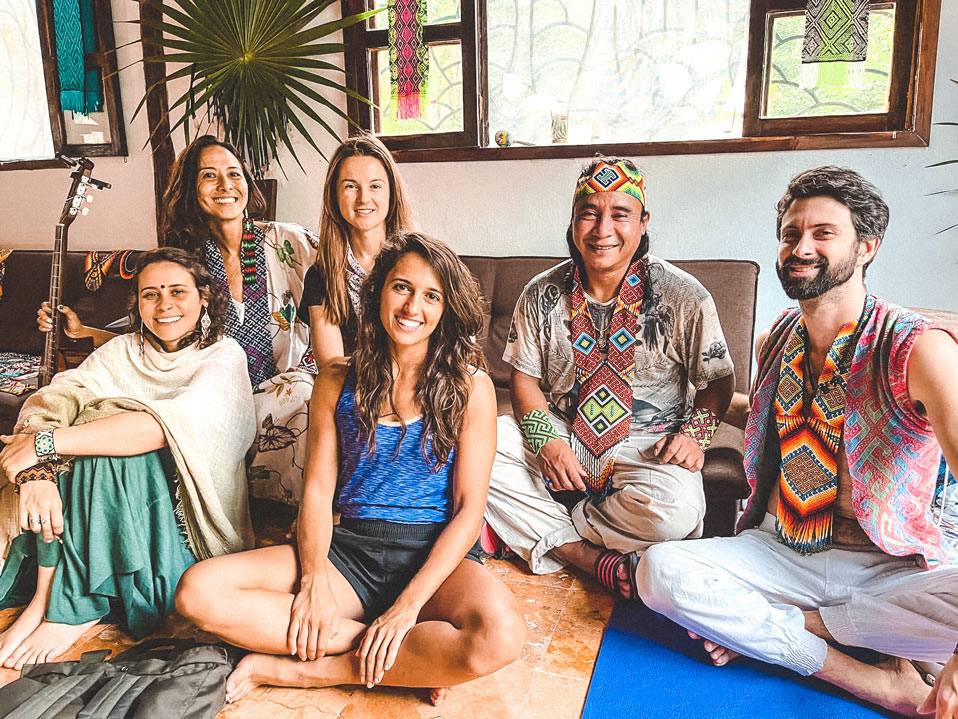 "A Spiritual Retreat In Tulum"
Holistika is the center of wellness, acknowledged by tourists, unlike other boutique hotels in Tulum. This luxury jungle getaway is home to tropically decorated rooms and a restaurant that serves a variety of wellness activities such as yoga, meditation, temazcal, sound healing and many more. You name it, they have it! Don't forget to also heal the body as The Tierra restaurant serves vegan and refreshing nourishment, perfect after a healing journey of the spirit. Definitely check their website for wellness activities and prices.
Other noteworthy amenities: Free wifi, wellness retreats, special facilities for healing.
Located near Tulum Centro, but away from the crowd and business. Hotel Bardo aims to invite you to a peaceful experience in a luxury environment. Where they offer adult-only villas, equipped with a private swimming pool, a jungle garden and an exterior shower. During your stay and healing journey, you can enjoy an early morning yoga class, a temazcal ceremony and sound healing. While their restaurant and bar will serve you a variety of delicacies that can be enjoyed from the comfort of your private room or by the swimming pool.
Other noteworthy amenities: Pet-friendly, special facilities for health and personal service.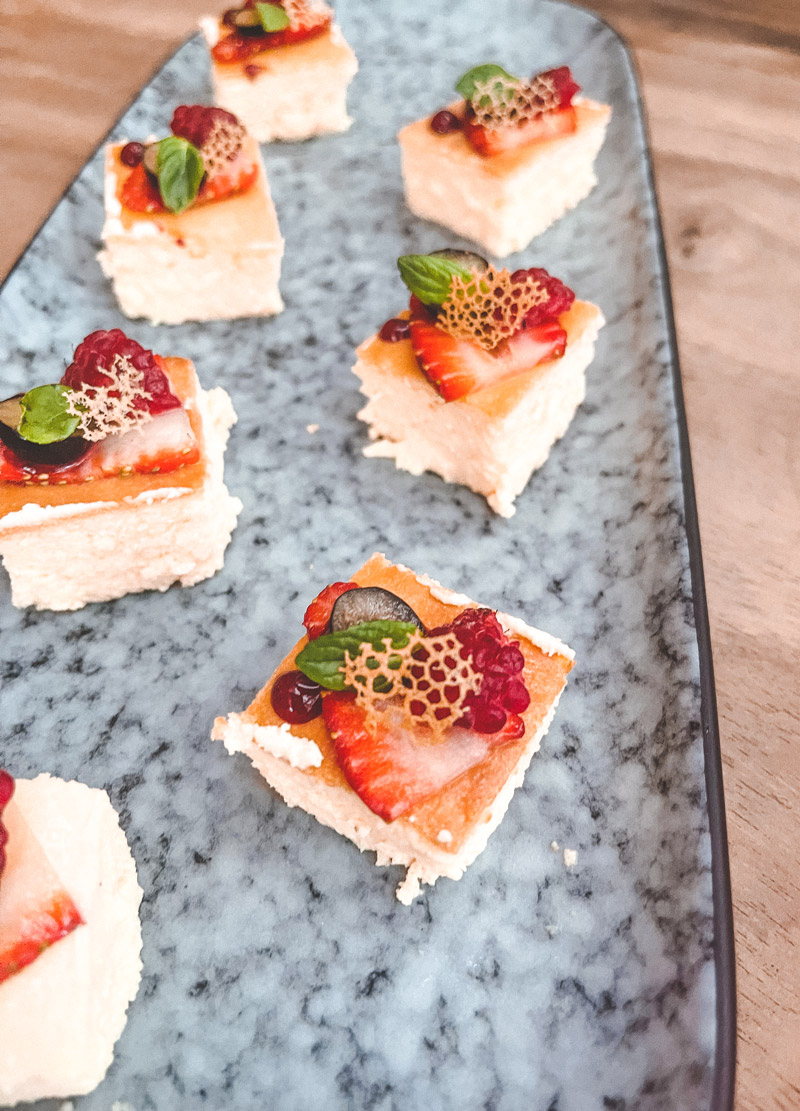 "Delicious Finger Food"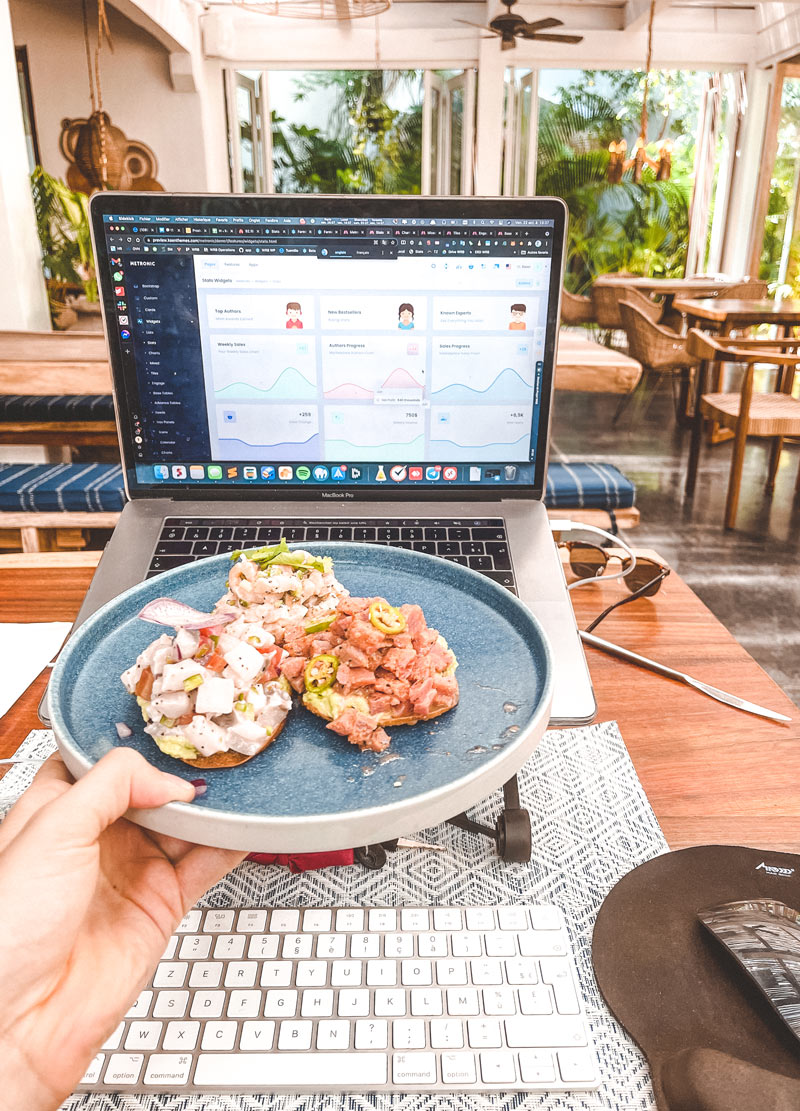 "Working And Enjoying Tostadas"
BEST PET FRIENDLY BOUTIQUE HOTELS
Looking for a place for your furry friend to tag along on your getaway? Well, here we list the best pet-friendly boutique hotels to visit!
The perfect stay for you and your beloved furry bestie! As an animal lover myself, I am glad to find this hotel that treats our pets with the warmest welcome and high degree of care due to their "Pets' Luxury Program". With Hotel Azul, I fell in love with the oceanfront and garden-view rooms, the variety of dining experiences in their restaurants and bar, and the excellent customer service. The highlight of our stay was when we walked along the beach and pristine ocean and witnessed the lights at the rooftop bar slowly lit up as we gaze towards the sunset.
Other noteworthy amenities: Private tours across Yucatan Peninsula and vehicle rentals.
A popular spot where people go to unwind, have fun and enjoy the experience along the beach and jungle. Ahau Tulum is designed to give you a memorable experience with their service. You can see this through their well-decorated rooms, on-the-spot restaurant and bar and their above and beyond staff services that are there for you. Important: Please contact Ahau before you book a room to confirm if your pets are allowed to stay in a room. 
Other noteworthy amenities: Free wifi, free private parking and concierge services.
Take Advantage Of Free Concierge Service
As excellent to explore Tulum and its surroundings alone, you may need help figuring out where to start. To make the most of your money and time, contact Virginia and Kelly - two incredible Mexican girls living in Tulum for more than 15 years. They're familiar with the ins & outs of the Tulum town and hotel zone like the back of their hand! 
Since we arrived in Tulum 2 years ago, many adventures wouldn't have been possible without their help - they know literally everybody in Tulum and can perfectly organize every moment of your stay. Get the best tables, skip queues and get on the guest list of the coolest places in Tulum - this's only the beginning! 
They are ready to offer you guys FREE concierge service in Tulum for the time of your stay: take advantage of it, contact them on Whatsapp and live the best experience!
Get FREE Concierge Service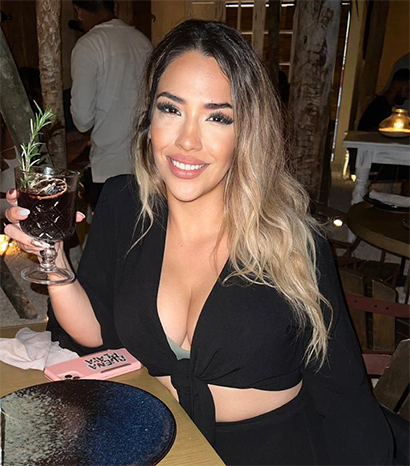 "Virginia Will Transform You In A Tulum Insider"
BEST BOUTIQUE HOTELS AND VILLAS WITH A DIVERSITY OF INTERIOR DESIGNS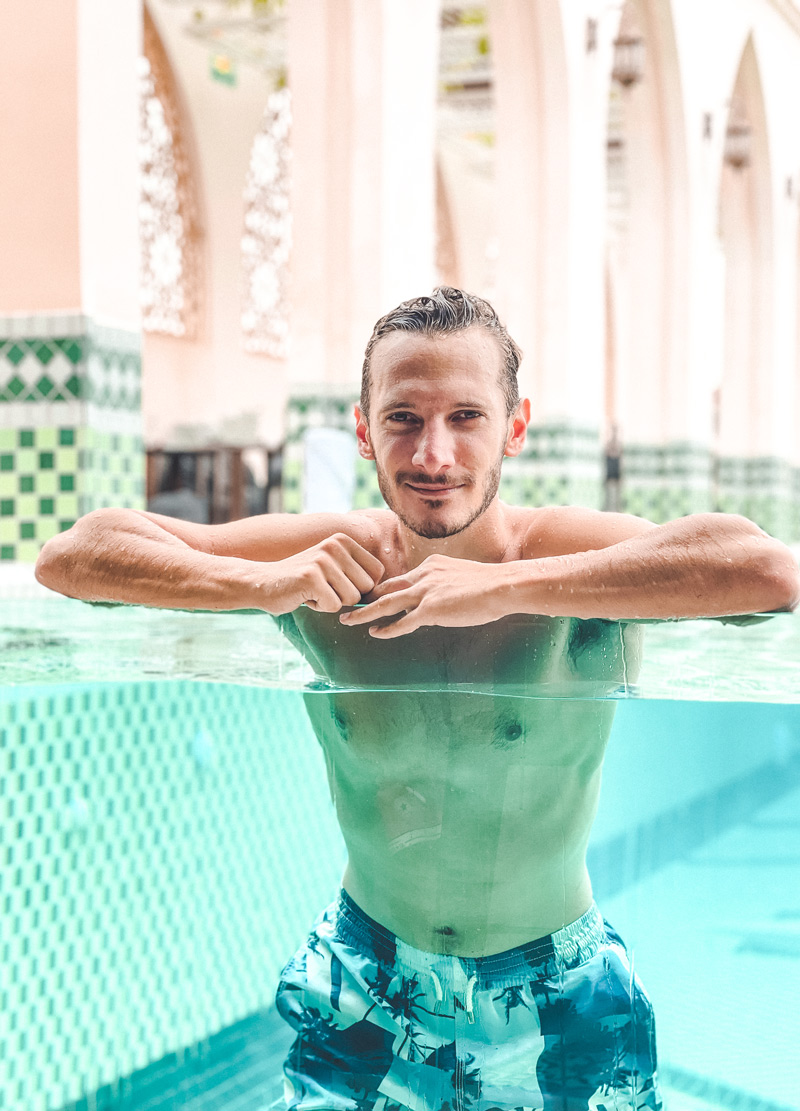 "Robin Enjoying The Pool"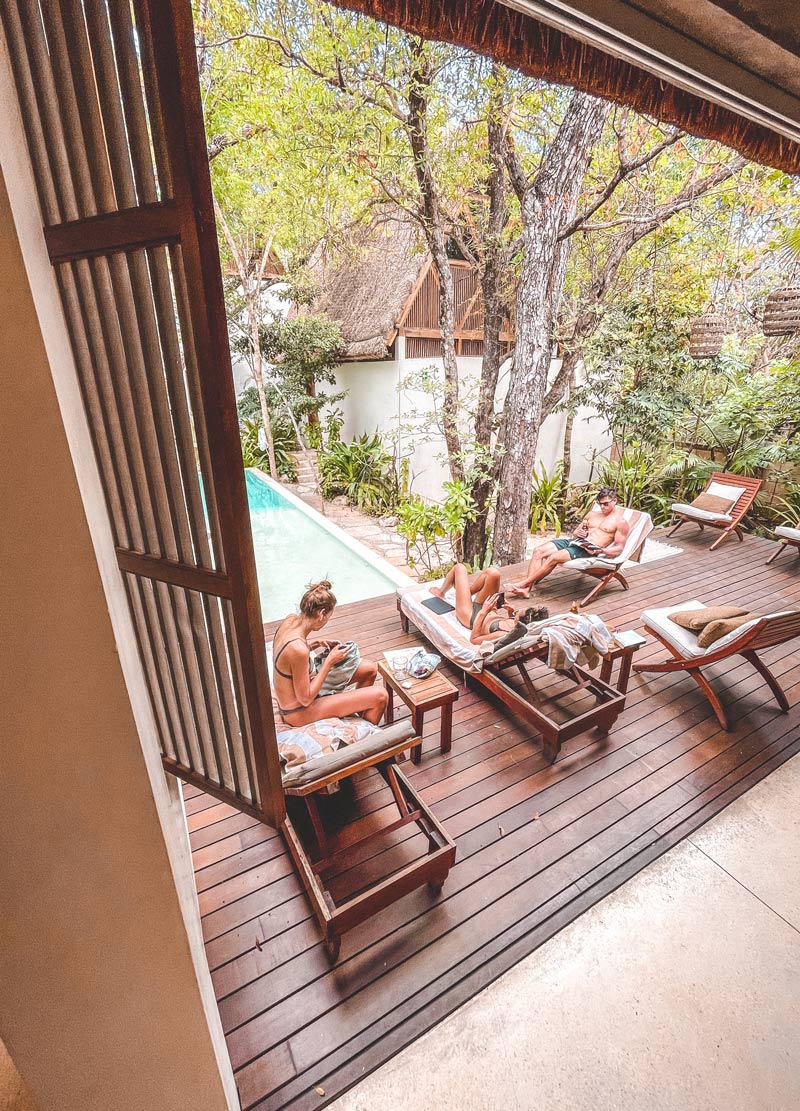 "Beautiful Architecture In Tulum"
Be Tulum is an exclusive hotel known for its fascinating interior design and calming interiors. Their 65 suits follow a mix of urban, contemporary and tropical designs that nested in between the jungle, the sands and the sea. Where you will find 14 unique styles of suits and 6 villas that are set on different surroundings – rooftops, private pools, jungle gardens and an oceanfront view. Definitely worth checking their website to take a peek at the rooms!
Other noteworthy amenities: Luxury restaurant that serves local Mexican cuisine, beach bar and wellness activities.
Located far south of the Tulum Hotel Zone, this hotel has an interesting past. It was once owned by the notorious Pablo Escobar and now is where tourists can appreciate a relaxing day by the beach. Honestly, Casa Malca feels like an art museum as they have 71 contemporary-fashioned suits, divided into six varieties of rooms that are distinguishable by design. 
Other noteworthy amenities: Three special dining experience of restaurant and bar, celebration events and The Calma Spa.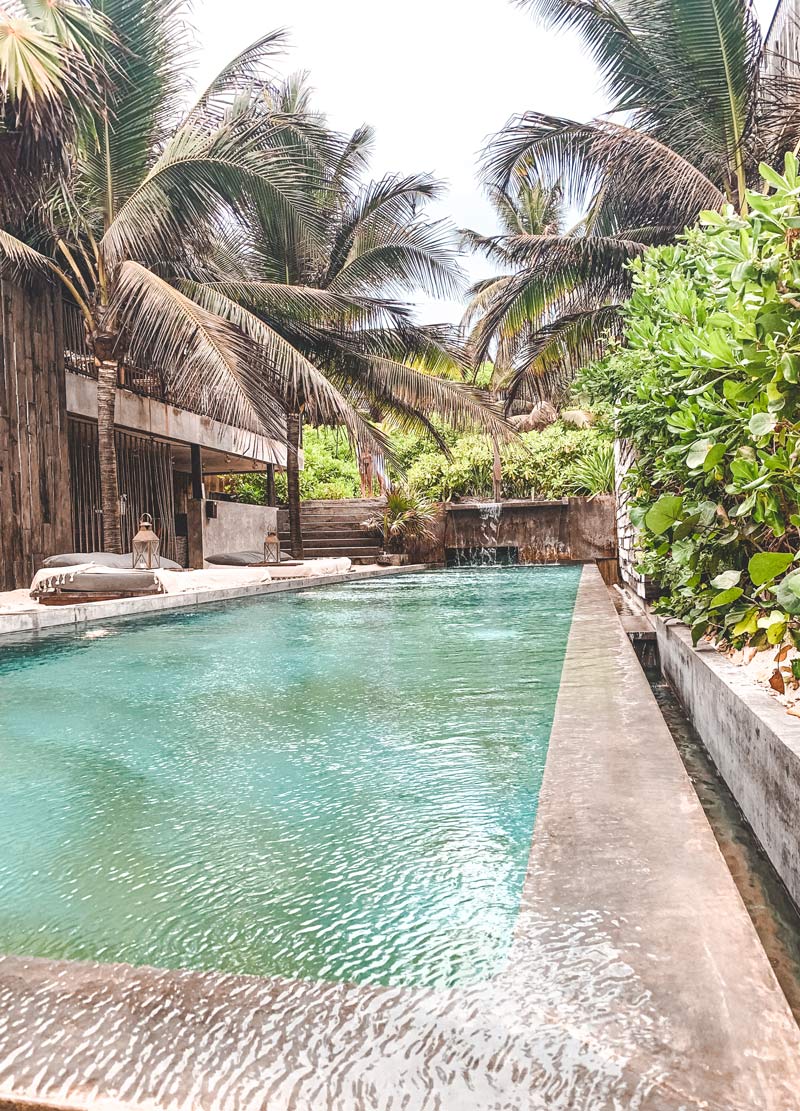 "Relaxing Pool"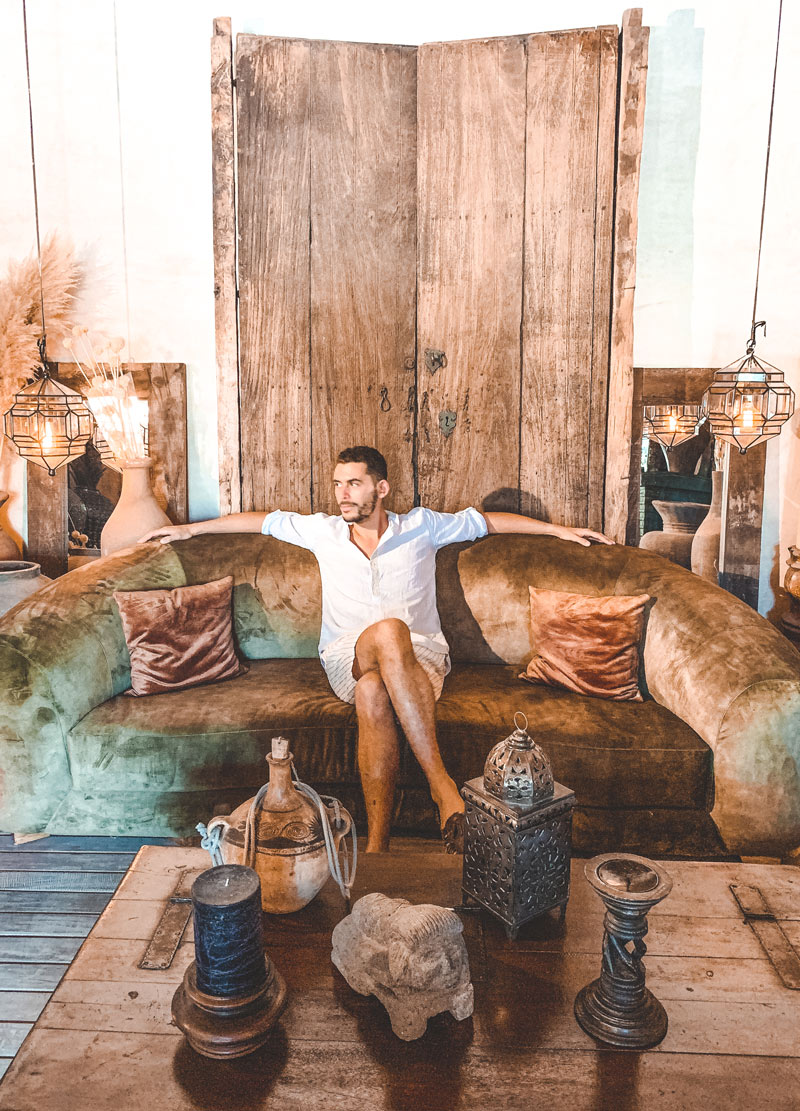 "Eddy In A Beautiful Scenario"
We hoped our article was informative and entertaining for you. Before you go, we leave a note just for you:
"Hey, I know how challenging it is to look for a hotel to satisfy all your wants, but I have to tell you that you are wasting time and energy just searching for the perfect one. Whether this hotel has what you wanted or not, it doesn't actually matter. What matters is how you feel about your experience from booking your stay, your time at the hotel and the impression that you leave afterward. As we said before, Tulum is a place of healing, and we encourage you to not stress too much about this and try to have a wonderful stay in Tulum!"
Thank you so much! Please let us know below what you think about the boutique hotels we mentioned and we hoped you found the one!
Top Events to Make Your Trip Unforgettable
DOMINIK TULUM @MIA TULUM
When: September 9, 2023 7:00 PM
Where: Mia Restaurant & Beach Club, Tulum
🌴 Join Us for An Unforgettable Night at DOMINIK - TULUM at Mia Tulum! 🌴
Friends, clear your schedules and get ready for a magical experience at Mia Tulum! This stunning location will host DOMINIK - TULUM on Saturday, September 9th, from 7 pm to 1 am. This isn't just another event; it's a fusion of nature, culture, and sound featuring an incredible line-up with GIORGIO STEFANO, AUDICTIVE, and MAURO TORRETA. At DOMINIK, you'll find the perfect blend of Tulum's lush jungles and pulsating underground beats, creating an environment where genuine connections blossom.
🎟️ Secure your tickets now:
Early Bird: $575 MXN ($38 USD), includes a welcome drink 🍹 (Limited Availability)
Tier 1: $805 MXN ($52 USD), includes a welcome drink 🍹 (Limited Availability)
Final Tier: $1150 MXN ($75 USD), includes a welcome drink 🍹 (Limited Availability)
Dinner + Party: $1380 MXN ($90 USD) 🍽️🎉 (Limited Availability)
See you there for a night you won't forget! 🎶✨
Ready to join us? Get your ticket now! Early bird tickets are already selling out, secure them at 632 pesos (only 15 tickets available).
Hurry – spots are filling up fast! 🙀 We can't wait to see you there!
Top Parties and Club Events
17th September - ANCESTRAL SOUL @BONBONNIERE TULUM
22nd September - TONY ROMERA @BONBONNIERE TULUM
29nd September - TIM BARESKO @BONBONNIERE TULUM
4th November - HOT SINCE 82 @BONBONNIERE TULUM
13th March - LOCUS Tulum 2024