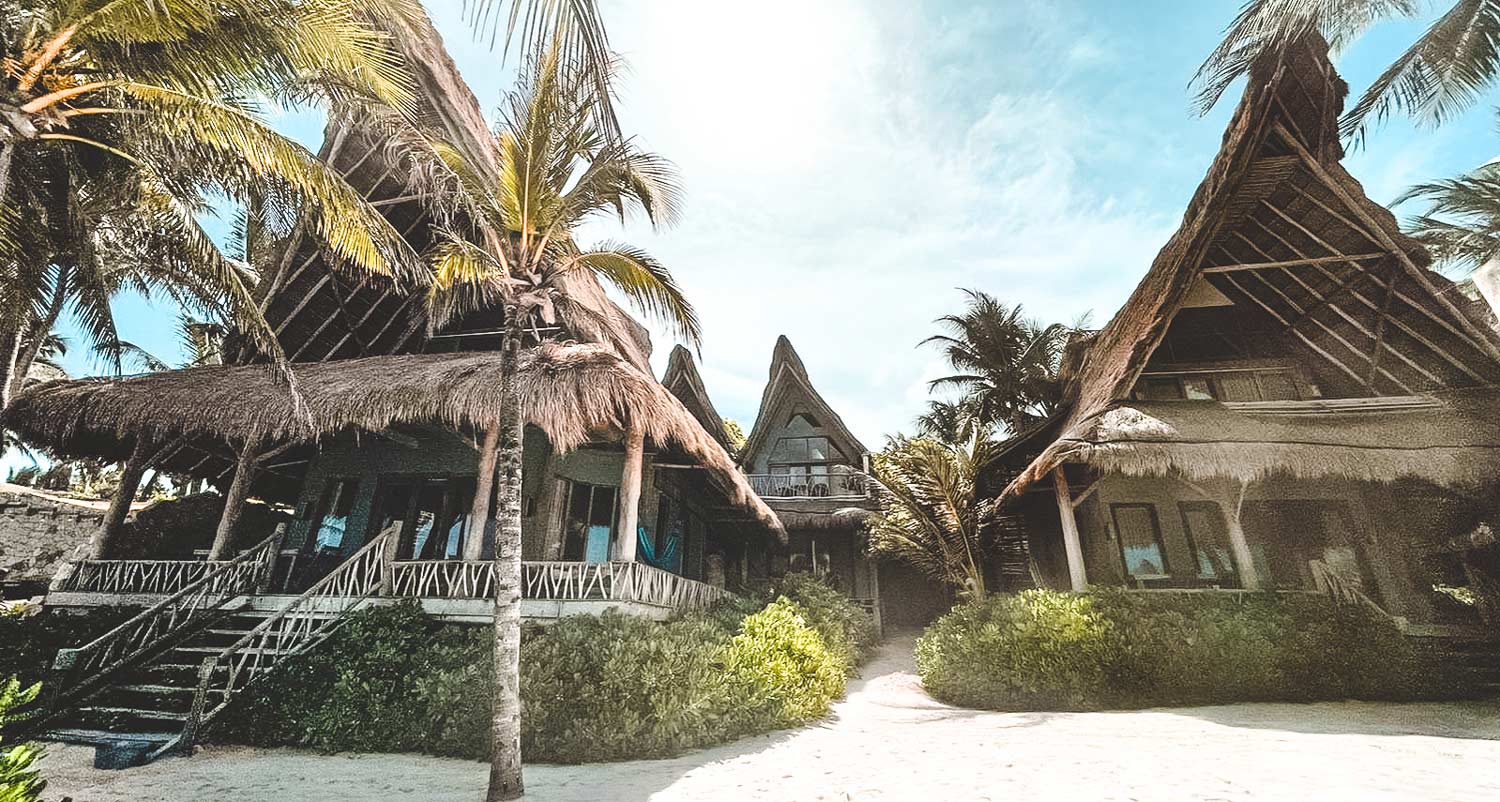 The 10 Best Tulum Luxury Hotels
If you are reading this article it is most probably because you love luxury and you want to treat yourself for your next trip to Tulum. Tulum is a beautiful beach town located in South Mexico where you will be able to take care of yourself in luxury boutique hotels, between a massage in a spa and a reinvigorating swim in an outdoor pool in the jungle. You will feel free from stress and problems and the only thing you will have to think about will be choosing the best room for your needs. 
Main luxury hotels are located in the Tulum beach area, as you can read from websites like Expedia. That's why most luxury hotels in Tulum have its own private beach and different pools overlooking it to make your stay unique. In combo with these service, you will have a bar and a restaurant ready to pamper you with all you can desire. 
It's true that prices of this kind of accommodation can be more expensive than the average price you can find in Tulum, but these resorts and hotels are far away from being the average.
Check out our list of the best luxury hotels in Tulum to find the perfect property for your next Tulum holiday – still undecided? no worries, our friend Virginia will be able to recommend and book for you the best luxury hotels in Tulum – not to talk about how she can drive you through Tulum's nightlife. Take advantage of her free services down below.
5 reasons to choose a luxury hotel for your stay in Tulum, Mexico
Before skipping to the best luxury hotels in Tulum, we decided to make a list of 5 reasons to choose a luxury hotel for your stay in Tulum for those who are still unsure whether to choose an average hotel or upgrade their hotel experience. Ready to discover them? 
Proximity to the - private - beach
This is one of the service every luxury hotel in Tulum offers to their guests. So, regardless of the rooms or suites, you will have the privilege to be a few steps away from the sand of a beautiful beach in Tulum. This is very advantageous and yes – it will make you save money. Why? Staying in a beach club in Tulum can have a high price. By having a hotel with its own private beach, you will save the money for the rental of sunbeds and you will have the availability to enjoy luxury beach and pools whenever you want during your stay.
Beautiful Rooms with views
In addition to a beautiful beach, you will be able to enjoy your stay in incredibly well decorated rooms or suites depending on your needs. A thing you will always be able to count on will be the amazing views from every window of your room – this will really make you feel on vacation! This will also make you live the site of the hotel in a totally different way, a lot more in fusion with the nature of the beach and the jungle around you and will help you disconnect from your life back home. 
Top service for the guests
As you could have read or lived in other travels, luxury hotels and resorts will treat you like a king. In fact, they provide their guests incredible service to satisfy every need and request. From a well decorated room to a refined restaurant, from a bar with multiple cocktails to a spa and a pool to make you relax, every detail will be on point. The staff of the hotel will make you feel the luxury vibe and make you feel like at "casa".
Spa and pool included in the price
This is another aspect that will decrease the price of your stay. Many people think that paying a higher price for the hotel they are staying in is a waste of money – well, that's not alway the case.
We first talked about beach clubs, but what about the pools and the spa? Maybe you will not always be in the mood for the beach and you will want to chill by the pool in a more relaxed outdoor scenario. That's totally understandable. And what about the spa? Of course you will have to pay for the massages, but hey – many luxury hotels and resorts offer their guests the free access to the spa's sauna or turkish bath and this will definitely be good for your stay's budget.
Great restaurant to discover Mexican cuisine
It happens often to us during our stay, so let's face it – sometimes you are lazy at night and you want to dine at the hotel. This can be a great experience as a bad one. In luxury hotels and resorts you will not have any risks of having this experience turning bad. In fact, every property has a great restaurant and bar merged in the beautiful outdoor space. The chefs are great and will offer you an incredible dining experience. Make sure to check it out – sometimes it can be the best restaurant in the area you are staying in!
Take Advantage Of Free Concierge Service
As excellent to explore Tulum and its surroundings alone, you may need help figuring out where to start. To make the most of your money and time, contact Virginia and Kelly - two incredible Mexican girls living in Tulum for more than 15 years. They're familiar with the ins & outs of the Tulum town and hotel zone like the back of their hand! 
Since we arrived in Tulum 2 years ago, many adventures wouldn't have been possible without their help - they know literally everybody in Tulum and can perfectly organize every moment of your stay. Get the best tables, skip queues and get on the guest list of the coolest places in Tulum - this's only the beginning! 
They are ready to offer you guys FREE concierge service in Tulum for the time of your stay: take advantage of it, contact them on Whatsapp and live the best experience!
Get FREE Concierge Service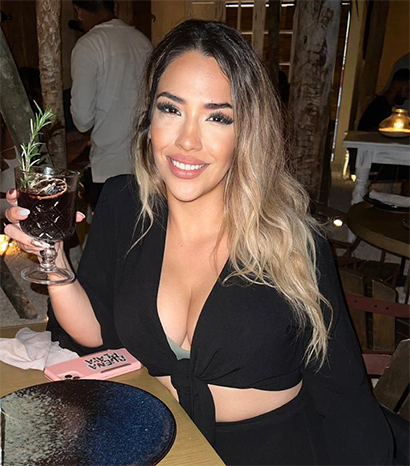 "Virginia Will Transform You In A Tulum Insider"
Our list of the best Tulum luxury hotels
After our top reasons to choose a luxury hotel for your next stay in Mexico, check out the 10 best luxury hotels and resorts in Tulum. As you can see from the map below, they are mainly located along the beach. In fact, this is the most luxurious area in Tulum. But hey – if you want to stay in Tulum centro for a more local vibe, make sure to check out the last hotel on the list: you will be amazed! 
Prices: from $295/night
Highlights of the property: a jungle retreat with blocky wood cabins and a great spa
Be Tulum is among the best luxury hotels in Tulum beach. We love the atmosphere they created in the outdoor space and what to say about their beautiful spa and pool? It's literally our favorite spot to chill and be pampered in Tulum. Make sure to check their availability on time because they offer such a unique experience that their rooms and suites are often fully booked.
What we love the most about their rooms? the fact that they are built with recycled train tracks!
Prices: from $355/night
Highlights of the property: thatched cabañas in hippy-chic Tulum tunes, Mayan-influenced spa treatments and mezcal-infused cocktails
Papaya Playa Project is one of the best and most famous hotel in Tulum. With the size of a resort but the soul of a boutique hotel, you will feel in a "primitive sophistication" as the founder Emilio Heredia would say.
The original cabins are made with rustic materials and will make you feel in fusion with nature. The new "casa" will give you a different experience, definitely more five-star oriented. The incredible scenario is completed with water sports, yoga and a spa which integrates Mayan therapies. Also, make sure not to miss the full moon parties on their private beach!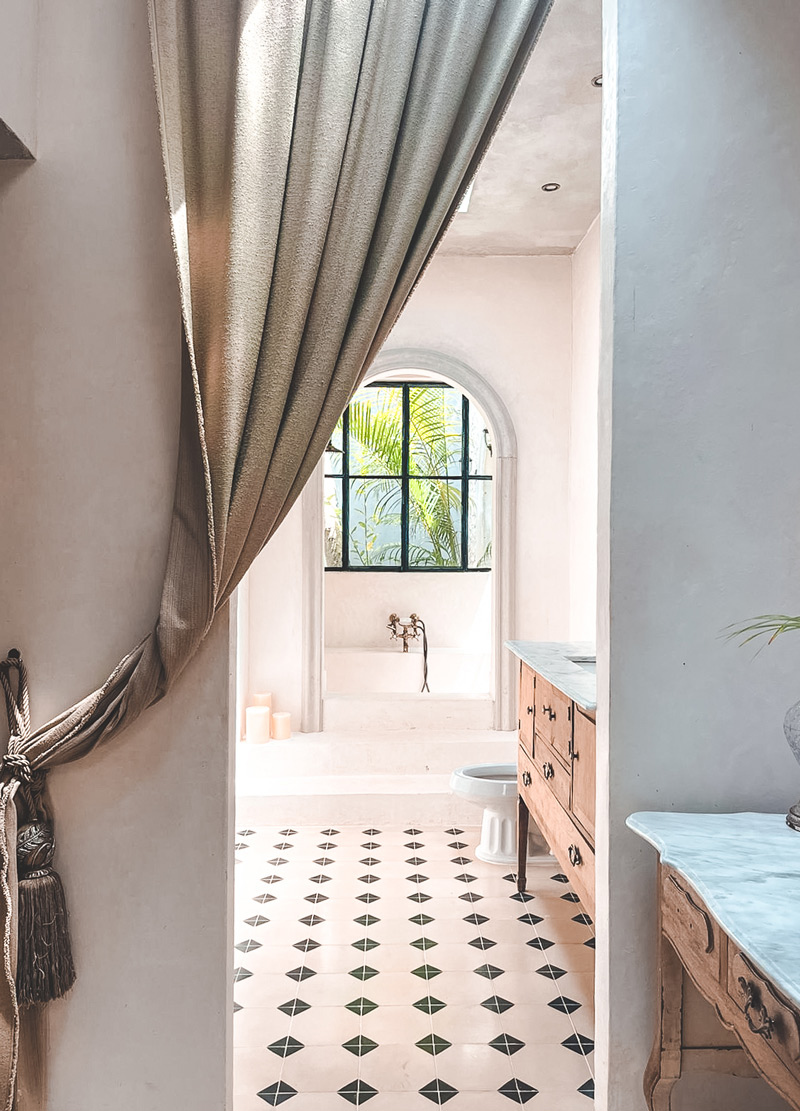 "Such A Dreamy Bathroom"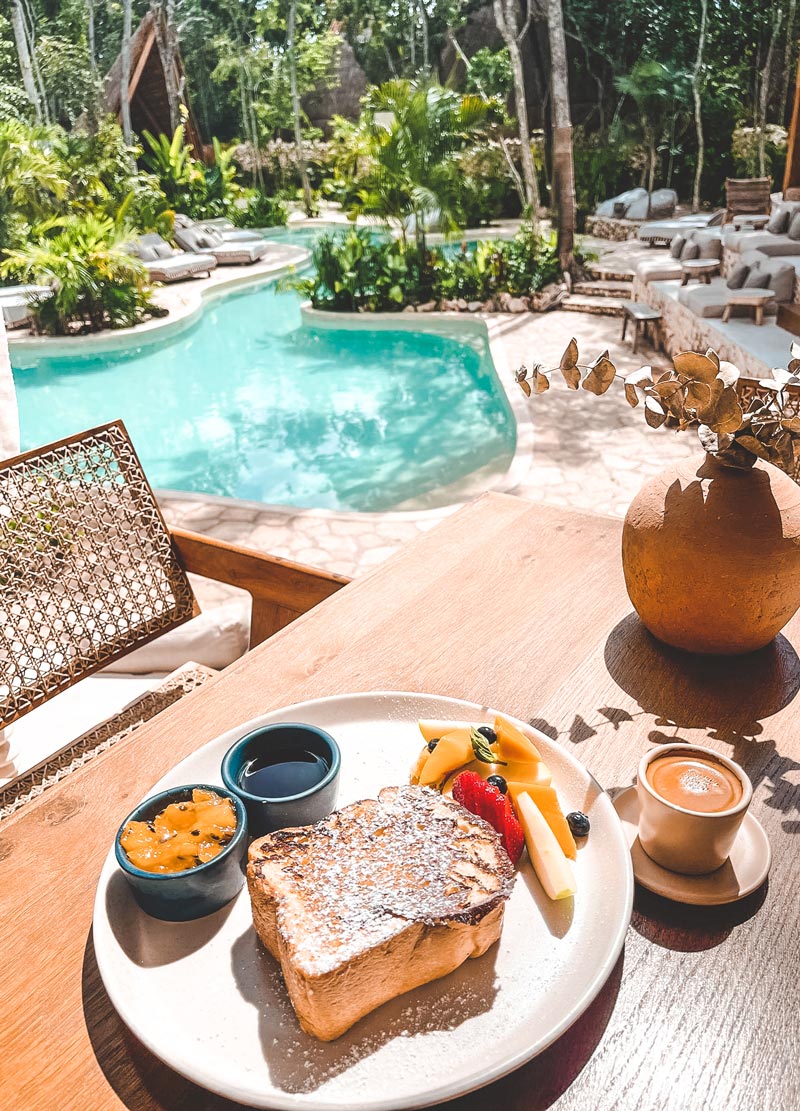 "Breakfast In Luxury Hotels"
Prices: from $495/night
Highlights of the property: eco-conscious treehouse merged with Tulum's jungle
Azulik Resort comprehends 48 treehouse villas consciously built to respect Tulum's jungle. It is definitely a one of a kind hotel, where luxury takes a completely different meaning. The daily activities that Azulik Resort offers you during your stay are Mayan ceremonies, morning yoga in the Dome and meditation classes. As you can imagine, the atmosphere is relaxed and you will be able to chill in the multiple parasols, loungers and the great bar. 
Prices: from $60/night
Highlights of the property: communal workspaces with a home-away-from-home vibe
Casa Pueblo is the perfect hotel for you digital nomads out there! If you are searching for a stylish hotel with a luxury vibe, but with an affordable price per night – this is it!
Casa Pueblo has beautiful communal workspaces, both indoor and outdoor, an incredible pool with a bar to meet new people and rooms which are minimal and perfect to free your mind from any stress. The best part? The two rescued dogs of the casa – Blu and Lovely! 
Prices: from $850/night
Highlights of the property: yoga classes every morning and live music every evening
​​The Beach Tulum Hotel is the perfect place if you are searching for a beach chic escape. Imagine walking barefoot on the white sand just outside your room, with two restaurants and a pool to just abandon yourself to the ultimate status of relaxation. The only thing separating you from the beach are the dozens of palm trees – sounds idyllic, right? Moreover, yoga classes and bikes are free of charge. Many water sports can be arranged too – like kite surfing and scuba diving.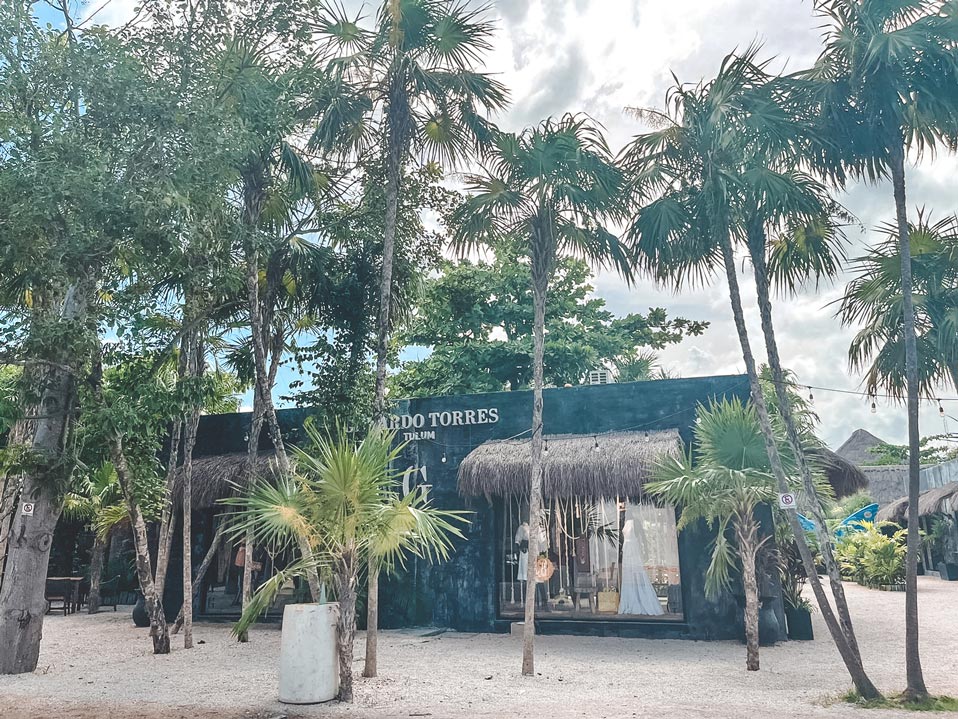 "Luxury Boutiques Around The Beach Zone"
Prices: from $210/night
Highlights of the property: once Pablo Escobar's former hideaway, now an amazing boutique hotel for art lovers
We wrote a full article about Casa Malca because it fascinates us so much. A unique luxury hotel to stay in Tulum, its rooms and outdoor spaces are well decorated with incredible art works from all over the world. The restaurant has an Italian chef mixing different types of cuisine serving fine dishes to its guests. The bar will also delish your senses with freshly crafter drinks with the typical Mezcal from Mexico's best fincas. If you want to stay in a different hotel in Tulum beach – well, just go for Casa Malca!
Prices: from $755/night
Highlights of the property: incredible experiences in Tulum and Yucatan, relaxing atmosphere 
The rates of Hotelito Azul speak by themselves – if you are searching for amazing design villas and cabanas with oceanfront or jungle view, care for the detail and an amazing outdoor space to chill, you just found it. At Hotelito Azul the care for guests is a fundamental part of the soul of this incredible boutique hotel. Here you will be able to have a dreamy accommodation with five-star vibe, air conditioned and all the comforts you can need to feel in seventh heaven.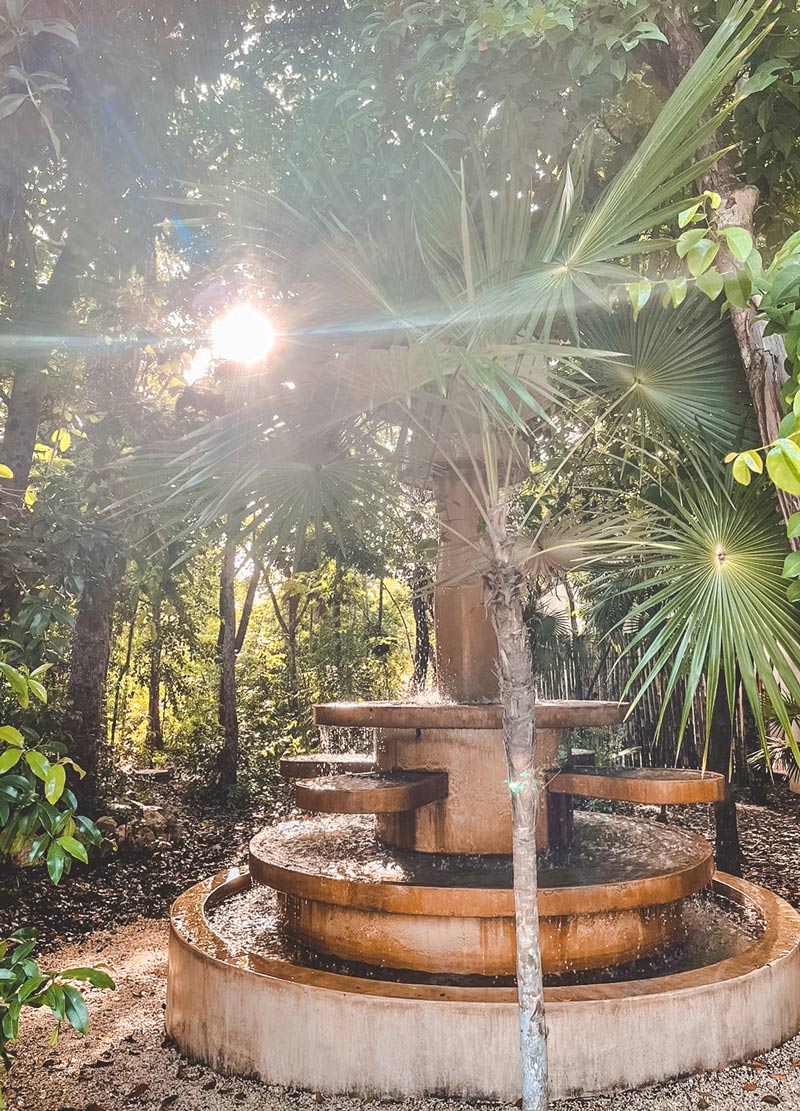 "Luxury Hotels Peaceful Gardens"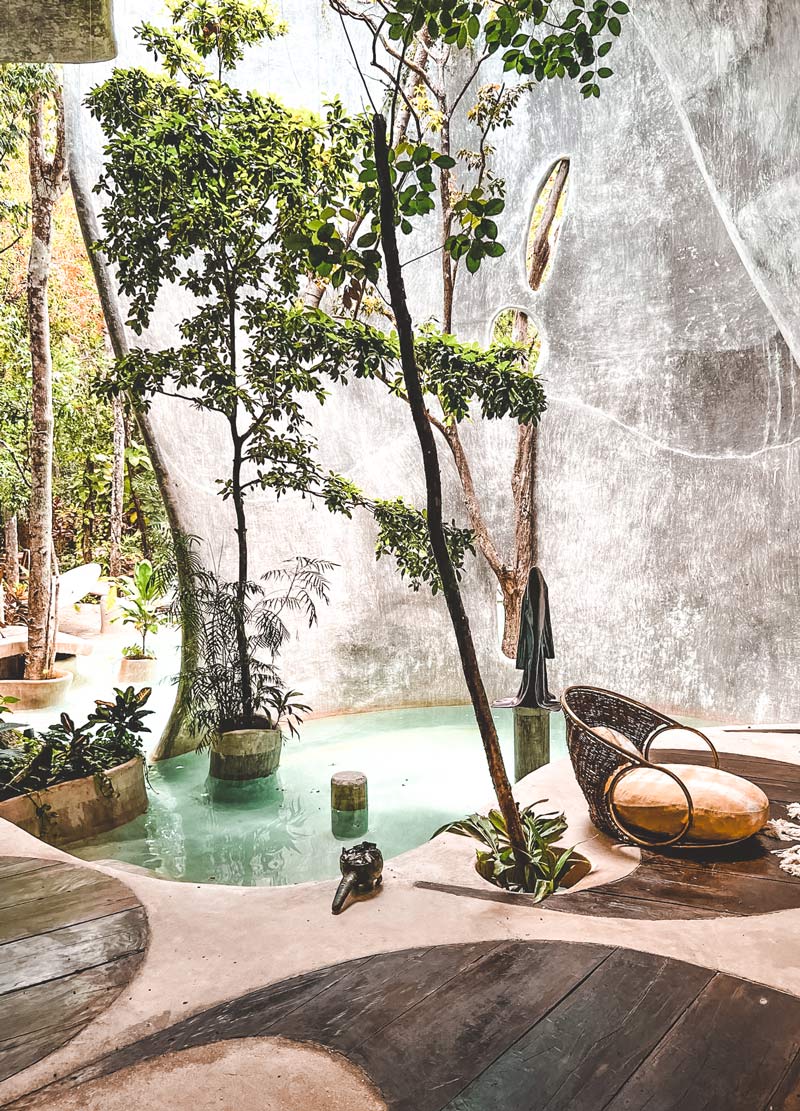 "We Love This Incredible Architecture"
Prices: from $755/night
Highlights of the property: incredible experiences in Tulum and Yucatan, relaxing atmosphere
Encantada Tulum is a lovely luxury hotel on Tulum beach. Here you will find many interesting getaways in Tulum and Yucatan, to discover Mexico's culture and tour Mayan ruins. Great activities are held all week long if you are not up for day trips – check out their yoga and meditation classes, their Mezcal tasting and the creative art session with local artists. Their two restaurants, one located in the hotel beach club and the other in the property itself, will delish your senses bringing you a new version of Mexican cuisine. 
Prices: from $430/night
Highlights of the property: incredible property location in Mayan jungle
If you book an accommodation at Radhoo Tulum you can be sure you will not be upset. Their location is unique in Tulum beach, making you feel part of the Mayan jungle. Their 14 suites are perfect if you are searching for private space to pamper yourself. They define themselves as lush, bohemian and luxury – and they really are. They are a guarantee in terms of luxury – in fact, Radhoo, Encantada, La Valise and Nest are part of the same group. If you want a beautiful stay, you can't go wrong with them.
Prices: from $345/night
Highlights of the property: the hotel was tailored to the precise layout of the land it was build on!
The incredible thing about KAN Tulum is its structure. In fact it was built following the land incorporating the existing jungle and even a natural cenote. If you care about sustainability, this hotel is perfect for you. Their rooms and suites are decorated in a minimal style to make you feel connected with the present moment and take away all the excesses. 
We hope you found the luxury vibe you were searching for and we wish your stay in Tulum will be flawless – let us know below which is your favorite luxury hotel or resort in Tulum: we can't wait to know it!
Top Events to Make Your Trip Unforgettable
DOMINIK TULUM @MIA TULUM
When: September 9, 2023 7:00 PM
Where: Mia Restaurant & Beach Club, Tulum
🌴 Join Us for An Unforgettable Night at DOMINIK - TULUM at Mia Tulum! 🌴
Friends, clear your schedules and get ready for a magical experience at Mia Tulum! This stunning location will host DOMINIK - TULUM on Saturday, September 9th, from 7 pm to 1 am. This isn't just another event; it's a fusion of nature, culture, and sound featuring an incredible line-up with GIORGIO STEFANO, AUDICTIVE, and MAURO TORRETA. At DOMINIK, you'll find the perfect blend of Tulum's lush jungles and pulsating underground beats, creating an environment where genuine connections blossom.
🎟️ Secure your tickets now:
Early Bird: $575 MXN ($38 USD), includes a welcome drink 🍹 (Limited Availability)
Tier 1: $805 MXN ($52 USD), includes a welcome drink 🍹 (Limited Availability)
Final Tier: $1150 MXN ($75 USD), includes a welcome drink 🍹 (Limited Availability)
Dinner + Party: $1380 MXN ($90 USD) 🍽️🎉 (Limited Availability)
See you there for a night you won't forget! 🎶✨
Ready to join us? Get your ticket now! Early bird tickets are already selling out, secure them at 632 pesos (only 15 tickets available).
Hurry – spots are filling up fast! 🙀 We can't wait to see you there!
Top Parties and Club Events
17th September - ANCESTRAL SOUL @BONBONNIERE TULUM
22nd September - TONY ROMERA @BONBONNIERE TULUM
29nd September - TIM BARESKO @BONBONNIERE TULUM
4th November - HOT SINCE 82 @BONBONNIERE TULUM
13th March - LOCUS Tulum 2024