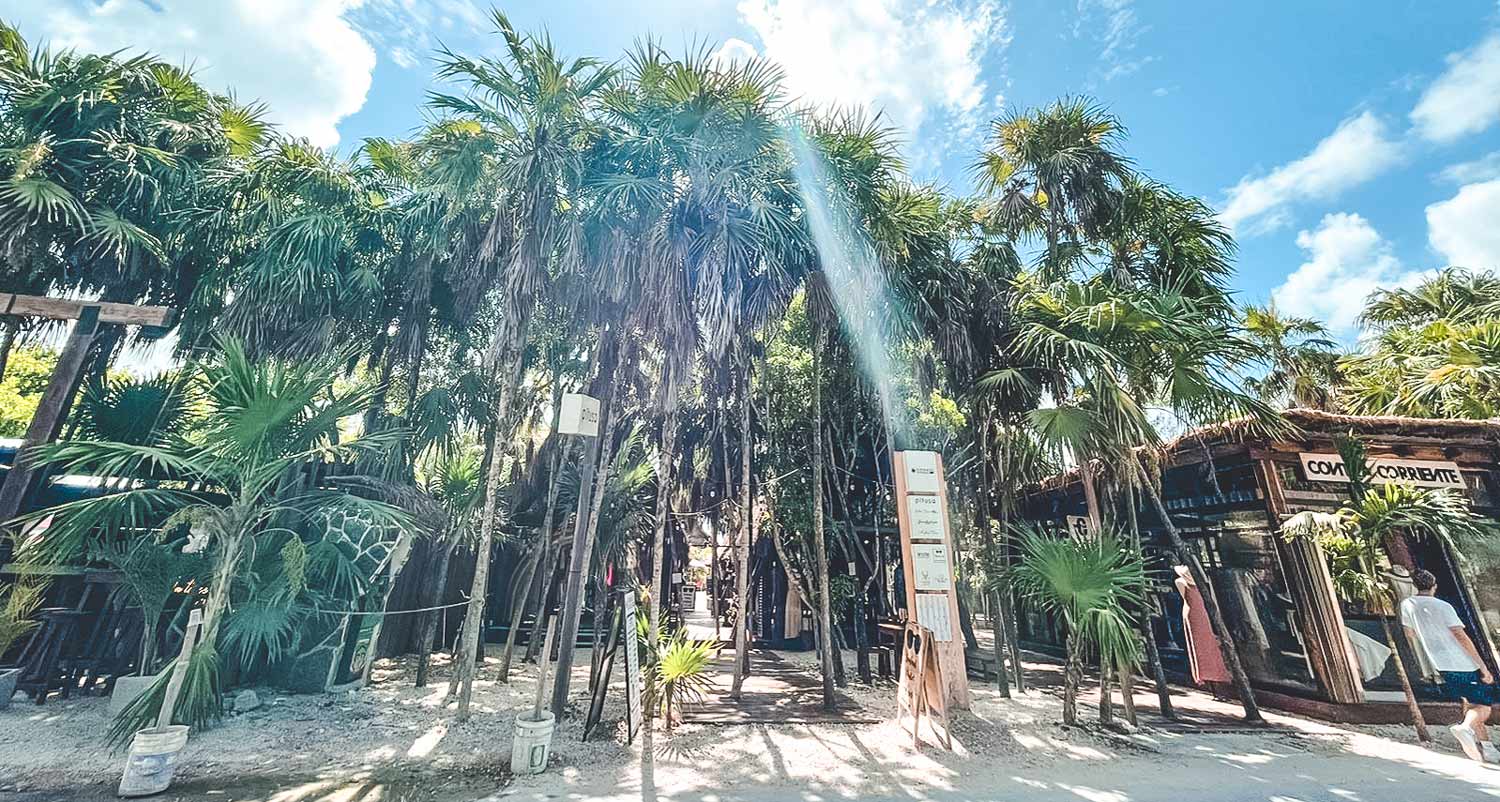 The Best Akumal Beach Resorts
Looking for the perfect beach resort with luxury facilities and finest staff services around Akumal? Look no further! Check out our top list of the best Akumal beach resorts that can spoil all your needs at one place!
Now if you are from Tulum, we vouch that Akumal beach gives you a new outdoor experience. Most notably, more varieties of water and beach activities to do! Let's explore that on another day.
For today, you will find a variety of beach resorts in Akumal that suit your getaway trip. These resorts are perfect to feel free and enjoy all the inclusive facilities, rooms, and activities. Where you can spend your dream holiday with the family or spend a private moment with your partner.
Prepared to be pampered with the resort's utmost staff service, cozy accommodation, exuberant sunscape view, and many more! So, let's find out the ideal resort for your needs below! 
*Still have to book the best hotel?* – we really want to share with you how our friend Virginia made our stay unforgettable. She made us stay in incredible locations throughout the town and we can't recommend her enough. Take advantage of her free service below!
THE BEST BEACH IN RIVIERA MAYA: AKUMAL - THE LAND OF TURTLES
Akumal has one of the most famous beach locations across Riviera Maya, Mexico! It does look similar to the beach across the Tulum Hotel Zone, but that is just the tip of the iceberg you're looking at. So, you need to explore Akumal beach more to view the beauty and glamor with your own eyes!
Prepare to delight in the tantalizing Akumal beach & bay that boasts powdery white sand, a stunning sunscape view, and many exciting adventures to do. To our hearts, Akumal is home to the best floras and faunas all over Riviera Maya!
With many luxury resorts and hotels across the beach, consider staying at Akumal for a few days to enjoy the extravagant adventures and water activities! I mean, if you're in Tulum, why not check it out?
The easiest way to get to Akumal is to rent a car and it's good because the resort offers free parking. We highly recommend BGH car rental that offers mint-condition cars and excellent customer service by Virginia. Contact her at +529842558049 to check their availability and book a car today!
Note: We also recommend avoiding the summers because many seaweeds are washed up at the beach. Check out the weather in Tulum and Riviera Maya in our month-by-month weather guide!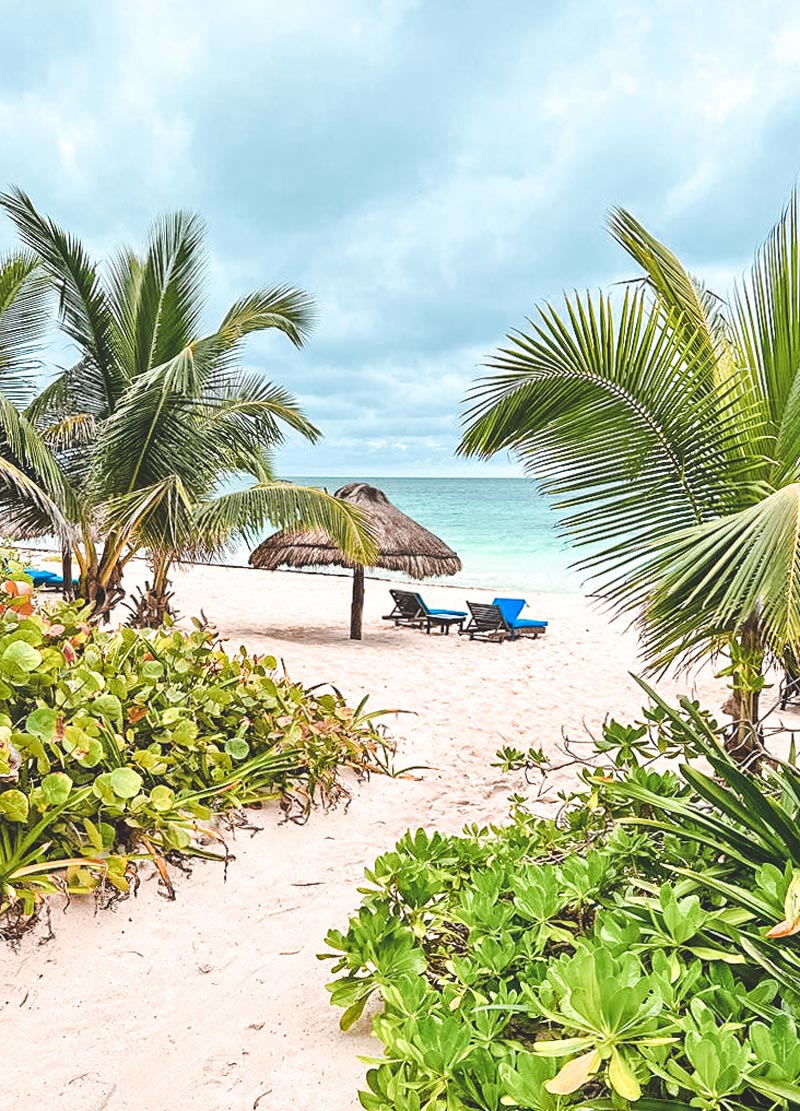 "The Relaxing Beach In Akumal"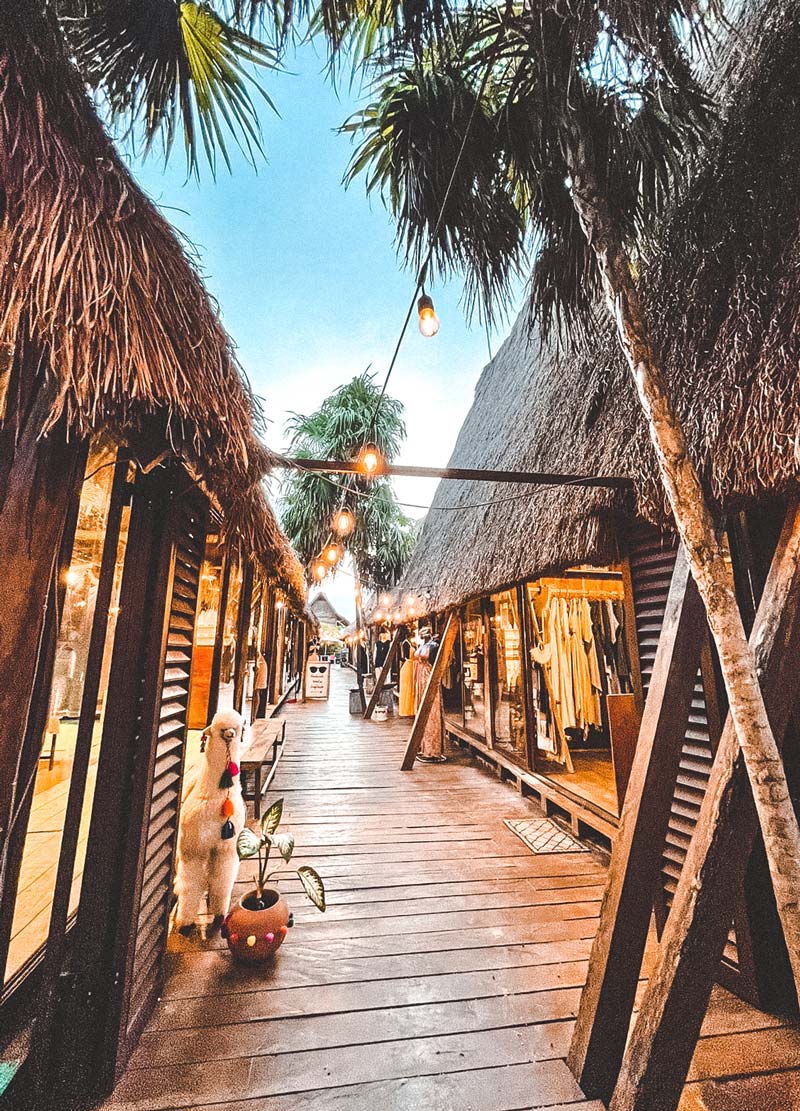 "We Love Shopping In Akumal"
6 BEST AKUMAL BEACH RESORTS & HOTELS
Unlike the rustic-earth artistry of the resorts and hotels in Tulum, the resorts in Akumal adopt a modern architecture design instead. Influenced by the traditional culture of Mexico, these inclusive resorts provide luxury accommodation that boasts a variety of activities, facilities, and services that guests are free to access. 
Sounds good and delightful? Check out the perfect beach resorts in Akumal!
AKUMAL BAY BEACH & WELLNESS RESORT: ALL-INCLUSIVE
This 5-star beach property, Akumal Bay Beach & Wellness Resort, offers an all-inclusive experience and treats guests with the utmost service! With prices varying around 300 USD, feel free to dwell in the 3 unique beachfront rooms equipped with an outdoor private jacuzzi, stunning sunscape view, and 24-hour room service.
This is the perfect getaway for a family holiday to let kids have fun water activities (free one-hour snorkeling daily), delicious gastronomy, and the kids club. You should also definitely try the sushi bar and international buffet for breakfast, because it earns the most positive reviews on Tripadvisor!
GRAND BAHIA PRINCIPE TULUM: ALL INCLUSIVE
Grand Bahia Principe Tulum is a popular and most affordable all-inclusive beach resort in this list. A very suitable property to spend the holiday with family where the prices start from 100 USD. There's so much you can get here with that price!
This 5-star resort is a part of the Grand Bahia Principe resorts, but this one offers spacious beachfront rooms. The rooms can fit up to 4 adults and 1 child, while also equipped with a private bathroom, 24-hour room service, and access to free wifi in the hotel property. As one the best child-friendly resorts, kids are free to enjoy time at the kids club and water park! Sounds amazing right? Well, take a look at these reviews.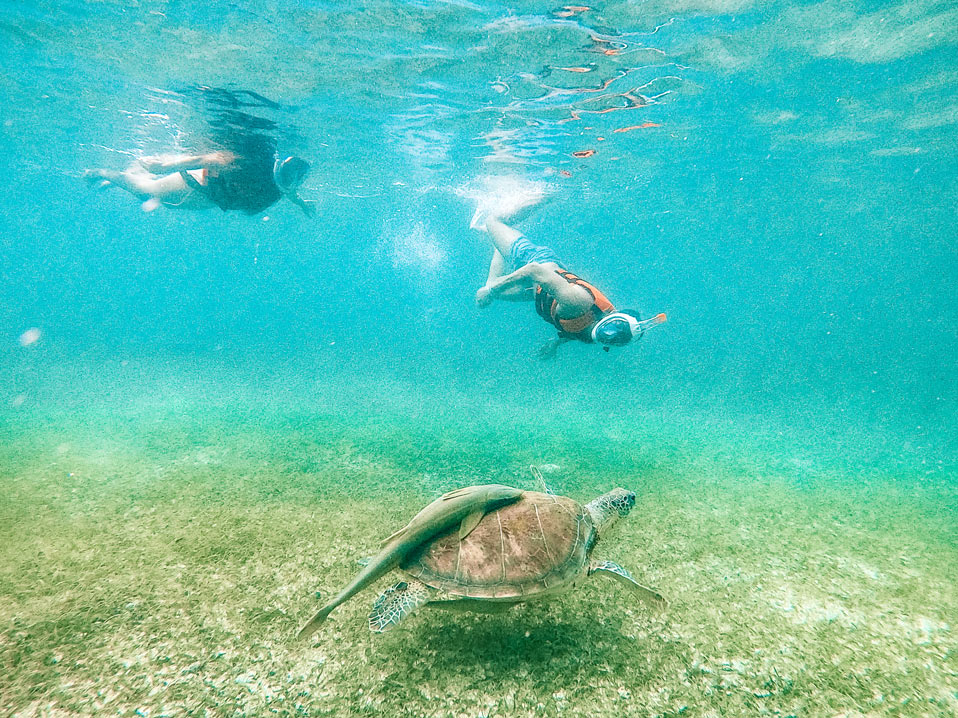 "Turtles in Akumal"
GRAND BAHIA PRINCIPE LUXURY AKUMAL: BEACHFRONT LUXURY IN THE RIVIERA MAYA
Grand Bahia Principe Luxury Akumal is another family-friendly resort that has adults only features within the property. But don't get confused, this property is very new and is like the younger brother of Grand Bahia Principe Tulum. Interestingly, they offer slightly better services and the prices start at 130 USD.
Starting from The Grand Bahia Principe Luxury Akumal that provides varieties of rooms suitable for both families and adults only bedrooms. As for the facilities, kids can enjoy the kids club and water park, and grownups can enjoy the adults only infinity pool (and a picturesque sunscape view from the pool).
SECRETS AKUMAL RIVIERA MAYA: ADULTS ONLY RESORT & SPA
The Secrets Akumal Riviera Maya, is the perfect getaway for guests celebrating honeymoons or anniversaries. Although the prices are expensive, guests will love their Unlimited-Luxury experience. This service offers free and unlimited daily access to the restaurant and bar, 24-hour room services, and other activities within the property.
Not to mention, their luxury rooms come with an elegant and romantic design equipped with a private balcony, mini bar, elegant bathroom, and more! Check it out here.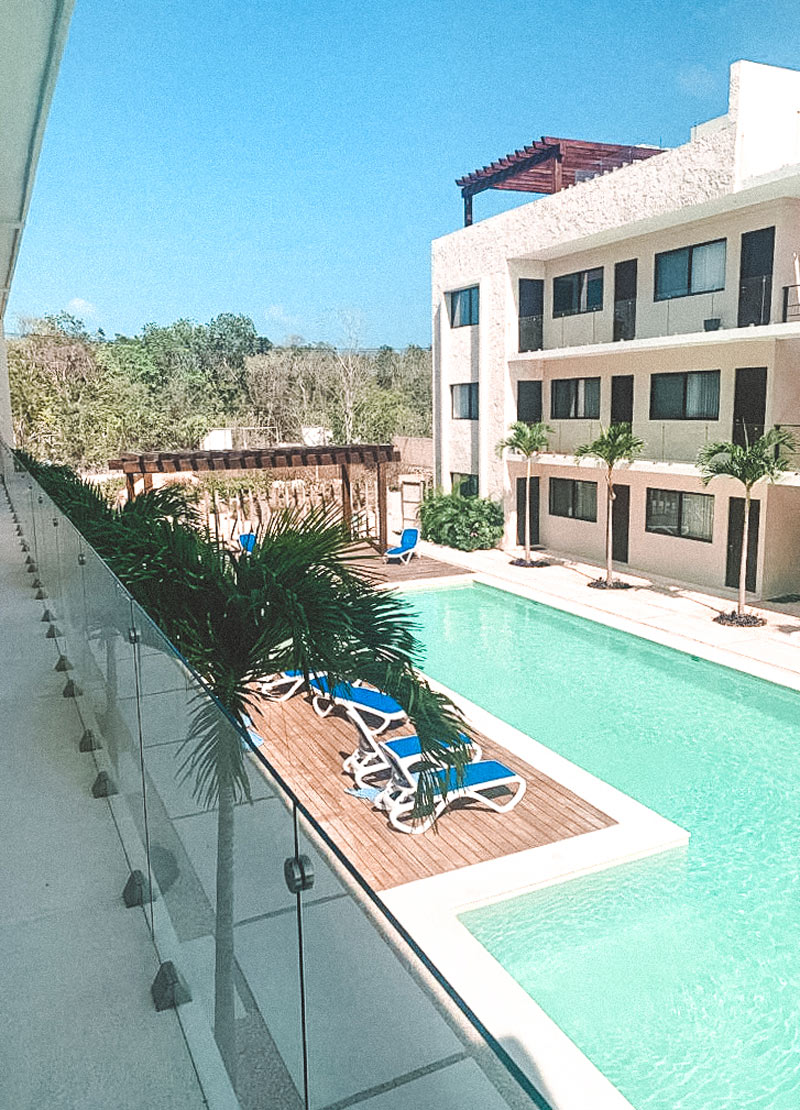 "We Love Waking Up To This View!"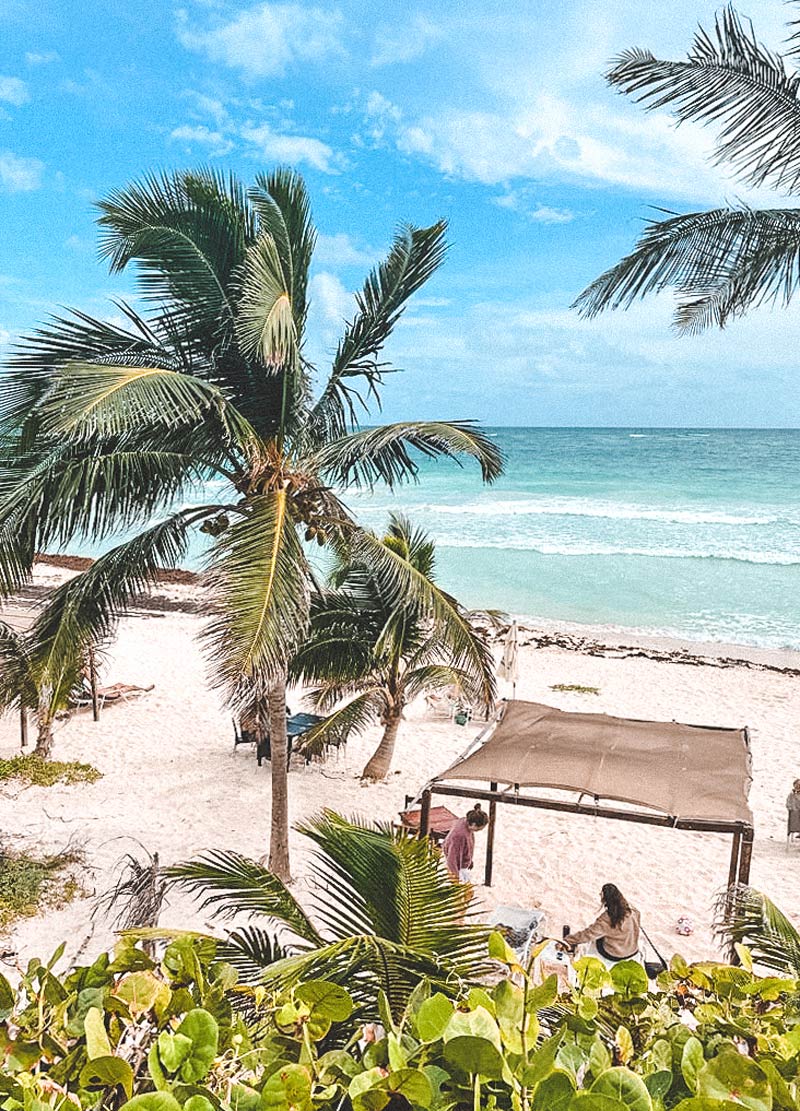 "Can't Wait To Swim, Right?"
GRAND SIRENIS RIVIERA MAYA RESORT & SPA
Located 10 minutes away from Akumal, nestled Grand Sirenis Riviera Maya Resort & Spa. This 5 star hotel is another good family getaway to indulge in fun activities together. It is because here, you all can let your kids play around the kids club, swim in different pools, and enjoy the water park!
With prices starting at 250 USD, the property provides cozy-atmospheric rooms that are spacious for active kids to roam around the bedroom. Moreover, one bedroom has interconnecting rooms with private beds on each side, that is ideal for a relaxing family stay.
Lastly, it's worth to check out the resort's 20k reviews on TripAdvisor, where many guests leave positive reviews about the excellent food and staff services.
This 3 star hotel might not be as good and luxurious as the resorts, but there are a few perks you should know about this it. One of them is that the Hotel Club Akumal Caribe is located at the heart of Akumal, where it's the closest to the beach and the bay area. It's also a good hotel that offers special last-minute hotel deals and includes a safe free parking space. It's perfect for Tulum travelers!
Their beautiful property offers selections of bedrooms with comfortable beds to rest, private bathroom, and easy access to the beach. Don't forget to enjoy the included breakfast at the oceanfront restaurant with a gorgeous sunscape view (check out the photos)! You can also come for lunch at the beach bar and spend a romantic candle lit dinner upon request.
"Beach Life In Akumal"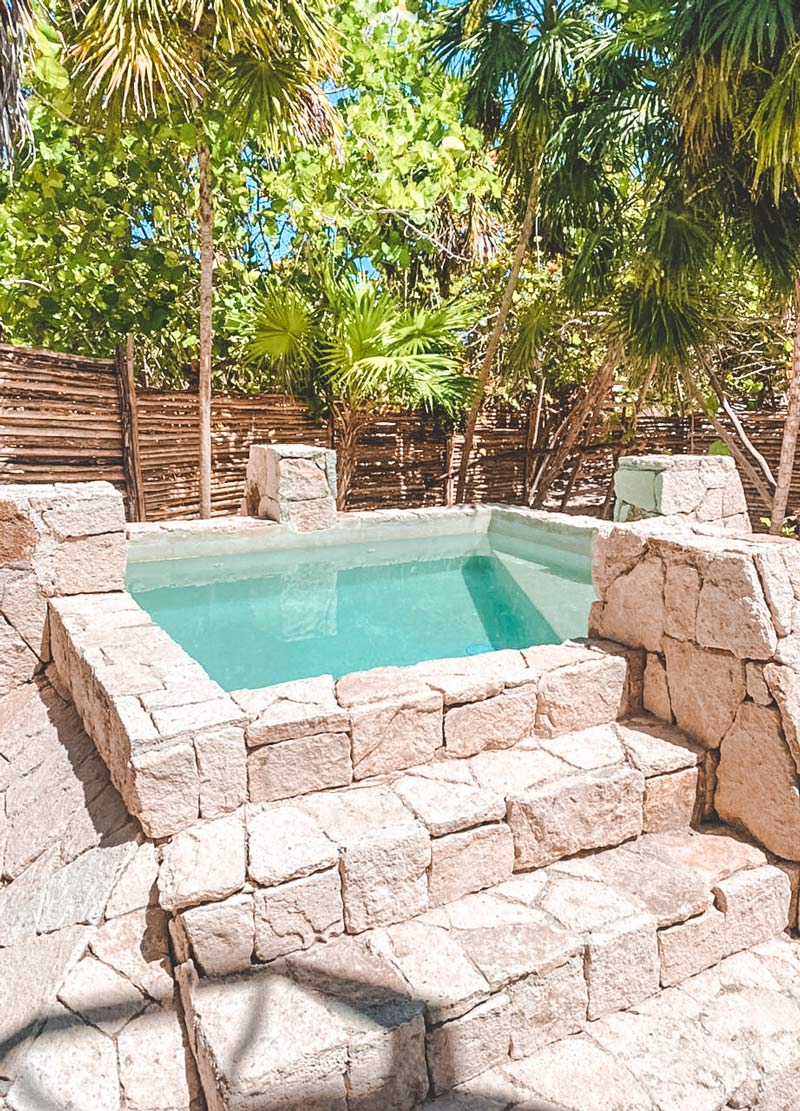 "Private Pool In An Akumal Resort"
Take Advantage Of Free Concierge Service
As excellent to explore Tulum and its surroundings alone, you may need help figuring out where to start. To make the most of your money and time, contact Virginia and Kelly - two incredible Mexican girls living in Tulum for more than 15 years. They're familiar with the ins & outs of the Tulum town and hotel zone like the back of their hand! 
Since we arrived in Tulum 2 years ago, many adventures wouldn't have been possible without their help - they know literally everybody in Tulum and can perfectly organize every moment of your stay. Get the best tables, skip queues and get on the guest list of the coolest places in Tulum - this's only the beginning! 
They are ready to offer you guys FREE concierge service in Tulum for the time of your stay: take advantage of it, contact them on Whatsapp and live the best experience!
Get FREE Concierge Service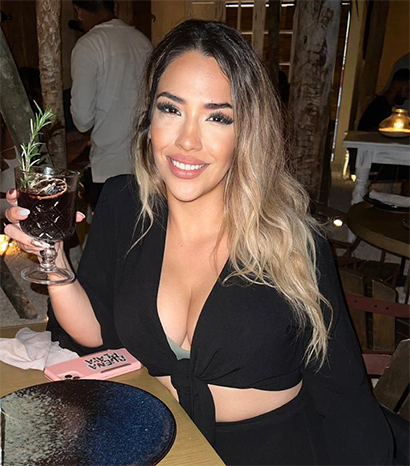 "Virginia Will Transform You In A Tulum Insider"
ARE AKUMAL RESORTS WORTH STAYING FOR THE INSANE PRICES?
Honesty, it depends on you. But in our opinion, you don't need to spend + 500 USD at a resort. It's better to stay at resorts with lower prices and explore the Akumal town and bay instead. In this way you can enjoy the luxury of the resort while saving money and also explore Akumal!
We hope you find the resorts in Akumal exciting and let us know below your experience in Akumal Bay! 
Top Events to Make Your Trip Unforgettable
DOMINIK TULUM @MIA TULUM
When: September 9, 2023 7:00 PM
Where: Mia Restaurant & Beach Club, Tulum
🌴 Join Us for An Unforgettable Night at DOMINIK - TULUM at Mia Tulum! 🌴
Friends, clear your schedules and get ready for a magical experience at Mia Tulum! This stunning location will host DOMINIK - TULUM on Saturday, September 9th, from 7 pm to 1 am. This isn't just another event; it's a fusion of nature, culture, and sound featuring an incredible line-up with GIORGIO STEFANO, AUDICTIVE, and MAURO TORRETA. At DOMINIK, you'll find the perfect blend of Tulum's lush jungles and pulsating underground beats, creating an environment where genuine connections blossom.
🎟️ Secure your tickets now:
Early Bird: $575 MXN ($38 USD), includes a welcome drink 🍹 (Limited Availability)
Tier 1: $805 MXN ($52 USD), includes a welcome drink 🍹 (Limited Availability)
Final Tier: $1150 MXN ($75 USD), includes a welcome drink 🍹 (Limited Availability)
Dinner + Party: $1380 MXN ($90 USD) 🍽️🎉 (Limited Availability)
See you there for a night you won't forget! 🎶✨
Ready to join us? Get your ticket now! Early bird tickets are already selling out, secure them at 632 pesos (only 15 tickets available).
Hurry – spots are filling up fast! 🙀 We can't wait to see you there!
Top Parties and Club Events
17th September - ANCESTRAL SOUL @BONBONNIERE TULUM
22nd September - TONY ROMERA @BONBONNIERE TULUM
29nd September - TIM BARESKO @BONBONNIERE TULUM
4th November - HOT SINCE 82 @BONBONNIERE TULUM
13th March - LOCUS Tulum 2024