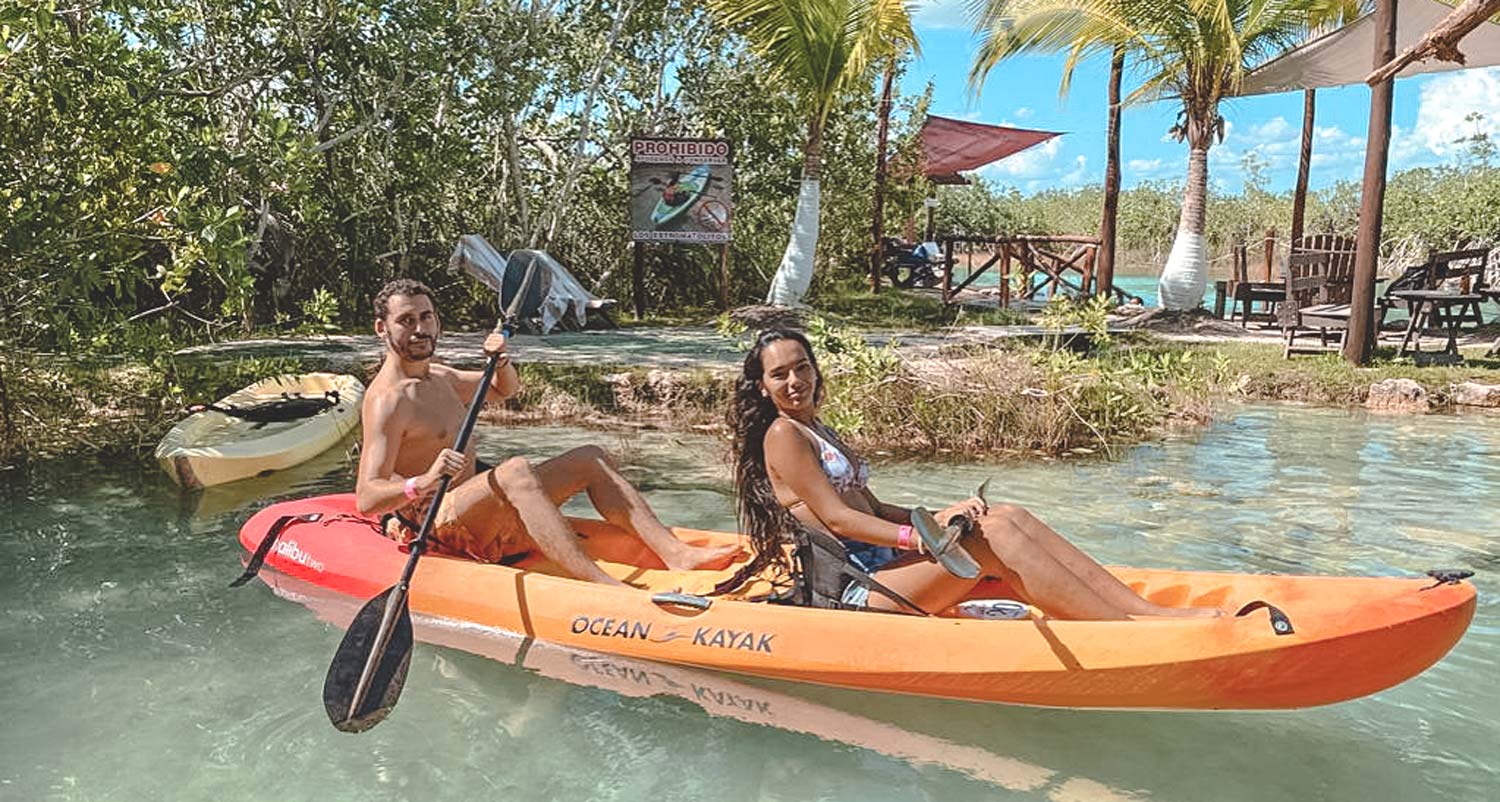 The Best Hotels In Bacalar For Every Budget
Looking for the perfect hotel in Bacalar to experience the most out of it in a few days can be challenging. Worry not, we have prepared a variety of the best hotels for you to get the most out of Bacalar, Mexico!
Within our hearts, this lake town is our own private getaway from all the busyness in Tulum. We always stay at Bacalar once a month to reconnect with the peaceful nature, away from tourististic shenanigans, and enjoy the beautiful view of Bacalar Lagoon. We love it so much here and we highly recommend it to you!
*Still have to book the best hotel?* – we really want to share with you how our friend Virginia made our stay unforgettable. She made us stay in incredible locations throughout and we can't recommend her enough. Take advantage of her free service below!
But first, let's introduce the good and the great of Bacalar to our new guests! 
WHAT IS BACALAR & WHY TRAVEL THERE?
The beautiful city of Bacalar is home to the astonishing fresh water lake called Lagoon of seven colors and the ancient Maya San Felipe Port. Located 2.5 hours from Tulum and close to the big city of Chetumal, Bacalar welcomes their guests with serenity of the beautiful lake view and experience.
As one of our favorite travel destinations in Quintana Roo, it offers a new atmosphere to the soul. Especially if you have been all over the Riviera Maya such as Cancun, Playa del Carmen, Tulum and maybe Chetumal. So, consider going to Bacalar, Mexico, and check out the lagoon for yourselves!
"We Love Bacalar Calm And Privacy"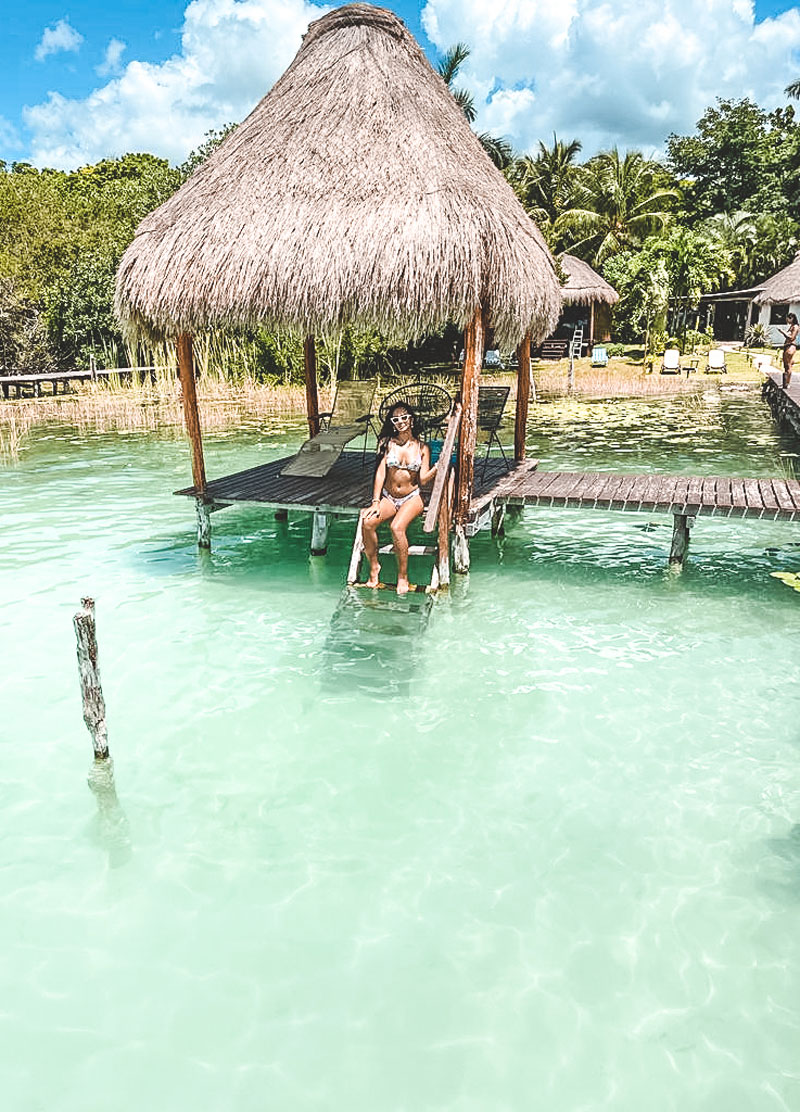 "Look The Water's Color!"
BEST LUXURY & RUSTIC HOTELS OUTSIDE BACALAR CITY
We highly recommend that you look for hotels or a property outside of Bacalar first. It is because we found that the accommodation outside Bacalar offers a more private and intimate environment. This is a perfect place for guests who want a few days of peace and relaxation by enjoying the lagoon. 
Not to worry, you have a variety of accommodations that matches your taste and budget!
MIA BACALAR LUXURY RESORT & SPA
The cabanas of Mia Bacalar Luxury Resort & Spa look simple from the outside, but you will notice its glamor as you enter their cozy rooms. To get a taste, one room that we love offers a private one-story room with an elegant bathtub to spend a romantic moment with your partner.
With a starting price of 150 USD, feel free to enjoy the resort's facilities where you can hangout by the pool or kayak across the lagoon! Don't forget to also relax by their spa services and take delight in a private massage at the dock with the lagoon breeze brushing your skin. At last, dine at the HUNAB KU restaurant overlooking the lagoon.
MAYA BACALAR BOUTIQUE HOTEL
One of the best boutique hotels around, the Maya Bacalar Boutique Hotel attracts special guests with its private jacuzzi pool on the balcony of the room! Not only that, the rooms offer a homey and minimalistic space with large window walls that view the beautiful nature.
With a starting price of 150 USD as well, you will love the facilities that this hotel offers. Such as basking under the sun by the floating net above the lagoon and relaxing by the rooftop terrace to enjoy their spa services.
"Bacalar's Calm Beach"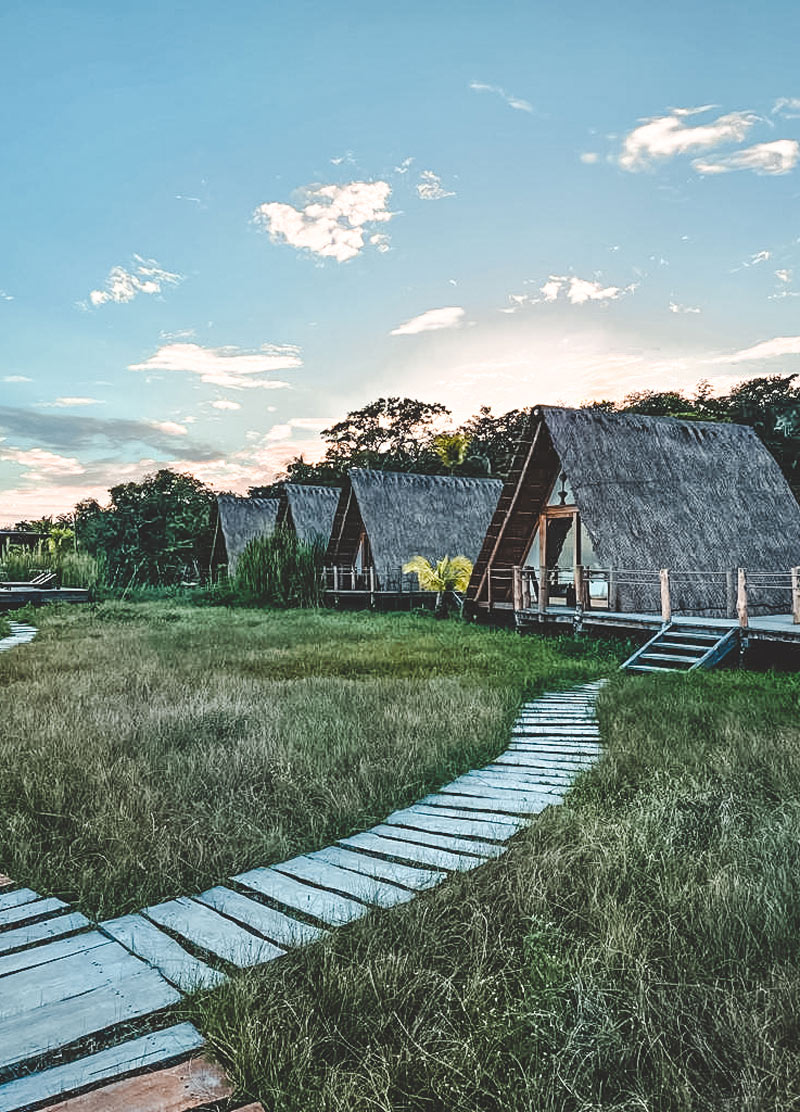 "Imagine Waking Up Here!"
For a great cause, the eco cabins of Hotel Casa Lamat aims to preserve and relish the beautiful Bacalar nature. By implementing ecological and sustainable systems to their rustic rooms, guests also save the environment.
With a starting price of 75 USD, this is the perfect place to really connect with Bacalar's nature. Besides their eco rooms, their restaurant offers delicious gourmet food that are vegetarian friendly, perfect for your breakfast! Show your support to nature and stay at Hotel Casa Lamat.
The most rustic hotel on our list, Cayuco Maya, boasts a stunning water front property with a variety of rooms and cheaper prices! It is perfect for guests who want to spend a great family time on a budget here. On another hand, you can also camp out on the property for a cheaper price.
Eddy and I always go here whenever we travel to Bacalar. The manager, Emmanuel, is super friendly and welcoming to all guests. A few perks of this rustic hotel offers a free breakfast at their restaurant, and they also allow your pets to roam free in the property and swim in the lagoon! Take beautiful pics with your furry friend here!
Take Advantage Of Free Concierge Service
As excellent to explore Tulum and its surroundings alone, you may need help figuring out where to start. To make the most of your money and time, contact Virginia and Kelly - two incredible Mexican girls living in Tulum for more than 15 years. They're familiar with the ins & outs of the Tulum town and hotel zone like the back of their hand! 
Since we arrived in Tulum 2 years ago, many adventures wouldn't have been possible without their help - they know literally everybody in Tulum and can perfectly organize every moment of your stay. Get the best tables, skip queues and get on the guest list of the coolest places in Tulum - this's only the beginning! 
They are ready to offer you guys FREE concierge service in Tulum for the time of your stay: take advantage of it, contact them on Whatsapp and live the best experience!
Get FREE Concierge Service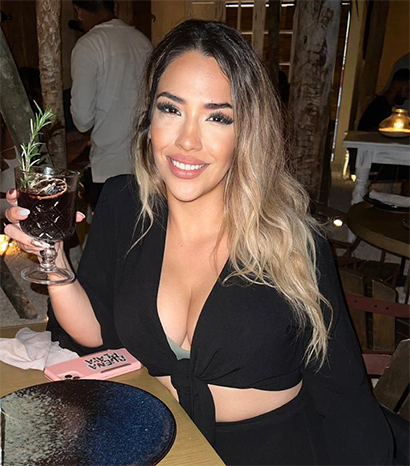 "Virginia Will Transform You In A Tulum Insider"
BEST LUXURY & BOUTIQUE HOTELS INSIDE BACALAR CITY
Right at the center of the heart of Bacalar, the places to visit are to travel the Maya fort during the day and stroll the beautiful park at night. You can find many delicious restaurants too. Feel the cold Bacalar breeze even in the center of the town, and stay at one of these hotels.
Just at the heart of the city, the center is the main attraction where people gather and have a great time. 
HOTEL ECO BOUTIQUE MAKAABA
Hotel Eco Boutique Makaaba is inspired by the beautiful nature that surrounds Bacalar. The hotel aims to provide unique guests experiences during their stay with the utmost comfort and various activities within their environmentally-friendly accommodation.
With a starting price of 80 USD, they offer three types of accommodation whose rooms are designed with petit-minimalist space to encourage guests exploring Bacalar rather than to stay at their room. Thus, we recommend guests to jump in their spacious pool instead, enjoy breakfast at the hotel's WAAH restaurant, then have a great night exploring the Bacalar center!
The earthy rooms of Hotel Aires Bacalar brought a relaxing atmosphere and good vibes to the soul. With slightly cheaper prices, this hotel wins because of their eccentric design throughout the property. It is noticeable from the petite swimming pool and enchanting garden that looks super good in our eyes!
Plus, you should definitely check out their rooftop terrace to watch the sun set into the lake and notice the hotel slowly lit-up when the night comes. We remembered it felt surreal!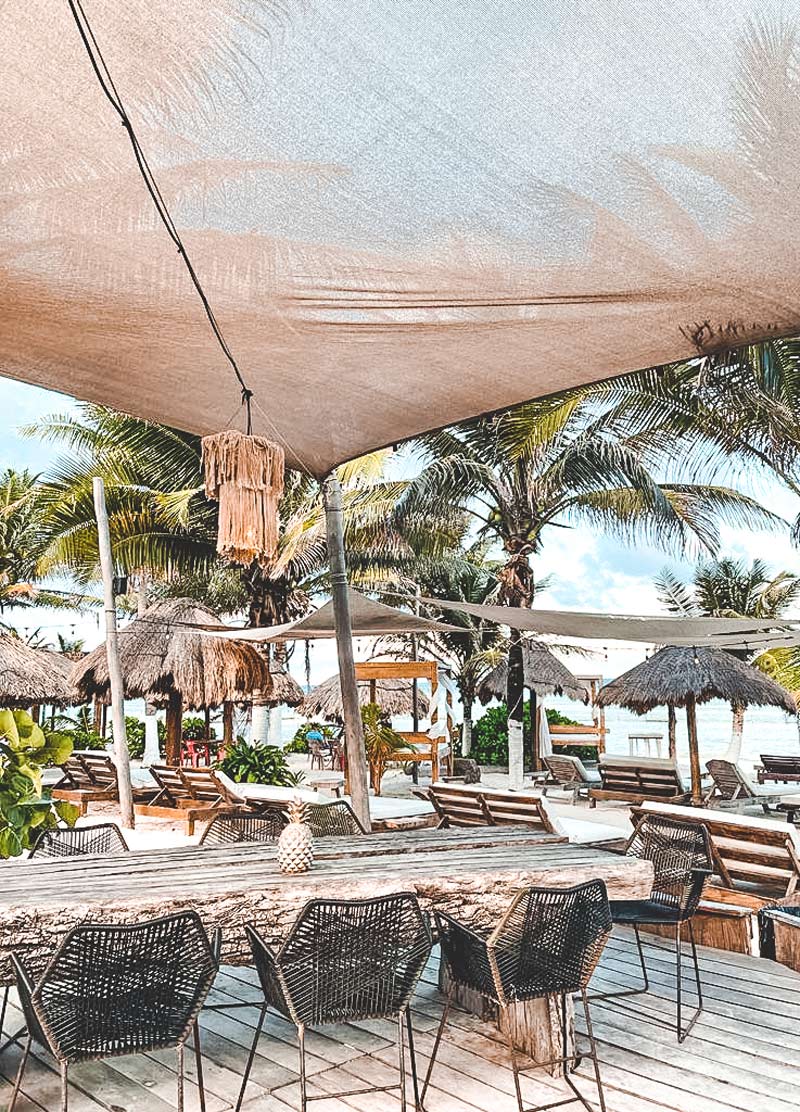 "Perfect Location For A Dinner In Bacalar"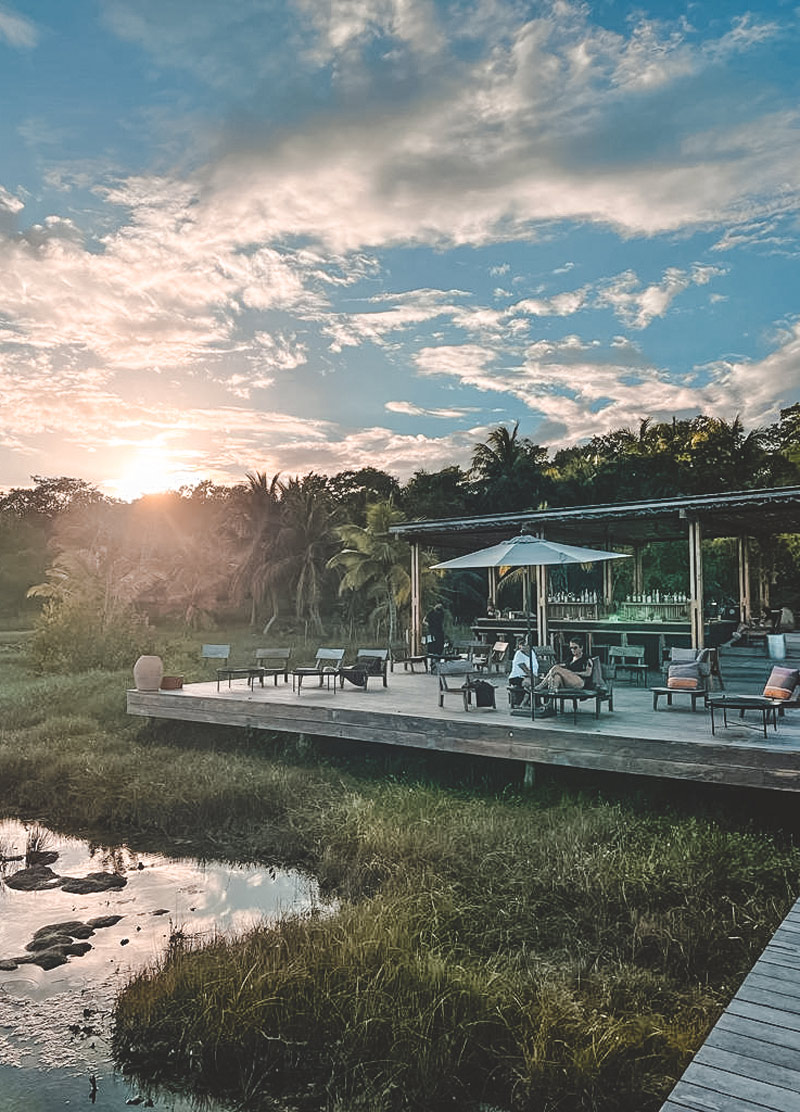 "Chilling At Sunset"
This water front hotel of Casa Aakal is a place you should consider to stay for a night. One of the reasons is because it's located closest to the center and the lake. Although the rooms and pool look boring, it is the dock that's worth to check out!
Let's talk about the best part. The dock in this hotel is one of a kind in Bacalar, there aren't many as good looking as this one. You will see branches of trees bending inwards into the center of the dock, creating a visible circular view of the lake. This is where you should take pictures, exactly on the dock and surrounded by the branches… Totally amazing!
HOW TO VISIT BACALAR: TRAVEL GUIDE FROM TULUM VS CHETUMAL AIRPORT
Now that you know the best hotels around, let us tell you how to reach Bacalar.
If you take a trip from Cancun or Tulum, it's best to travel with a private car rather than taxi. In Tulum, we highly recommend BGH Car Rental that offers mint-condition cars that feel like new and also great customer services by Virginia! They are located a few minutes from town and near Digital Jungle. You can contact her at +529842558049 and check their availability!
We also recommend that you book a trip to Chetumal International Airport which will save plenty of travel time to reach Bacalar.
IS BACALAR WORTH VISITING?
Absolutely! We stress that Bacalar is a great getaway from Tulum, Cancun, Playa del Carmen, or anywhere else in Riviera Maya. Although it may not have the night life and beach parties like in Tulum, Bacalar has its own perks that you can't find anywhere else
Thus, we recommend you stay at a hotel outside of Bacalar to experience private space next to the lake, and feel free to explore the center during the day and visit restaurants at night.

We hope you find our list of hotels in Bacalar helpful. Comment below your thoughts on the Bacalar Lagoon and if it's worth visiting!
Top Events to Make Your Trip Unforgettable
DOMINIK TULUM @MIA TULUM
When: September 9, 2023 7:00 PM
Where: Mia Restaurant & Beach Club, Tulum
🌴 Join Us for An Unforgettable Night at DOMINIK - TULUM at Mia Tulum! 🌴
Friends, clear your schedules and get ready for a magical experience at Mia Tulum! This stunning location will host DOMINIK - TULUM on Saturday, September 9th, from 7 pm to 1 am. This isn't just another event; it's a fusion of nature, culture, and sound featuring an incredible line-up with GIORGIO STEFANO, AUDICTIVE, and MAURO TORRETA. At DOMINIK, you'll find the perfect blend of Tulum's lush jungles and pulsating underground beats, creating an environment where genuine connections blossom.
🎟️ Secure your tickets now:
Early Bird: $575 MXN ($38 USD), includes a welcome drink 🍹 (Limited Availability)
Tier 1: $805 MXN ($52 USD), includes a welcome drink 🍹 (Limited Availability)
Final Tier: $1150 MXN ($75 USD), includes a welcome drink 🍹 (Limited Availability)
Dinner + Party: $1380 MXN ($90 USD) 🍽️🎉 (Limited Availability)
See you there for a night you won't forget! 🎶✨
Ready to join us? Get your ticket now! Early bird tickets are already selling out, secure them at 632 pesos (only 15 tickets available).
Hurry – spots are filling up fast! 🙀 We can't wait to see you there!
Top Parties and Club Events
17th September - ANCESTRAL SOUL @BONBONNIERE TULUM
22nd September - TONY ROMERA @BONBONNIERE TULUM
29nd September - TIM BARESKO @BONBONNIERE TULUM
4th November - HOT SINCE 82 @BONBONNIERE TULUM
13th March - LOCUS Tulum 2024