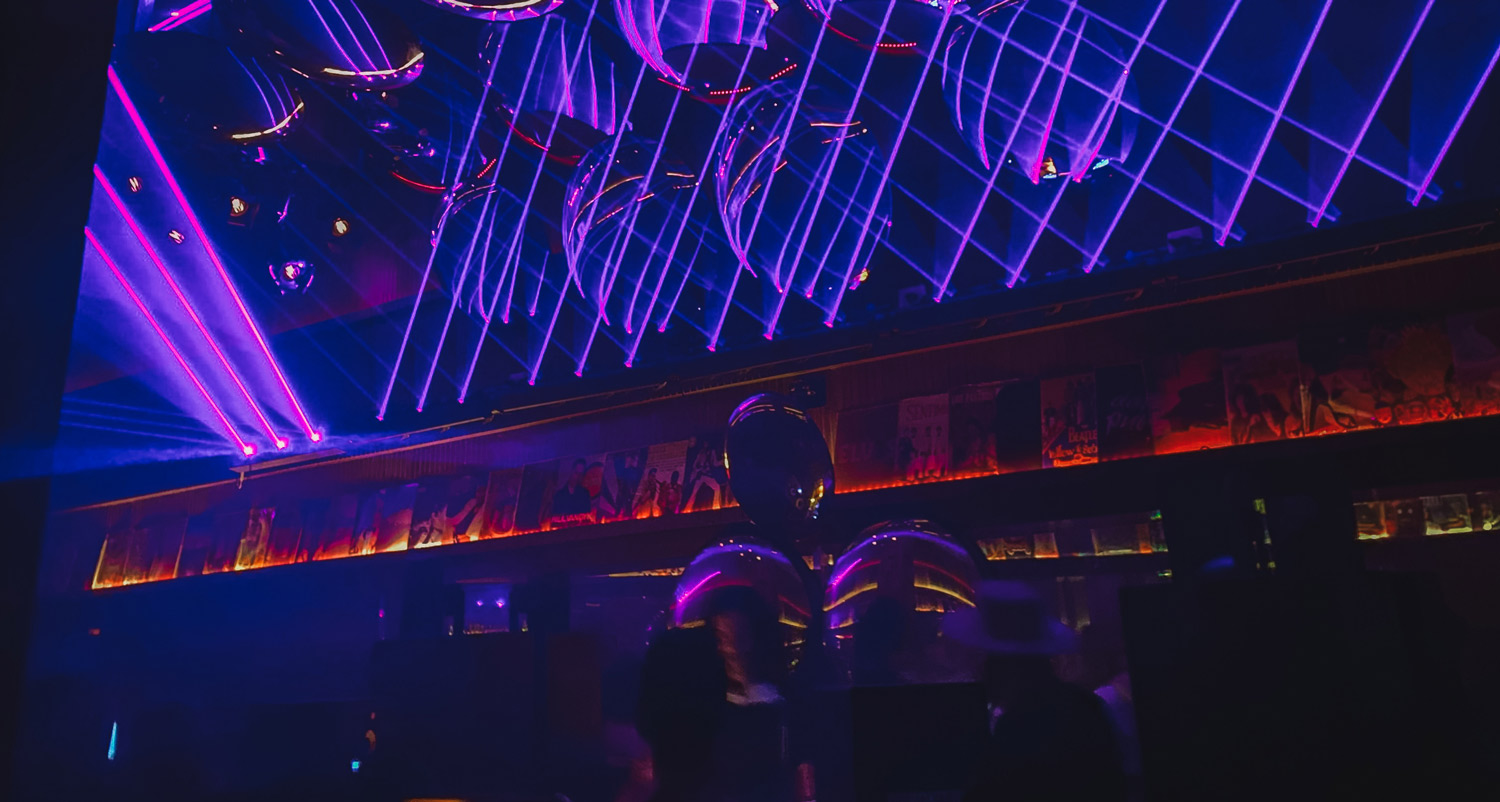 Zamanik Tulum Next Events And Essential Guide
Tulum has for sure many surprises for you – and Zamanik is one of them. This secret club hidden between Aldea Zama neighborhood halfway from the Centro and the beach, will make you live some unforgettable nights. Being the best club in Tulum Centro, you should consider it if you want to have fun without reaching Tulum beach. It's also a great option if your hotel or apartment is nearby – you could even be able to reach Zamanik by foot!
In this guide you'll to know everything about this venue, from the prices to the upcoming events, the amenities and services, the location and the closest hotels. We promise you that after this guide you'll almost be like a local – we live here since 2 years so we know pretty much everything! 
Time has passed and Tulum became our home – we got to know so many things about this amazing city and we can't wait to share every one of them with you. Tulum is in constant progress, so make sure to follow our blog and articles to be always updated on the best things to do in Tulum! 
But let's talk about Zamanik – this club is our obligatory stop when it comes to after parties! Make sure not to miss their Domink nights on Sunday to avoid spending an aburrida night during your vacation in Tulum. 
Let's skip to the good part and foretaste your experience there!
What is Zamanik Club and what can you expect?
Zamanik is an hidden club in Tulum Aldea Zama neighborhood. Being one of the safest and yet luxurious neighborhood around Tulum Centro, you'll feel like in another world entering Zamanik. The vibe and the music will take control of your body making you live an unforgettable night. The space is limited, so make sure to make a reservation. 
Staff is also very kind and prices are great – especially if you manage to get your name on the guest list thanks to our friend Virginia.
Open from 11 PM to 5 AM as you can guess this club is perfect for after parties and especially on Sunday night is the perfect place to head after a nice dinner to enjoy their famous Dominik nights! 
Let's discover together their signature events and the upcoming parties!
Parties and Events in Zamanik Tulum
For the moment, the upcoming events at Zamanik are not revealed yet as February 2023. We'll update the list of the next events as soon as we know something!
Anyway – make sure not to miss the upcoming parties, which usually are concentrated from November/December to June/July. You can book your ticket or reserve a table contacting our friend Virginia – The person to know when it comes to nightlife in Tulum. Write to her on Whatsapp and get the most out of your Tuluminati night!
She will also be able to update you on upcoming events and put your name on the guest list to take advantage of special discounts! All this – for FREE.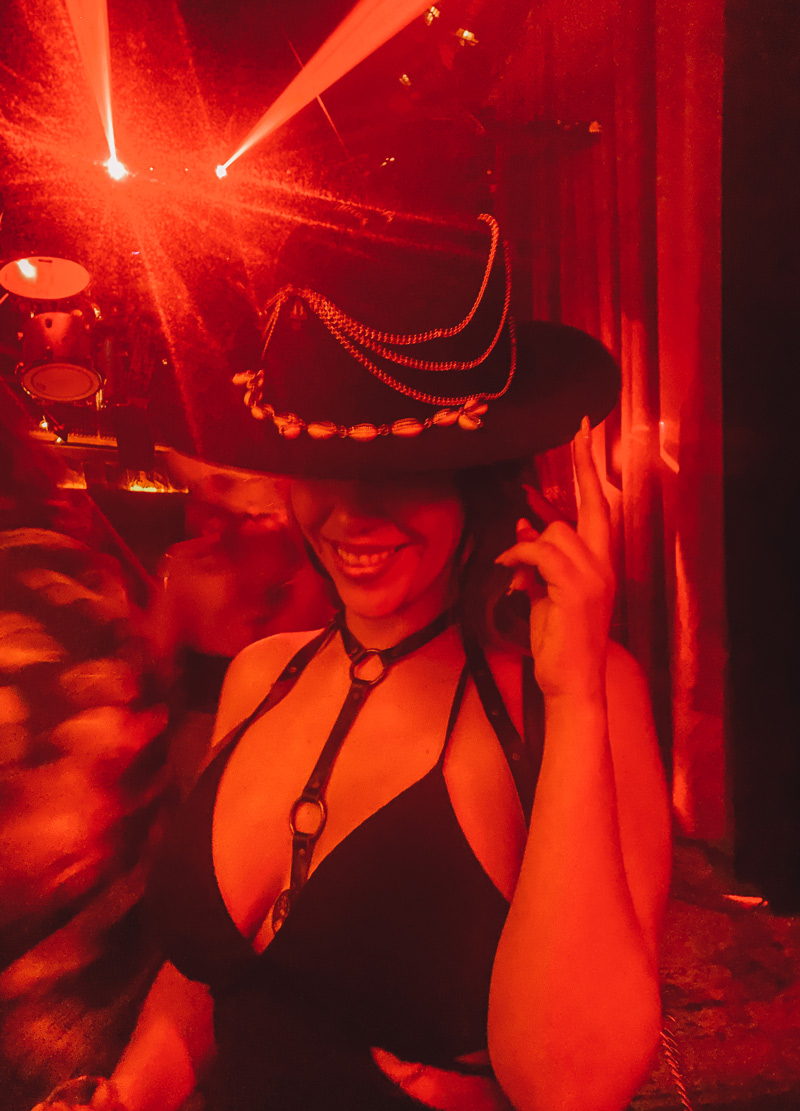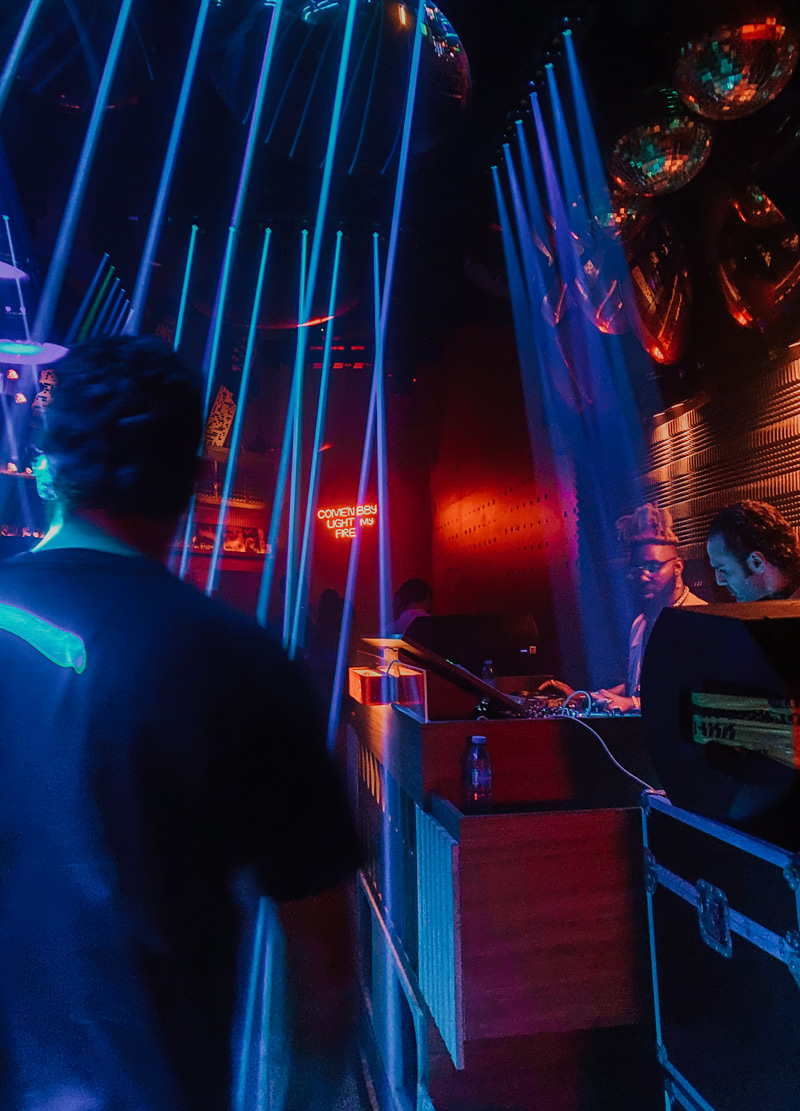 Dominik night: Every Sunday at Zamanik there is "Dominik night", which you don't want to miss! A special DJ will host the music, and it will get busy all night. Not bad as a plan for a Sunday night, right?
Perfect for After Parties: this club is literally never sleeping! If you're in Tulum and you think night is still young, consider this club for your after party – you'll not regret it!
Zamanik Amenities & services
This place has great amenities and facilities which can be really a plus during your night. Let's discover them together!
List of amenities :
Table service during parties and events
List of facilities :
Parking available
Free WiFi
Is Zamanik Tulum Expensive?
Zamanik is really inexpensive compared to other clubs around Tulum and Riviera Maya. Proof are the great reviews this club has! Moreover, is the only club in Aldea Zama and in Tulum Centro as well. So, if you're staying in the area and searching for a place to party after dinner, this is it.
Cocktails are great and if you love rave/clubbing this is a place you can't miss in Tulum! Many cool line ups are rocking the nights at Zamanik, so if you are traveling to Mexico on a budget and don't want to give up on great music, put this place on the top of your list.
To help you have a better idea, down below you'll find all the prices applied at Zamanik.
Booking tips & Best deals
*Know about Zamanik parties before everybody else* – here are our tips after living in Tulum for 2 years!
Parties at Zamanik are such a vibe. Hidden between condos and hotels, it's the perfect place to party every day of the week – except Monday and Tuesday. The location is so intimate and the vibe is so chilled that you'll feel like in a speakeasy with family and friends. The decoration of the venue and the lights are also incredible and perfect to make you groove with live music played by talented DJs.
But if you want your experience to be extra, you should really consider booking a table during the events and parties at Zamanik Tulum. More then being really less expensive compared to the States or Europe, it's such a thrilling experience you can't miss while in Tulum. No matter if you're a small or a big group, our friend Virginia – a Tulum adopted girl living here for more than 15 years – will set up everything for you. She personally knows the staff and will organize the perfect night – for FREE! 
Here are some of the advantages of having a table at a party:
Special discounts since you'll be on the guest list
All what you pay it's on consumption
Even if you are just a couple or a small group, Virginia can help you to get a table with other groups
VIP experience
Better area
Moreover, many times booking platforms just don't work so well – so it's always better to pass through the help of a real person in Tulum who knows the places and can help you live the best nightlife during your stay!
Contact her on WhatsApp and take advantage of her FREE services today.
Book Your Ticket + Table Here
Sample of prices at Zamanik Tulum:
Here are some prices of the main services – check them out before going to get a clearer idea. 
Parties Entrance fee: $35 USD // 730 MXN
Table Service: $250 + USD // 4600 + MXN
Parties Entrance fee being on the guest list: $25 USD // 450 MXN
How can you be on the guest list? 
You can contact our friend Virginia – who personally knows the staff there – clicking the button below to be on the guest list. Thanks to this you'll have special discounts on drinks and entrance and you'll also be able to book a table through her to get the best deals!
Book Your Ticket + Table Here
In this club you'll find a nice selection of beers, cocktails and spirits and you'll not be disappointed if you love the classics.
Here are some prices from their menu.
Beer: $5 – $8 USD // 95 – 165 MXN
Cocktail: $25 USD // 450 MXN
Spirit bottle (Gin, Tequila, Vodka, etc): $250 + USD // 4600 + MXN
TIPS: Make sure to ask the bartender for advice or seasonal cocktails – you could get some nice surprises!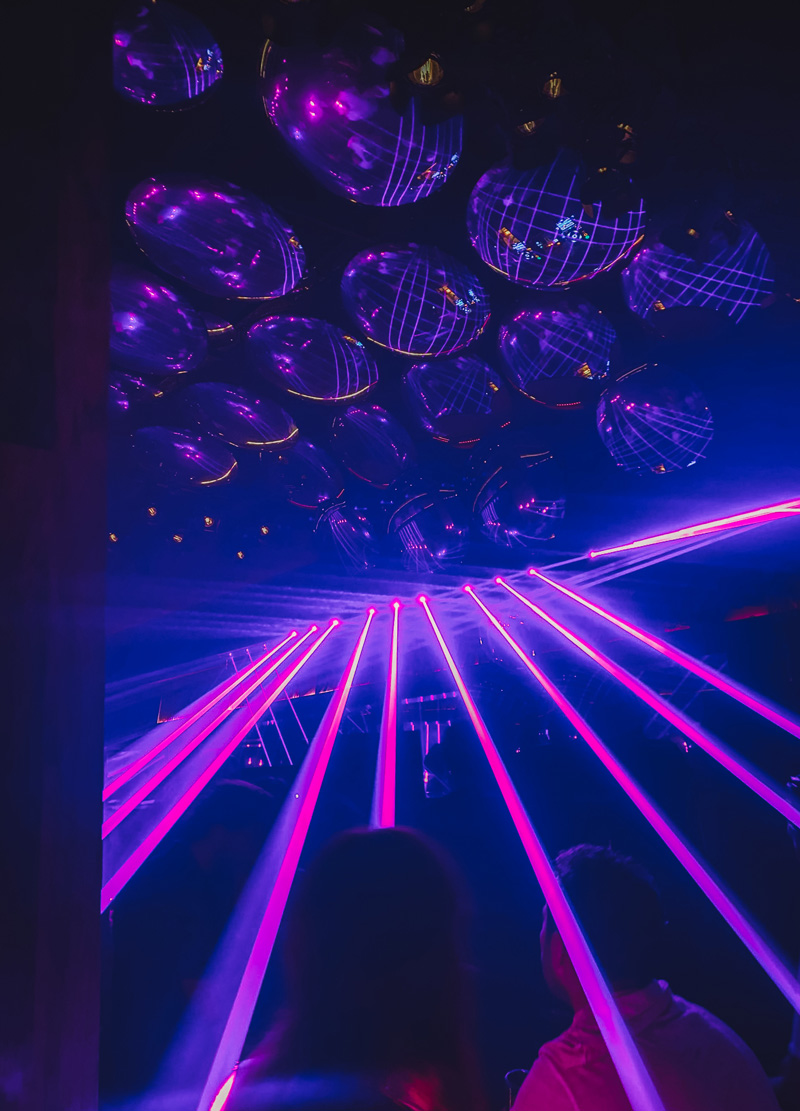 Reviews about Zamanik Tulum
More than being at a walking distance from where we stay, this club has a special vibe and its prices are much cheaper from the ones you can find in Tulum beach or abroad. Music, energy and DJs are creating the perfect combo to rock with some delicious cocktails you can not pass by!
What people say about Zamanik Club in Tulum
Reviews about this club are really great. Even though it's not the biggest club in Tulum, its intimate vibe, the great line ups and the atmosphere given by the lights are what make this club one of the coolest and most wanted. Forget the resident vibe you can find around and merge into a secret club to discover another side of Tulum nightlife.
We checked online reviews for you – they include: staff, cocktails, DJs and many other services – so check them out below! 
Rating on Google Maps: ⭐⭐⭐⭐ 4.4 average on 35 reviews at Feb 2023
Rating on Facebook: ⭐⭐⭐⭐⭐ 5 average on 5 reviews at Feb 2023
Book Your Table Here
Where is Zamanik Club located in Tulum?
Zamanik is located in one of the most chic area of Tulum. Far from the screaming crowd in the main avenue, here you'll be surrounded by beautiful hotel, residences, restaurants – yes, we're talking about Aldea Zama. Other than being chic and aesthetic, here you'll feel safe at any time during night or day. You'll be able to reach Tulum beach in no time, as well as La Veleta or Tulum downtown.
Let's check out the map below to have a clearer idea of where it is!
Zamanik is located in the Tulum Aldea Zama neighborhood
Condominio Quinto Sol, Aldea Zama Local 5 y 6, 77760 Tulum, Q.R., Mexico
How to go to Zamanik Club in Tulum?
You have multiple ways to reach it:

From Tulum Centro: it will not be difficult to reach Aldea Zama neighborhood, where Zamanik is located, from Tulum Centro. You can reach it by foot if your hotel is in downtown, otherwise by car, scooter or bike it shouldn't take you more than 10 minutes. We think is useless to get a cab because it's not really comfortable for such a short ride and it can be expensive – only take it if you're a big group! 
From Tulum beach: from Tulum beach Aldea Zama can be a bit far away depending where your hotel is. If you're in the South of Tulum beach you can consider taking a cab. We don't recommend you to reach Zamanik by foot, on the contrary if you've booked a car or a scooter you should use it to reach the club ni no time! Make sure to move before the crowd does to avoid the traffic.
Don't miss our Tulum transport guide to become a pro and choose the best way of transportation!
Which Hotels are close to Zamanik Tulum?
Zamanik is located in one of the most safe a VIP area of Tulum town – Aldea Zama. Halfway from the wonderful beach and the main avenue, if you decide to stay in this area you can't miss our Aldea Zama neighborhood guide to discover our favorite spots. Here you'll find cozy villas and hotels with a nice Tulum vibe. Down below we made a selection of our favorite places, including one for gay only (our LGBTQ Tulum nightlife guide here). Check them out! 
FAQ about Zamanik Tulum
What is the minimum age to get in Zamanik Tulum?
The minimum age to get in at Zamanik Tulum parties is 18 years old.
Are kids allowed in Zamanik Tulum?
No, kids aren't allowed in Zamanik Tulum.
At what time Zamanik Tulum opens?
Zamanik Tulum opens from 11:00 PM every day except Monday and Tuesday.
Are large groups accepted at Zamanik Tulum?
Yes, large groups are accepted at Zamanik.
At what time does Zamanik Tulum close?
Zamanik Tulum Beach Club closes around 5:00 AM or at the end of the party.
How to make a reservation at Zamanik Tulum?
You can make a reservation at Zamanik Tulum through our friend Virginia to get the best table and service. She personally knows the staff and will be happy to set everything for you. Contact her here.
What kind of music is being played at Zamanik Tulum?
The music played at Zamanik Tulum includes genres like house, dance, electronic, and deep house.
Does Zamanik Tulum accept credit cards?
Yes, credit cards are accepted in Zamanik Tulum.
Does Zamanik Tulum accept cash?
Yes, Zamanik Tulum accepts cash. It's always good to carry some Mexican Pesos with you during your stay.
Is there a minimum spend at Zamanik Tulum?
No, there is not a minimum spend at Zamanik Tulum.
What is the dress code at Zamanik Tulum?
There is not really a dress code for Zamanik, it depends a lot on the different events.
Top Events to Make Your Trip Unforgettable
DOMINIK TULUM @MIA TULUM
When: September 9, 2023 7:00 PM
Where: Mia Restaurant & Beach Club, Tulum
🌴 Join Us for An Unforgettable Night at DOMINIK - TULUM at Mia Tulum! 🌴
Friends, clear your schedules and get ready for a magical experience at Mia Tulum! This stunning location will host DOMINIK - TULUM on Saturday, September 9th, from 7 pm to 1 am. This isn't just another event; it's a fusion of nature, culture, and sound featuring an incredible line-up with GIORGIO STEFANO, AUDICTIVE, and MAURO TORRETA. At DOMINIK, you'll find the perfect blend of Tulum's lush jungles and pulsating underground beats, creating an environment where genuine connections blossom.
🎟️ Secure your tickets now:
Early Bird: $575 MXN ($38 USD), includes a welcome drink 🍹 (Limited Availability)
Tier 1: $805 MXN ($52 USD), includes a welcome drink 🍹 (Limited Availability)
Final Tier: $1150 MXN ($75 USD), includes a welcome drink 🍹 (Limited Availability)
Dinner + Party: $1380 MXN ($90 USD) 🍽️🎉 (Limited Availability)
See you there for a night you won't forget! 🎶✨
Ready to join us? Get your ticket now! Early bird tickets are already selling out, secure them at 632 pesos (only 15 tickets available).
Hurry – spots are filling up fast! 🙀 We can't wait to see you there!
Top Parties and Club Events
17th September - ANCESTRAL SOUL @BONBONNIERE TULUM
22nd September - TONY ROMERA @BONBONNIERE TULUM
29nd September - TIM BARESKO @BONBONNIERE TULUM
4th November - HOT SINCE 82 @BONBONNIERE TULUM
13th March - LOCUS Tulum 2024