Discover Tulum's Ultimate Dance and Party Clubs
Looking to spend a great time at clubs in Tulum but still determining what you will experience? Well, if you enjoy live music performances by renowned artists, dine in gastronomical food and drinks by the beach, or love upbeat dance parties, you have come to the perfect town. Tulum is where the fun never ends, whether day or night!
Tulum is one of the best party towns in Quintana Roo, Mexico. One of the popular lifestyles of Tulum is to visit various clubs across downtown Tulum (centro) and the Hotel Zone (by the beach). This is because all the clubs across Tulum offers authentic concept/atmosphere that can be experienced in their private bohemian restaurant, bar, and various live events!
You should also know that during the day and night, the clubs in Tulum have a different vibe. During the day, people love to visit the beach clubs to dine at the restaurants and bars while having their feet on the warm sands. Most clubs, restaurants, and bars are the most popular at night for live music events featuring world-renowned Djs, attractive fire shows, magical atmosphere, and more!
Learn more details about Tulum's daily life and nightlife, and find our complete guide and top picks of the best Day Beach Clubs in Tulum and get the most out of Tulum Nightlife!
But to make the process easier, you can contact our friend Virginia, as she can help you get the best tables and skip lines for free!
BONBONNIÈRE TULUM NIGHTCLUB
Price range: $$$$$
Area: Hotel Zone by the Jungle
Best for: Great spot for all-night clubbing in the Tulum Hotel Zone
Party at Bonbonniere! It is a luxurious nightclub with sophisticated interiors and an authentic atmosphere of the red neon lights illuminating the dark dance floor. It's a unique nightclub where people come to enjoy sophistication while sipping on the finest drinks in Tulum!
Be sure to come before 11pm. And listen to the renowned Dj of Bonbonniere from the Martinez Brothers, Coco & Breezy, and Michael Bibi performing various genres such as house, techno, and others!
Secure your spot at Bonbonniere now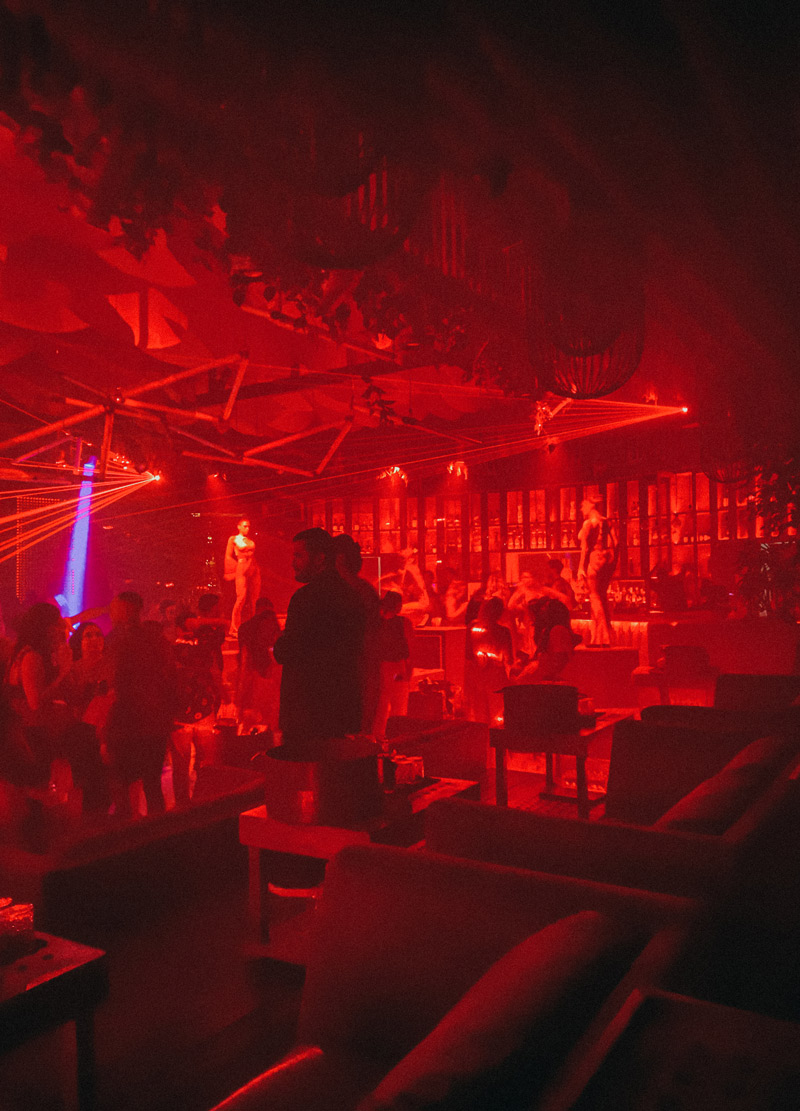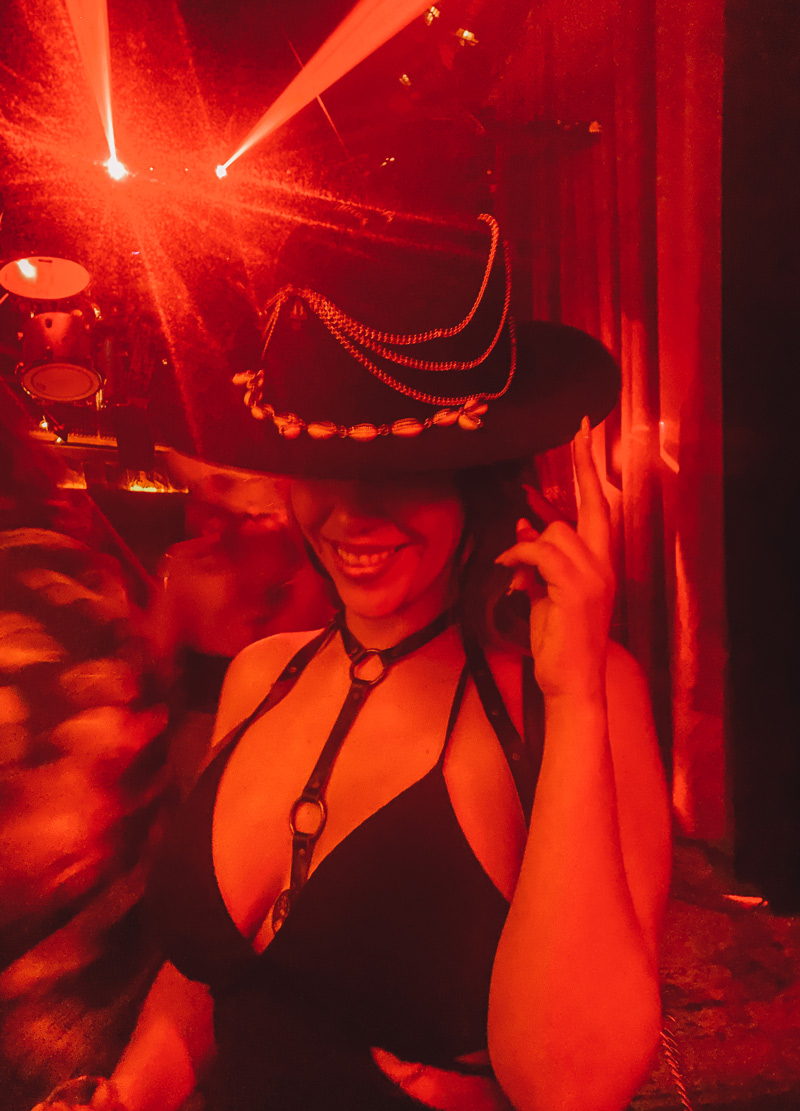 Price range: $$$
Area: Tulum town – La Veleta
Best for: Live music, great crowd, and drinks in Aldea Zama
The best nightclub in Aldea Zama, Zamanik, is a speakeasy club that boasts top-quality beverages and a hip ambiance. We consider this club our favorite because various well-known electronic Djs perform. At the same time, the dynamic lighting system of the venue is so enchanting.
Open from 11pm – 6am, we recommend visiting Zamanik Bar every Sunday because it's "Dominik night"! Plus, it gets jam-packed on Sundays if you love a crowded vibe, and Virginia can get you into their guestlist for free!
Secure your spot at Zamanik now
GITANO TULUM JUNGLE DISCO PARTY
Price range: $$$$
Area: Jungle area across the beach
Best for: A Popular jungle party, disco, live music, and delicious foods.
Visit the Tulum jungle to lose yourself in the charm of the gypsy-disco only at Gitano Tulum Jungle! It is where dinner transforms into dancing as the enormous disco ball shines on the dance floor every Friday night.
Open from 6pm until late, we recommend staying the whole night to experience Gitano's three bars boasting 50 mezcals, gastronomic drinks, and their delicious modern Mexican menu. SO along with their fantastic beers and Margaritas at the bar, we loved their tuna tostadas and shrimp tacos at Gitano's Mexican restaurant. Give it a try!
Secure your spot at Gitano now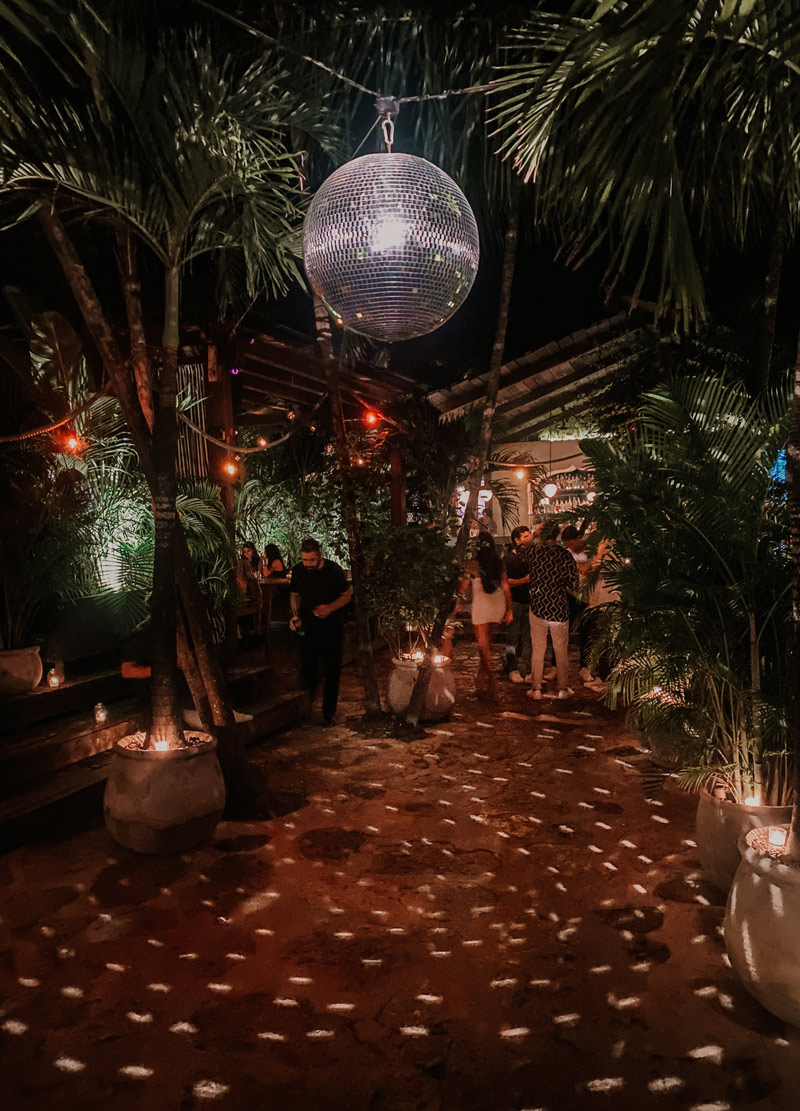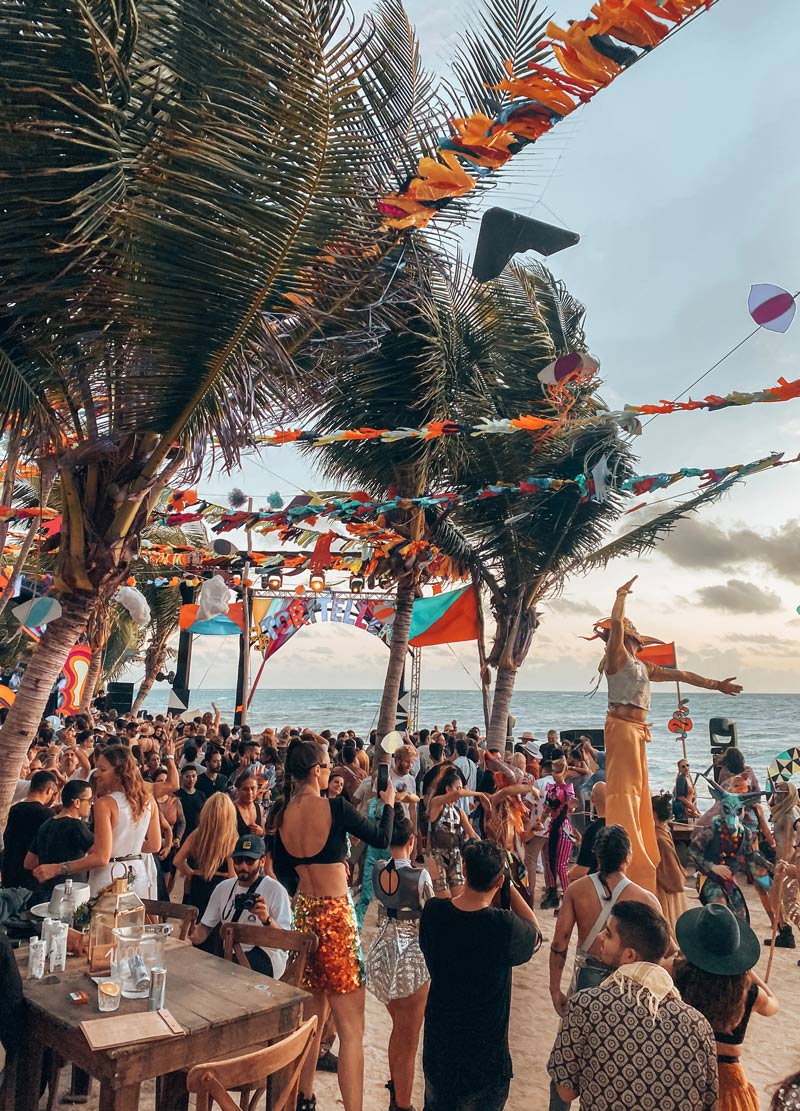 PAPAYA PLAYA PROJECT BEACH PARTIES
Price range: $$$$
Area: Beach Zone
Best for: Popular beach party events, unique concepts, and delicious cuisines
Definitely save your Saturdays to visit Papaya Playa Project, as they are notorious for hosting killer beach events. Especially during the events such as the Full Moon, Woomoon, storytellers, and NYE events, this beach club is a gathering place for world-renowned artists and chefs to present their talents in music and gastronomy.
So, you should arrive before 10 pm and dress comfortably during the high season because it gets busy all night long until sunrise! We recommend booking a dinner table/ticket, if possible, because you will fully experience the Papaya Playa Project at its finest! Enjoy a delicious 3-course meal of Mexico's Yucatan flavors right before you go partying!
Secure your spot at Papaya Playa Project now
VAGALUME TULUM BEACH PARTIES
Price range: $$$$
Area: Beach area
Best for: Great place to enjoy a bohemian atmosphere to dine and party.
One of the best things that make this place stand out is its elegant bohemian ambiance, from the beach club's artisan interiors to the various live DJs at their weekly events. It is where people love to spend the whole day because of the atmosphere and their mouthwatering Mediterranean menu, offering delicious food and refreshing drinks.
Also, delight in otherworldly performances and private events hosted by various international DJs, professional acrobats, and creative artists only at Vagalume Tulum! It's crazy to think that this beach club hosts the best parties every day. Check Vagalume Tulum out, especially in September or October, because of the beginning of the high seasons, and there will be many extraordinary events!
Secure your spot at Vagalume now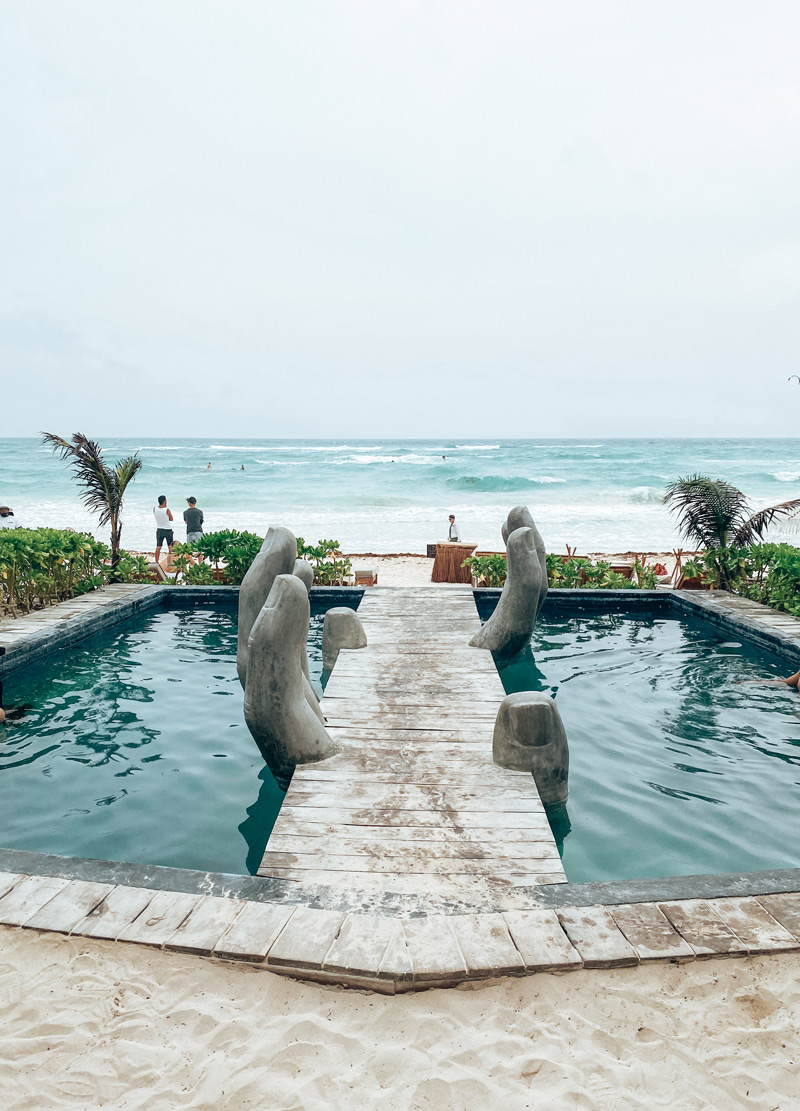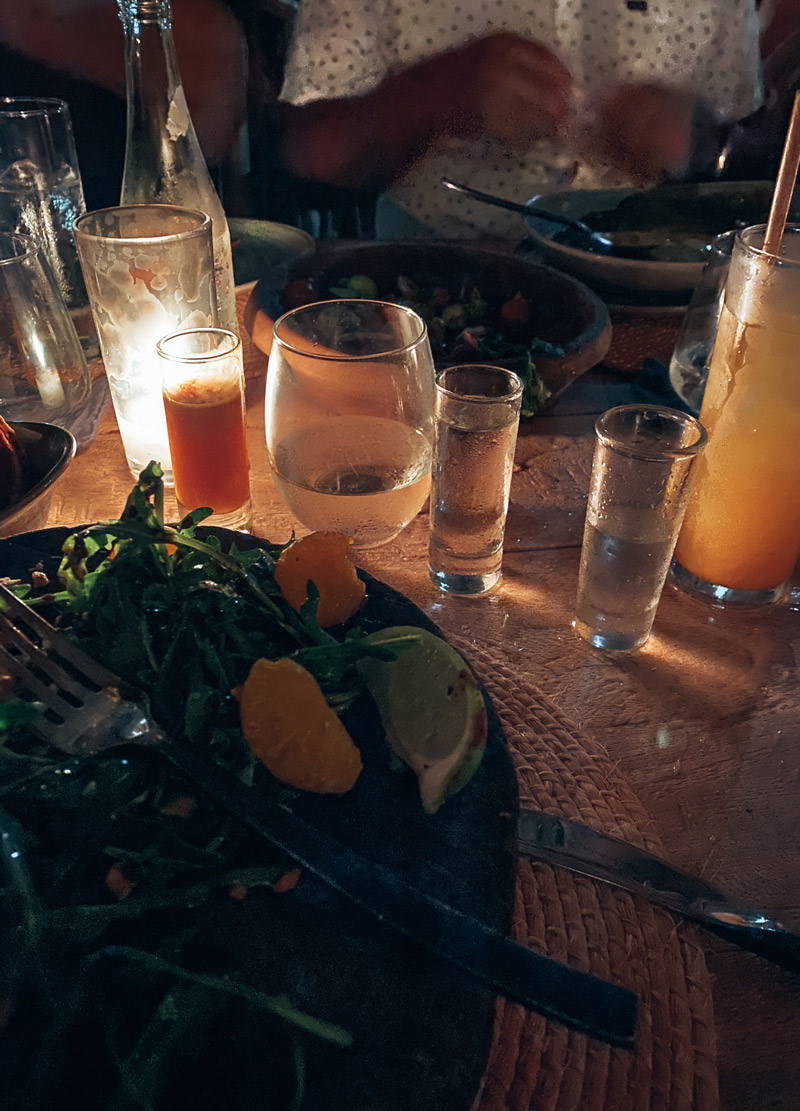 TABOO BEACH CLUB & RESTAURANT TULUM
Price range: $$$
Area: Beach area
Best for: Great day and night parties with an outgoing atmosphere and people
At their core, they view Mediterranean cuisine as a way of life where simplicity meets sophistication. Their exquisite dishes are served with international twists created by imported top-quality ingredients and in the hands of passionate chefs.
Stay till 10 pm to view the breathtaking performances to elevate your dining experience in Taboo. Only every night, the restaurant is enchanted by the music, shows, and crazy violin players everyone loves!
Of course, they surprise you with unexpected events. If you want to take a peek at the shows and get the best tables, you can contact Virginia, who will be more than happy to introduce you to the wonders of Taboo Tulum.
Secure your spot at Taboo now
STRAW HAT ROOFTOP NIGHTCLUB
Price range: $$
Area: Tulum Town
Best for: A budget-friendly and vibrant place to party, drink, and dance
The perfect spot in town where you want to spend time partying, dancing, and having cold drinks on a tight budget. Open until 3 am in the morning, Straw Hat Rooftop Bar gets crazy as the rooftop is filled with vibrant neon lights, hip-electronic music, and people dancing to every beat! Also, compared to other bars, the drinks prices are reasonable, and the atmosphere is unique.
But even though you don't feel like dancing, you can enjoy cold drinks on the bottom floor with your friends all night long!
Secure your spot at Straw Hat now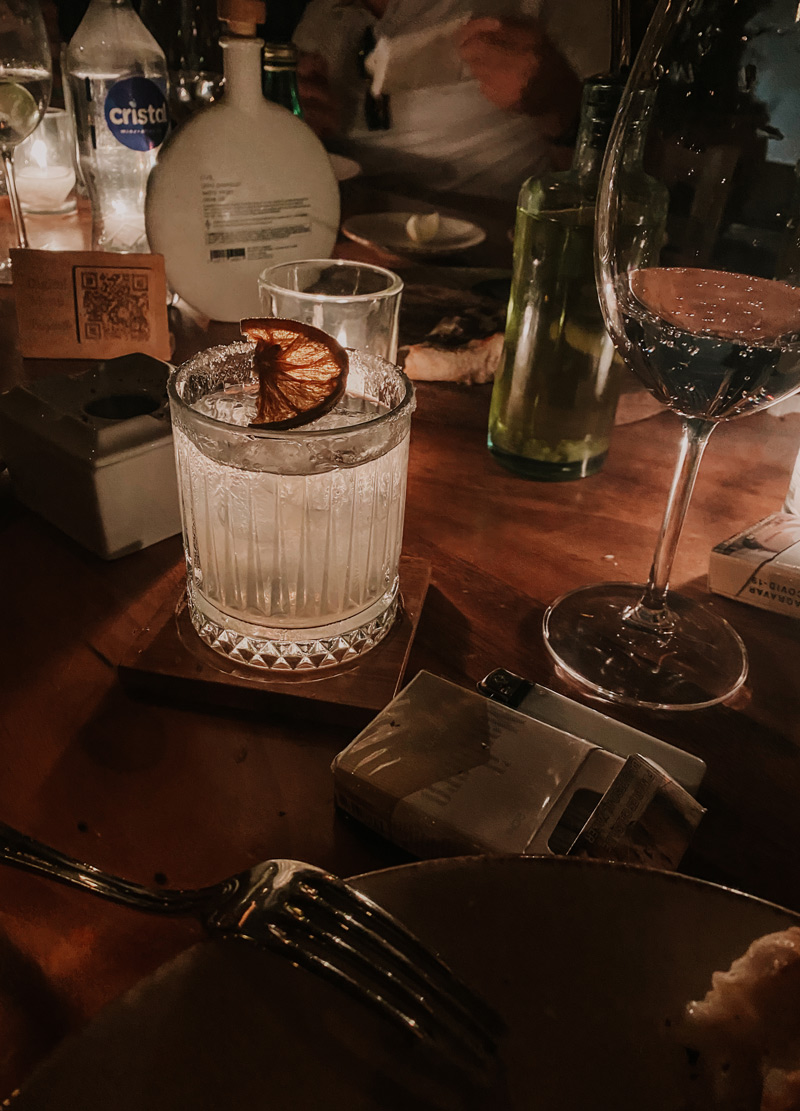 BAGATELLE FRENCH DINING & 80'S THEMED SHOWS
Price range: $$$$
Area: Beach area
Best for: Extravagant dining with the finest champagnes in Tulum
Across the luxurious hotels on the beautiful beaches of Tulum, Bagatelle Restaurants stands out as a well-known restaurant for its unique French Mediterranean cuisine. The food and the lavish dining sophistication by the serene ocean receive hundreds of five-star reviews. That is mainly because of their delicious dishes and gallery of the finest champagne in Tulum! 
Open until 12 am, enjoy a wonderful time over dinner and events only on Fridays, premiering 80's style shows! If you are here for new years, learn more about Bagatelle's venue and the type of tickets they're selling here.
Secure your spot at Bagatelle now
THE TOP 5 CLUBS IN TULUM CENTRO
Here you will find a list of our top-picked clubs in Tulum Centro. These venues are great for a hip atmosphere, upbeat music, and tasty drinks! You will want to go to clubs in town, instead of the beach, because it is perfect for those with a tight budget!
Contact our friend Virginia to get the best table, be on the guest list and have special discounts!
Zamanik Tulum – $$$

 – La Veleta

Straw Hat Rooftop – $$

 – Centro

Tulum Social Night Crawl – $$

 – Centro

Nocturnal Downtown – $$$

 – Centro

Santino Bar – $$

 – Centro 
THE TOP 5 CLUBS IN TULUM BEACH
While the beach clubs will give you a luxurious atmosphere, they also present iconic events every week, and they are super popular in Tulum! We recommend you try at least one beach club, and if it's your first time, you should contact Virginia, who is familiar with the staff and the venue very well. Her free services can help you get into the guest list easier and book the best tables throughout the place!
Don't miss out on an exclusive experience! Reach out to our dear friend Virginia and unlock VIP access, prime seating, and irresistible discounts at the hottest events in town!
Papaya Playa Project – $$$$

 – Tulum Beach

Taboo – $$$$

 – Tulum Beach

Vagalume – $$$$

 – Tulum Beach

Bagatelle – $$$$

 – Tulum Beach

Bonbonnière – $$$$$ – Middle of Tulum Beach
THE BEST TULUM CLUBS ON A MAP
If you enjoy club hopping, we create the map to make your travel planning easier. Check out the locations of the best Tulum clubs across the town and the beach area below!
THINGS YOU NEED TO KNOW ABOUT TULUM CLUBS
After discovering clubs and experiencing various events for two years, here are essential takeaways that we learn and you should know to avoid the hassle in your journey.
PRACTICAL TIPS AND ADVICE
Start off with the practical tips and advice we learned along our journey. It is crucial to know, especially if it's your first time. We want you to be more prepared before visiting the venue and avoid unnecessary incidents that may ruin the fun!
1. Bring pesos and cash – some clubs don't accept cards or cash in USD, especially in town. So it is best to prepare cash, "efectivo," in pesos as your primary payment option.
2. What to wear – Tulum lifestyle adopts an elegant bohemian fashion. But not to worry, only some beach clubs and events encourage guests to follow a specific dress code.
3. Double check your bills – There can be some instances where the staff charges you a drink you didn't order, and they may over tipped themselves without your consent. Regardless if it's a mistake or intentional, it is your responsibility to revise the bill, "la cuenta."
4. Arrive early – Important if you want to avoid the lines and save a parking spot because it's limited, especially at the beach.
5. Plan ahead – Planning how you will go to the club and back to your own hotels is important for your safety, especially if you don't own a vehicle. It is not that Tulum is unsafe. It is that taxis may not be around late at night and can see if you're desperate and can overcharge you.
ARE TULUM CLUBS EXPENSIVE?
Depending on your budget and what you are looking for. If you're tight on budget, go to the clubs in town. If you don't have any spending limits, go to the beach clubs to delight in various perks. But we recommend trying to go at least once to a beach club like PPP and Vagalume that offers multiple events, including dinner before you go dancing and a party.
HOW CROWDED DO TULUM CLUBS GET?
Tulum generally gets more crowded around the winter season and a few months early after the new year. Around September to March, Tulum is the busiest, where plenty of travelers will visit for a holiday and escape winter. But on the brighter side, these are the times when the clubs are hosting exciting events and new years celebrations that never fail to entertain!
HOW DO OTHER GUESTS ACT IN TULUM CLUBS?
It all depends on the atmosphere you go to. Generally, the venues are great at lifting up people's spirits and enchanting the crowd with their unique experiences. For example, if you go to nightclubs, people are high-spirited. But generally, other guests mostly love to socialize, share a drink, and be super friendly.
FAQ about Tulum Clubs
Are Tulum clubs safe?
Tulum clubs are safe because security is located on the premises, and people generally are friendly and love socializing. However, when it gets crowded, we recommend that you keep your belongings close to you.
Is it safe to go alone to Tulum clubs?
It is generally safe to spend time alone at clubs on the beach or in the town. But you should never let your guard down and be careful with your belongings.
What is the minimum age to get into clubs in Tulum?
The minimum age to get into clubs in Tulum is generally 18 years old. However, some clubs will specify if they allow children, pets, or only adults above 21 years old to enter. 
Does Tulum have good clubs?
Tulum has plenty of good clubs for all budgets and offers a range of experiences to guests. Whether you are looking for something luxurious or rustic, Tulum has it all!
Does Tulum have nightlife?
Tulum does have an exciting and magical nightlife filled with plenty of experiences to explore. Learn more about the best to-do list in nightlife and if nightlife in Tulum is expensive.
What time do clubs close in Tulum?
Most nightclubs generally close until 3 am, and some close until the morning. On the other hand, day beach clubs usually close around 6 pm.
What time do people go to clubs in Tulum?
People often go to clubs at night if they are looking to dance and party, and some go to beach clubs during the day to dine under the sun.
What is the minimum spending in Tulum clubs?
The minimum spending at Tulum clubs is around 2,000 pesos or 100 USD, depending on the season. Minimum spending primarily applies if you reserve a table at any club by the beach.
What kind of music is played at Tulum clubs?
The music at Tulum clubs is most commonly electronic, deep house, and tribal melodies. During special events, Tulum clubs will invite resident or renowned Djs to perform on stage for the audience. 
How can I pay at Tulum clubs?
You can only pay with cash, pesos, USD, or card at some places. But as a rule of thumb, cash is king and the safest option to pay for your orders.
When do Tulum clubs have the most visitors?
Tulum clubs will have the most visitors on weekends, especially during the high season, from around September to March.
When do Tulum clubs have the least visitors?
Tulum clubs have the least visitors during the month from April to August. Furthermore, some clubs may close due to the low seasons.
Do Tulum clubs accept USD?
Only some Tulum clubs accept USD, but they have their own currency exchange rates in their favor. So, it is best to bring pesos in cash instead.
Top Events to Make Your Trip Unforgettable
DOMINIK TULUM @MIA TULUM
When: September 9, 2023 7:00 PM
Where: Mia Restaurant & Beach Club, Tulum
🌴 Join Us for An Unforgettable Night at DOMINIK - TULUM at Mia Tulum! 🌴
Friends, clear your schedules and get ready for a magical experience at Mia Tulum! This stunning location will host DOMINIK - TULUM on Saturday, September 9th, from 7 pm to 1 am. This isn't just another event; it's a fusion of nature, culture, and sound featuring an incredible line-up with GIORGIO STEFANO, AUDICTIVE, and MAURO TORRETA. At DOMINIK, you'll find the perfect blend of Tulum's lush jungles and pulsating underground beats, creating an environment where genuine connections blossom.
🎟️ Secure your tickets now:
Early Bird: $575 MXN ($38 USD), includes a welcome drink 🍹 (Limited Availability)
Tier 1: $805 MXN ($52 USD), includes a welcome drink 🍹 (Limited Availability)
Final Tier: $1150 MXN ($75 USD), includes a welcome drink 🍹 (Limited Availability)
Dinner + Party: $1380 MXN ($90 USD) 🍽️🎉 (Limited Availability)
See you there for a night you won't forget! 🎶✨
Ready to join us? Get your ticket now! Early bird tickets are already selling out, secure them at 632 pesos (only 15 tickets available).
Hurry – spots are filling up fast! 🙀 We can't wait to see you there!
Top Parties and Club Events
17th September - ANCESTRAL SOUL @BONBONNIERE TULUM
22nd September - TONY ROMERA @BONBONNIERE TULUM
29nd September - TIM BARESKO @BONBONNIERE TULUM
4th November - HOT SINCE 82 @BONBONNIERE TULUM
13th March - LOCUS Tulum 2024