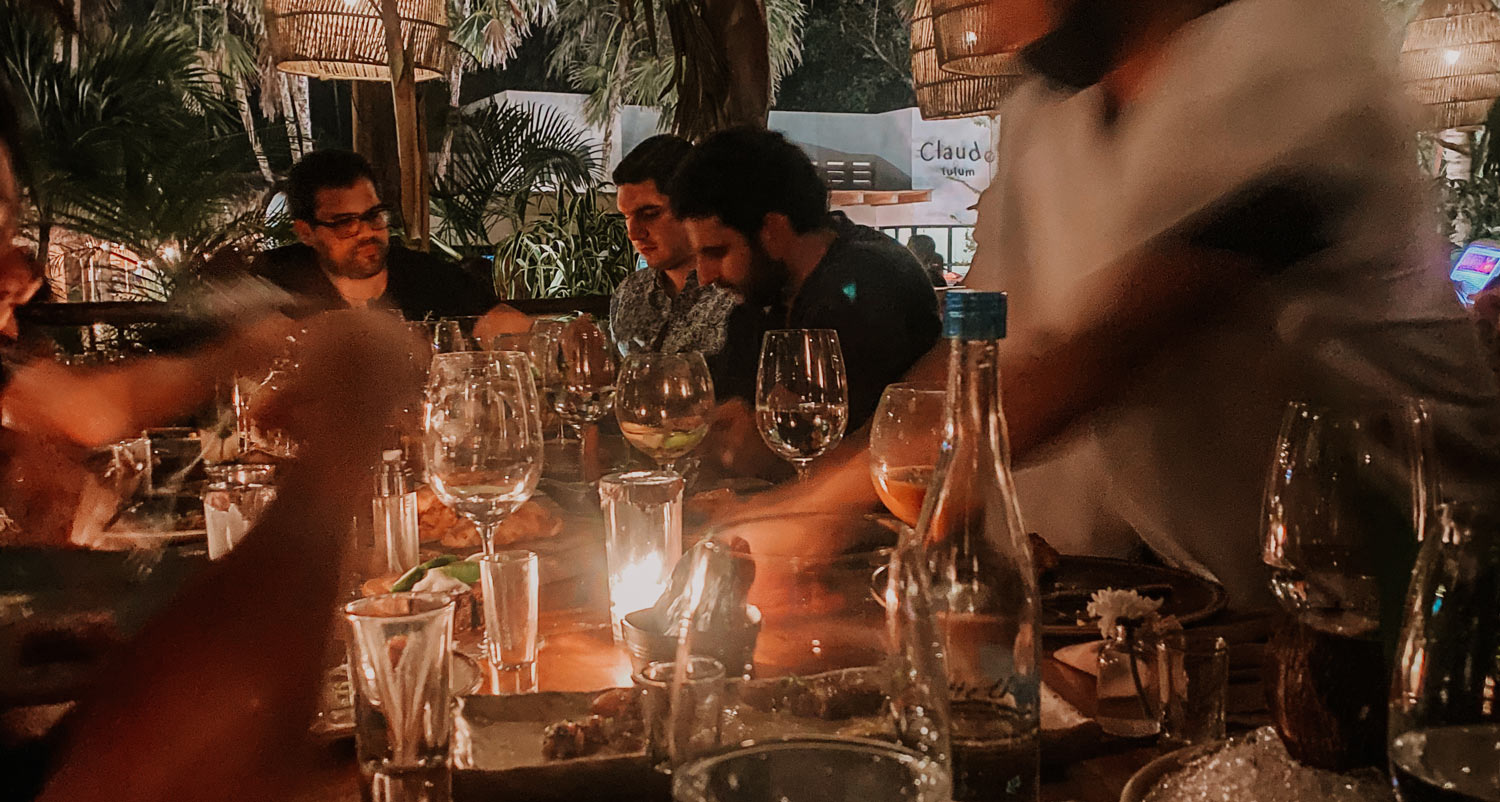 Rosa Negra Tulum: Upcoming Events And Complete Guide
Searching for a luxurious Latin restaurant on the beach of Tulum? There you go! In our RosaNegra guide you'll find all the informations about this incredible restaurant and what makes it so special. From fine food and wines, always with a Mexican twist, be ready to enjoy Kobe meat and delicious seafood – not to mention you their mouthwatering cocktails. Rosa Negra is the best restaurant in town if you want your food quality to be 10/10 and the service impeccable. So pick up an elegant dress, reach the beautiful Tulum beach where Rosa Negra is located and live an unforgettable night under the Mexican sky.
We promise you'll not be disappointed by this restaurant that stole our heart 2 years ago when we moved to Tulum!
Time has passed and Tulum became our home – we got to know so many things about this amazing city and we can't wait to share every one of them with you. Tulum is in constant progress, so make sure to follow our blog and articles to be always updated on the best things to do in Tulum! 
Let's skip to the good part and foretaste your experience there!
What is Rosa Negra and what can you expect?
RosaNegra is an outstanding restaurant where Latin vibe takes over! If you're are searching for a luxurious vibe and a VIP experience, this place is a great option during your vacation to Tulum. Great food including Kobe meat and other exotic specialties will please your palate with flavors you've never tasted before. You can't go wrong with a dinner at RosaNegra, where wine selection, food and vibe hits another level. Take a look at our guide to know all the informations about upcoming events, prices, menu, location and much more.
Open from late afternoon till midnight, this restaurant is perfect for a dinner night with friends or with your partner.
Let's discover together their signature events and the upcoming parties!
Parties and Events in Rosa Negra Tulum
Make sure not to miss the upcoming parties, which usually are concentrated from November/December to June/July. For sure you can't miss a dinner at Rosa Negra during your stay in Tulum, even if there's no particular event. Know that you can book your ticket by simply clicking on the name of the event below, whether this is in Rosa Negra restaurant or beach club! You'll find all the details of the event, the prices and the line up.
If you want to reserve a special table, don't hesitate in contacting our friend Virginia – The person to know when it comes to nightlife in Tulum. Write to her on Whatsapp and get the most out of your Tuluminati night!
Most famous parties hosted by Rosa Negra Tulum
Every night at Rosa Negra is unique. Their fresh food, the atmosphere, the impeccable service – you will love it. They host from time to time incredible events with the best DJs from all over the world, so make sure to contact our friend Virginia to assure yourself the ticktes and the best table for the night!
Check down below the upcoming events you can't miss!
Even though this event will be hold in Rosa Negra Beach Club, which is close by the restaurant, we can't not mention you this event! Yeah, you red well – Bob Sinclar will rock the beach of Tulum this March with his unforgettable tunes.
Click the button below to get more info about the event and book the tickets before they get sold out!
Book Your Ticket + Table Here
NYE Special Party: New Years Eve Parties here are legendary. Starting with an extraordinary four course menu featuring the best food RosaNegra always bring to their costumers, you'll live a unique experience celebrating the beginning of the new year with a Latin vibe! We really advice you to book your table in advance and assure yourself the best prices. If you want to spend NYE with the perfect mix between Latin and Mexican food with live music in one of the most luxurious spot in Tulum, don't hesitate booking the ticket in advance and start the new year with the right energy!
Rosa Negra Amenities & services
This place has many amenities and facilities which can be really a plus during your day or night. Let's discover them together!
List of amenities :
Reservations
Valet Parking
Serves Alcohol
Full Bar, Wine and Beer
Digital Payments
Free Wifi
Accepts Credit Cards
Table Service
Live Music
Organization of private weddings and celebration
Vegan and vegetarians friendly
Gluten Free Options
List of facilities :
Outdoor Seating
Parking Available
Highchairs Available
Waterfront
Is Rosa Negra Tulum Expensive?
Rosa Negra can be more expensive than the other places in Tulum – but we deeply believe is the only place that can really give you a VIP experience in Tulum. So if you want to spoil yourself during your vacation – and we know you deserve it – you should really put Rosa Negra on the top of your list.
The food, wine and beer selection, cocktails are unique in the Tulum scene and you'll not find anywhere else such exotic foods and premium meat cuts. Keep on going to find out the complete list of prices at Rosa Negra to have an idea of your budget.
Booking tips & Best deals
*Get the best tables at Rosa Negra for free* – here are our tips after living in Tulum for 2 years!
Events with DJs at RosaNegra and its food are such a vibe. If you've already been in other venues around the world, you already know that RosaNegra is among the coolest places in Mexico. The location is beautiful with the hearty decorations making you feel its elegant and tribal vibe, the music is a unique mix of the best Latin beats and the DJs will make you have fun as you never did. 
But if you want your experience to be extra, you should really consider booking a table at Rosa Negra Tulum. No matter if you're a small or a big group, our friend Virginia – a Tulum adopted girl living here for more than 15 years – will set up everything for you. She personally knows the staff and will organize the perfect night – for FREE! 
Here are some of the advantages of having a table:
It's FREE
Applies the same
All what you pay it's on consumption
Even if you are just a couple or a small group, Virginia can help you to get a table with other groups
VIP experience
Better area
Moreover, many times booking platforms just don't work so well – so it's always better to pass through the help of a real person in Tulum who knows the places and can help you live the best nightlife during your stay!
Contact her on WhatsApp and take advantage of her FREE services today.
Book Your Ticket + Table Here
Sample of prices at Rosa Negra Tulum:
Here are some prices of the main services – check them out before going to get a clearer idea. 
Prices at Rosa Negra's bar:
In this venue you'll find a huge selection of beers, cocktails and spirits – not talking about the wines coming from all over the world. Here are some prices from their menu.
BEER: $7 USD // 140 MXN
WHITE WINE: $15 – $30 USD // 300 -560 MXN
RED WINE: $15 – $24 USD // 300 – 450 MXN
COCKTAILS: $20 USD // 385 MXN
MOCKTAILS: $13 USD // 260 MXN
Spirit glass (Gin, Tequila, Vodka, etc): $8 – $1585 USD // 150 – 29600 MXN
TIPS: Make sure to ask the bartender for advice or seasonal cocktails – you could get some nice surprises!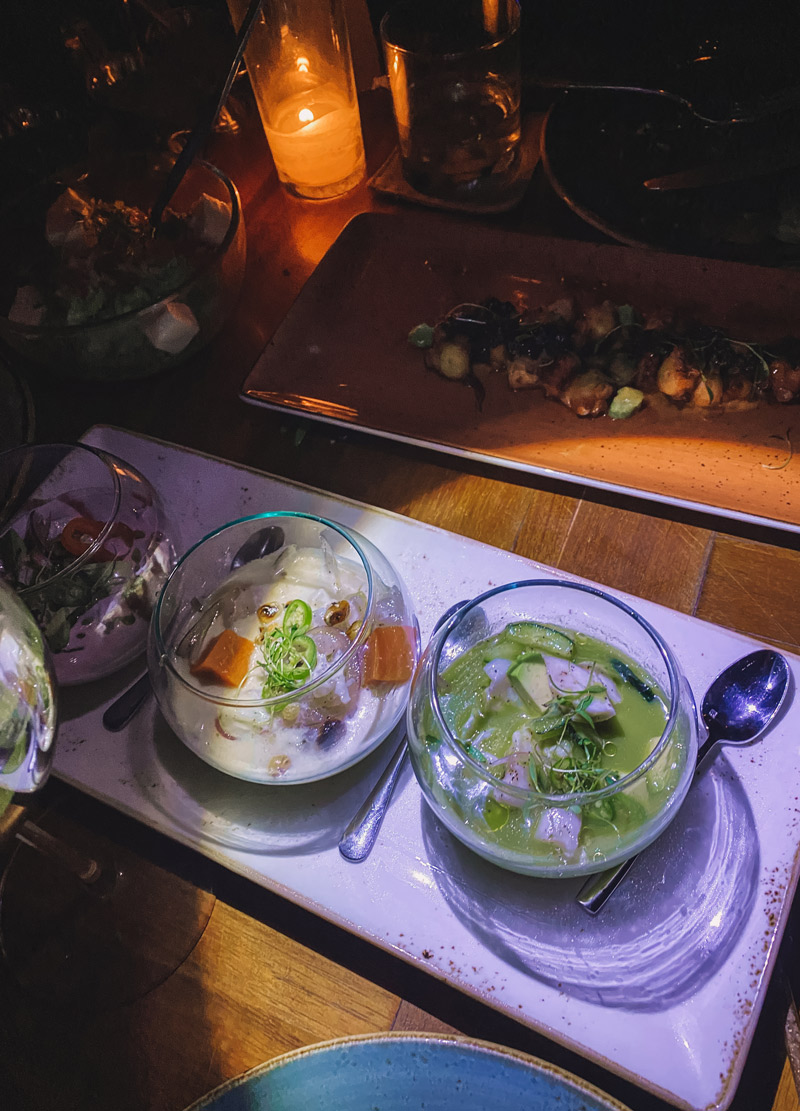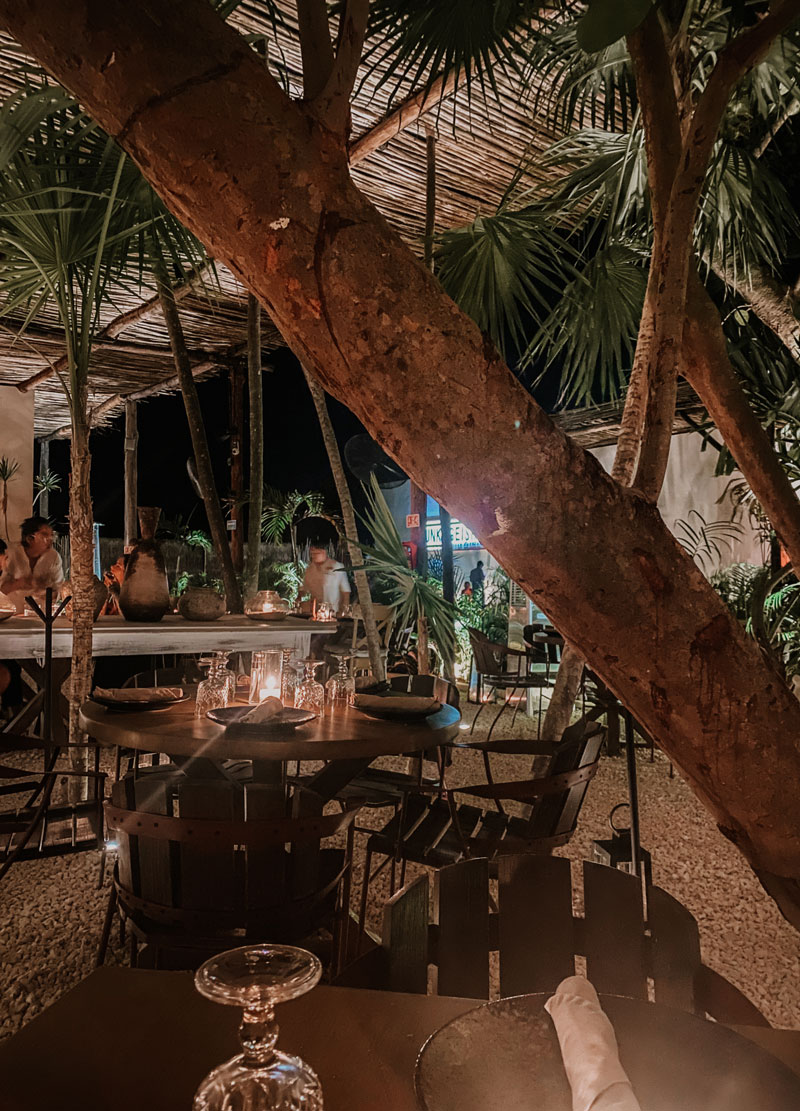 Prices of Rosa Negra's restaurant:
This Latin American restaurant will make you feel spoilt by choice – let's check them out their best dishes and let's discover how much they can cost you.
APPETIZERS: $6 – $30 USD // 120 – 590 MXN
TOSTADAS: $15 – $45 USD // 260 – 835 MXN
SASHIMIS & TIRADITO: $18 – $60 USD // 340 – 1100 MXN
CEVICHES: $20 – $45 USD // 375 – 810 MXN
SOUPS: $12 – $23 USD // 230 – 435 MXN
SALADS: $16 – $20 USD // 305 – 385 MXN
RISOTTOS, RICE & PASTAS: $27 – $55 USD // 505 – 1045 MXN
MEAT: $30 – $310 USD // 555 – 5800 MXN
FISH AND SEAFOOD: $35 – $176 USD // 625 – 3300 MXN
TACOS: $20 – $55 USD // 375 – 990 MXN
TIPS: Booking a table through a concierge service will grant you best table placement.
Book Your Table Here
Reviews about Rosa Negra Tulum
We love how RosaNegra makes the perfect mix between Latin American countries in its cuisine, so when we want some fine food we know where to go!
Kobe Beef, Wagyu Beef, not to mention the Argentinian cuts – we are sure you'll love them. But if you prefer some fish there you go with exotic and exclusive gourmet products from all over the world. But hey – tiraditos and ceviches will be there to refresh you while you chill under the sun by the pool!
These are just some of the reasons why RosaNegra is so good, but let's find out below what people think about it!
What people say about Rosa Negra Beach Club in Tulum
Reviews are enthusiastic – in fact, the experience people live in this venue are literally priceless. From the cocktails to the food, from the incredible pool featuring the dreamy panorama, you can't be disappointed. If you want that Latin America vibe and dance to some local beats, this is the place you shouldn't miss.
We checked online reviews for you – they include: staff, pool, bar & restaurant and many other services – so check them out below! 
Rating on Tripadvisor: ⭐⭐⭐⭐ 4.5 average on 3,153 reviews at Feb 2023
Rating on Opentable: ⭐⭐⭐⭐⭐ 4.6 average on 2,121 reviews at Feb 2023
Rating on Google Maps: ⭐⭐⭐⭐⭐ 4.6 average on 3,193 reviews at Feb 2023
Rating on Facebook: ⭐⭐⭐⭐ 4 average on 433 reviews at Feb 2023
Book Your Table Here
Where is Rosa Negra located in Tulum?
It's located in the party strip of Tulum, where you'll be able to set yourself free from stress and your daily life and focus on fun and wellness with a touch of luxury. Rosa Negra hommage Latin America with its style, cusine, and cocktails creating the perfect mix with the Caribbean surrounding around. We are sure you'll fall in love with Tulum beach and the fact it can be so lively and relaxing at the same time.
Let's now discover on the map below the exact address of RosaNegra on the map!
Rosa Negra is located in the Tulum beach neighborhood
Carr. Tulum-Boca Paila 5-Km 7, Tulum Beach, Zona Hotelera, 77780 Tulum, Q.R., Mexico
How to go to Rosa Negra in Tulum?
You have multiple ways to reach it:

From Tulum Centro: you can easily join RosaNegra by scooter or bike, so that when you'll have to park you'll not loose much time or spend too much money in it. So, yeah – the two options we wouldn't recommend is by car and by taxi, unless you are a group and you can share the cost. Last but not least – you can even walk to the property if you want to join it from the beach.
From Cancun airport: you will have first to reach Tulum Centro – here's our guide on

how to reach Tulum from Cancun airport + some tips

– and then you'll be able to take a cab if your hotel is close by RosaNegra, or do some of the options you just read above! If you're planning on moving around, we recommend you to

rent a car

once in Tulum to be completely free and save some money. There are no shuttles nor buses reaching Tulum beach/Zona Hotelera from Tulum Centro.
Don't miss our Tulum transport guide to become a pro and choose the best way of transportation!
Which Hotels are close to Rosa Negra Tulum?
Rosa Negra is located in the most famous part of the Tulum strip, where other cool beach clubs, restaurants, and hotels are located. If you want to spend your vacation in Tulum in this neighborhood we can't blame you: it's priceless to fall asleep listening to the waves and waking up with such a stunning view on the Caribbean Ocean.  
Here below you find our favorite picks for the best hotels close to Rosa Negra Tulum! 
FAQ about Rosa Negra Tulum
What is the minimum age to get in at Rosa Negra Tulum?
The minimum age to get in at Rosa Negra Tulum is 18 years old.
Are kids allowed in Rosa Negra Tulum?
No, kids aren't allowed in Rosa Negra Tulum.
At what time Rosa Negra Tulum opens?
Rosa Negra Tulum opens from 5:00 PM every day.
At what time open Rosa Negra Tulum Restaurant?
Rosa Negra Tulum Restaurant opens from 5:00 PM to 2:00 AM every day.
At what time does Rosa Negra Tulum close?
Rosa Negra Tulum closes around 2:00 AM or at the end of the party.
How to make a reservation at Rosa Negra Tulum?
You can make a reservation at Rosa Negra Tulum through our friend Virginia to get the best table and service. She personally knows the staff and will be happy to set everything for you! Contact her on WhatsApp.
What kind of music is being played at Rosa Negra Tulum?
The music played at Rosa Negra Tulum is mostly Latin music by resident DJs.
Does Rosa Negra have a pool?
Yes! Rosa Negra Tulum has a pool directly on the private beach between sun beds facing the Caribbean Ocean.
Does Rosa Negra accept credit cards?
Yes, credit cards are accepted in Rosa Negra Tulum.
Does Rosa Negra Tulum accept cash?
Yes, Rosa Negra Tulum accepts cash. It's always good to carry some Mexican Pesos with you during your stay.
Are tips included in the service price at Rosa Negra Tulum?
Tips are not included in the service at Rosa Negra, but double check your bill to be sure about that!
Is there a minimum spend at Rosa Negra Tulum?
No, there is not a minimum spend at Rosa Negra Tulum.
Is it possible to organize a wedding at Rosa Negra Tulum?
Yes, it is possible to organize a wedding at Rosa Negra Tulum – you can contact the staff on the website to start organizing the perfect tropical wedding!
What is the dress code at Rosa Negra Tulum?
The dress code at Rosa Negra is smart casual. So, try to avoid tank tops and flip fops, even if dresses are ok.
Top Events to Make Your Trip Unforgettable
DOMINIK TULUM @MIA TULUM
When: September 9, 2023 7:00 PM
Where: Mia Restaurant & Beach Club, Tulum
🌴 Join Us for An Unforgettable Night at DOMINIK - TULUM at Mia Tulum! 🌴
Friends, clear your schedules and get ready for a magical experience at Mia Tulum! This stunning location will host DOMINIK - TULUM on Saturday, September 9th, from 7 pm to 1 am. This isn't just another event; it's a fusion of nature, culture, and sound featuring an incredible line-up with GIORGIO STEFANO, AUDICTIVE, and MAURO TORRETA. At DOMINIK, you'll find the perfect blend of Tulum's lush jungles and pulsating underground beats, creating an environment where genuine connections blossom.
🎟️ Secure your tickets now:
Early Bird: $575 MXN ($38 USD), includes a welcome drink 🍹 (Limited Availability)
Tier 1: $805 MXN ($52 USD), includes a welcome drink 🍹 (Limited Availability)
Final Tier: $1150 MXN ($75 USD), includes a welcome drink 🍹 (Limited Availability)
Dinner + Party: $1380 MXN ($90 USD) 🍽️🎉 (Limited Availability)
See you there for a night you won't forget! 🎶✨
Ready to join us? Get your ticket now! Early bird tickets are already selling out, secure them at 632 pesos (only 15 tickets available).
Hurry – spots are filling up fast! 🙀 We can't wait to see you there!
Top Parties and Club Events
17th September - ANCESTRAL SOUL @BONBONNIERE TULUM
22nd September - TONY ROMERA @BONBONNIERE TULUM
29nd September - TIM BARESKO @BONBONNIERE TULUM
4th November - HOT SINCE 82 @BONBONNIERE TULUM
13th March - LOCUS Tulum 2024