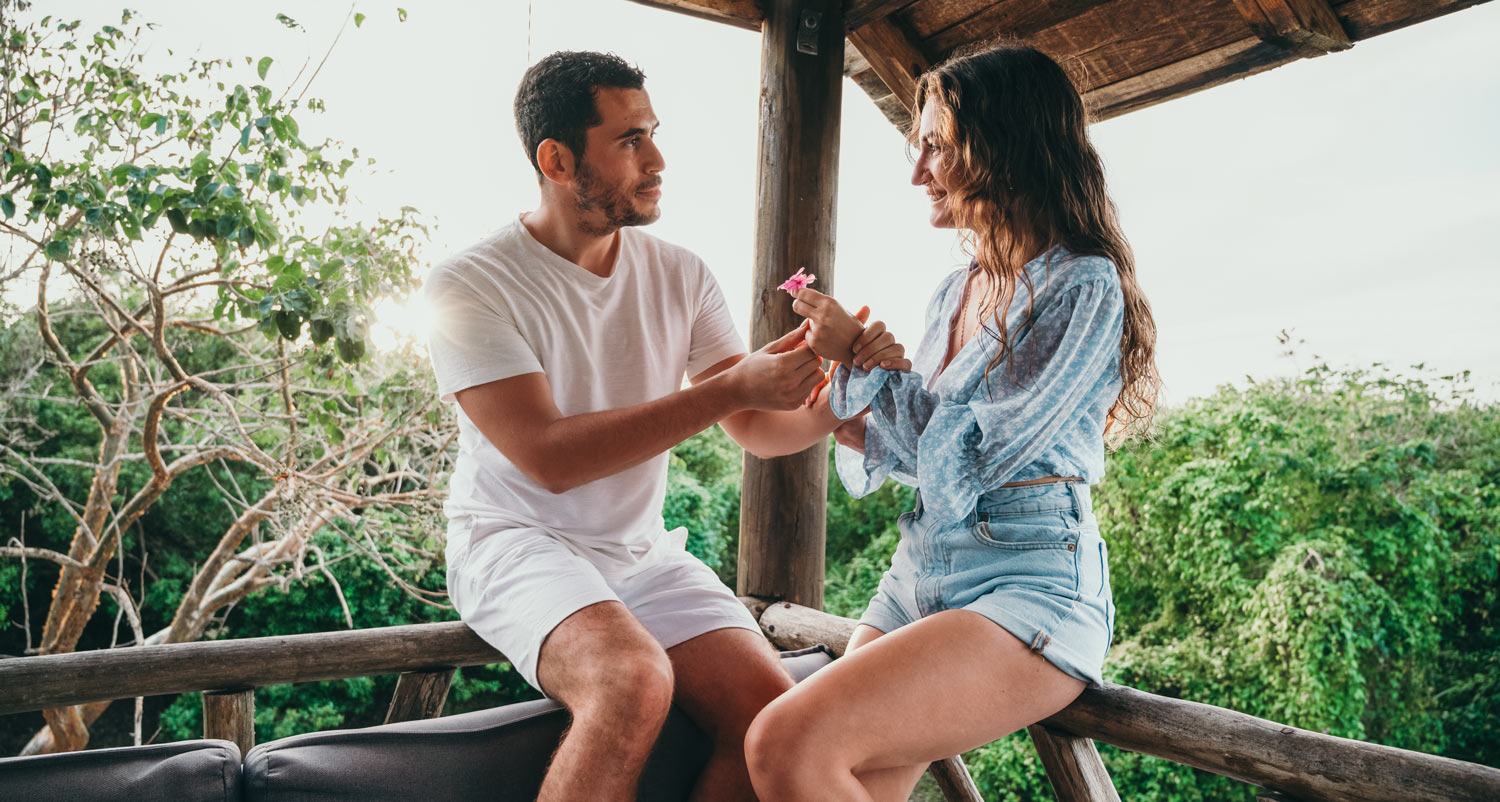 Wedding in Tulum: Costs And Best Venues In Our Essential Guide
Cheers to the future bride and groom! We are so happy for you and we want to help you with what comes next.
Planning the perfect venue and wedding ceremony of your dreams can be confusing. But, does the idea of a destination wedding by the vibrant Caribbean ocean and the lush Mayan jungle of Tulum appeal to you?
We've visited hundreds of exclusive resorts and hotels in Tulum, Mexico, to know which has the perfect view to celebrate weddings. From picturesque ceremonies on the coast of Riviera Maya to dining exquisite gourmet food by the jungle and afterparty wedding reception you have so many options!
if you want to make your wedding and party organization even more flawless, don't hesitate to contact Virginia and Kelly which are offering FREE concierge service! We loved all the parties they organized for us and we couldn't recommend them more.
Here, we pick the best venues for a memorable ceremony and our recommended wedding planner in Tulum! But first, why should you celebrate your wedding in Tulum? Check out our reasons below!
WHY CELEBRATE A DESTINATION WEDDING IN TULUM?
This tropical getaway known as Tulum is a popular tourist destination because of its scenic beaches, beautiful Mayan jungle and many exciting activities to do! 
Here in Tulum, you can host a private wedding ceremony in a luxury resort or boutique hotel for 5,000 to 20,000 USD! Which mostly covers the important stuff such as the venue, event coordinator, dining experience and luxury rooms. 
Some venues do offer an all inclusive wedding package for a budget-friendly price than a personalized wedding ceremony. So, stick around and find out what the top venues have to offer you!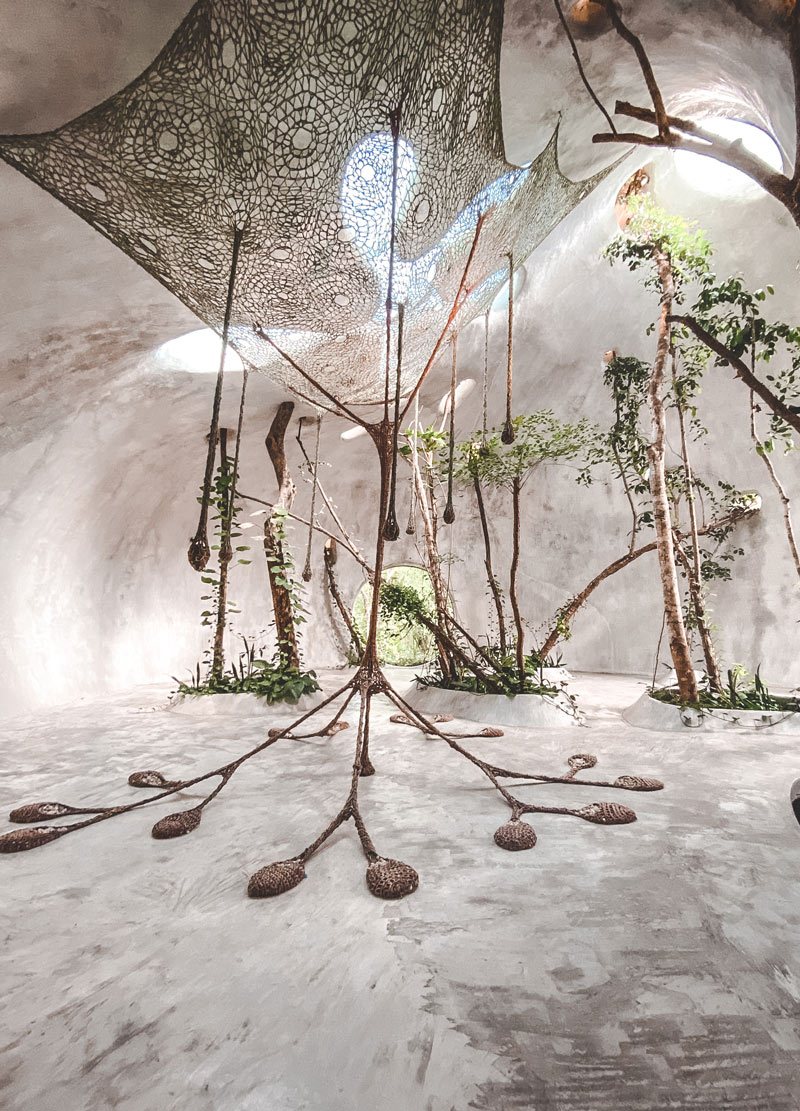 "Places In Tulum Are Incredible"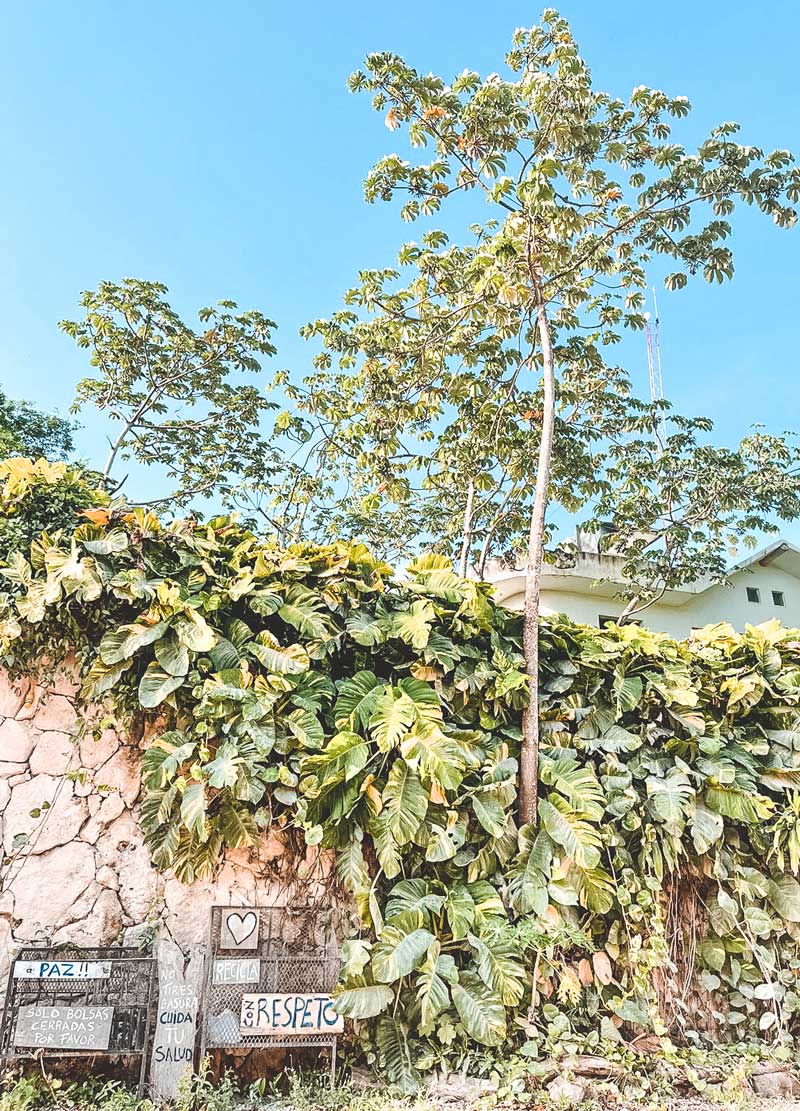 "Only Good Vibes And Love"
Take Advantage Of Free Concierge Service
As excellent to explore Tulum and its surroundings alone, you may need help figuring out where to start. To make the most of your money and time, contact Virginia and Kelly - two incredible Mexican girls living in Tulum for more than 15 years. They're familiar with the ins & outs of the Tulum town and hotel zone like the back of their hand! 
Since we arrived in Tulum 2 years ago, many adventures wouldn't have been possible without their help - they know literally everybody in Tulum and can perfectly organize every moment of your stay. Get the best tables, skip queues and get on the guest list of the coolest places in Tulum - this's only the beginning! 
They are ready to offer you guys FREE concierge service in Tulum for the time of your stay: take advantage of it, contact them on Whatsapp and live the best experience!
Get FREE Concierge Service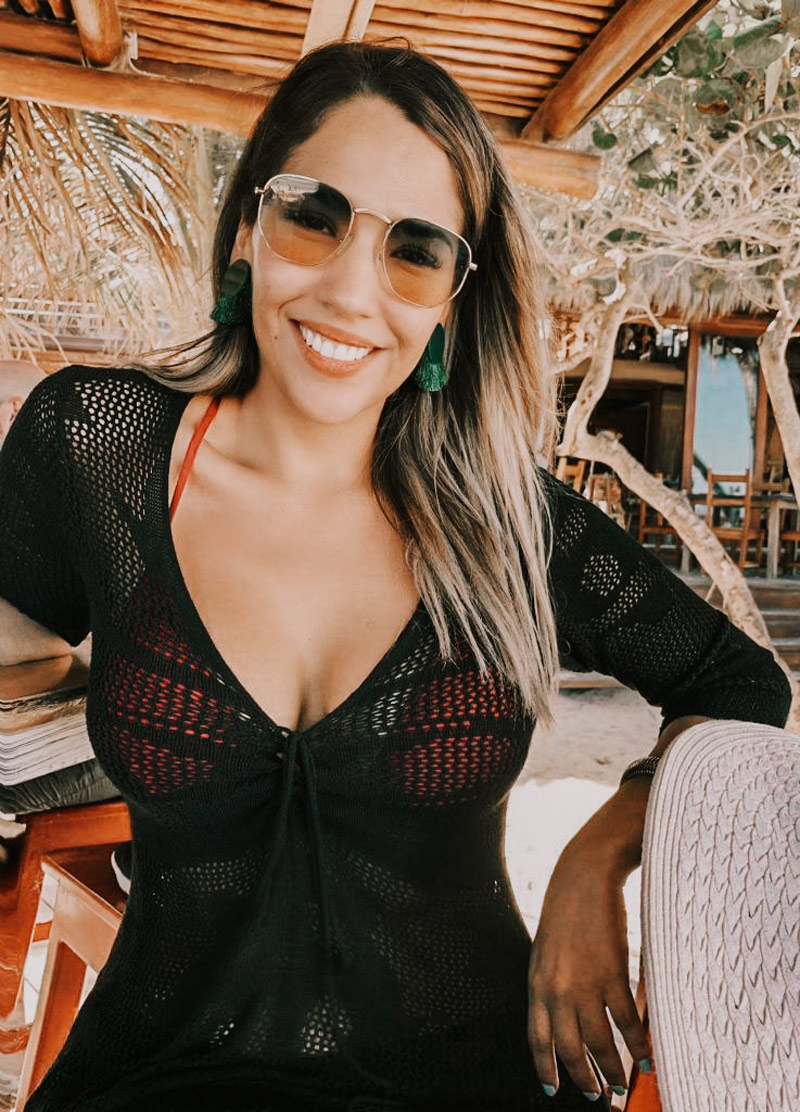 "Virginia Can't Wait To Make Your Stay Flawless"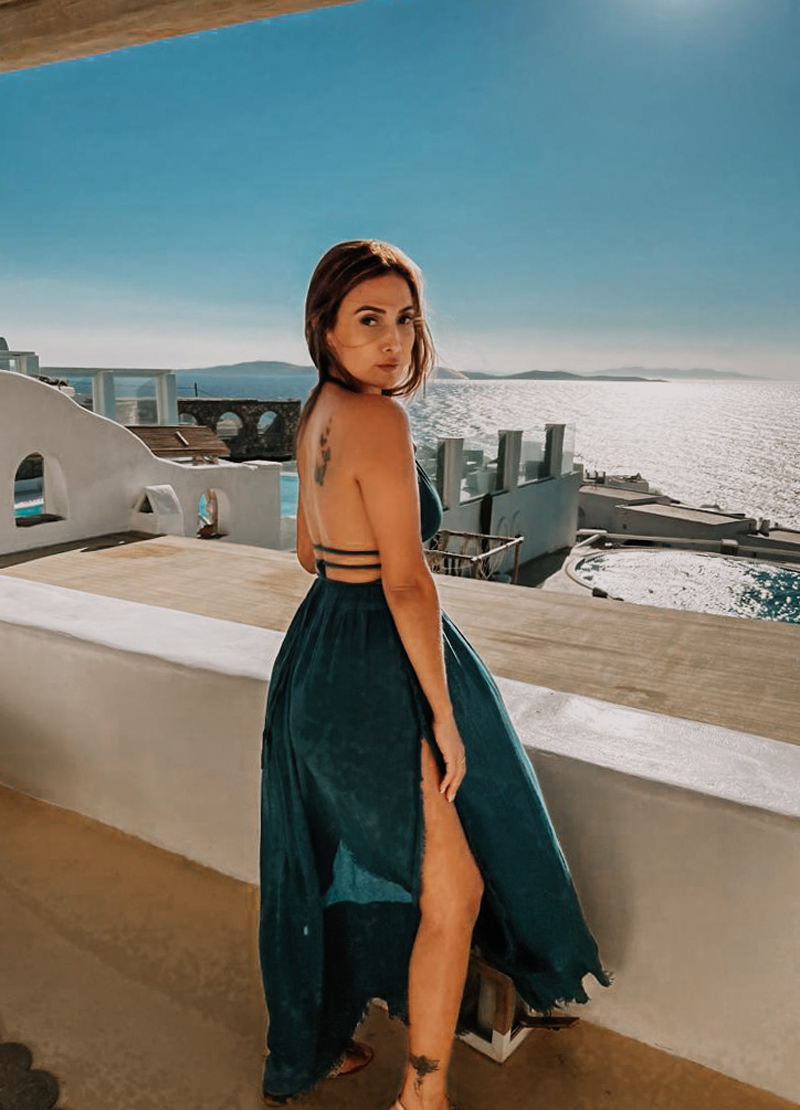 "Kelly Will Transform You In A Tulum Insider"
PANORAMIC VENUES TO THROW THE BEST WEDDINGS IN TULUM
You can find many luxurious resorts and hotels offering great wedding deals. Many of these places require you to contact them for further information (which is a bummer). But, here are our top picks of the best venues and the services they offer, rating from the most valuable place to organize your special day!
*Please note that prices, weddings service and the number of allowed guests are subject to change!
DREAMS RESORTS & SPA TULUM
Venue: Variety of venues to select | Prices: 999 to 26,000 USD | Guests: 10 – 250 guests
Dreams Tulum is an all inclusive and family friendly resort located 15 minutes from Tulum. It is a luxurious and contemporary-designed resort nestled by the coast of Riviera Maya. Home to a grand walkaway garden and stunning infinity pools, they offer authentic bedrooms, wonderful service and are rich in accommodation, perfect for a family, couples and singles.
They are at the top of the list because of the vast variety of options you can select, with a clear price of what you are getting. What we love most about Dreams Resort & Spa is their packages allow you to add personal touches, select the different venues, and a wedding reception to accommodate 250 guests! Even the starting price of 999 USD offers a private organizer to help in planning the ceremony. Highly recommend checking their detailed wedding guide for more info and prices!
KORE TULUM RETREAT & SPA RESORT HOTEL
Venue: Beachfront | Price: Need request for quote | Guests: 24 guests maximum
Another fantastic choice to celebrate on a special day by the beach. Kore Tulum is an all inclusive and adult-only boutique hotel that aims to provide a mindfulness atmosphere. Allow guests of couples or singles to retreat into a sacred wellness journey. While also offer a luxury ensuite with a private jacuzzi, a great view of the ocean and unparalleled spa services.
Located by the Riviera Maya beach, Kore Tulum offers 5 enticing wedding services. Which all come with an oceanfront venue, wedding coordinator and extra privileges. Your guests will love this, because they are pampered with luxury ensuite, personalized gastronomy and get to experience their spa! Find out more at their wedding page.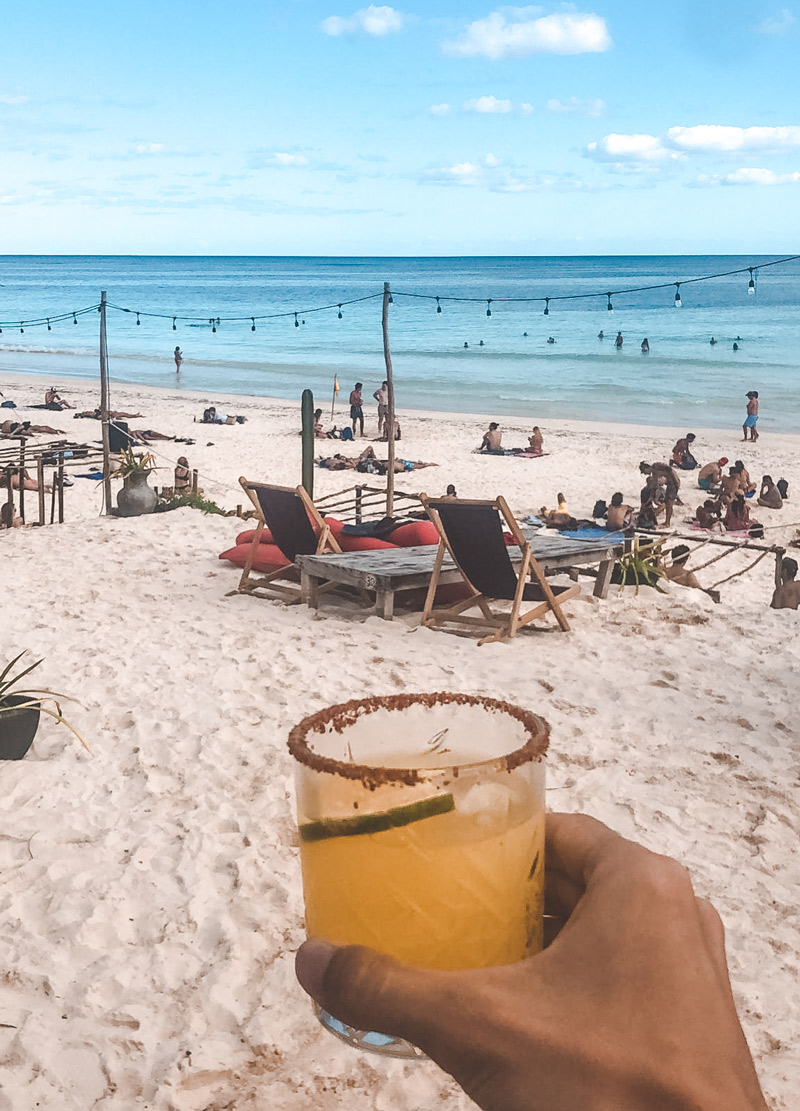 "Wedding Party At The Beach"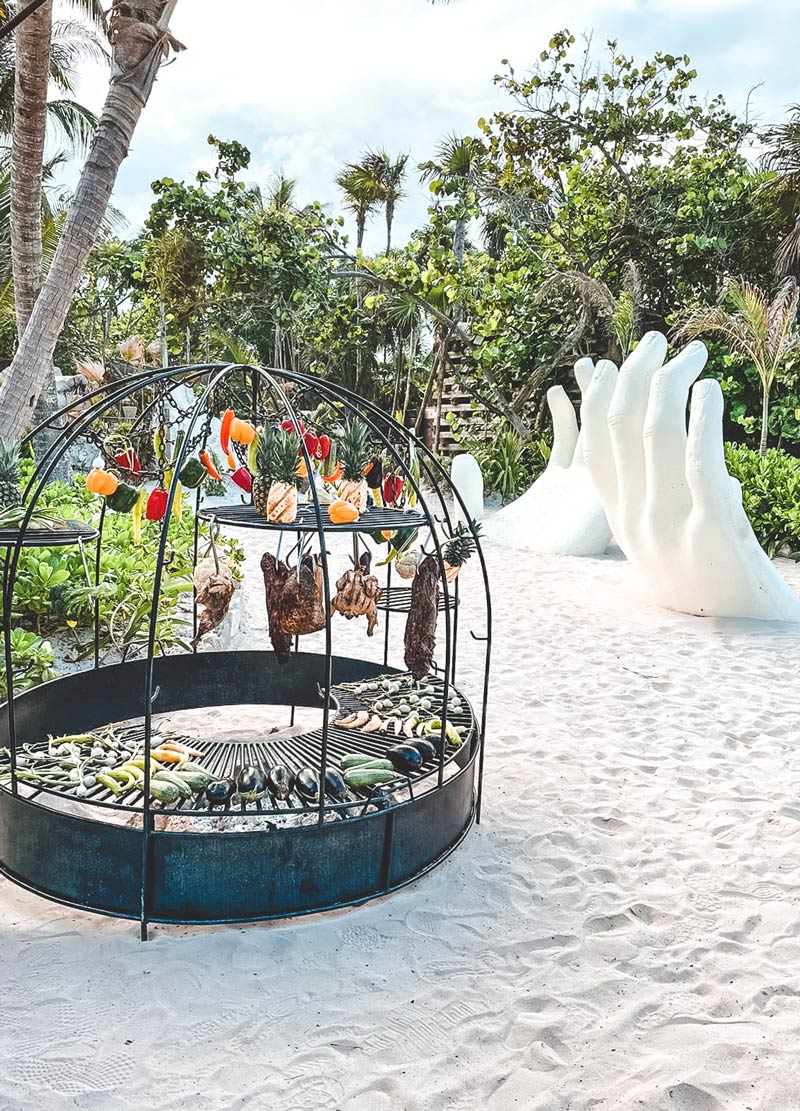 "Scenographic Cooking Set"
 Venue: Beachfront | Price: Need request for quote | Guests: 50+ guests
A sustainable resort that aims to bring creative communities together and give back to nature is what makes the Papaya Playa Project unique. They are a family-friendly boutique resort with eco cabanas and a well-crafted villa overlooking the beach. Stay tuned to their event calendar, they know how to throw a party, as their "full moon" parties have so much hype in Tulum!
Just knowing that they know how to throw a rave party, they do very well in planning an elegant wedding ceremony. Papaya Playa Project offers an eco-themed wedding by the beach. Celebrating your special day under the big oceanfront palapa overlooking the vibrant Caribbean ocean does set a romantic ambiance. Afterward, dance the night away by the lit-up beach and some cocktails, filling the air with laughter and joy!
Venue: Beachfront and jungle | Price: around 5000 USD | Guests: 100 guests maximum
Escape and getaway to a private boutique hotel with Nest Tulum. Get ready, prepare to experience their ultimate comfort and privacy in their simplistic room and the chic villa. Explore the villa and property, eventually finding yourself at many glamorous spots to take an aesthetic photo!
Unlike other places, Nest Tulum allows you to rent the whole property to host a private event for yourselves! Sharing this beautiful moment only with your beloved family and friends. For their services, guests are accommodated into 12 ensuites and 1 villa (prepared for bride and groom usually). While the wedding will take place at the most scenic spot on the beach, decorated with an intimate garden for a perfect atmosphere! Check out their brochure to find out more.
"Wedding Venues In Tulum Are Beautiful"
CASA MALCA - BOUTIQUE HOTEL
Venue: Variety of locations | Price: Expensive than average | Guests: 200 guests maximum
Surrounded by the lush Mayan jungle and steps away from the tranquil Caribbean ocean, nested Casa Malca. One of the popular and high-end boutique hotels in Tulum, with eccentric and artsy architecture. If you know the notorious Pablo Escobar, then you should know that he once lived at Casa Malca! It was his home, and now it's like an art museum where guests can stay for the night.
Because of its authentic atmosphere, luxury suites and variety of gourmet, it will cost much more than your average luxurious resorts and hotels. On the plus side, they are experienced in planning lavish weddings. Where its top benefits include an event organizer, various venues selection, a 5-star dining experience and extravagant guest rooms. We say that if you have the buck and want to celebrate your wedding with a bang while also making your friends jealous, this is a way to celebrate your special day!
Book A Car At The Best Car Rental In Tulum
We were planning some trips in Yucatan to explore cenotes and we desperately needed a car! It's not always easy to find the best deal and moreover - not to get scammed. We ran into Renata, a really kind girl, during a yoga session in La Veleta. That's how we found out Renata is renting cars and her business is really cool.
After seeing her bran new cars, we saw the super convenient prices she was applying and we decided to try her service out. We had an incredible experience - transparency, no need for deposit on our credit card, a lot of flexibility and kindness - in a nutshell: we loved our experience at BGH Car Rental and we can't recommend you any better company in Tulum especially during high season when the car rental market goes wild.
Rent a car at 40 usd per day with full coverage insurance and unlimited kilometrage today!
Book Your Car At The Best Price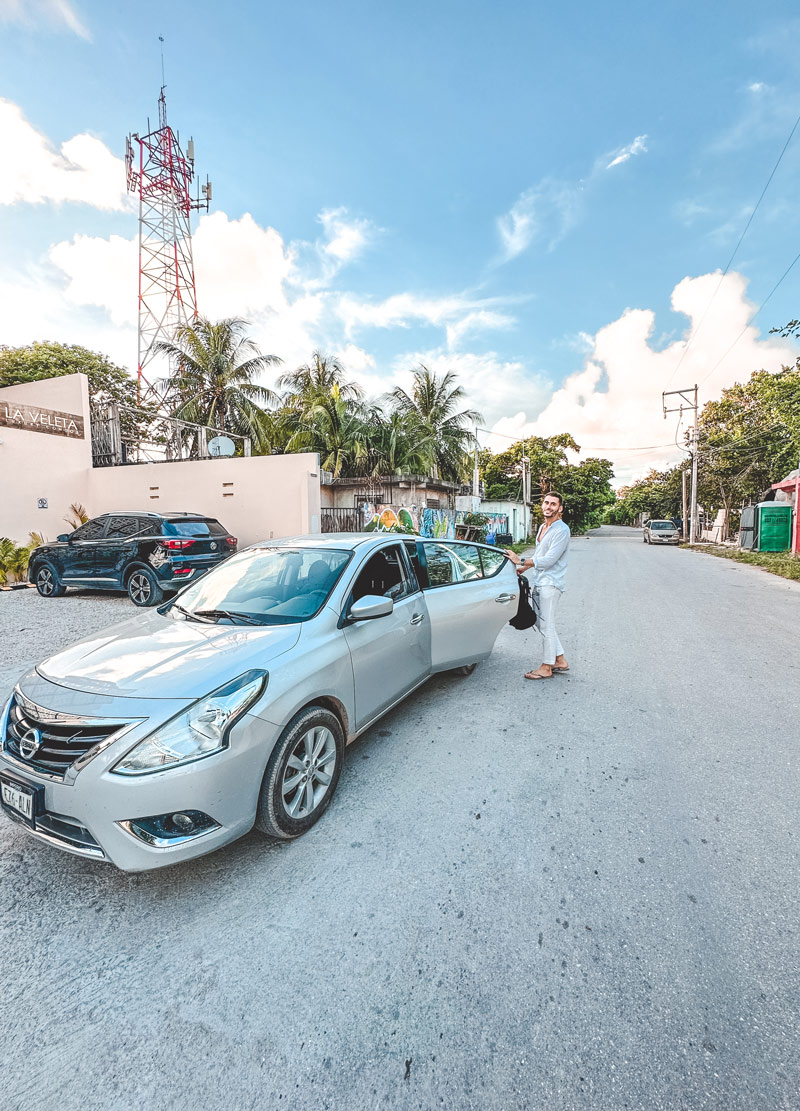 "Nissan Versa Was Perfect For Us"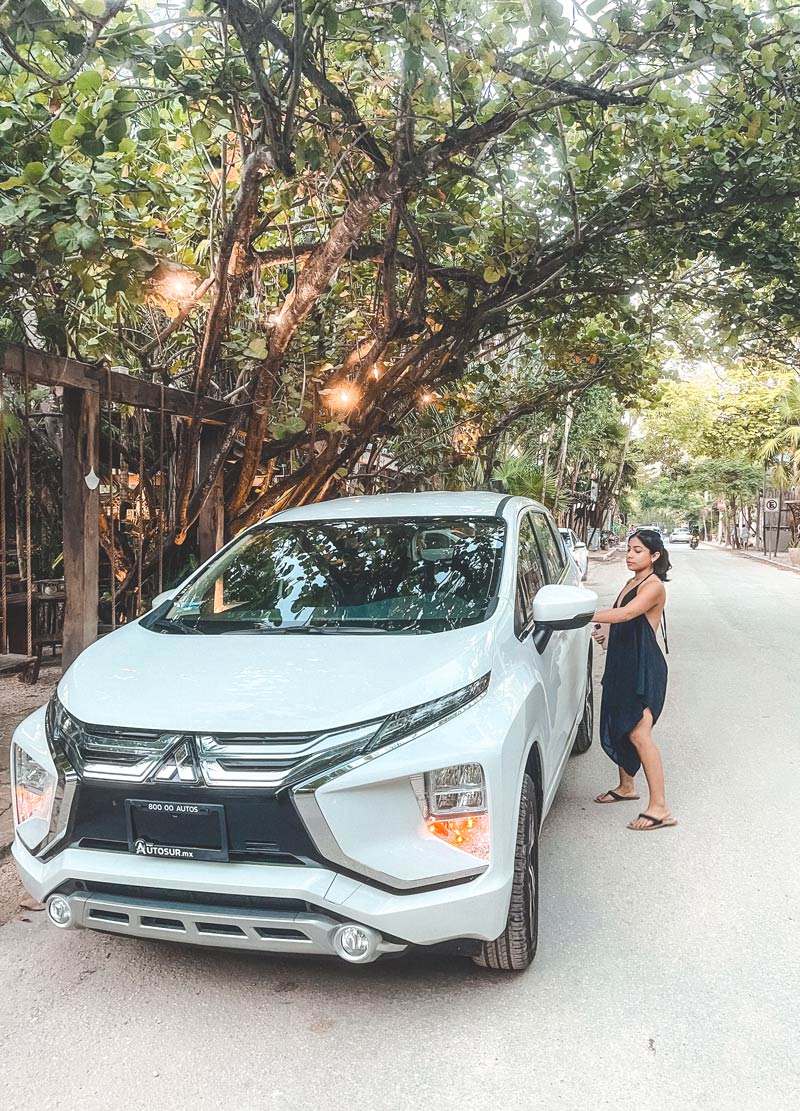 "Xpander Is The Best Car For Day Trips"
Secret Wedding VENUES in Tulum
Unlike our previous list, this one covers two secret locations that know how to throw elegant weddings, so check it out if you want much more privacy and something less mainstream!
Venue: Moroccan Patio Villa  | Price: Need request for quote  | Guests: 28 + guests
Nested in the deep jungle surrounded by tall trees lies a hidden oasis called Ambre & Epices. It is a secluded luxury hotel inspired by the designs of Moroccan riads, which are houses with an open patio. Seeing this in Tulum, Mexico brings back memories! We love the shift in atmosphere as you pass through the big wooden entrance. Feel the tranquility in the air when you enter this divine home. Decorated by flora on every corner, the turquoise pool rests calmly at the center of this pearly-white villa. Welcome to this heaven on earth!
Speaking of heaven on earth, this is a stellar place to take a pre-wed photo, especially by the open space patio. But anyways, to host private events here, you need to rent the riad exclusively and contact the reception. Also, check out this positive review on Airbnb about her wedding experience with Ambre & Epices!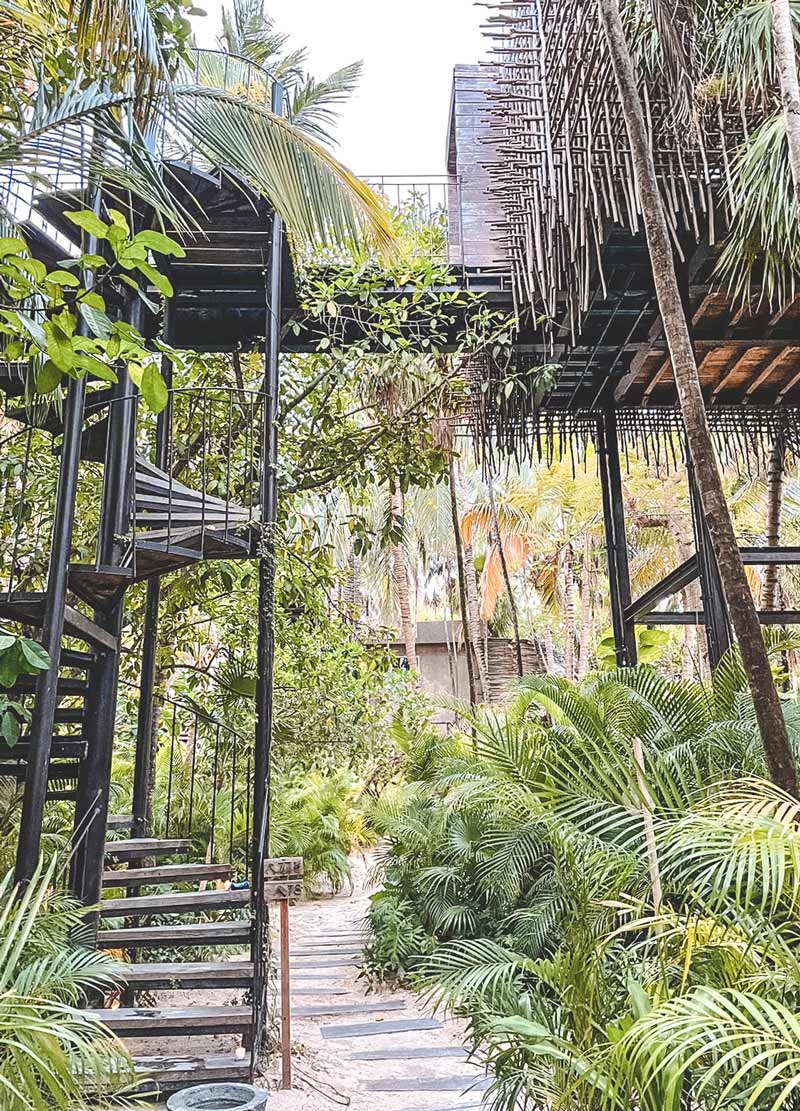 "Wedding Venue In The Jungle"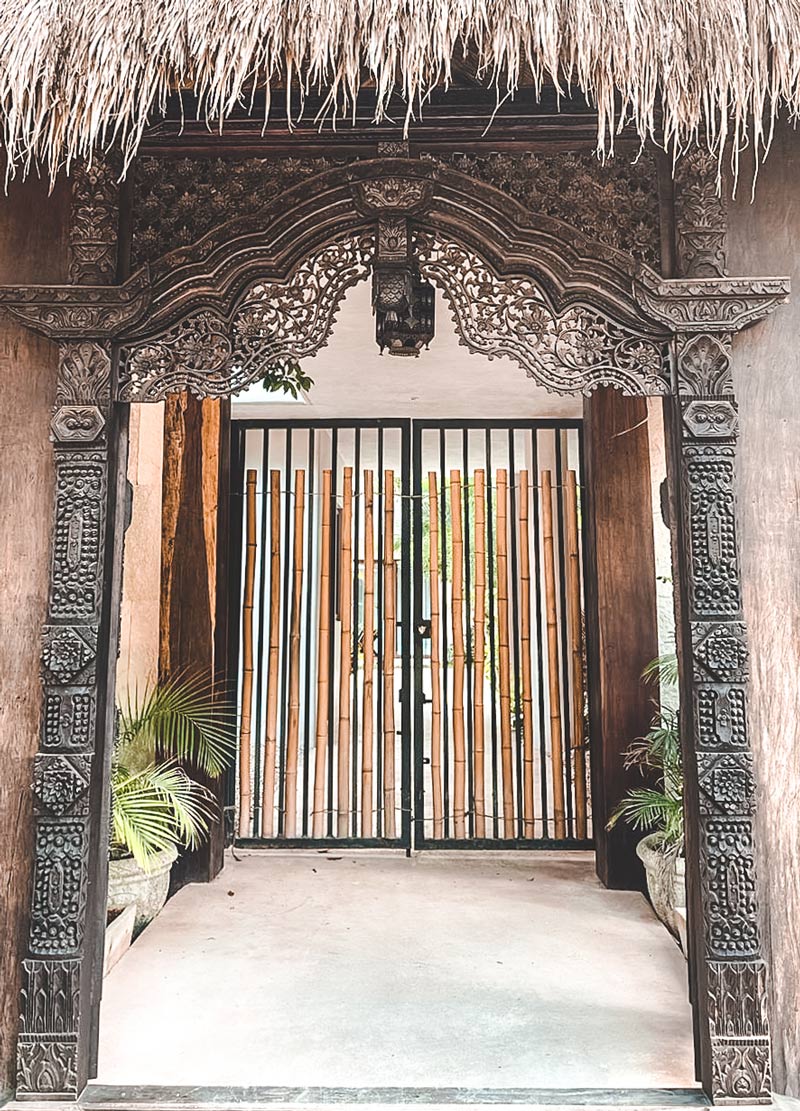 "Lovely Entrance"
An authentic-international dining experience with a Mexican twist that makes Wild Tulum popular! Experience an open space dining surrounded by nature where the facilities are made of pure wood decorated elegantly. Where romance fills the air as the candlelit tables and the bar shines brighter than the starry night!
It's a popular place to dine, but people don't know how extraordinary they can organize weddings! Where they turned the restaurant into an enchanting nature-themed venue that looks straight out of a fairy tale! Celebrate the moment with expert wedding planners, blooming decorations, renowned DJs and more. Contact their socials for prices and availability today!
Organizing weddings take a long time to plan. Around 12 months before the date is the best, because Tulum is a seasonal tourist destination where prices can hit the roof during high seasons (October to April). While the weather in Tulum can be heaven on earth, the next thing you know there's a hurricane casually passing by. 
We hope you find our article helpful and let us know down below if the locations are intriguing. We wish you a happy wedding!
Tulum's Hottest Event - Crypto Fest 2023
Spice up your vacation with a seductive blend of crypto expertise and Tulum's tropical beauty?
Tulum Crypto Fest 2023 is the perfect opportunity for you to immerse yourself in 4 days of active learning, socializing, and networking, all in the breathtaking backdrop of Tulum. Join other like-minded individuals and gain insights from over 30 renowned speakers on the latest blockchain technologies, AI, tokenized real estate, and more. Participate in engaging workshops and a thrilling hackathon, pushing the boundaries of what's possible in today's technological landscape.
Experience the perfect blend of cutting-edge innovation and Tulum's vibrant expat community. Be inspired by witnessing groundbreaking projects at the captivating Whale Tank pitching session and forge invaluable connections with thought leaders from around the world, all while enjoying the unique charm of Tulum.
Register now to secure your spot and access exclusive discounts before they're gone!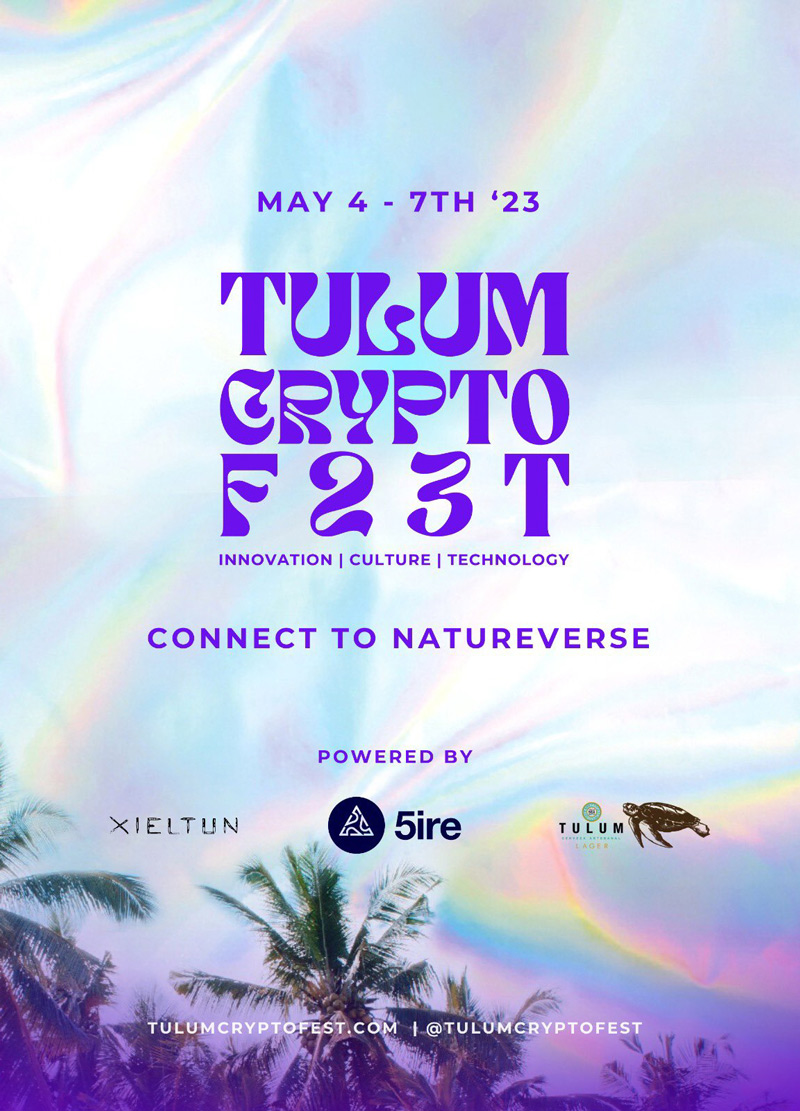 Secure Your Spot HERE
Use the promo code WELCOMETCF to receive a 20% discount on your ticket purchase.
Hurry – spots are filling up fast! 🙀 We can't wait to see you there!
Best upcoming parties in Tulum
❤️❤️❤️27th/30th April - PHILIA ART AND MUSIC WEEKEND @Papaya Playa Project❤️❤️❤️
28th March - S I N N E R Present: CRISTOPH @Vagalume
30th March - ELECTRONIC ELEMENTS @MIA TULUM
30th March - VAGALUME SESSIONS SOUND OF RITUALS @VAGALUME
30th March - POPOF @BONBONNIERE TULUM
31st March - TEN IBIZA @VAGALUME
1st April - BONOBO @Papaya Playa Project
1st April - HANNAH WANTS @BONBONNIERE TULUM
2nd April - VAGALUME SUNDAZE ROY ROSENFELD @VAGALUME
6th April - TOM & COLLINS @BONBONNIERE TULUM
8th April - PIKNIK @VAGALUME
8th April - THE FULL MOON @Papaya Playa Project
15th April - SIGNATURE @Papaya Playa Project
15th April - NIC FANCIULLI @BONBONNIERE TULUM
16th April - ANCESTRAL SOUL @BONBONNIERE TULUM
21st April - NICO DE ANDREA @BONBONNIERE TULUM
22nd April - STARVAULT @Papaya Playa Project
27th - 30th April - PHILIA ART AND MUSIC WEEKEND @Papaya Playa Project
4th May - Tulum Crypto Fest 2023 @Papaya Playa Project
6th May - THE FULL MOON @Papaya Playa Project
13th May - STARVAULT @Papaya Playa Project
20th May - ASTROBEAT @Papaya Playa Project