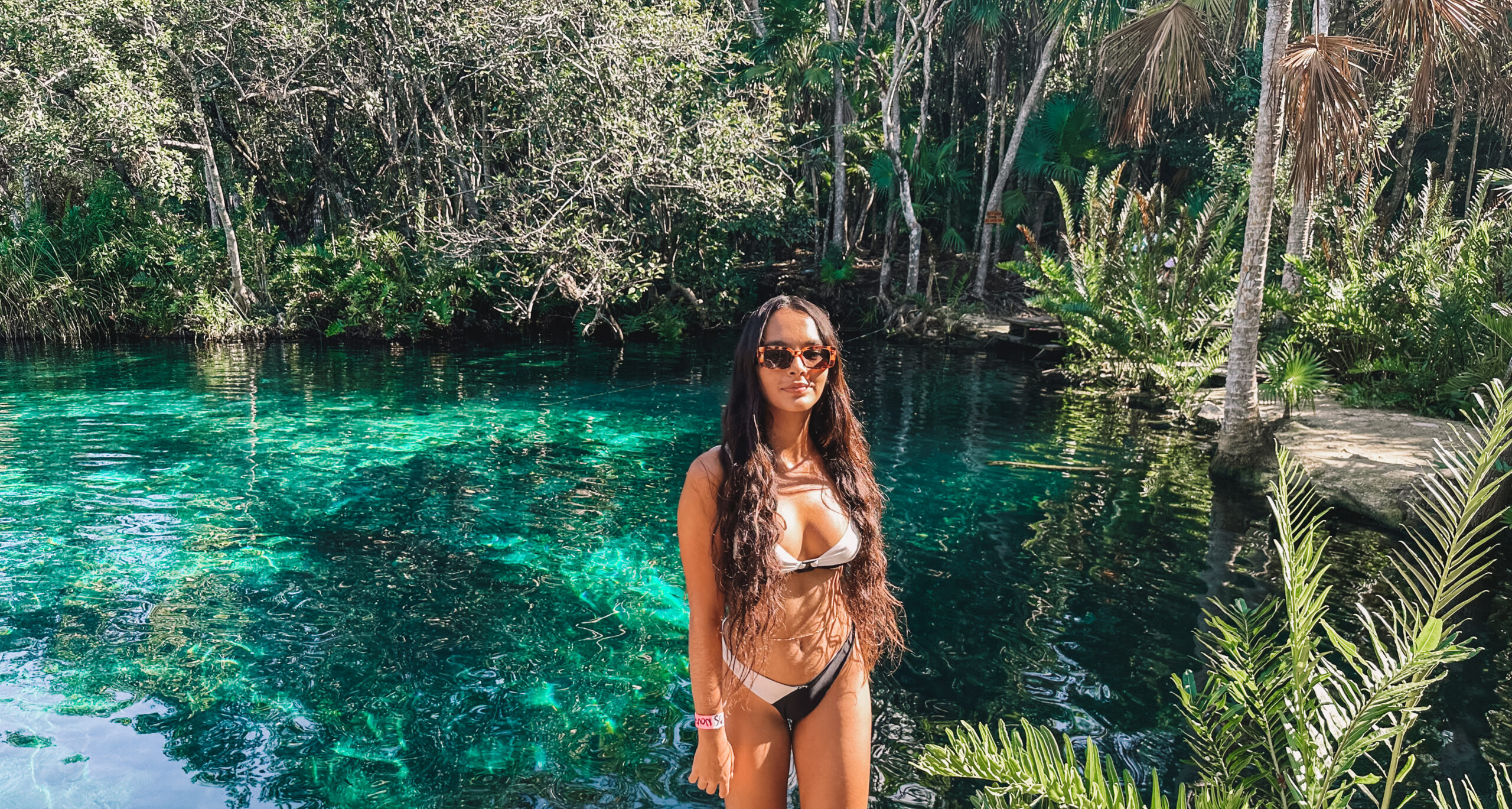 Cenote Tankah Park Ultimate Guide: Visit Four Cenotes in One Day
Are you ready to dive into the fascinating world of Mexican cenotes? Because today we're going to be talking about a very special place, that got four of them – Tankah Park. 
Now, you might be wondering why this place is so special. And let me tell you, there are plenty of reasons! From zip lining, that will allow you to see stunning scenery from above. to connect with nature while kayaking in a cenote, adrenaline rush is guaranteed!
But what exactly is a cenote? In technical terms, it's a sinkhole formed by the collapse of limestone bedrock that exposes groundwater. In simpler terms, it's like a natural pool where one can swim in an underground landscape that feels like something out of a fairytale.
Our visit to a cenote was nothing short of amazing and we highly recommend that anyone visiting Tulum should include visiting a cenote in their itinerary, to explore these natural wonders for themselves. With that in mind, grab your coffee and let's explore Tankah Park, home of four stunning cenotes! 
*Why not enjoy a party in Tulum after a day in Tankah Park?* check out how to attend the coolest parties in town, contact our friend Virginia on WhatsApp and live the best nightlife ever based on your tastes – for free!
TANKAH PARK: WHERE THE JUNGLE MEETS A CENOTE
PERFECT FOR: Swimming, snorkeling, zip lining
CLOSEST CITIES (approximately driving time):
Tulum: 20  minutes
Playa del Carmen: 50 minutes
Cancun: 2 hours
WHEN TO GO AND HOW LONG TO STAY?
Tankah Park is open from Tuesday to Sunday, and  it takes about 4 hours to explore the four cenotes and its activities! You can choose what time to go: 10am, 11am or 1pm. We would recommend you to take the first tour, because it's less crowded and will allow you to spend the rest of the day exploring the vibrant streets, bars and restaurants in Tulum!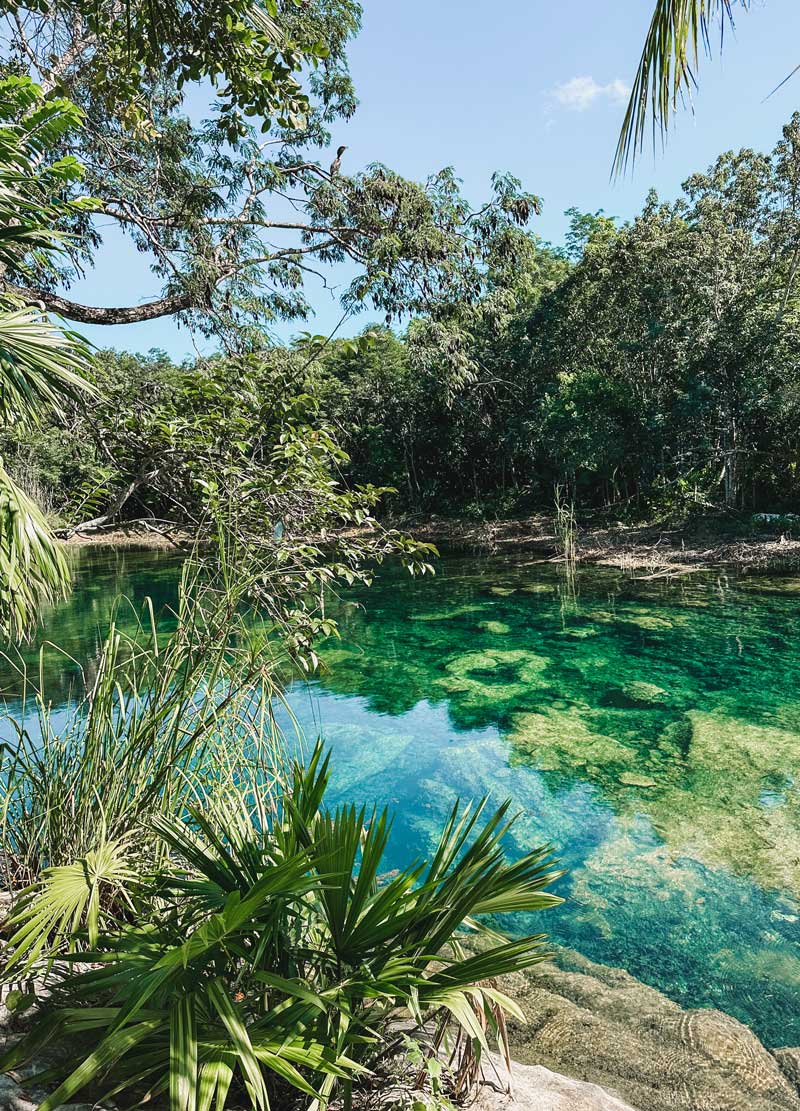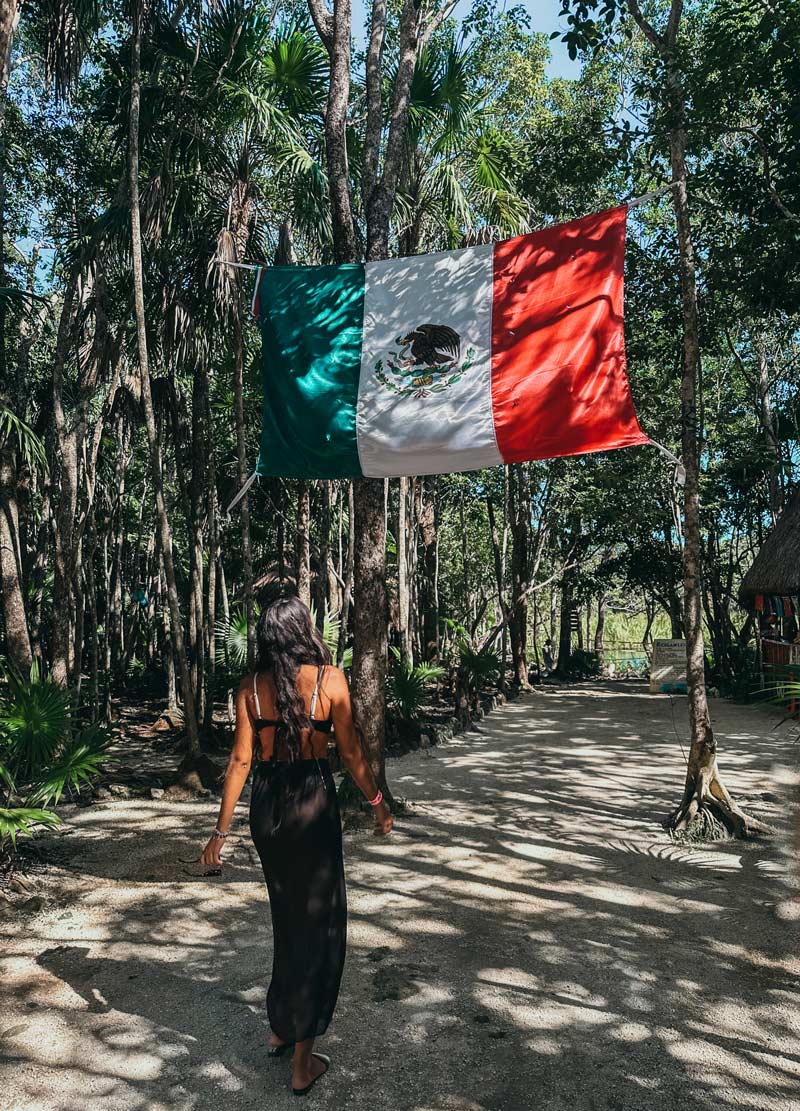 ALL YOU NEED TO KNOW: DISCOVERING FOUR CENOTES ON THE SAME PLACE
Tankah Park boasts four beautiful cenotes that offer a unique and unforgettable experience: Cenote Cueva, Cenote Pirañas, Cenote Naval, and Cenote Azul.
Have you ever practiced zip lining? Never is too late for trying new adventures! Cenote Cueva is an open-air cenote with crystal-clear waters, and a rope where you can try zip lining! If you don't fear the height, you will be having a lot of fun, going very fast through the air, feeling like you are flying! On the side of the cenote, there is a beautiful small cave that you can explore by swimming or diving. 
Have you ever heard about the fish that massage people? Well, you can swim with them here! Cenote Pirañas  is a small cenote with a beautiful open-air pool and a small underground cave system. Its name may sound intimidating, but don't worry, there are no piranhas here! Instead, you'll find a lot of the fish that are well known for "massaging" people, and lush vegetation surrounding the cenote!
Are you ready for a bigger adventure? Zip lining here is even longer! And when you reach the other side, there are kayaks waiting for you! Paddle around lush vegetation and some turtles! Cenote Naval is a unique cenote that resembles a natural pool with a deep blue color.  You can even jump from a nearby tree into the cenote if you're feeling brave!
Snorkeling time! Cenote Azul is a large, open-air cenote with really, really crystal-clear waters that are perfect for swimming and snorkeling. The cenote is surrounded by lush jungle vegetation, making it a peaceful and relaxing spot to spend an afternoon. You can even cliff jump into the cenote from a nearby ledge!
All of these cenotes offer a unique and unforgettable experience, and they're all located within Tankah Park, making it a perfect spot to spend a day exploring the natural beauty of the Yucatan Peninsula.
BUFFET IN TANKAH PARK: HANDMADE TORTILLAS & TEQUILAS
Apart from the amazing water activities that you can enjoy in the cenote's waters, Tankah Park offers you the possibility of immersing yourself in another culture, traditions and cuisine, of one of the most ancient inhabitants in Mexico; the Mayans. 
As soon as you reach Tankah Park, a local guide will greet you and explain the meaning of the town, its history and some of their culture. You can ask questions too! 
If you're a photography buff, you can also capture the adventure in your phone or camera. The park and its surroundings are incredibly picturesque, making it a great spot for taking some Insta-worthy shots. You'll have all your friends back home wishing they were there with you.
And that's not all! Included in your entrance fee, there is a buffet with handmade tortillas and tequilas, meat and local meals that are just perfect after a day of swimming, jumping and walking!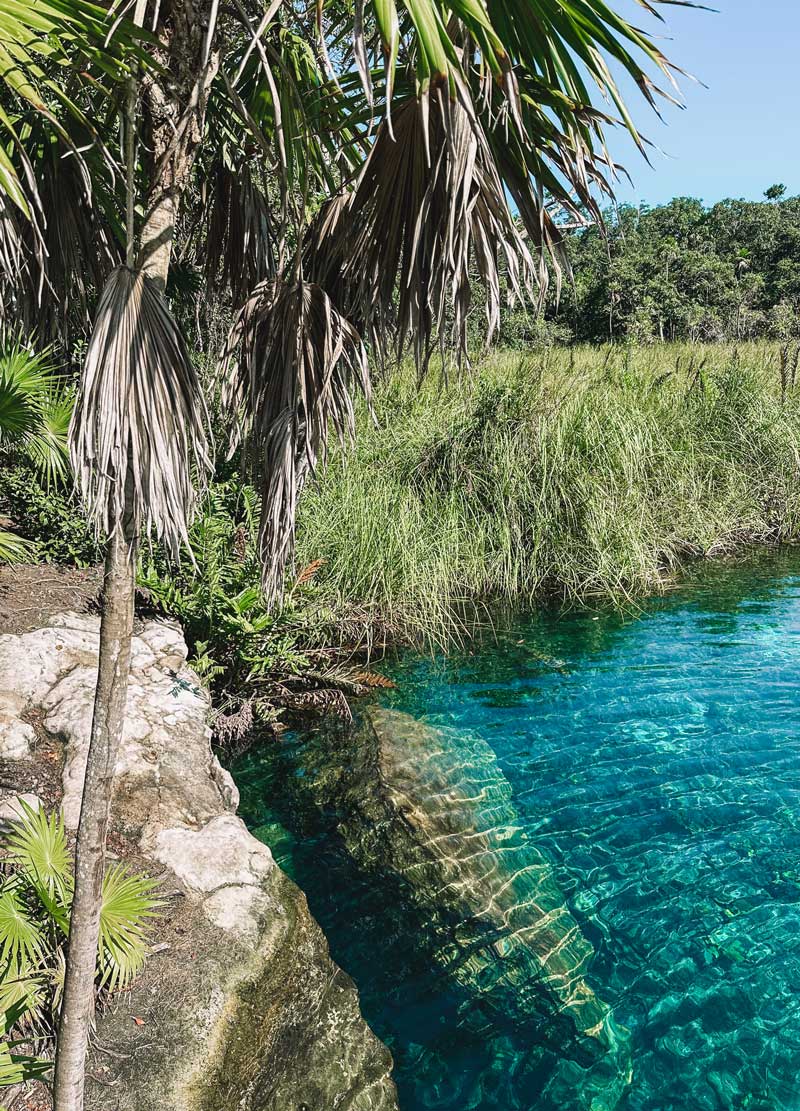 HOW TO GET TO TANKAH PARK
Location: Carretera Federal Cancun, Cancun KM 233+200, Tulum, Mexico
If you're looking to visit the beautiful Tankah Park  from Tulum, there are a few options to consider. The easiest and cheapest way to get there is by renting a car. Renting a car offers a lot of flexibility and independence, allowing you to create your own itinerary and stop at any destinations that pique your interest along the way. Plus, it can be more cost-effective and convenient than relying on public transportation or taxis.
If you prefer to take a tour, several options include round-trip transportation. Alternatively, you can catch a bus directly to Tulum and then hail a local taxi.
TRAVEL TIP: Rent a car in the best Car Rental Company in Tulum – we're renting cars with them for the last year, and we are so grateful for their services! They are trustable, easy going, affordable and you'll not even need to have a credit card to book a car with them! Contact Virginia on WhatsApp today to check their availability.
TANKAH BAY BEACH: EXPLORING SURROUNDING AREAS OF TANKAH PARK
If you're looking to explore the area around Tankah Park , you're in luck! There are plenty of nearby destinations worth checking out. 
Tankah Bay Beach is a chill and peaceful spot near Tankah Park with a unique texture of pulverized coral and shells on the sand. You won't need foot protection, but bring water shoes for entering the sea. Snorkelers will love the offshore coral reef and the adjacent beachside cenote, Cenote Manatee, full of underwater life. 
And if you get hungry, two great restaurants, Casa Cenote and Blue Sky Hotel Restaurant, are just seconds away. Don't miss the natural tunnel that leads from Cenote Manatee directly into the sea – it's a unique and unforgettable experience. Tankah Bay Beach is the perfect alternative to the busier beaches in the area, so grab your sunscreen and let's go to the playa! 
Get a personalized tour contacting the chicas below!
Take Advantage Of Free Concierge Service
As excellent to explore Tulum and its surroundings alone, you may need help figuring out where to start. To make the most of your money and time, contact Virginia and Kelly - two incredible Mexican girls living in Tulum for more than 15 years. They're familiar with the ins & outs of the Tulum town and hotel zone like the back of their hand! 
Since we arrived in Tulum 2 years ago, many adventures wouldn't have been possible without their help - they know literally everybody in Tulum and can perfectly organize every moment of your stay. Get the best tables, skip queues and get on the guest list of the coolest places in Tulum - this's only the beginning! 
They are ready to offer you guys FREE concierge service in Tulum for the time of your stay: take advantage of it, contact them on Whatsapp and live the best experience!
Get FREE Concierge Service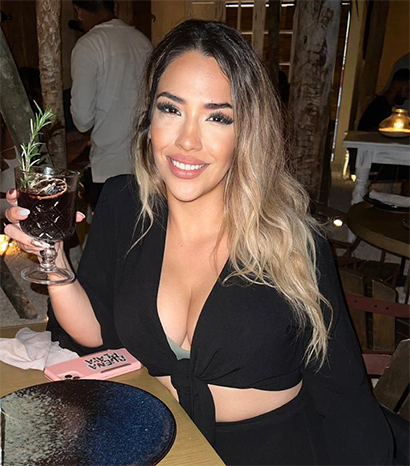 "Virginia Will Transform You In A Tulum Insider"
THINGS TO KNOW TO MAKE YOUR VISIT TO TANKAH PARK UNFORGETTABLE
If you're planning to visit Tankah Park, here are some tips and tricks to make the most of your experience. 
SAFETY - SHOULD I WORRY GOING ALONE TO TANKAH PARK?
Visiting the cenote alone is generally safe, but it's always a good idea to travel with friends or family. However, if you're traveling alone, you'll be greeted by friendly locals and tourists on your journey. Just remember to keep your personal belongings close to you when you dive or swim. It's always better to leave the most important stuff in the car or in lockers.
BOOKING A TOUR - DISCOVER TANKAH PARK WITH OTHER TRAVELERS
If you prefer going on adventures with less hassle, then contacting our friend Virginia may be the best option. You only need to pay once, and her service usually includes transportation, the entrance fee, and swimming gear for diving or snorkeling. She may also offer a package of cenote tours, which can be a great way to explore different cenotes in the area. The cost may vary depending on your budget and the tour, but you'll not be disappointed! 
WHAT TO BRING - TOWELS AND WATERPROOF BAGS
Bring a small towel to dry off your body, a swimsuit, a snorkel mask, and a water bottle. Some light snacks can also be a great idea because there's no bar or restaurant inside the cenote. Water is also very important to stay hydrated and to eventually wash your body after swimming or diving. As for the waterproof bag, you can use it to carry your wet swimming apparel so it is separated from any dry belongings.
HOW TO PAY - CASH IS KING!
Bring cash in MXN pesos rather than a card, as some places do not accept debit/credit cards as a form of payment. It is also better to pay with pesos than in USD because it saves the hassle and time of negotiating USD-to-MXN currency exchange just to pay the entrance fee.
GENERAL RECOMMENDATIONS ON-SITE
First, check the weather forecast before visiting, as heavy rains can wash sediment and vegetation into the water, causing it to turn dark. When it comes to clothing, opt for comfortable and breathable attire and footwear suitable for water activities. Remember to respect the environment and avoid littering both inside and outside the cenote.
ENJOY YOUR VISIT AND HAVE FUN!
Now that you have an idea of what to expect, remember to immerse yourself in the experience. Be aware of the natural surroundings, the cool water, and the wildlife inhabiting the cenote. It's easy to get caught up in capturing the moment on camera, but remember to live in the moment and appreciate the beauty of the cenote. 
FAQ about Cenote Tankah
Are there any nearby attractions to visit after seeing Tankah Park ?
Yes, there are several nearby attractions to Tankah Park, such as the Tulum Mayan ruins, the Sian Ka'an Biosphere Reserve, and other cenotes in the area.
Can you swim in Tankah Bay?
Yes! You can enjoy a day swimming or snorkeling in Tankah Bay, and it's a paradisiacal destination to do so. Just grab your swimsuit! 
Are there any facilities at Tankah Park ?
At Tankah there are facilities such as restrooms and changing rooms, and you wouldn't need to bring your own food, because a buffet is included in your entrance fee. 
Is it safe to swim in Tankah Park ?
Yes, it is safe to swim in the cenotes of Tankah Park. The water is clear and calm, and there are usually lifeguards on duty during peak times.
👉 FRIDAY, Dec 1
OPENING PARTY X TEN IBIZA 🎉🍹
🎧
ORIOL CALVO, BASTIAN BUX, VITE
📩
Contact Virginia
here
to book a table
💵
First Release Tickets: Mex$ 550 (incl. fees)
Don't miss out on the chance to join us in "A Journey into House Music" tonight at Vagalume. Contact Virginia here to secure your spot for an unforgettable evening! 🌟🍹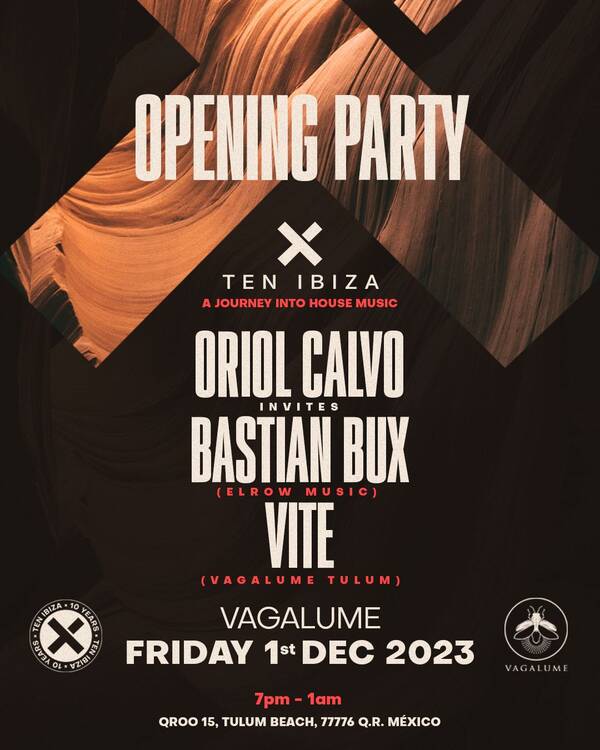 Top Parties and Club Events
23rd November - VAGALUME SESSIONS KEENE @VAGALUME
26th November - VAGALUME SUNDAZE MITA GAMI @VAGALUME
30th November - VAGALUME SESSIONS VALDOVINOS @VAGALUME
3rd December - VAGALUME SUNDAZE VALENTIN HUEDO @VAGALUME
7th December - VAGALUME SESSIONS MUSTAFA ISMAEEL @VAGALUME
30th December - PIKNIK POLO CORP & LEO LEONSKI @VAGALUME
31st December - NEW YEAR´S EVE @BAGATELLE TULUM
31st December - NYE PARTY 2024 @VAGALUME
13th March - LOCUS Tulum 2024