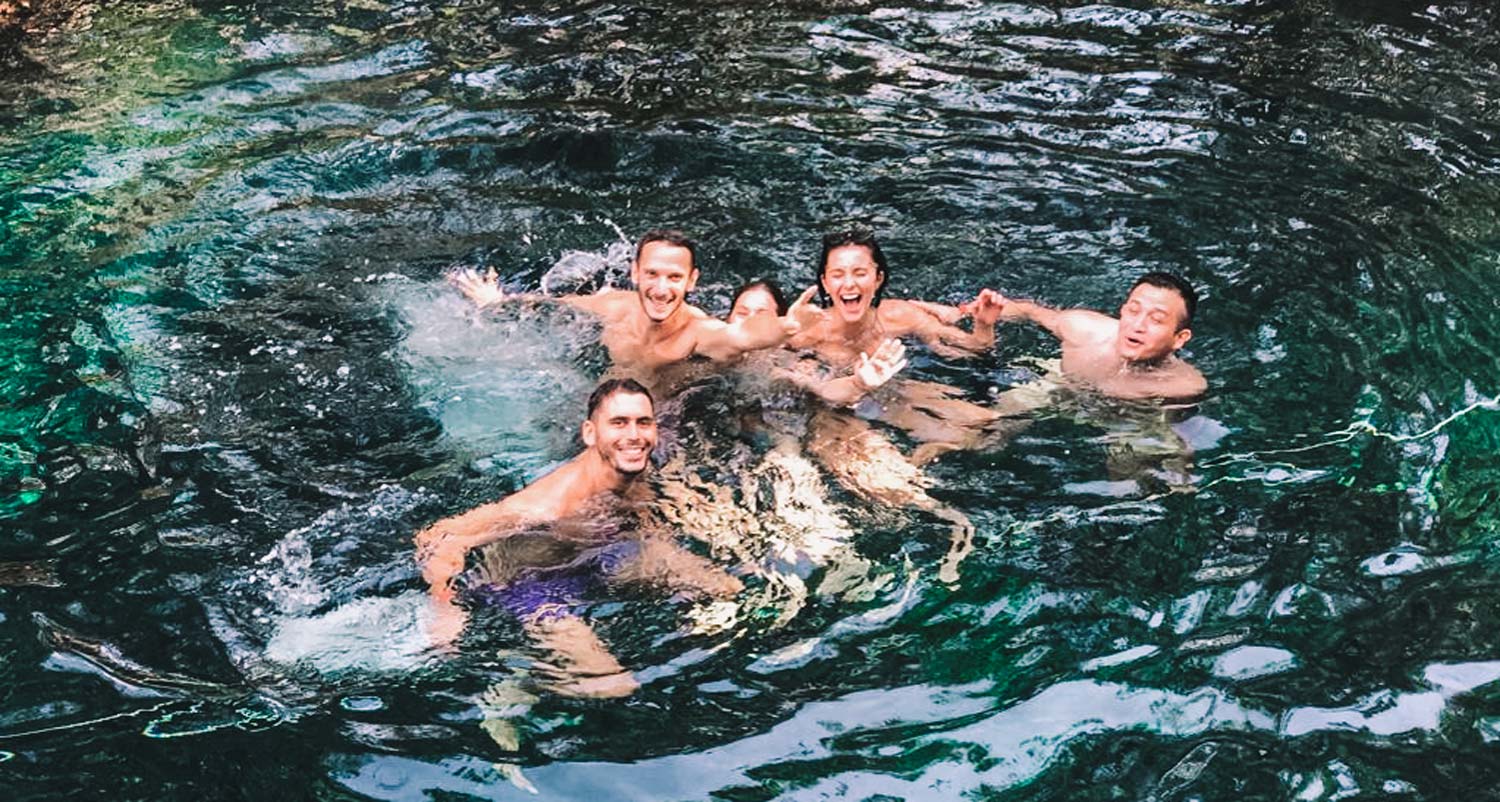 5 Ideas of Amazing Things to do for Bachelor Party in Tulum
Are you or one of your crew going to tie the knot? Congratulations! Now it's time for one of the most exciting parts of the Wedding path: planning the bachelor and bachelorette party! Long nights having fun, trying new drinks, swimming in the sea or enjoying a sunset with a cocktail and an amazing view are just good things to enjoy with your group. And Tulum, Mexico, offers these options and much more for your bachelor party!
People who have visited Tulum know why it's the perfect destination for a bachelor or bachelorette party.This paradisiacal spot offers not just amazing beaches and a great view, but also a lot of activities to do whether you want to enjoy the nightlife in town or have some fun at the beach. You will definitely have a non-stop fun day and night in this city. As we have spent a good amount of time in Tulum, we can give you some of the best activities to do in this city full of nice things to enjoy! 
So check some ideas on this article, and get ready for your next amazing experience in Mexico!
PSST! – struggling organizing your bachelor party? Let our friend Virginia takes care of it for FREE, find more informations below on how to take advantage of her services.
Fun Fact: Tulum, the only Mayan city situated near the coast, played a crucial role as a trading hub for turquoise and jade. Today, the remarkably preserved ruins of Tulum offer a captivating insight into this intriguing past!
Our 5 ideas of things to do in Tulum to elevate your bachelor party
Visit the famous Tulum beach clubs
If you want to have fun all-day long, you should definitely visit a beach club! Tulum is home to some of the best beach clubs in Mexico. Spend the day lounging on a daybed, sipping on cocktails and soaking up the sun. Some of the popular beach clubs in Tulum include:
Papaya Playa Project – This beach club has a bohemian, rustic vibe, and is known for its outdoor activities such as yoga classes and bonfire parties. It can get crowded during peak season, but the beach is beautiful, and the bar and restaurant serve tasty food and drinks.
Bagatelle – In this club you will find a lively party atmosphere, with a chic design, pool, lounge areas, and a DJ playing music throughout the day. If you're looking for a beach club with a great party scene, this is your place.
Vagalume – Would you like to have lunch with an incredibly good view of a beach, and after lunch swim in the pool while meeting incredible people, (from everywhere in the world)? Well, this club offers these possibilities, plus delicious plates and drinks!
But the party doesn't stop when the sun goes down. You still have after- party options that last till 5 am! Here you will dance, try different drinks, meet new people and have fun with your crew members! However, if you are more into quiet nights or just want to have something nice to eat before partying, don't worry; Tulum has an amazing range of restaurants to choose from! From street tacos to upscale dining, there is no shortage of options.
IT is one of our favorite restaurants in Tulum! It is a popular Italian restaurant in Tulum that is known for its delicious pizza and pasta dishes. The restaurant is located in the heart of the hotel zone, making it a convenient spot for a night out with the guys. The atmosphere is laid-back and relaxed, with an outdoor seating area that is perfect for enjoying a few drinks with friends.
Explore Tulum's surroundings with the best day trips
Many tourists who visit Tulum also visit some nice destinations in the Riviera Maya, like Mayan ruins. One popular mayan archeological site is Chichen Itza- that is located about two hours driving from Tulum. And on your way to Chichen Itza, there's an amazing town called Valladolid that will allow you to experience authentic Mexican culture and history.
Another great day trip destination for a day trip from Tulum is visiting the Sian Ka'an Reserve, a UNESCO World Heritage site located just south of Tulum, Mexico. When you visit Sian Ka'an Reserve, you will be able to kayak through the lagoons and canals to see all kinds of wildlife, explore Mayan archaeological sites, definitely an experience worth living with your bachelor crew!
Dive into a cenote and take underwater pictures
Take your bachelor party on an underwater adventure in one of Tulum's many cenotes. Explore the crystal-clear waters, underwater caves, and unique rock formations. Many tour companies offer cenote diving experiences, which can be tailored to all levels of experience.
Floating in the cool water and feeling the sun's rays shining through from above can be incredibly relaxing and provide an impression of being one with nature. And the best part? Tulum is the perfect destination for those looking to explore the beauty of cenotes. The area is home to many incredible cenotes, like Cenote Dos Ojos or Center "The Pit ' (El Pit, in Spanish) , perfect for diving adventures! Tulum's a unique destination that offers you and your group a great opportunity to discover some of the best-kept secrets of nature!
Take to the open seas on a catamaran and enjoy a party on board.! Hop aboard a catamaran and sail into the sunset with your friends! Picture this: you're dancing to amazing beats, sipping on drinks, and taking in breathtaking views of the coastline. As soon as you step on deck, you'll be welcomed by a friendly crew who can't wait to add some extra fun to your trip. 
Want to take a dip in the crystal clear waters? Tulum's got you covered. Trust us, this experience will be the highlight of your adventure-packed vacation!
Then you guys should definitely try this experience, that may become the best thing on your trip!
If you and your group are into adventures while driving in a paradise, why not doing it while  discovering the hidden gems of Tulum's jungle? Renting an ATV is the perfect solution! Cruise through the unpaved roads and reach some of the lesser-visited areas with ease. This thrilling ride allows you to witness the stunning scenery that can only be seen from within the jungle.
Trust us, if you want to make unforgettable memories in Tulum, taking an ATV tour of the jungle is a must! Make it even better and join a guided tour to visit ancient ruins, cenotes, and other secret locations.
Take Advantage Of Free Concierge Service
As excellent to explore Tulum and its surroundings alone, you may need help figuring out where to start. To make the most of your money and time, contact Virginia and Kelly - two incredible Mexican girls living in Tulum for more than 15 years. They're familiar with the ins & outs of the Tulum town and hotel zone like the back of their hand! 
Since we arrived in Tulum 2 years ago, many adventures wouldn't have been possible without their help - they know literally everybody in Tulum and can perfectly organize every moment of your stay. Get the best tables, skip queues and get on the guest list of the coolest places in Tulum - this's only the beginning! 
They are ready to offer you guys FREE concierge service in Tulum for the time of your stay: take advantage of it, contact them on Whatsapp and live the best experience!
Get FREE Concierge Service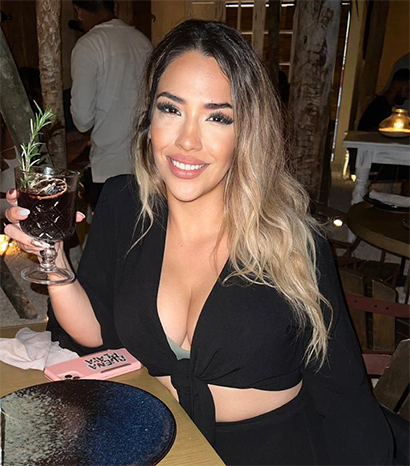 "Virginia Will Transform You In A Tulum Insider"
Luxury resorts or private villa - some options for your stay in Tulum
If you are thinking of celebrating your bachelor party in Tulum, you may wonder which accommodation would be the best for you and your crew. Tulum offers a wide range of accommodation options for bachelor parties, including luxury resorts, boutique hotels, beachfront villas, and vacation rentals.
If you want a more natural and luxurious experience, renting a villa or casa can be a great option. There are many beautiful villas and houses available for rent in Tulum that can accommodate large groups, and some even come with amenities like private pools, chefs… in the middle of the jungle! This can be a great option if you're looking to have a more laid-back, intimate experience with your friends.
On the other hand, if you're looking for a more all-inclusive experience with access to amenities like pools, beach clubs, and restaurants, then an all-inclusive resort may be a better option. Tulum has several high-end all-inclusive resorts that offer luxurious accommodations, gourmet dining, and plenty of activities and entertainment options.
However, we would definitely choose a villa for staying with a bachelor party group, so you don't have to worry about being separated during your vacation!
Secure the best accommodation today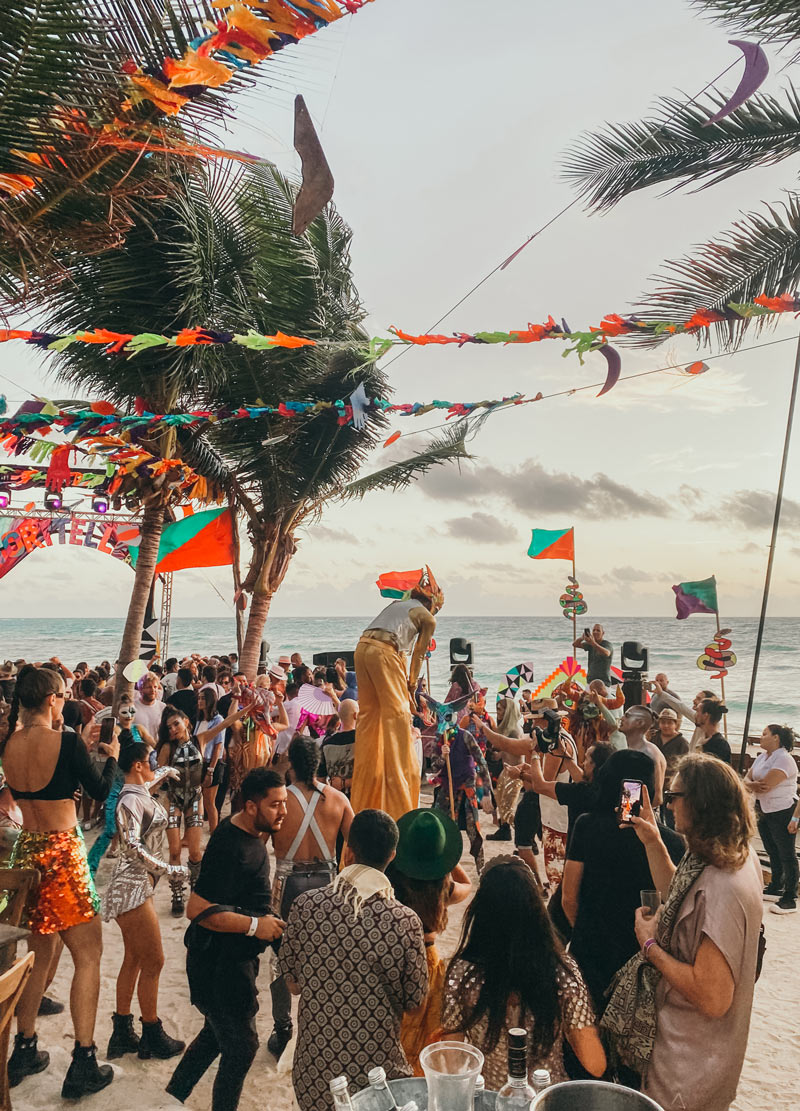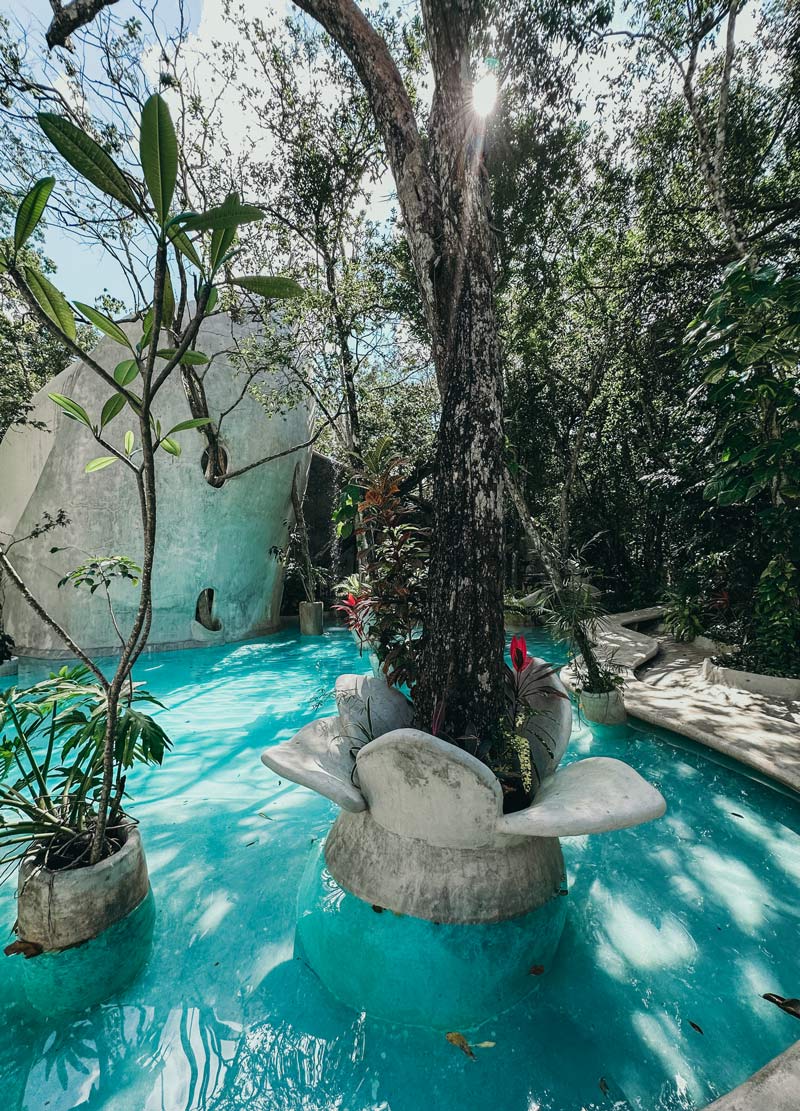 FAQ about bachelor party things to do
Is Tulum nightlife fun for a bachelor party?
Yes! Tulum nightlife is undoubtedly fun and full of life. Tulum offers a more laid-back and intimate atmosphere that we just love. So, if you're looking for a fun and exciting night out, Tulum's nightlife is definitely worth checking out!
What type of accommodation options are available for a bachelor party in Tulum?
Tulum has a variety of accommodation options for bachelor parties, including villas, condos, hostels, and hotels. Popular choices include private villas with pools, beachfront hotels, and centrally located hostels.
How do you move around in Tulum for a bachelor party?
Renting a car is a great option for moving around Tulum! However, you guys can also explore the town by walking, taking a taxi, or renting a bike or scooter. And if you're up for a bigger adventure, hop on one of the many buses (colectivos in Spanish) that are waiting to take you to some amazing spots in Mexico!
What time does the party start in Tulum at night?
Some after-party clubs start at 1am and are open till 5am. So come and get ready to party till the sun is out!
Can a bachelor party in Tulum be expensive?
Not necessarily! Tulum offers a wide range of options to suit different budgets. While there are affordable choices for a great night out in Tulum, spending more can also grant you a sophisticated experience at popular beaches in the area, for a luxurious experience!
Top Events to Make Your Trip Unforgettable
DOMINIK TULUM @MIA TULUM
When: September 9, 2023 7:00 PM
Where: Mia Restaurant & Beach Club, Tulum
🌴 Join Us for An Unforgettable Night at DOMINIK - TULUM at Mia Tulum! 🌴
Friends, clear your schedules and get ready for a magical experience at Mia Tulum! This stunning location will host DOMINIK - TULUM on Saturday, September 9th, from 7 pm to 1 am. This isn't just another event; it's a fusion of nature, culture, and sound featuring an incredible line-up with GIORGIO STEFANO, AUDICTIVE, and MAURO TORRETA. At DOMINIK, you'll find the perfect blend of Tulum's lush jungles and pulsating underground beats, creating an environment where genuine connections blossom.
🎟️ Secure your tickets now:
Early Bird: $575 MXN ($38 USD), includes a welcome drink 🍹 (Limited Availability)
Tier 1: $805 MXN ($52 USD), includes a welcome drink 🍹 (Limited Availability)
Final Tier: $1150 MXN ($75 USD), includes a welcome drink 🍹 (Limited Availability)
Dinner + Party: $1380 MXN ($90 USD) 🍽️🎉 (Limited Availability)
See you there for a night you won't forget! 🎶✨
Ready to join us? Get your ticket now! Early bird tickets are already selling out, secure them at 632 pesos (only 15 tickets available).
Hurry – spots are filling up fast! 🙀 We can't wait to see you there!
Top Parties and Club Events
17th September - ANCESTRAL SOUL @BONBONNIERE TULUM
22nd September - TONY ROMERA @BONBONNIERE TULUM
29nd September - TIM BARESKO @BONBONNIERE TULUM
4th November - HOT SINCE 82 @BONBONNIERE TULUM
13th March - LOCUS Tulum 2024