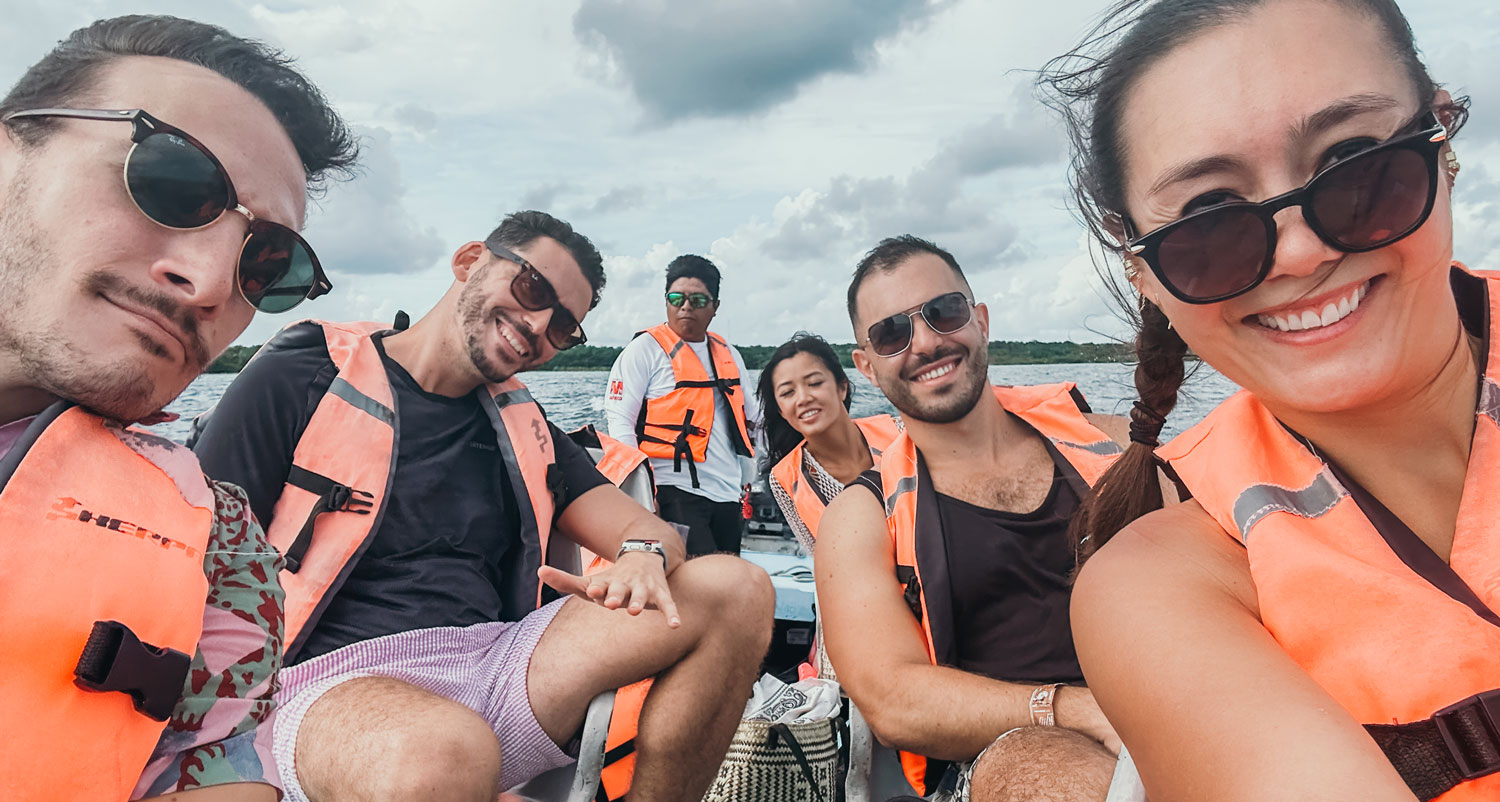 Playa del Carmen or Tulum: your Perfect Bachelor Party in Riviera Maya
Did you know that Mexico has been selected as one of the best destinations to visit in 2023? Yes! According to Forbes, the worldwide recognized magazine, Mexico is one of their top 5 choices to "put on your radar"  this 2023.  And we knew it! We fell in love with this country since we visited here, and it's an amazing place to celebrate bachelor and bachelorette parties too! So, if you or your best friend is about to tie the knot, you know where to go!
Two of the most popular cities in Mexico for bachelor parties are Tulum and Playa del Carmen, popular beach destinations located on the Caribbean coast of Mexico's Yucatan Peninsula. So if you wonder which one of them is going to be the perfect destination for a non-stop fun day and nights! 
SPAM ALERT: We would rather go to Tulum! However, both destinations are beautiful, unique and exciting to visit. So the better option should match your group interests and preferences. We will give you some info about what you can expect in each town, so you can choose the perfect one for your vacation! 
TULUM: A UNIQUE PARADISE WITH TURQUOISE WATERS, AND A AND A VIBRANT NIGHTLIFE
If you're planning a bachelor party and looking for a destination that has it all, Tulum is the place to be! When we first visited this destination, we thought it was going to be a beach paradise, only. But when the sun is down, the lights are on, and the DJ is ready for the next adventure: the party night. And some parties last till the sun is out again! So you will never be bored in Tulum, there's always something to enjoy – here's some important 2023 info to know before planning a bachelor party in Tulum.
Tulum is also home to fancy hotels, villas, casas and hostels with the iconic Tulum style and architecture,as well as a wide variety of restaurants, bars, and hotels serving up delicious Mexican and international cuisine. Some of the restaurants also offer shows and spectacles while you are enjoying your dinner and some amazing drinks! And the best of all, you can find a restaurant and a really nice accommodation to stay, with really affordable prices, especially if you go on a low season time.
We fell head over heels for the town and its unique atmosphere – that has the possibility of joining together the luxury, the amazing nature, and a vibrant nightlife. How is this even possible? We thought when we were walking through the most beautiful streets under Tulum's stars-  Well,with time we discovered that everything is possible in Tulum. 
However, if you live in a city or in a cold place, you may be interested in enjoying a day next to a beautiful beach, with tropical warm weather. Good news: apart from the amazing parties, Tulum is also a must-visit beach paradise, with a stunning coastal town that boasts a long, amazing white beach with crystal-clear turquoise water located just a few steps away from the town, perfect for those who wants to visit all when they are celebrating a bachelor party!
But that's not all – Tulum is also home to some of the best jungle cenotes in the Quintana Roo region.  Just in case you didn't hear of them, a cenote is a natural cavern full of water that comes from the rain or the rivers, named by the Mayans. So, it's like a natural pool underground, where you can swim, snorkel, or dive! 
So because of these reasons, we would definitely go to Tulum if we were planning a bachelor or a bachelorette party, it's really worth it. And if you also think this is a destination for you, we can recommend a FREE concierge service for you to organize your best time in Tulum, with our friend Virginia, that will help you to find hidden gems, get the best tables, with amazing prices.
Get Free Concierge Service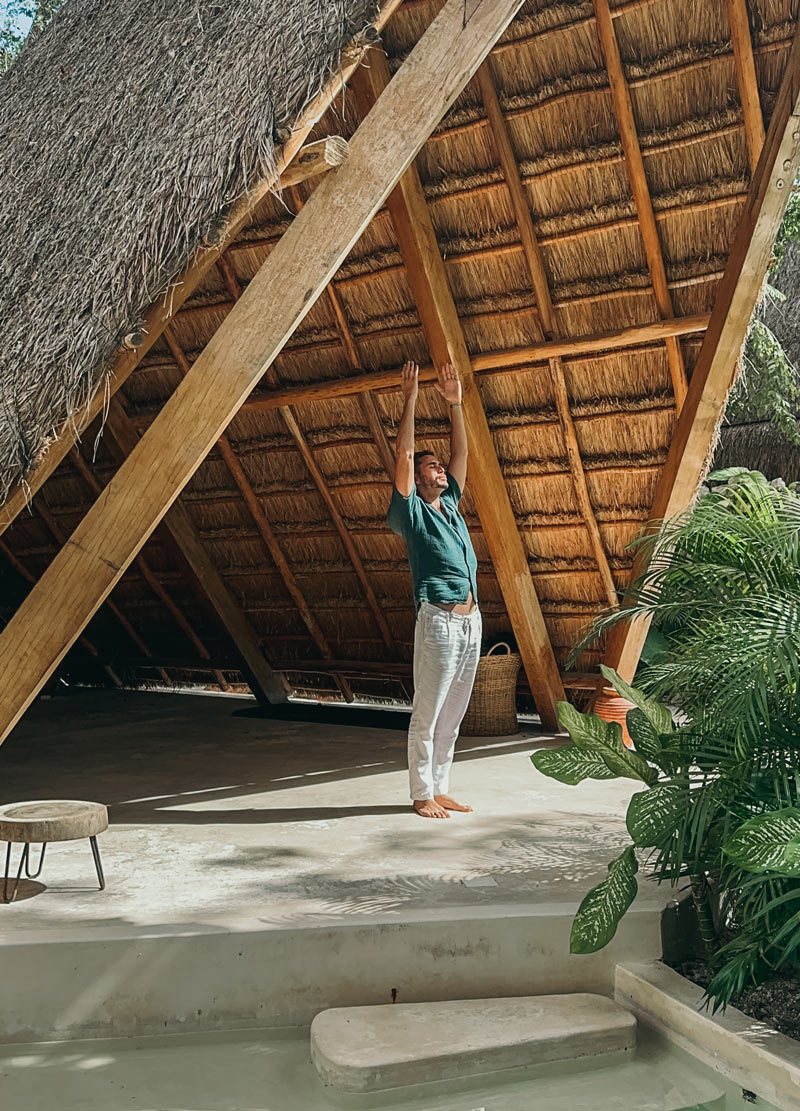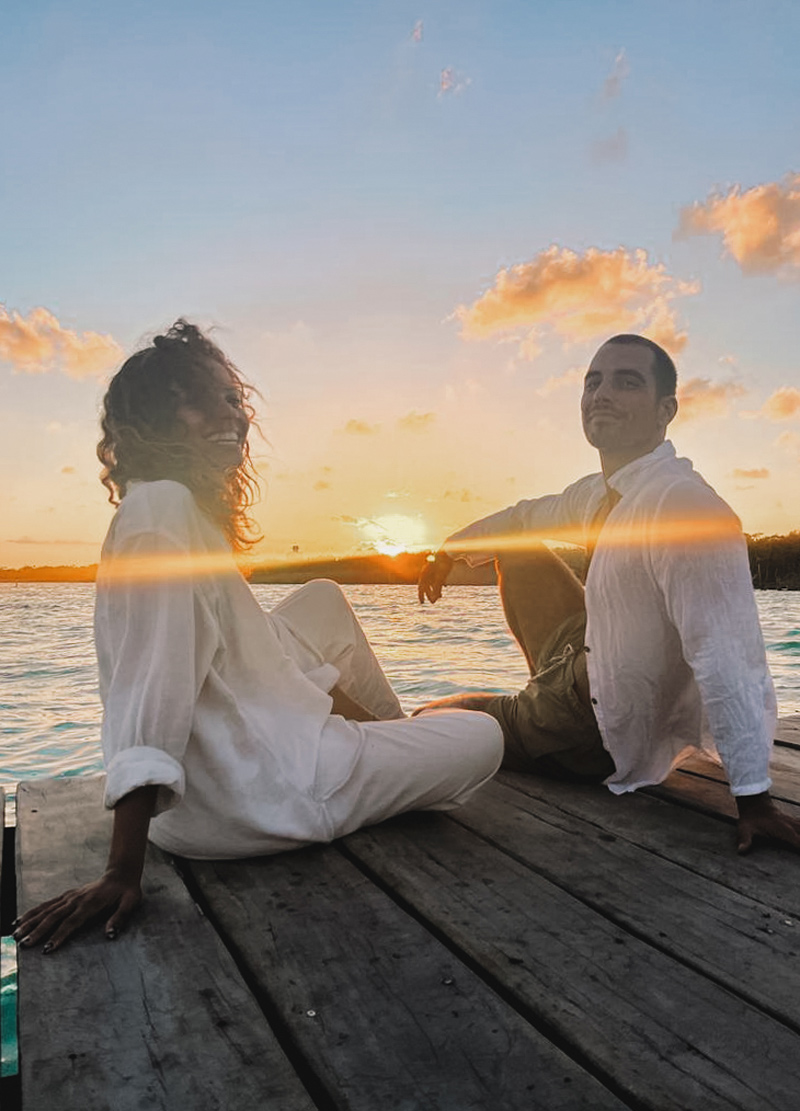 PLAYA DEL CARMEN: WHERE THE CITY VIBES THRIVES ON THE BEAUTIFUL CARIBBEAN COAST
On the other hand, we've got Playa del Carmen. Located on the Caribbean coast, Playa del Carmen is a popular destination for tourists all around the world.. The town's Fifth Avenue, also known as La Quinta Avenida, is a bustling pedestrian street lined with countless restaurants, bars, and shops, offering an endless array of entertainment options. From delicious Mexican street food to fine dining options, there is something for every taste and budget. The avenue is also a shopper's spot with a variety of stores selling everything from souvenirs to designer clothing.
In general, Playa del Carmen has a more urban feel, with a lively downtown area that is bustling with restaurants, bars, and shops. It also has a wider range of accommodations, including all-inclusive resorts, hotels, and vacation rentals, and a diverse range of activities, including water sports, or golf courses. Playa del Carmen gives the vibes of a typical touristic town.
Get Free Concierge Service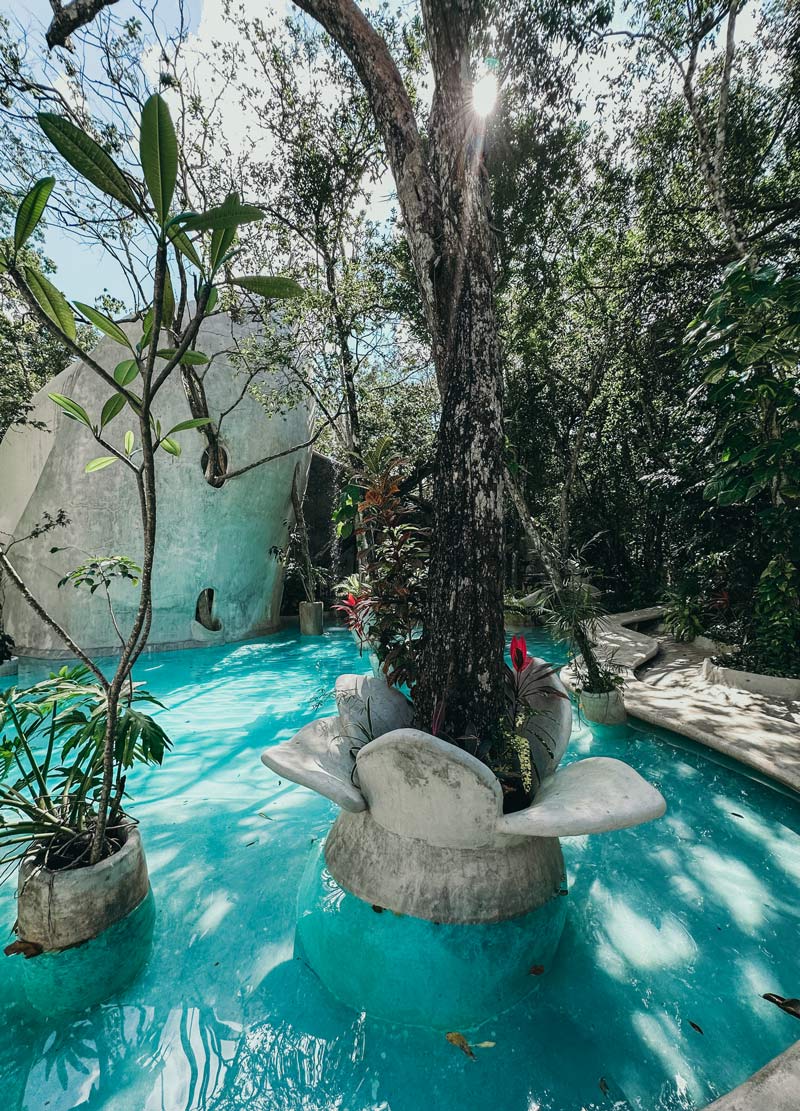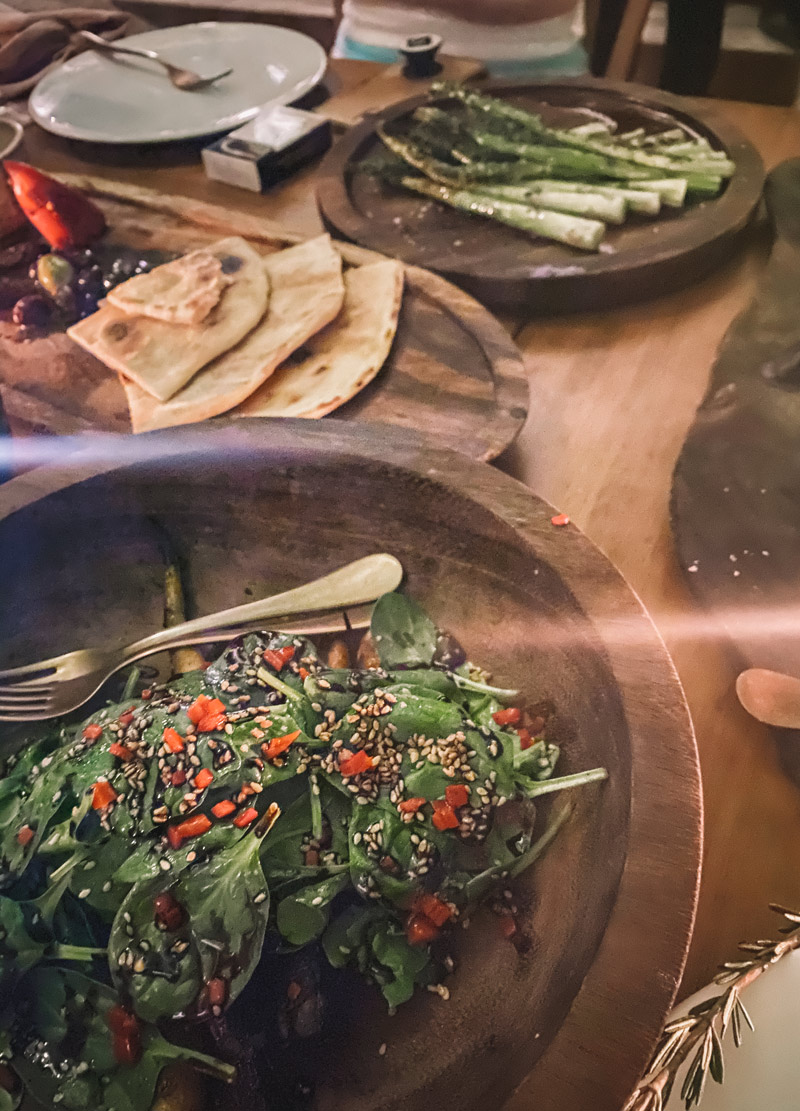 Playa Del Carmen and Tulum on a map
DIFFERENCES BETWEEN TULUM AND PLAYA DEL CARMEN
Tulum has a more vibrant atmosphere compared to Playa del Carmen, which is known for its lively nightlife and modern amenities. Tulum is often associated with ecotourism and back-to-nature experiences, with a focus on sustainable practices and a slower pace of life. The town is also known for its beautiful beaches and proximity to natural wonders such as cenotes and the Sian Ka'an Biosphere Reserve.
On the other hand, Playa del Carmen has a more cosmopolitan vibe, with a bustling downtown area filled with restaurants, bars, and shops, as well as modern hotels and resorts. The town is known for its vibrant nightlife and party scene, with plenty of options for dancing and entertainment. Playa del Carmen is also a great base for exploring the Riviera Maya region, with easy access to attractions such as the Mayan ruins of Tulum and the island of Cozumel.
KEEP IN MIND: Accommodation & Price Range
Accommodation – Tulum and Playa del Carmen are two popular tourist destinations in Mexico that offer a range of accommodations. If you're searching for a serene and eco-friendly experience, Tulum's boutique hotels and natural pools will be right up your alley. Tulum's accommodations also offer a great combination between luxurious properties, natural environment and affordable prices, even if you are a group of 10! So it's perfect for a bachelor party, so you don't need to separate from your crew! For those seeking a more traditional hotel experience, Playa del Carmen has got you covered. Whether you're planning a short or extended stay, both destinations have accommodations to suit your needs.
Price Range – Although Tulum is generally considered the more expensive choice, you can still find affordable prices in amazing locations .In contrast, Playa del Carmen provides a variety of hotels, villas, and restaurants that are relatively cheaper than Tulum. However, even if it's important to stick to your budget, a bachelor party is a once-in-a-lifetime occasion that deserves some extra splurging to create unforgettable memories with your closest friends. While Tulum may have a higher price tag, it offers a luxurious and exclusive atmosphere that is ideal for celebrating a special occasion. If you're able to stretch your budget, we highly recommend choosing Tulum for your bachelor party and indulging in a once-in-a-lifetime experience that you'll always treasure!
OUR REASONS TO CHOOSE TULUM: THE BEST OF BOTH WORLDS
Tulum is an excellent choice for a bachelor party due to its lively atmosphere, beautiful beaches, and authentic experience. Unlike Playa del Carmen, Tulum offers a laid-back vibe that is perfect for a relaxed and intimate celebration. The town's beaches are known for their natural beauty, crystal-clear water, and soft white sand, making them ideal for swimming, sunbathing, and relaxing with friends. Tulum is also known for its authenticity, offering a unique mix of ancient Mayan culture and modern Mexican influences. This makes it the perfect place to experience the real Mexico with vibrant markets, delicious street food, and colorful festivals.
Another advantage of Tulum is its proximity to Cozumel, a beautiful island known for its stunning coral reefs and underwater adventures. It's easy to take a ferry from Tulum to Cozumel and spend a day exploring the island's attractions. While Cozumel is also accessible from Playa del Carmen, it doesn't offer the same authentic experience as Tulum. In summary, Tulum provides a unique and unforgettable experience for a bachelor party with its charming atmosphere, beautiful beaches, authentic experience, and easy access to nearby attractions like Cozumel.
Take Advantage Of Free Concierge Service
As excellent to explore Tulum and its surroundings alone, you may need help figuring out where to start. To make the most of your money and time, contact Virginia and Kelly - two incredible Mexican girls living in Tulum for more than 15 years. They're familiar with the ins & outs of the Tulum town and hotel zone like the back of their hand! 
Since we arrived in Tulum 2 years ago, many adventures wouldn't have been possible without their help - they know literally everybody in Tulum and can perfectly organize every moment of your stay. Get the best tables, skip queues and get on the guest list of the coolest places in Tulum - this's only the beginning! 
They are ready to offer you guys FREE concierge service in Tulum for the time of your stay: take advantage of it, contact them on Whatsapp and live the best experience!
Get FREE Concierge Service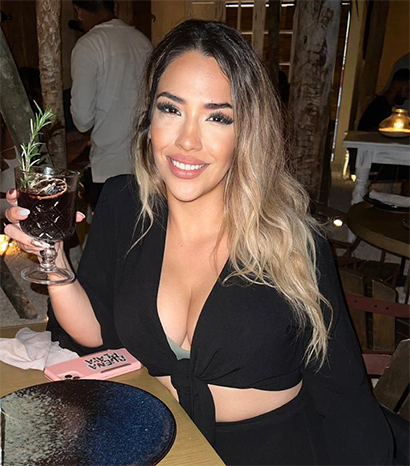 "Virginia Will Transform You In A Tulum Insider"
FAQ about bachelor party in Playa del Carmen vs Tulum
What are the main differences between Tulum and Playa del Carmen for a bachelor party?
Tulum and Playa del Carmen have different vibes and cater to different preferences. Tulum offers a more laid-back, bohemian atmosphere with a focus on wellness, nature, and sustainability. Playa del Carmen, on the other hand, has a livelier, more energetic feel with a focus on nightlife, entertainment, and modern amenities.
Which destination offers better nightlife options, Tulum or Playa del Carmen?
Playa del Carmen generally has a more vibrant and varied nightlife scene with a wide range of bars, clubs, and live music venues. However, Tulum has a growing nightlife scene as well, with several beach bars and restaurants offering live music and entertainment.
Are there any particular activities that are unique to one destination over the other?
Tulum is known for its natural beauty, with stunning beaches, cenotes, and the Tulum ruins being the main attractions. Playa del Carmen also has beautiful beaches, but offers a wider range of activities such as water sports, shopping, and cultural experiences like the Frida Kahlo Museum.
Which destination has a better selection of accommodations for a bachelor party group?
Both Tulum and Playa del Carmen offer a variety of accommodations, ranging from budget hostels to luxury resorts. However, Playa del Carmen may have more options that cater specifically to bachelor party groups, with larger all-inclusive resorts and party-friendly hotels.
Can you combine a trip to both Playa del Carmen and Tulum for a bachelorette party?
The cost of a bachelor party in Tulum versus Playa del Carmen will vary depending on the activities, accommodations, and overall itinerary. However, Tulum is generally considered to be more expensive due to its focus on luxury and sustainability, while Playa del Carmen may offer more budget-friendly options.
👉 FRIDAY, Dec 1
OPENING PARTY X TEN IBIZA 🎉🍹
🎧
ORIOL CALVO, BASTIAN BUX, VITE
📩
Contact Virginia
here
to book a table
💵
First Release Tickets: Mex$ 550 (incl. fees)
Don't miss out on the chance to join us in "A Journey into House Music" tonight at Vagalume. Contact Virginia here to secure your spot for an unforgettable evening! 🌟🍹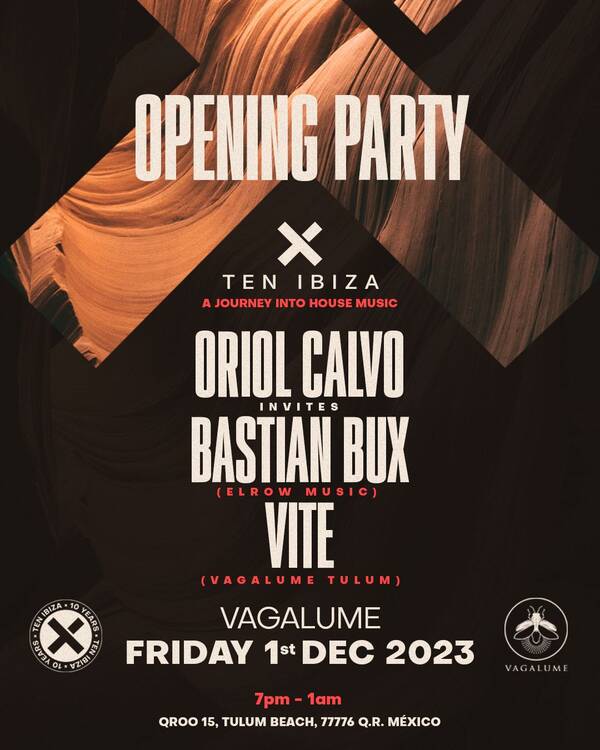 Top Parties and Club Events
23rd November - VAGALUME SESSIONS KEENE @VAGALUME
26th November - VAGALUME SUNDAZE MITA GAMI @VAGALUME
30th November - VAGALUME SESSIONS VALDOVINOS @VAGALUME
3rd December - VAGALUME SUNDAZE VALENTIN HUEDO @VAGALUME
7th December - VAGALUME SESSIONS MUSTAFA ISMAEEL @VAGALUME
30th December - PIKNIK POLO CORP & LEO LEONSKI @VAGALUME
31st December - NEW YEAR´S EVE @BAGATELLE TULUM
31st December - NYE PARTY 2024 @VAGALUME
13th March - LOCUS Tulum 2024