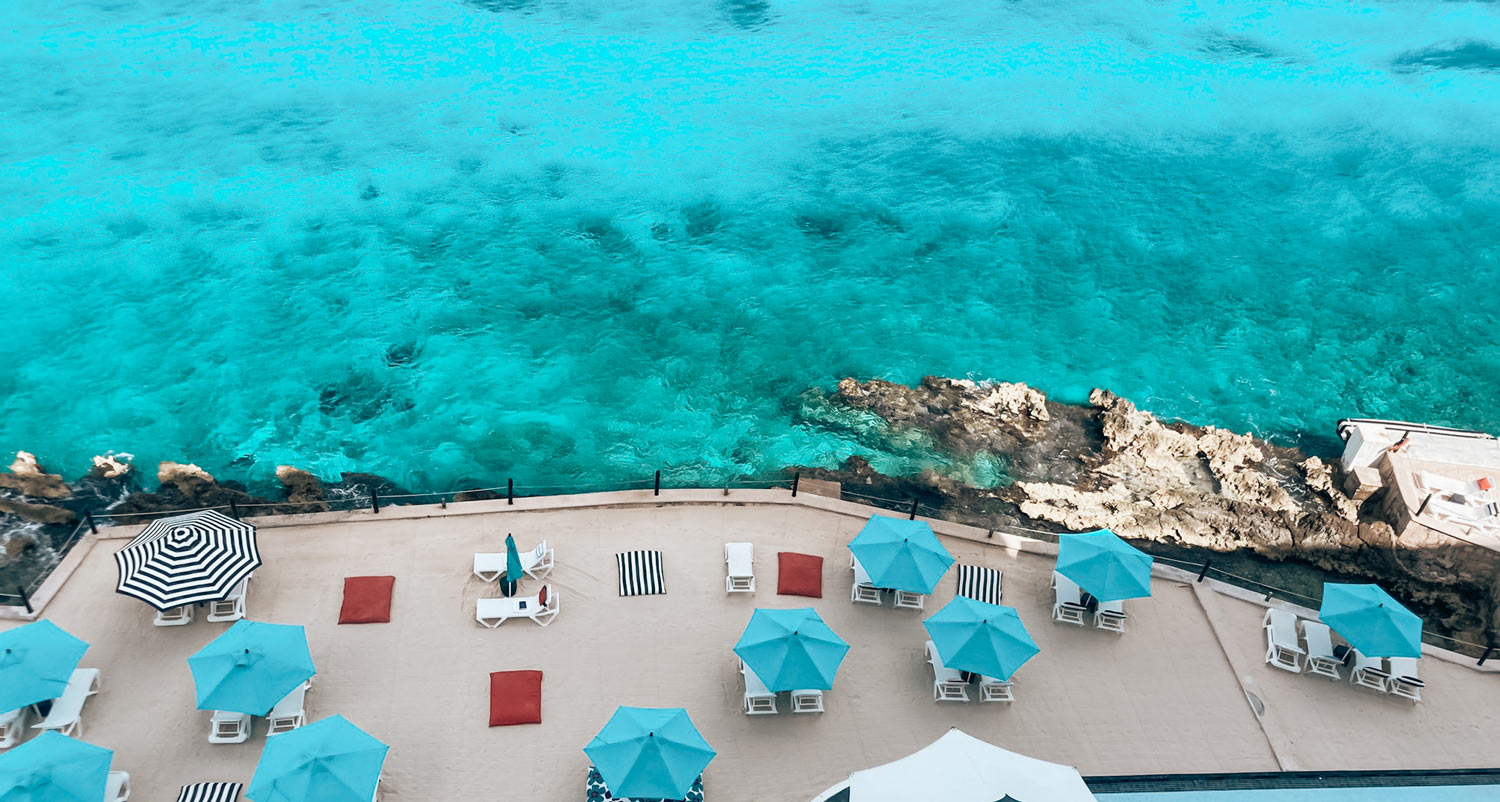 Your Bachelor Party Paradise: Cancun Vs Tulum
Congratulations! You are about to marry and now it's time to celebrate your bachelor party with your group of best friends. But with so many beautiful options to choose, how to take your final decision?
No worries, keep calm and keep reading. We have made the ultimate showdown of Bachelors in Paradise: Tulum vs Cancun. These two Mexican destinations have everything you need to make your bachelor party unforgettable, but which one is the best fit for you and your squad?
In this guide, we will compare and contrast the highlights of Tulum and Cancun, helping you to make an informed decision on where to spend this special time in an awesome time with your mates. Get ready to soak up the sun, enjoy the vibrant nightlife, and experience the natural beauty of Mexico and its top places!
TIPS: Want to experience the ultimate getaway in Tulum without the hassle of planning everything yourself? Look no further than Virginia, your very own travel guide. She's a master at crafting personalized itineraries packed with the best nightlife, dreamy villas and heart-stopping excursions. And the best part? She does it all for FREE! So why stress when you can relax and let Virginia take the wheel? Reach her out on WhatsApp today and get ready to embark on the adventure of a lifetime with your squad!
CANCUN: WHERE ALL INCLUDED RESORTS MEETS INCREDIBLE BEACHES AND NATURAL BEAUTY
Cancun is known for its stunning beaches, turquoise waters, and vibrant nightlife. One of the highlights of Cancun is its many beaches, including the popular Playa Delfines, which offers breathtaking views of the Caribbean Sea. Another highlight of Cancun is the Cancun Underwater Museum, which is a unique and fascinating attraction that features over 500 sculptures submerged in the waters of the Caribbean Sea.
For those who enjoy water sports, Cancun offers a range of activities such as snorkeling, scuba diving, and parasailing. Cancun is also known for its bustling nightlife, with a variety of nightclubs and bars offering music, drinks, and entertainment until the early hours of the morning.
Unlike Tulum, Cancun is a larger and more developed city, known for its lively atmosphere, luxurious all-inclusive resorts, and bustling nightlife. Cancun has a wider range of activities and entertainment options, such as water sports, shopping malls, and amusement parks. Cancun also has a more modern feel compared to Tulum, with high-rise buildings and a more urban setting.
TULUM: A UNIQUE PARADISE BETWEEN MAYAN RUINS AND LUXURY VILLAS
Tulum, like Cancun, is also known for its stunning white sand beaches and crystal clear waters. But unlike Cancun, Tulum offers a more relaxed experience, full of luxury and nature, perfect for connecting with unique sophisticated spots. The highlights of Tulum are the Tulum Mayan Ruins, which are located on a cliff overlooking the Caribbean Sea, and the multiple luxury hotels and villas that you can visit, with a perfect mix of high decorations and nature.
Another amazing highlight of Tulum is the many cenotes (natural swimming holes) that are located in the area. These cenotes offer a unique and refreshing way to cool off from the heat and humidity of the Yucatan Peninsula. Moreover, Tulum is home to many yoga and wellness retreats, making it a popular destination for those looking to relax and rejuvenate, unlike Cancun, which may be more of a lively destination for those who love the buzz of a bustling beachside city.
Tulum is a smaller and quieter town located south of Cancun along the Caribbean coast. It's known for its laid-back vibe, bohemian atmosphere, and beautiful beaches. Tulum is more focused on eco-tourism and sustainable living, and there are plenty of eco-friendly accommodations and restaurants in the area. If you want more insights and info, check out our ultimate Tulum bachelor party planning guide!
PLAYA DEL CARMEN: A PARADISE BETWEEN BOTH DESTINATIONS
If you guys want to live your Mexican experience at its maximum, whether you are staying in Cancun or Tulum, you could add Playa del Carmen in your itinerary. Many travelers visit this amazing town in a day, and then they go back to their hotel in Cancun or Tulum. Playa del Carmen is a beautiful coastal resort town located in the state of Quintana Roo. The city offers an amazing view to the Caribbean sea, and as it is small, you can walk through its streets or, to have a more summer experience, renting a bike could be a nice option too!
THINGS TO KEEP IN MIND ABOUT CANCUN AND TULUM FOR A BACHELOR PARTY
Cancun has a lively atmosphere with a more modern, party-centric vibe. It's known for its all-inclusive resorts, high-rise hotels, and bustling nightlife. On the other hand, Tulum has a more laid-back and bohemian atmosphere with a focus on eco-friendly, sustainable tourism. However, Tulum also offers a vibrant and lively nightlife, with parties that can last till the sun's out. It's a boho town that will definitely surprise you in every spot, as here you will find the best of everything: the best of luxurious cities, the best for party lovers, and the best for eco-friendly followers.
Get Free Concierge Service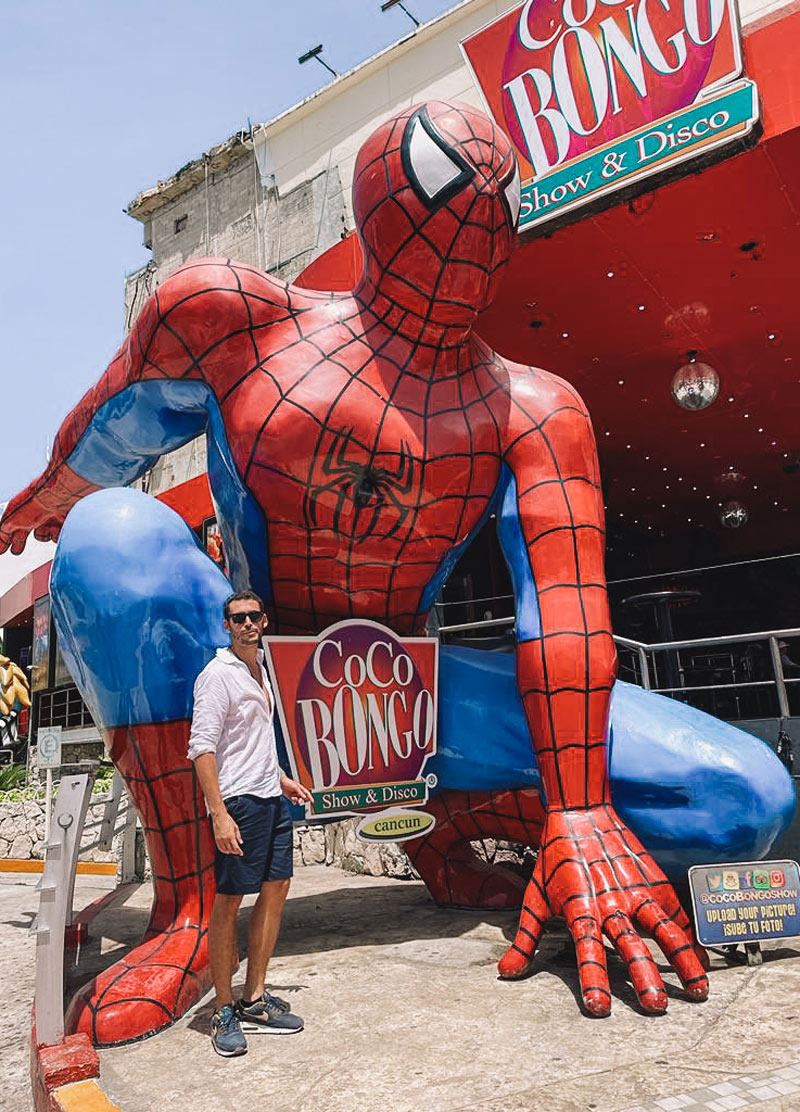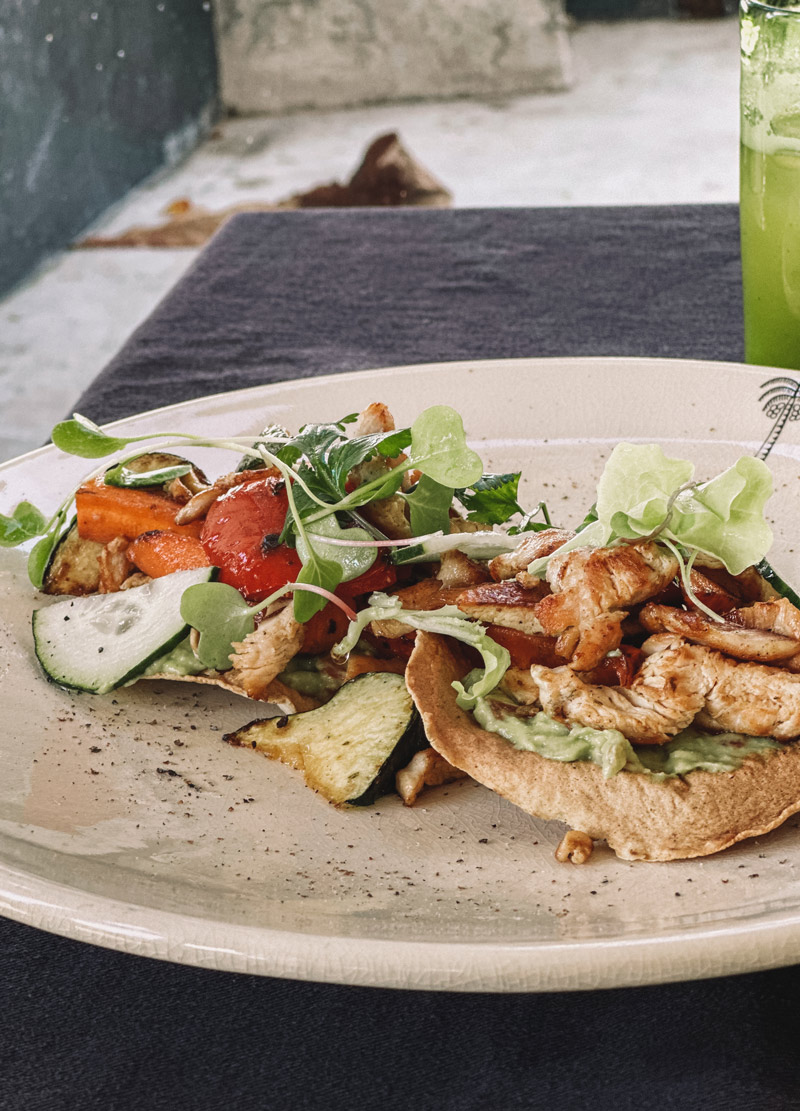 Cancun offers a variety of dining options, including international cuisine and familiar fast food chains. It's known for its high-end restaurants, trendy cafes, and bars. Most of them, with incredibly high prices!  In contrast, Tulum, in contrast, offers both: international food restaurants,amazing local options to immerse in Mexican culture, sourced and sustainable cuisine, with a focus on fresh seafood and farm-to-table ingredients. It also has many vegetarian and vegan options, as well as local street food vendors. So if you are willing to try the best of both, international and local cuisine in the same amazing town and without driving hours, Tulum is the place to be!
Get Free Concierge Service
Cancun is known for its lively and bustling nightlife, with a variety of bars, nightclubs, and beach parties. It's a popular destination for those looking to party and have a good time. Tulum, on the other hand, has a more relaxed and laid-back nightlife scene, but vibrant and lively, full of people from the whole world! Actually, in Tulum you can find the best of both worlds: the perfect atmosphere for party lovers and the perfect atmosphere for those who prefer having dinner in a beach club. If you are the one who loves partying the whole night, there are clubs that last till 5am! So if you are into nightlife, Tulum is your ultimate place to choose!
Get Free Concierge Service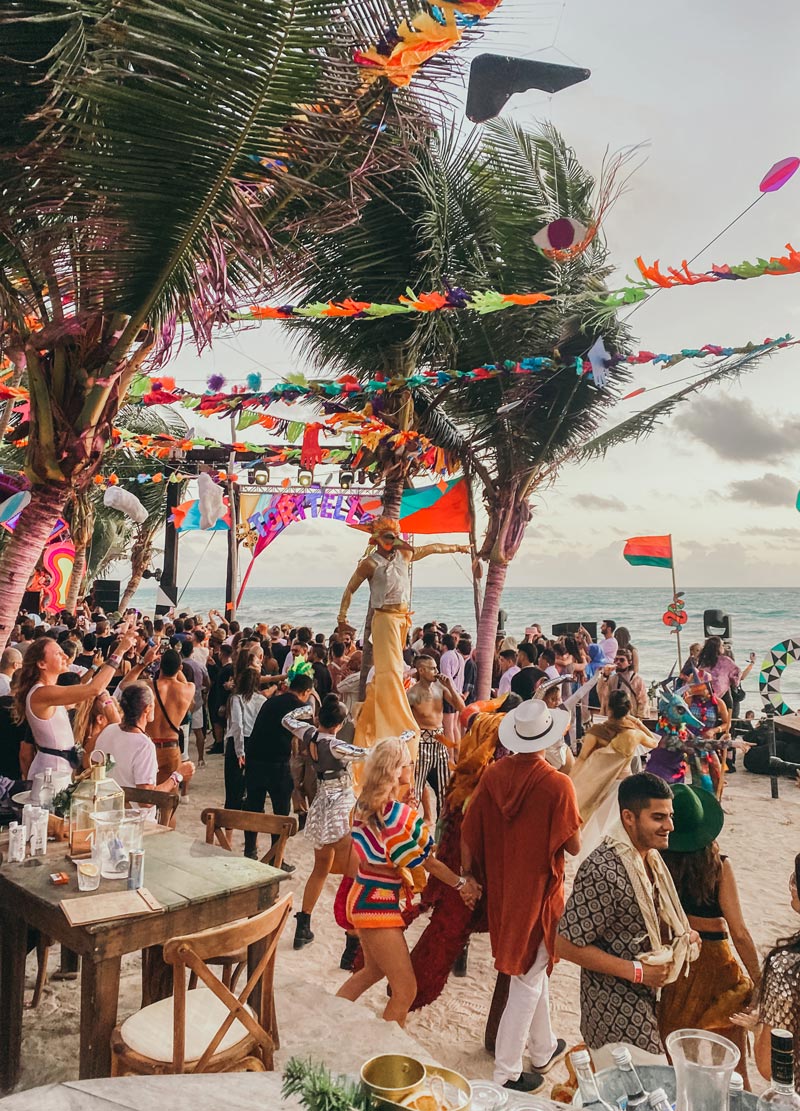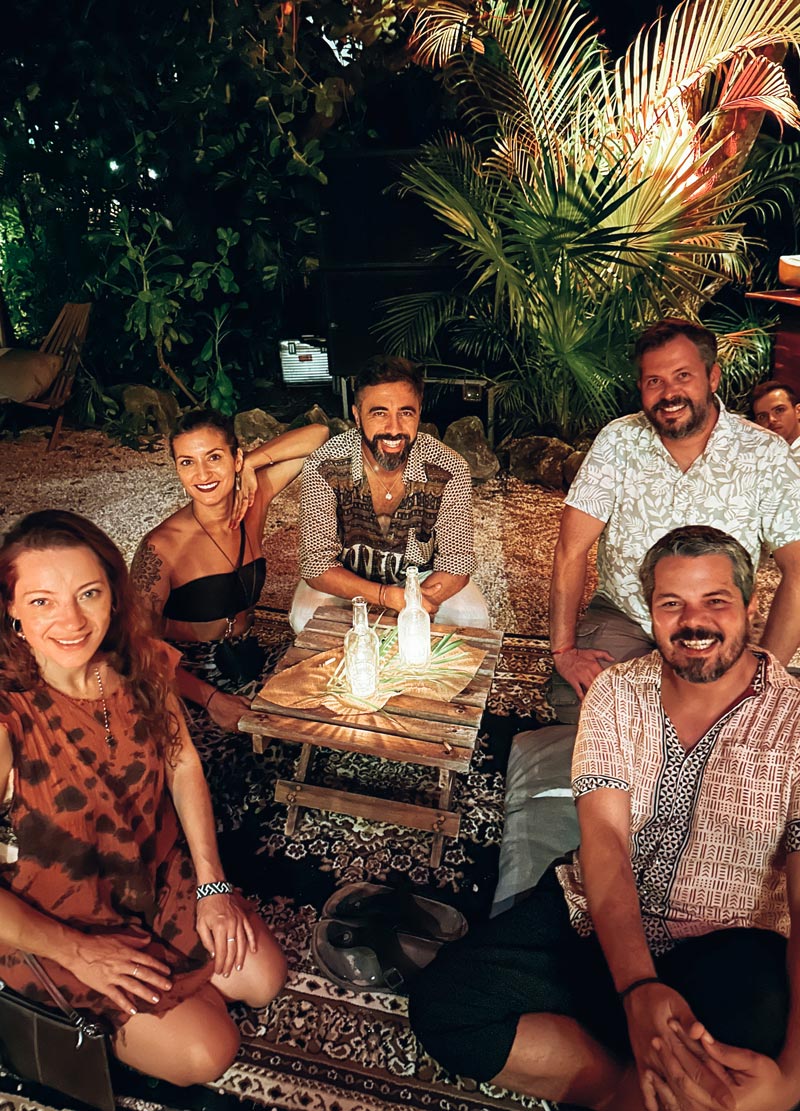 Cancun offers a range of activities, from water sports like snorkeling and scuba diving, to nightlife options like nightclubs, bars, and beach parties. It also has theme parks, shopping centers, and golf courses. 
Tulum, on the other hand, it's an amazing place for outdoor activities, including visiting the Tulum Mayan Ruins, swimming in cenotes, and exploring the Sian Ka'an Biosphere Reserve. It's also a popular destination for yoga and meditation retreats.But of course, you can also have amazing times diving and snorkeling in Tulum's cenotes! We have made a guide of the best cenotes in Tulum that you can check out! (A cenote is like a natural pool, a sinkhole underground!) Literally a must-visit destination if you are in the Yucatan Peninsula.
Get Free Concierge Service
Cancun and Tulum offer great options for your stay in Mexico, each with its own unique flavor. Cancun has a wider range of hotel options, many of which are located in the city center or along the beachfront, and some of them are overpriced due to its high demand.  Tulum, on the other hand, offers the same luxurious places, but generally with more affordable prices . However, Tulum's atmosphere is completely vibrant and it's worth a visit. Tulum also has more boutique hotels with a focus on sustainability and eco-friendliness, most of them located in the middle of a natural paradise, trees and all-green views. 
Both destinations offer villa rentals, private pools, and modern amenities like private bathrooms and multi-bedroom suites where you can stay and spend the night with your friends. However, the atmosphere isn't the same. While Cancun is a bustling city with plenty of dining and entertainment options, Tulum is a vibrant town with a more laid-back vibe. So if you are into partying, but also enjoy nature and amazing beaches, then Tulum is your perfect destination!
Get Free Concierge Service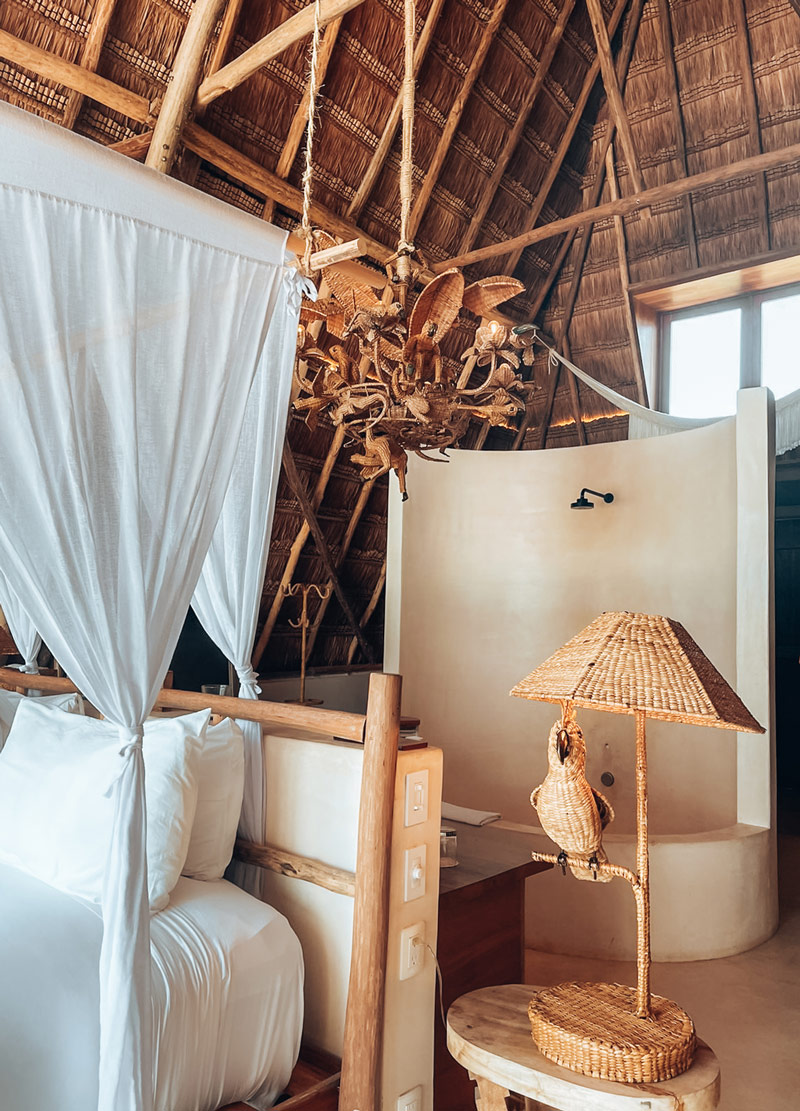 Cancun and Tulum on a map
As a general rule, Cancun tends to be more expensive than Tulum. However, the price range can vary widely depending on the time of year, the specific accommodations and activities you choose, and your group's overall budget. Consider the cost of flights, accommodations, food and drink, and activities when deciding between the two destinations. Keep in mind that a bachelor party is a special occasion, and it's worth splurging a little to create unforgettable memories with your closest friends
Take Advantage Of Free Concierge Service
As excellent to explore Tulum and its surroundings alone, you may need help figuring out where to start. To make the most of your money and time, contact Virginia and Kelly - two incredible Mexican girls living in Tulum for more than 15 years. They're familiar with the ins & outs of the Tulum town and hotel zone like the back of their hand! 
Since we arrived in Tulum 2 years ago, many adventures wouldn't have been possible without their help - they know literally everybody in Tulum and can perfectly organize every moment of your stay. Get the best tables, skip queues and get on the guest list of the coolest places in Tulum - this's only the beginning! 
They are ready to offer you guys FREE concierge service in Tulum for the time of your stay: take advantage of it, contact them on Whatsapp and live the best experience!
Get FREE Concierge Service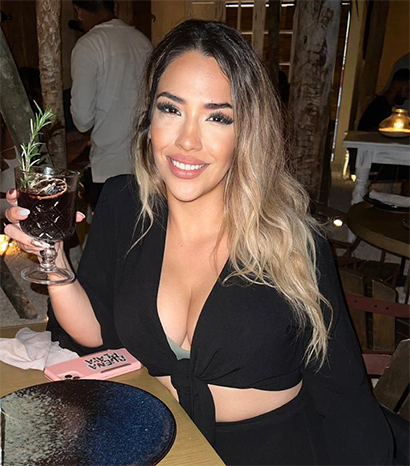 "Virginia Will Transform You In A Tulum Insider"
FAQ about bachelor party in Cancun vs Tulum
Is Cancun or Tulum better for a bachelor party?
It depends on your group's preferences. If you want to party hard and have access to a lot of nightlife options, full of people from everywhere, in a more modern city, Cancun might be the option for you. If you prefer a more relaxed atmosphere with outdoor activities like snorkeling, hiking, and visiting Mayan ruins, and a relaxed atmosphere surrounded by nature,Tulum might be a better fit.
Can you combine a trip to both Tulum and Cancun for a bachelor party?
Yes, it is possible to combine a trip to both destinations. Both destinations are about two hours apart by car. You just need to have a good planning schedule to enjoy the best of both places! You could also visit Playa del Carmen, a beautiful paradise in the middle of Cancun and Tulum, that would make your perfect vacation a reality! You can reach out to our friend Virginia today to get your custom-made bachelor itinerary for FREE!
Can I find affordable hotels in Cancun or Tulum for a bachelor party?
Yes, both destinations offer a range of accommodations at different price points. However, keep in mind that some areas, such as the Hotel Zone in Cancun, can be more expensive than others. In Tulum, accommodations can be more expensive due to the town's focus on eco-friendly and boutique hotels. (But we would say that is completely worth it).
What types of activities can you do in Cancun for a bachelor party?
Cancun offers a variety of exciting activities, from beach activities like jet skiing and parasailing to legendary nightlife. For a unique experience, take a short 30-min ferry ride to Isla Mujeres, where you can enjoy activities such as snorkeling and fishing during a fun-filled excursion.
What types of activities can you do in Tulum for a bachelor party?
Tulum provides a more unique and authentic experience with activities such as exploring ancient ruins, more relaxing and wellness-focused experience. But you can also enjoy the nightlife by going to some beach clubs and bars!
Great, let's feature the "MYSTICAL SUNSET /OLIVER HUNTEMANN" event at Mia Restaurant & Beach Club in Tulum on Wednesday, 29 November 2023. Here's the HTML snippet for your event: ```html
👉 WEDNESDAY, Nov 29
MYSTICAL SUNSET /OLIVER HUNTEMANN 🌅
📍
Mia Restaurant & Beach Club, Tulum
💵
Tier 1 Tickets: Mex$ 660 (incl. fees), Final Tier: Mex$ 880 (incl. fees)
📩
Contact Virginia
here
to book a table
Join us for an unforgettable evening at Mystical Sunset with Oliver Huntemann. Contact Virginia here to book your table and be part of this magical night on the beach! 🎶🔥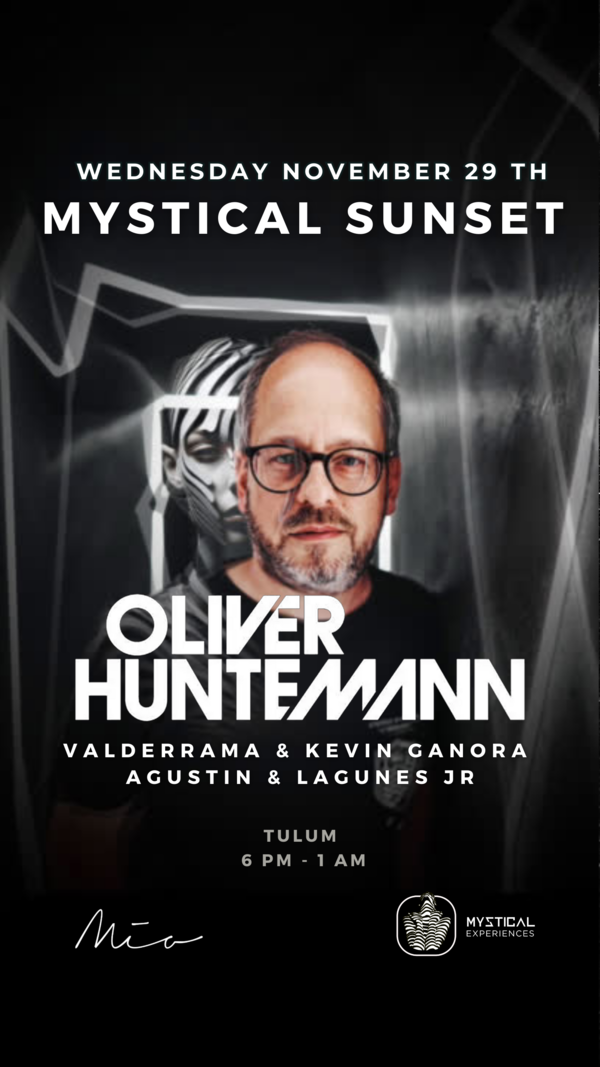 Top Parties and Club Events
23rd November - VAGALUME SESSIONS KEENE @VAGALUME
26th November - VAGALUME SUNDAZE MITA GAMI @VAGALUME
30th November - VAGALUME SESSIONS VALDOVINOS @VAGALUME
3rd December - VAGALUME SUNDAZE VALENTIN HUEDO @VAGALUME
7th December - VAGALUME SESSIONS MUSTAFA ISMAEEL @VAGALUME
30th December - PIKNIK POLO CORP & LEO LEONSKI @VAGALUME
31st December - NEW YEAR´S EVE @BAGATELLE TULUM
31st December - NYE PARTY 2024 @VAGALUME
13th March - LOCUS Tulum 2024