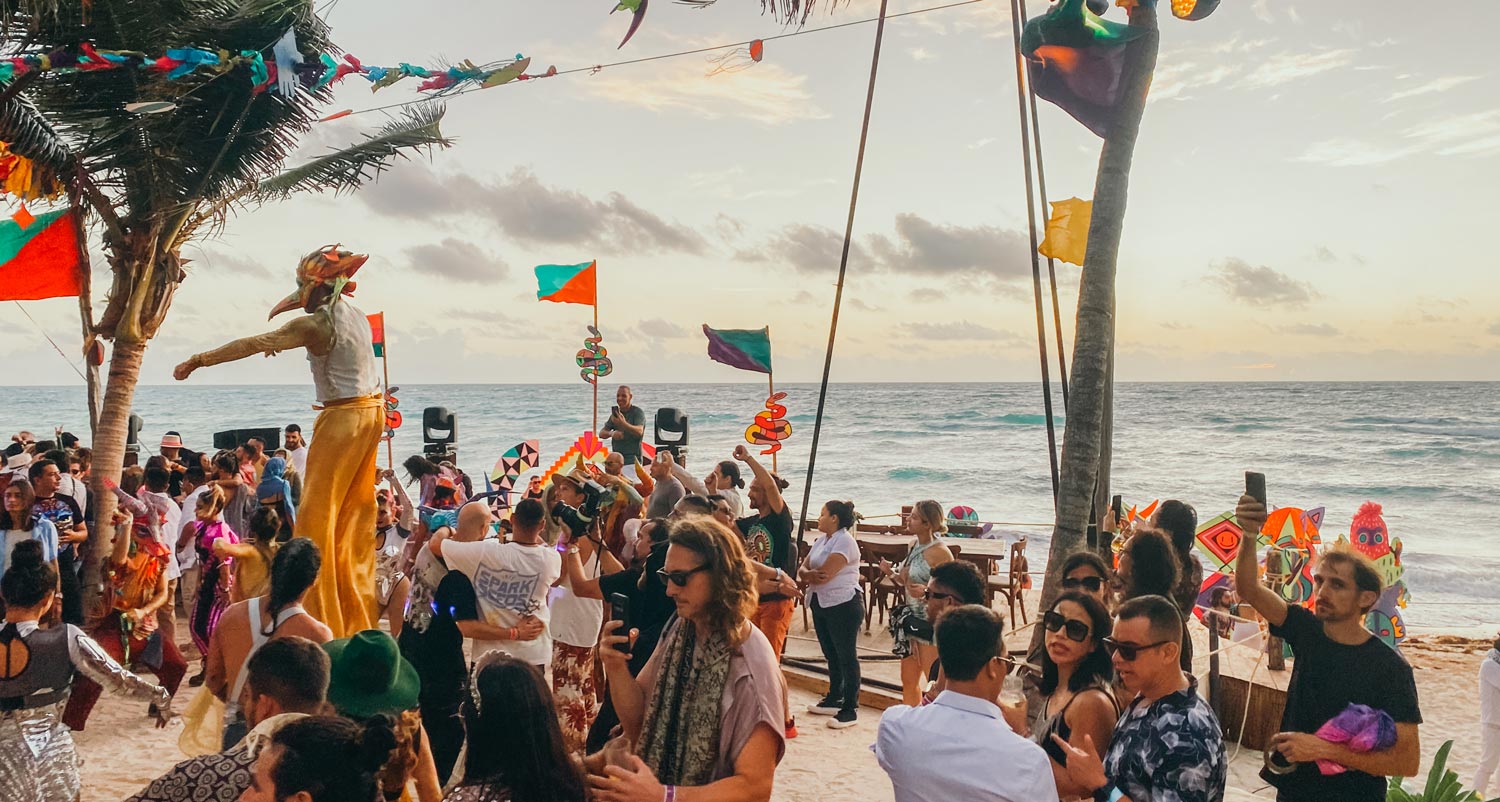 5 Fun Bachelor Party Games to Spice up your Trip to Tulum
Are you and your wedding crew planning to celebrate your bachelor party experience? Tulum, Mexico, is a great location: a hidden gem for party lovers! Whether you prefer playing games on the beach with beautiful sand under your feet, or if you're more into visiting bars, restaurants and enjoy the nightlife, Tulum has something for everyone. We personally loved Tulum and fell in love with its vibes since the first moment we visited here – you find more important 2023 info to know before planning a Tulum bachelor party here!
We have created an exciting list of 5 fun bachelor party games that are sure to add some spice to your trip. Head down to some bachelor party games so you guys can enjoy the playa to the max!
Check it out!
TIPS: Pssst! Since we have been in Tulum for a while, we have met amazing people that helped us to have the best experience in our long and short term stay. We would like to highly recommend to you our friend Virginia, who knows Tulum deeply, and is ready to help you to take the most of your money and time in Tulum- for FREE! Reach her out on WhatsApp ASAP, and start planning your perfect trip!
5 GAME IDEAS TO HAVE FUN AT THE BEACH during a bachelor party
Beach Volleyball Tournament -
Set up a beach volleyball net and organize a tournament among the group. You can play in teams or individually, and the winning team can get a prize or a round of drinks (The winner can choose which bar he prefers the drink from, and we are giving you some suggestions below!).
Never Have I Ever Game -
Pick a glass with a drink for each one, and sit in a circle with a group of friends or strangers. The game consists of each player making a statement and any other players who have had that experience taking a drink or losing a point. For example, a player might say ``Never have I ever been to Las Vegas before.`` Then, any player who has been to Las Vegas, must take a drink. The winner is the one who drank less.
Beach Scavenger Hunt -
Create a list of items that the group needs to photograph on the beach, such as seashells, palm leaves, and beach umbrellas. The first team to find all the items wins.
Beach Beer Pong -
Set up a beer pong table on the beach and play a few rounds. You can also make the game more challenging by requiring players to throw from a distance.
Play Uno Card Game -
Uno is a card game for 2-10 players where the goal is to be the first person to get rid of all your cards. On your turn, match the color or number of the card on top of the discard pile. If you can't, draw a card. Special cards let you skip turns, reverse the direction of play, or force other players to draw cards. The game ends when one player has no cards left.
HANGING OUT ON THE BEACH IN TULUM: SOME OF THE TOP RESTAURANTS & BARS
After your gaming day you and your crew will probably be thinking of having a nice dinner! Fortunately, Tulum is brimming with top-notch restaurants and bars, and we would like to recommend some of them to you! From fresh seafood to delectable Mexican fare, you are sure to find something that will please your palate. 
ILLIOS – an amazing Greek restaurant in Tulum, where fresh ingredients and traditional Mediterranean flavors come together to create mouth-watering dishes. Its luxurious and natural environment will make your dinner a whole experience. 
GITANO – known for its creative cocktails and jungle ambiance,will allow you to have a nice dinner or brunch while enjoying a white sand view, and tasting a fancy drink! 
PAPAYA PLAYA BAR – a trendy beach club located in Tulum, Mexico. It is known for hosting popular parties and events, making it a must-visit destination for those looking for a lively atmosphere in Tulum.
With so many options to choose from, you are bound to have an unforgettable culinary experience in Tulum! Don't forget that you can contact Virginia, she is ready to help you to plan the best itinerary for your bachelor party, for FREE!
MAKING NEW FRIENDS IN TULUM: HOTEL OCCUPANCY LEVELS
If you guys love to meet new people, you're probably looking forward to making new friends  from all over the world during your trip to Tulum. It's worth considering the hotel occupancy levels in the area. Hotels with a high occupancy rate of 85% or more can offer a lively and social atmosphere, giving you more opportunities to meet and connect with fellow travelers.
While a high occupancy rate can lead to a more vibrant atmosphere, it's important to keep in mind that it can also impact pricing and availability. As more people flock to Tulum, hotel prices may increase and rooms may fill up quickly. It's important to research and book your accommodations in advance to ensure you find the right balance of occupancy, price, and availability. Sometimes, if you and your group love socials, it's worth it! We have met a lot of amazing people while traveling to Tulum, and sometimes organizing activities with new friends can increase the fun at its double! 
Tulum has three areas to explore: Tulum Beach North is where the famous Mayan ruins are located, and it's calmer. Tulum Center is where most of the restaurants, bars, and shops are ao it has a vibrant nightlife because most popular parties are held here! Lastly, Tulum Beach South is where most of the hotels and resorts are located.
Whether you decide to stay near the Mayan ruins or the best bars, we highly recommend you rent a car to be able to see the most activities in Tulum, without worrying about distances or public transportation! In our experience, we desperately needed a car to be able to move from our apartment to the hottest parties spots at night, so the trip was safe and quick!
Click on the button below to contact Virginia and secure the best villas in the top Tulum locations!
Secure the best villa today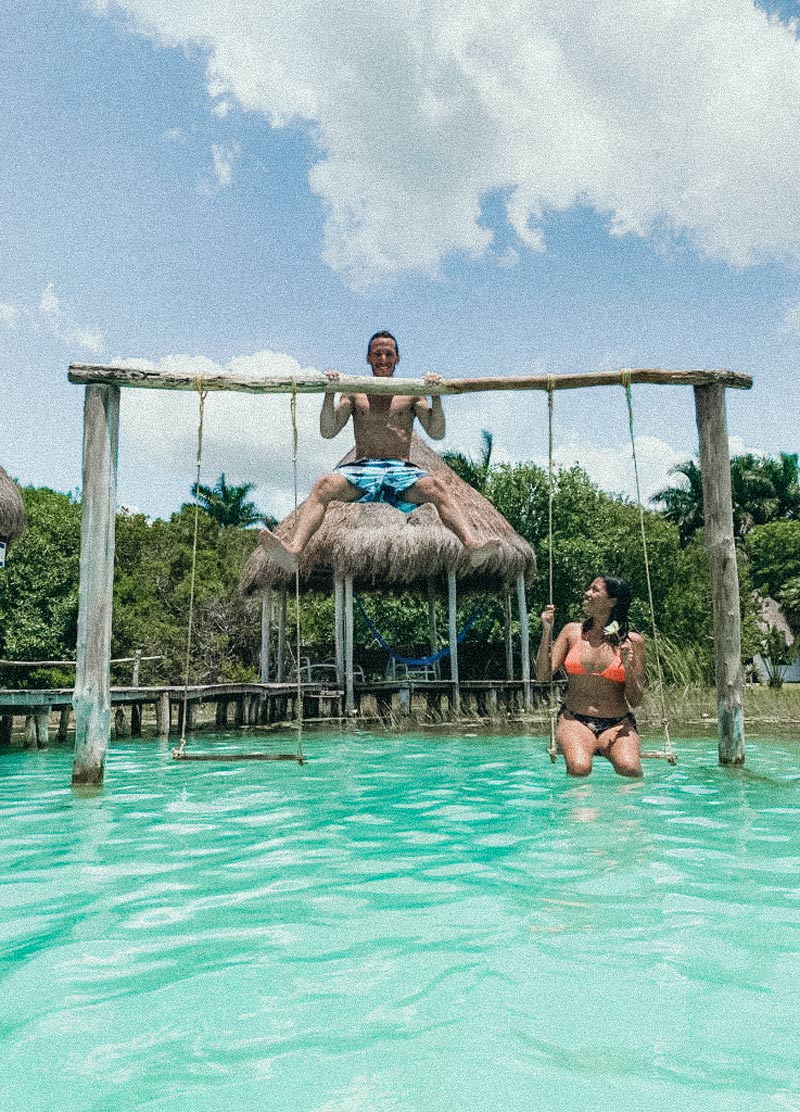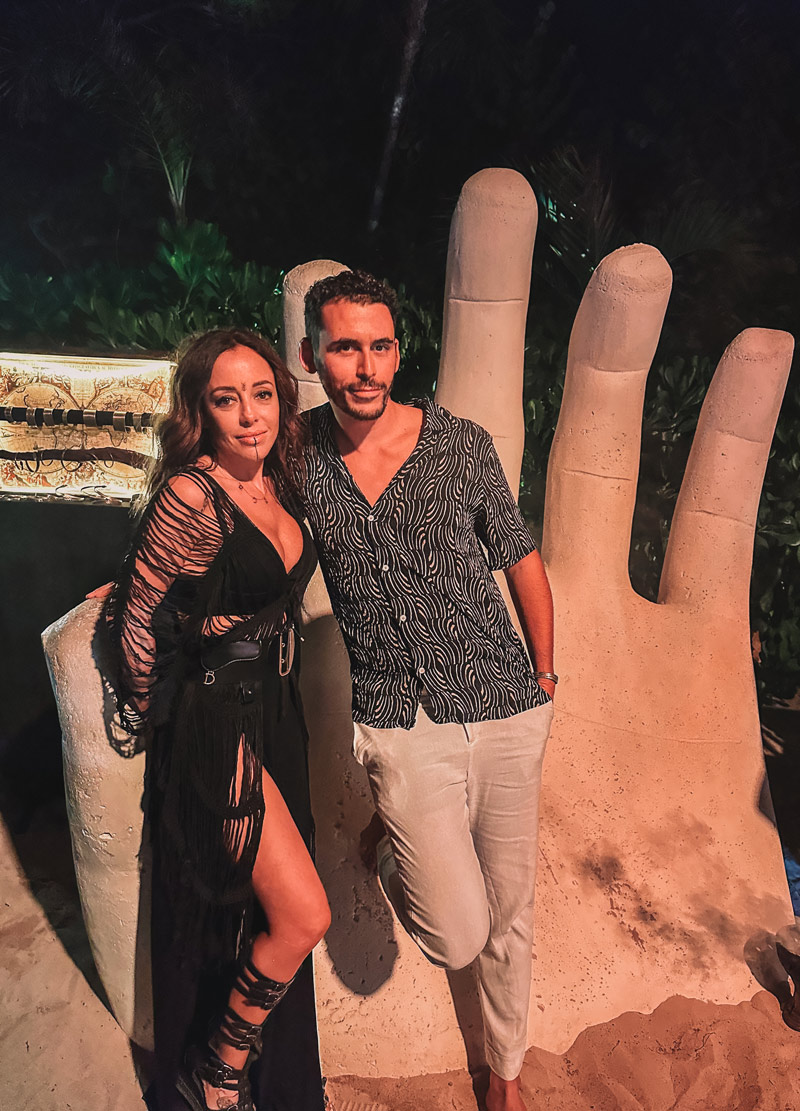 TAKE ADVANTAGE OF FREE CONCIERGE SERVICE
We know it's exciting to plan such a thing as a bachelor party trip, and you may want to make it perfect, but maybe you need help trying to decide where to start, or what are your best options to make the most of your money and time. But no worries!  We recommend you to contact Virginia, an incredible Mexican girl living in Tulum for more than 15 years. She knows literally everybody in Tulum and can perfectly organize every moment of your stay. 
The best part? She is ready to offer you guys FREE concierge service in Tulum for the time of your stay: take advantage of it, contact them on Whatsapp and live the best experience!
Get Free Concierge Service
FAQ about bachelor party games
What are the best places to stay in Tulum for a bachelor party?
Tulum offers a range of accommodation options for bachelor parties, including luxury resorts, boutique hotels, private villas, and Airbnb rentals. Popular areas to stay include the beachfront zone, town, and jungle areas.
What are some fun outdoor games to play in Tulum?
Enjoy the outdoors with beach volleyball, cornhole, or giant Jenga – perfect for groups and beach or backyard play.
Any adventure games for a Tulum bachelor party?
Yes! For adding some adrenaline to your trip, you can rent ATVs or dune buggies for a jungle tour, try zip-lining, parasailing, or snorkeling that will sure make you and your group take their adventurer soul out again!
Is partying in Tulum expensive?
When planning your bachelor party activities in Mexico, keep in mind that Tulum is a luxury destination for partying, and it can be generally more expensive than other cities in Mexico, especially if you're looking for high-end nightlife options. However, you can find good alternatives if you could plan your trip in a low season, or consider staying a bit far from the main tourist spots.
When is the best time of the year to visit Tulum for a bachelor party ?
Definitely November and December. Within this time, the weather is just perfect, temperatures are warm, but not too hot, and humidity is below average. So you can enjoy nice weather without worrying about rain, and get some good prices, especially in November!
Top Events to Make Your Trip Unforgettable
EDU IMBERNON @MIA TULUM
Line Up: EDU IMBERNON, MIKE GANU & SAM SPARACIO
JUN 8TH, 7 pm to 1 am
Don't miss out on an unforgettable night of electronic music at Mia Tulum! We are thrilled to bring you the sensational talents of Edu Imbernon, a true force in the industry. Get ready to be swept away by his melodic, emotive, and energetic sounds that will keep you dancing all night long.
Join us at The Club, situated at the beautiful Mia Tulum beach, for an electrifying atmosphere that will bring together electronic music enthusiasts from all walks of life. From emerging talents to renowned international DJs, this is your chance to immerse yourself in a night of pure musical bliss. Secure your spot and get ready to vibe, dance, and create unforgettable memories at Mia Tulum!
👾👉🏼 GENERAL ACCESS
🎟️ TICKETS
● Early Bird - The entrance fee of $575 MXN ($35 USD) Includes one welcome drink.
Limited availability
● Tier 1 - The entrance fee of $805 MXN ($49 USD) Includes one welcome drink.
Limited availability
● Final Tier - The entrance fee of $1,380 MXN ($84USD) Includes one welcome drink.
Limited availability
Ready to join us? Get your tickets now! Early bird and Tier 1 tickets are already sold out. Only final tier tickets at $85 USD are still left (only 15 tickets available).
Hurry – spots are filling up fast! 🙀 We can't wait to see you there!
Top Parties and Club Events
7th June - SAGRADO TULUM @VAGALUME
8th June - EDU IMBERNON @MIA TULUM
9th June - HARVY VALENCIA @BONBINNIERE TULUM
10th June - MOONGAZE @Papaya Playa Project
10th June - BASTIAN BUX @BONBONNIERE TULUM
11th June - SONA BEACH PARTY @MIA TULUM
11th June - VAGALUME SUNDAZE JAALEX @VAGALUME
16th June - SOUNDS OF RITUALS @BONBONNIERE TULUM
17th June - SOEL [AFTERLIFE] @MIA TULUM
17th June - STARVAULT @Papaya Playa Project
24th June - ASTROBEAT @Papaya Playa Project
24th June - DEMUIR @BONBONNIERE TULUM
25th June - VAGALUME SUNDAZE OSCAR L @VAGALUME
25th June - ANCESTRAL SOUL @BONBONNIERE TULUM
1st July - THE FULL MOON @Papaya Playa Project
8th July - ASTROBEAT @Papaya Playa Project
15th July - MOONGAZE @Papaya Playa Project
22nd July - STARVAULT @Papaya Playa Project
29th July - THE FULL MOON @Papaya Playa Project
18th August - MECA @BONBONNIERE TULUM
25th August - GUYJ @BONBONNIERE TULUM
13th March - LOCUS Tulum 2024