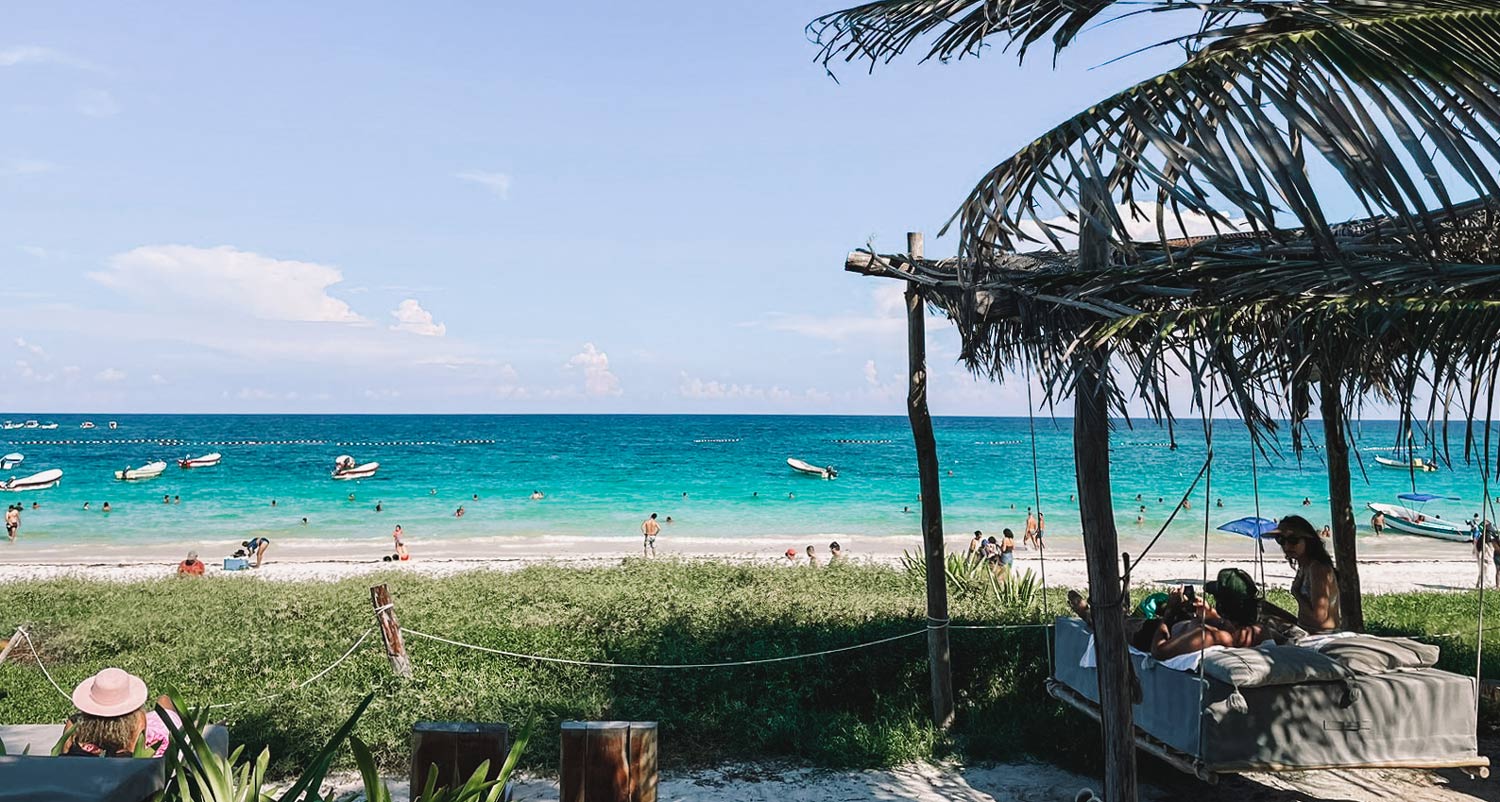 Find your Perfect Tulum Airbnb for a Memorable Bachelor Party
Are you planning a trip to Tulum, Mexico, to celebrate your Bachelor Party with your closest group of friends? Great choice! Tulum is one of the best party-friendly beach towns in Mexico that can offer you stunning beach views, crystal-clear waters, and vibrant nightlife, with a wide range of Airbnb listings, where you can find the perfect place to stay and get the most of the city from the inside. We fell in love with the town and its vibe! If you want some extra info about planning a bachelor party in Tulum, don't miss our guide.
Doesn't matter if you prefer to stay in a hotel, a private villa or a local casa, the perfect Airbnbs that most people visit, are equipped with multiple bedrooms, pool access, beachfront views, and a nice location so you will be able to easily reach the best bars, restaurants and clubs in Tulum. 
We have been renting Airbnbs for years now, and we would  like to share with you three Airbnbs that could be a perfect location for your stay in Tulum, while celebrating such an important event like your bachelor party, so check it out our list and get ready for having an amazing time!
And if you need a little extra help to find your perfect accommodation, we've got the inside scoop! Meet Virginia, our in-town expert who knows all the best Airbnb villas on the block. Let her take care of everything – from finding the perfect spot or finding a hidden gem to spend your bachelor party in, to booking amazing activities nearby. Everything at special prices you won't find everywhere! The best part? It 's totally FREE! Take advantage of Virginia's concierge service now and get ready for an unforgettable trip to Tulum. Reach out to her on WhatsApp here and take advantage of her expertise! Trust us, she's the friend you never knew you needed!
The best AIRBNB IN TULUM AT AMAZING PRICES FOR YOUR BACHELOR PARTY
We'll take you through some top picks Airbnbs with multiple bedrooms and bathrooms, you'll see great apartments and private villas with their own pool! Choose the perfect accommodation for you, and start planning your ultimate bachelor weekend! Check out below our favorite Airbnbs in town.
EXCLUSIVE TULUM VILLA W/ PRIVATE JACUZZI & TERRACE
Price range: 145 USD per night
Area: Tulum, Quintana Roo, Mexico
Capacity: 8 guests,3 bedrooms, 5 beds, 3.5 baths
Would you like to have a BBQ in the middle of the jungle, as you listen to your favorite songs with your best friends, after a long day on the beach? This property provides the perfect setting for a unique and unforgettable experience during your bachelor party. This condo is in one of the top residential areas in Tulum, with a private pool and a private garden with a table and chairs, a full equipped kitchen, and a great dining room, perfect for cooking up delicious meals and snacks for you and your crew! .After lunch, take a refreshing dip in the shared pool, or relax and unwind in your own private hot tub. During the sunset, step outside and soak up the sun on your private patio or balcony, or fire up the grill in your fully fenced backyard, complete with a BBQ grill. It's perfect for hosting an epic party or just lounging with your squad.
Our expert tips: Take advantage of a free residential garage on premises, by renting a car that takes you and your crew through amazing bars, restaurants and beaches in Tulum.
Get A Special Discount
MAYAN RIVIERA JUNGLE CABIN
Price: 61 USD per night
Area: Tulum, Quintana Roo, Mexico / Beach Zone
Capacity: 4 guests, 1 bedroom, 2 beds, 1 bath
Escape to your own private oasis in the middle of nature with this charming tiny house rental. Relax and rejuvenate in the peace and tranquility of the jungle while still being just a short drive away from Tulum's downtown and vibrant nightlife. This rustic cabin is furnished and located in a gated area, surrounded by mangroves and lush greenery. Despite its secluded location, it's situated on the main road of Carrillo Hwy 307/Carretera Tulum, making it easily accessible. Enjoy panoramic views of the surrounding jungle from your doorstep! The rental includes a private pool where you can enjoy a morning dip! Located just 15 minutes away from Tulum's beautiful turquoise beaches and 20 minutes from the famous Ruins, this rental is the perfect base for exploring all that the Mayan Riviera has to offer. There are also plenty of stunning cenotes to visit in the area, providing a unique and unforgettable experience.
Our expert tips: Visit the nearby Tulum ruins, which are a must-see attraction in the area. These ancient Mayan ruins are situated on a cliff overlooking the turquoise Caribbean Sea.
Get A Special Discount
CENOTE LODGE AT NAHOUSE IN TULUM
Price: 112 USD per night
Area: Tulum, Quintana Roo, Mexico
Capacity: 4 guests,1 bedroom, 4 beds, 1 bath
Escape to Nahouse, where adventure meets comfort in the heart of a lush forest. Four uniquely designed houses provide the ultimate local nature experience while giving you all the comforts of home. Developed by local artisans, each house boasts a minimalist style that blends seamlessly into the natural surroundings. Don't miss the highlight of Nahouse – a stunning natural pool at the center of the property tat literally looks like a cenote, maintained with an ionization system for a chemical-free dip. If you're looking for the perfect bachelor party that combines design and nature,this is your place.
Our expert tips: Make sure to bring mosquito repellent to make your stay more comfortable. 
Get A Special Discount
CASA CORTINA A CHIC TROPICAL HIDEAWAY IN TULUM
Price: 145 USD per night
Area: Tulum, Quintana Roo, Mexico
Capacity: 8 guests, 4 bedrooms, 5 beds, 7.5 baths
Welcome to your party spot in the middle of the jungle! This hidden gem boasts a gorgeous garden view that you can enjoy while lounging on your cozy paraguayan hammock. And if you're looking for a fun activity, take a plunge with your furry friends in your very own private pool! Want to take relaxation to the next level? Just request the portable outdoor Jacuzzi for an extra dose of luxury. And with air conditioning, you can stay cool and comfy all night long, which is perfect because you won't want to leave this tropical paradise. Even though you're surrounded by the lush natural environment, you can easily explore nearby Tulum's incredible restaurants, shops, and markets. Get ready for the adventure of a lifetime in this oasis!
Our expert tips: Renting a car can be a great way to get around and explore the area at your own pace. With free parking on premises, this property allows you to park the car you rent!
Get A Special Discount
PALAPA AT PRIVATE BEACH IN SIAN KAAN.
Price: $280 USD per night
Area: Tulum, Quintana Roo, Mexico
Capacity: 4 guests, 1 bedroom, 3 beds, 2 baths
Would you like to have your own cabin in a Natural Biosphere Reserve? Palapa Nah Balam is a stunning destination located in the Sian Ka'an Natural Biosphere Reserve, a protected area of natural beauty in Mexico. Situated on a private 2-hectare property with 100 meters of white sand beachfront, this location offers exclusivity like no other. The Palapa itself is a unique design, with an open-plan concept and two floors offering breathtaking views of the Caribbean ocean. The roof is constructed using leaves, a classical construction technique that is both traditional and environmentally friendly. A balcony with tables outside allows guests to take in the spectacular ocean view while enjoying breakfast or meals. During the stay, you guys will have access to 100 meters of private beach and lagoon access, complete with a pier for watching the sunset. It's important to note that visitors to the Sian Ka'an Natural Biosphere Reserve are required to pay a fee of $97 Mexican pesos or $6 USD per day per person to enter. However, you can save on fees by telling the National Park Rangers that they're staying for two nights and only paying for one day, as the bracelets are the same for the duration of their stay.
If you want to visit the main Tulum beach strip, you only need to drive 20 min!
Our expert tips: Take advantage of the kayaks available that you can use! 
Get A Special Discount
LUX DOWNTOWN VILLA W/ PRIVATE POOL & CHEF
Price: $262 USD per night
Area: Tulum, Quintana Roo, Mexico
Capacity: 10 guests, 3 bedrooms, 5 beds3 baths
Is your bachelor party crew big? Get ready for the ultimate group getaway at this amazing Airbnb that combines luxury, comfort, and nature in a palm paradise! This property can accommodate up to 10 people and is located in the heart of the vacation homes area, making it the perfect spot to kick back, relax, and explore everything this magical destination has to offer. You'll be spoiled for choice when it comes to dining, as vibrant restaurants, hip bars, and charming breakfast nooks are just a stone's throw away. With three generously sized bedrooms to choose from, everyone will have a comfortable and restful night's sleep. Additionally, there are three luxurious and fully equipped bathrooms! Get ready to make unforgettable memories with your crew in this fantastic Airbnb! 
Our expert tips: Don't miss the chance to explore the nearby restaurants and bars to experience Tulum's vibrant nightlife
Get A Special Discount
Take Advantage Of Free Concierge Service
As excellent to explore Tulum and its surroundings alone, you may need help figuring out where to start. To make the most of your money and time, contact Virginia and Kelly - two incredible Mexican girls living in Tulum for more than 15 years. They're familiar with the ins & outs of the Tulum town and hotel zone like the back of their hand! 
Since we arrived in Tulum 2 years ago, many adventures wouldn't have been possible without their help - they know literally everybody in Tulum and can perfectly organize every moment of your stay. Get the best tables, skip queues and get on the guest list of the coolest places in Tulum - this's only the beginning! 
They are ready to offer you guys FREE concierge service in Tulum for the time of your stay: take advantage of it, contact them on Whatsapp and live the best experience!
Get FREE Concierge Service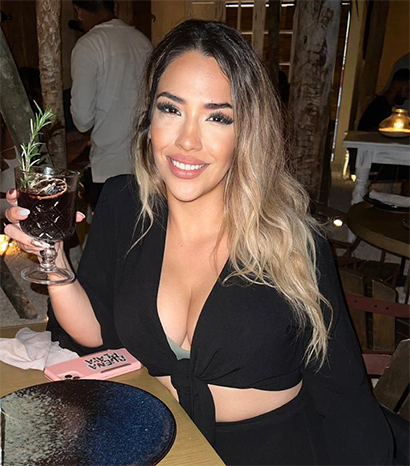 "Virginia Will Transform You In A Tulum Insider"
Tulum Airbnb for bachelorette party: Practical tips and advices
Private place, more space –

With your own personal space, you can relax without any unwanted interruptions. Forget about cramped hotel rooms and shared spaces – an Airbnb in Tulum means having a private pool, outdoor space, and more all to yourself! We love the opportunity that Airbnbs offers you: having exclusive access to beautiful gardens, luxury pools and fancy dining rooms, only for you and your friends. 

 Airbnb can host as many guests as you need –

Unlike hotels or resorts, where you may be separated into different rooms, Airbnb properties offer the opportunity to stay together in one place without being far apart from any of your group mates. What's more, you can split the costs of the rental so that everyone pays less than they would if they stayed at a hotel. 

From a villa to a private house –

With Airbnb, you can choose from a variety of different home types, including villas, private houses, apartments, condos, and more. This allows you to find the perfect accommodation that suits your bachelor party needs! 

The perfect mix between luxury, beautiful architecture and nature – 

If you are into luxury, beautiful spaces and details in every corner of the place you stay in, you could go to the "Airbnb Luxe" section, where you can find a place incredibly well decorated.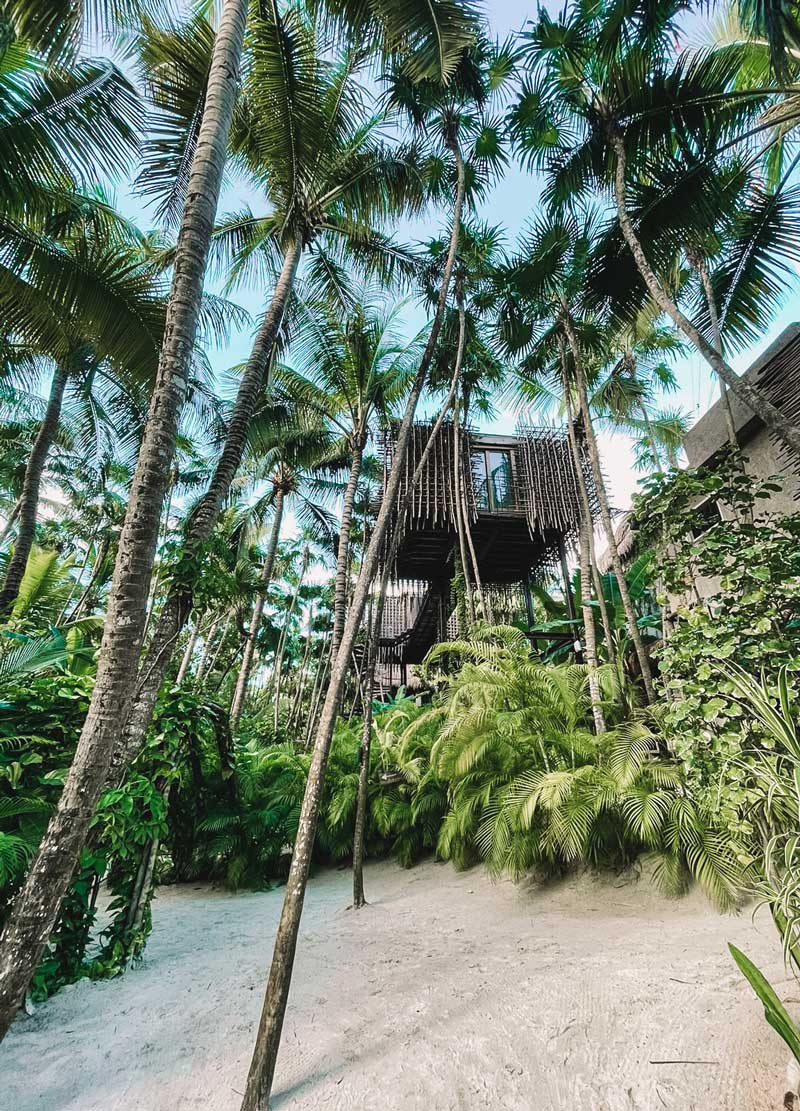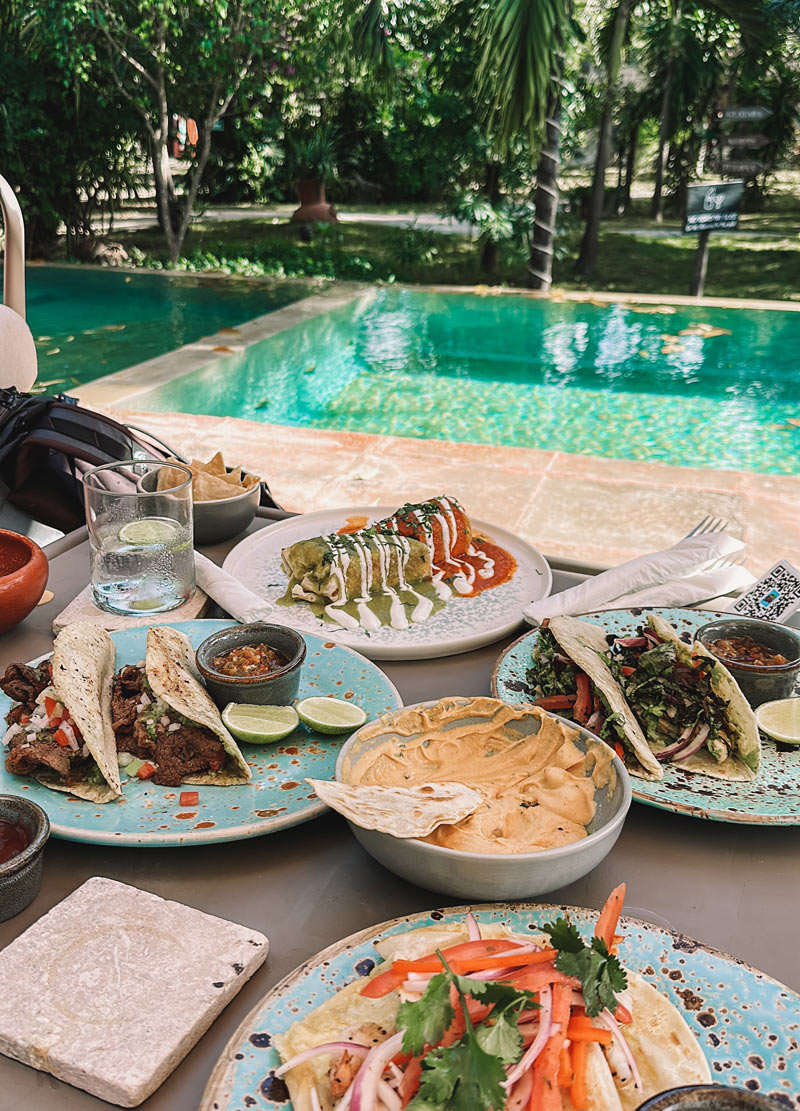 Where is the party zone in Tulum?
The southern end of Tulum town is where the party scene is thriving, specifically along the beach strip commonly called the "hotel zone" or "beach zone." This area boasts a plethora of trendy beach clubs, bars, and restaurants, making it a favorite among visitors and locals alike. Among the popular party hotspots in this zone are Papaya Playa Project, La Zebra, and Coco Tulum, to name a few. During peak season, the atmosphere in this area is electric, with the lively beach parties and crowds of people enjoying the nightlife.
Are Tulum Airbnb expensive?
The price of an Airbnb in Tulum is subject to change depending on various factors, such as the location, size, amenities, and time of year. Typically, Tulum is recognized as a luxurious travel destination, so Airbnb rates may be comparatively high when contrasted with other places. Nonetheless, there are many economical Airbnb alternatives in Tulum, primarily if you are open to staying away from the favored beachfront areas or during the off-peak season. Additionally, it's worth mentioning that the cost of an Airbnb in Tulum may be offset by the fact that various properties offer features such as full kitchens, allowing you to save money on eating out. Ultimately, the cost of an Airbnb in Tulum is influenced by your personal choices and financial plan, making it essential to research and compare different alternatives to discover one that fulfills your needs.
FAQ about Tulum airbnb for bachelor party
What are some of the best areas in Tulum to find an Airbnb for a bachelor party?
Some of the best areas in Tulum to find an Airbnb for a bachelor party are Aldea Zama, La Veleta, and the beachfront areas such as Playa Paraiso and Tankah.
What amenities should we look for in an Airbnb for a bachelor party in Tulum?
Look for Airbnbs with multiple bedrooms and bathrooms, a private pool, outdoor lounge areas, a grill, and a fully equipped kitchen to make your stay as comfortable and enjoyable as possible.
What are some fun bachelor party activities to do in Tulum?
Some fun bachelor party activities to do in Tulum include visiting the Mayan ruins, snorkeling in the cenotes, enjoying the nightlife in Tulum town, and exploring the beach clubs.
Is it safe to rent an Airbnb in Tulum for a bachelor party?
What are some unique amenities that Airbnb in Tulum for a bachelor party might offer?
The best Airbnb in Tulum for a bachelor party might offer a private pool, rooftop bar, outdoor grill and kitchen, access to a private beach, and even a personal chef or bartender for the group. Some Airbnb options also have unique features like outdoor movie theaters or game rooms, making for an unforgettable experience.
Great, let's feature the "MYSTICAL SUNSET /OLIVER HUNTEMANN" event at Mia Restaurant & Beach Club in Tulum on Wednesday, 29 November 2023. Here's the HTML snippet for your event: ```html
👉 WEDNESDAY, Nov 29
MYSTICAL SUNSET /OLIVER HUNTEMANN 🌅
📍
Mia Restaurant & Beach Club, Tulum
💵
Tier 1 Tickets: Mex$ 660 (incl. fees), Final Tier: Mex$ 880 (incl. fees)
📩
Contact Virginia
here
to book a table
Join us for an unforgettable evening at Mystical Sunset with Oliver Huntemann. Contact Virginia here to book your table and be part of this magical night on the beach! 🎶🔥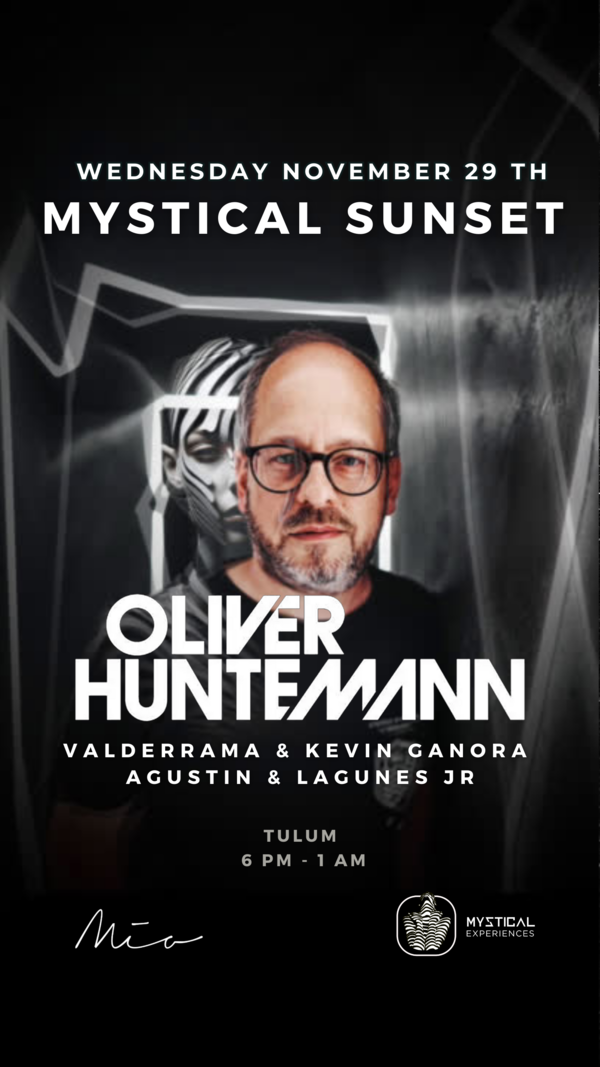 Top Parties and Club Events
23rd November - VAGALUME SESSIONS KEENE @VAGALUME
26th November - VAGALUME SUNDAZE MITA GAMI @VAGALUME
30th November - VAGALUME SESSIONS VALDOVINOS @VAGALUME
3rd December - VAGALUME SUNDAZE VALENTIN HUEDO @VAGALUME
7th December - VAGALUME SESSIONS MUSTAFA ISMAEEL @VAGALUME
30th December - PIKNIK POLO CORP & LEO LEONSKI @VAGALUME
31st December - NEW YEAR´S EVE @BAGATELLE TULUM
31st December - NYE PARTY 2024 @VAGALUME
13th March - LOCUS Tulum 2024