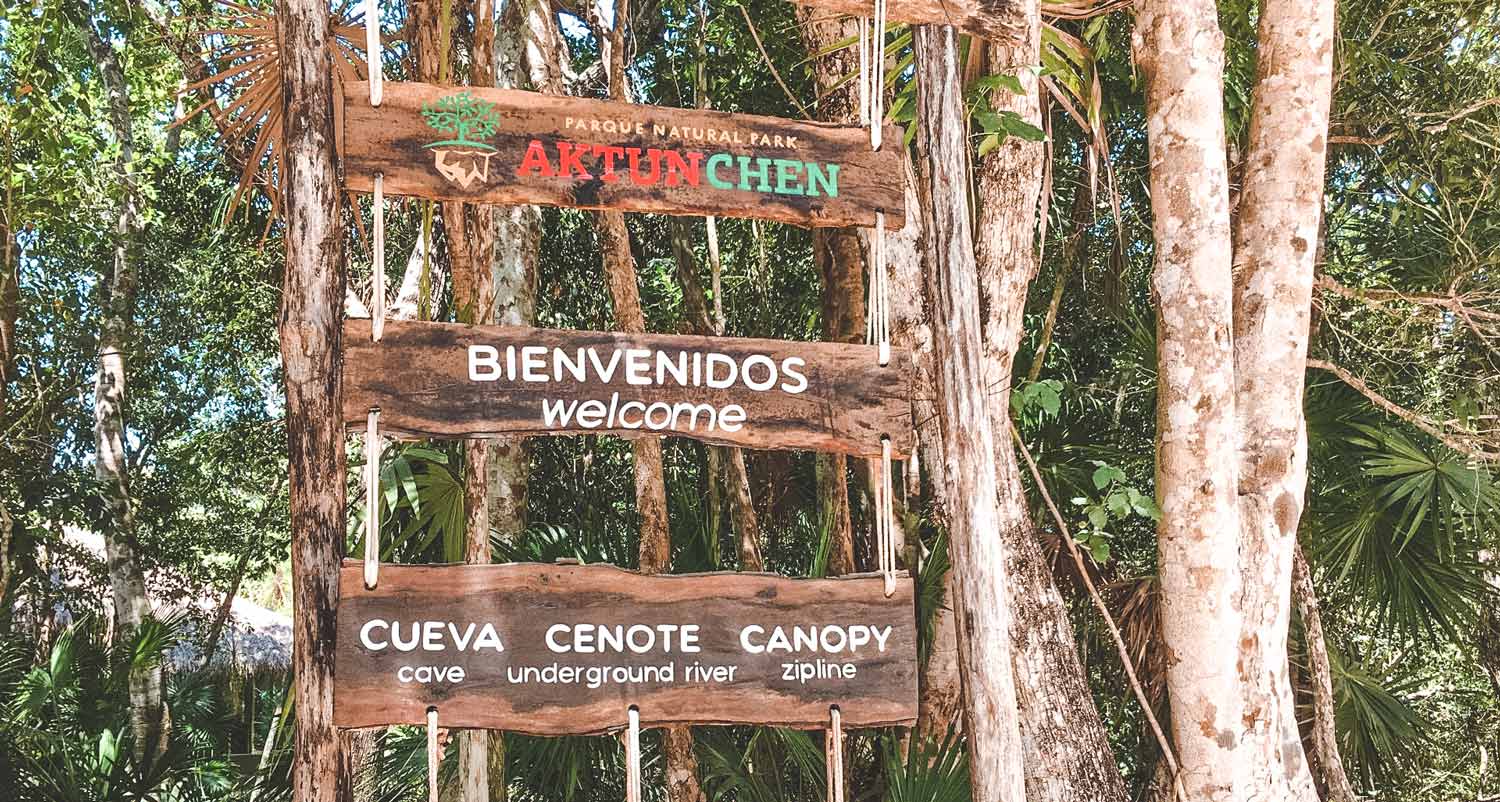 Cenote Aktun Chen: Our Adventure Between Caves, Cenotes And Zip Line
Searching for that thrill during your vacation in Tulum, Mexico? Today we are here to tell you a story!
When we first arrived in Tulum we were really fascinated about underground cenotes and caves and we started visiting them pretty often in our free time, also because their fresh water is the perfect getaway during a hot sunny day. But after a while, even if cenotes are incredibly beautiful, you want something more. That's when we met a guy at a party that recommended us to visit Cenotes Aktun Chen park. He was in Tulum as a nature conservation ranger and of course benefited from advantageous rates to access all of the Natural Park and Cenotes. After a few shots of Mezcal, he was kind enough to give us a friends and family code offering a discount from 80 USD to 65 USD per person; here below, you can still benefit from this discount.

We were literally blown away from the experience and we spent a magical day in the name of adventure and fun. Can you imagine Eddy on the zip line? I can swear to you, it was fun! 
So if you are tired of the same activities and you want to spend some fun time (not only for adults, the park is perfect for kids as well) in underground caves, cenotes and ziplines in Riviera Maya, check out our experience and make your trip really extra – vamos!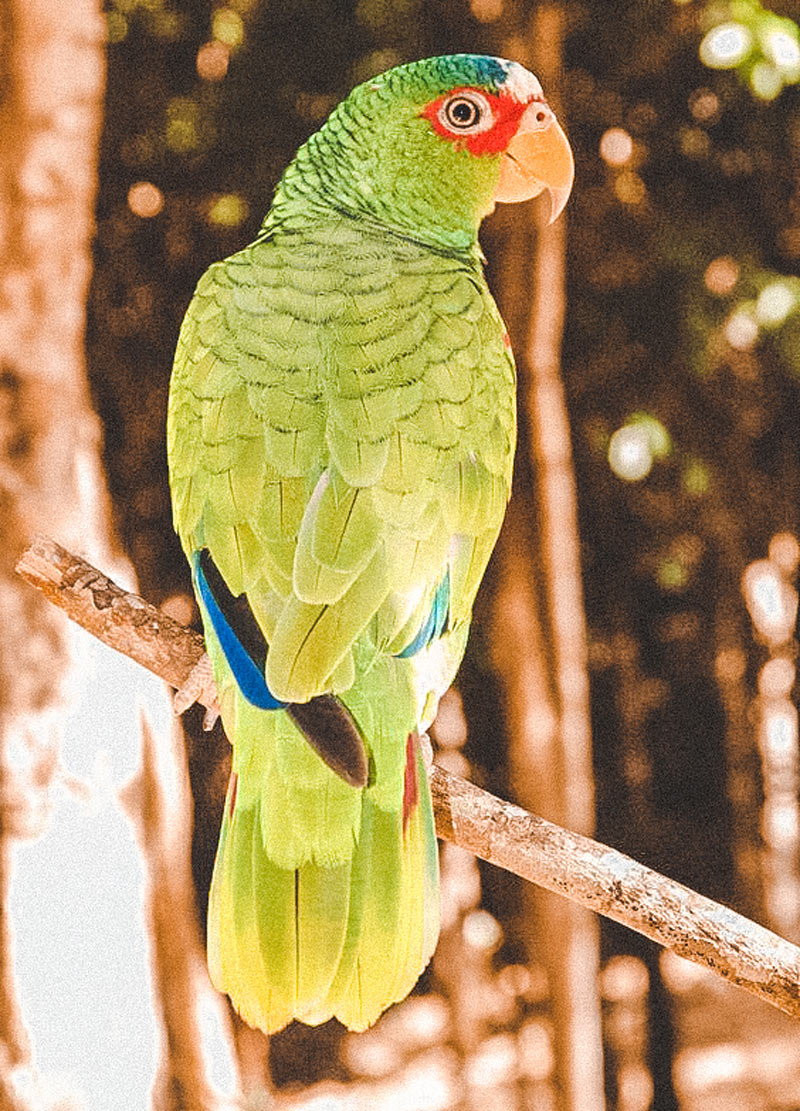 "So Many Animals Live In Aktun Chen Park"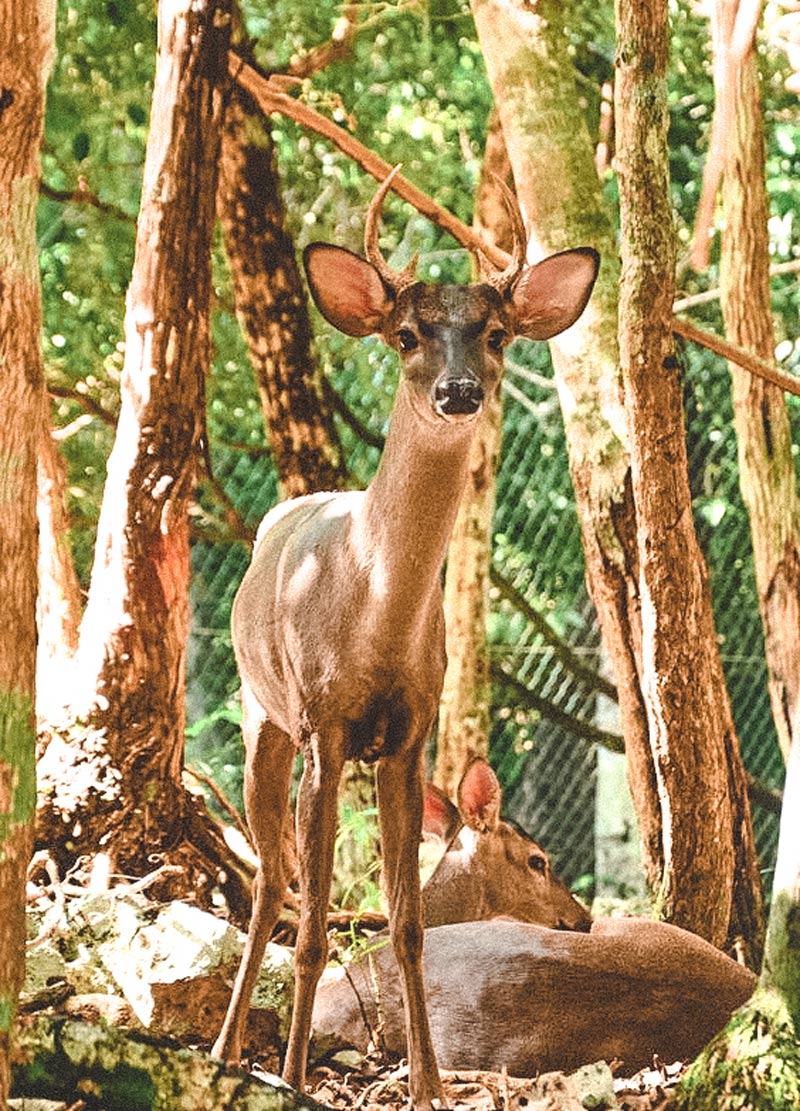 "Ready To Meet Them?"
The highlights of Aktun Chen park
If you are used to the standard cenotes, with a nice park, clear water and average service, well – forget about that. Cenotes Aktun Chen is way more than this.
Not only they have underground and not cenotes with darker and lighter water, depending on the light hitting the surface; but they also have incredible caves, not at all full of travelers, so you will not feel the crowd, and a crazy zipline park where you will be able to laugh out loud with your partner or friends!
If this wasn't enough, a delicious restaurant is on site serving mouthwatering dishes from Mexico's typical cuisine. But wait – did we tell you about the lovely animals populating the park? From deers to parrots, bats and fishes, monkeys and coati: you got them all!
Here below you find the greatest highlights of Aktun Chen park you can get with the guided tour you can book with the friends and family code. Are you curious yet? 
Snorkeling in the incredible cenote
The cenote in Aktun Chen literally left us amazed and, if you have to see one cenote during your trip to Riviera Maya, we couldn't recommend it more!
As you could have read from Tripadvisor, this cenote has incredible reviews and travelers love it. How to blame them, we did it too! The water is literally transparent and it's the perfect spot for snorkeling. You can easily spend a few hours there and not even realize it! If you are a playa lover don't be skeptical – this cenote has nothing to envy the Caribbean sea water! If on the other hand, you are not too confident to swim, don't worry: a guide will be there to assist you and life vests are included in the price of the ticket's tour. 
The underground cave was our favorite part. Not crowded at all, it will be like entering in a totally new world. The entrance to the cave is so fairy: you will soon be sourrounded by stalacrities and stalagmites, bats hanging here and there, and following a wooden walkway, you will arrive in the main part of the cave – which is also the best in our opinion – where a quite big underground cave will open in front of your eyes.
Definitely magical, and one of the few cenotes park to have a combo of cenote, caves and zipline. That's really the top – we would definitlely book it before if we knew it was so amazing!
The adventure on the zip line
The zip line made Alessia laugh! Your guide will also follow you in that moment and help you whatever you will need. Imagine that you can even hang upside down! That was real fun hanging from tree to tree and it was definitely the thrill we were searching for during our trip. It definitely became Alessia's favorite way of transportation! 
The zipline park is really well made and safe, for adults as for kids as we saw and read from reviews on Tripadvisor. Definitely every usd you will pay for the tour will be worth it – trust us that we became really picky during all these years of traveling.
The natural environment in the park
Last but not least – the park is really thought of respecting the magnificent nature of Riviera Maya and the environment. It's full of animals living in this natural park, from deers to monkeys, fishes and coatis, parrots and bats. You will feel like you're in a fairy jungle with all these lovely animals around. You can even interact with them and it's definitely one of the best activities of Aktun Chen park – where else can you find that in Mexico? 
We could literally spend hours telling you how great this natural park is, but let's go on and arrive at the point: here below you will find our experience and the friends and family code you can use to book your guided tour in Aktun Chen park, Riviera Maya!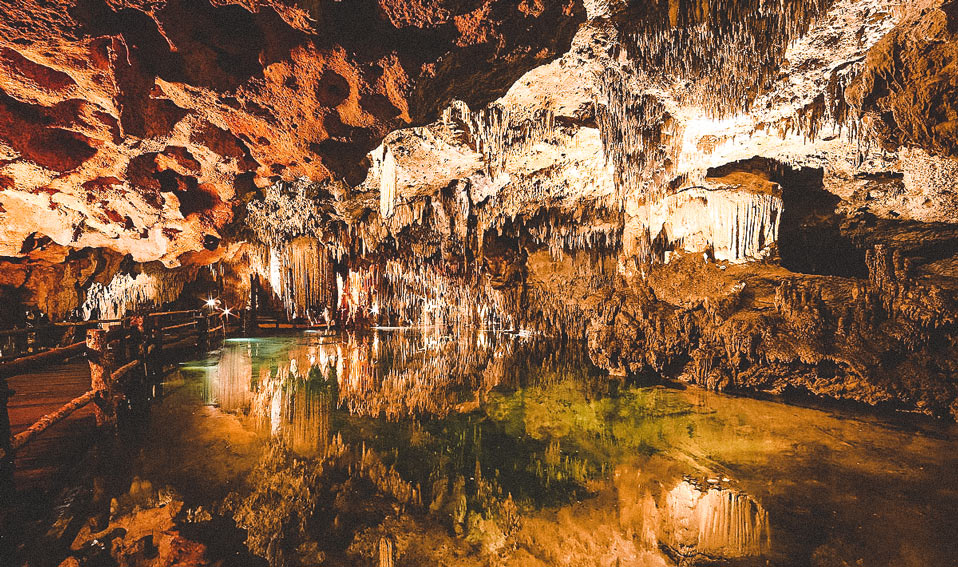 "The Incredible Caves In Aktun Chen Park"
How to book your guided tour at Aktun Chen Park
You can book your entrance ticket directly at the reception and the cover will be 80 USD. In our adventure we had the chance to get a friends and family discount code and get our ticket at 65 USD instead of 80 USD! We don't know till when this code will work, but if you wanna try it out you can go on this page and try to use it: XF78PQS.
With this code we saved 30 USD per 2 adults on the complete tour of cenote, underground cave and zipline: it was really a great value for money and moreover, after the tour, you are free to stay as long as you want in the park.
You can thank us later 😉 If the code is still functioning, we would really appreciate it if you guys could leave a comment here below!
How to reach Aktun Chen park from Cancun
If you are spending your trip in Cancun, at the extreme North of Riviera Maya, you can reach Cenote Aktun Chen park by car in 1:30 hours. The road is safe and in between you will have plenty of things to see. Direct buses to Aktun Chen are not operating yet, but you can grab a colectivo – Mexico's minivan – and reach it in the same time as with the car. A cab can be pretty expensive to take as transportation, so we really don't recommend it. Once in Aktun Chen, it can be a good idea to head to the close Tulum and visit the incredible Mayan Ruins – you can't miss them!
How to reach Aktun Chen park from Tulum
Reaching Aktun Chen from Tulum is really easy. In not even 30 minutes, you will already be there and ready to jump into a cenote or do a zipline! If you already rented a car, you can simply follow the main road heading to Playa del Carmen and you shouldn't have any issues. Moreover the cenote is well signposted on the road! If you are going there with a group of friends, you can always grab a cab and share the final price. If you are on a budget, go with colectivos and just ask to be left at Aktun Chen – you will be able to ask where you want to be left directly to the driver.
How to reach Aktun Chen park from Akumal
Take Advantage Of Free Concierge Service
As excellent to explore Tulum and its surroundings alone, you may need help figuring out where to start. To make the most of your money and time, contact Virginia and Kelly - two incredible Mexican girls living in Tulum for more than 15 years. They're familiar with the ins & outs of the Tulum town and hotel zone like the back of their hand! 
Since we arrived in Tulum 2 years ago, many adventures wouldn't have been possible without their help - they know literally everybody in Tulum and can perfectly organize every moment of your stay. Get the best tables, skip queues and get on the guest list of the coolest places in Tulum - this's only the beginning! 
They are ready to offer you guys FREE concierge service in Tulum for the time of your stay: take advantage of it, contact them on Whatsapp and live the best experience!
Get FREE Concierge Service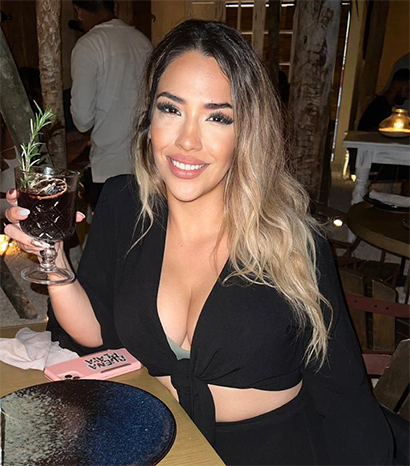 "Virginia Will Transform You In A Tulum Insider"
We hope our experience at Aktun Chen inspired you for an unforgettable activity to do during your trip to Riviera Maya, Mexico. Make sure to leave us a comment below if you tried the tour and how you liked it – we can't wait to read your experience!
Top Events to Make Your Trip Unforgettable
DOMINIK TULUM @MIA TULUM
When: September 9, 2023 7:00 PM
Where: Mia Restaurant & Beach Club, Tulum
🌴 Join Us for An Unforgettable Night at DOMINIK - TULUM at Mia Tulum! 🌴
Friends, clear your schedules and get ready for a magical experience at Mia Tulum! This stunning location will host DOMINIK - TULUM on Saturday, September 9th, from 7 pm to 1 am. This isn't just another event; it's a fusion of nature, culture, and sound featuring an incredible line-up with GIORGIO STEFANO, AUDICTIVE, and MAURO TORRETA. At DOMINIK, you'll find the perfect blend of Tulum's lush jungles and pulsating underground beats, creating an environment where genuine connections blossom.
🎟️ Secure your tickets now:
Early Bird: $575 MXN ($38 USD), includes a welcome drink 🍹 (Limited Availability)
Tier 1: $805 MXN ($52 USD), includes a welcome drink 🍹 (Limited Availability)
Final Tier: $1150 MXN ($75 USD), includes a welcome drink 🍹 (Limited Availability)
Dinner + Party: $1380 MXN ($90 USD) 🍽️🎉 (Limited Availability)
See you there for a night you won't forget! 🎶✨
Ready to join us? Get your ticket now! Early bird tickets are already selling out, secure them at 632 pesos (only 15 tickets available).
Hurry – spots are filling up fast! 🙀 We can't wait to see you there!
Top Parties and Club Events
17th September - ANCESTRAL SOUL @BONBONNIERE TULUM
22nd September - TONY ROMERA @BONBONNIERE TULUM
29nd September - TIM BARESKO @BONBONNIERE TULUM
4th November - HOT SINCE 82 @BONBONNIERE TULUM
13th March - LOCUS Tulum 2024