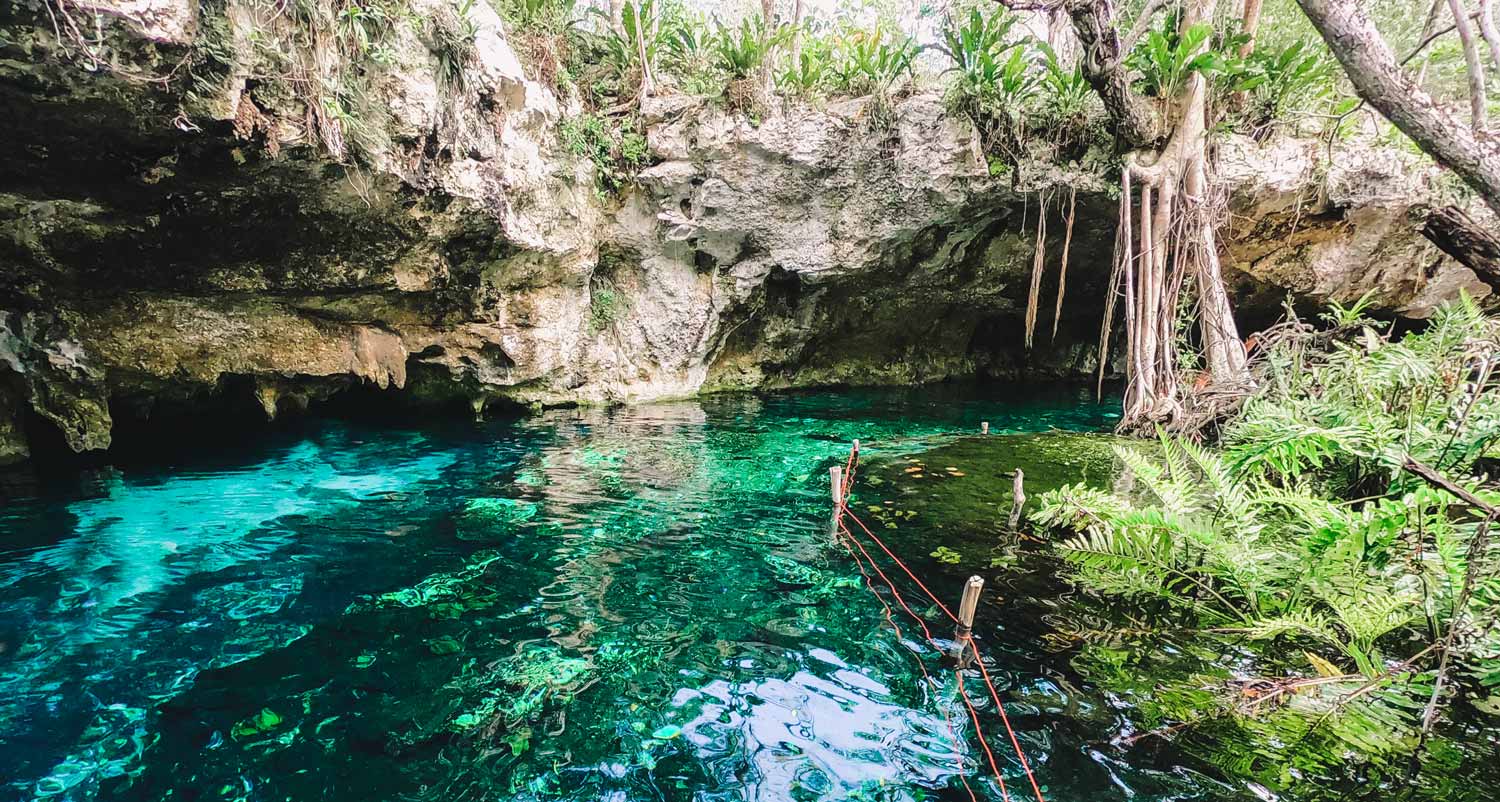 Gran Cenote Revealed: Your Ultimate Adventure Guide to a Natural Wonder
Since we visited Mexico, we knew this land has so many things to offer, and we decided to explore this land of wonders as deep as we could. In our research, we realized our experience wouldn't be complete if we wouldn't visit a cenote: an otherworldly place. 
But, what is a cenote and why is it so worthy to visit one? Well, briefly, a cenote is a natural swimming hole formed when limestone bedrock collapses, revealing crystal-clear freshwater underneath. It's like a natural pool, underground. They're found in Mexico's Yucatan Peninsula and offer a unique experience to swim, explore caves, and observe aquatic life. (That's one of the best parts!) Visiting a cenote is a great way to connect with nature and appreciate the beauty of the region, while also offering cultural significance as sacred sites for the ancient Maya civilization.  
And Gran Cenote is one of the best cenotes to visit! If you want to know what it looks like, how to get to Gran Cenote, and some other recommendations, grab a coffee and keep reading!
*why not enjoy a party after swimming in Tulum cenotes?* check out how to attend the coolest parties in town, contact our friend Virginia on WhatsApp and live the best nightlife ever based on your tastes – for FREE!
GRAN CENOTE: EXPLORING THE UNDERWATER CAVE
PERFECT FOR: Swimming, snorkeling, diving, nature lovers
CLOSEST CITIES (approximately driving time):
Tulum: 10 minutes
Playa del Carmen: 1 hour and 15 minutes
Cancun: 2 hours
ENTRANCE PRICE: 500 MXN pesos per person
OPEN HOURS: 8:00 am to 4:00 pm
If you're planning to visit Tulum, Mexico, we highly recommend adding Gran Cenote to your list of things to do. It's one of the best spots in the area, with stunning natural beauty and crystal-clear water perfect for swimming and snorkeling. For a few pesos, you can take a day tour and explore this magnificent open-air cenote. You can also combine your visit with other nearby attractions like the Coba ruins and other cenotes tours to make the most of your time. You'll get a chance to learn about the fascinating history of the Maya civilization, and trust me, this experience will be unforgettable!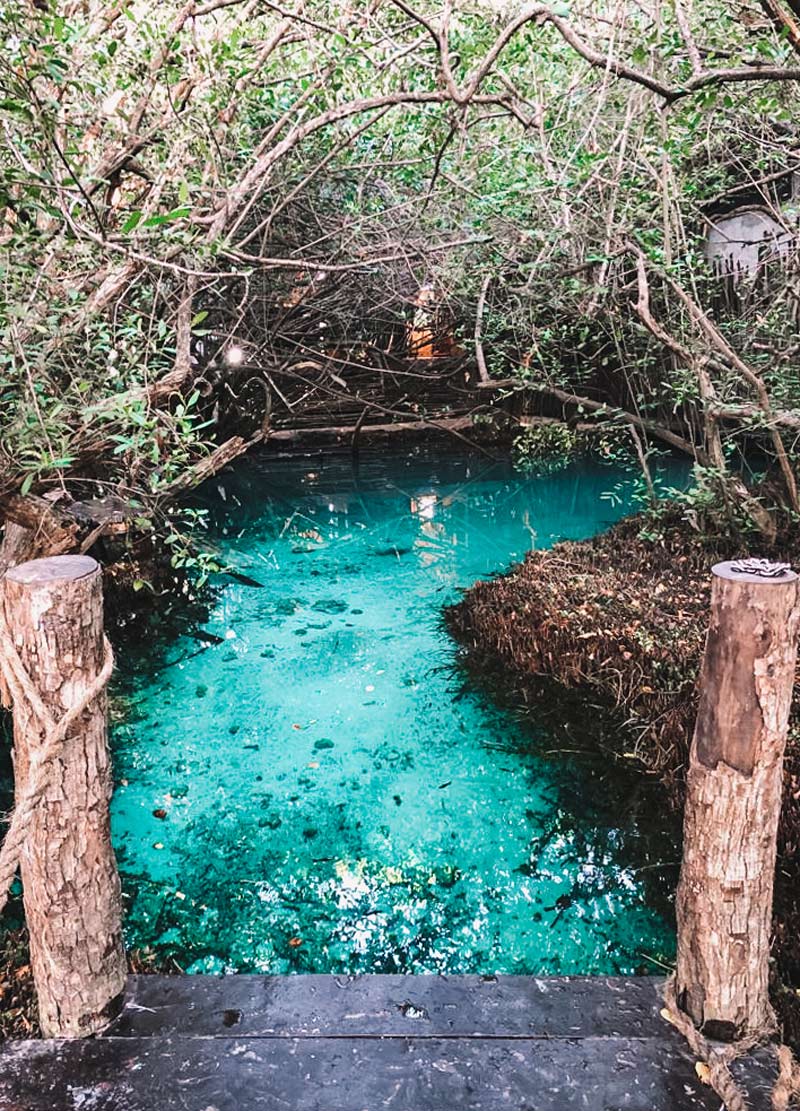 If you're staying in Tulum, there are a few ways to get to Gran Cenote. The easiest and most convenient option is to rent a car and drive there yourself. It's about a 20-minute drive from Tulum and there is a parking lot available at the cenote. Alternatively, you can take a taxi from Tulum, but be aware that taxi fares in Tulum can be quite expensive.
Another option is to take a colectivo (shared minibus) from Tulum to Coba and ask the driver to drop you off at Gran Cenote. Colectivos can be found at the Tulum bus station or along the main road. This is a more affordable option than taking a taxi, but keep in mind that you'll need to walk a bit from the highway to the entrance of the cenote.
If you're coming from Cancun, the easiest way to get to Gran Cenote is by renting a car and driving south on Highway 307 towards Tulum. The drive takes about 1.5-2 hours, depending on traffic. There is a parking lot available at the cenote.
Alternatively, you can take a bus from Cancun to Tulum and then follow the directions from Tulum above. Buses run regularly between Cancun and Tulum, with several companies offering this route. This is a more affordable option than renting a car, but keep in mind that you'll need to take a taxi or colectivo from Tulum to Gran Cenote.
ACTIVITIES IN GRAN CENOTE: BEST THINGS TO DO DURING YOUR VISIT
"Life is short, the world is wild. Let's make some memories". That's what we thought when we decided to leave our sedentary life and start traveling the world. Swim, bike, snorkel, climb mountains, smile in other languages, travel the world. So we started our trip and we discovered amazing places that we would hardly have met if we hadn't traveled. And Gran Cenote is really one of those spots,absolutely. 
What makes it so special is its stunning view: it's a cave underground, and you can swim on it! But swimming and taking pictures is just the beginning. You can also go into the deep!
So check out our favorite activities to do when we visit a cenote: 
Diving, snorkeling and swimming
When you visit the cenote you will have a range of activities that cater to different interests and skill levels. The main attraction at Gran Cenote is its crystal-clear waters, which are perfect for swimming and snorkeling. The cenote is home to a variety of fish and other aquatic life, so you can enjoy a unique underwater experience. For more experienced divers, Gran Cenote offers the opportunity to explore its underwater cave system. The cenote has several cave entrances that lead to intricate passageways and stunning rock formations.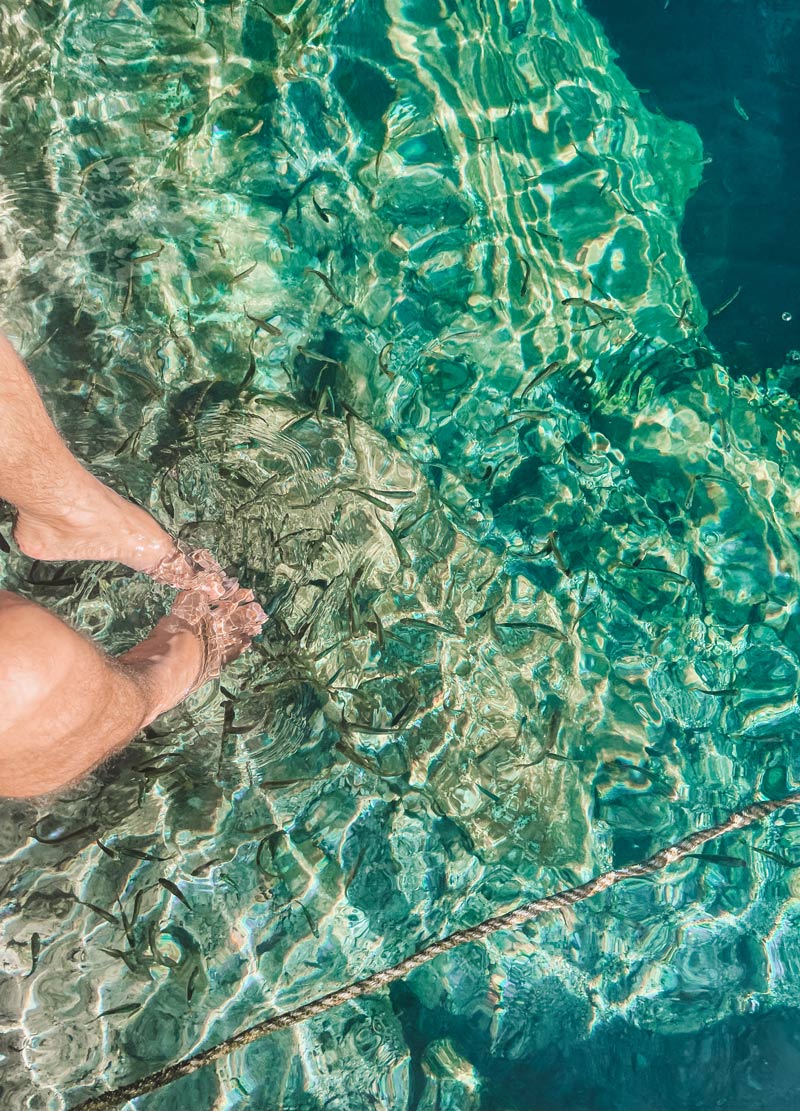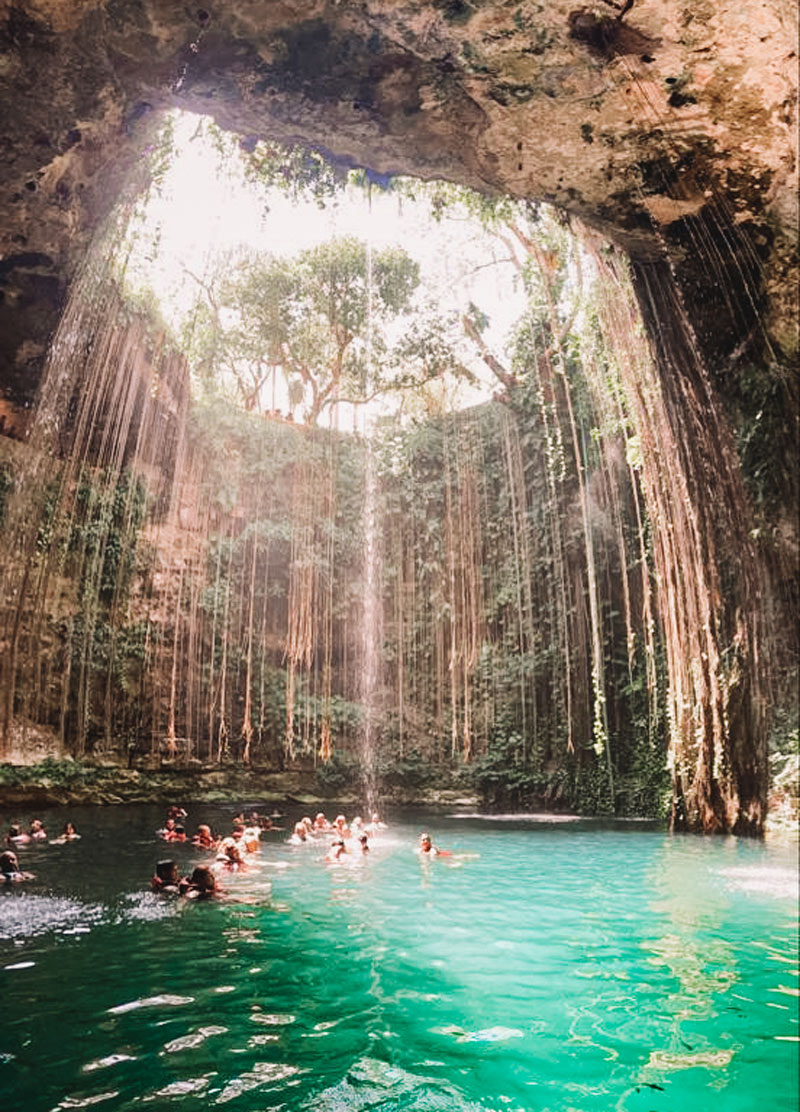 If you're looking for a more laid-back experience, you can simply relax by the water's edge and enjoy the peaceful surroundings. The lush jungle and natural rock formations create a serene atmosphere that is perfect for unwinding. Gran Cenote is part of a larger network of cenotes in the area, so you can also explore other nearby cenotes on foot or by bike. You can also visit the nearby Mayan ruins of Tulum or Coba, which are both within easy driving distance. 
HOW LONG SHOULD I STAY IN GRAN CENOTE? 
The length of time you should stay in Gran Cenote depends on your interests and schedule. We used to recommend an average stay of 2 hours. If you're simply looking to take a quick swim or snorkel, this time would be okay. However, if you're interested in exploring the cave system or taking your time to relax and enjoy the surroundings, you may want to spend more time on the cenote, like we did!
EXPLORING SURROUNDING AREAS OF GRAN CENOTE: THE MAGIC CONTINUES
Visiting Coba: Get in Touch with Mayan History
Coba is a popular day trip destination from Tulum, because it is a fascinating glimpse into the ancient history and culture of the Maya civilization.
Coba is an ancient Mayan city located in the Yucatan Peninsula, near Tulum. It was once a bustling city with up to 50,000 inhabitants at its peak. Today, you can explore the Coba ruins and witness some of the impressive architecture and engineering feats of the Mayan civilization, including the towering Nohoch Mul pyramid.
Coba is spread out over a large area, and visitors can walk or bike along the many stone paths that connect the various structures. The city was built around a network of lakes and cenotes, which provided a reliable source of water for the inhabitants. The surrounding jungle is home to a variety of wildlife, including monkeys and exotic birds, which adds to the unique atmosphere of the site.
Visiting Coba is a great way to learn about the fascinating history of the Maya civilization and to see some of the impressive structures they built. It's also a great opportunity to get out of the city and experience the natural beauty of the Yucatan Peninsula.
Visiting nearby Cenotes to Gran Cenote
Here's a list of some cenotes that you will find close to Gran Cenote, and you may visit on a one-day trip. Check them out! 
Cenote Azul 

Cenote Calavera

Cenote Jaguar 

Cenote Dos Ojos
On our blog, we have a review of all of them, so you can check out where they are located, the easiest ways to reach them, the amenities they have, the prices and what to expect from your adventure. Each one of them offers an amazing time!
Take Advantage Of Free Concierge Service
As excellent to explore Tulum and its surroundings alone, you may need help figuring out where to start. To make the most of your money and time, contact Virginia and Kelly - two incredible Mexican girls living in Tulum for more than 15 years. They're familiar with the ins & outs of the Tulum town and hotel zone like the back of their hand! 
Since we arrived in Tulum 2 years ago, many adventures wouldn't have been possible without their help - they know literally everybody in Tulum and can perfectly organize every moment of your stay. Get the best tables, skip queues and get on the guest list of the coolest places in Tulum - this's only the beginning! 
They are ready to offer you guys FREE concierge service in Tulum for the time of your stay: take advantage of it, contact them on Whatsapp and live the best experience!
Get FREE Concierge Service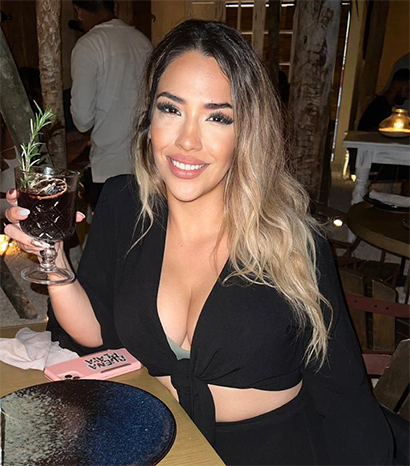 "Virginia Will Transform You In A Tulum Insider"
OUR EXPERT TIPS FOR MAKE YOUR VISIT UNFORGETTABLE
Transportation: Best Ways to Reach Gran Cenote -
The easiest way to get to Gran Cenote is by car, and you can rent one or take a taxi from nearby cities like Tulum. If you prefer public transportation, you can take a colectivo (shared van) from Tulum to Coba and ask the driver to drop you off at the entrance to the cenote.
Safety -
Always follow the safety guidelines provided by the staff at Gran Cenote. Listen to their instructions and don't dive or jump from the platform into the water. If you are traveling with children, take note of the depth of the cenote and keep an eye on them when they are swimming.
Booking a Tour -
If you want to have a hassle-free experience, consider booking a tour that includes transportation, entrance tickets, and a guide. There are many tours available that will take you to Gran Cenote as well as other nearby attractions like Coba ruins.
How to Pay: Cash Only? -
Gran Cenote only accepts cash payments, so make sure to bring enough pesos. There is no ATM on site, so it's best to bring cash with you.
What to Bring -
Wear comfortable clothing and shoes that you don't mind getting wet. Bring a swimsuit, towel, sunscreen, and insect repellent. You may also want to bring a waterproof camera to take photos in the crystal-clear water. And don't forget to bring some snacks and water, as there are no food or drink vendors at the cenote.
FAQ about Gran Cenote
Is Gran Cenote suitable for children?
Yes, Gran Cenote is suitable for children. However, children must be accompanied by an adult at all times and should be supervised when swimming or snorkeling.
Can I snorkel or scuba dive at Gran Cenote?
Yes, you can snorkel or scuba dive at Gran Cenote. However, scuba diving is only allowed with a certified guide due to the complex nature of the underwater cave system.
What should I bring to Gran Cenote?
When visiting Gran Cenote it is recommended to bring swimwear, towels, sunscreen, insect repellent, and cash for the entrance fee and any additional expenses.
Are there changing rooms or lockers available at Gran Cenote?
Yes, there are changing rooms and lockers available for visitors to use at Gran Cenote.
What other attractions are near Gran Cenote?
Other nearby attractions close to Gran Cenote are the Tulum ruins, other cenotes in the area, and the city of Tulum.
How can I get to Gran Cenote?
You can get to Gran Cenote by car, taxi, or organized tour. If you're driving, take the Tulum-Coba highway and follow the signs to Gran Cenote.
Great, let's feature the "MYSTICAL SUNSET /OLIVER HUNTEMANN" event at Mia Restaurant & Beach Club in Tulum on Wednesday, 29 November 2023. Here's the HTML snippet for your event: ```html
👉 WEDNESDAY, Nov 29
MYSTICAL SUNSET /OLIVER HUNTEMANN 🌅
📍
Mia Restaurant & Beach Club, Tulum
💵
Tier 1 Tickets: Mex$ 660 (incl. fees), Final Tier: Mex$ 880 (incl. fees)
📩
Contact Virginia
here
to book a table
Join us for an unforgettable evening at Mystical Sunset with Oliver Huntemann. Contact Virginia here to book your table and be part of this magical night on the beach! 🎶🔥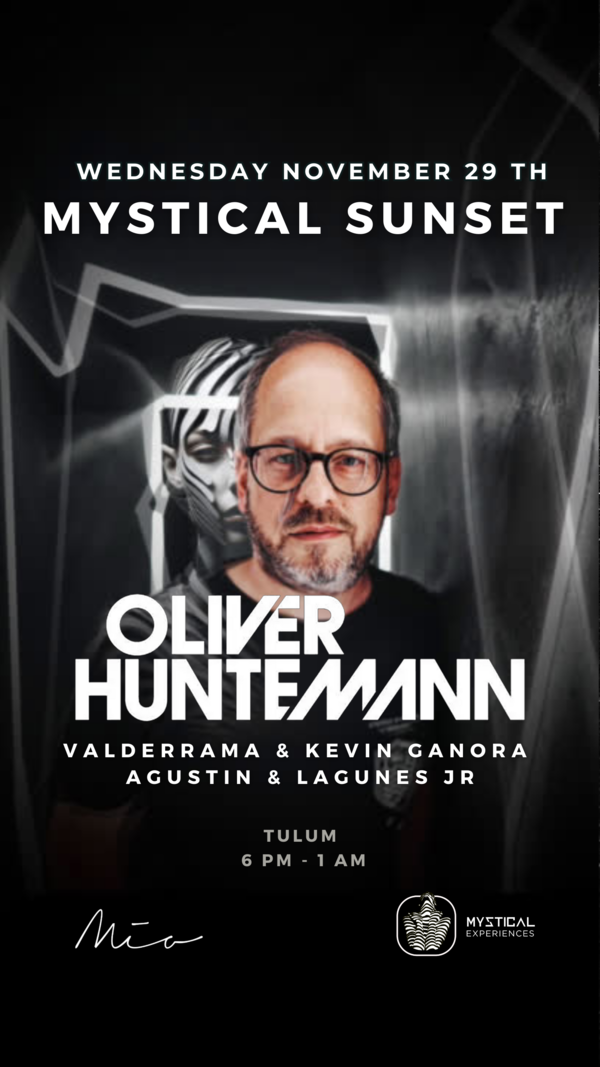 Top Parties and Club Events
23rd November - VAGALUME SESSIONS KEENE @VAGALUME
26th November - VAGALUME SUNDAZE MITA GAMI @VAGALUME
30th November - VAGALUME SESSIONS VALDOVINOS @VAGALUME
3rd December - VAGALUME SUNDAZE VALENTIN HUEDO @VAGALUME
7th December - VAGALUME SESSIONS MUSTAFA ISMAEEL @VAGALUME
30th December - PIKNIK POLO CORP & LEO LEONSKI @VAGALUME
31st December - NEW YEAR´S EVE @BAGATELLE TULUM
31st December - NYE PARTY 2024 @VAGALUME
13th March - LOCUS Tulum 2024