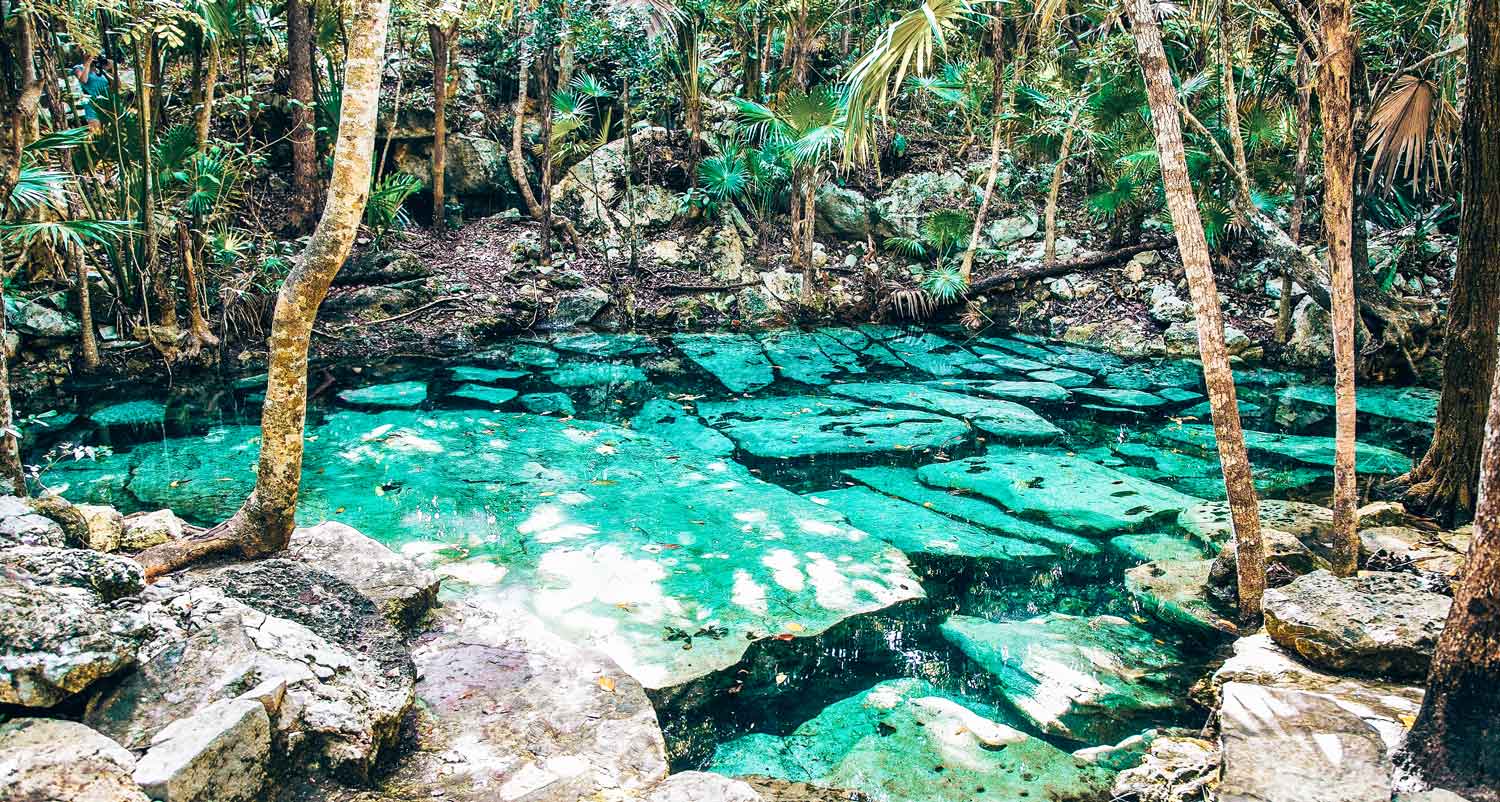 Explore the Wonders of Cenote Azul, Tulum: Escape to Paradise
We haven't fully felt the entire experience of Tulum's nature until we've swam in the waters of a  cenote. Trust us, we've roamed the stunning beaches and trekked to the sacred Mayan temples, but nothing quite compares to the thrill of swimming and diving in the underground waters of a cenote. Have you ever heard of cenotes? They're these amazing natural sinkholes that you can find in Mexico's Yucatan Peninsula. Today, we're diving into the wonders of Cenote Azul – one of our favorite cenotes in Tulum! 
In our guide, we've got you covered with all the essential details you need to know before visiting Cenote Azul. Stick around to find out the best way to reach them – whether it's by car or booking a tour. We'll also share insider tips on the best time to visit, the cost in MXN pesos, and where to take the most amazing photos during your trip to Tulum. So grab your coffee and get ready to visit a cenote!
*But why stop at a swim?* Tulum's nightlife and events scene is a sight to behold, and we've got just the person to help you navigate it. Meet our friend Virginia – drop her a message on WhatsApp and she'll hook you up with the best parties and activities in town, tailored to your vibe. And the best part? It's all for FREE!
So let's dive into the wonders of Tulum's cenotes and get ready for an unforgettable adventure!
CENOTE AZUL: A MUST-VISIT DESTINATION IN THE RIVIERA MAYA
Perfect for: Swimming, grabbing a snack under the sun, taking pictures
Open Hours: 8:30am to 5:30pm
Closest cities: (approximately driving time) 
Tulum: 45 min 
Playa del Carmen: 20 min
Entrance Price:
140 MXN for adults
80 MXN for children (4 to 8 years)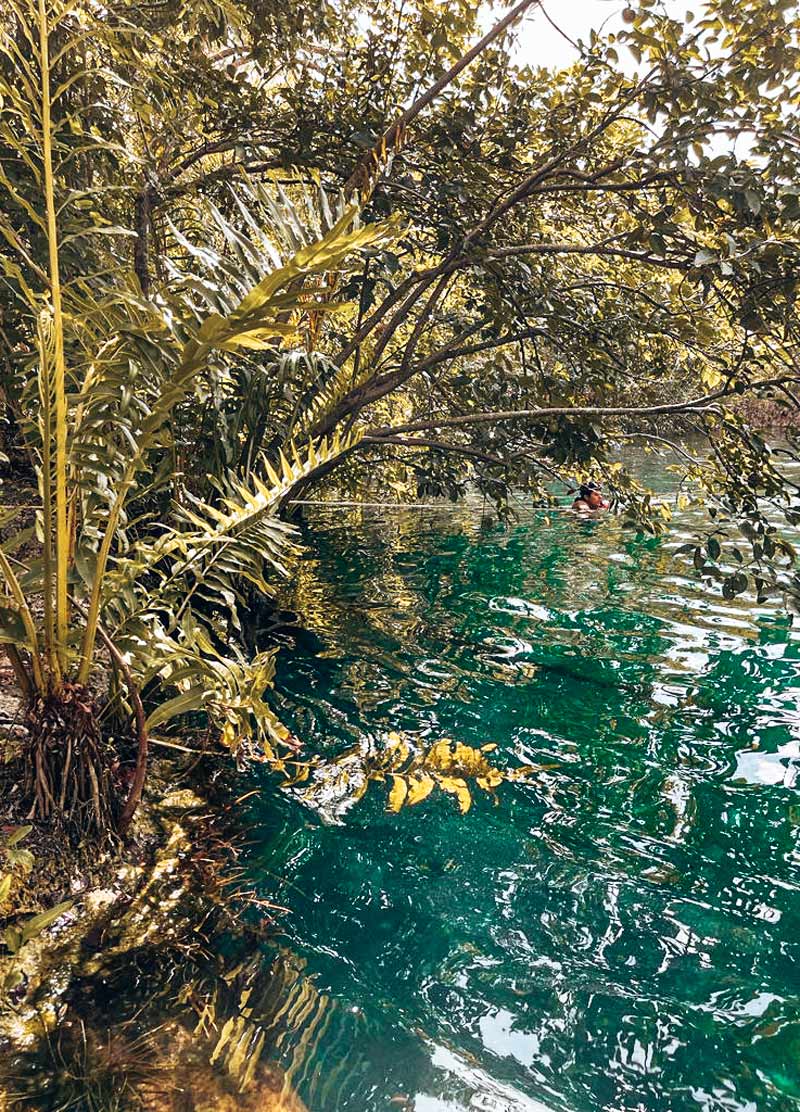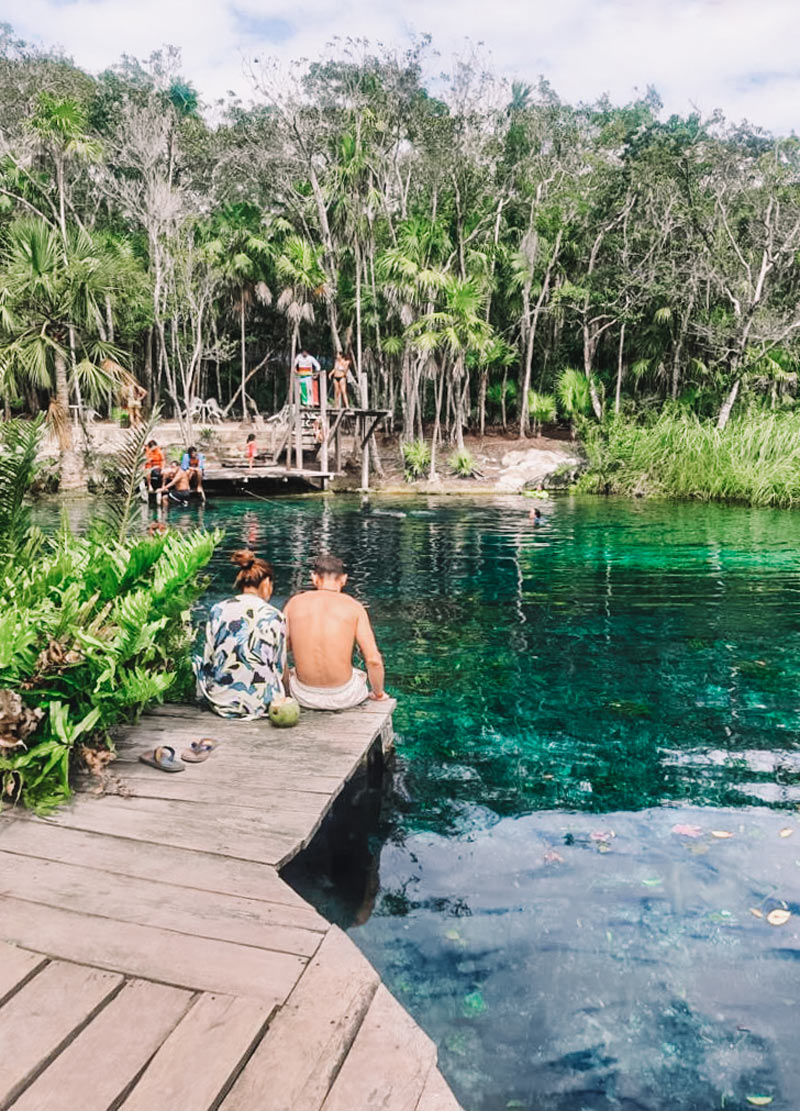 HOW THE CENOTE LOOKS LIKE? WHAT TO EXPECT WHEN VISITING
Cenote Azul is one of the most popular cenotes in Riviera Maya. It's a stunning natural pool that showcases the beauty of Mexico's mother nature. So come along with us on this adventure to explore its magic and discover why it's one of the most beloved cenotes in the area! This beautiful cenote is over 200 meters in diameter and has clear blue waters that are perfect for swimming, snorkeling, and diving. As you explore the depths of this cenote, you will be amazed by the diverse marine life that calls it home, from playful turtles to colorful fish and even the occasional stingray.
Cenote Azul is truly an amazing natural pool that is perfect for all types of water activities. Whether you want to take a refreshing dip in the crystal-clear waters, snorkel among the colorful fish, or even jump from the cliffs into the refreshing pool below, this cenote has something for everyone. The pool is surrounded by lush greenery and natural rock formations, making it a beautiful and serene place to spend a day exploring.
One of the things that sets Cenote Azul apart from other pools and water attractions in the area is its natural beauty and tranquility. Rather than being a man-made pool, this cenote is a natural wonder that has been formed over thousands of years by underground rivers and geological processes. Visitors can take in the stunning scenery and marvel at the wonders of nature, all while enjoying a refreshing swim in the cool, clear waters. Whether you're a nature lover, an adventurer, or just looking for a relaxing day by the pool, Cenote Azul is a must-visit destination that is sure to delight and inspire.
Location and Main Features
Cenote Azul is located in the Yucatan Peninsula, in the state of Quintana Roo, Mexico. It is situated along the main highway between the popular tourist cities of Tulum and Playa del Carmen, two amazing places you really MUST visit if you are in this Mexican zone!
How to get to Cenote Azul
Driving: Renting a car would be our recommended way for you to move from A to B, as it will give you freedom about when to go, and when to leave somewhere. If you're driving, here is how you reach Cenote Azul: 
To get to Cenote Azul from Tulum, you can take the Federal Highway 307 heading north towards Playa del Carmen. After about 20 minutes, you will see a sign indicating the entrance to Puerto Aventuras. Turn right and continue straight until you reach the entrance to Cenote Azul on your left-hand side.
If you are coming from Playa del Carmen, you can take the Federal Highway 307 heading south towards Tulum. After about 15-20 minutes, you will see a sign indicating the entrance to Puerto Aventuras. Turn left and continue straight until you reach the entrance to Cenote Azul on your left-hand side.
By bus: To get to Cenote Azul by public transportation, you can take a colectivo (a shared bus) from Playa del Carmen or Tulum. The colectivos are usually parked near the main bus station or along the main highway. The cost of the ride is relatively cheap and should take around 30-45 minutes depending on your starting location.
Amenities - Comfort in Nature
If you're planning on getting wet and exploring the crystal clear waters, you can rent life jackets, snorkeling gear, and diving gear on site.
Oh, and if you need to grab a quick snack or drink, there's a small convenience store right at the entrance. They've got everything you need, from chips and soda to basic necessities. And for those of you driving to the cenote, there's a big parking area that's super easy to access.
Activities for a fun day at the cenote!
Some popular activities in a cenote are, of course, swimming and snorkeling! If you want to unwind, you can chill in one of the shallow areas, taking in the beautiful surroundings and catching up with your loved ones.However, if you love swimming (like us), the main area is perfect to practice your strokes or snorkel with the variety of fish in the crystal-clear waters. Don't worry if you're not confident, life jackets are available!
But if you're feeling adventurous, make your way to the deep area and show off your diving skills! There's a natural platform that's approximately 4 meters high, perfect for jumping and getting your adrenaline pumping. If you'd rather take it easy, bring your own picnic or grab a snack from the small shop located on the premises. You can even feed the fish or observe the many birds, iguanas, and bats that live in the area.
But wait, there's more! Cenote Azul is also a great starting point to explore other nearby cenotes such as Cristalino, Kantunchi, and Jardín del Eden. If you're into diving, there are beginner and advanced routes to explore the cenote's depths. And the best part? There's something for everyone to enjoy, whether you're a nature lover or adventure seeker.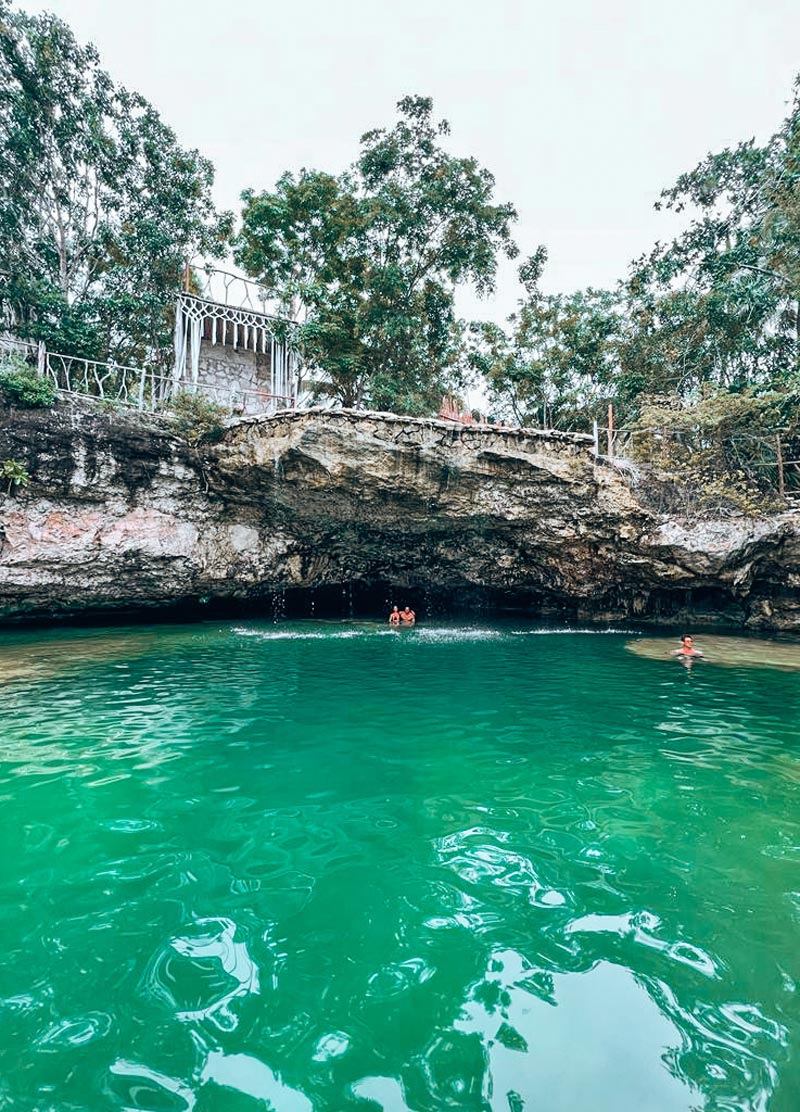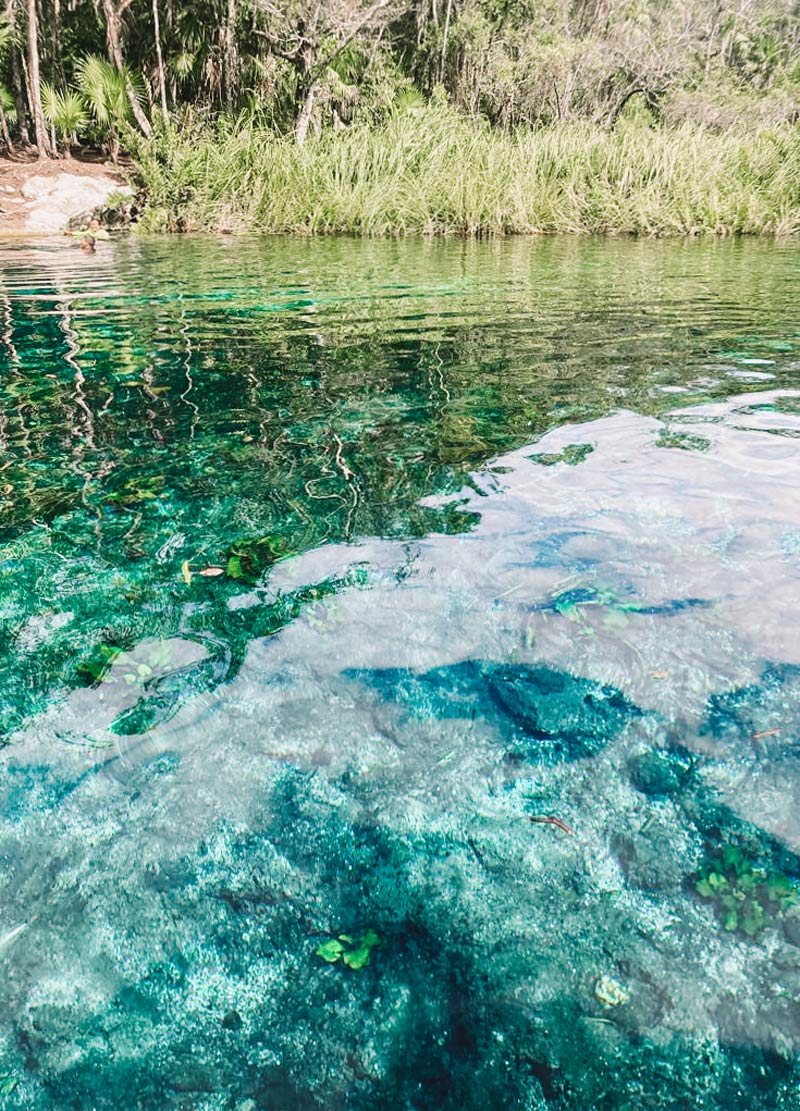 TIPS FOR AN UNFORGETTABLE DAY VISITING CENOTE AZUL
Bring cash: Cenote Azul only accepts cash, so make sure to bring enough for your entrance fee, gear rental, and any snacks or drinks you might want to purchase.
Wear appropriate clothing and footwear: You'll be swimming and exploring in the water, so wear comfortable clothes and shoes that you don't mind getting wet.
Respect the natural environment: Cenote Azul is a natural wonder, so be respectful and avoid touching or disturbing any plants or animals. Don't leave any trash behind and follow any rules or regulations posted at the cenote.
Consider hiring a guide: Hiring a guide can enhance your experience and provide you with interesting information about the cenote's history and ecology.
Plan to visit a nice restaurant in the city nearby: Tulum is an amazing laid-back atmosphere city located close Cenote Azul. If you would like to have dinner in a special restaurant after your adventurous day in the water. 
Have fun and enjoy the experience: Above all, relax, have fun, and enjoy the unique experience of swimming in crystal clear waters and exploring an underwater world!
Take Advantage Of Free Concierge Service
As excellent to explore Tulum and its surroundings alone, you may need help figuring out where to start. To make the most of your money and time, contact Virginia and Kelly - two incredible Mexican girls living in Tulum for more than 15 years. They're familiar with the ins & outs of the Tulum town and hotel zone like the back of their hand! 
Since we arrived in Tulum 2 years ago, many adventures wouldn't have been possible without their help - they know literally everybody in Tulum and can perfectly organize every moment of your stay. Get the best tables, skip queues and get on the guest list of the coolest places in Tulum - this's only the beginning! 
They are ready to offer you guys FREE concierge service in Tulum for the time of your stay: take advantage of it, contact them on Whatsapp and live the best experience!
Get FREE Concierge Service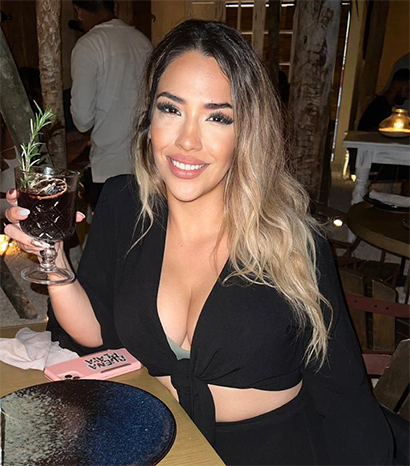 "Virginia Will Transform You In A Tulum Insider"
EXPERIENCE THE SURROUNDINGS OF CENOTE AZUL: RECOMMENDED DESTINATIONS
If you're planning a trip to Cenote Azul, there are several popular destinations that are worth considering visiting in the surrounding area. Playa del Carmen is a vibrant coastal city that is located about 20 minutes north of Cenote Azul, and it's known for its stunning beaches, exciting nightlife, and luxury resorts. Puerto Aventuras is a coastal community that's located just south of Cenote Azul, and it's known for its marina, golf courses, and proximity to attractions such as Xcaret and Xel-Ha parks.
However, the best surrounding destination to visit would have to be Tulum. This charming town is located about 45 minutes south of Cenote Azul, and it's known for its laid-back vibe, bohemian atmosphere, and well-preserved Mayan ruins. Tulum is a luxurious and affordable destination at the same time, with beautiful beaches, world-class restaurants, and a range of accommodations from budget-friendly hostels to high-end resorts.
While Cancun is another popular destination that's located about 90 minutes north of Cenote Azul, it's known for its crowded beaches, busy nightlife, and higher prices. Valladolid is a historic colonial town that's located about 2 hours west of Cenote Azul, and it's known for its beautiful architecture, traditional markets, and proximity to attractions such as Chichen Itza and Ek Balam. Bacalar is a picturesque town that's located approximately 3 hours south of Cenote Azul, and it's known for its stunning Lagoon of Seven Colors, historic fort, and laid-back bohemian atmosphere.
Cozumel is also worth considering as a destination, but it's an island located off the coast of the Yucatan Peninsula. Visitors would need to take a ferry from Playa del Carmen to Cozumel, which takes approximately 45 minutes each way. Once on the island, visitors can reach Cenote Azul by car or other transportation. Cozumel is a popular destination for scuba diving, snorkeling, and other water sports, and visitors can explore attractions such as the San Gervasio Mayan ruins, the Cozumel Museum, and the Chankanaab Adventure Beach Park.
FAQ about Cenote Azul
Can I take my pet to Cenote Azul?
Not really, you can't take pets into Cenote Azul. (It's forbidden) 
Is it safe to swim in Cenote Azul?
Yes, it is safe to swim in Cenote Azul. The water is very clear, and the cenote has different areas for different swimming abilities.
Do I need to bring my own snorkeling equipment at Cenote Azul?
No, you can rent it on-site at Cenote Azul for a fee.
Are there bathrooms at Cenote Azul?
Yes, there are bathrooms available for visitors to use at Cenote Azul.
Is parking available at Cenote Azul?
Yes, there is a parking lot available at Cenote Azul for visitors to park their vehicles.
Can I bring my own food and drinks to Cenote Azul?
Yes, you can bring your own food and drinks to Cenote Azul. There is also a small convenience store on-site where you can purchase snacks and drinks.
Can I pay with a credit card at Cenote Azul?
No, Cenote Azul only accepts cash payments.
Can I smoke in Cenote Azul?
No, smoke is forbidden in Cenote Azul.
👉 FRIDAY, Dec 1
OPENING PARTY X TEN IBIZA 🎉🍹
🎧
ORIOL CALVO, BASTIAN BUX, VITE
📩
Contact Virginia
here
to book a table
💵
First Release Tickets: Mex$ 550 (incl. fees)
Don't miss out on the chance to join us in "A Journey into House Music" tonight at Vagalume. Contact Virginia here to secure your spot for an unforgettable evening! 🌟🍹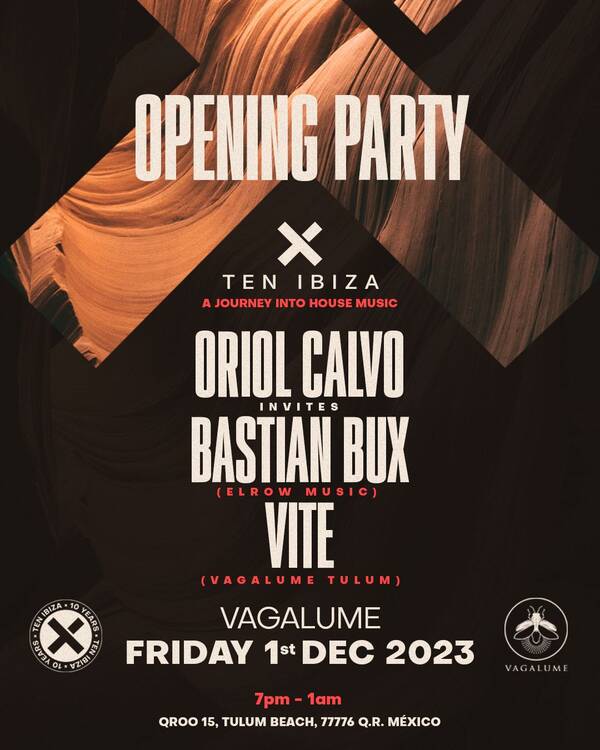 Top Parties and Club Events
23rd November - VAGALUME SESSIONS KEENE @VAGALUME
26th November - VAGALUME SUNDAZE MITA GAMI @VAGALUME
30th November - VAGALUME SESSIONS VALDOVINOS @VAGALUME
3rd December - VAGALUME SUNDAZE VALENTIN HUEDO @VAGALUME
7th December - VAGALUME SESSIONS MUSTAFA ISMAEEL @VAGALUME
30th December - PIKNIK POLO CORP & LEO LEONSKI @VAGALUME
31st December - NEW YEAR´S EVE @BAGATELLE TULUM
31st December - NYE PARTY 2024 @VAGALUME
13th March - LOCUS Tulum 2024